About two and a half weeks ago I purchased a Surface Laptop Studio. Since then, I've been putting the system through my daily grinds, leading up to this review. Usually, I'd try to be just a tiny bit technical in my reviews and showcase benchmarks as well as other tests, but for this review, I'd like to tone things down a bit and keep it relatively standard.
That's because my colleague Kareem Anderson is planning his own write-up on the Surface Laptop Studio. If you're after a more technical take, you can look out for a more in-depth review in a few weeks. This piece will be a bit more simplistic, explaining why this is one of the best Surface devices I've ever owned.
Specs & Price
Unboxing the Surface Laptop Studio https://t.co/GWhf00Aj2k

— Arif Bacchus (@abacjourn) October 6, 2021
I want to get the business out of the way first. The unit I purchased is one of the higher-end models. It comes configured with an Intel Core i7 11370H processor, 16GB of RAM, a 512GB SSD, and Nvidia GeForce RTX 3050Ti graphics. This unit retails for $2,100. I also picked up a Slim Pen 2, which is an additional $130. To try and save some cash, I checked out my Microsoft Rewards, giving me a slim $210 discount on everything.
Note that if you really want a Surface Laptop Studio, the base model starts at $1,600. That includes an Intel Core i5 processor, 16GB of RAM, 256GB of storage, and Intel's Iris X graphics. There's no GPU in the model, however, so your computing options will be a bit limited. All Surface Laptop Studio models come with Windows 11 Home pre-installed. If you want a model with Windows 10, you can buy one through Microsoft's commercial store.
A special design

Leading off with the design, the Surface Laptop Studio is something special. Crafted out of cool-to-the-touch magnesium, the Laptop Studio feels similar to a Surface Pro when I run my hands on the top of it. Yet, from afar, it even looks like a MacBook (if you don't peek down to see the Microsoft logo.) That's because the device has a lot of curves to it, from the display bezels to the wrist rests. It's quite a treat to look at, and it's like Microsoft blended the best of both tech worlds together in one product.
Even so, the treat gets better once you deal with the screen. There are two hinges on the Laptop Studio. The first lets you open and close the lid like a regular laptop, and the second is tucked behind the screen. This second hinge is made of fabric and is held down by magnets. Pull the screen out towards you when in the regular "Laptop Mode," and the screen moves down at an angle to the trackpad for "Stage Mode." Then, pull it down once more to turn the Laptop Studio into a thick tablet in "Studio Mode" so you can draw and ink in a canvas-like experience.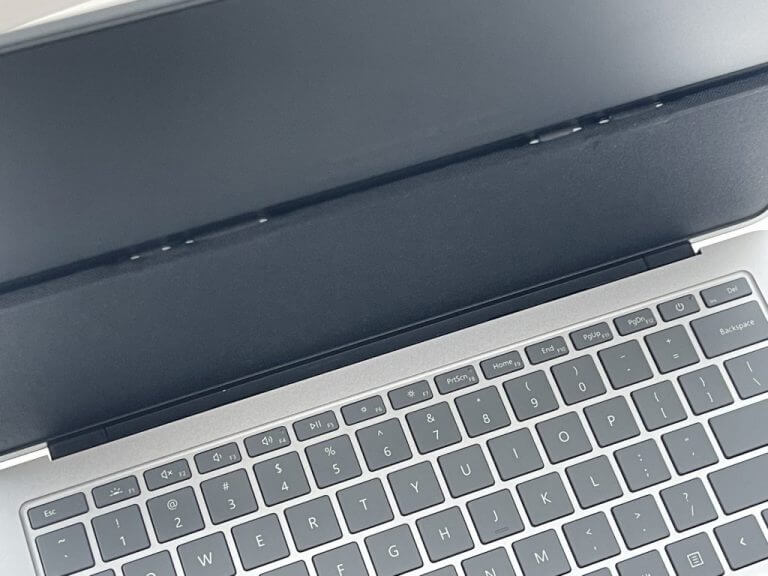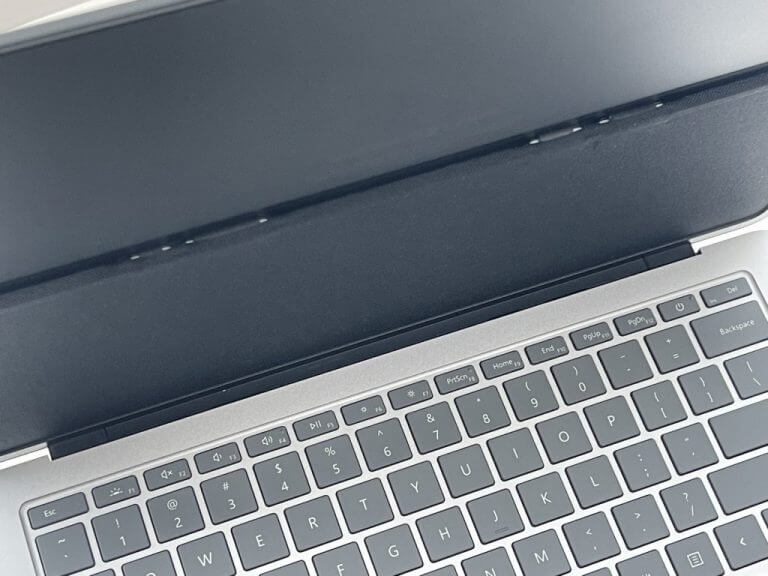 Overall, the transition between those modes is very fluent. In two weeks, the hinges held up to my wear and tear. I was worried it'd be too fragile but turns out that the hinges are plenty strong. Even when inking in the "Studio Mode," the hinges held the screen down, and it didn't move around too much as my wrist movements jiggled the screen. Microsoft has proven it is good with hinge systems thanks to the work it's done on the Surface Pro lineup, so I'm not surprised that this one works well on the Laptop Studio.
This design isn't original though. As many have pointed out, Microsoft seems to have borrowed the concepts of the Studio Mode and Stage Mode from the Sony VAIO Z Flip. The differentiating factor though is that the Surface Laptop Studio has a "hump" on the bottom. The hump allows for ventilation, as well as a place for Microsoft to put the GPU. Many complained about this "hump," but I've come to realize it's not even noticeable once the Laptop Studio sits on a desk or in my lap. The only times I've noticed it is when the GPU is in use, and air blows out from the side.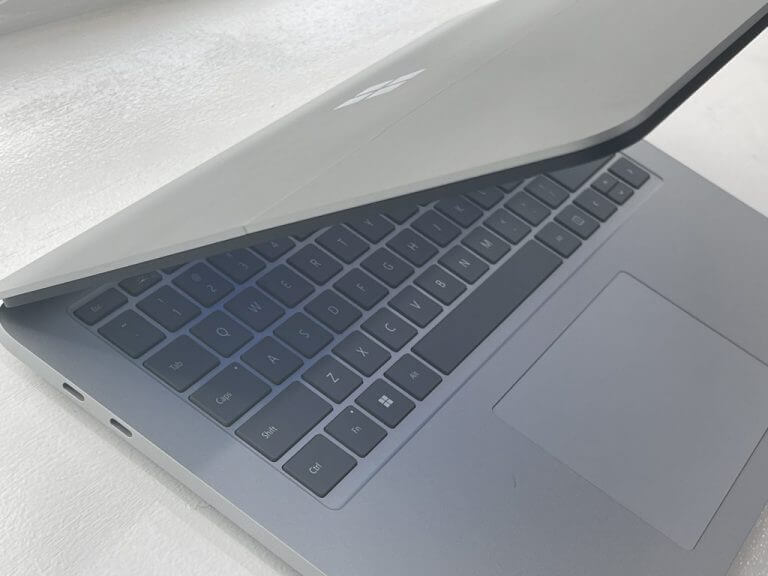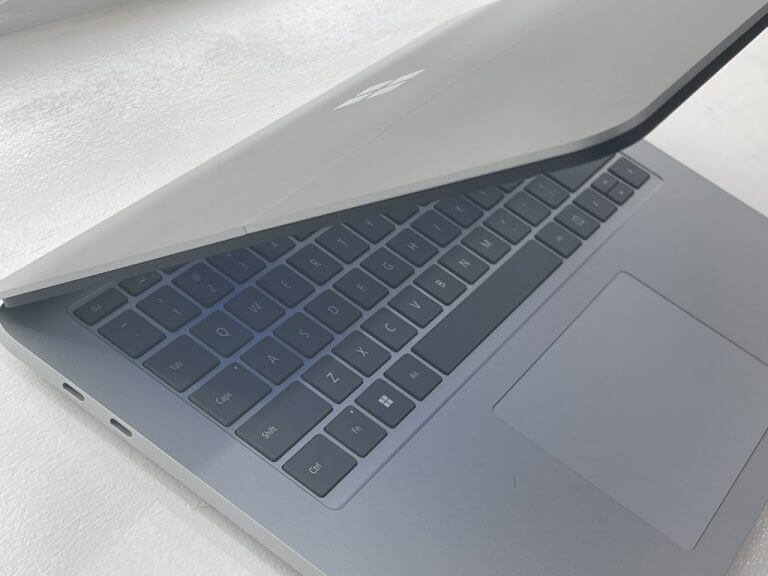 Another thing that people have complained about is the weight of the Laptop Studio. Coming in at around 4 pounds, I think the device is manageable. The magnesium material makes the device feel lighter than it is. Compared to my old HP ENVY 15, though, the compact form factor of the Laptop Studio is great. It's relatively small, and light, when put up against gaming laptops with this same GPU inside (The Legion 5 is 5.28 pounds, as an example.)
Even Apple's new M1 Pro and M1 Max MacBooks are in the same weight class, coming in at around 3.5-4.8 pounds. So I don't see a reason to complain. When you want all the power of a dedicated GPU, you'll have to sacrifice something, and it comes at the weight. Thickness, though, is alright. This isn't a brick in terms of design, as the system measures just around 0.7 inches thick.
Good performance but could be better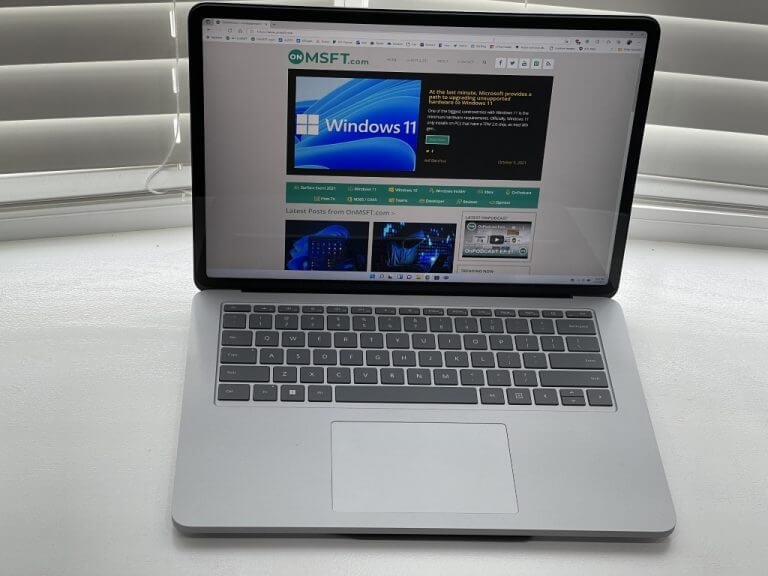 When it comes to overall performance, the Surface Laptop Studio was good enough for my needs, but I won't lie, there is one flaw. For $2,100, seeing quad-core Intel H-series processors inside the Laptop Studio is a letdown. You can find a better laptop with an 8-core processor for the same price (the XPS 15 or XPS 17 are examples,)
For a Surface, though, there's plenty of CPU power on the Laptop Studio. This is because, for the first time, Microsoft is using 35-watt processors in this laptop form factor. Microsoft also said that it uses a custom framework to manage the CPU and GPU power, to help in real-world tasks. That's so that when the CPU is paired with the GPU in tasks like encoding videos or gaming, there will be enough power to go around to both.
In my daily grinds, I used the Laptop Studio for work at OnMSFT and my other publication. I handled a combination of 10+ tabs in Microsoft Edge, and two sessions of Teams (one as a PWA.) The Laptop Studio's 16 GB of RAM kept up with no issues. Even when handling Windows Updates in the background, and using Edge, the Studio kept up fine. Plus, I did plug my Laptop Studio into a 4K monitor, with Microsoft Flight Simulator on one screen, and Edge on another, and the device didn't lock up, but the CPU and GPU usage were very high.
Sorry for the poor recording. But Here is Microsoft Flight Simulator running on the Surface Laptop Studio. 1080p resolution. High end settings. Feels Surprisingly smooth. Windows 11 Xbox Game Bar doesn't have the frames widget for me to count though? :/ GTX 3050 TI not too bad. pic.twitter.com/LPYBBo68c9

— Arif Bacchus (@abacjourn) October 7, 2021
As far as the GPU and the RTX 3050 Ti go, it's manageable. Heavy gaming and CPU demanding tasks might be limited by the quad-cores in the Laptop Studio, but the performance will get you by for most tasks. As seen above, Microsoft Flight Simulator runs just fine and around 30-45 frames per second in medium settings and at 1080p on the Laptop Studio. At the native resolution, it's a playable level, too. I did notice, however, that Flight Simulator kept warning me about the limits of the CPU when I toggled into developer mode of the game to see frames.
Surface Laptop Studio is amazing. This is my personal benchmark. I encoded a 57 minute long 1080p 60FPS @onmsft Podcast in 16 mins on the Laptop Studio! The file is 6.8GB with lots of B-roll. Encoded using M.264 on video and AAC on Audio. Very impressive. Proud of my purchase! pic.twitter.com/VGnPSa8cS6

— Arif Bacchus (@abacjourn) October 9, 2021
When it comes to video encoding, I was very impressed. The Laptop Studio punched out an hour-long 1080p and 60 FPS OnPodcast episode (a 6GB file) in about 16 minutes. And, in a shorter episode, in 10 minutes. In both cases, the original file I worked with in Filmora had a lot of B-roll and audio. Nvidia's CUDA cores in the new RTX GPUs really come out here and show the possibilities of the Laptop Studio.
An amazing keyboard and trackpad for "Laptop Mode"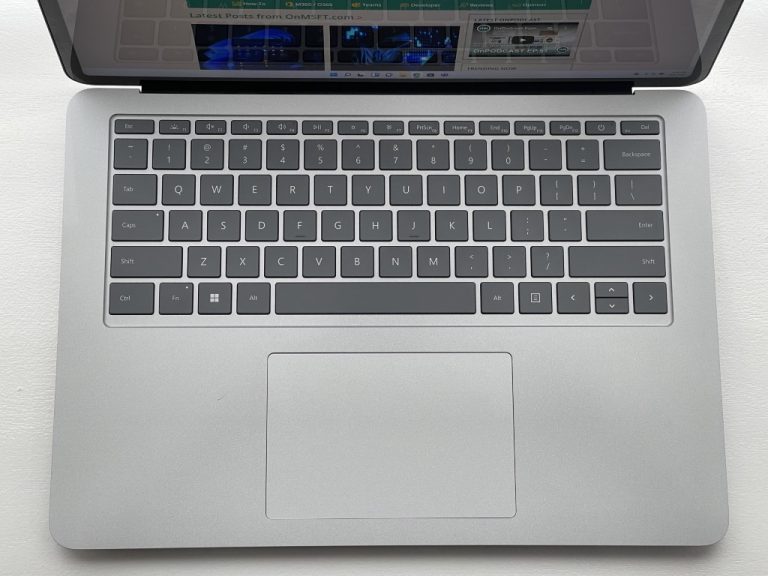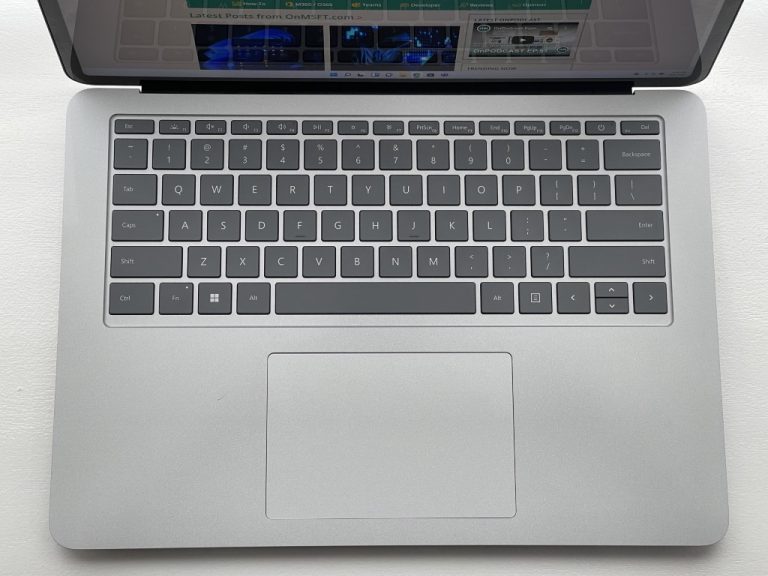 Performance and design done, it's time to talk about the keyboard and trackpad. In these areas, I'd like to compare the experience to a MacBook Pro, as well as a Surface Pro 8.
The typing experience on the Surface Laptop Studio is akin to the Surface Type Cover, mixed with a regular Surface Laptop. In terms of key spacing, it's exactly like the Laptop 4 or Laptop 3. And with keypresses, my fingers easily hit the gray keycaps, and there's a lot of comfortable action and feedback when the keys go into the chassis. The backlighting is also pretty even, and it looks pretty amazing when typing at night.
As for the new haptic trackpad, it's one of the best on a Windows laptop. It feels exactly like the one on the MacBook Pro (smooth and fluent,) yet it's better in a few ways. First of all, the palm rejection is on point. Secondly, you can customize your feedback levels to make clicks feel harder, or softer. It's pretty amazing to be able to click anywhere on the trackpad to accomplish tasks in Windows 11.
A bright and vibrant display for "Stage Mode"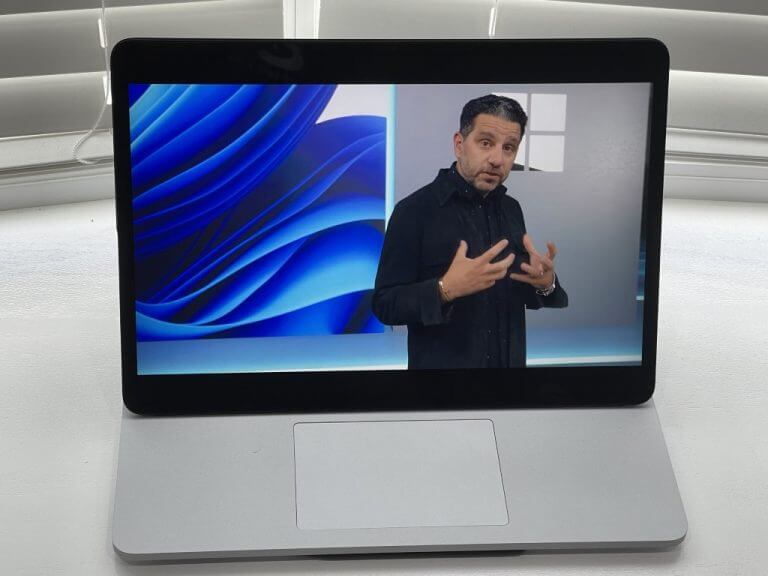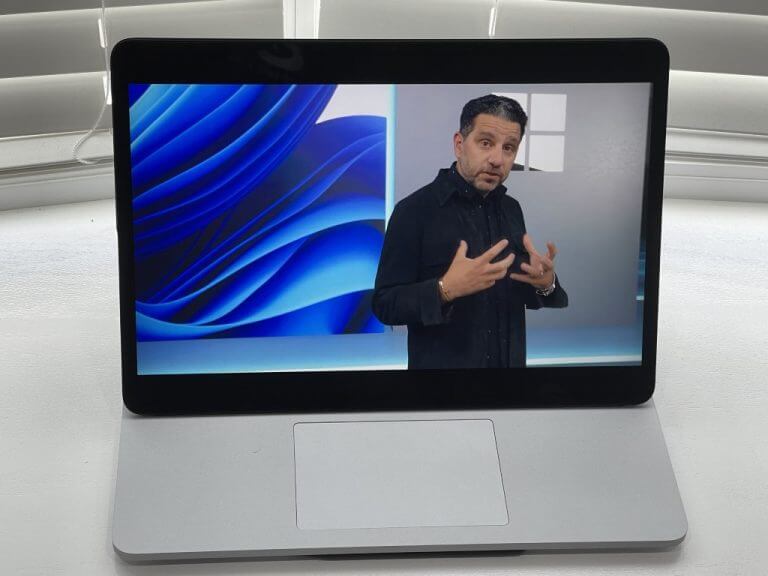 In talking about the display, I want to mention the "Stage Mode." This mode pulls the Laptop Studio's display near to your face and hides your keyboard. It's one enjoyable way to watch movies as well as TV shows. I'll admit I spent most of my time in "Laptop Mode," but this mode is where I went for multimedia, and I'm glad I did. The Laptop Studio's display is one of the brightest and most vibrant on a Surface.
I did run some tests with my Spyder5 colorimeter, and the Studio put up some good numbers. It measured close to 450 nits and recorded 100% of the sRGB spectrum, 81% AdobeRGB, and 88% DCI-P3. If those numbers don't mean much to you, then let me put them in words. I watched the September Surface event on the Laptop Studio, and it felt as though Panos Panay was in the room with me. I noticed all the fine details from the shine on his watch, to the dust on his black jacket.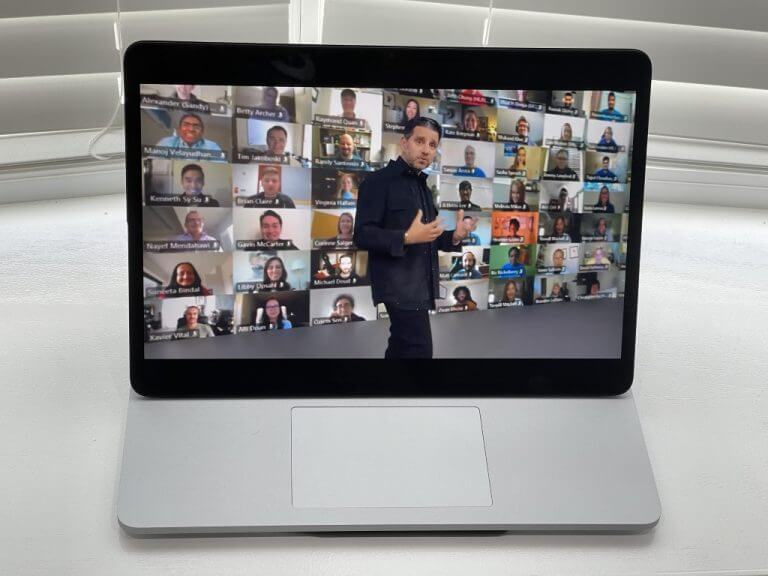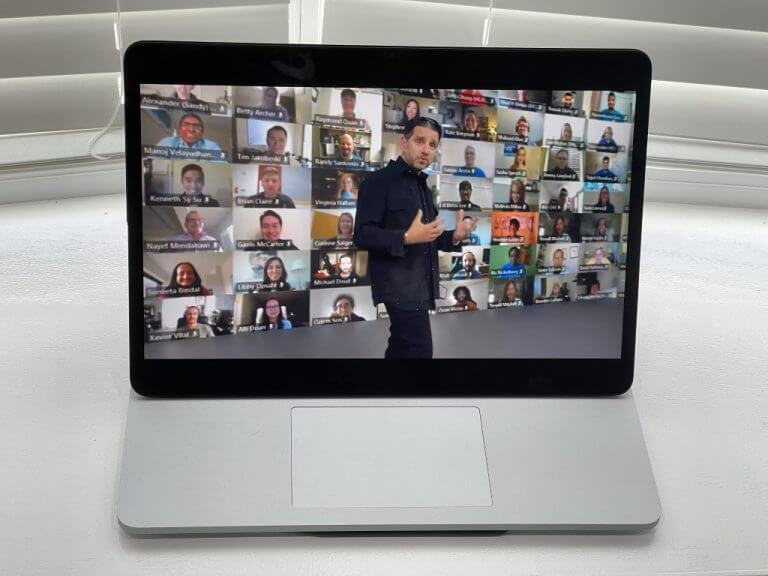 In other specs, the 14.4-inch display on the Laptop Studio hits 2400×1600 resolution. Of course, it's in the 3:2 aspect ratio, for more vertical room for multitasking. I wish the resolution was higher, but the color accuracy makes up for the lack of pixels. Plus, tweaking the display scaling always adds more room on the display, too. I hope one day Microsoft introduces a 16 or 15-inch model, especially considering the bezels on the Laptop Studio are relatively big.
There are some special features on the display. For the first time, you get a 120Hz refresh rate on a Surface product. This brings Windows 11 to life and makes animations feel crisp and smooth. In gaming, it also helps with making the action feel smoother, too. 120 Hz is still the default, and Microsoft has yet to enable Dynamic Refresh Rates, where the laptop can pick the rate it needs.  Also enabled by default is support for Dolby Vision HDR. When you download the optional Dolby Access App, the Laptop Studio can enhance your movies and content to give you almost OLED quality blacks, contrasts, and colors.
Microsoft even throws in a neat software feature called "wake on touch." If the Laptop Studio is in Stage Mode, you can double-tap the screen to wake it up. Just like an iPhone or iPad. The option is hidden under Touch settings.
The inking with Slim Pen 2 in "Studio Mode"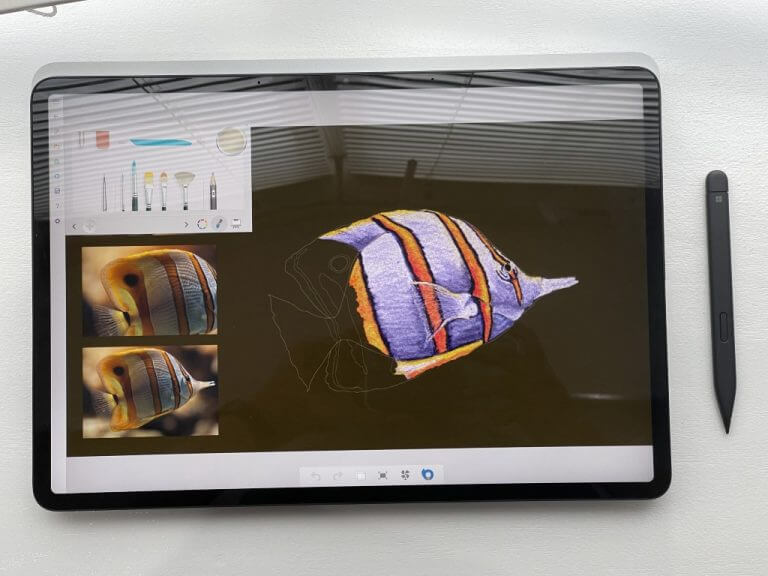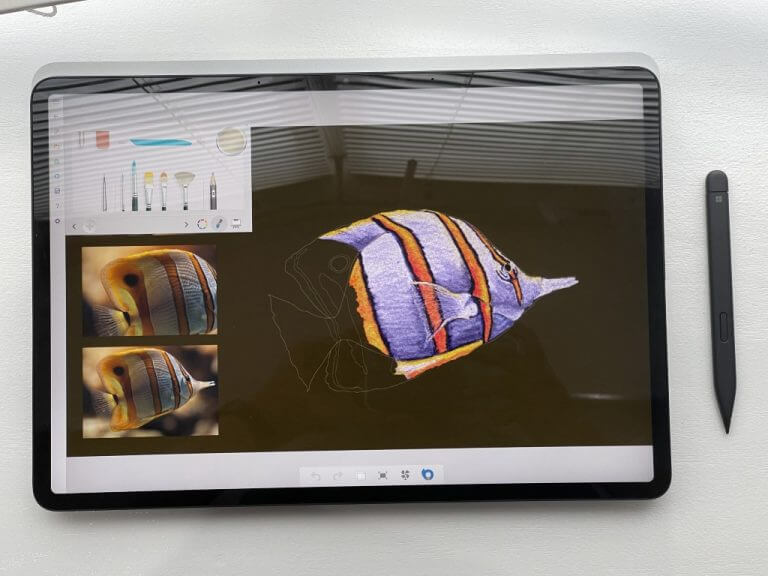 I'm not much of an artist, but the Laptop Studio makes me wish I was. Like the Surface Pro 8, the Laptop Studio has support for haptics, or what Microsoft calls "tactile signals," in the screen. With this, as you tap the Surface Slim Pen 2 to the display, you get a little haptic feedback for that true pen-to-paper feel. It's a subtle feel, but it's mind-blowing the first time you try it. Several apps including OneNote, Word, Whiteboard, Adobe Fresco, Sketchable, all support the technology at the moment. The Fresh Paint app I used for the photo above, though, doesn't. Seems like it's up to developers to support the technology.
Along with the 120 Hz screen, this makes inking feel so smooth and natural. Plus, the convenience of having the pen stored under the Studio makes you want to pick up the pen and draw. I just wish that the display was a little less reflective, though. As you can tell from my photos, there's no anti-glare technology in play here on the Laptop Studio.
Needs more ports
Apple recently went back in time and added more ports to its new MacBook Pros, and I wish the Laptop Studio had done the same based on the Surface Book 3. It only has two Thunderbolt 4 ports, a headphone jack, and a Surface Connect Port. Thunderbolt 4 allows for dual monitor support without dongles or docks, as well as external GPUs and faster transfers between external drives — a first for a Surface.
That's cool and all. I enjoyed moving podcast stuff from my Samsung T5 SSD over to my system with speed (it took less than 15 seconds for about 15GB of files,) but I find myself always keeping a dongle on my desk when using the Laptop Studio for my keyboard and mouse. An extra USB-A port, or a MicroSD card reader would have been appreciated.
The speakers and webcam, though, do somewhat make up for the lack of ports. Microsoft opts for a Front-facing 2.1 megapixel 1080p Windows Hello webcam, a boost from the 720p on the Surface Book 3. I used the in-built webcam on the Surface Laptop Studio to podcast, and could barely tell a difference over my dedicated external Dell webcam.
Was checking Reddit and heard that guy MKBHD said the speakers on the Surface Laptop Studio aren't good. Idk what he's talking about. I'm jamming out to the Flight Simulator theme right now at 100% and feels like my table is gonna fall down with all the bass lol. pic.twitter.com/6qZePETqOS

— Arif Bacchus (@abacjourn) October 6, 2021
And for the speakers, there are four Omnisonic speakers on the Laptop Studio. These are some of the loudest I've heard on a Surface. There are two bass speakers on the side, and two under the keyboard deck. Despite what MKBHD says in his review, these speakers impress. The Laptop Studio can even have sound profiles that adapt to the postures you use the device in. In moving to "Stage Mode," sound comes out the sides, but in "Laptop Mode," sound comes out the top.
Decent battery life
My actual Battery report on a dGPU Surface Laptop Studio. Averaging 7-9 hours of battery…
by u/Reddit_newguy24 in Surface
As always, I'll end with battery life. The Laptop Studio in my tests comes home with around 9-10 hours of battery, maximum. I uploaded my battery report to Reddit, and you can see it above if you're curious. In keeping the display to 34% brightness, and at 60Hz, I get around 9 hours of web browsing and multimedia consumption. At 120Hz, the difference isn't that noticeable, and the numbers come in the same. That's still far off the 19 hours Microsoft mentions in the product listing.
In terms of using the Laptop Studio's dedicated GPU on battery, don't expect it to last 19 hours either. In my tests, I only got 2 hours of battery when working on encoding a podcast, with an external SSD attached to the system. In all games, you'll only get 30fps max, too. The Laptop Studio is more of a desktop machine, and to get the most out of it, I suggest plugging it into the wall most times.
A laptop for Surface fans
If you're hoping to buy the Surface Laptop Studio, then do it. From the display to the overall performance of the dGPU, it's one excellent machine. Sure, you can find a laptop that's better-performing for the same price, but not many laptops with a dGPU offer up the different modes of use and inking support that the Laptop Studio has. For fans of Microsoft, the Laptop Studio is excellent. It takes everything learned from Surface Pro, Surface Laptop, and Surface Book, and puts it all together in one fantastic product.