Starting at $249.99
Microsoft's newest docking solution seems to have found the sweet spot between functionality and aesthetics. We've come a long way from the lock in place Surface Pro 3 and 4 docking station which propped Microsoft's flagship tablet computer erect in a single functional use position, and while relatively minimalistic, it wasn't portable or transferable for most users.
Microsoft has since reiterated on the design to bring users the Surface Dock and Surface Dock 2 which maintained an industry-like appearance of cord connected brick of ports that included several modern USB connectors, HDMI, mini-display port, ethernet, and audio jacks.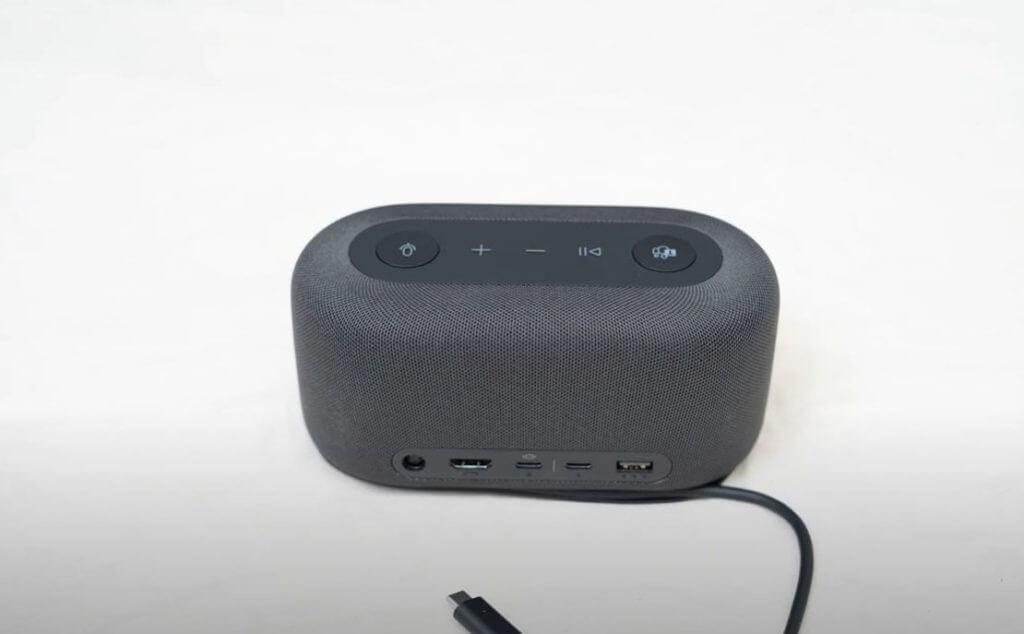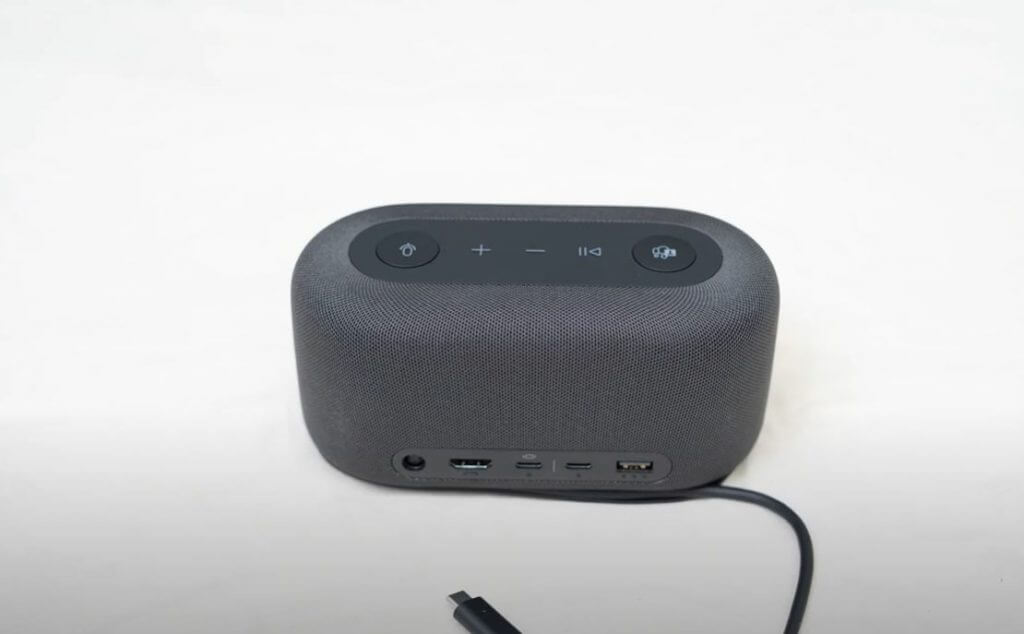 Microsoft's latest dock now adds an audio component as its newest upgrade and does so while undercutting its most well-known competitor in a very niche sector.
Microsoft Audio Dock 2023
TECH SPECS
Dimensions
Width 6.6 x Depth 3.16 x Height 3.19 in
(167.6 mm x 80.2 mm x 81 mm)
Weight
22.9 oz. (650 g) (Package not included)
Colors
Matte Black
Speakers (qty)
Tweeter: OD25.9 x H11.6mm
Woofer: L54 x W48.8 x H41.5mm
Sound pressure level output
Up to 90dB SPL
Frequency response
70Hz~20kHz for music playback
200Hz~8kHz for conference
Dock connections
1 USB-C® (USB3.1 Gen 2, power up to 7.5 W)
Support DP alt mode, up to Dual Display1
1 USB-C® (USB3.1 Gen 2 data only, power up to 7.5 W)
1 USB-A 3.2 (USB3.1 Gen2)
1 HDMI 2.0 port with 4K@60Hz
Support MST in USBC and HDMI port
Support USBC PD charging (up to 60 W)
Compatibility
Operating System:
Windows 11 Home/Pro, Windows 10, MacOSConference Software*:
Microsoft Teams, Zoom, Google Meet
Connection to PC
USB-C
USB cord length
39.4 in. (1 meter)
Buttons/Controls
Microsoft Teams button, Mute button, Volume up button
Microphones
Two omni-directional microphone arrays
Audio codec
Codec RK2108
Amp TAS5805
Microsoft accessory center
Speaker performance customization and microphone settings (Available only on Windows)
What's in the box
Microsoft Audio Dock
Power Supply Unit & AC cord
Quick Start Guide
Safety and warranty documents
Warranty2
1-year limited warranty
Look and Feel
The Audio Dock is spiritually reminiscent of a Google Nest speaker as its wrapped in woven fabric, presumably to enhance the audio output experience. While it's roughly the same size as a Google Nest audio speaker when positioned horizontally, the Audio Dock does away with the home decor facade and only comes in a single matte black color scheme emphasizing desktop utility over environmental ambience.
The Audio Dock may not win any awards for complementing aesthetic decor, it does match the Microsoft color branding of other desktop accessory efforts that include Modern Keyboards, Arc mice, Modern Webcams, Presenter+, Modern headsets and even Xbox controllers.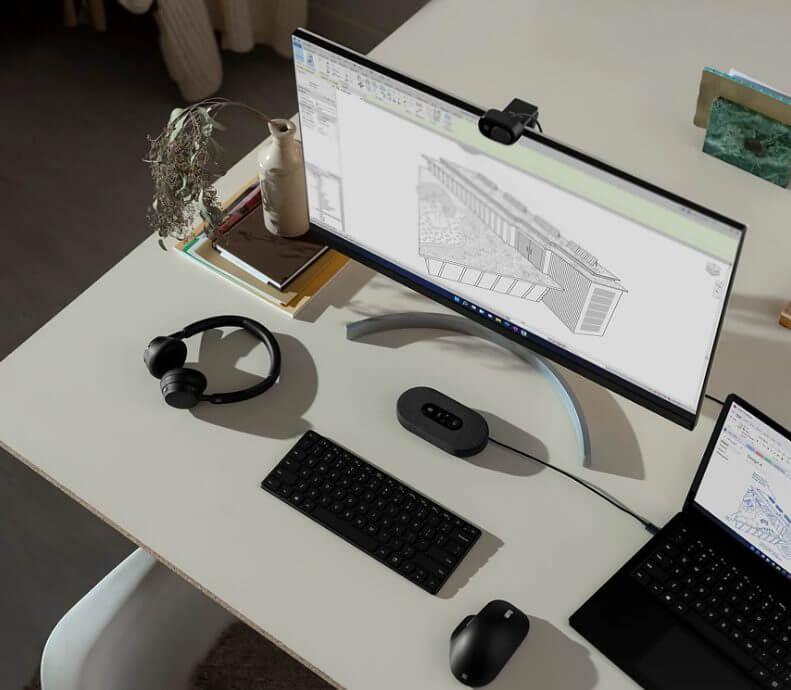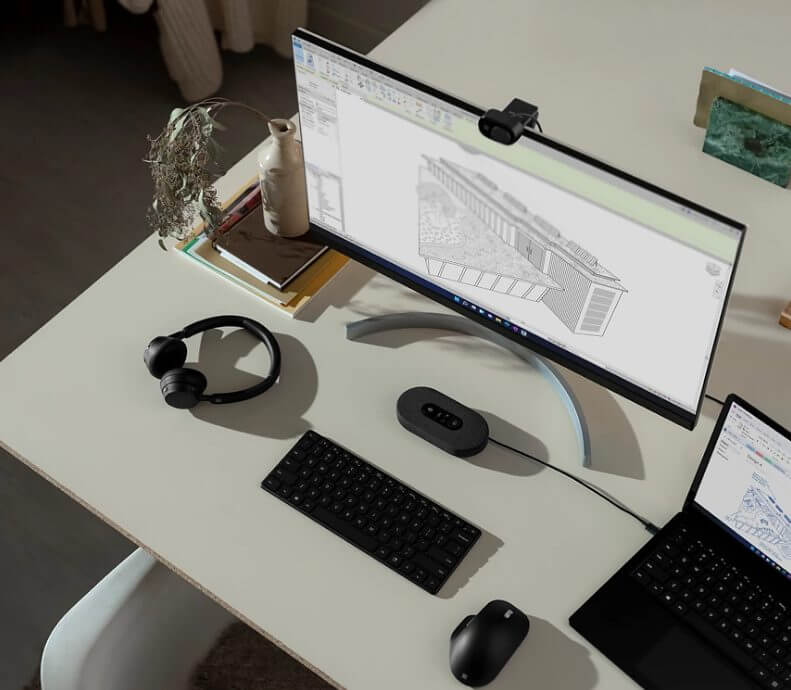 The design of the Audio Dock builds on Microsoft's previous efforts with the Microsoft Modern USB-C speaker by kicking everything up several notches. Where the Modern USB-C speaker emphasized portability with its sleek design, the Audio Dock increases the speaker bay by 2/3 the size which adds considerable weight to the docking station by comparison.
However, when comparing it to Microsoft's previous docking station, the Surface Dock 2, the Audio Dock feels only a bit heavier surprisingly. Perhaps, the reduction in port selections between the two may contribute to the relative weight comparison as the Surface Dock 2 offers four USB-C, 2 USB-A, and ether net port and an audio jack as its connectors while the Audio Dock only provides connections for 2 USB-C, 1 USB-A, and an HDMI 2.0 slot with support for up to 4K at 60Hz.
Perhaps in an effort to assist in cable management and minimalist aesthetics, all ports and connections are tucked away at the back of the Audio Dock.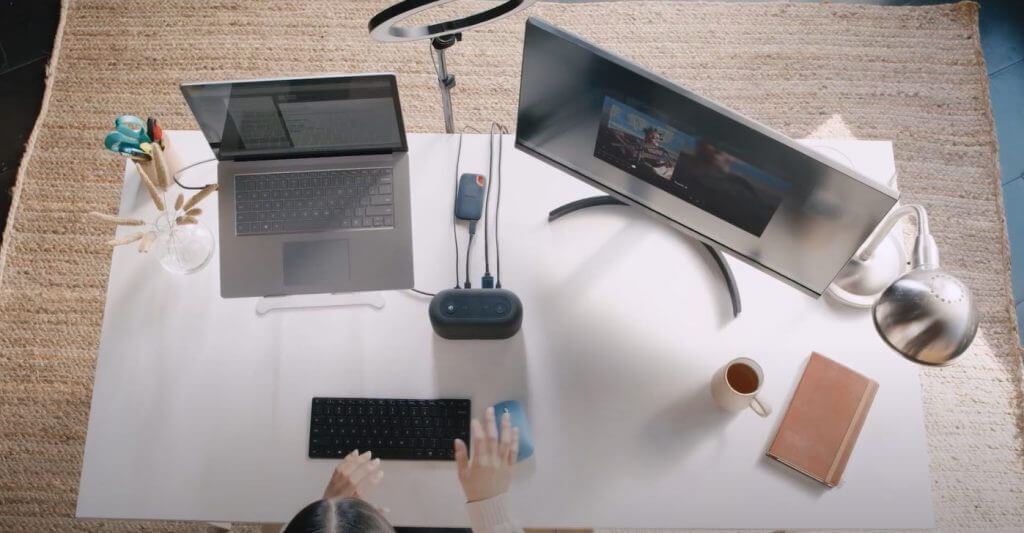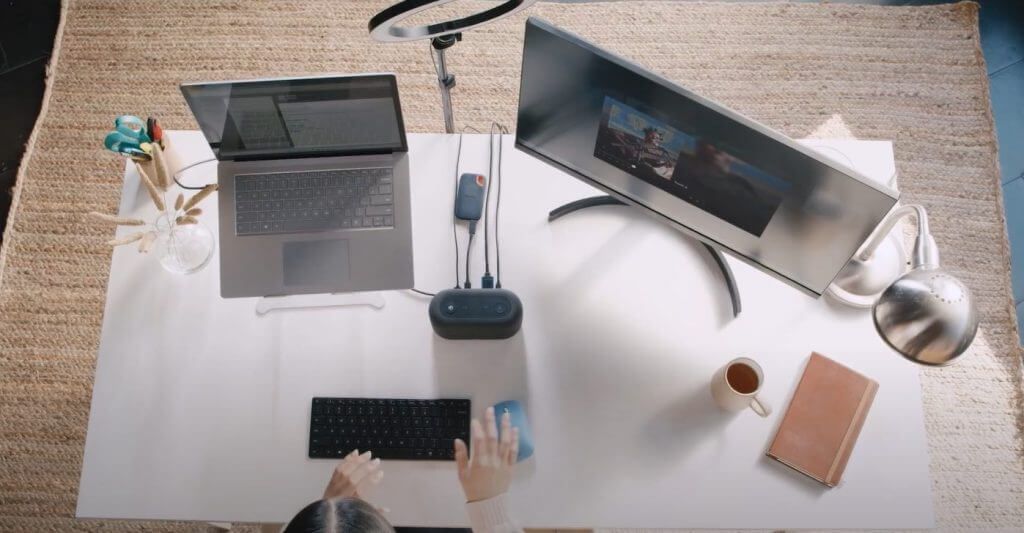 The Audio Dock also does away with the proprietary Surface connector and opts for a more ubiquitous USB-C connector that can power devices at up to 60W while allowing it much more utility for a wider user base than its predecessor. The USB-Connector can also be tucked away into a compartment underneath the dock itself for further tidiness and portability when necessary.
Performance
Identical to the Surface USB-C speaker, the Audio Dock comes with a dedicated tactile Teams button, speaker button, play and volume controls located at the top of the device and while the dock does a decent job of getting loud, it is a bit light in the bass department. The mids and highs are clear and crips, and it's evident the speaker excels at vocal reproduction particularly designed for podcast and conferences with audio. Don't get me wrong, music playback is good but it's not on par with more dedicated speaker solutions.
The Audio Dock also serves as a mic that does a great job of picking up most audio while simultaneously surprising other background elements. The Audio Dock won't replace a dedicated mic, but for the times when a headset may be charging, or you want to free your ears from hours of headset use, this dock slots in well.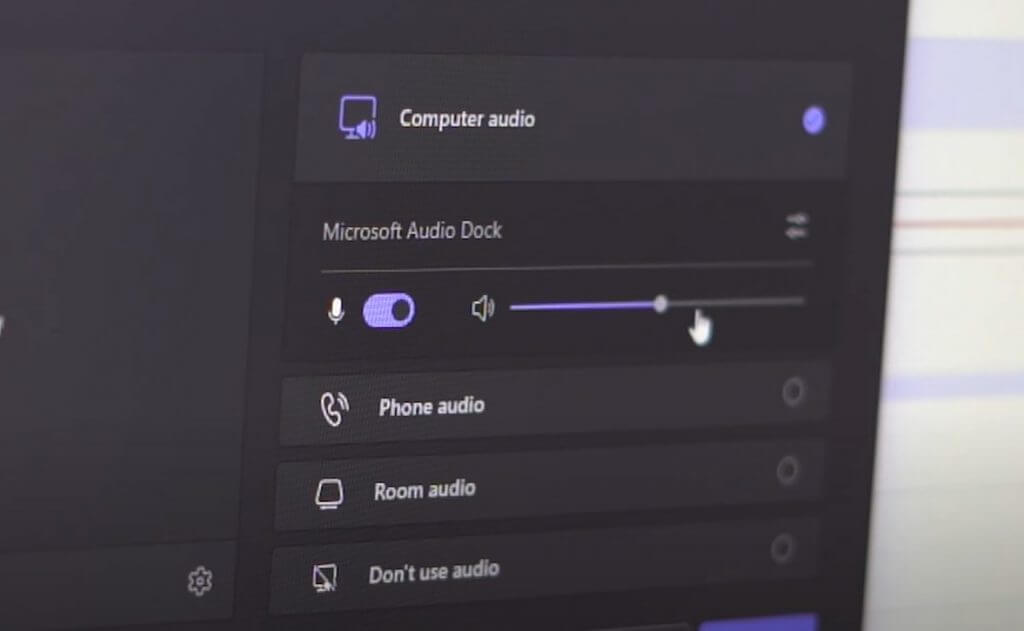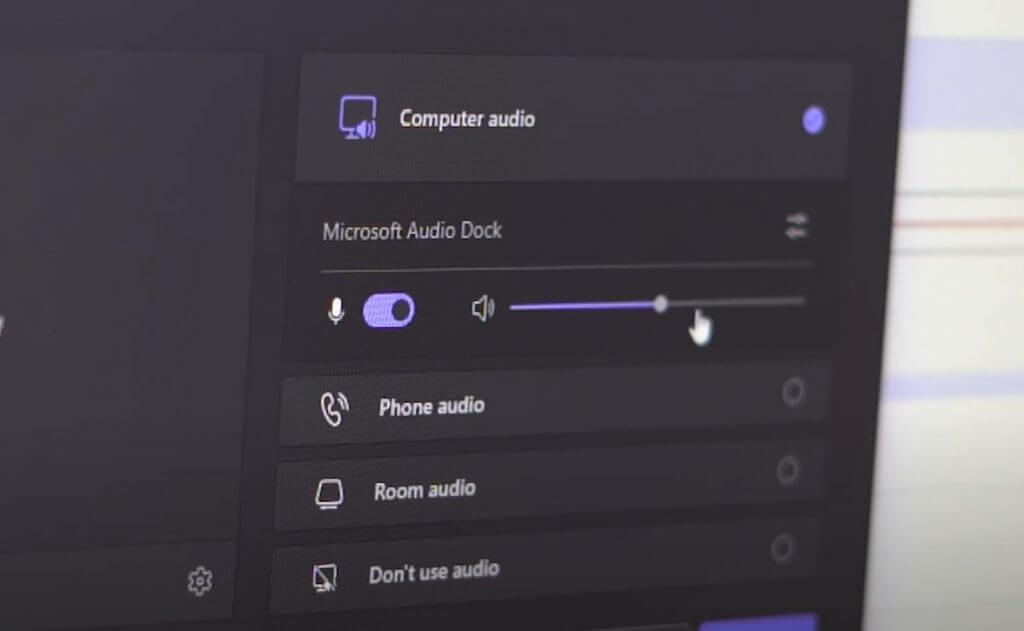 Microsoft continues to extend utility of its devices through the Modern Accessories software hub and users can make a few tweaks to the audio output from there such as prompt volume and audio settings for Teams communication.
The other product in this niche sector the Audio Dock competes with is the Logi Dock which offers a plethora of ports and connectivity selections that include display, HDMI, 2 USB-A, Bluetooth pairing, four USB-C slots and a Kensington lock. However, the audio and mic quality of the device still feels a step down from the Audio Dock.
For those familiar with switching audio inputs, using the Audio Dock is relatively straightforward and easy. For anyone who lives in a Team world, the Audio Dock becomes as second nature as pressing any audio controls on a dedicated keyboard.
Summary
While the Logi Dock does offer more ports and dedicated webcam control option, it's also $150 dollars more than the Microsoft Audio Dock while delivering a less than stellar comparative audio experience. The design of the two devices are very similar and take up relatively the same space both on a desk and underneath with their dedicated power bricks, but the Audio Dock has the added advantage of being tuned for video conferencing, especially with Teams.
At the end of the day, more docking solutions should incorporate audio and save users from having yet another input to manage via Bluetooth, wired or through Wi-Fi. The convenience of a port station with audio alone would sell the product category while bringing competition to actual audio experiences that could net users similar sounds akin to more dedicated speakers such as Bose, JBL, and Sony.