Lenovo's Chromebook Duet is my first foray into the world of ChromeOS as a "daily driver." As a primarily Windows user, venturing out to other operating systems such as macOS and Linux, there is normally a learning curve associated with the move. However, thanks to Google's integration of the Chrome browser on Windows and my use of a Pixel 4XL, picking up the Duet was a relatively fluid experience.
Unfortunately, Google's execution of ChromeOS on the Lenovo Duet only highlighted the shortcomings of both the OS as a replacement for a full-featured desktop experience and that Android developers still haven't figured out apps on screens on bigger than 7 inches.
Hats off to Lenovo
The Lenovo Chromebook Duet can be easily mistaken for a 1st party Google effort, specifically designed by the company's Pixel department. The two-tone blue-grey back panel is reminiscent of prior Pixel smartphone designs. Along with the same Pixel-esque inspiration, Lenovo opted to include a woven fabric magnet backplate protector that follows Google's hardware philosophy combining of technology and livable design.
The Duet slate (tablet-only) portion of the combo feels solidly dense in the hand yet lightweight enough for long stretches of single and double-handed consumption use.
Screen
The screen on the Duet is obviously the stand out feature of the tablet computer and rightly so. At 10.1-inches, it's wide enough for consumption but portable enough to hold in one hand. The LCD panel comes with a relatively modest 1,920 by 1,200-pixel resolution on a 16:10 aspect ratio. Despite being stuck ad 1080p for video playback, the brightness and color gamut make up for it at 400nits and 70% color gamut.
Lenovo streamlines buttons and I/O on the device by putting all of them on the same left-hand side distinctly broken up by the two-tone color palette that places the volume buttons in the powder blue panel portion while the power button and USB-C port with charging, data and DisplayPort connection support residing in the functional slate grey area.
Keyboard
The included keyboard has little bend or flex and performs admirably as an in the pinch desktop replacement despite being cramped due to its 10.1-inch device limitations. As one of two primary input modes, the included keyboard is a relatively solid experience and reminiscent of legendary ThinkPads with perhaps the best key travel of any detachable keyboard on the market. Lenovo also was able to cram some function keys atop the keyboard panel that help with quick switching of media controls, multitasking and screen brightness.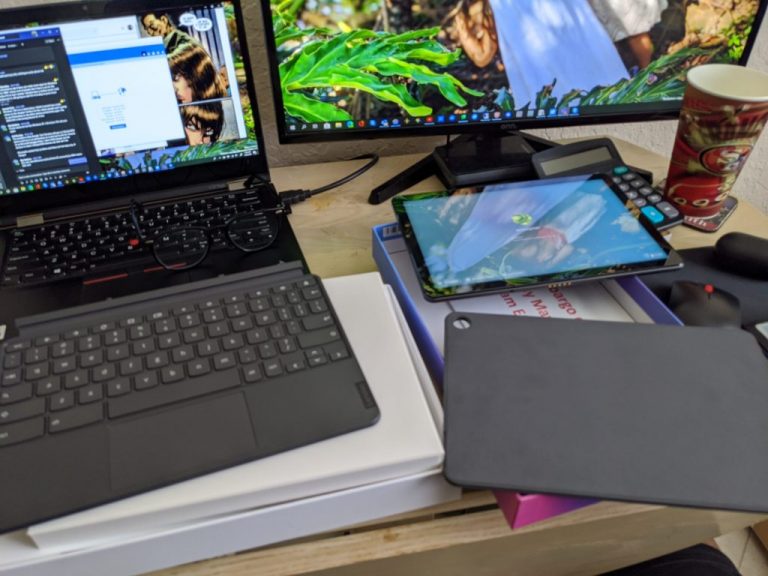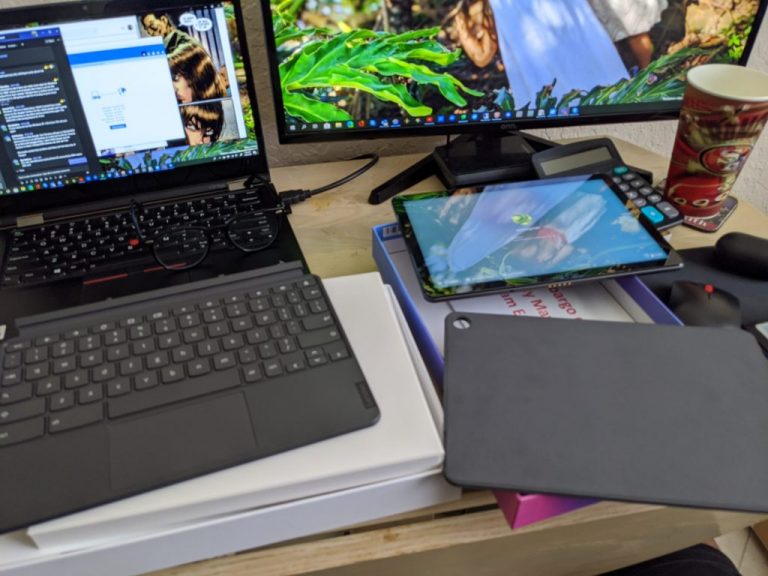 Unfortunately, due to the overall size of the Duet, the keyboard is limited in space and the compromises Lenovo chose to accommodate the placement of keys can be felt when typing or using the trackpad for extended periods. Another nitpick is the lack of ergonomic positioning that comes with Microsoft's magnetic Surface Type Cover connection to the bottom of the screen allowing for a raised typing experience. The Duet keyboard offers a singular position that's best used on a level or flat surface but more difficult on crossed legs or raised knees.
While Lenovo's craftsmanship is practically unmatched for Chrome-powered tablets, it's the company's sub $300 price point that puts the chef's kiss on the entire package.
For $289.99 customers get a modern take on a laptop/tablet design, detachable keyboard in the box for a 10-inch FHD IPS LCD touchscreen panel, Dolby Audio support, 10-hour battery life, and the latest ChromeOS and Android support.
But…
Despite the excellent craftmanship and market bending sales price, Lenovo's Chromebook Duet does have some drawbacks that may not show at the first unboxing but become lingering annoyances through extended use.
Starting with the camera bump that practically begs for the protective backplate to be applied to level out the device on flat surfaces. With such a pronounced camera bump, you'd expect a fairly decent shooter but you get the same muddled images as you would from any 720p webcam and that's for both front-facing and rear shot photography.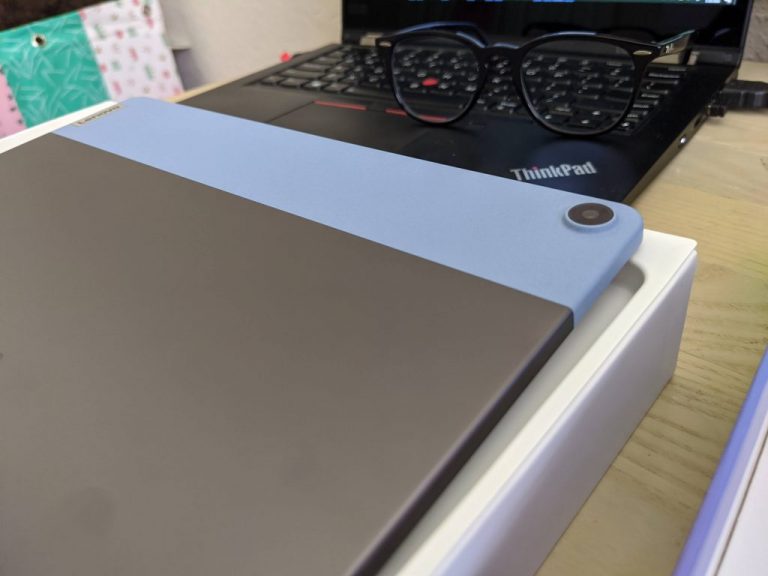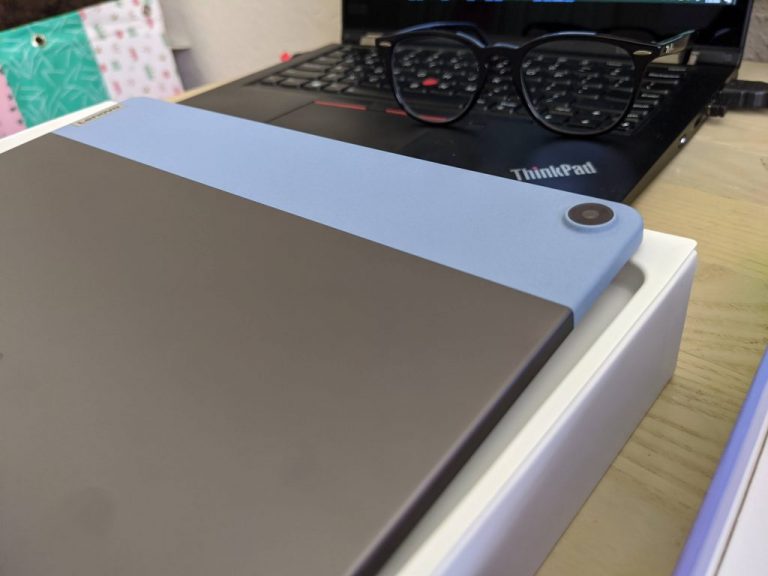 Too many detachables
Another disappointing factor of the Duet is its piecemeal magnetic assembly. While the magnetic backplate and pogo pins for the keyboard are sturdy enough, they don't hold into place very well when moving around in a backpack or even from desk to the couch surprisingly. I found that unless I was in desperate need of typing on the couch, I would prefer to go keyboard-less than have to deal with its cumbersome assembly.
This leads into my final qualm with the Duet and that's the software coupled with underwhelming Android specs which led to some pretty disappointing performance on the whole.
Middling performance
The 2GHz octa-core MediaTek Helio P60T chip combined with 4GB of RAM ran into performance hills quite often. Opening up an Excel doc in combination with Outlook and the browser would lock up my device, especially coming off a rest-wake cycle or closed lid.
In particular, gaming was non-existent on the device. Not that I was expecting to play Call of Duty at 60fps on the Duet but even playing the mobile app was a huge letdown. Even shifting my gaming expectations down a gear, attempting to play a turn-based RPG like Marvel Strike Force would crash the device after a few turns.
Beyond the hit and miss entertainment flow I developed on the Duet, productivity was also spotty, but at little fault to Lenovo. While the company did pack it with arguably off-the-shelf processing specs, it's the ChromeOS and Android merger that feels convoluted and jarring when attempting to streamline work.
ChromeOS hits and misses
Off the bat, window management in ChromeOS on the Duet needs a bit of work. Perhaps, due to the spotty app development support for screen experiences beyond 7-inches, there were several times I found myself attempting to resize a window only to find out it can only shift to one size. I spent a decent amount of time testing the sizing of apps rather than just working in them. There was also a handful of times I found myself attempting to use web apps in the replacement of dedicated Android apps just to get a little more flexibility.
At the end of the day, while Adobe, Microsoft, and even Google itself has put a lot of work into their app portfolio, they are still apps and offer a shadow of their desktop or even web counterparts.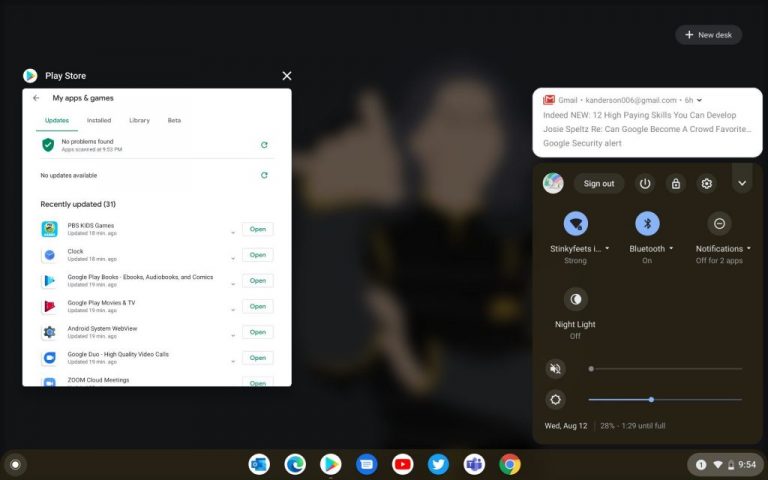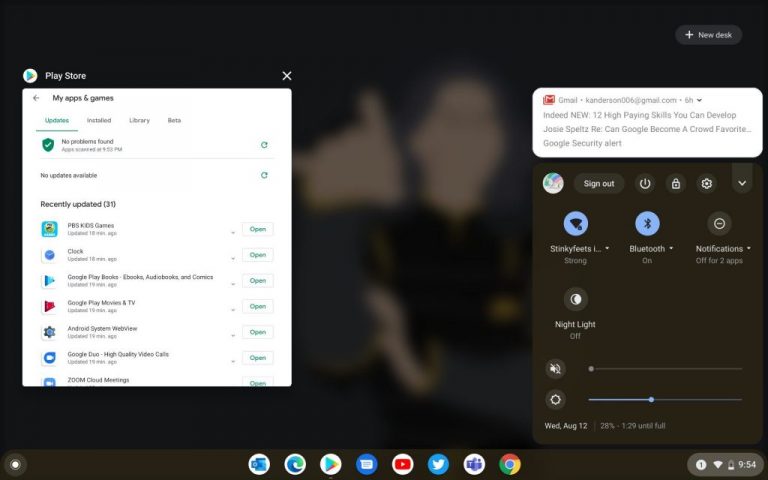 Part of the frustration with window management on the Duet comes from the logic behind closed or crashed apps when resizing them. If you attempt to resize an app beyond its predetermined limits, it simply just disappears from the screen. Sometimes it closes, sometimes it just needs to be reopened from the multi-task window.
Updates???
The other thing I wasn't expecting was the updates. Updates are a known quantity on Windows for better or for worse, but the daily app updates that clutter up 1/3 portion of the screen dedicated notifications can be distracting as well. It was frustrating to open up the Duet to find a ChromeOS update that requires a restart. While the update takes a matter of minutes to shut down and restart, I felt I was sold a bill of goods on ChromeOS.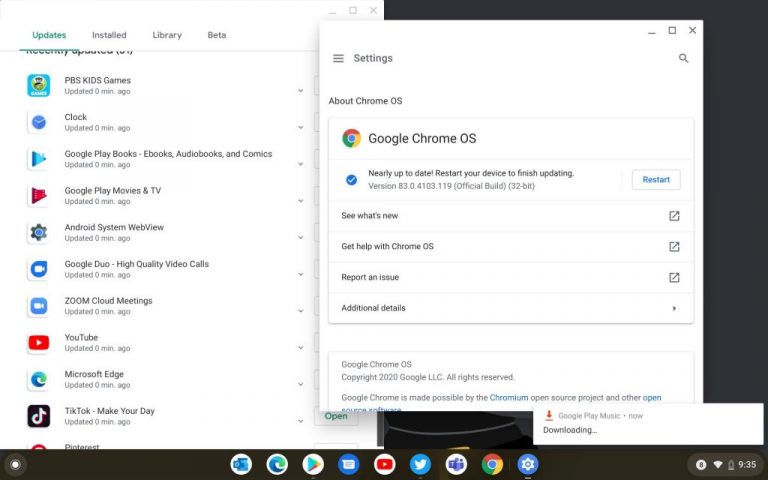 Who is Duet for?
My hat is off to Lenovo for offering compelling value proposition tablet computer regardless of operating system. The Duet is a solidly built device and perhaps the only tablet computer on the market that includes a keyboard, let alone one with laptop level travel and responsiveness. The screen on the Duet is good enough for casual consumption but if you're looking to catch one of those Marques Brownlee 2K YouTube videos, might be a little let down.
One of the things that went understated during my testing was the battery life of the Duet, it lasted days. Well, a day and half with heavy usage, which beyond what I was expecting.
People in transition
The Duet is a solid tablet experience for people new to the paradigm. I don't think it serves as a replacement device just yet, but it does offer a great use-case for people transitioning to ChromeOS, Android on tablets, or 2-in-1 detachable.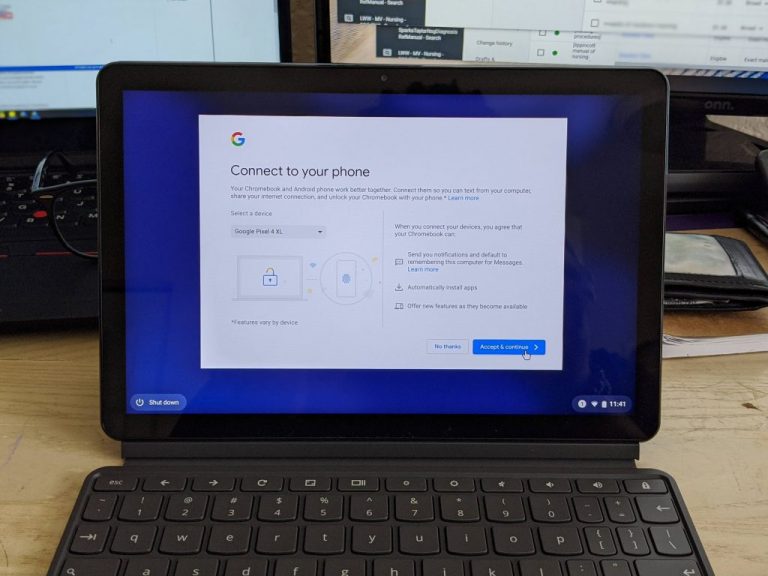 Recommend
I would recommend the Duet as a buy for anyone who wants to cautiously move to ChromeOS, a secondary device, an in-a-pinch substitute or a an additional screen in this new work-from-home reality. I don't think the current Duet is ready to take on heavy workloads just yet, but if Lenovo keeps at it, the Duet 2 might be in the conversation with iPad Pro, Galaxy Tabs, and Surface Pros with just a few tweaks. Will ChromeOS keep pace? That may be another story.