There's no shortage of webcams these days, but Microsoft's last officially branded webcam came in the late 2010s with the Microsoft LifeCam Studio. Since then a global pandemic has shaped the way we do our work, putting 1080p webcams at the top of things that are needed for any home or school setup.
That's why Microsoft recently announced the Modern Webcam, a new webcam that promises high-quality 1080p video conferencing on Teams. But is it up to snuff in a market of webcams dominated by brands like Logitech? I picked one up for review, and that's what I'm here to help explain.
Special Features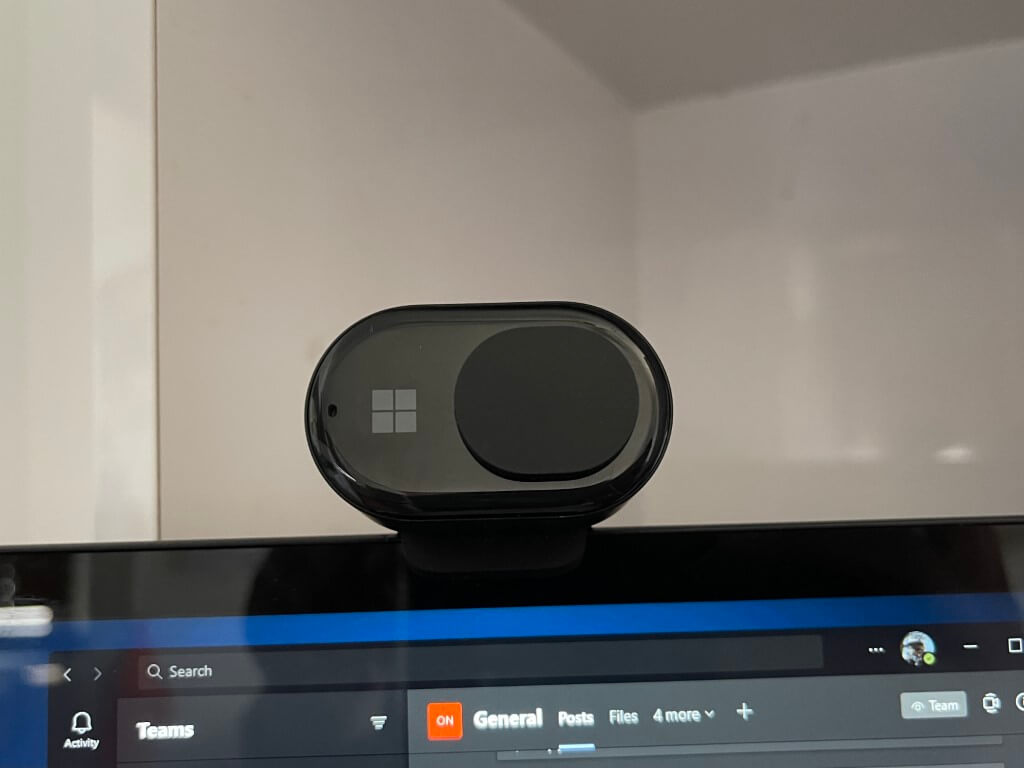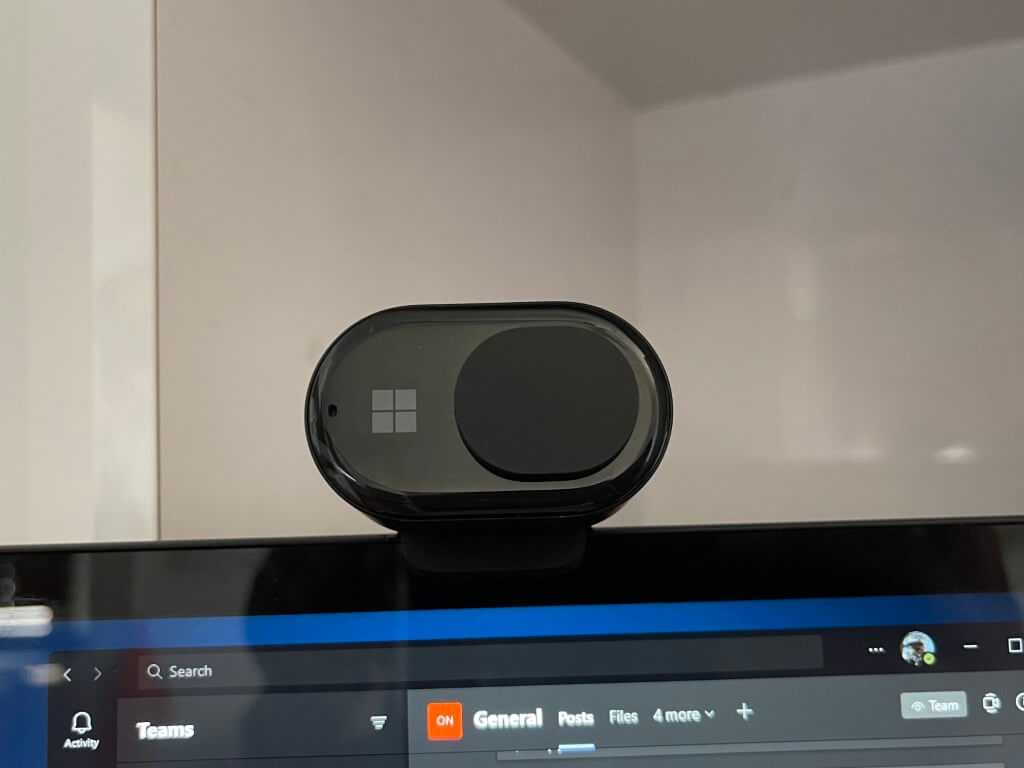 There's a couple of features in the Microsoft Modern Webcam that Microsoft markets. I'll begin by mentioning these at the top of my review, rather than the bottom. It is likely that you're already looking through these features before going to the store or checking this out online. So why not explain it to begin with?
First off, there's the HDR support as well as True Look (also known as Retouch) and Auto white balance and anti-flicker. These features improve your video feed by using A.I. to touch up the light and the colors in the room around you, and even your face, too. It's essentially what your iPhone or Android camera can do, and it's not uncommon in most webcams priced above $50 these days, just look at Amazon for examples.
But there is one note. As I'll explain later, in some cases, when used in combination, these features can be a little intense. For most people, though, the features will help improve your webcam feed in poor lighting conditions. You have full control over all these webcam features in the Microsoft Accessory Center app if you're unhappy with how your webcam feed is coming out. This is what this Microsoft webcam does best, but more on that later.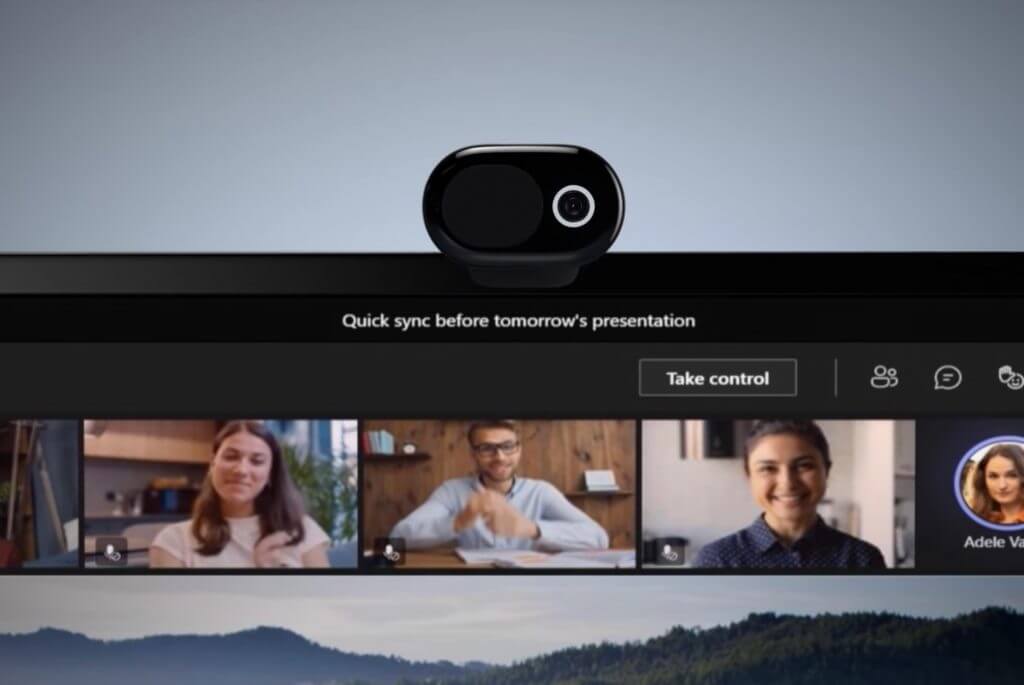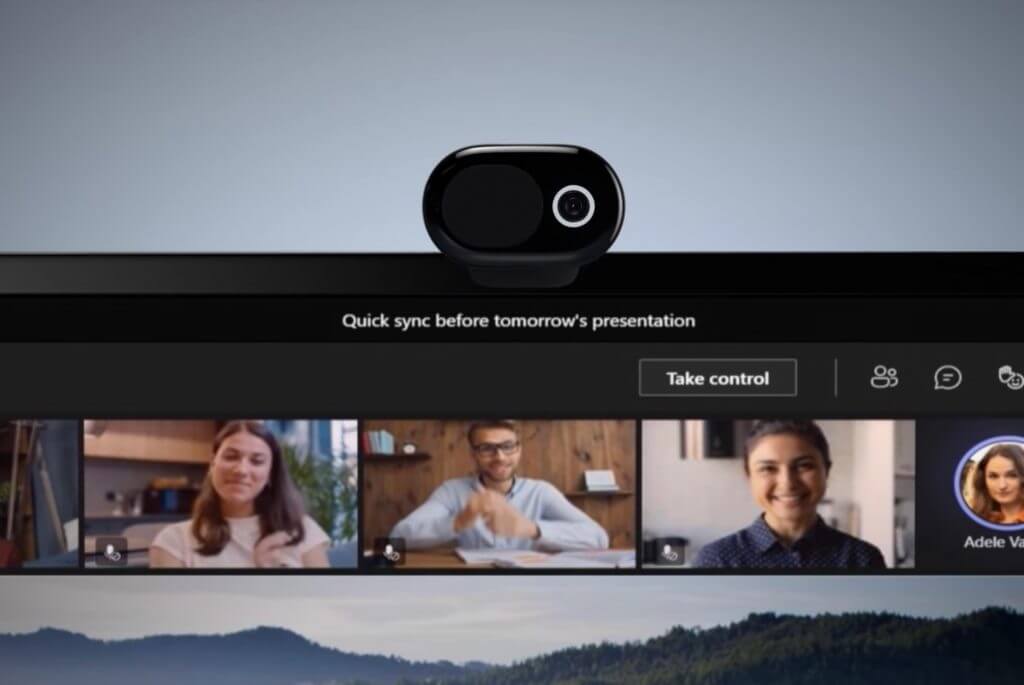 Then there's the integrated privacy shutter. This is quite common on webcams these days, and it's nothing really too special. Just slide the shutter over to the right to cover the webcam, and you're good, as a piece of plastic will cover the lens. Note that there's even a little LED ring light that illuminates to let you know the webcam is on, too. Quite common, so even if you forget to leave the shutter closed, you'll know if someone is looking at you when you see that light on.
Other features include the mounting system, the 78-degree field of view, and USB-A connectivity, and a microphone. Let's not forget that this is also a 1080p camera, too that can output at 30 frames per second. This means that the person on the other end of the call will see more of you, and in higher quality vs the cheaper 720p HD webcams, you can find on Amazon for under $30.
Oddly enough, though, the microphone on the webcam is turned off by default, and you'd need to enable it in the Microsoft Accessory Center app, which warns you that turning on the webcam impacts its "Certified for Teams" functions. I didn't see this hurt anything in Teams despite the message.
And another note. 30 frames per second on this webcam are the basis for video conferencing. For streaming or gaming and 60 fps where every movement on-camera counts, you'd have to look at a more expensive webcam like the Logitech C922 Pro or even the Anker PowerConf C300 and the Razer Kiyo Pro Streaming Webcam. There's also no Windows Hello support on this webcam, so keep that in mind if you're planning to buy it. If you're after a Windows Hello webcam, we suggest looking at the Lenovo 500 Full HD USB Webcam instead.
Design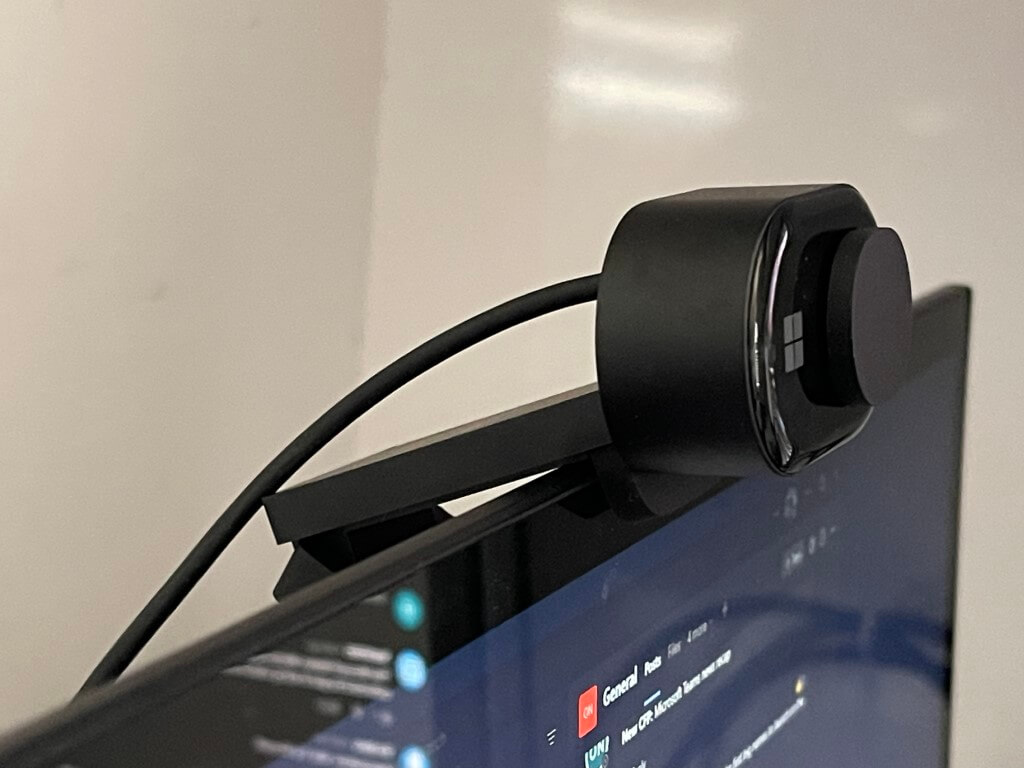 Features listed, let's move on to the design. All webcams are basically created equal and are rectangular blocks of plastic, but the Microsoft Modern Webcam does feel a bit different. Rather than being rectangular, this webcam is a shaped bit more like an oval.
That means it is quite compact and sits nicely on a monitor, almost floating in the air as part of your monitor or laptop itself. Not to forget, how thin and light it is around 0.19 pounds, and just 3 inches thick.
The mounting system on the front of the camera is also compact, as it doesn't have a huge lip to grab onto and sit on your monitor or laptop. The lip is a bit small, which means it slips right on slim-bezel laptops like the XPS 13.  Even the feet on the back are compact, not being overly long or wide, like you get with Logitech webcams. Microsoft clearly thought a lot about the design to make sure it fits in well with your setup without being too distracting.
As for the privacy shutter, it is designed just as you'd expect. It's not too hard to slide left and right, as it is made of light plastic. You'll know when it's safe in place, too, as you get a tiny magnetic click with it.
Performance
To test out the Microsoft Modern Webcam, I used it on the weekly OnMSFT Podcast which just so happened to be filmed through Teams and Skype. You can check it out in the episode above, which goes on for 54 minutes. Overall, I think that the quality is actually pretty good. Compared to the previous week's episode where I used my Logitech C920 Pro webcam, the quality difference isn't too noticeable between the two webcams.
Both webcams are 1080p, and there was no flickering or fading in my image, and the exposure and white balance are both on par with each other. Both webcams also offer the same 78-degree field of view, which didn't matter much to me, as Teams and Skype would cut half of my frame out during the recording of the podcast. The Logitech has better mics, though, as it has dual mics, whereas Microsoft only has one, which definitely doesn't sound as good as a dedicated microphone.
What is noticeable, though, is the effects of the HDR and the Retouch features. Though my skin color is light-brown, the webcam ends up blowing my skin color and face color a bit out of proportion when this feature is turned on. If you go back an episode, you'll see that I look a bit more red than usual. I had both the retouch and HDR turned on in the software for this episode, and I think this is the reason why my skin didn't look more natural. Of course, it could also be due to my setup, as I have a ring light facing the screen.
So don't let that make you not buy this webcam. Microsoft gives you full control over these features via the software. If you're not satisfied with how your video feed looks, you can always tweak it how you want in a few clicks.
Software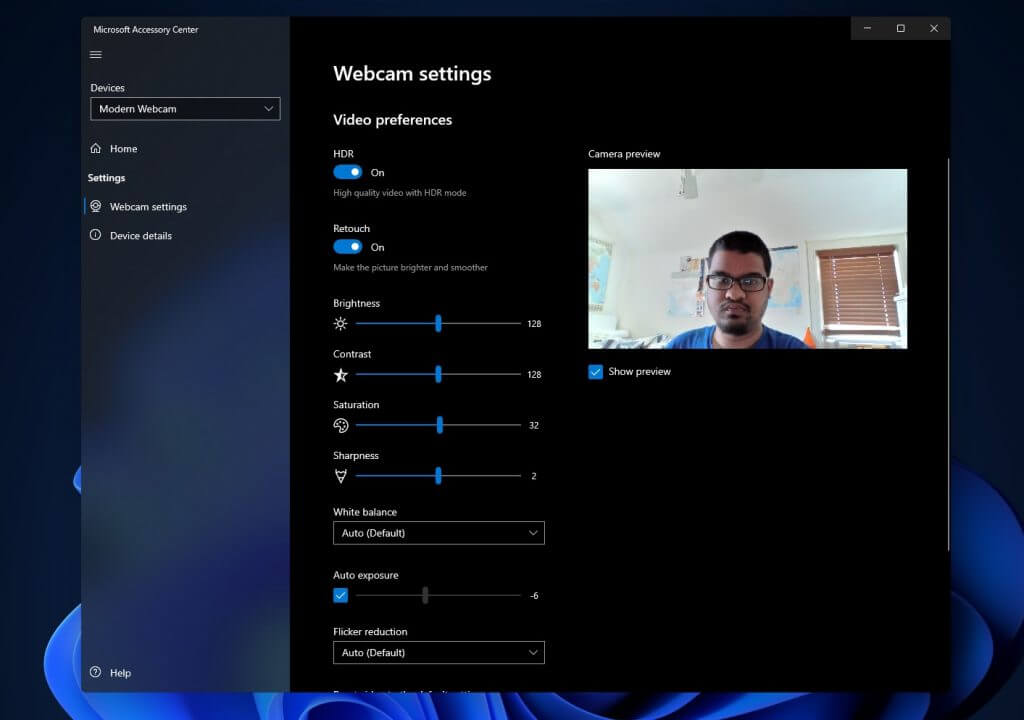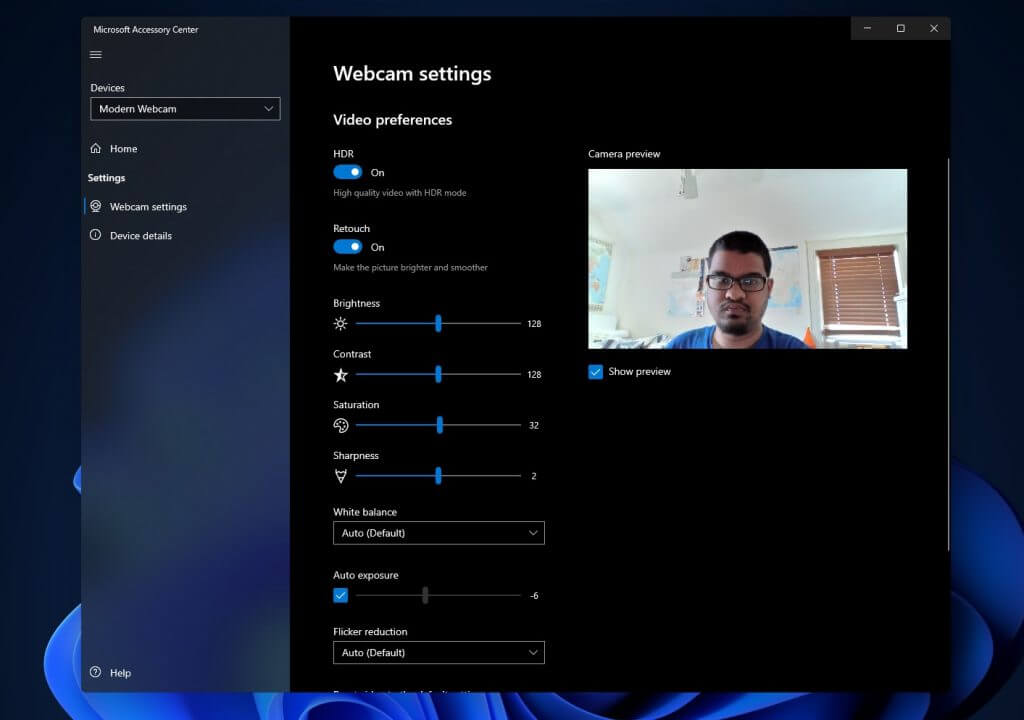 The most special part of the Microsoft Modern Webcam to me is the software. There's a lot of features in the Microsoft Accessory Center (automatically downloaded when your webcam is plugged in) that let you control your image as you see fit. Logitech also offers similar software, but it usually only works on compatible webcam models.
Anyway, with the Microsoft Accessory Center, you can control the brightness, contrast, saturation, sharpness of your image. You also can control the HDR and Retouch features. White Balance, Auto Exposure, and Flicker reduction are the other things that can be controlled too. Basically, what you see is not what you get. If your image isn't the way you want it to be, just weak the settings here for a better experience. Considering that the webcam is close to $100, it's nice to see Microsoft give you this extra level of control.
A great webcam
For the price of $70, the Microsoft Modern Webcam isn't all that bad. I do wish that it had support for Windows Hello, but otherwise speaking, it's a great webcam. The 1080p sensor makes a huge difference in the long run for higher-quality video calls, and it's backed by some great software that lets you tweak the video settings as you wish. You can buy the webcam now via our affiliated link if you please and would like to support us.