Starting at $1,759.99
The power promise of Intel's 12th Gen Alder Lake processors is finally making its way into Ultrabook's such as the Dell XPS 13, HP Spectre and Acer Aspire, but Lenovo's Yoga 9i may be the best showing yet for sleek and powerful.
The Yoga 9i isn't just a chassis redesign where much of the body is rounded off for a more comfortable fit and finish, but it's also a showcase for a new third tier 12th Gen Intel offering. In 2022 Intel will power select devices with a new P-series variant of its Alder Lake chips which sits between the high-performance H-Series and low wattage U-Series.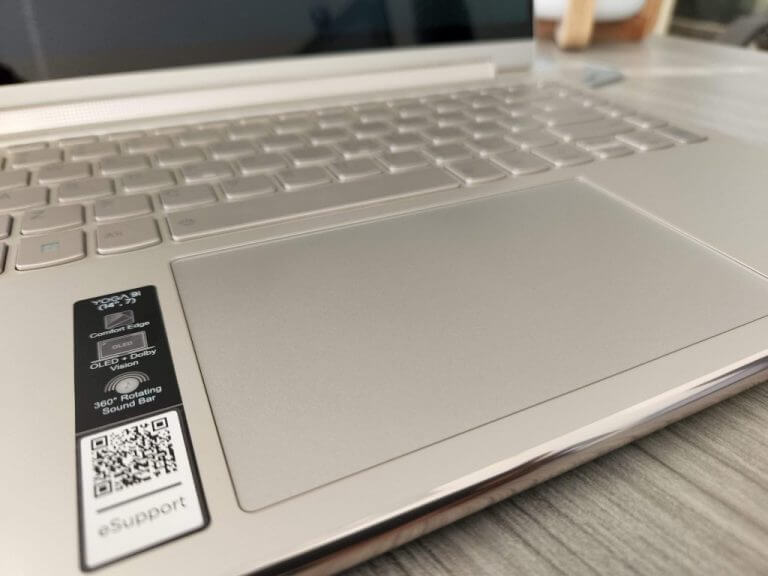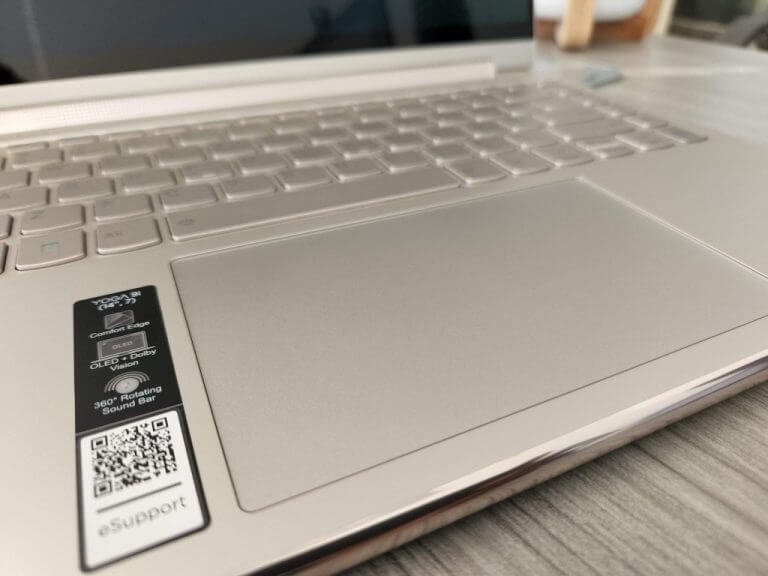 Unfortunately, where Intel got away with super-cooling its H-series variants, OEM's such as Lenovo aren't given that much runway in these ultra-thin laptops and as a result performance consistency is sacrificed for designed portability.
Lenovo Yoga 9i (Intel) 7th Gen
Processor
12th Generation Intel® Core™ i7-1260P(2.1 GHz / 12 Cores / 18M Cache)
Operating System
Windows 11Home64-bit
Graphics
Intel Iris Xe Graphics
Storage
512GB(One M.2 2280 PCIeGen 4×4 slot, supports M.2 2242/2280 SSD)
Weight
Starting at 1.4 kg (3.09 lbs)
Display
14″, WQHD+ (2880×1800), OLED, IPS, 400 nits,100% DCI-P3, 60 Hz, 16:10, Touchscreen, Dolby Vision
Storage
Removable solid-state drive (SSD)6 options: 256 GB, 512 GB, 1TB, 2TB
Camera
2.0-megapixel IR & RGB hybrid, FHD 1080p webcam with privacy shutter, fixed focus
Memory
16GBDual Channel LPDDR5-5200 (soldered)
Dimensions
318 x 230 x 15.25 mm (12.52 x 9.06 x 0.6 inches)
Wireless
IntelWi-Fi® AX211+ Bluetooth 5.2
Battery
75WhLi-Polymer, supports Rapid Charge Boost (2 hrs runtime with 15 min charge)
Color
Oatmeal
Ports/Slots
1x USB 3.2 Gen 2
1x USB-C 3.2 Gen 2 (support data transfer, Power Delivery 3.0 and DisplayPort™ 1.4)
2x Thunderbolt 4 / USB4™ 40Gbps (support data transfer, Power Delivery 3.0 and DisplayPort 1.4)
1x Headphone / microphone combo jack (3.5mm)
What's in the box
Lenovo Yoga 9i

Charging Cable

Pen

Quick Start Guide
Look and Feel
Key takeaways
New rounded design is among the best designed laptops on the market
Keyboard includes new secondary functions for Power, Audio, Windows theme modes, webcam toggles
Better feel in-hand
OLED display is bright with vivid color profiles
Touchpad is larger
In 2022 Lenovo seemingly adopted an arguably classic design language from 2014, back when Apple leaned heavily on polished rounded accents to accentuate an iPhone that nestled comfortably in the hand with the iPhone 6.
The seventh generation Lenovo Yoga 9i resembles two gold iPhone 6's stacked on top of one another when closed thanks to the heavily jewelry-inspired aesthetic on display with this ultra-thin portable.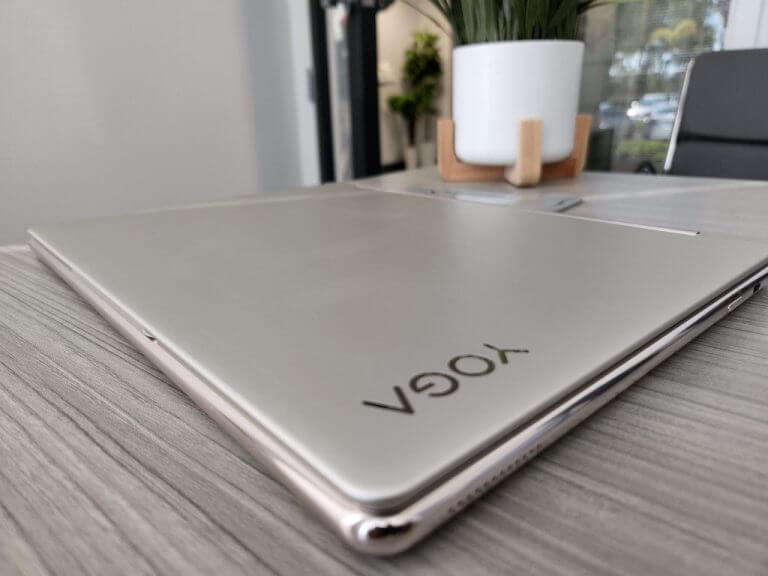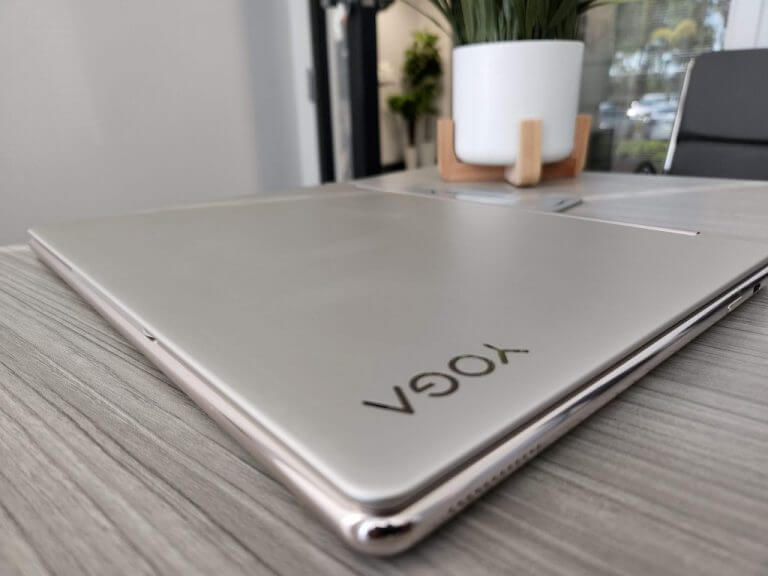 Lenovo claims the new design "improves grip comfort while being used in tablet mode," and while I only used the laptop in tablet mode on a handful of occasions; handling the device in and out of bags, to and from meetings and generally about, the palms of hand and edges of my fingers contoured around the rounded finishes of the 9i much better than the angular models of old.
Similar to other models and even Microsoft's flagship Surface brand, Lenovo makes use of reflective aluminum for the subtle Yoga lettering located in the top-left of the lid as well as 1/3-inch Lenovo branding in the opposite corner.
The polished rounded edge is accented by the Oatmeal polish on the speak grill-hinge of the Yoga 9i and helps package the entire device with a premium attention to detail.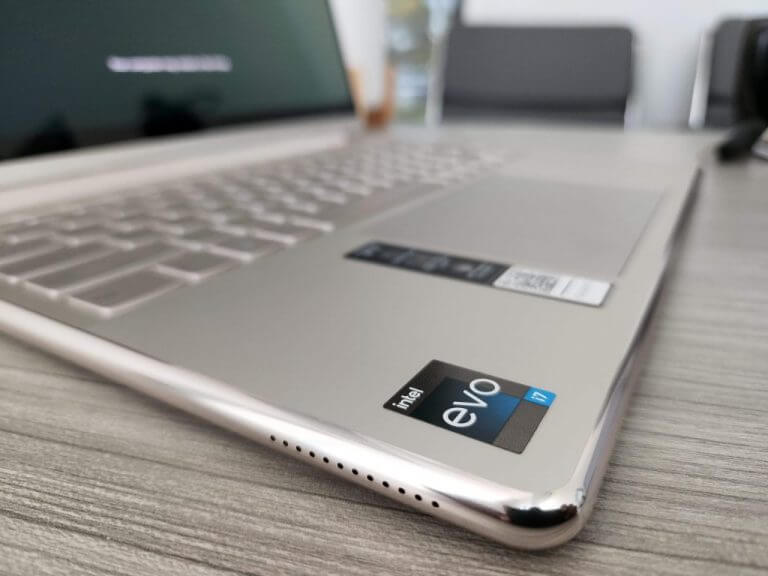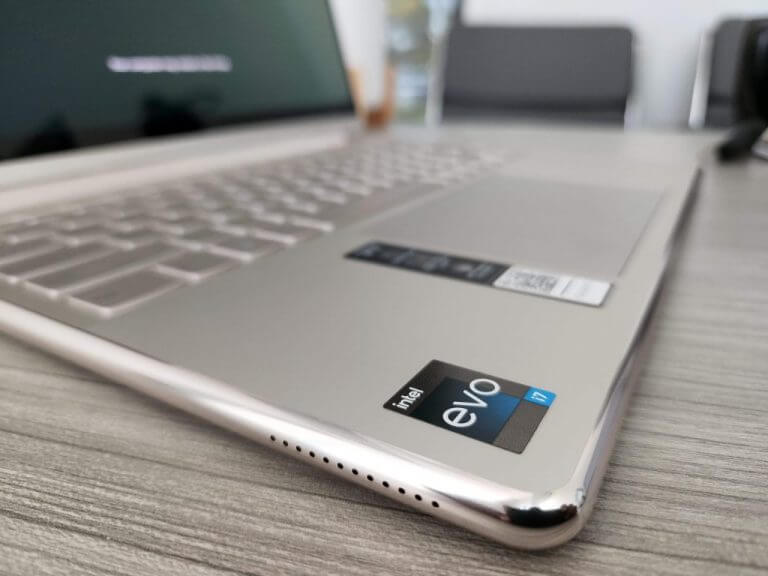 The Oatmeal color is more akin to a pale gold and depending on the lighting in an area, can traverse from light grey to hints of copper.
The weight of the laptop feels significantly lighter than other previous Yoga's despite being only 0.28 oz slimmer than last year's model.
The next biggest visual upgrade is found in the 14-inch 16:10 display that Lenovo offers in both 4K and 2.8K configurations. For that aspect ratio, users are getting a panel of 3,840 x 2,400 OLED goodness powered by Lenovo's PURESight calibration technology.
When opting for the 2K version, users will get a 90Hz refresh ration option while the 4K OLED models are stuck at 60Hz, which all of that translates to a more vivid color profile out of the box. Users who need to be more color accurate for work can also make some tweaks with Intel's display tech downloaded from the Microsoft Store.
The last noteworthy change to the Yoga 9i for 2022 is the keyboard where Lenovo managed to cram an entire row of secondary function keys in alongside the right side of the deck.
Users can quickly initiate Window's dark mode color profile, toggle between performance and audio profiles and adjust background blur when using the hybrid IR and integrated webcam.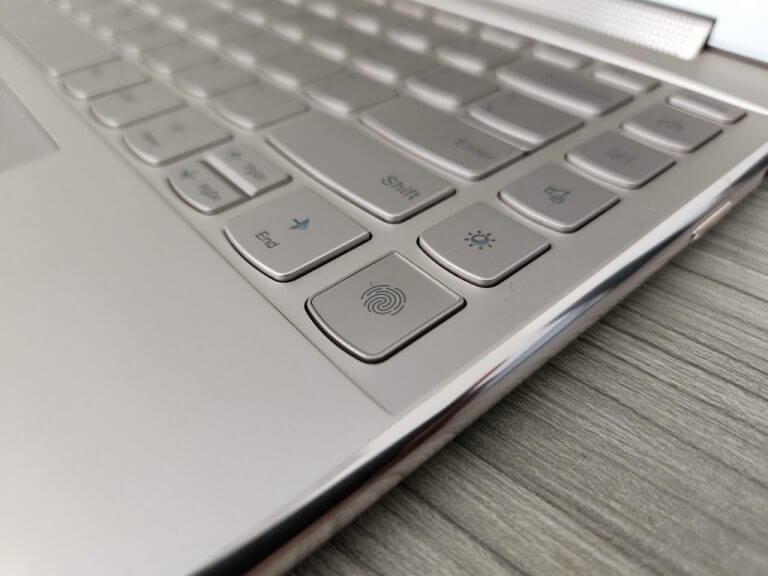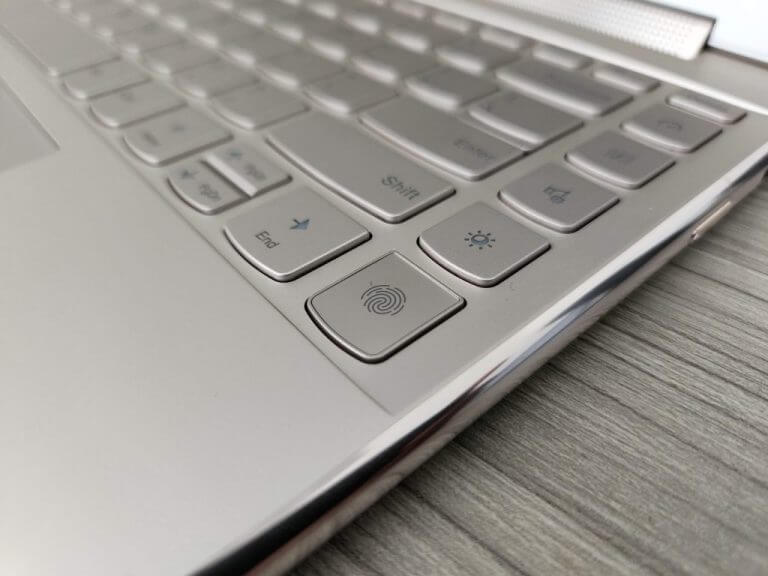 The sacrifice on space is minimal and Lenovo manages to maintain a satisfying key travel with its traditional U-shaped keys on the new deck, all while also raising the length of the palm rest area to incorporate an even larger touchpad.
Perhaps, the biggest quibble with the new 9i design is in the lack of space dedicated to storing the included pen. Unlike other Lenovo laptops, the 9i for 2022 forces users to come up with their own makeshift MacGyver-esque sets to house and store the included pen when not in use.
Performance
Key Takeaways
New Intel 28W 12th Gen Alder Lake P-Series CPU makes another leap in power but is hamstrung by old integrated graphics
Fans run often
Optimum performance requires the charging cable
In consistent performance off charger
The configuration I had was an Intel Core i7-1260P which makes use of 4 performance cores with Hyperthreading support as well as 8 additional efficiency cores. The combination of both 8E and 4P cores means the SoS can deliver 16 threads of simultaneous execution channels to better handle peak workloads.
In real world usage, that meant that editing video in Adobe Premiere, bulk uploads and edits in Photoshop and closing and opening macro-laden Excel docs ran quicker than other comparable laptops using 11th Gen Intel chips.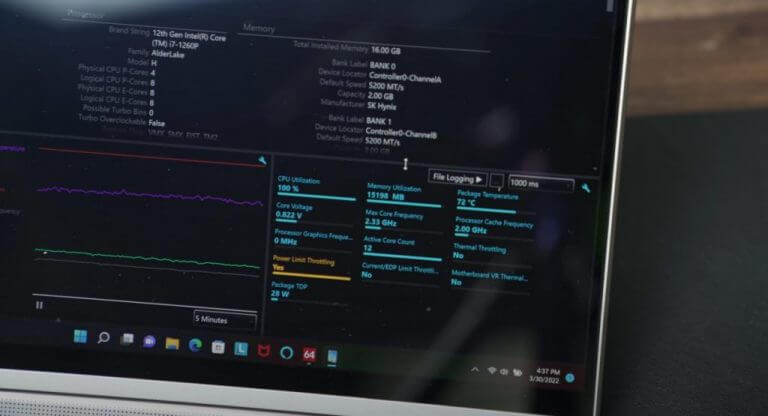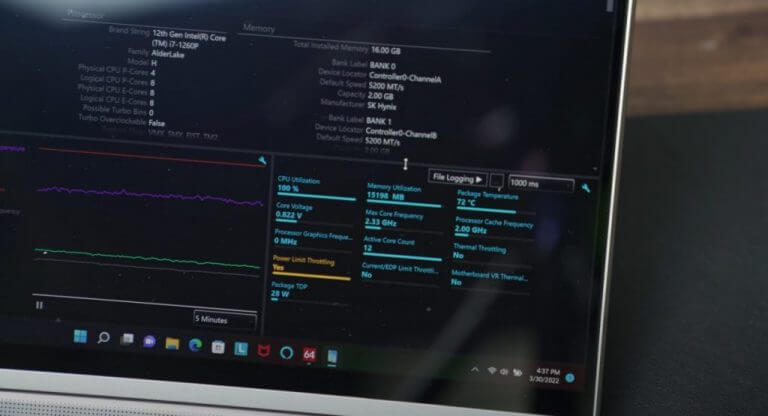 That is not to say that the Yoga 9i couldn't be tripped up by overlapping workloads and ram draining tabs in Edge or Chrome, but for the most part the system powered through most processing tasks with little to no effort.
Where the Lenovo gets dinged points is in its per wattage consumption, which is notably high for Intel's 12th Gen Alder Lake mobile P and U chips so far as well as the fans.
The fans on the Yoga 9i are considerably lower in volume than other Lenovo laptops but they seem to run pretty consistently when in use during my review.
Despite having a larger battery embedded in the Yoga 9i this year, the power-hungry performance of Intel's 12th gen practically negates the change. Battery life isn't awful but also is nothing to write home about.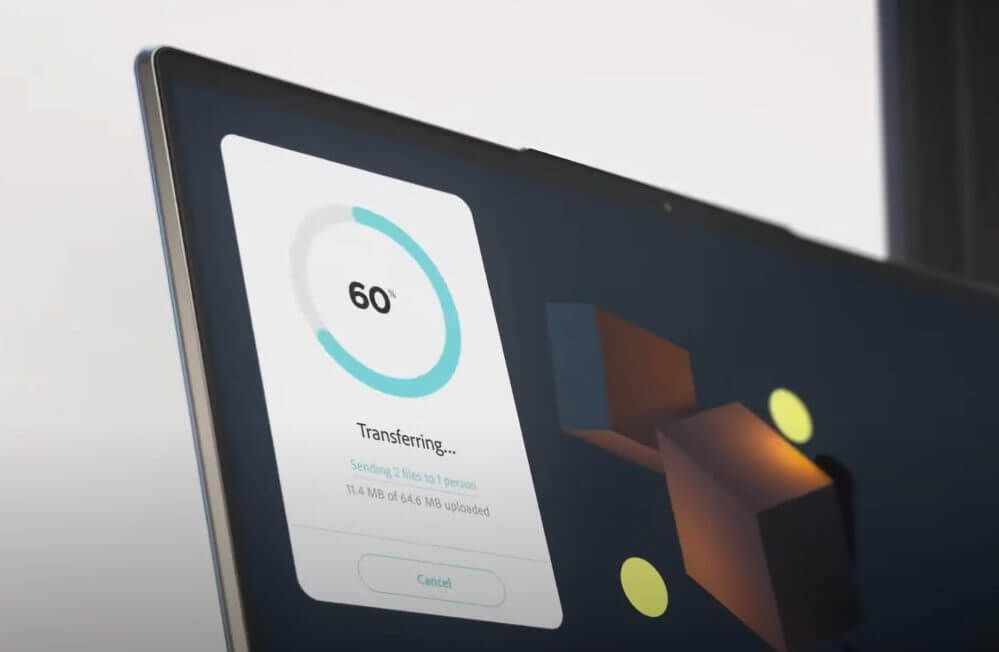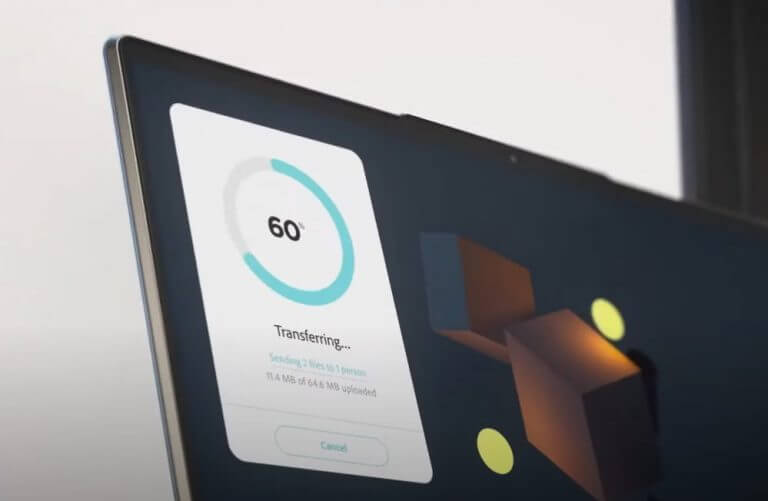 However, when plugged in the Yoga 9i does a relatively good job of outpacing current laptop competition as well as keeping pace with Apple's M1 architecture.
My day typically starts and ends with Excel docs and depending on the device, this could be a blessing or a curse (in most cases, it's a curse). On the Yoga 9i working with a piece of software called SuperMetrics was quick and easy, traversing back and forth between data sheets, data Studio and crafting APIs in real time worked second to none.
For my more creative tasks, as I mentioned, the Yoga 9i handled most Adobe software fairly well as well the Affinity catalog of apps. Real time editing with Da Vinci Resolve was a bit of a labor for some reason. Using a set with proxies and rendering 1080p quality level video took just about as long as 11th Gen processor setups.
Moving into the theoretical, I wonder if and when Intel pairs more devices with its new Arc GPUs, will setups like the 9i finally make that per wattage performance leap that many Windows users have been clamoring for.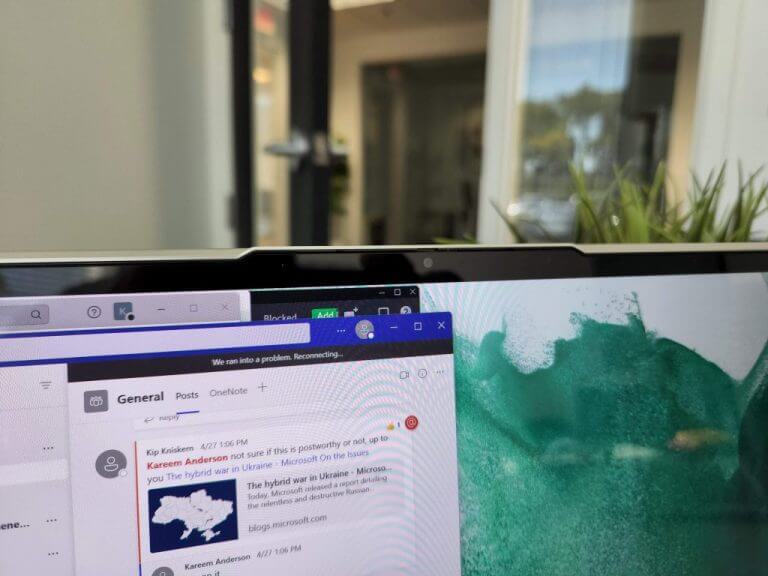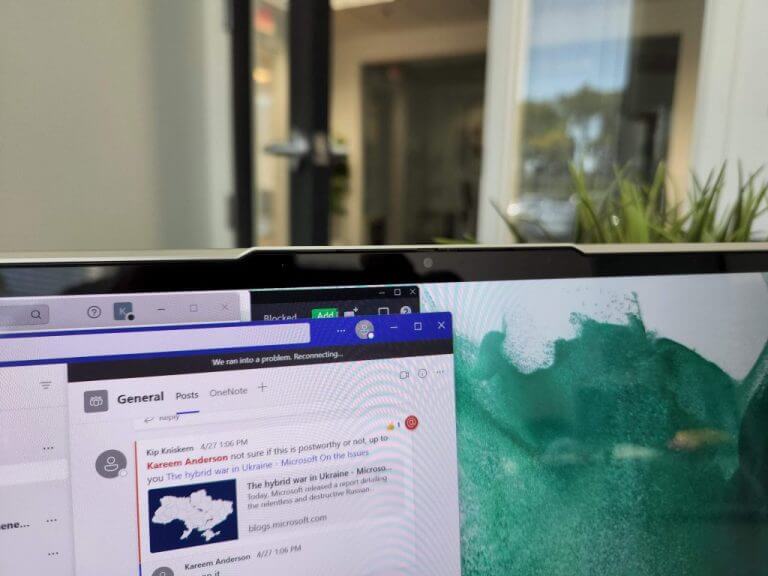 As I've gotten olde, my PC gaming days have been limited, but I tried running older titles such as State of Decay 2 and Far Cry 6 on the 9i to varying degrees of success.
State of Decay 2 played smoothly at minimum settings, while bumping it up slight produced some choppier results. Far Cry set to 1080p resolution was a fun experience and similar to my gameplay on the Xbox but moving to native resolution actually stalled out the game.
Summary
Beyond some power niche power-hungry activities, the 9i is perhaps the best new all-around laptop for 2022. Where Dell opted for a complete makeover of its XPS line up which has proven to be polarizing, Lenovo's subtle refinements may be easier for both consumer and commercial users to get behind.
The 9i isn't an inexpensive purchase but will serve most people attempting to do most compute tasks fairly well.
I'd recommend the Yoga 9i 7th Gen to anyone who isn't reliant on it being a dedicated gaming device or software the specifically utilizes dedicated GPUs, otherwise it's both power and perhaps the most stylish laptop being offered in 2022.