Starting at $1,179.99
Intel introduced its Evo laptop specs back in ate 2019 as Project Athena when the company publicly laid out the roadmap for its upcoming chipsets. However, it wasn't until September 2020, that PC manufacturers began shipping devices with Intel's famed new Ultrabook base KEI features that include:
Consistent responsiveness on battery.
Wake from sleep in less than 1 second.
9 or more hours of real-world battery life on laptops with a Full HD display.
4 or more hours of battery life in a 30-minute charge on laptops with a Full-HD display.
With that being said, OnMSFT has gotten its hands on not one, but two Intel Evo powered laptops in the Lenovo Yoga 9i 14 & 15-inch PCs. In addition to upgrading the processors in the lineup, Lenovo has also adjusted its naming convention, changing its former title of Yoga C940 to 9i. Whether or not the naming change results in a more streamlined business presentation for customers remains to be proven.
For anyone, who had been acquainted with Lenovo's Yoga 900 series, both the 14 & 15-inch 9i's follow a similar industrial design as their predecessors, with the infamous rotating soundbar hinge, slim bezels, built-in Wacom supported pen and tapered chassis for a slim metal notebook feel in the hand.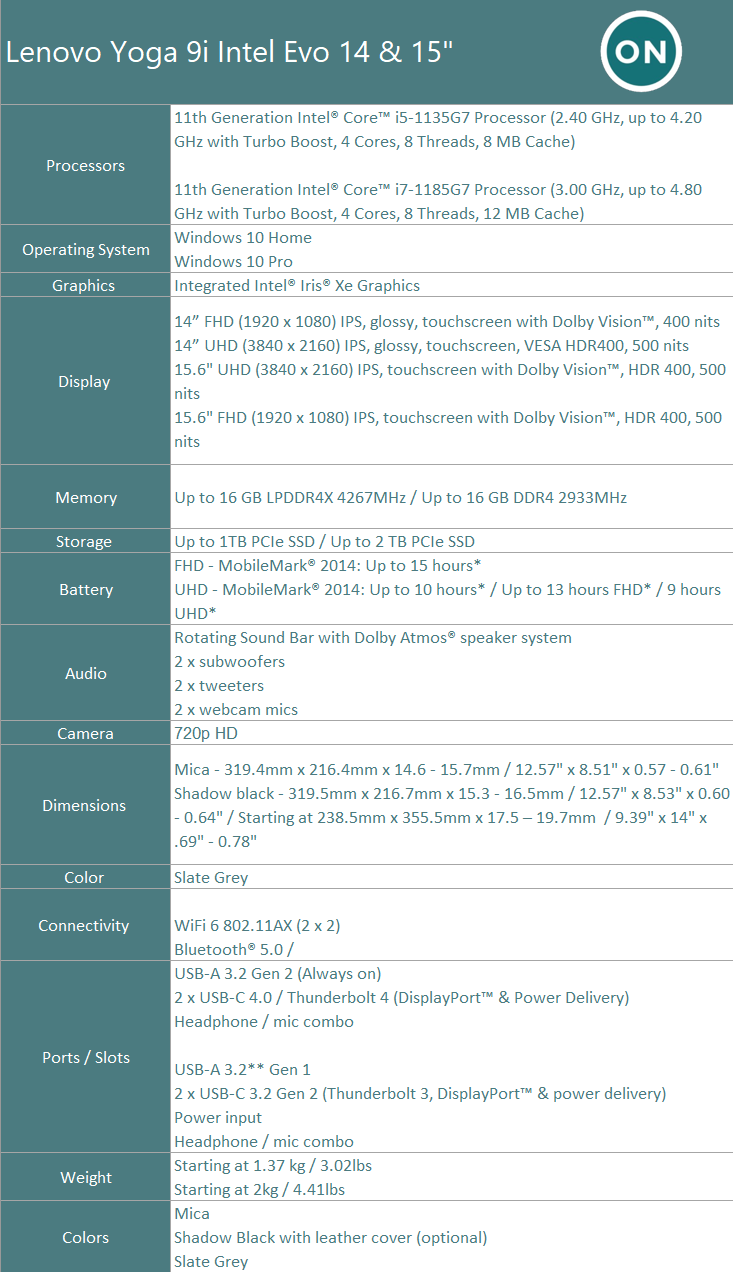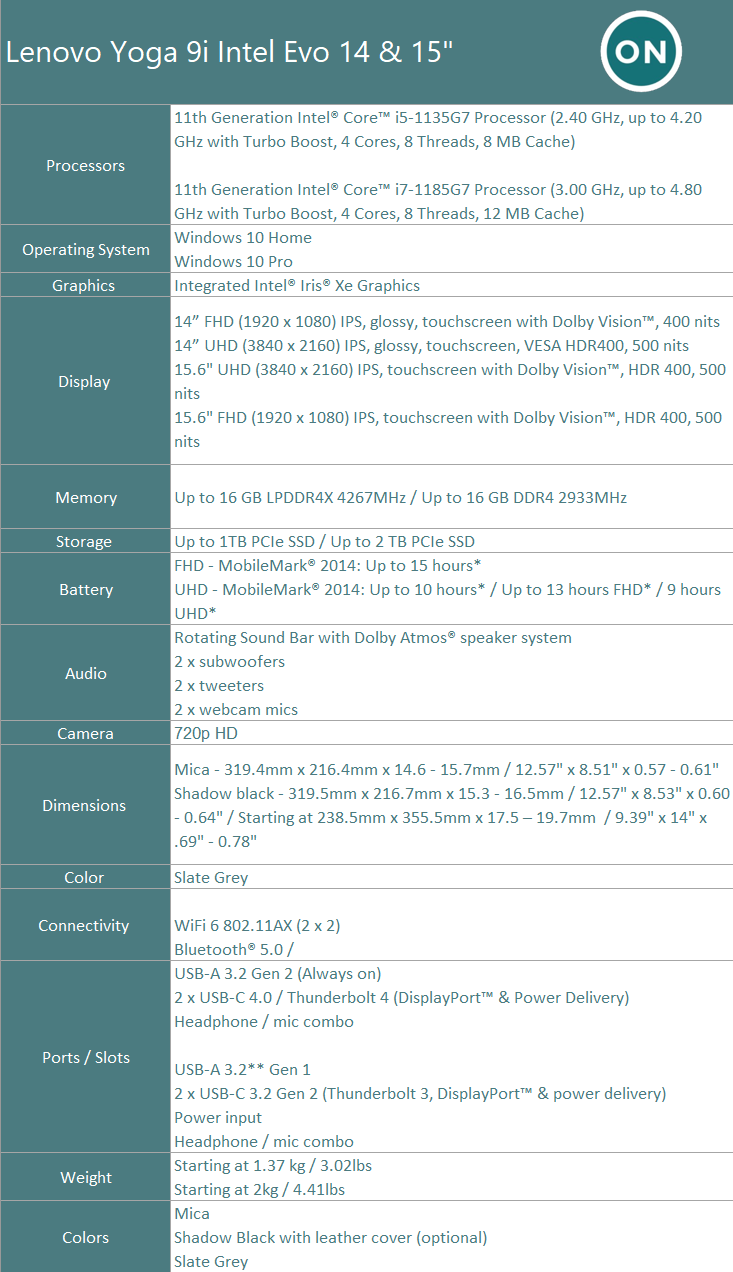 Look & Feel (Design)
The Lenovo Yoga 9i remains relatively unchanged from the previous Yoga 900 series. The Slate Grey that OnMSFT was issued, keeps the sleek tapered design and the iconic high polish rotating soundbar. While I would have preferred to try out the black leather top 14-inch version of the laptop, unfortunately, we were sent the very familiar Slate Grey that's become a customary Ultrabook look these days.
With an aluminum chassis build the 9i in both models boast a premium feeling weight them. The 14-inch version doesn't feel too much heavier than the comparable HP Spectre, Dell XPS, or MacBook, but it is noticeable upon the first unboxing.
With this familiar design comes familiar port placements as well for the Yoga 9i, in both variants. Lenovo did not deviate from where it placed its Thunderbolt 3 ports and USB-C connections this go around. On the right-hand side, customers will find a single USB-A 3.2 Gen 2 port, the power button, and the pen garage in two places along that side depending on the model. In the 14-inch, the pen garage is tucked away in the back on the righthand side while on the 15-inch is place 2/3 of the way down from the USB-A and power button sitting flush along the chamfered edge. In addition to being conveniently housed in the body of the laptop, Lenovo also makes use of a charging interior setup that keeps the pen recharged when docked. Gone are the days of fiddling with AAA batteries to take notes, sign documents, or draw. With that being said, the downside to its convenient recharging solutions is that when the pen does lose its charge there is a refractory period a user will need to wait as it recharges.
On the more exciting left-hand side, there are two Thunderbolt 3 ports supporting display and power. Interestingly enough, the 14-inch model uses USB-C power out while the 15-inch makes do with a proprietary USB-A looking connection as well as the 3.5mm headphone jack and mic combo. With the 15-inch model being a beefier rig, the 153W proprietary power adapter connector makes a bit more sense but still a bit annoying as USB-C use becomes more prevalent.
As is customary of recent Lenovo offerings, its Thunderbolt 3 ports support DisplayPort 1.4 which should enable 8K display connections and/or multiple 4K monitors for those burgeoning home offices.
The Sound
I only highlight this in this review because it's more than worth mentioning. Usually, my review of laptop sounds includes the word tiny or bass-less, but since Lenovo put so much engineering into its soundbar hinge for the Yoga 9i models, customers will receive a pretty robust soundscape. I've written about the soundbar in previous Yoga reviews and I will try not to rehash too many of the same points as the soundbar remains mostly unchanged from previous models, for good reason. Lenovo crammed four 2W speakers, 2 subwoofers, 2 tweeters into and support for Dolby Atmos Audio into a relatively small package.
Bottom line, the Yoga 9i's sound is the best of any laptop of any size. Come at me.
The Display
The display design, like the rest of the laptop, remains relatively unchanged with the reverse notch top, slim bezels, and manual shutter over the 720p webcam. Depending on the model, customers can get either an FHD or UHD resolution display which outputs a crisp visual. With that said, I kind of wish that Lenovo bumped up the display offering just a bit more because I personally like filling my screen with as much content as possible and I would love to shrink down the elements a bit more.
Again, that's a personal preference, most people should find the Yoga 9i's display with Dolby Vision support more than adequate, boarding on impressive on either model. The 4K resolution paired with flexible viewing modes and unobstructed soundbar makes the 9i a media consumption dream. I personally don't make use of the 'tent' and 'yoga' positions but for anyone who does, they are readily available and probably perfect for longer stay-at-home binge sessions.
On the Deck
Lenovo is bringing its legendary U-shaped chicklet keys to both models which seemingly contour around the fingers. Spacing between the keys is nice and on the 15-inch model, users are greeted with a full-size number pad. Both the 14 and 15-inch models make use of dual-stage backlighting that gets pretty bright in very dark settings. However, Lenovo offsets its Precision trackpad on the 15-inch Yoga 9i to the left side, which took some getting used to for me. On the 14-inch model, the deck is designed like most other laptops with the relatively large trackpad front and center of the experience. The speed and responsiveness of both the keys and mouse are nice. Scrolling and flying around the scene were intuitive and enjoyable.
Lenovo loves to load its deck with all manner of partnership stickers, and on the Yoga 9i both 14 and 15-inch models don the traditional smattering of stickers to the left of the trackpad, while the right remains bare except for a single fingerprint reader. The fingerprint reader is pretty quick, but is still, no match for IR enabled Windows hello experience on a Microsoft Surface device.
Performance
OnMSFT was given the 16GB DDR4 memory options for both devices which weighs heavy on the particular performance I'm writing about. On the 15-inch model, customers get 2933MHz while the 14-inch pushes 4267MHz. Paired with 11th generation i7 Intel Core chips, things just flew on both machines. The 15-inch model stands out a bit more because of its additional NVIDIA GeForce GTX 1650 GPU with its own 4GB GDDR6 memory. Where I was able to do some medium weight video and graphics editing on the 14-inch model, I was able to crunch encoding and exporting of videos, multi-channel DAW setups, virtualize and test Windows 10X as well as my normal day to day marketing workflow with ease. I did not do a lot of 4K video editing, so I can attest to the performance of the laptops when handling multiple edits on 4K video streams of any length, but for the 1080p recordings I managed, there were few hiccups or stutters when applying layers or multiple transitions or visual elements.
When it comes to drawbacks, there is fan noise associated with this level of performance, and both the 14 and 15-inch can whirl when pushed. However, the engineering of the 14-inch model differs from its larger brother in battery performance. The 15-inch model, for whatever reason, tops out at a modest six hours of mixed-worked use while the 14-inch pushes well beyond eight hours routinely. Presumably, the additional NVIDIA horsepower is putting a bit of strain on the 135W battery.
Not everything done on the Yoga 9i was work. I managed to get some gaming done on both devices, but as expected with only Intel Iris X graphics, the 14-inch 9i was limited in what it could push out. Games such as State of Decay 2 hit 38fps with medium to high settings while Rainbow Six Siege struggled at 24-30fps when multiple enemies were on screen.
On the flip side, the 15-inch with its GeForce GPU handled most games on medium settings with decent outcomes. CoD Warzone was playable but did present some stutters during congested onscreen elements. Neither of the 9i models are gaming PCs and as such, shouldn't be bought with those ambitions. For the occasional game, the 15-inch does an excellent job of handling most graphics requirements, the 14-inch can provide some respite from work but only for select titles.
Summary
Intel's EVO spec push has made an already nice laptop from Lenovo, that much nicer. There weren't huge leaps in performance and Lenovo seemingly played it safe with a design framework that's a proven commodity in the latest of its Yoga 900 series.
For anyone in the market for a new laptop, there aren't many other choices that top this year's offering from Lenovo. I would also recommend getting the black leather option of the 14-inch if available because it just looks amazingly different in a sea of slate grey laptops.