Staring at $1,308.45 (AMD)
The Lenovo ThinkPad P16 G1 is marketed as a mobile workstation, and the 2.9kg/ 6.5lbs laptop definitely stretches that notion, but offers a modern design with enough performance to almost negate its bulky portability.
Specs
Lenovo ThinkPad P16 Gen 1 OLED
Processor
Up to Core i9-12900HX (16C, 24T, 2.3/5.0GHz)
Operating System
Windows 11 Pro
Display
16" WUXGA 16:10 (1920×1200), Anti-glare, 100% sRGB – 300 nits
16" WQXGA 16:10 (2560×1600), Anti-glare, 100% sRGB – 400 nits
16" WQUXGA 16:10 (3840×2400), Anti-glare, Dolby Vision, 100% Adobe RGB – 600 nits
16" WQUXGA 16:10 (3840×2400), OLED, HDR500 True Black, Dolby Vision Anti-reflection / Antismudge multitouch, 100% DCI-P3 – 400 nits
Storage
Up to two M.2 2280 SSD, up to 4TB each (8TB Total), PCIe 4.0 x4, RAID 0/1 support
Graphics
Up to NVIDIA RTX A5500 16GB GDDR6 ECC, 115 TGP
Camera
FHD RGB with webcam privacy shutter
Memory
Up to 128GB DDR5-4800 ECC or non-ECC (4 SO-DIMM sockets)
Dimensions
Starting at 364 x 266 x 30.23 mm (14.3 x 10.5 x 1.2 inches)
Audio
2 x 2W Stereo speakers, Dolby® Atmos®
Weight
Starting at 2.95 kg (6.5 lbs)
Color
Top: Storm Grey / AL5052 Bottom: Thunder Black / PPS + 50% GF
Ports/Slots
1) USB-C 3.2 Gen 2 (date, power 3.0, DP 1.4)
(1) HDMI 8k/60Hz (NVIDIA models) (4K/60Hz Intel models)
(2) USB-A 3.2 Gen 1, 1 Always On
(2) USB-C Thunderbolt 4 / USB4
(1) SD Express 7.0 card reader
(1) Mic/Headphone Combo Jack
(1) Smart Card Reader (optional)
(1) Nano-SIM card slot (optional)
Battery
4Wh battery, supports Rapid Charge (charge up to 80% in 1hr) with 170W and 230W AC adapter
What's in the box
Discrete Trusted Platform Module (dTPM) 2.0, Smart Power On fingerprint reader integrated with power button (match-on-chip), Tile® ready, Webcam privacy shutter, Kensington lock slot, Secured-core
Look and feel
Red piping.
The first thing that will stand out to most users will mostly likely be the red piping that adorns the back venting grill of the Lenovo P16 G1 which gives this new enterprise workstation a gamer-like look and feel. Lenovo typically adds a few splashes of red to their ThinkPad devices be it a red nipple cursor, red light hidden within the logo or other subtle implementations, and with the P16 G1 the red piping on the back adds yet another area where Lenovo is looking to expand its accenting.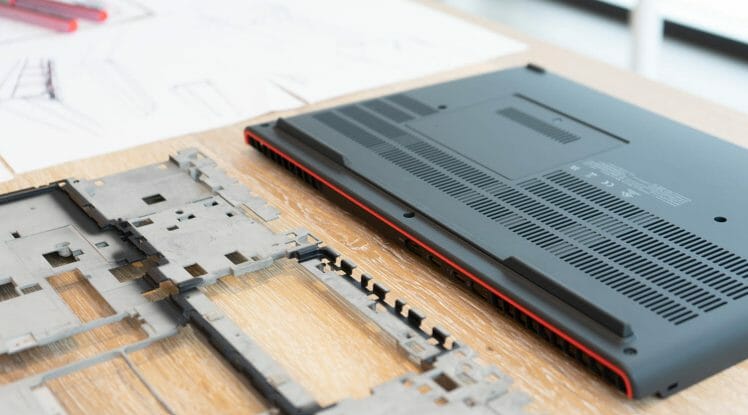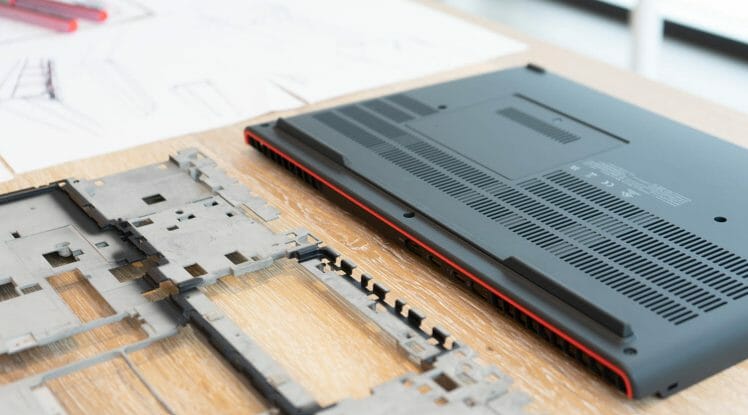 The other noticeable design change to the P16 last year was a new slate grey color finish that livens up the device from its previous matte black option. The "Storm Grey" still comes with the traditional velvety coating of most ThinkPad lineups but because of the color choice, fingerprint grease is much harder to detect from normal use.
Lenovo also rounded the back and bottom corners of the P16 G1 last year making it nicer to hold in the hand when picking it up to transport.
Despite feeling like a tank in hand, the P16 does use a fiber glass plastic to coat the magnesium frame of the P16 to reduce what weight it can.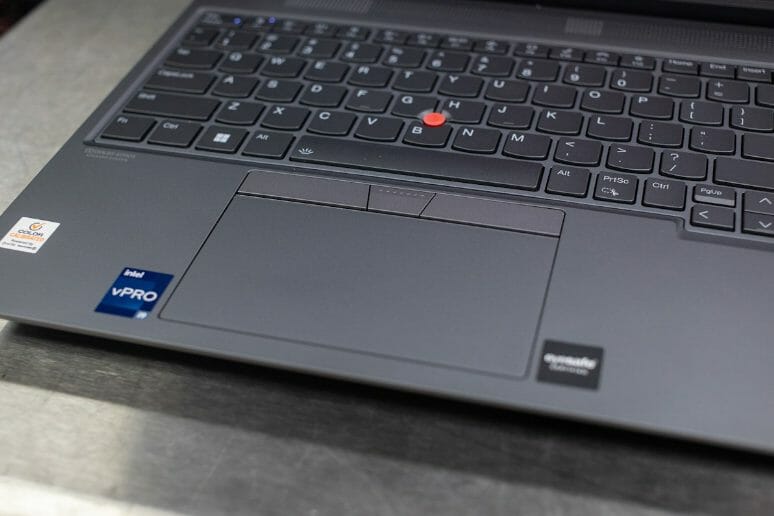 Lenovo has thinned out the bezels that surround its new display as well as encased the area in a magnesium roll cage for additional stability and rigidity over the previous P15 and P17 models.
Lenovo continues to equip its laptops with a manual shutter on its FHD IR camera paired with a standard microphone array for decent in-a-pinch video conferencing situations.
As for the functional design of the laptop, the P16 unfortunately brings over similar venting issues as with many performance PCs which grate the bottom of the laptop to help push out excess air. Despite a bit of lift from the rubber bumpers on the bottom the air and head being expelled from the laptop doesn't always feel efficient or pleasant when using the workstation on anything other than a desk. Admittedly, the tank like build of the P16 also doesn't inspire a lot of mobility use for the average customer.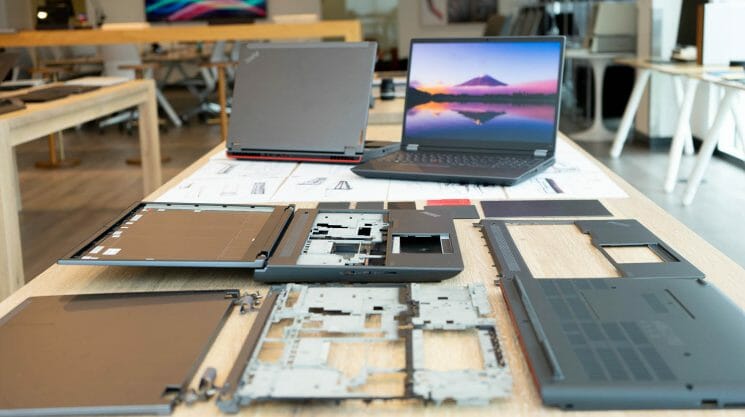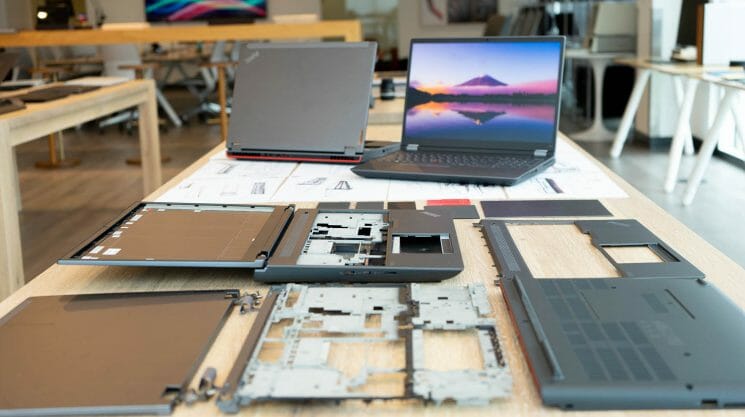 As far as ports go, the P16 has the full suite of connectivity to offer with USB-C thunderbolt, USB-A, smart card, nano Sim, (relatively slow) SD card reader, full HDMI and headphone/mic combo. The only port to get cut between previous models and the latest device is the ethernet port, which could be an issue for a few customers who regularly look to have secure wired connections when doing onsite work for outside partners or businesses.
Lastly, the P16 offers up to four different screen options, all with bumped up specs that support Dolby Vision and Adobe calibrations. OnMSFT.com was given the OLED model with boosted brightness and HDR support.
Performance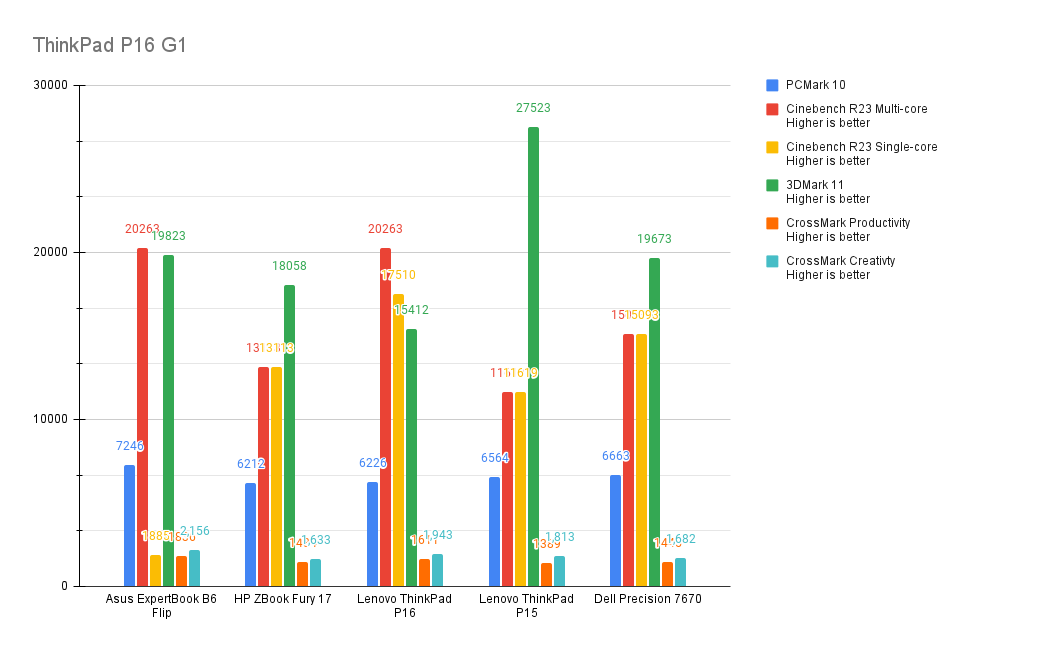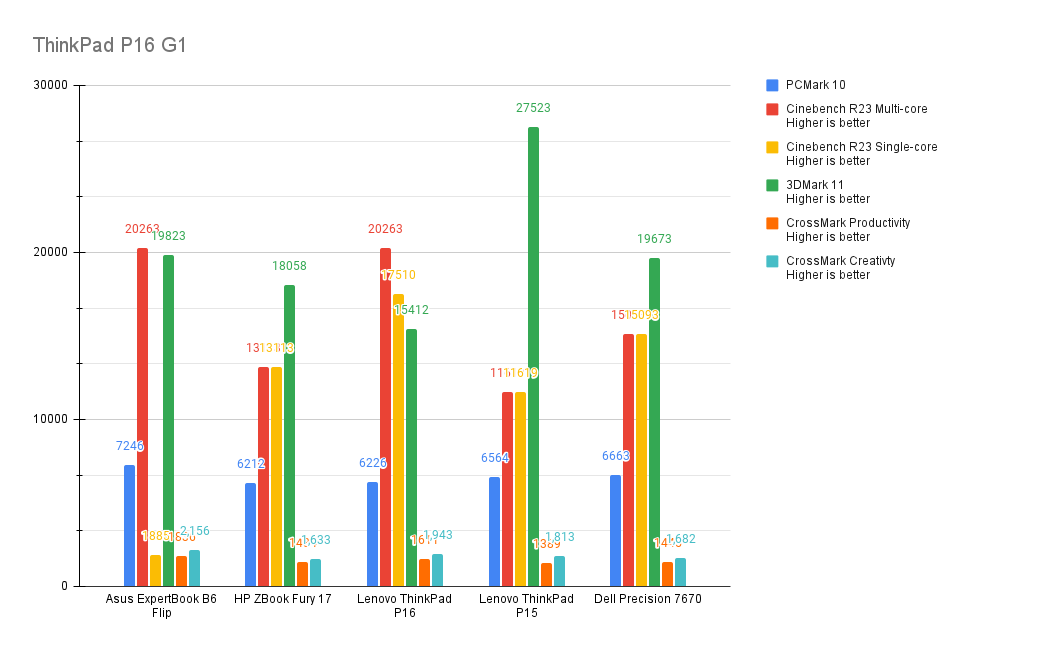 The performance of the ThinkPad P16 is CPU heavy despite having a dedicated Nvidia RTX A2000 GPU placed inside. The 12th Gen Intel Core processor placed inside punches above its weight in most benchmarking and in less GPU intensive programs. The core distribution involving 24 threads hyperthreading in the HX55 series does a great job of keeping processes in memory state snappy and responsive at most times.
When comparing the P16 to similarly built workstations, the P16 outperforms the Dell Precision 7670 regularly in tasks as well as ThinkPad X1 Extreme, if customers were looking to stay within brands. As with most workstations, the P16 performs best when connected to a power supply and can lose up to 20% of its performance when unplugged, along with battery life.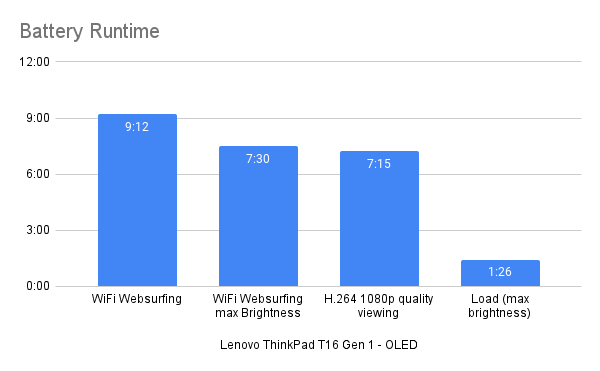 When switching over to GPU intensive tasks such as virtualization, simulations, machine learning, video editing or engineering, the onboard Nvidia RTX A2000 performs at entry-levels, putting it nicely.
Perhaps, due to hyper-caution implemented with the Lenovo Vantage OS modulating software, the GPU ceiling performs at a much lower ceiling and executes cycles much slower than current on-the-shelves devices. The GPU in the P16 isn't bad per say, but when considering the improved thermals in the P16 and large enough chassis, it's a shame Lenovo doesn't seem bothered to squeeze more performance out of its GPU choice.
Summary
In real world usage however, the P16 typically runs circles around my data processing-heavy workload. Even Office 365, with its ever-increasing GPU dependence, outperformed other slimmer laptops I've tested.
Thanks in part to the ECC SSD onboard switching between cold apps and recent ones was smooth, there wasn't a time that CPU-led processes ever bottlenecked, and for the most part, GPU tasks performed admirably.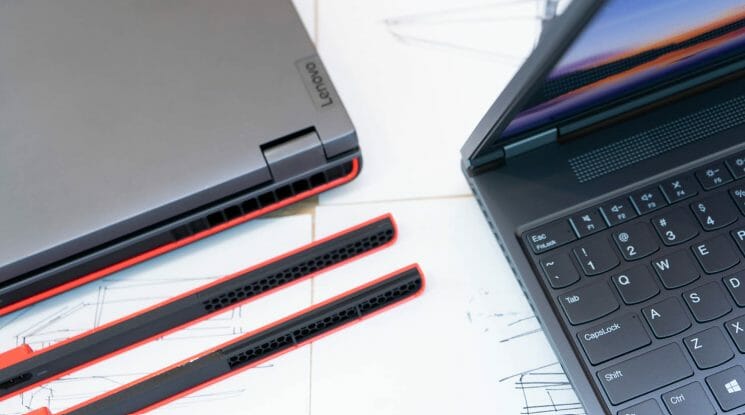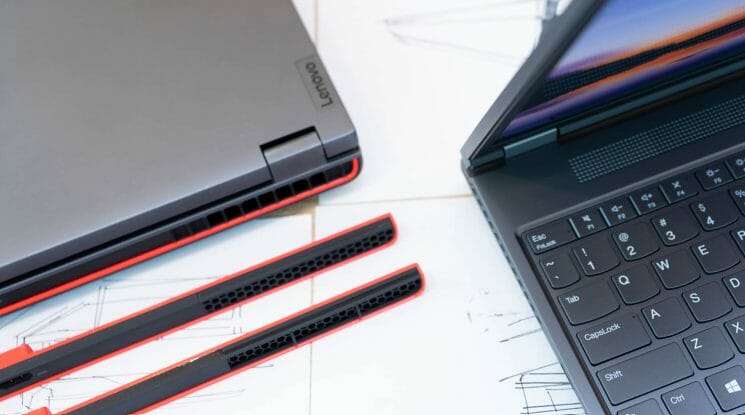 However, the choice of an Nvidia RTZ A2000 seems to be a compromise I can't figure out. Perhaps it has to do with the wattage choice and power consumption architecture or pricing but the A2000 is already a somewhat problematic GPU and to stuff it into a portable workstation such as the P16 remains a headscratcher.
For all other computer related tasks, the P16 is good. Watching videos on the new OLED screen was a pleasure and gaming non-4K content was also a decent experience as long as the titles were developed relatively recently.
At best, the P16 becomes the new large screen-sweet spot for mobile workstations for Lenovo as it handles data processing like a champ, however, at worst, an employee's computational may become capped to specific tasks depsite easy access to memory expansion. Moving from exporting macro-heavy Excel reports and analysis to experimenting with virtualization or machine learning models will require two devices instead of the one P16.