Starting at $851.50
Lenovo has been expanding the number of product lines that come with AMD processors and this year's ThinkBook 13s Gen 4 has been added to the list.
The addition of an AMD configuration option is immediately felt when considering battery life on the latest generation of the ThinkBook 13s, and Lenovo has gone back to the drawing board by actually adding ports to this version of the laptop over its predecessors.
Specs
Lenovo ThinkBook 13s Gen 4
Processor
AMD Ryzen™ 5 6600U Processor (2.90 GHz, up to 4.50 GHz Max Boost, 6 Cores, 12 Threads, 16 MB Cache)

AMD Ryzen™ 7 6800U Processor (2.70 GHz, up to 4.70 GHz Max Boost, 8 Cores, 16 Threads, 16 MB Cache)

Operating System
Windows 11 Home

Windows 11 Pro – Lenovo recommends Windows 11 Pro for business

Windows 10 Pro 64 preinstalled through downgrade rights in Windows 11 Pro 6

Display
13.3″ WUXGA 2k (1920 x 1200) IPS, with Dolby Vision™, anti-glare, 300 nits, TÜV low blue-light (software controlled)

13.3″ WQXGA (2560 x 1600), IPS, Anti-Glare, Non-touch, 100%sRGB, 300 nits, Narrow Bezel

For all display options, aspect ratio = 16:10.

Storage
Up to 1 TB PCIe SSD Gen 4
Graphics
Integrated AMD Radeon™ 660M GraphicsIntegrated AMD Radeon™ 680M Graphics
Camera
720p HD f2.0 camera (front-facing)
Memory
Up to 16 GB LPDDR5 6400MHz Dual-Channel
Dimensions
12.47″ x 8.67″ x 0.68″(361.51mm x 249.65mm x 19.20mm)1.9kg / 4.19lbs
Audio
Dolby Audio™ certification

2 x 2 Harman Kardon® speakers

2 x noise-cancelling digital microphones

Weight
Starting at 1.23kg / 2.71lbs
Color
Arctic Grey, dual tone, anodized aluminum cover
Ports/Slots
USB-C 4.0 (Power in)

USB-C 3.2 Gen 2

USB-A 3.2 Gen 1 (Always on)

HDMI 2.0

Headphone / mic combo

Battery
Up to 10.9 hours* 56Whr (MM18)

Supports Rapid Charge

What's in the box
ThinkBook 13s (13″ AMD)

65W adapter (supports Rapid Charge)

Internal battery

Quick Start Guide
Look and Feel
While brandishing the name ThinkBook, the ThinkBook 13s is really more like a Yoga-style laptop. The two-tone grey aluminum design replaces the traditional matte black chassis of more traditional ThinkBook aesthetic, the dual button trackpad present on most ThinkBook's is replaced with a single glass trackpad with uniformed lines around the edges, and the historic red trackpad nub is removed entirely.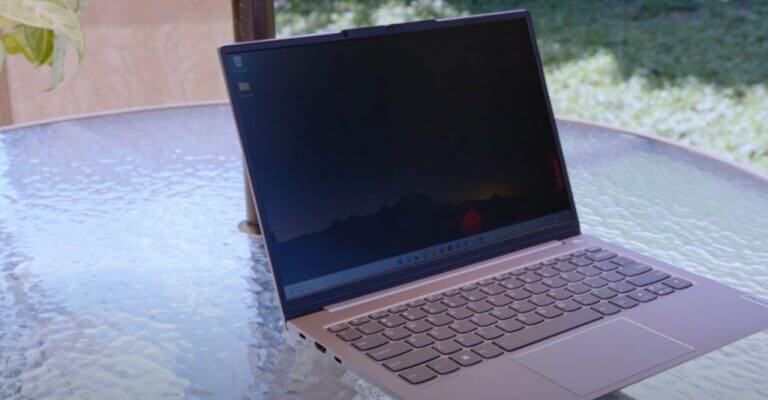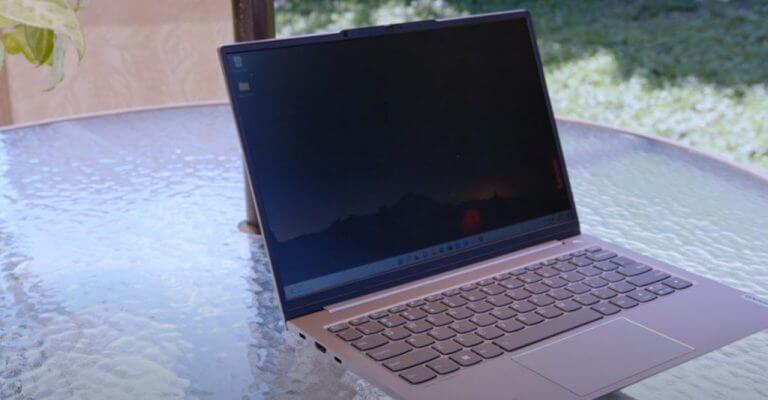 In addition to the more consumer-like differences with the ThinkPad 13s comes with a new 16:10 aspect ratio on a 13.3-inch panel that supports up to WQXGA resolution (2560 x 1600), covers 100% of the sRGB color gamut at 300 nits of brightness on a matte display.
The relatively portable ThinkBook 13s does retain the legendary port selection of the ThinkBook line with one side supporting USB Type-A, and headphone jack, while the other has a full HDMI port and two-Thunderbolt 4 Type-C slots.
This year, the ThinkBook 13s updated its webcam technology but not really the sensors, which results in a slightly clearer image that leans in to some over processing, but the attempt can be appreciated by some.
The keyboard on the ThinkBook 13s is very much identical to other ThinkBook laptops and provides a familiar typing experience that I find is only surpassed by the keyboard on a Surface device.
The keys get fairly bright in low-light situations which enable anyone to continue to be productive in situations where they probably shouldn't be.
Lenovo has begun baking a programmable button selection into its keyboards and the ThinkBook 13s offers just that along with the other functions and media keys.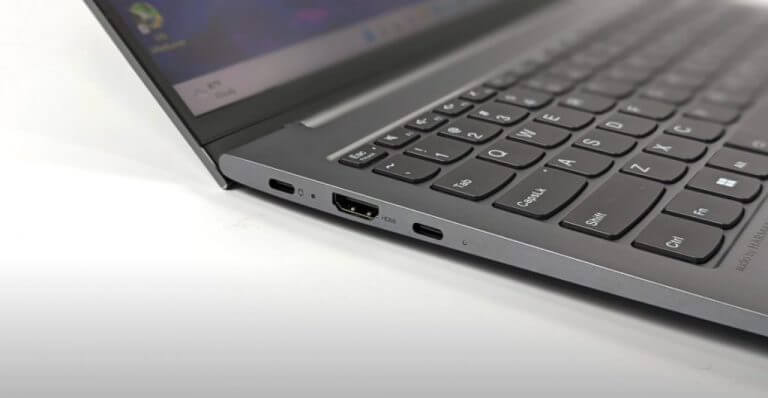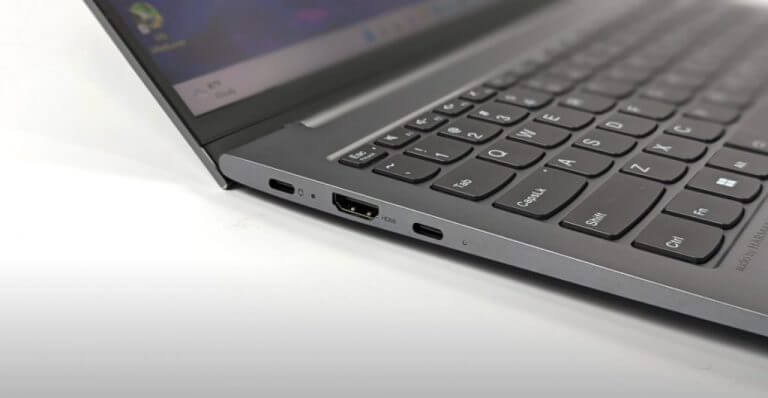 Last up is the bottom firing speakers that sound like your average laptop speakers. While I don't personally like bottom facing speakers, I believe the reality is that most people at work, aren't blaring music for 8 hours straight and its relatively niche issues for those of us who use headphones or Bluetooth earbuds.
Performance
If you can snag an AMD version of the ThinkBook 13s you'll be pleasantly surprised by the battery life of the device, but it comes with a bit of throttled performance.
While the ThinkBook 13s runs a bit cooler and quieter than its Intel counterpart which comes with a Core i5 P-Series that's recording poorer battery life in test, an issue customers may have is the short-peak period the AMD processor puts out, when on battery.
What this means is that in real world usage is that, on battery, the ThinkPad did show some noticeable lag when exporting PowerPoint files to video, documents to PDFs, or sorting data in Excel.
Often when dealing with Excel documents with macros in Lenovo's default Best Efficiency Mode, the system would come to a grinding halt. I'm not sure what was going on but the experience was reproducible more often than not.
Shifting out of that mode to Best Performance helped mitigate the issue, but it would still occur in rarer instances.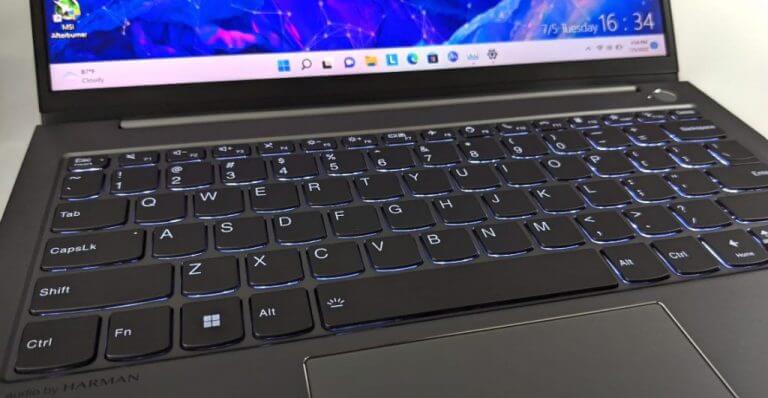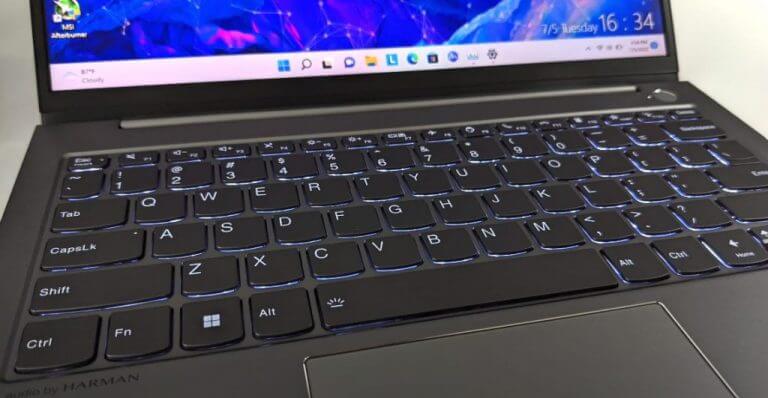 Another area where either Lenovo or AMD is cradling its processor effects performance is in the GPU experience. The GPU in the ThinkBook 13s is pretty powerful and shows glimmers of high framerates in certain games, but due to the throttling and low power of the CPU, there are more times when playing games such as Cyberpunk 2077 result 8FPS slow level framerates.
However, there are a host of other games that are playable at decent resolutions that include WoW, Rocket League, Sims 6, Forza, Minecraft, Roblox, The Witcher, Skyrim, and Dota among others.
Understandably, the ThinkBook 13s is designed as an affordable SMB device, but even if the customer isn't gaming, those GPU stutters are present in 3rd party applications that deal with heavy graphical experiences such as AutoCad, video and graphics editing.
Lastly, the performance also appears to be hampered by the bloatware that nibbles at memory resources while shrinking storage capacity for no discernible benefit.
While I find the Lenovo Vantage app a relatively centralized place to go to manage the system for people who don't know how to navigate Windows, its existence is redundant and the power modes it offers tend to nerf its own hardware more often than Microsoft's recommended options.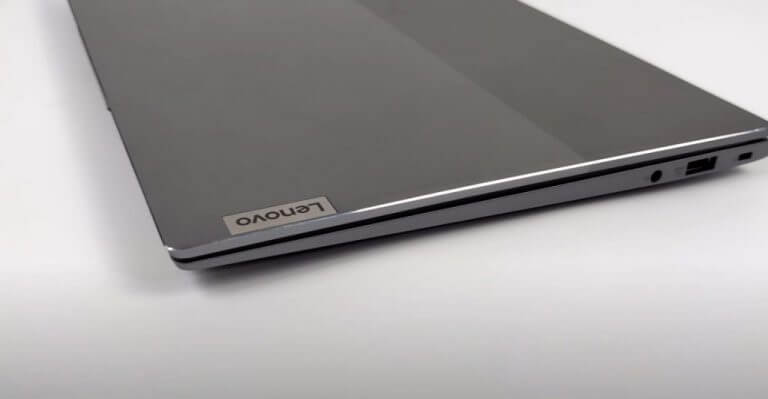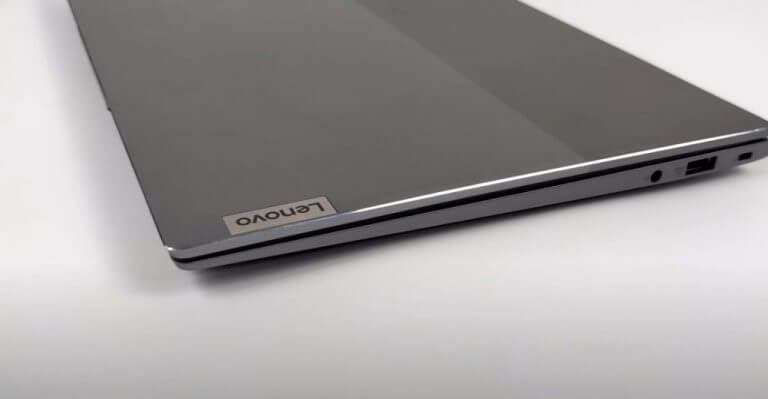 With a wipe and clean installation of Windows, the ThinkBook 13s gained 13-25% more efficiency in both single and multi-threaded benchmark tests than it did with all of the extra bloatware draining resources.
Summary
It feels pretty clear cut that anyone who prefers battery life over consistent performance would be well suited with the AMD powered version of the ThinkBook 13s. That is not to say the performance on the 13s is poor, it's just a bit more erratic than the Intel P-Series counterpart.
However, with both the Intel and AMD models of the ThinkBook 13s sitting on a desk, customers would be hard pressed to really notice a difference other than the price, which is also a consideration.
At $851.80, and several discounts throughout the year, the ThinkBook 13s is a no brainer upgrade for anyone looking to venture beyond the typical ThinkBook aesthetic or a years old laptop.
The last consideration for customers regarding the ThinkBook 13s is finding a model that actually has an AMD chip in it. As I am writing this review, AMD options are out at Lenovo.com, Best Buy and NewEgg, that may change in the coming weeks.