Starting at $39.99
At the start of the pandemic, Lenovo announced a pared down digital assistant called the Lenovo Smart Clock Essential which bucked the trend of mini tablets retrofitted into stationary speakers and displays.
Despite Google's lead on a simplistic home speaker nod that was accessible and intended to be interacted with through simple voice commands, the industry seemed to be in a fever pitch to toss ever increasing touch screens on home speakers as part of a feature race that ultimately went nowhere for the vast majority of users.
Circling back to Lenovo's Smart Clock Essential line, it seemingly reintroduced the original vision of the smart home assistant with a visual compromise best suited for its value proposition.
A smaller LCD screen with big, bright, bold monochrome numbering that explicitly displayed only the time and outside temperature.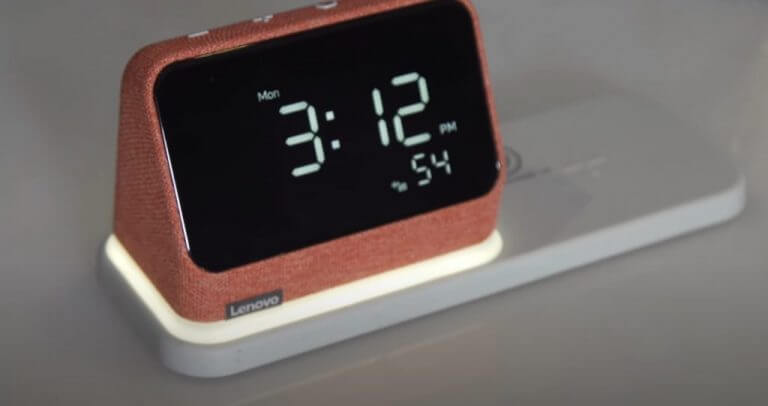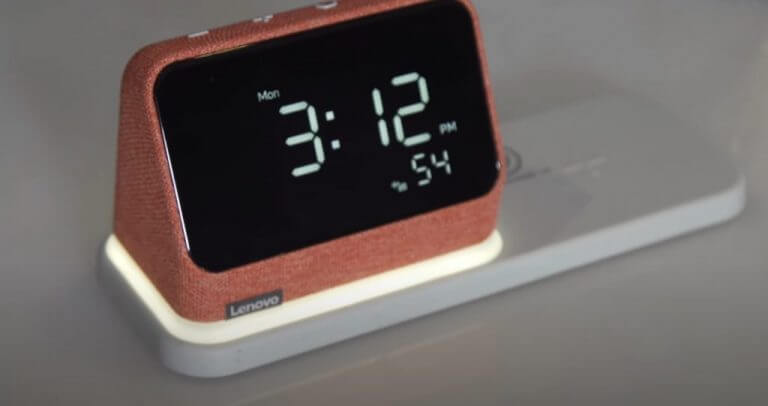 In Lenovo's follow up to the Smart Clock Essential for 2022, the company continues to refine the concept of a bare bone's digital assistant but with a bold new twist, it's no longer letting Google quarterback the day-to-day interactions and instead is showcasing Amazon's Alexa smart AI platform.
Look and Feel
There are some immediate visual changes to the Smart Clock Essential (2022) that come in the way the overall design of the clock. While it's mostly still a wedge shape design, the bottom had been placed on a more rectangular bottom as it now supports additional docking stations.
The original Smart Clock Essential resembled a wedge of cheese wrapped in fabric cloth, this time around the cheese has been put on a thick cutting board.The color options remain the same with a blue-ish grey and clay red option to choose from.
The screen is slightly larger this time around roughly 3.4-inches and offers an arguably crisper LED-led contrast between blacks and whites.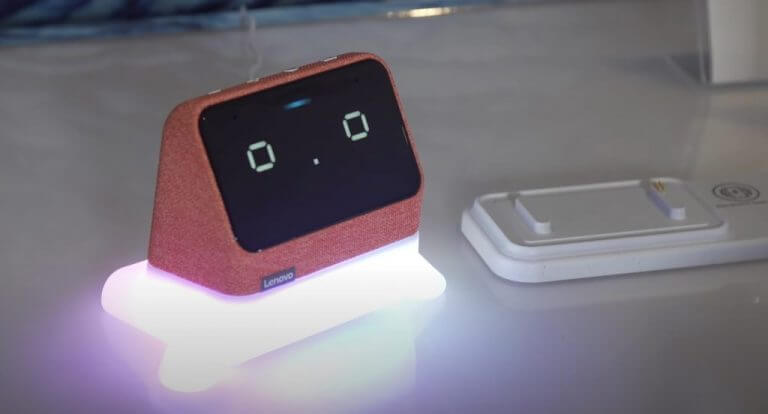 There isn't much to clutter up the screen beyond an alarm indicator, weekday indicator, decibel alert (for those with light sleepers), outdoor temperature indicator, weather icon and time.
Around back, customers lose out on the additional USB-A port that came with the original Smart Clock Essential, and instead are greeted with a single DC-in port and mute switch only.
Another loss is the embedded light ring that was wrapped around the back of the clock in the previous version and instead leaves the lighting to Lenovo's first party docking solutions that come in bubbles and crab-like bottoms. I'll explain later.
On the top of the device, the Volume, Alarm and dedicated Alexa button look and feel more pronounced than on the previous model as they stand out in white against the colored fabric of the Essential Clock 2022.
Performance
I'm new to using Alexa as a digital assistant. I've spent years gathering and organizing Google Assistant powered devices and while they can be a pain to set up at times, once in place they operated pretty seamlessly.
Fortunately, Amazon and Lenovo have combined to make a device that works pretty seamlessly out of the box. Once the Alex Assistant app is downloaded to either a mobile phone or PC (many Lenovo devices come with it pre-installed) it's a matter of 30 secs to a minute for the device to be found and paired.
From there, the Smart Clock Essential is off to the races, easily able to spit out detailed temperature forecast and readings, as well as set alarms and reminders.
Where I ran into some issues is with using the Smart Clock Essential (2022) as my morning news brief as I had done with its predecessor. As I mentioned, I'm invested in the Google ecosystem, so I used Google Podcasts to stream my morning news briefs, and while Amazon supports Spotify, Apple Music, and Amazon Music, it didn't seem to have tie-ins to my podcasts from Google.
I was able to ask Alexa to stream specific podcast but the integration Google Assistant had with paused states for podcasts means I can pick up a podcast from the last time I listened to it in the car, on a walk, or in the office, unfortunately I lose a bit of that with the switch to Alexa.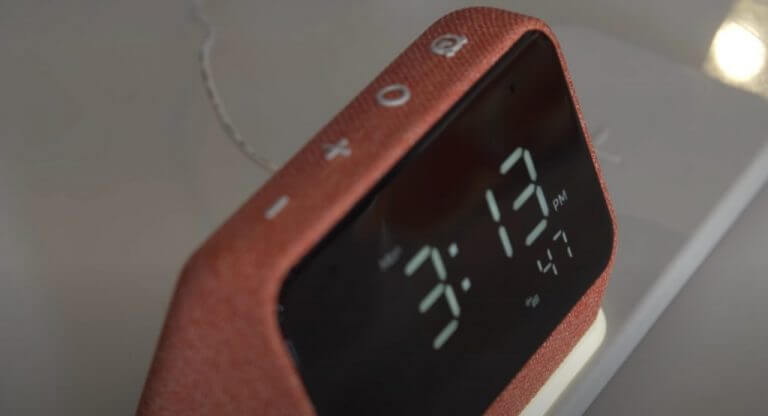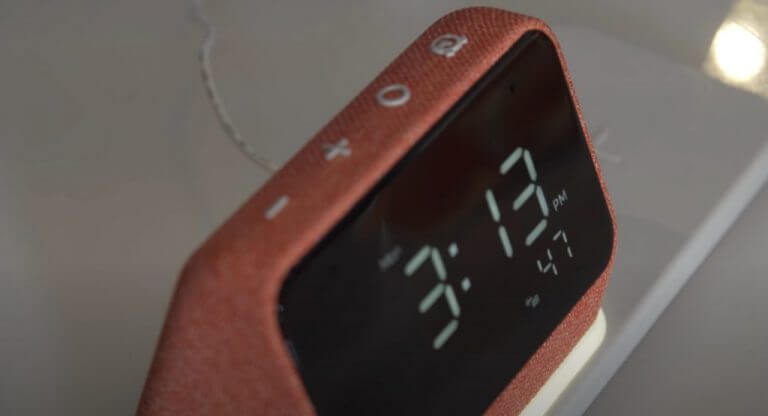 However, Alexa was able to quickly find my podcast request when I could give a full title and pulled up each one without an issue. The same could be said for listening to music. I normally build playlists in YouTube Music, but as long as I knew the name of the artists, song titles or albums, I was right back to comfortably playing music on the 3W full-range speaker which got plenty loud without losing too much fidelity in the mids and highs.
It's not listed in any of the product papers or notes, but many outlets say there is supposed to be an update in 2022 to enable image display and tie-in to Google Photos albums, I'm not sure if that's a great additional or if I'll even use it, but I thought I would note it.
The simplicity of the LED screen as is, is more than enough for me and should work well for a device that' meant to help get you up and going or to sleep quickly.
Speaking of sleep, aside from some Lo-Fi playlists I zone out to before bed, the tie-in to audiobooks through Audible is another nicety the Smart Essential brings to the table thanks to being powered by Alexa this year.
Yes, you could cast your Audible books through Google Assistant and Android devices, it's just nice to be able to speak them into existence sans any other hoops to jump through.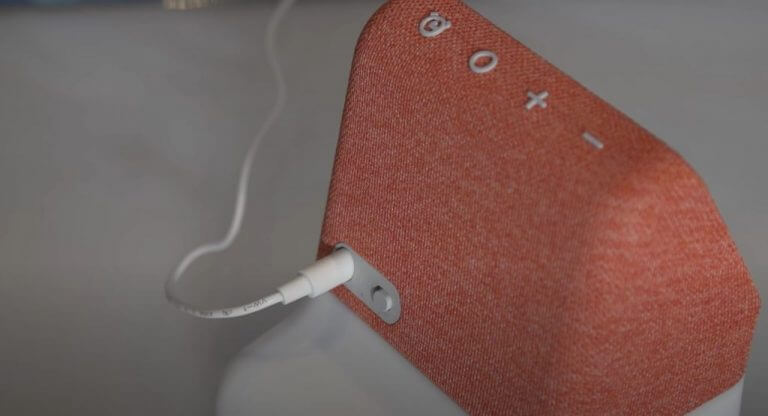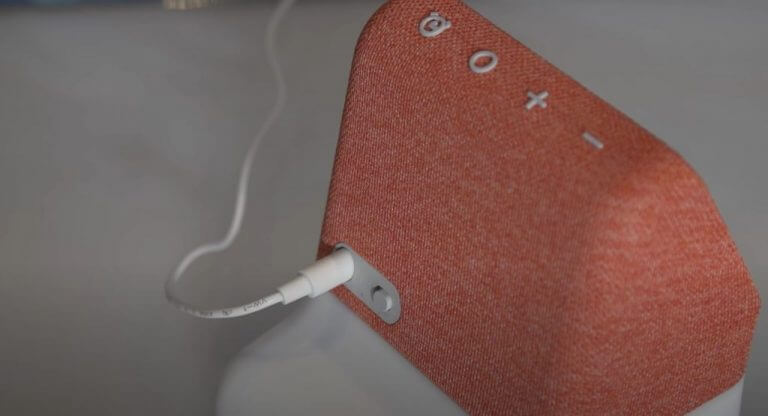 Lastly, just like Google Assistant and supported devices, Alexa can tie together a number of smart home devices and software that allow you to control or automate your living situation.
From turning down smart lights to grabbing details about actors from your favorite show, you can do it all pretty effortlessly with your voice and the Smart Clock Essential (2022).
Pogo-pins and Accessories
The other addition to this years model is extended support for the Lenovo Smart Clock docking ecosystem.
There are some colorful and kid-friendly bubbles (Squid version) and Sea-Lion docking solutions this time around that help provide a night-light aspect to the Smart Clock Essential.
There is also a more straightforward docking station that offers a secondary wireless charging port for smartphones or earbuds.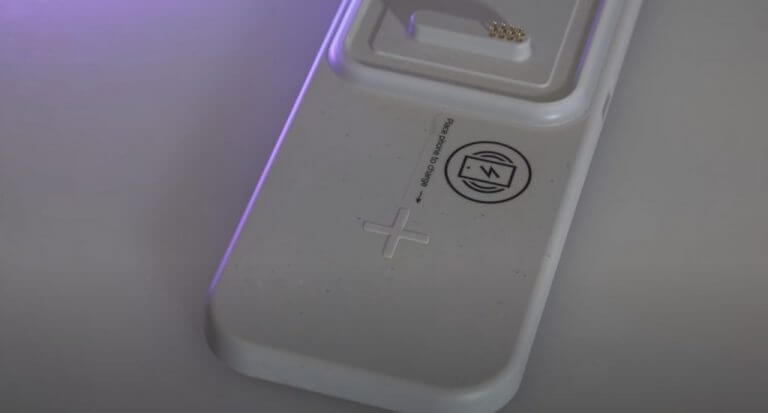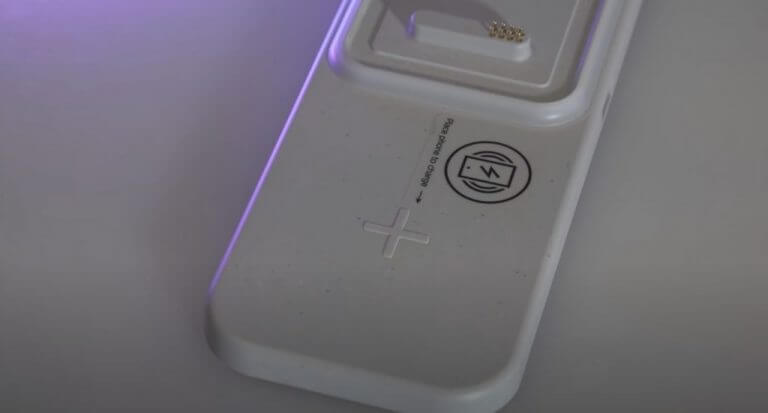 I don't know the actual wattage for the wireless charging but as with most wireless charging solutions, this takes a while to charge and I would venture to guess is meant for overnight use.
Summary
When it was first announced and released the Smart Clock Essential (2022) was billed at $59.99 and for that people got an oversized Google Home with the ability to read the time from far away.
At its current $39.99 it's a much better deal, and may even be the ideal price for someone to venture out of the Google ecosystem to try out a device that offers many of the upsides of a hyper-focused digital assistant.