Starting at $619.99
The Lenovo Yoga line has grown into the consumer facing product offering that mirrors the company's flagship ThinkPad computers in many ways but at more accessible price points generally.
Where a ThinkPad X1 Carbon could run at $1,500 for a base model the same feature for feature Yoga would normally start at $699, and the Yoga 6 continues that gracious trend this year.
With a starting price of $619 (or $949.99 for the review model), the folding 2-in-1 is the ideal computer for 90 percent of computer users.
Spoiler Alert: I have a lot of wonderful things to say about the Yoga 6, but it does suffer from a poorly lit screen, subpar speakers, 720 potato webcam and fan noise. If any of those are deal breakers, I hope I saved you some time.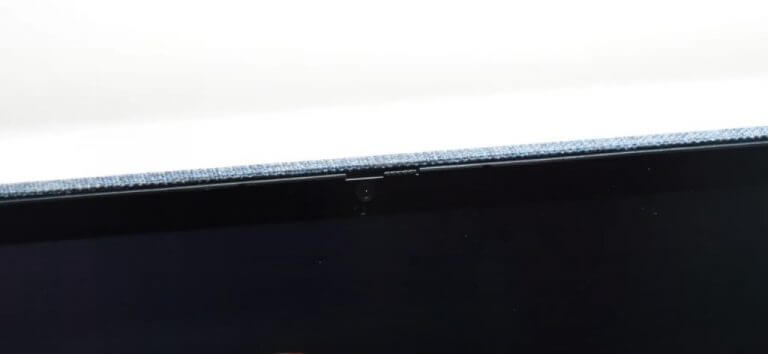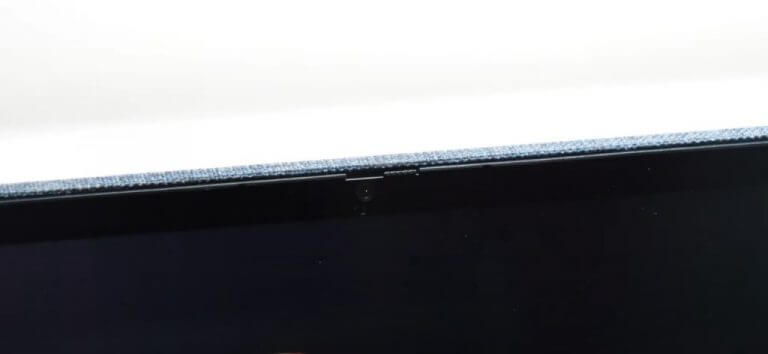 Lenovo Yoga 6 Ryzen 7
Processor
AMD Ryzen™ 7 5700U Processor (1.80 GHz, up to 4.30 GHz Max Boost, 8 Cores, 16 Threads, 8 MB Cache)

AMD Ryzen™ 5 5500U Processor (2.10 GHz, up to 4.00 GHz Max Boost, 6 Cores, 12 Threads, 8 MB Cache)

AMD Ryzen™ 5 4500U Processor (2.30 GHz, up to 4.00 GHz Max Boost, 6 Cores, 6 Threads, 8 MB Cache)

Graphics
Integrated AMD Radeon™ Graphics
Operating System
Windows 10 Home

Windows 11 Home

Display
13.3″ FHD (1920 x 1080) IPS, touchscreen, 300 nits
Storage
Up to 1 TB SSD PCIe
Camera
720p HD
Memory
Up to 16 GB DDR4 3200MHz
Dimensions
Starting at 206.4mm x 308mm x 17 – 18.2mm / 8.12″ x 12.13″ x .67″ – 0.72 "
Starting at 1.32 kg / 2.91lbs
Audio
Stereo speakers with Dolby Atmos®
Battery
Up to 18 hours*

60Wh Lithium-ion polymer

*All battery life claims are approximate and based on 1080p video playback on the latest update of Windows 10 (with 150 nits brightness and default volume level). Actual battery life will vary and depends on many factors such as product configuration and usage, software use, wireless functionality, power management settings, and screen brightness. The maximum capacity of the battery will decrease with time and use.

Color
Abyss Blue
Ports/Slots
2 x USB-A 3.2 Gen 11 x USB-C 3.2 Gen 1 (DisplayPort™ & power delivery)

1 x USB-C 3.2 Gen 1 (DisplayPort™)

Headphone / mic combo

** The actual transfer speed of the USB 3.2 [Gen 1] will vary and, depending on many factors, such as the processing capability of host and peripheral devices, file attributes and other factors related to system configuration and your operating environments, will be slower than a speed of [5 Gbit/s].

What's in the box

Yoga 6 13″
4 Cell 60Whr Internal Battery
45W AC Adapter
Quick start guide
Look and Feel
I won't spend too much time on the look and feel of the Yoga 6 but to say that the model I tested came with a fabric incased lid. The feel of a woven 13.3-inch 16:9 lid is surprisingly nice and became preferred to the cold and seemingly lifeless touch of aluminum or even carbon fiber.
The touch of fabric on the lid is reminiscent of the Alcantar keyboard Microsoft tries to push with its Surface Laptops and 2-in-1's. While I've gotten used to the feel under my palm rest, I may argue for durability purposes, incorporating the woven fabric on the lid of Surface device might be a new direction the company would want to follow.
Moving beyond the lid, the device itself feels and looks very much like its predecessors. The tapered bottom, 2.9lbs and polycarbonate bottom cover are all there and just as reassuring as they have been for this line of PCs over the past four years.
As for the screen, it's a 13.3-inch FHD (1920 x 1080) IPS panel with touch and pen support, nothing too spectacular at this point in hardware offerings. Colors are punchy but the brightness leaves something to be desired at 320 nits and automatic diming can be frustrating when outdoors.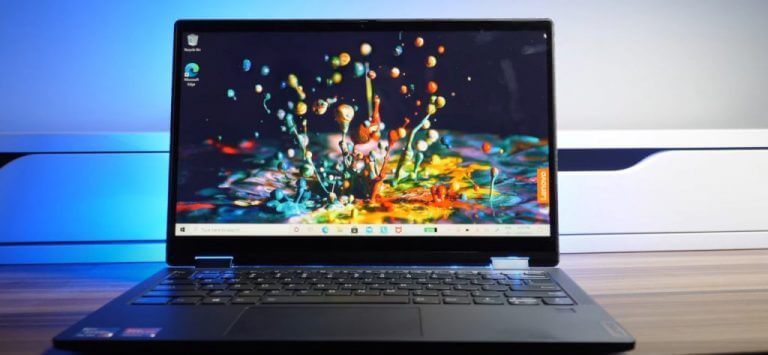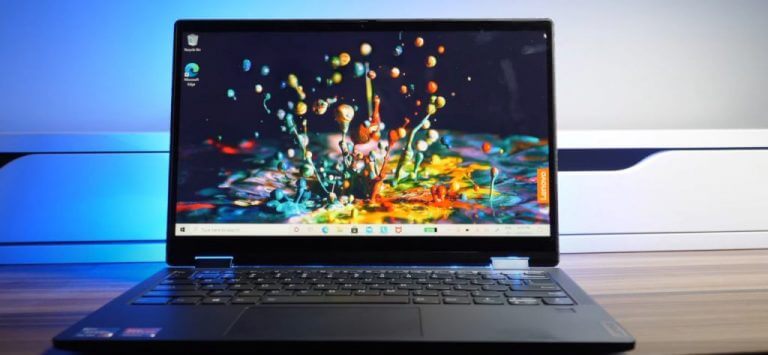 Lenovo has seemingly moved away from its jeweled watch hinge design and settled on the dual 360 metal hinge design for all of its convertible 2-in-1's and the Yoga 6 is no different.
As for your flex peepers, there is little found in the lid or keyboard deck.
As for the more functional look of the Yoga 6, Lenovo is sticking with a remarkably familiar port layout that includes a headphone and mic combo, 2 USB-A, USB-C and USB-C enabled power connector.
The U-Shaped chicklet keys on the keyboard feel every bit as comfortable as any other Lenovo computer. The key travel is nice, and the press is clicky and centered, there is no wobble to the edges of the keys which can be found on other devices such as an Acer or Asus, and often lead to accidental brushed keystrokes for users with larger fingers or who slam the keys.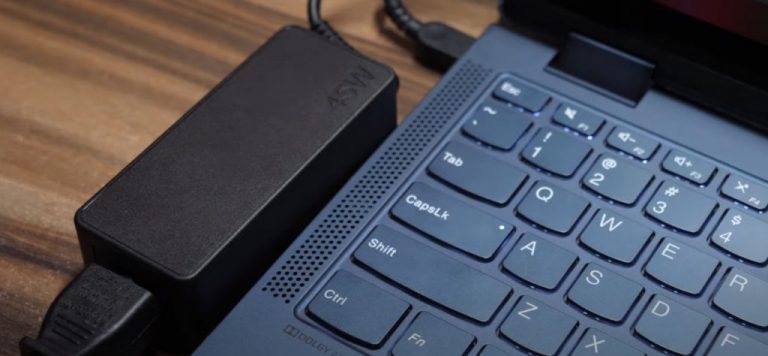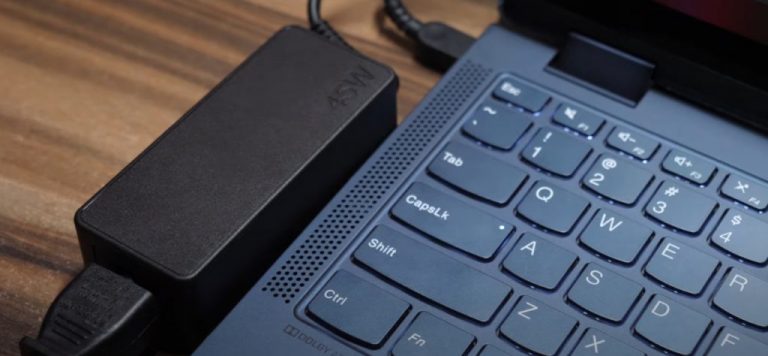 Performance
I was gifted the AMD Ryzen 7 5700U (1.8 Ghz) and AMD Radeon RX Vega 8 graphics paired with 16GB of RAM and 512GB of SSD storage.
To put things in perspective, other devices in similar price and feature ranges include the Dell XPS 13, Acer Spin 3, IdeaPad Flex 5, and HP Envy x360.
The Yoga 6 isn't a super powerful machine designed for creators but does offer some of the lower hanging fruit for novice looking to begin on their first machine in high school or college.
For Adobe Photoshop users, the screen will cover about 72 percent of the color gamut and 99 percent of the standard sRGB.
With that said, you'll need a CPU and GPU combo equipped enough to handle performance for the suite of Adobe programs and the Yoga 6 with AMD can handle midrange projects such as limited layers of effects in Photoshop and moderate number of clips in Premiere with its 8-core Ryzen 7 5700U Zen 2 chipset.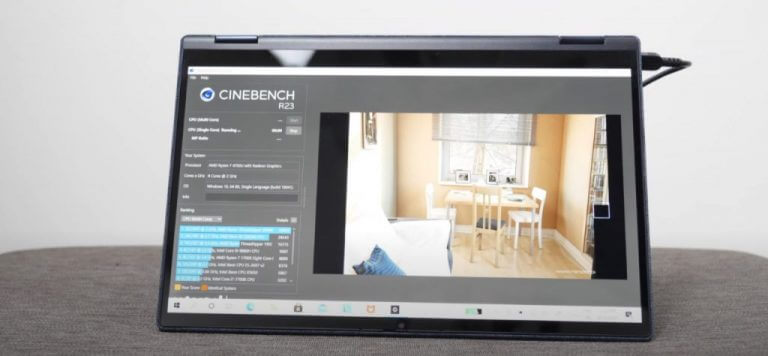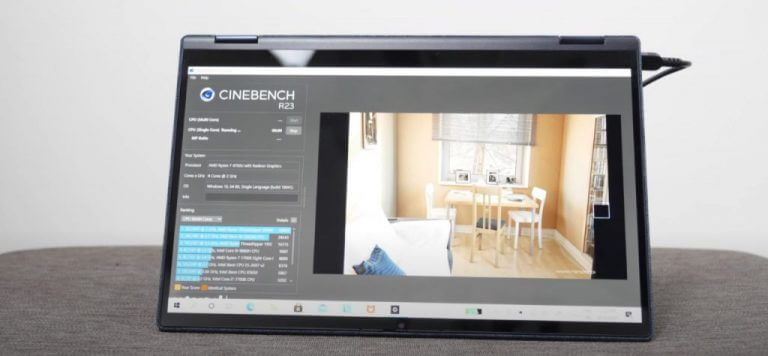 However, it may be the Lenovo Vantage software or some other monitoring program that limits the Ryzen 7 performance on this laptop as it performs a few ticks behind a Lenovo Yoga Slim 7 or other laptops equipped with the same chip.
Even more disappointing is that despite the advances in GPU performance AMD has made this particular model still trails Intel's Iris Xe supported devices which leaves the Dell XPS the better choice for more "creative" tasks.
When it comes to simple, real world use cases though the configured Western Digital SN730 SSD combined with the Realtek Wi-Fi 6 module made surfing and downloading content a breeze. I rarely had to wait to engage with documents, videos, or images from either the storage or from the web.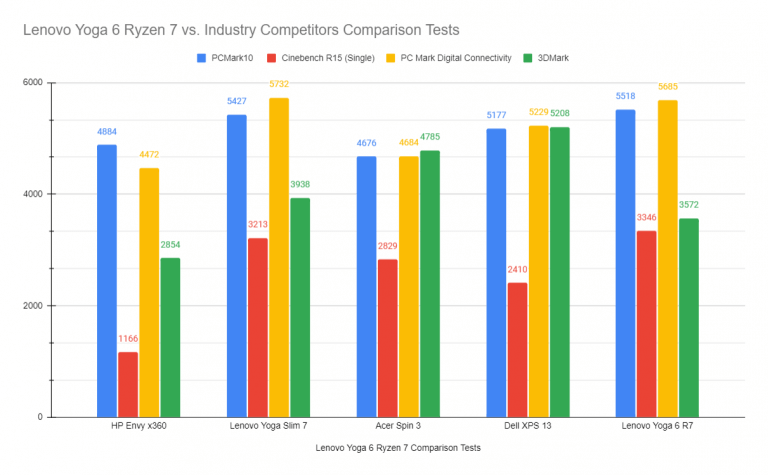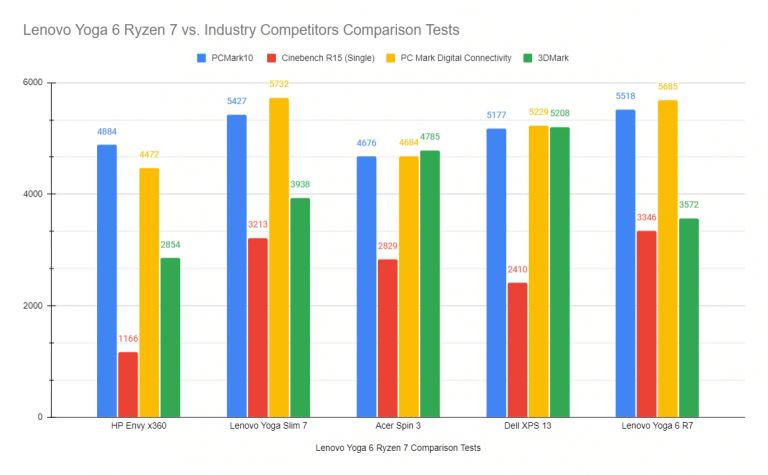 I should hope this is understood, that the Yoga 6 or most laptops that don't specifically have gaming or NVIDIA listed in their spec sheets, are not gaming devices. While it can play some causal RPG's, simulation and low-res FPS titles, the Yoga 6 does not perform well for the majority of gaming desires.
During a test of Far Cry 5 (it's what I could afford at the time of this test), it managed to maintain about 30 fps which puts it in the 80th percentile of devices that can play the game at 1280×720 resolution. The fps drops again at the higher 1920×1080 resolution, to 11 fps.
Speaking of stressing the system with gaming, the Yoga 6 can get hot on occasion reaching temps of up to 89 C however, for the most part the system stayed within the 35-45 C during most operations.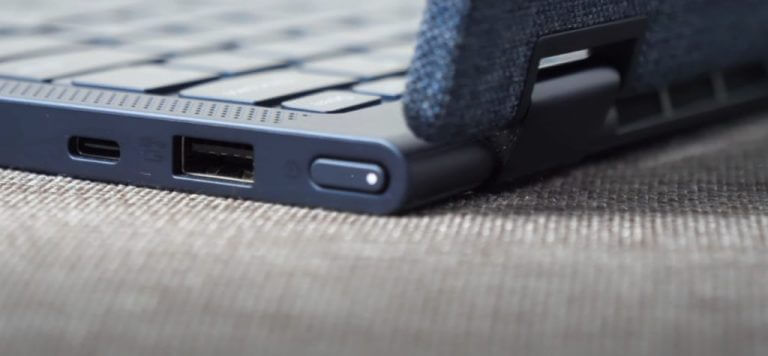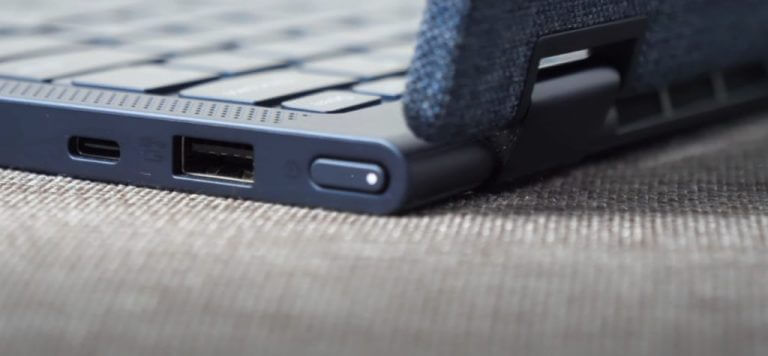 Last up is the battery life. The Ryzen 7 version runs about an hour shorter than its 5-series cousin but still outputs about 7 hours of steady use and can get up to 12 hours in moderate use. I define moderate as triaging email, checking some websites and watching YouTube videos off and on for 30 mins to an hour at a time, anything beyond that will start to significantly eat into that number. Things like streaming music, watching videos from unoptimized media players, or even turning the brightness up beyond 60 percent will cut into about one-half of the power consumption per minute.
Summary
Since getting the Yoga 6 for review the number of satisfied customers on the Best Buy review page has only increased. It would seem the Yoga 6 offers a lot for its price point and sits comfortably at the new mid-range point for PCs.
While many of the readers here covet the $1,000 and up devices for their power, brand association and hard to get specs, there is a much larger market that sits just below.
Customers are mostly content with a vivid touchscreen, enough power to do averagely well in most categories and a piece of hardware light enough to carry from the class, office, or the coffee shop and back home.
The Lenovo Yoga 6 does all the above and with a unique style the blends premium with a novel design that stands out against the sea of aluminum clad casings.
In short, the Lenovo Yoga 6 isn't a power device, it isn't necessarily the cheapest, but the AMD model does offer customers a taste of both at a reasonable asking price.