Starting at $359.99
With the Lenovo Chromebook Duet 3 (2022) update, the company continues to nail the cross section between budget and value.
Representing a sequel to the Chromebook Duet 3 from 2020, the Duet 3 (2022) updates its processor, speaker placement, 2K resolution screen, thinner kickstand back, sturdier keyboard and stronger magnets, all for around $350.
With component shortages still lingering, getting the "perfect" laptop for school may be a bit of a timing issue for some students, but getting solid computing experiences are fortunately easier than ever these days thanks to devices such as the Duet 3 (2022).
For just $350, students and casual users alike can grab the Duet 3 (2022) and have versatile computing experiences that span binge watching on the couch to processing Office docs.
Specs
Lenovo Chromebook Duet (2020)
Lenovo Chromebook Duet (2022)
Processor
MediaTek Helio P60T Processor)
2.00 GHz, 8 Cores, 8 Threads
Qualcomm Snapdragon 7c Gen 2 processor
Operating System
ChromeOS
ChromeOS
Display
10.1″ FHD (1920 x 1200) IPS
Glossy touchscreen
400 nits
11.0 2K (2000 x 1200)
Glossy multi touchscreen
400 nits
TUV Rheinland low blue certification
Storage
64GB
Up to 128GB eMMC 5.1
Graphics
Qualcomm Adreno GPU
Camera
Front: 5.0mgp RGB, fixed focus
Rear: 8.0mpg RGB auto focus
Front: 5.0mgp RGB, fixed focus
Rear: 8.0mpg RGB auto focus
Memory
4GB RAM LPDDR
Up to 8GB LPDDR4x
Dimensions
258.04x 164.55x 7.90mm10.16x 6.48x 0.31inches
Audio
1W x 2Stereo Speakers, Dual Array microphone: supports Google Assistant
1W x 2Stereo Speakers, Dual Array microphone: supports Google Assistant
Weight
Starting at 0.99 lbs/ 450g
Tablet: around 516.6g(1.14 lbs)Folio: around 429.3g (0.95lbs)Total(Folio + Tablet): around 945.8g (2.09lbs)
Color
Color: MistyBlue, Storm Grey
Color: MistyBlue, Storm Grey
Ports/Slots
1 x USB-C 3.2 Gen 1 (support data transfer, Power delivery 3.0 and DisplayPort 1.4)1 x Pogo pin connector
2 x USB-C 3.2 Gen 1 (support data transfer, Power delivery 3.0 and DisplayPort 1.4)1 x Pogo pin connector
Battery
29Wh supports Rapid Charge
29Wh supports Rapid Charge

What's in the box

Full keyboard/ Kickstand Pack included
Dock with non-backlit keyboard, anti-pry, water-resistant

Full keyboard/ Kickstand Pack included
Dock with non-backlit keyboard, anti-pry, water-resistant
Look and Feel
The Chromebook Duet 3 (2022) may look an awful lot like its predecessor but Lenovo has made some incremental but meaningful changes that evolve the feel of the overall device nicely.
This time around Duet 3 (2022) comes with a sturdier kickstand attachment which addressed my concerns from my previous review. The magnetic connection to the back of the tablet is much stronger so there is much less incidental movement of the piece during use.
Perhaps in an effort to shave off some ounces, the kickstand attachment is also a bit slimer than the one used in 2020 which has led to me leaving it attached more often than not and just incorporating it into the average weight of the tablet when in use.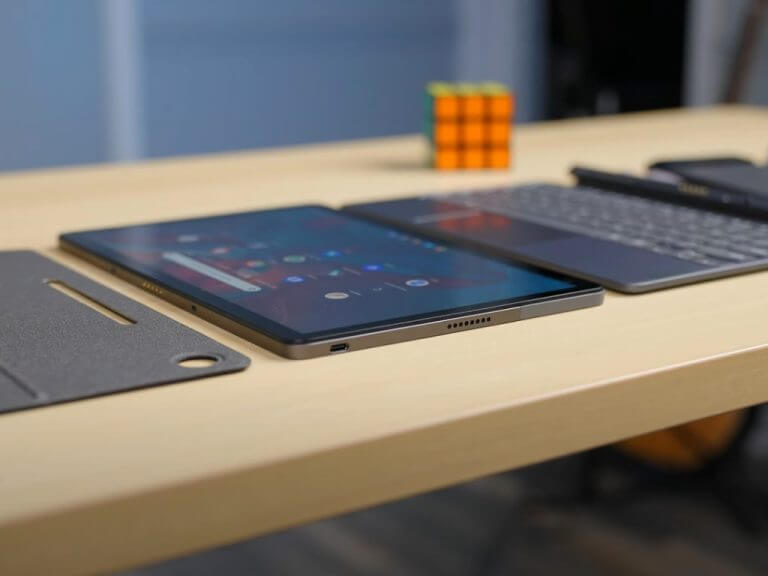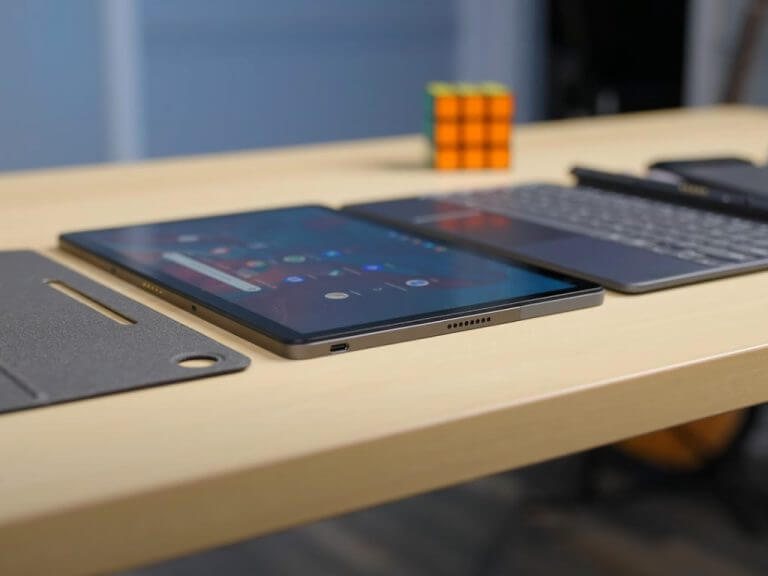 While Lenovo hasn't added backlighting to the keyboard, it did manage to make the underneath plating feel more rigid than the 2020 model with much less flex resulting in a more solid typing experience on the lap.
Lenovo added an additional USB-C port which can now serve as a connection to a secondary monitor while also charging the device or connecting a external hard drive simultaneously.
The display on the Duet 3 (2022) got an upgrade from 10.1 at 1920 x 1200 panel from 2020 to 11.0 at (2000 x 1200) for a slightly crispier viewing experience. The bezels on Duet 2022 feel roughly the same as before and continue to glide into the rounded display aesthetic.
I've spoken about the keyboard experience in my previous review of the Duet (2020) as,
"…the keyboard is limited in space and the compromises Lenovo chose to accommodate the placement of keys can be felt when typing or using the trackpad for extended periods. Another nitpick is the lack of ergonomic positioning that comes with Microsoft's magnetic Surface Type Cover connection to the bottom of the screen allowing for a raised typing experience. "
In 2022, the experience remains roughly unchanged. While the plate underneath the keyboard offers less flex and is water resistant treated, it's still a cramped typing experience and one that's exacerbated by the fact that the device is a pleasure to use for longer periods of time.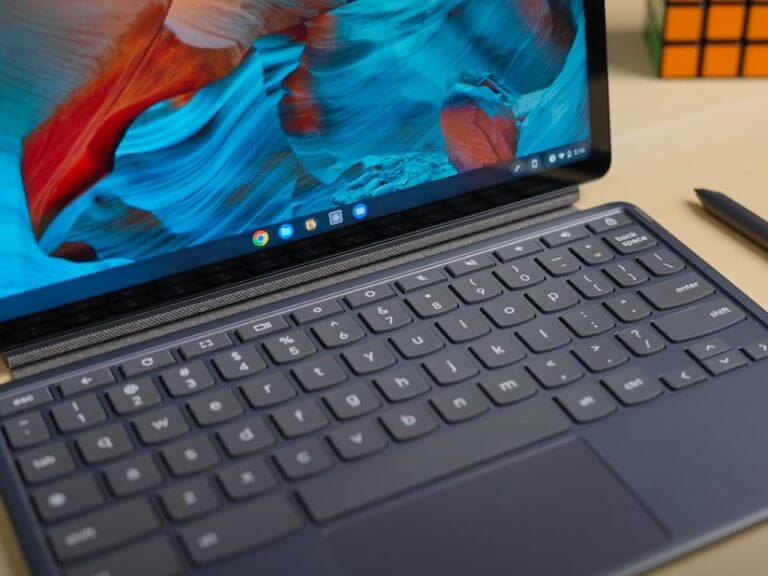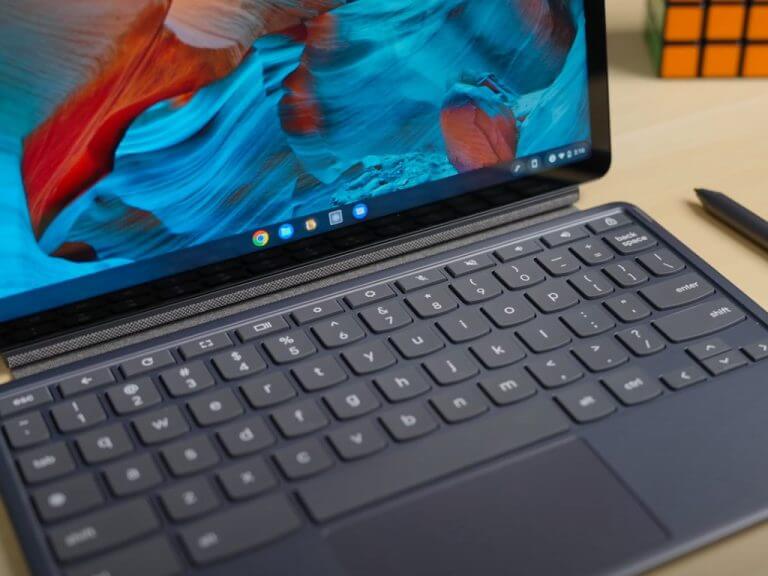 Everyday Use
In 2020 the overall experience of the ChromeOS felt disjointed and less cohesive than it is today. The improvements brought on by two more years of ChromesOS development have refined the user experience a great deal for me and has made my use go from the answering the occasional email and binge-watching shows to binge watching shows and writing long form articles, processing data in Excel, creating PowerPoint presentations and the occasional light image editing.
Perhaps, much of the credit in my change of opinion might stem from the switch to the Snapdragon 7c Gen Qualcomm processor over the performance throttling MediaTek one from 2020.
While it's not a silver bullet to address various other annoyances I've had with ChromeOS, it is definitely a great addition on a sub $400 computer that can serve as a go to device for many people.
As for everyday use, Duet (2022) lasted about 10 hours of use on the battery for most days, and depending on the workload, I could squeeze out a day and half.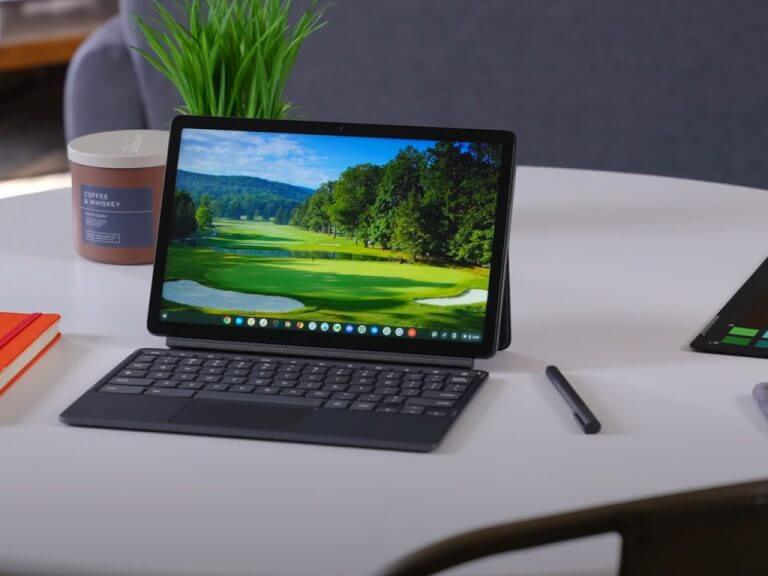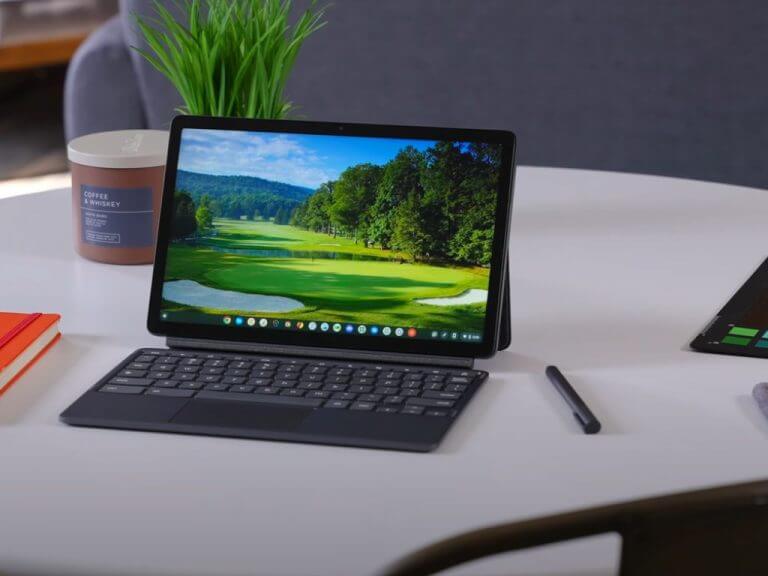 The 29-Watt hour battery paired with a 45W charging brick meant I was up and going after about 30 mins if and when the Duet (2022) happened to be on its last leg.
From a sheer performance stand point the Duet (2022) serves best as a single task device. Trying to load it up with Android games while simultaneously trying to sort through "Desks" (virtual desktops) will confuse the device at times and result in black screens while background music plays.
However, if you manage to play well in the sandbox of Chrome tabs and the occasional casual mobile game you would be hard press to identify any issues.
Summary
For $350, there are few complaints this time around from me on the Duet 3 (2022). Not that price is an overwhelming factor in my use-case scenarios, but for many budgets are a real constraint, and Lenovo has addressed many of the complaints I had with the hardware and performance of the original Duet.
Going into school season this year, Duet 3 (2022) is definitely recommended for anyone who lives and breathes Google and Android.
With the addition of a second port, users can now enable the Duet (2022) to power their home office, or dorm room setup for as little as $300.