Google has had a bit of trouble with earbuds, and I'm sure you know why at this point. That's left great chances for Microsoft, Samsung, and other companies to make great products like Surface Earbuds, Galaxy Buds, and even the Nothing Ear 1 earbuds.
A lot of Google's problems were due to hardware issues, but in mid-2022, Google returned with Pixel Buds Pro to try and redeem itself. These new earbuds take a lot of what's great from the second-generation Pixel Buds, and for Microsoft fans like myself, perform a bit like Surface Earbuds. Here's my take on Google's Pixel Buds Pro when used across Android, Windows, and iPhone.
Specs & Price
You can buy the Pixel Buds Pro for $200 from Google or other major retailers. Pixel Buds Pro pairs with any Bluetooth 4.0 device, including Android, iOS, tablets, and laptops. The earbuds are sweat and water-resistant, with the earbuds being IPX4 rated, and the case IPX2 rated. Each earbud measures 0.88 x 0.87 x 0.93 inches, and the charging case is 0.98 x 1.97 x 2.49 inches.
Each earbud has an 11 mm dynamic speaker driver, and three microphones on board. Battery life is rated at 7 hours with ANC on, and 11 hours with ANC off and you can get up to 31 hours of listening time with the charging case.  More specs and features are below.
Active Noise Cancellation
Transparency Mode
Volume EQ
Active in-ear pressure relief
Voice accellerormeter
Mesh covers to block wind
Tap and swipe sensors
Note that Google doesn't give you a USB-C cable to charge Pixel Buds Pro in the box, you'll need to provide your own, or use a wireless charger. You can also buy the Pixel Buds Pro in Charcoal, Fog, Lemongrass, or Coral. All three are the same price. Google even includes 3 types of ear tips for you to try out. Small, medium, and large. I tested with the small.
Case, Design, and fit.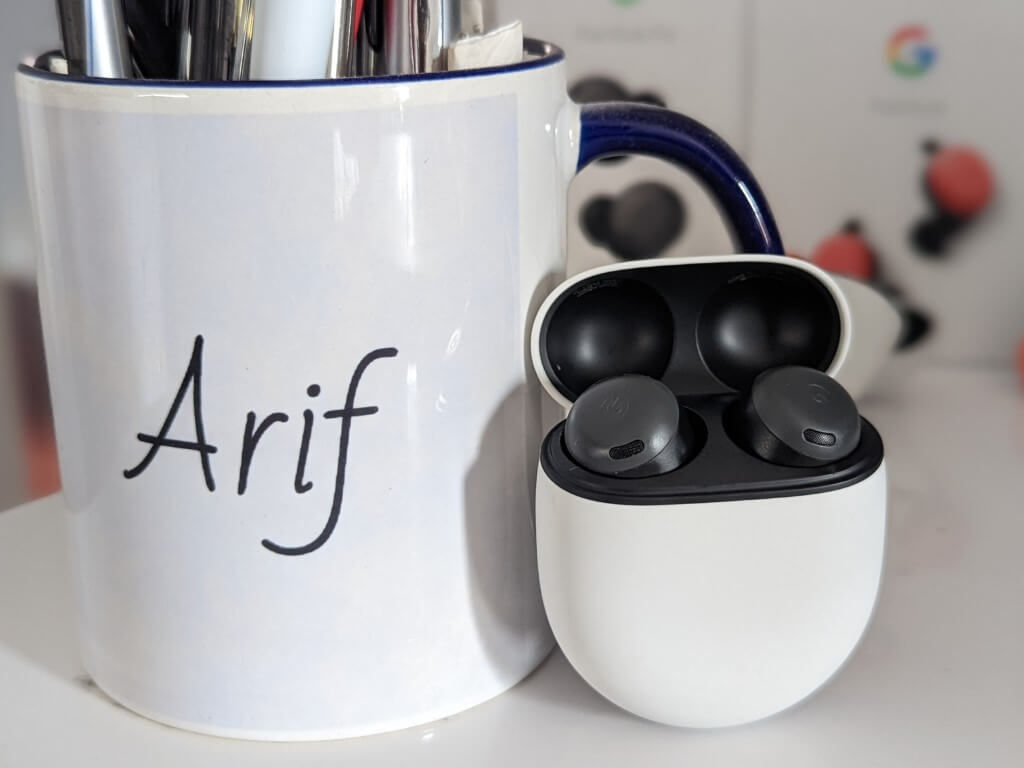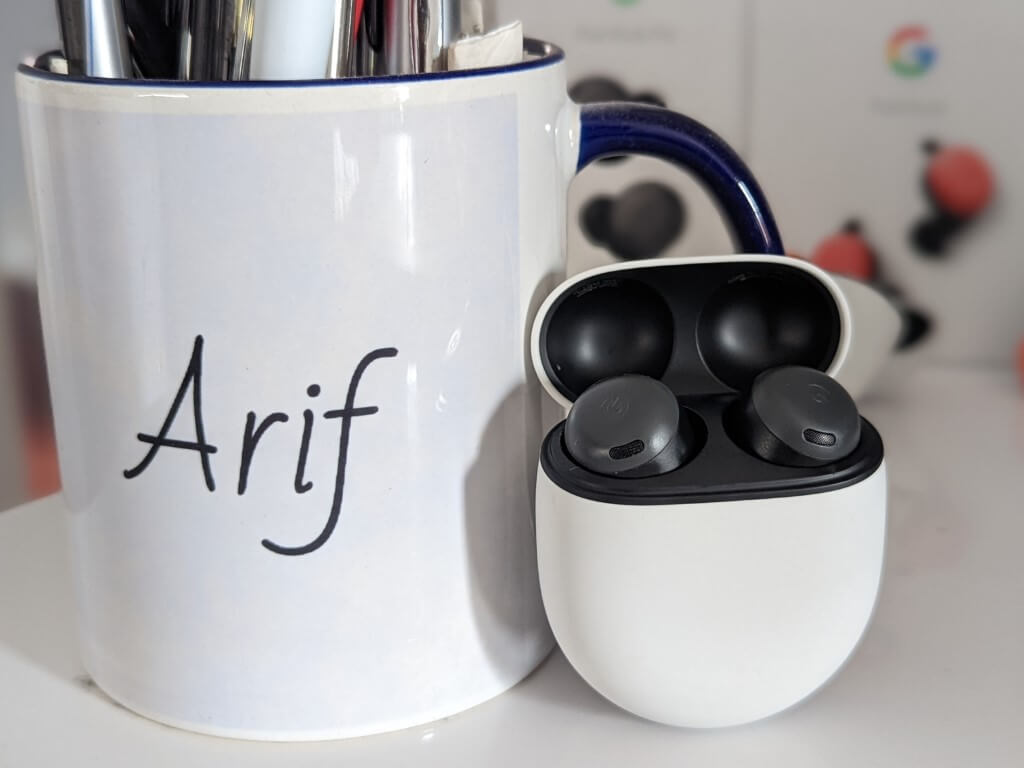 If you've ever seen the Pixel Buds A-Series, or the second-gen Pixel Buds, then the case of the Pixel Buds Pro should feel familiar. It's designed to look and feel like a pebble when you pick it up and hold it in your hands. It has a matte finish, and the lid is angular. There's also a nice weight to the case when you grip it in your hands. That definitely sets it apart from the AirPods case which has a smoother glossy finish, or even the Surface Earbuds case which are much wider and longer.
I do think the case is also durable. I took my Pixel Buds Pro on a trip to visit Fenway Park in Boston, and the security at the stadium accidentally dropped the case on the ground when she opened my bag for inspection. I picked it back up and noticed no visual damage.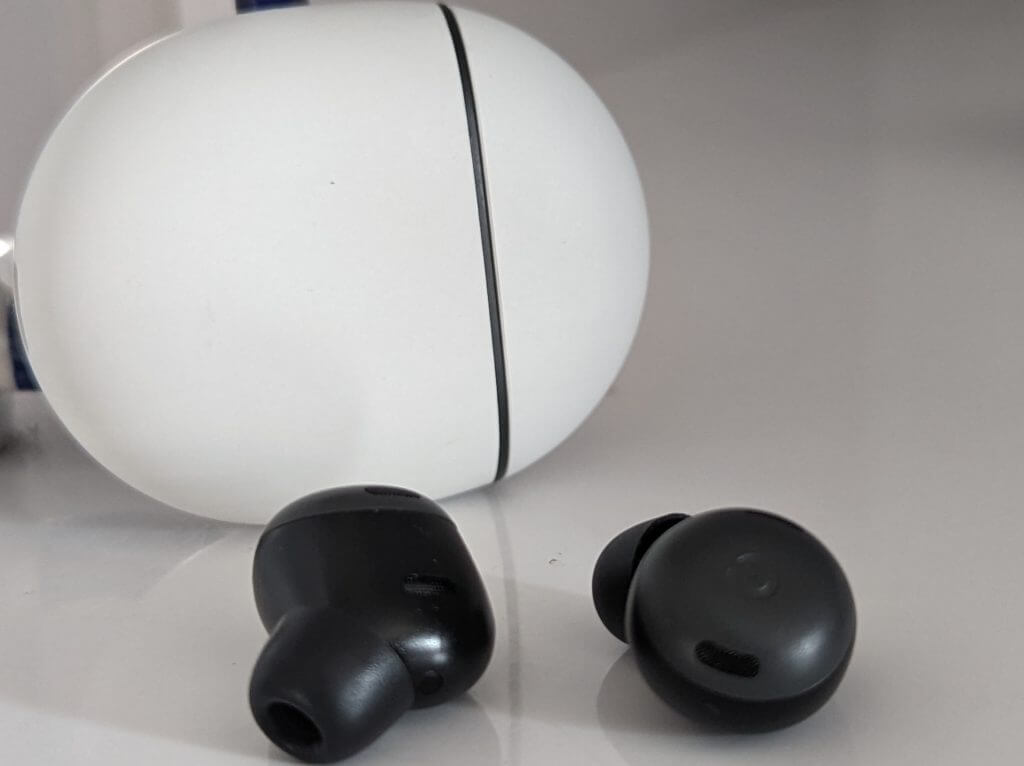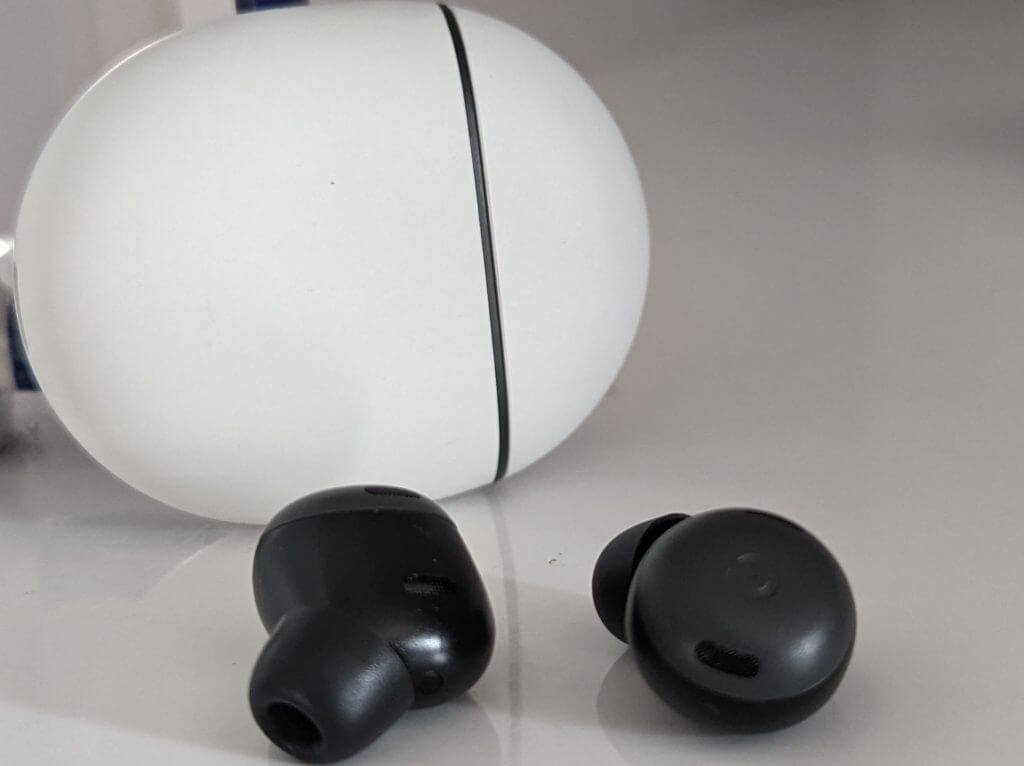 As far as the design of the actual earbuds, Google is going for something different. When you put these in your ears, they might look like an original Pixel Buds or Pixel Buds A-series to the casual observer, but don't be fooled. Google has dropped out the signature wingtips on the Pixel Buds Pro, so it is now more of a fit, shape, and feel similar to Samsung's Galaxy Buds Pro. And yes, this is less crazy of a design than the Surface Earbuds, which have a giant awkward touchpad on the outside.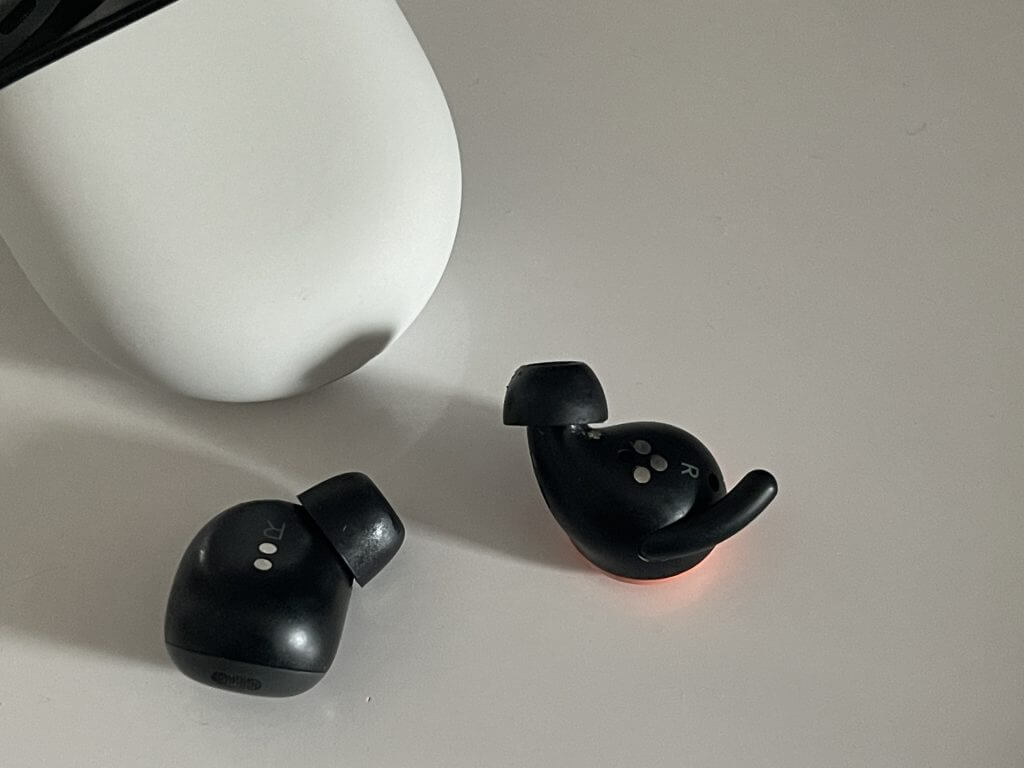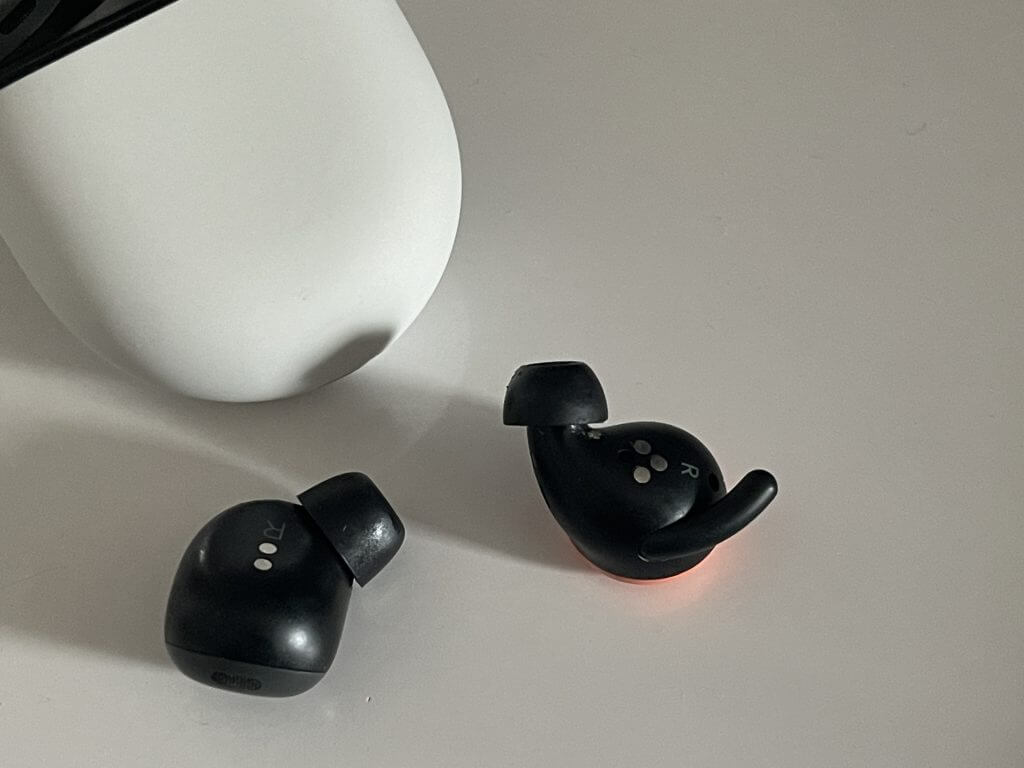 After wearing Pixel Buds Pro for four hours on an Amtrak ride from NYC to Boston, I think this design choice helps the Pixel Buds Pro feels natural. Putting in these earbuds is a bit similar to Surface Earbuds. Rest it in your ear, and then twist it in to secure it. Once in, you'll barely feel that you have earbuds on.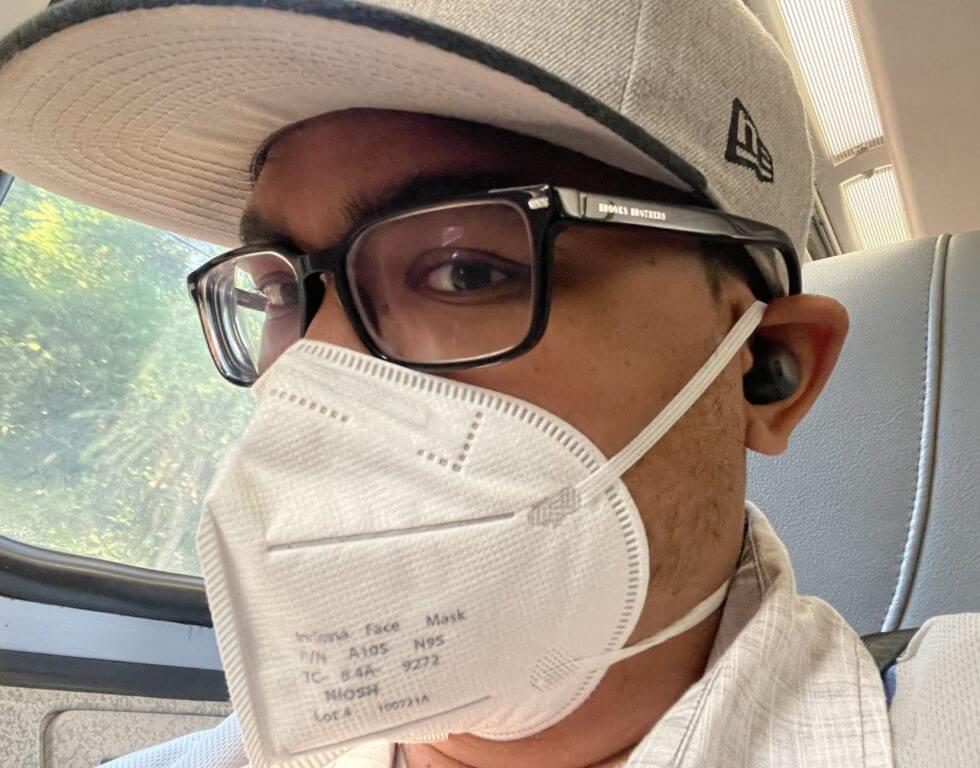 The fact that the Pixel Buds Pro has no stem adds to the comfort, as it means the earbuds don't slide off when walking, jumping, or exercising. I tried all of these things in the lead-up to my trip, and the Pixel Buds Pro always stayed secure in my ear no matter what, even during a heatwave where I was sweating. The only exception was when I got a case of common cold, and my ear canals closed up, the Pixel Buds Pro struggled to stay in my ear.
This is one of the comfiest earbuds I've ever tried, even more than my AirPods Pro which tends to slip out of my ear and feel uncomfortable after an hour (even with foam tips.) Google actually uses sensors and vents to keep the fit feeling natural and secure. Those sensors measure the ear pressure in your ears, and the earbuds are able to relieve it and stay comfy.
Pairing, software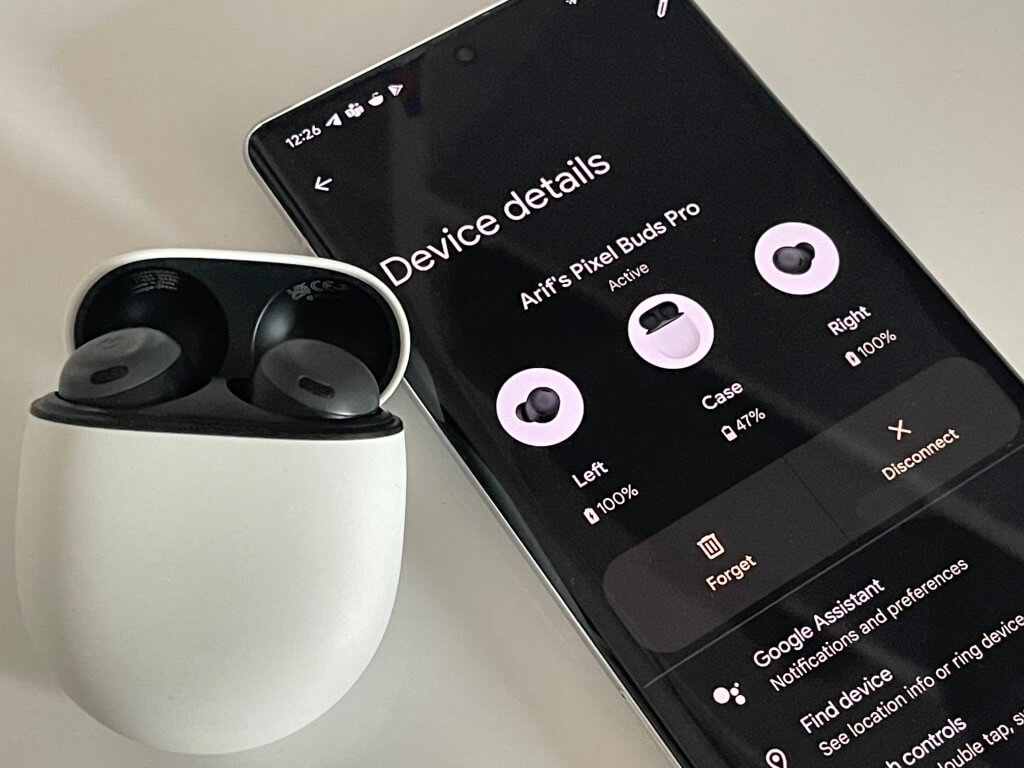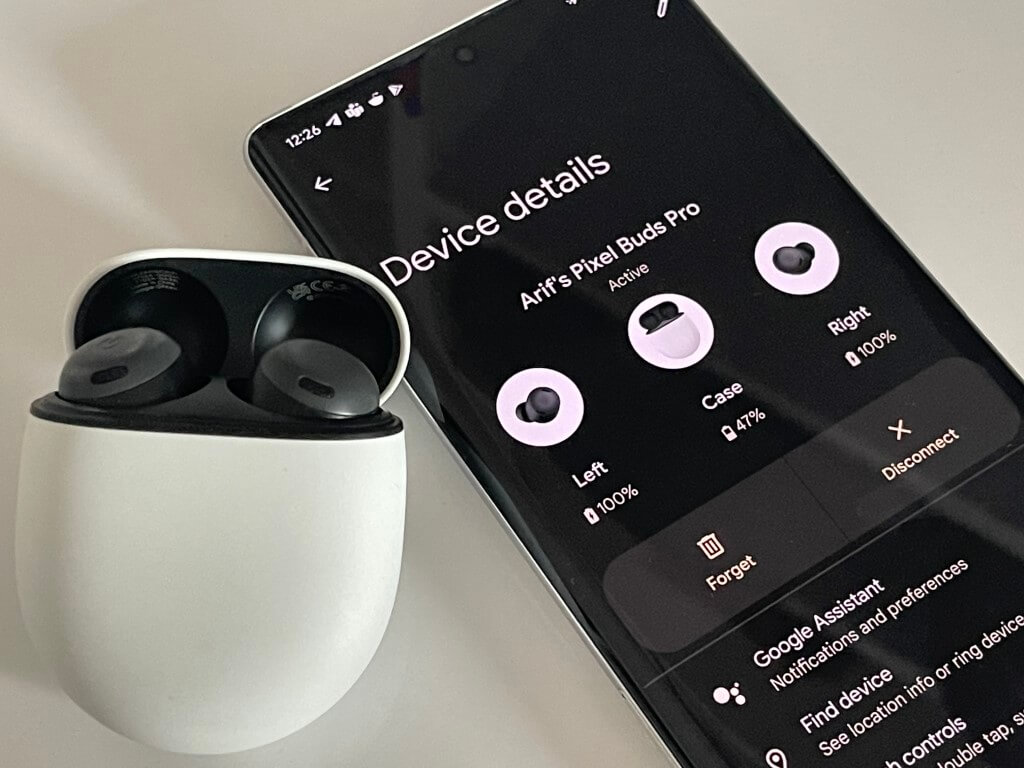 Pixel Buds Pro is best used with Android, as you get access to Pixel Buds software to let you customize your experience a bit. The software isn't yet cross-platform and won't work on iOS or Windows, though, unlike the Surface app for managing Surface Earbuds. Without an Android phone, you can't customize the Pixel Buds Pro as much.
Anyway, pairing Pixel Buds Pro with Android is easy. Open the lid, and you can pair it automatically thanks to Google's Fast Pair technology. On Windows, you pair by holding down the button on the case and selecting it manually through Bluetooth settings. The same goes for iOS or an iPhone.
I mentioned pairing because Pixel Buds Pro supports audio-switching with signed-in Android devices. In my example, I was listening to Spotify on Android, and Teams rang on my Chromebook, and the Pixel Buds Pro switched over to Chromebook automatically. Other than that, the Pixel Buds can remember two devices with Multipoint, so you can worry less about repairing constantly between PC and Android, or Android and iOS. With this, when you play media the earbuds can switch to calls on previously connected devices. Again, in my test, I did this with Teams ringing on Windows. I stopped media on my phone and selected my Pixel Buds as the output on my PC. It was pretty seamless.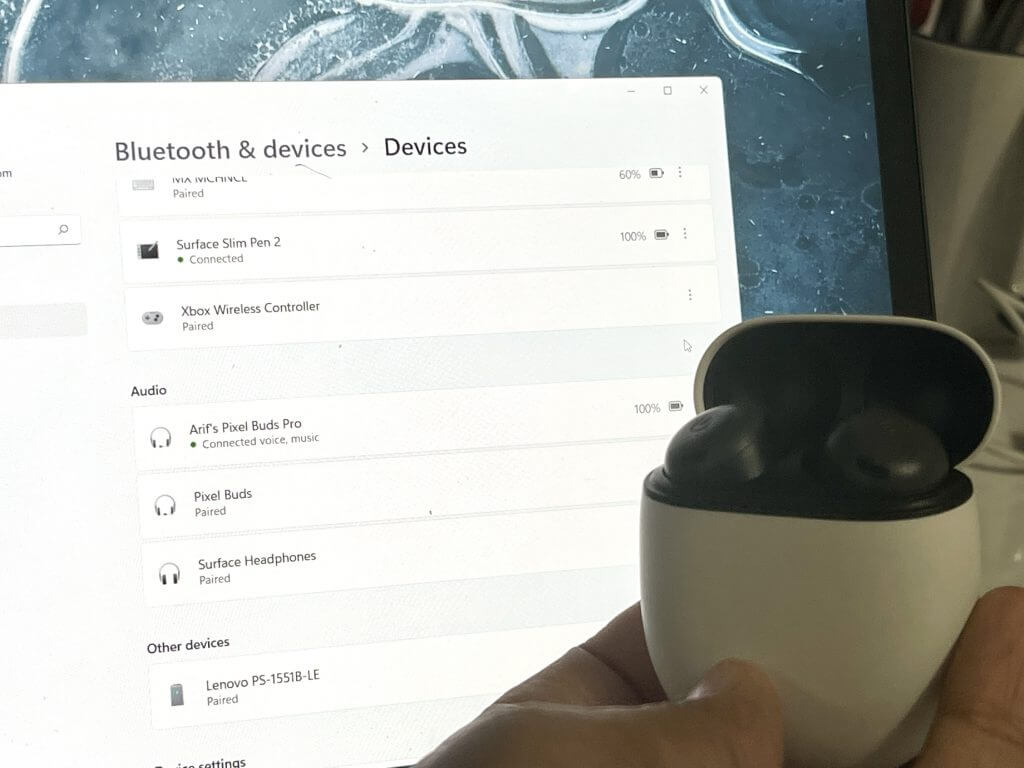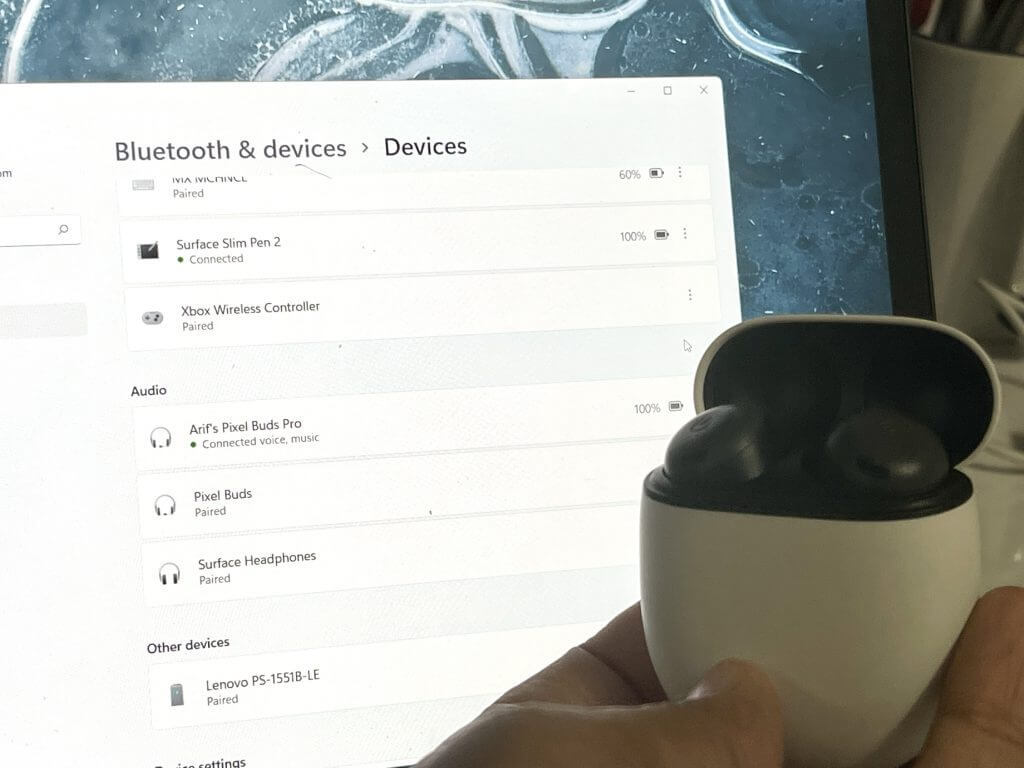 As for the Pixel Buds app on Android, it has a couple of things to know about. The first is a fit test, which will let you know if you've chosen the right ear tip. I used the small one because my ears are weird like that. Other than the ear tip, the app is also used for a few other tasks. This includes setting up Google Assistant settings, ringing the earbuds if lost, boosting the volume EQ at lower levels, managing noise cancellation, and transparency, and managing firmware updates. It's great to sell all these controls up front, but I wish Google could port these controls to iOS and Windows, too.
Touch sensors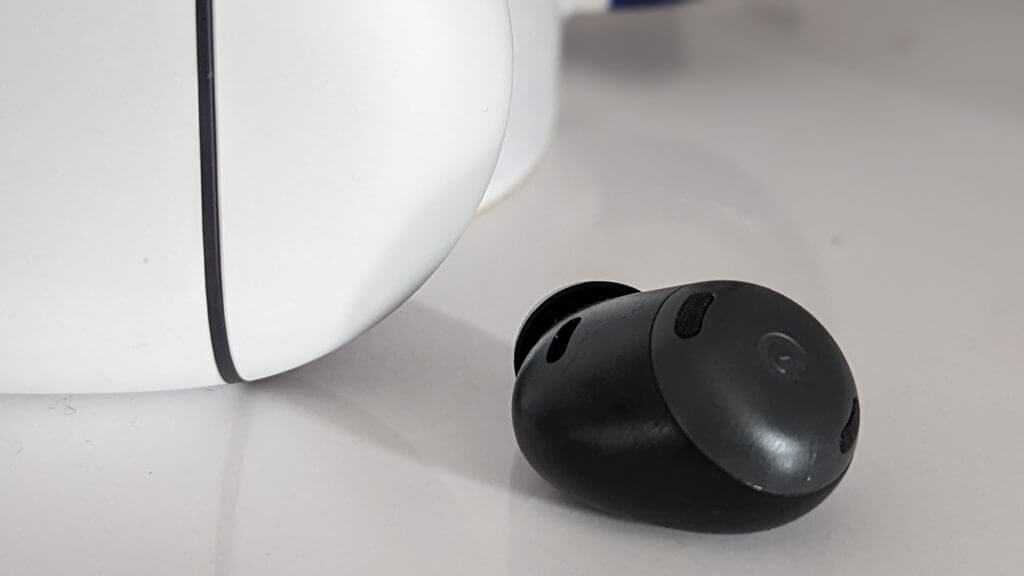 The best feature of Pixel Buds Pro is the touch sensors. These aren't that customizable, but they still work great on Android, iOS, and Windows, as there's a touch control for everything you need for music. These are really fun to use, unlike the tap or press and hold controls on AirPod Pros. It's very reminiscent of the touch pads on Surface Earbuds.
You can swipe forward on any earbuds to raise the volume, and swipe backward to lower the volume. A single tap plays or pauses music, and a double tap will take you to the next track or reject a call. A triple tap will take you to the previous track. Finally, pressing and holding will toggle between active noise cancellation and transparency mode. Only this control can be customized so that either the right or left earbud can be configured for a long press to activate Google Assistant. (Google Assistant only works on Android, and this touch control can't be mapped to Siri or Cortana.)
In my four-hour Amtrak journey to Boston, touch controls proved crucial. I was falling asleep at one point, and my head was braced up against the train's window. Feeling comfy, I didn't want to take my Pixel 6 Pro out of my pocket, so I instead depended on the touch controls to change volume, switch songs, and talk to my Google Assistant to respond to messages.
Audio Performance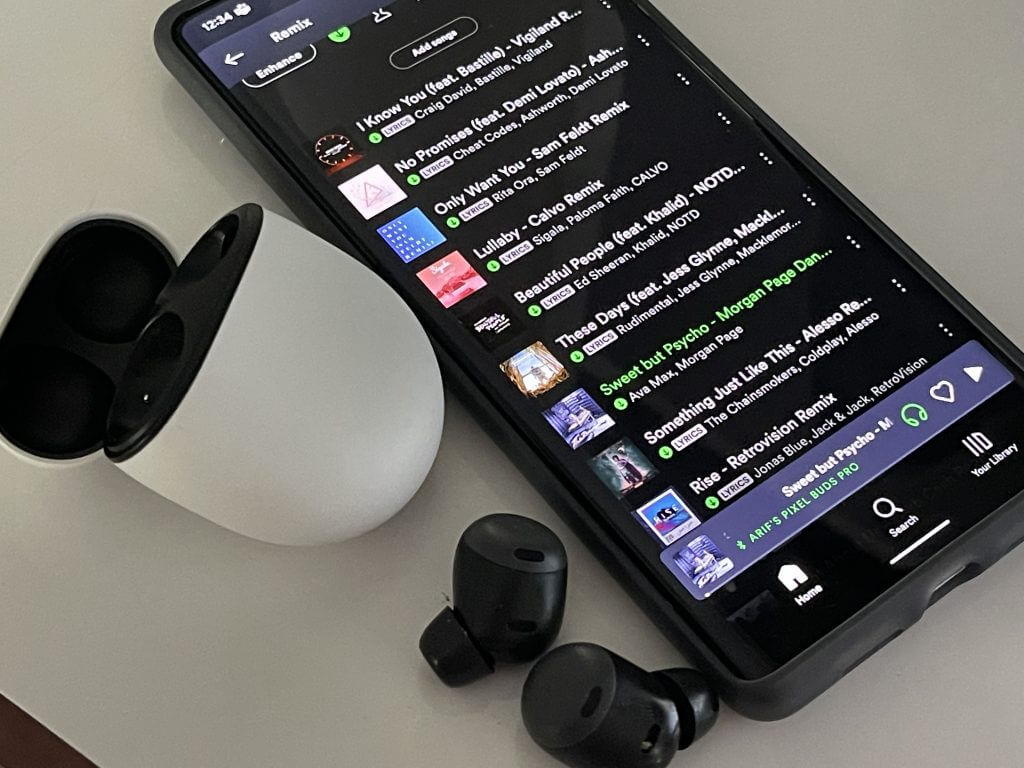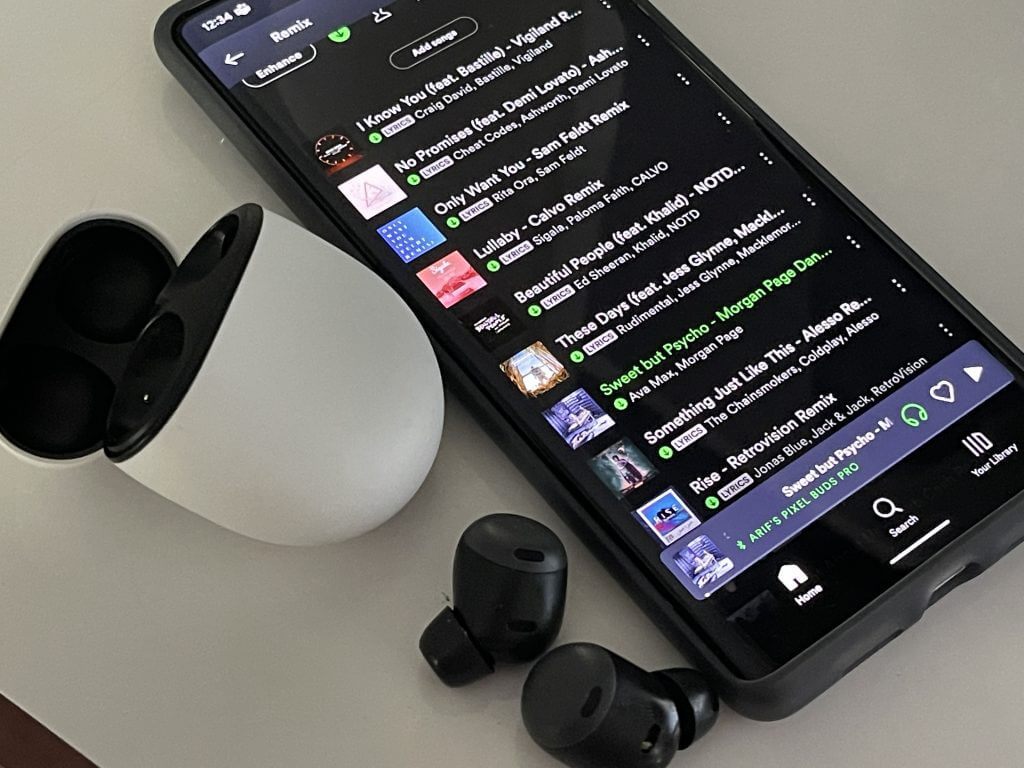 Just as I said when I reviewed Surface Earbuds, I am not an audio expert, so I can't comment very specifically on the full details of audio performance. For my basics, though, I feel like the audio on Pixel Buds Pro is a mix between Surface Earbuds and AirPods Pro. There's definitely not a lot of bass on these buds, but most of your music should sound great at medium to high levels like I listened to in my tests.
I noticed the lack of bass when listening to a playlist on Spotify which remixed hit songs (like Ava Max's Sweet but Psycho) from the past decade. Lyrics, guitars, and voices, though still sound rich and deep, especially on a rock song like Dear Maria, Count me in by All Time Low. Even a classic song like Frank Sinatra's New York, New York, sounded pleasing. Sinatra's voice sounded quite deep, as the trumpet and piano riffs during the signature portion of the song.
Note that the EQ feature was turned on in all my music tests. It's supposed to enhance bass and treble at a lower volume, but I don't think it made much of a difference in loud scenarios like my Amtrak train ride. At home, I think it made more of a difference when listening to music in quiet places like my home office.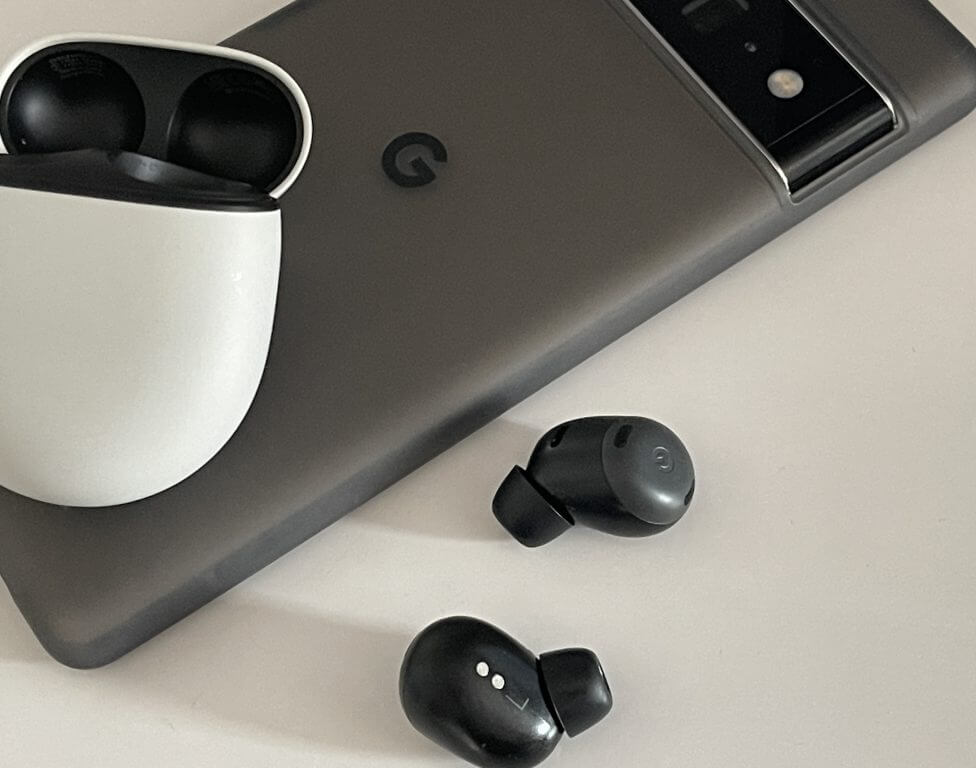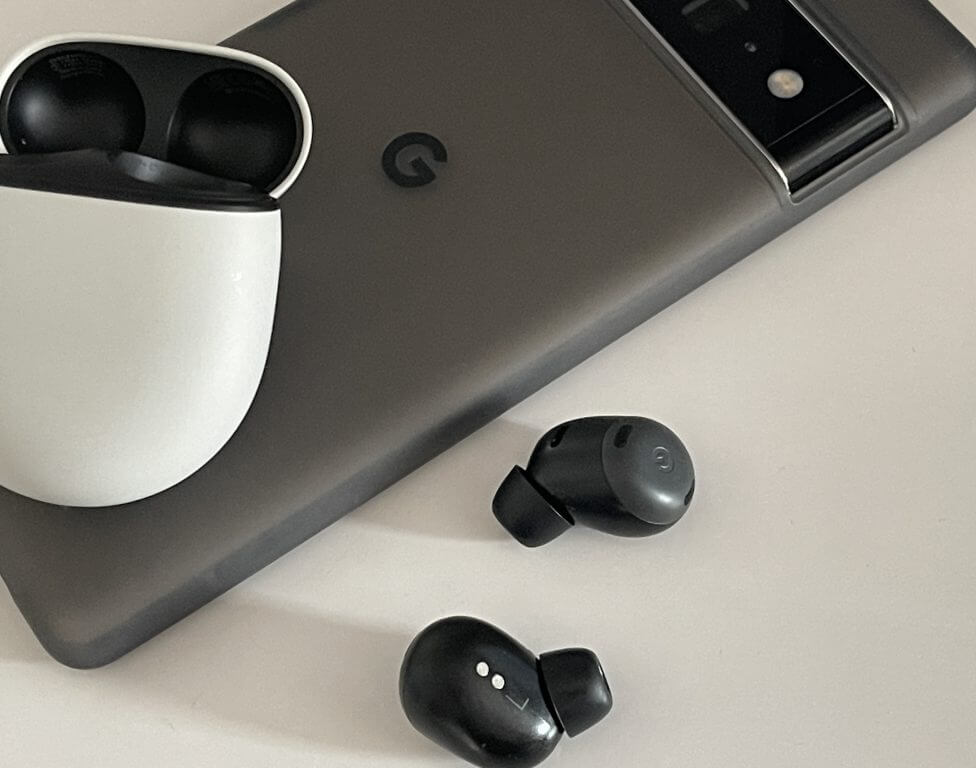 The noise cancellation, though is amazing and is almost exactly like what Apple has done on AirPods Pro. In my tests during a four-hour train ride, the noises you typically expect from trains were muted for me. I heard nothing but my music during my entire ride. Even the chatter from fellow passengers and the Amtrak crew was muted. When I did want to hear announcements about the next stops, though, a tap on the buds enabled the transparency mode, which instantly let me hear the voices around me.
As someone who uses AirPods Pro on my iPhone, these definitely feel like the Android version, but just with a lack of bass and spatial audio (Google is adding spatial audio later.) It's also sad to see that Google is only using the HD Audio AAC codec, aptX is next-gen, and I hope these can be added in the future through software. Most people though, should not notice the difference, as most audio is AAC.
On latency and connection issues, I'll say these problems from the original Google Pixel Buds are gone. I had none of these issues with Pixel Buds Pro, and leaving my phone at my seat, then going to the rest room which was about 10 feet away, music still keep playing.
Microphone performance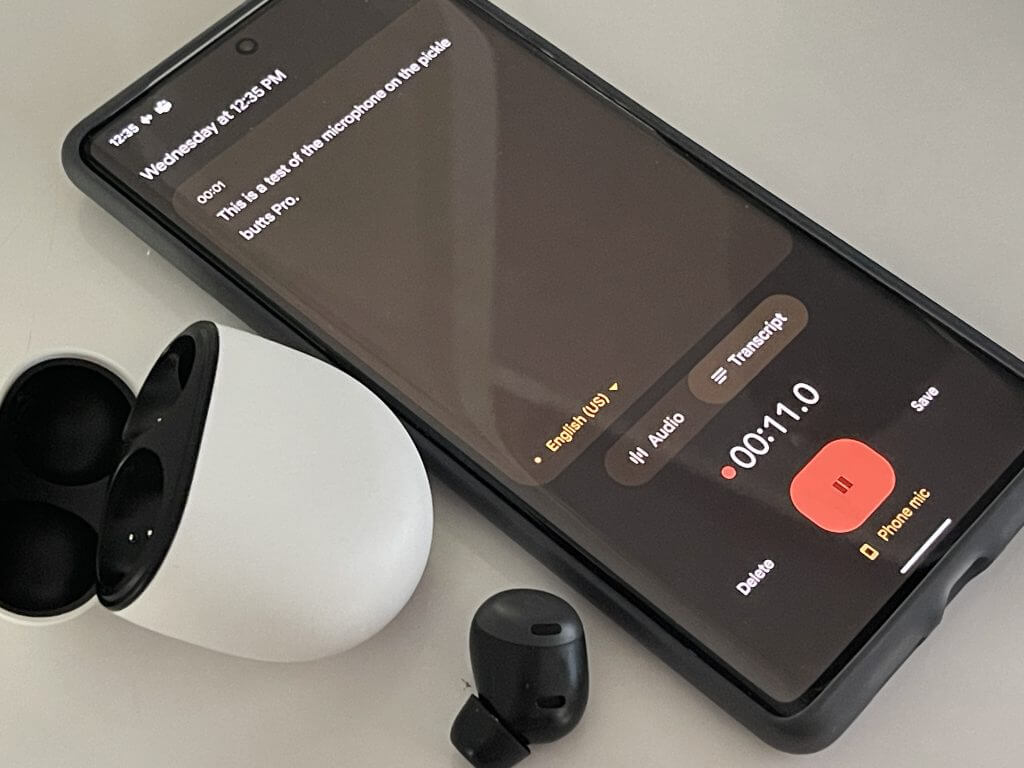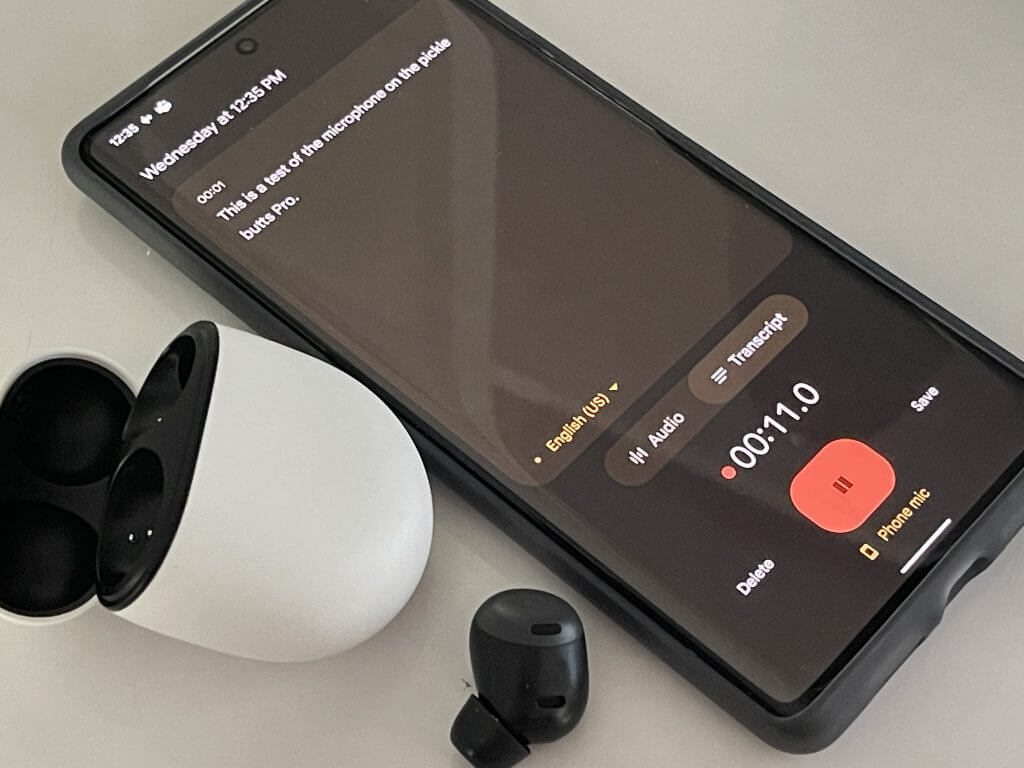 To test the microphones on the Pixel Buds Pro, I put my SIM card in my Pixel 6 Pro and daily driver the phone for a few hours. On phone calls that I made when sitting on my Amtrak train, people on the other end of the call said I sounded very well, and when I told them I was using my Pixel Buds Pro, they were surprised. Outside, though, in a loud stadium, the performance wasn't the best, and my dad said he had trouble hearing me when I answered his call when at Fenway Park. I think that's due to noise cancellation kicking in.
Back home when I used the Pixel Buds Pro on Teams calls, the experience was great. I used the transparency mode to hear my voice and had my earbuds to around 40% volume. I clearly heard my colleagues, as well as myself. It's a great experience that I liked a lot with Surface Earbuds, which let you hear yourself speak while you present.
Battery Life
Best way to test the Pixel Buds Pro are to wear it on a weekend trip! 4 hour train ride to Boston and 4 hour trip back. Let's see how these go. So far, really good at noise cancelation! I can't hear anything but my music. pic.twitter.com/Cwsuku5HOF

— Arif Bacchus (@abacjourn) July 31, 2022
Depending on how you use your Pixel Buds Pro, battery life will vary for you. Google advertises 31 hours total listening time with the charging case when active noise cancellation is off, with 11 hours of earbuds listening time. Active noise cancellation being on drops that to 7 hours or earbuds listening time and 20 hours of total listening time with charging. And about the case, you can get 1 hour of listening time with a 5-minute change with active noise cancellation.
I used active noise cancellation a lot in my time with the Pixel Buds Pro, and my average battery life was around 18 hours. That accounts for my entire trip to Boston, which lasted me about 12 hours (8 hours of music listening in between and 1 hour of calls), and the rest is the time I spent playing with the earbuds at home.
I didn't have to connect my Pixel Buds Pro case to a battery pack or power outlet to recharge. I did, though, notice some uneven drain between the left and right earbuds, but Google continues to hold that this is normal, as the earbuds do the processing.
Your mileage might vary, obviously as battery tests with earbuds are different for everyone. Just keep in mind that, unlike Pixel Phones, these earbuds don't have a fast charge so you might want to ensure you fully charge it to 100% before going on a long trip like I did.
Great earbuds
There's no doubt that there are a ton of different headphones and earbuds that you can buy right now. All are not created equal, but if you're well-invested in Android and Windows, then the Google Pixel Buds Pro is a great buy. These are true AirPod Pro competitors that work great with Windows. with a comfy fit, and decent sound performance, great touch controls, you'll enjoy the Google Pixel Buds Pro.