Starting at $279.00
Geekom's similarities to Intel's NUK mini-PCs may seem apparent at first glance but it's in the details where customers save a little bit more with Geekom's Mini IT11 and Mini Air 11 PCs.
We were given the Geekom Mini Air 11 and Mini IT11 as review units and while we are combining experiences for a single review, there is a gulf of performance between Intel's former Celeron N590095 chip and its more mainstream 11th Gen Intel Core i7-1195G7 processor.
There are two very distinct computing styles Geekom is targeting with the Mini Air 11 and the Mini IT11 which would include a data tasker in search of stationary computing experiences and someone who requires a bit more headroom in flexibility of tasks, respectively.
GEEKOM MiniAir 11
GEEKOM Mini IT11
Intel NUC11
$279
$799
$849
117 x 112 x 34.2 mm
117 x 112 x 45.6 mm
117 x 112 x 51 mm
500.3 g
564.9 g
564.9 g
YES
YES
YES
Metal inner frame
Metal inner frame
Plastic Frame
11th Gen Intel Celeron N5095(4M Cache, up to 2.90 GHz)
11th Gen Intel® Core™ i7-1195G7 (4 Cores, 8 Threads, 12M Cache, up to 5.00 GHz)
11th Generation Intel Core i7-1165G7
Intel® UHD Graphics 605
Intel Iris Xe
Intel Iris Xe Graphics
8G
16G
16G
32G
64G
64G
256GB
512GB
512GB
1T
2T
2T
Windows 11 Pro
Windows 11 Pro
Win 10 Pro
Intel® Wi-Fi 5, Bluetooth® v4.0
Intel® Wi-Fi 6, Bluetooth® v5.2
Wi-Fi 6, Bluetooth 5.2
Automatic Voltage adjustment between 100 and 240V AC,
50/60Hz, 45Watts(19V/2.36A), 3Pin,1.5 meters in length
Automatic Voltage adjustment between 100 and 240V AC, 50/60Hz, 3 pin,
65 Watts (19V/3.42A),1.5 meters in length
19V DC Input
1 x VESA Mount
1 x Power Adapter
1 x Storage Bag
1 x HDMI Cable
1 x Mini DisplayPort to HDMI Adapter
1 x User Guide
1 x Thank You Card
1 x VESA Mount
1 x Power Adapter
1 x Storage Bag
1 x HDMI Cable
1 x User Guide
1 x Thank You Card
2 x USB4 Type C Ports
1 x Power Adapter
1 x User Guide
Look and Feel
It's a little black box, in every sense of the phrase. While there are turquoise stencils that adorned the top of the box, the majority of the design is a subtle black and grey toned box about the size of a medium sized external hard drive at 117 x 112 x 34.2mm.
The construction of both Mini 11 and the Mini IT are solid with zero flex or bend to any of the mostly metallic materials or the hard-plastic top.
Keeping with the general theme of multifunctional work horses the Mini 11 and Ari both sport a series of I/O that includes two USB-A Gen 1 Ports, USB-C data only slot, headphone jack and power button on the front of the boxes while the rear houses ventilation grills, an additional USB-C (data only) port, full size HDMI, two USB 3.2 Gen connectors, an Ethernet cable, Mini DisplayPort and DC power barrel port. On the right of the box is a single full sized SD card reader as well.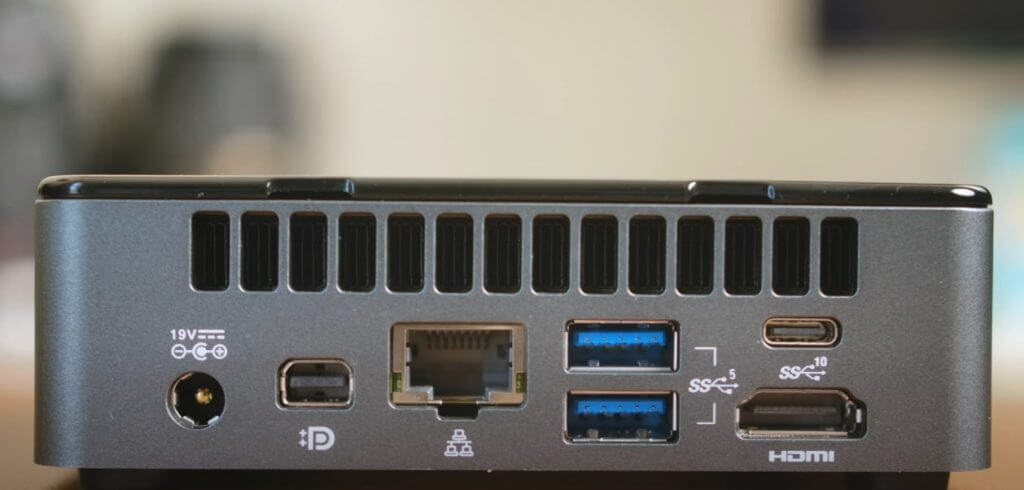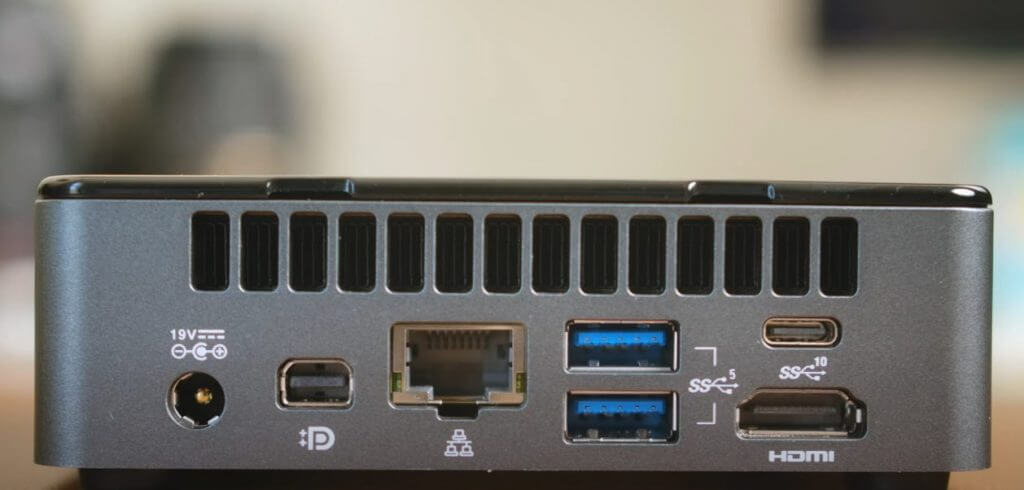 As previously mentioned, the size of either Mini device is ideal for most desktop setups because of its flush top and bottoms as well as its relatively pocketable design with its rounded corners that offer a bit of sleekness while adhering to some functional aspects of the design that allow it to be placed on its side, have items stacked on top or even VESA mounted to be completely out of the way.
The last thing I want to note is the accessibility of the device which houses four medium-sized Philips head screws under the rubber feet that make way to the inside of the computer and enables the owner to upgrade the SSD and dual channel RAM if desired.
Performance
After five minutes' worth of setup that includes unboxing and plugging in the cables connected to the device as well as Bluetooth connected peripherals, the Mini's were up and running.
Despite several marketing materials on the site and in the packaging, neither Mini desktop reference devices are made for gaming. However, that is not to dissuade the idea that Geekom isn't squeezing the most out of Intel's integrated GPUs.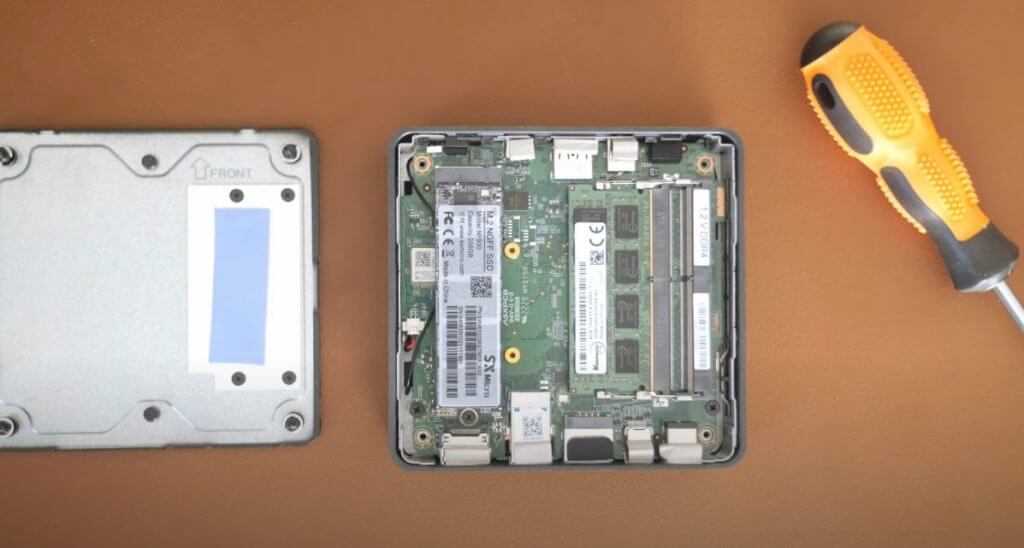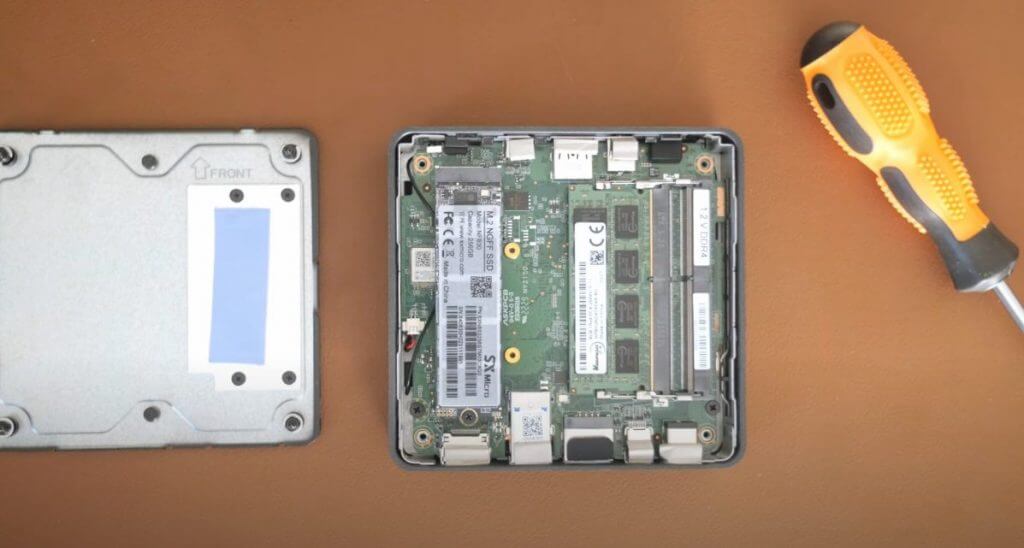 For the 11th Gen Intel Celeron N5095 powered users are met with a admirable UHD 605 GPU paired with a 250GB M.2PCIe and 8GB of RAM out of the box. The end result of this pairing for the Mini Air is that customers are left with a highly performing data-oriented computer.
The Mini Air is fast and fluid at web browsing, opening and transferring most average-sized files, and light to medium productivity tasks in Office 365. However, the ceiling of those data-oriented experiences is moderately low thanks to the imbedded Intel Celeron processor, so opening up too many instances of Excel or Chrome will begin to choke the performance of the machine.
The Air is a more suitable purchase for anyone looking to spruce up an old workstation or unsightly desktop tower that may be over 5 or six years old.
As for the Mini IT11, that is where Geekom's focus on value really shines. While the Mini IT is a bit pricier than the Air, it offers substantially more performance with its 11th Gen Intel Core i7 offering. While it made little sense to run performance benchmarks on the Mini Air when its struggles were readily visible, I did run some benchmarks for the more powerful IT11 variant.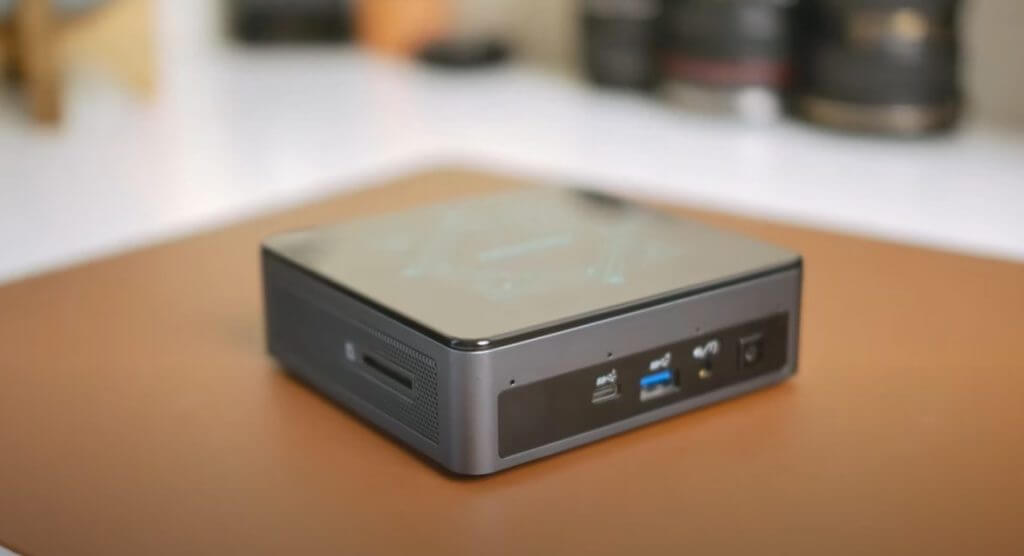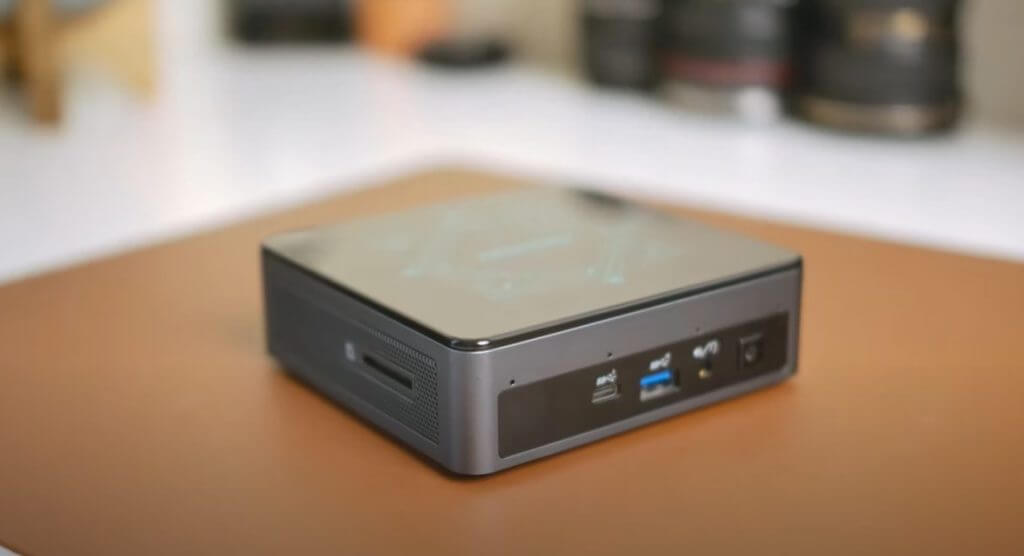 Cinebench testing resulted in the Mini 11IT netting the highest single core performance marks against a NUC 9 with an i7, Ryzen 3 3399U, Ryzen 5 1600 and an M1 MacBook Air from two years ago.
However multicore testing through Cinebench against the same lineup saw the Mini IT11 come in near the bottom of the pack with a score of 5679 against the MacBook Air's 6852 score. The limited four cores eight threads of the chipset quickly became a hindrance.
As for gaming, there are quite a bit more titles you can play on the Mini IT11 at 1080p settings beyond light RPG's and turn based action found on the Mini Air, such as Dota 2, League of Legends, Minecraft, GTA V, Hitman 2, Fortnite, Rainbow, Witcher 3, Rocket League and more.
So, there is quite a bit of gaming to be had thanks to the bump in GPU performance going from UHD to Iris Xe.
Finding a nice middle ground between work and play on the Mini IT11 was much easier than on the Mini Air but one thing neither of the boxes could achieve is a sustained content creation workflow. Between larger file sizes sometimes freezing and locking up the Windows Explorer task or just navigating through layers on a 1080p film edit, neither the Air or the IT11 were best suited for content creation.
Sadly, the lack of horsepower for content creating on either the Air or IT11 appears to be mostly laid at the feet of Intel's integrated GPUs. Intel is said to be introducing Arc CPUs as smaller scale for notebooks at some future date, that could further tip the scales in favor of Geekom's value proposition for its mini desktop computers.
Summary
As with any purchase, buyer beware. I say this with utmost sincerity, that both the Geekom Air 11 and IT11 are great mini desktops that offer solid specs for a really good price, but they also exist in a world where more power and flexibility in desktop arrangements can be had at relatively similar prices.
That being said, anyone interested in a NUK may want to reconsider the Geekom Air or IT this year because there is better performance to be had and comes with a license of Windows out of the box. The Geekom can still be turned into a Chrome or Linux box with relatively little effort after the fact and thus becoming a bit more flexible in the process.
Buyers of the Air should be aware of its limitation up front and understand the Air 11 can be a great remolded replacement for an aging workstation or a fleet purchase to replace old towers in offices. Thanks to it more portable design, the Air 11 can be more easily transferred from work to home.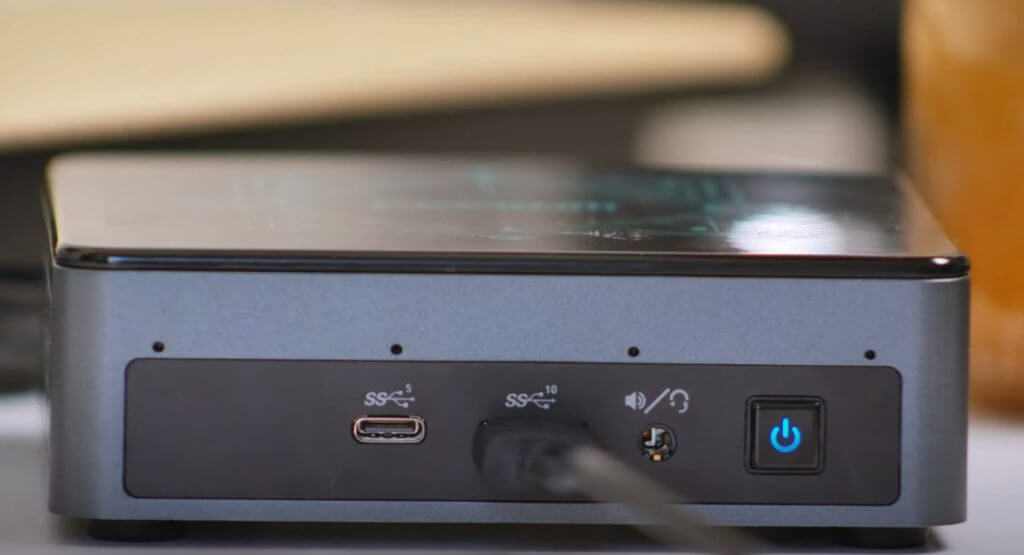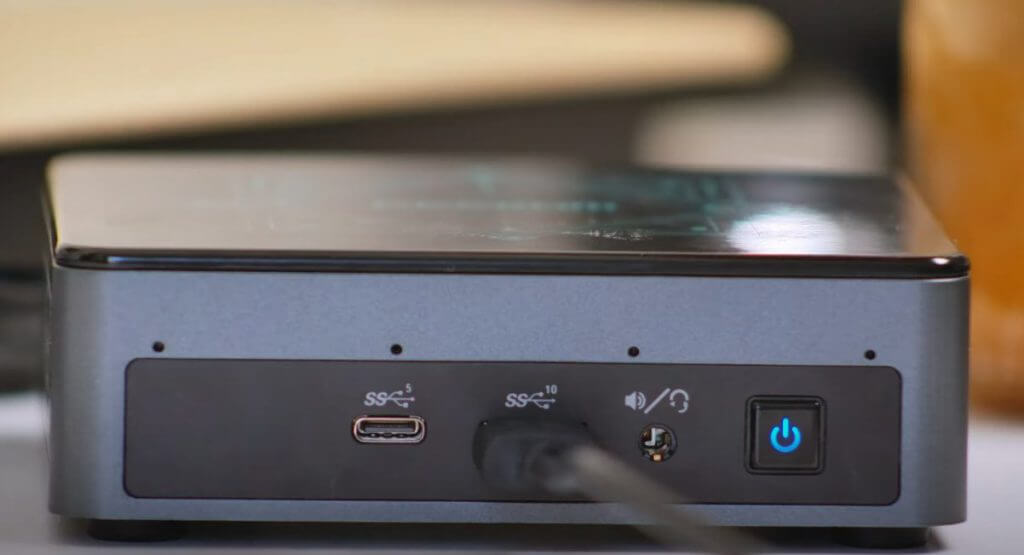 However, what's not being done on these Mini Air11 is creating YouTube videos, several layers deep photo or image editing or even intensive gaming.
Now over to the IT11, this machine is where attention is warranted for anyone looking to replace even their aging All-in-One or do quite of bit of their online activity evenly across their mobile device and computing one.
If you're not into notebooks or would just prefer a centralized desktop, media player via Plex Server, IT11 should be considered. It's as powerful as most laptops and comes in a few hundred bucks cheaper for the equivalent spec performance.
In addition, Geekom is having an anniversary sale on their site for the month of October starting on the 8th and lasting through the 31 to celebrate 19 years of great products.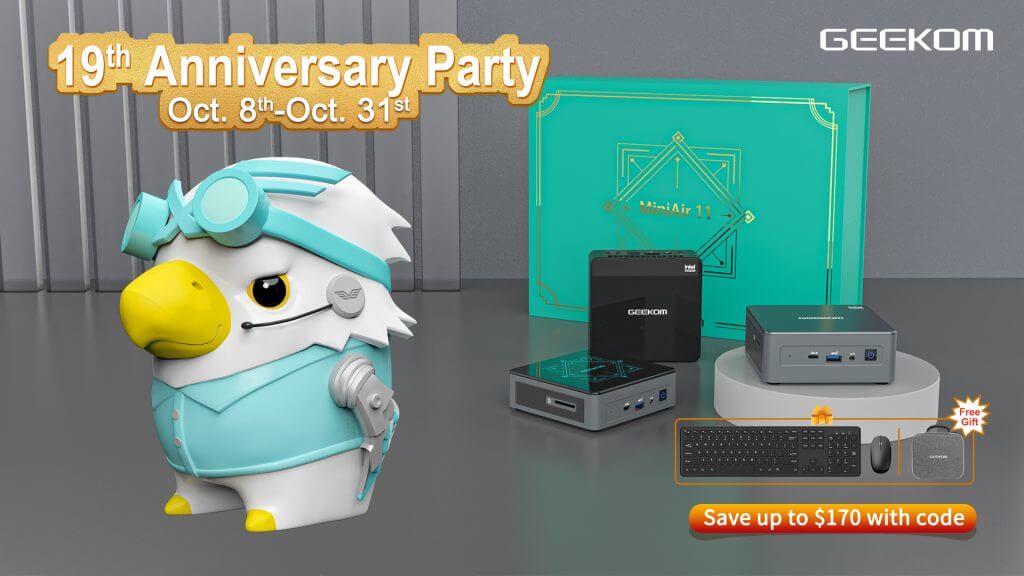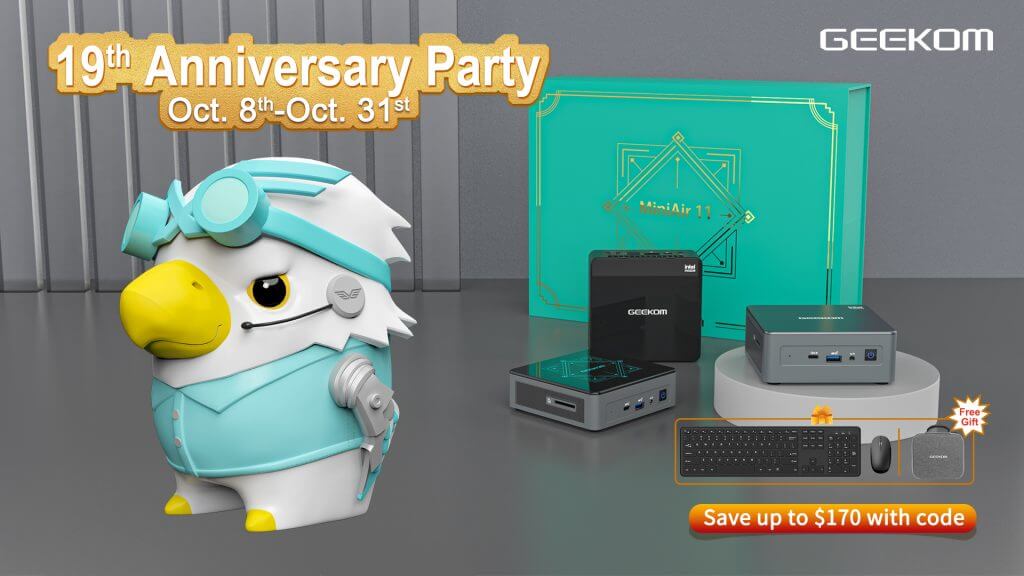 For the next month, buyers can shave an additional $170 of bundled packages that include keyboards and mice with their desktop PC or even snag the Anniversary branded kit that includes specially designed boxes, mousepads, storage bag, personalized Thank You Card, and mascot figurine for as little as $279.