Windows 10 convertibles come in all shapes and sizes these days but they're not created equal. Each new device looks to bring something special to the table to entice potential buyers.
That's where the Dell XPS 13 2-in-1 9310 comes into play. This Windows 10 convertible is one of the most unique on the market. With a unique design, an excellent slim-bezel display, as well as plenty of power under the hood with Intel's 11th generation CPUs, there is a lot to like for the starting price of $1,000.
But is it enough to make it the best Windows 10 convertible, ever? Why don't we try to find out!
Specs & ports
The unit we're reviewing is one of Dell's mid-range models. Priced at $1,250, it comes configured with the 11th Generation Intel Core i5-1135G7 processor. Also under the hood is 8GB 4267MHz LPDDR4x memory, as well as a 256GB PCIe NVMe x4 solid-state drive.
Our unit also comes configured with the standard 13.4 inches 16:10 aspect ratio FHD+ WLED Touch Display (but you can buy a 4K option, too.) And, for those curious, it is outfitted in the platinum silver exterior and black interior. Ports and connectivity include 2 Thunderbolt 4 ports with Power Delivery (one port on each side!) This means you can plug in an eGPU to boost your gaming and video editing performance. That is unlike on Surface devices which do not feature Thunderbolt technology.
The rest of the mix of ports includes 1 headset port and a microSD-card slot. Dell also includes a USB-C to USB-A dongle in the box, too. This makes up for the lack of USB-A, which I don't think would be possible in such a thin design anyway.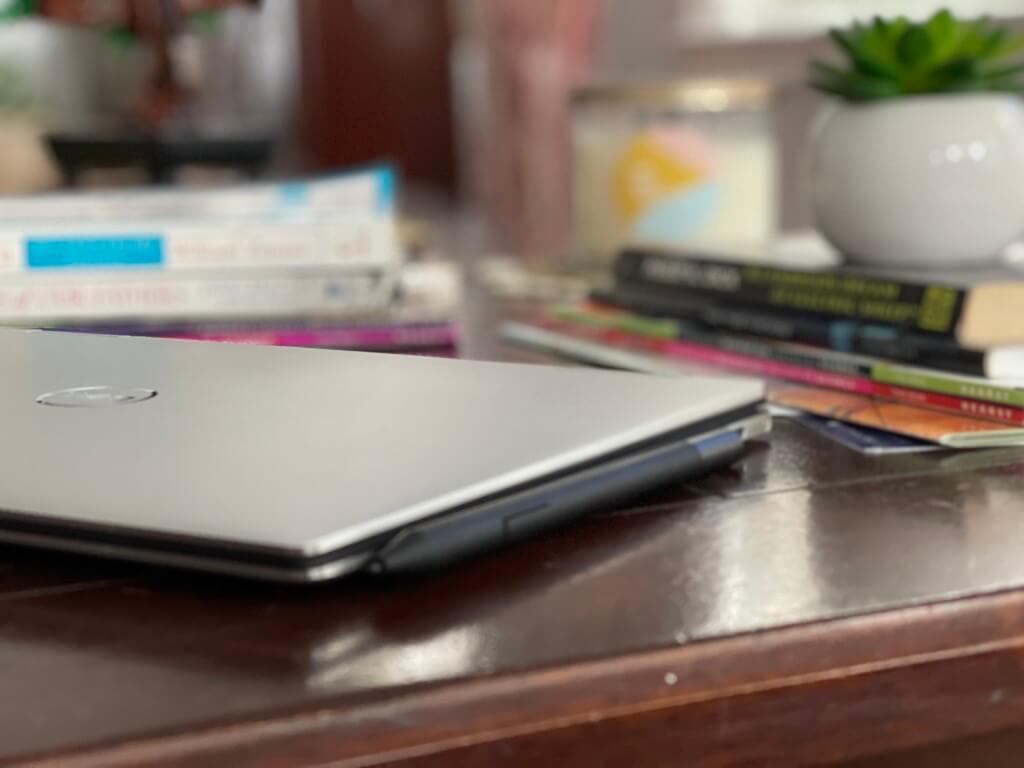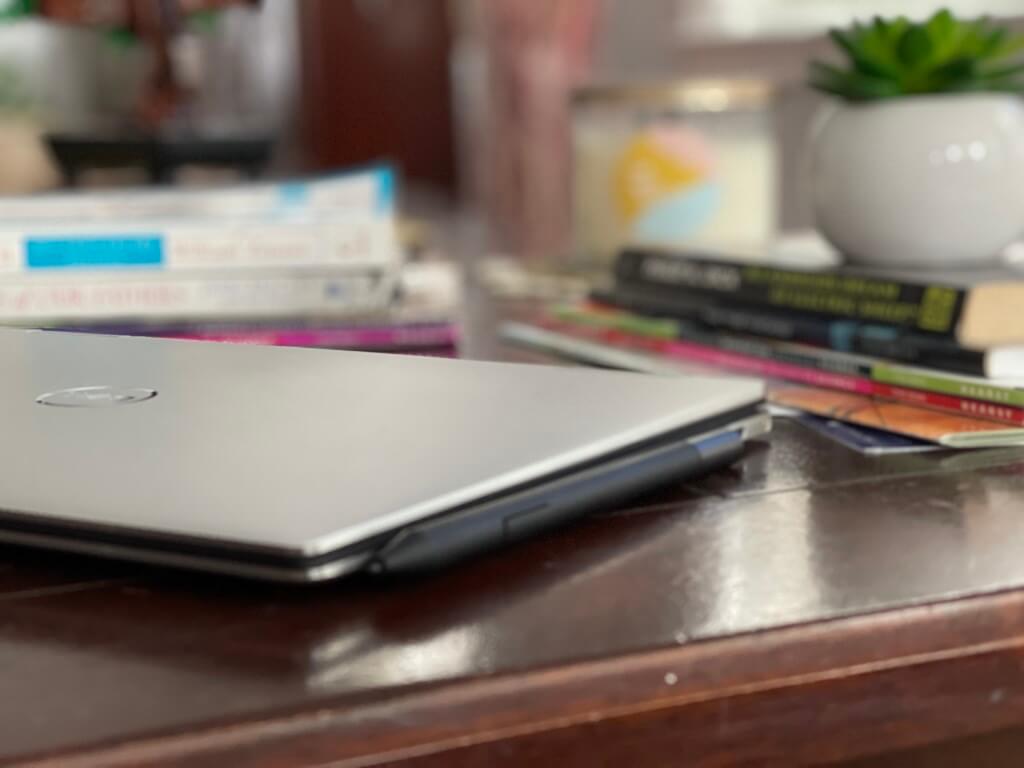 Since it's becoming more important these days, the webcam onboard is a Widescreen HD 720p webcam. Dell says this cam has a 4-element lens for sharper images in low light and temporal noise reduction, but I did not see any difference in quality. It is still not 1080p, which produces more clean images. There's Windows Hello support in this webcam, as well as a fingerprint reader in the power button, too. You can pick which one you want to use within Windows 10.
Note that Dell is using Killer AX1650 Wi-Fi this year on the XPS for Wi-Fi 6. I've never been a fan of Killer cards as the range isn't as strong as Intel's, but I never had an issue with dropped connections. Some Redditors might disagree, though. Everything here is soldered down, though, so upgrades aren't possible. It's the same as a Surface Pro or Surface Book. Make sure you have the configuration you want at checkout.
Design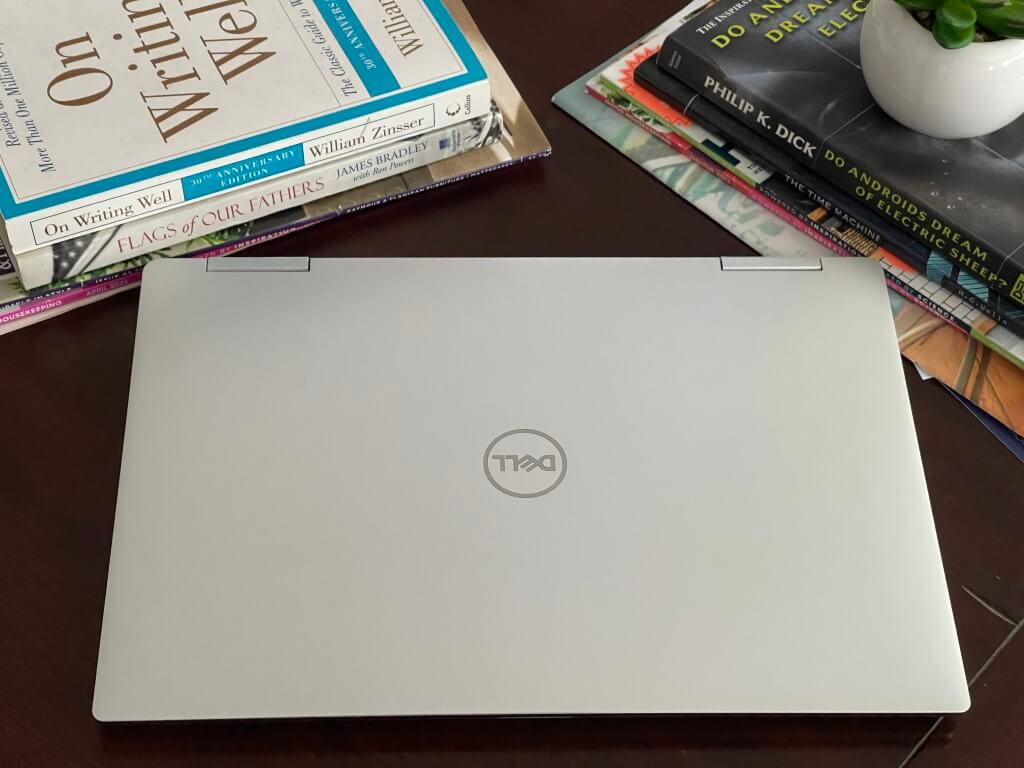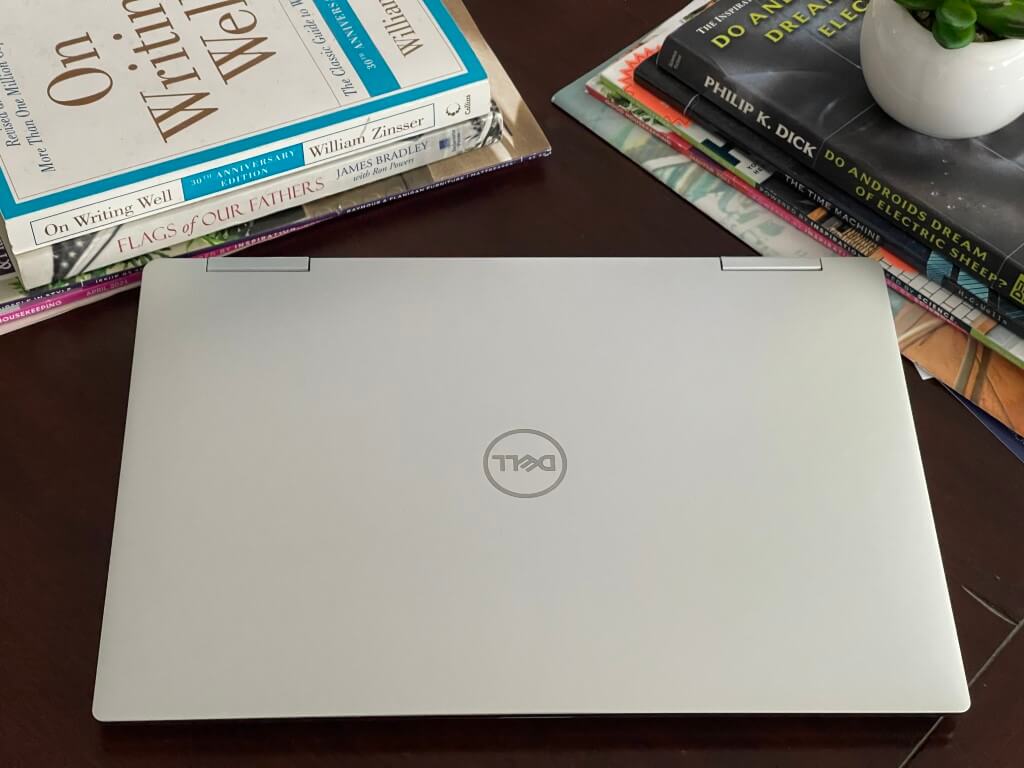 One of the first things to like about the Dell XPS 13 2-in-1 9310 is the design. While other tablets have magnesium, aluminum, or even titanium, Dell opts for an interesting hybrid that you do not get anywhere else. On the lid, you will find a brushed aluminum exterior with fantastic diamond-cut edges. Then, on the inside, the device has the same carbon fiber material you will find in racecars or spaceships (but coated in a silicone finish.) There is even a neat super-sized power LED on the bottom lid of the laptop, too, which glows when charging, to let you know your battery status.
This design adds up to be quite unique. It helps keep the 2-in-1 quite thin at around a quarter of an inch, and 2.9 pounds. This is not as thin as a Surface Pro or a Surface Go, or even a MacBook Air, but the design alone makes this XPS quite a good buy. When you are out with this XPS, people will know you have a cool machine. Just keep in mind that the finish on the interior is quick to pick up fingerprint oils, but is plenty sturdy and won't bend or creak.
As a convertible, this XPS also has a unique hinge. It contrasts out against the carbon fiber interior and holds up strong. The screen does not wobble or move much when in a lap thanks to this hinge (which Dell says is variable torque.) I was able to open the XPS with one hand thanks to this hinge, which Dell highlights on its product page.
I will not get into the details of how you can use this XPS in the various modes, but it basically works in laptop mode, tent mode (folded over,) showcase mode (keyboard down to desk, screen facing you), or as a tablet (folded flat.) If you are hoping to fold the screen back and hold the XPS as a tablet, then magnets will hold it shut so it does not wobble around. Surprisingly, in tablet mode, the XPS is quite comfy for drawing, especially for reading books and scrolling webpages, too.
It is tablet mode where that 16:10 screen comes into play, as well as the optional Dell Active Pen, which houses to the side of the chassis. The pen is comfy and compact and feels just like a Surface Pen, it even has up to 4096 levels of pressure, and support for tilt functionality for detail shading while drawing. I enjoyed inking in OneNote, as well as drawing in Fresh Paint with my XPS in tablet mode. It felt natural, like holding a standard college looseleaf notebook in my hand.
Display and speakers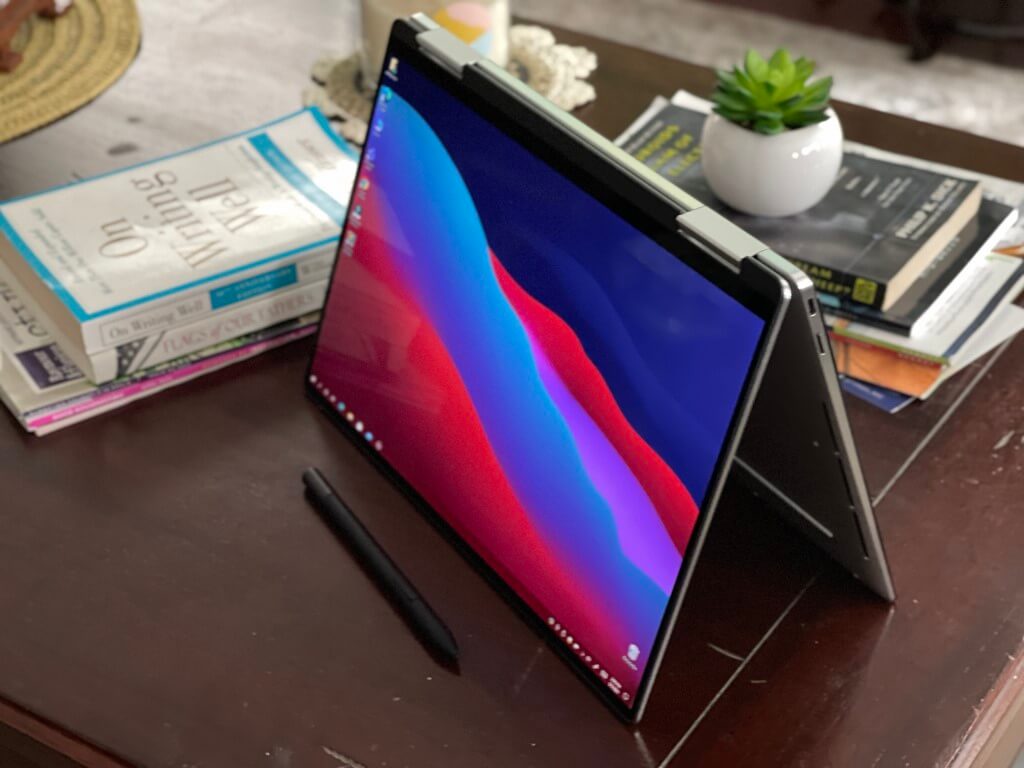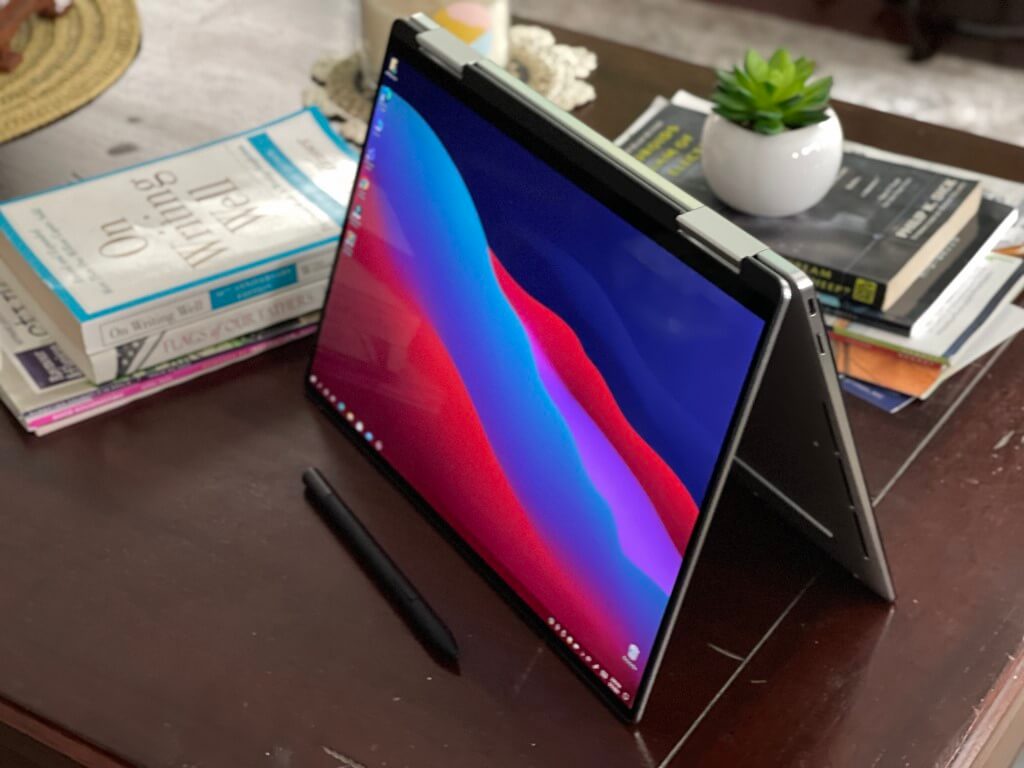 Though the design is one thing that makes the XPS 13 2-in-1 unique, the display is the other. This is another thing you won't find on other 2-in-1s of this class. While most laptop makers have long gone with 16:9 aspect ratio displays, and Microsoft 3:2, Dell goes for the newer 16:10 ratio which my colleague Kareem Anderson previously touched on in his review of the ThinkPad X1 Nano.
This ratio is catered more for productivity, with wider and longer space for stacking windows side by side. Combined with the slim bezel 85% screen-to-body ratio, it is something I thoroughly enjoyed as a writer.
I was able to fit more on my screen when away from my desk and my monitor and multitask efficiently. While Microsoft has been slow to slim down bezels on its products, Dell has not. You will not find any ugly bottom chin or black bars on this XPS, and it just feels so pleasurable to open up and look at knowing the device is almost all screen.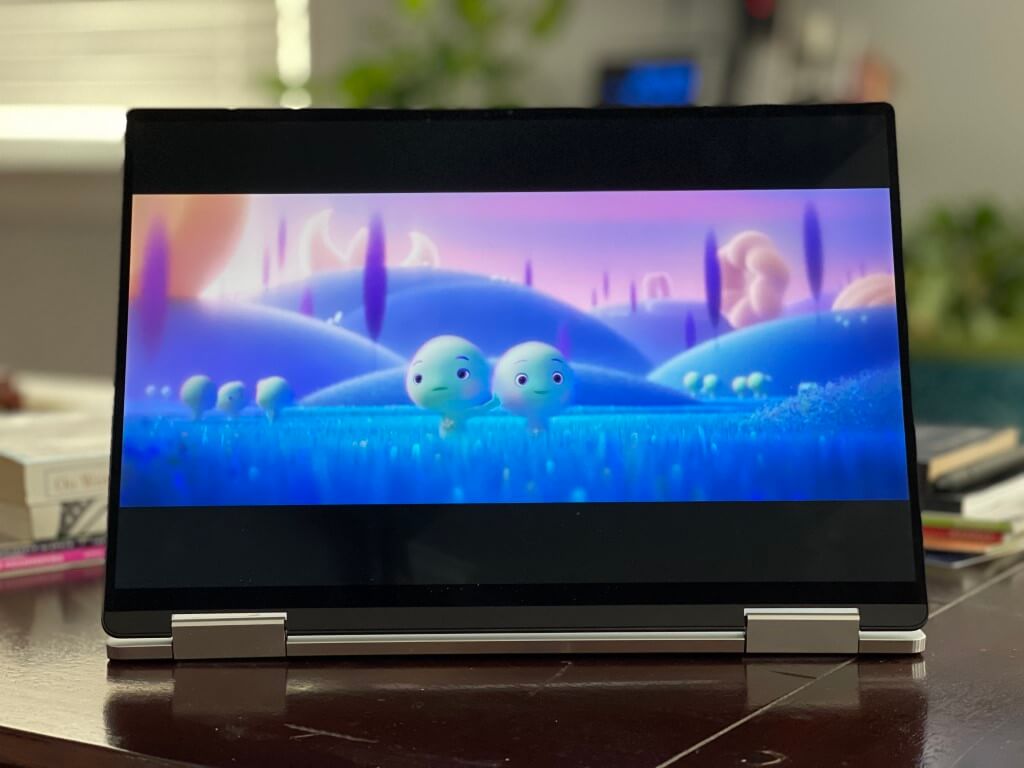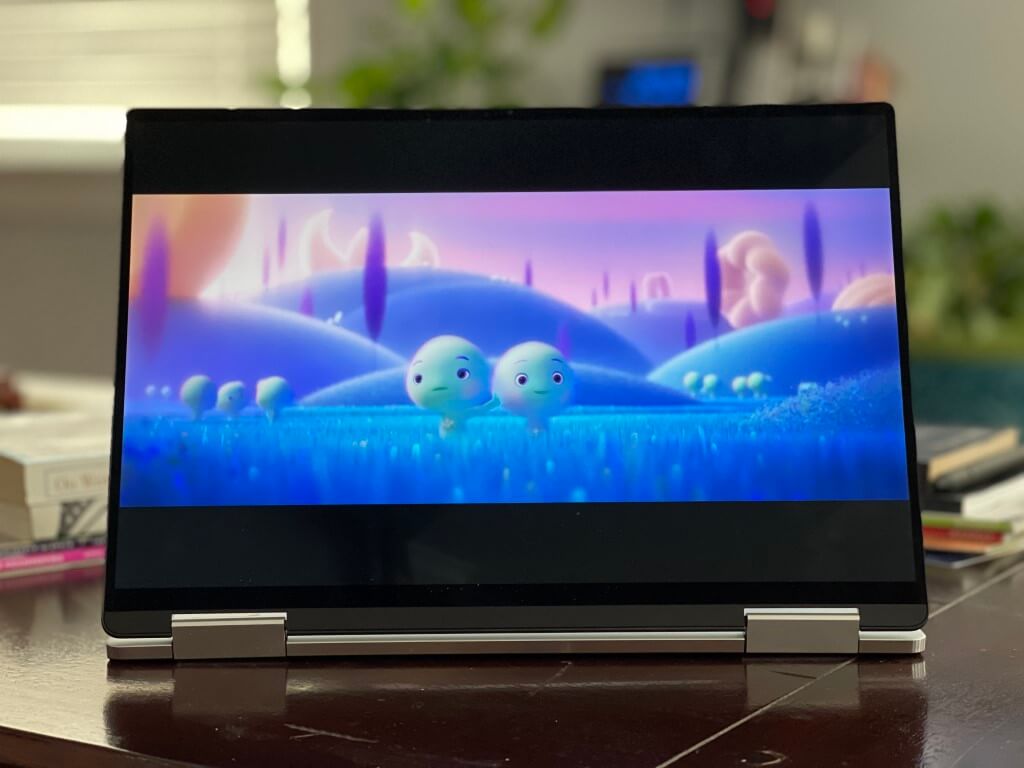 This display is also plenty bright. It can get up to 500 nits, which is higher than a Surface Pro (400 nits,) and in the same class as the MacBook Pro. I didn't have to put my brightness past 20% on most days because the screen felt so vibrant and crisp. Dell says the display covers 90% DCI P3 color gamut and has a 1500:1 contrast ratio.
Text, images, and anything that was in my view all looked vibrant and color accurate, too. Take the wallpaper I am using, as an example. The waves of reds, blacks, and blues just flow naturally on the screen. This all even when watching movies like Disney Pixar's Soul, too. The blue colors in 22, Jerry, and Terry's character skins popped right out. Not to mention the greens in the chalkboard in Soul's opening scene with Joe Gardner.
When it comes to the speakers, these are located at the sides of the laptop. They're quite clear, enough for me to feel the rumble of engines from a NASCAR race in my desk. Dell offers up custom software that can help tweak your audio and video experiences. The list includes CinemaSound, as well as CinemaStream and CinemaColor, which tweaks the color profiles of the display.
Performance & Battery Life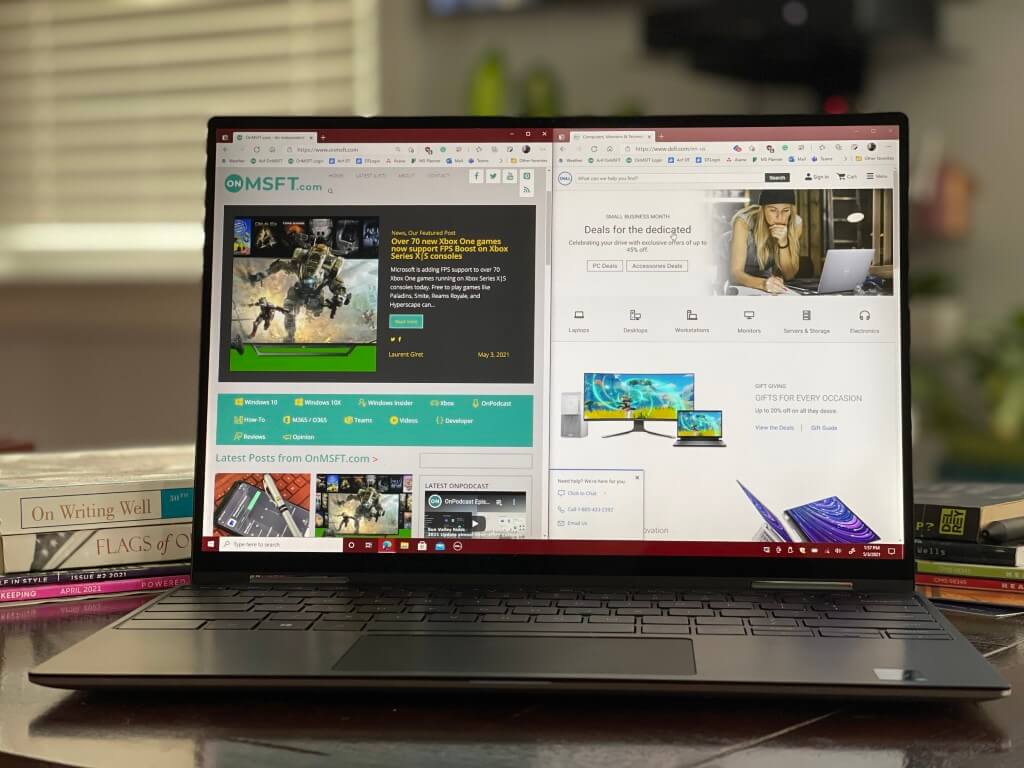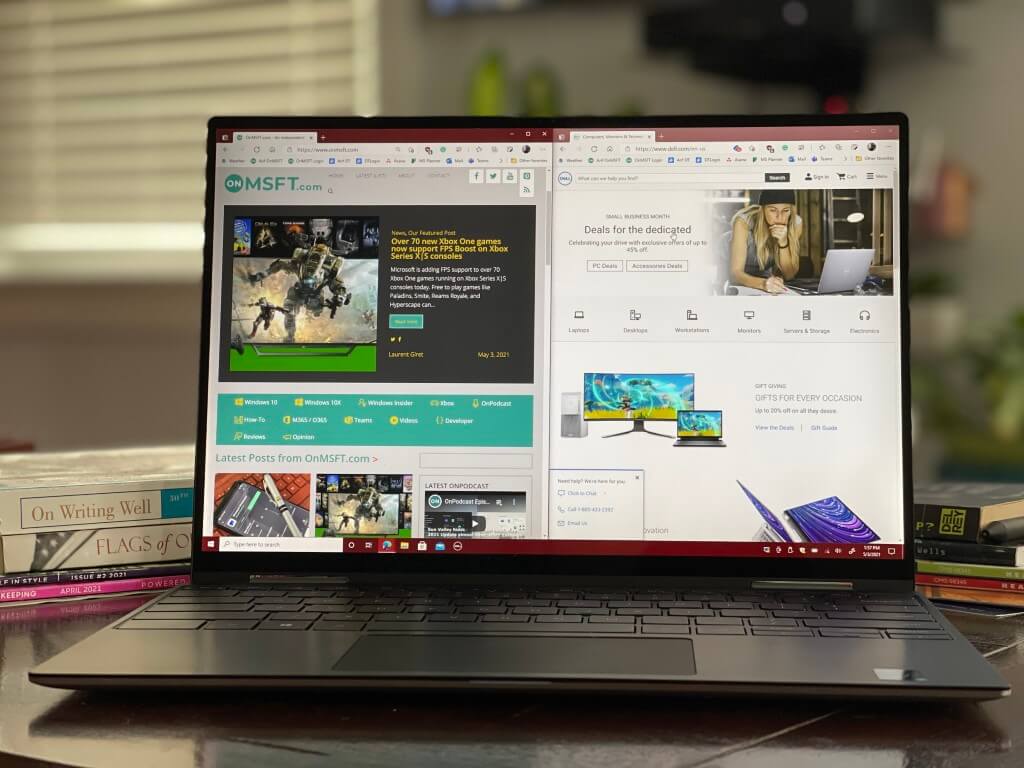 Powered by Intel's 11th generation processors, the XPS 13 9310 2-in-1 packs a lot of punch for the price. This is a 10nm processor, and on my Core i5 model, there are a total of 4 cores on board, with the processor running at the max frequency of 2.40 GHz. There's also Intel's new Iris Xe graphics on board here, too, which offers some advancements in the integrated GPU front. Just keep in mind the budget model has UHD graphics instead, so you will have to pay the $200 price to get Xe.
Anyway, I primarily use my laptop for work and light gaming. For this, the XPS does not disappoint. It was able to juggle 13 or so Edge tabs without issue, while also having Office open in the background. I also played some light games like CS: GO and Fortnite. Frames were limited in Fortnite to a playable 25 frames, but in older games like CS:GO, I definitely felt some good performance. Xe graphics make good gains for light gaming and older titles, but it isn't for playing AAA games like Cyberpunk 2077. For that, you'll need an eGPU.
Xe graphics also offer a boost for video editing, too. In Filmora Wondershare, the XPS punched out a 45 minute long 1080p, 30 frames per second podcast in about 23 minutes. That's longer than my dedicated HP Envy 15 video editing machine (12 minutes,) but it's still surprising for such a laptop of this class. See below for some sample results that are a testament to this.
One annoying thing with the XPS 13 is the fan and coil noise. If you end up taxing the processor too much, the fans will kick in to cool down the CPU. You can hear the fans while sitting about 2 feet away from the screen. I guess it is a good thing, though, as Dell has put thought into keeping the device cool. They have separated dual fans to cover more area, internal vapor chamber, and hidden exhaust venting. I never felt the XPS heat up except when I'm doing demanding tasks like video editing.
I'm not one for battery tests bc everyone uses their laptop differently, but man, quite impressed with battery on Intel 11th generation. I used this XPS 13 2-in-1 9310 for about 2 hours last night… and this morning it's gotten me through a full-day of work with more to spare! pic.twitter.com/6aiEcAyOJb

— Arif Bacchus (@abacjourn) April 27, 2021
For battery life, I got to roughly 10-11 hours of mixed usage on a single charge. One charge was enough to get me through my entire day of work, with some juice leftover. I definitely feel confident enough to leave my charger at home if I were to travel with my XPS on the road.
Keyboard & Trackpad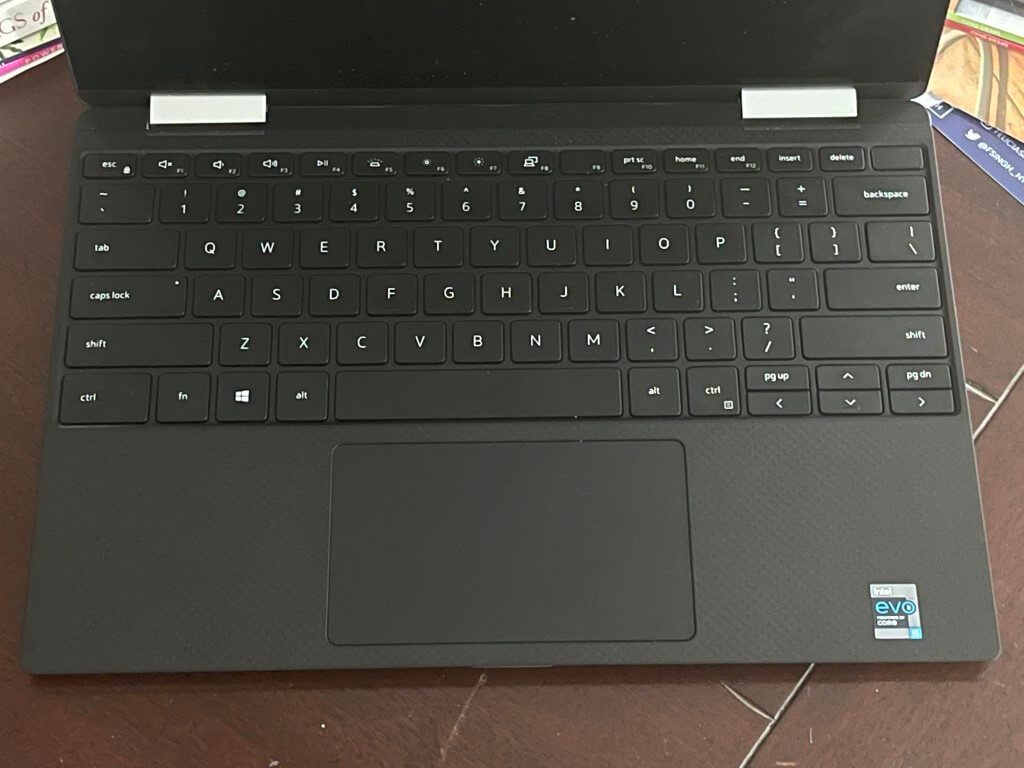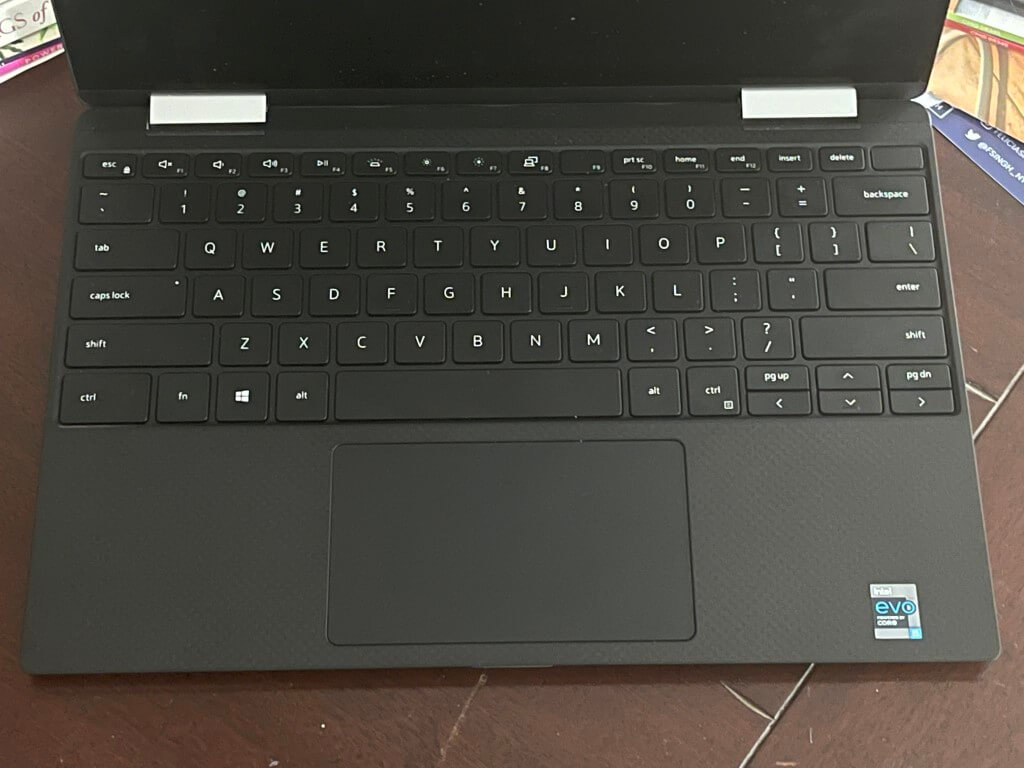 As I continue a long list of what makes the XPS 13 2-in-1 unique, I now land on the keyboard. This edge-to-edge keyboard is quite different, to say the least. It has been the source of controversy in most reviews, but I do think it comes as a sacrifice with such a slim design. Dell could not fit in the squishy keys from a Surface Laptop or ThinkPad and instead goes with the second-gen MagLev keyboard. It claims that the keyboard is 24% thinner than a standard keyboard.
This keyboard feels a lot like the one on a MacBook Pro 2019, pre-dating Apple's new "Magic Keyboard" on new Mac models. This means that it's quite clicky, especially when speed typing (as I did when writing this review.) There's not a lot of travel, though, which might be hard for people who are in for long-for typing sessions. I got to my usual 80-something words per minute result in Bing's typing test when using this keyboard. I also appreciate the brightness on the backlights, especially since the keys are black. I had no issues typing my way through a storm in the dark.
I am, though. a bit disappointed that the keyboard does not retract into the chassis when switching the tablet into tablet mode. This is what Lenovo has done on its Yoga laptops, and it means that you could end up risking getting stuck in the switches if you're not careful when moving between tablet modes.
As for the trackpad, it is super large. It sits smack in the middle of the XPS and is smooth and easy to click. It is not too shallow or too deep, either. Of course, it is Windows Precision, so it supports the usual gestures.
The best Windows 10 convertible, ever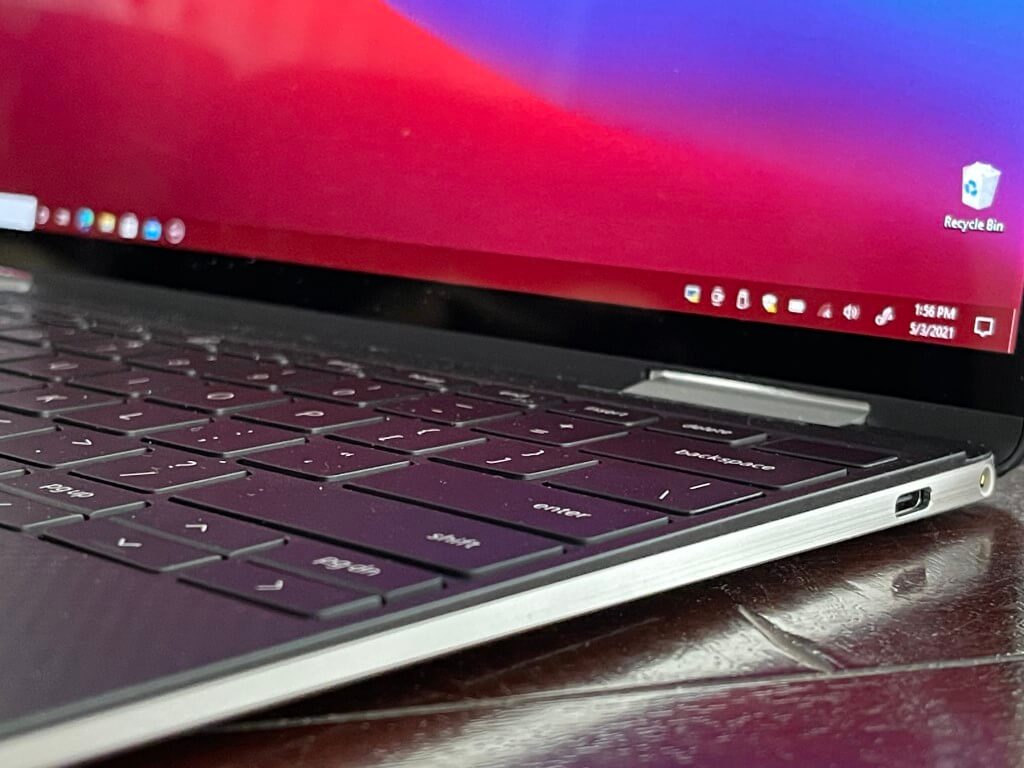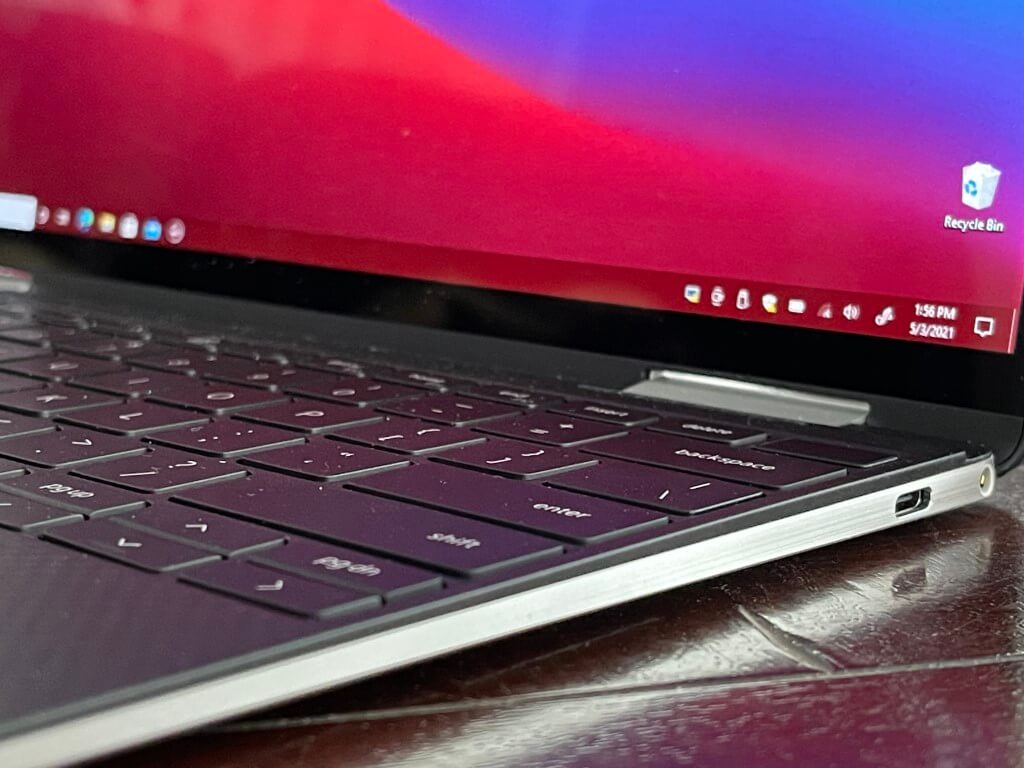 If you're considering the XPS 13 2-in-1, I have one word of advice for you — buy it now. Although the keyboard on this XPS might not be for everyone, the fantastic display, as well as the overall system performance make it a great buy. It's rare to see a Windows 10 convertible with such a bright 16:10 aspect ratio display panel, not to mention slim bezels and a nearly all-screen design. For that, the XPS lineup is untouchable. You can buy the Dell XPS 13 2-in-1 (9310) directly from Dell today here.