There are many ways you can be productive at work or school, and one of them involves general multitasking. Sure, you can stack your windows side by side on your laptop or monitor screen or even use tools like PowerToys, but that only does so much. To truly unlock your potential, you need a large and expansive screen.
That's where a product like the Dell 34 Curved USB-C Monitor (S3423DWC) comes into play. This curved monitor sports ultra-wide WQHD (3440 x 1440) resolution, USB-C connectivity, built-in speakers, and a USB port under the chin. There's even AMD Adaptive-Sync technology on board too. The combination of those features on this monitor can help you truly stay productive, and immerse yourself in work, school, or whatever you may be using it for.
Specs & Price
The Dell 34 Curved USB-C Monitor (S3423DWC) can be purchased at Dell.com for $770, or when on sale, for around $575. That sale price makes it an affordable option if you're looking to buy a curved monitor for the first time.
The screen size is 34 inches, with a resolution of 3440 x 1440, tuned at 100 Hz. The aspect ratio comes in at 21:9. The display supports AMD Freesync. According to our colorimeter, the display hits a contrast ratio of 3000:1, and 99% of the sRGB spectrum. The response time is 4ms gray to gray on extreme. Curvature on the display comes in with an 1800 radius. Brightness is around 300 cd/m2, and the panel type is VA.
Since this is a curved display, you can't fully rotate it vertically. Tilt angle is rated at -5 to +21 degrees, and height adjustment goes up to 3.9 inches. With the stand at the lowest position as I reviewed, the measurements come in at a 31.8-inch width, 8.5-inch depth, and 15.3-inch height. This monitor also has a KVM switch, as well as picture-in-picture support, or picture-by-picture support. All of this means you can fit the monitor in with almost any setup, and there's a lot of room for adjustment.
Design
In the past, I've reviewed similar curved monitors from Dell. Dell's new 2022 curved monitors keep the same minimalist design as 2021's. That means you'll get a textural white-colored back panel, that's designed to fit in with your office. Oh, and the stand has a place for routing your cables for better management. The monitor can even be attached to the wall with a VESA-compatible mount. And as always, setup is quick and easy, just requiring you to screw a stand into the base, and then hook the monitor in. No tools are required!
You'll also find Dell's signature three-sided narrow bezels on this monitor, with a tiny bottom chin where the Dell Logo is. Dell mentions in a product listing that these bezels have been shrunk down a bit between generations for an improved viewing screen-to-body ratio. As far as the curve comes to the design, it's rated at the 1800 radius. This hits the sweet spot, as it's not too extreme of a curve, and won't be too hard on your eyes since there's less distortion. It feels natural to use when sitting on your desk.
Finally, there are the speakers. Like past curved monitors from Dell, there are two 9-watt speakers at the bottom of this monitor. They're downwards firing, so don't expect the best quality. I thought the sound emitted was decent enough for Teams calls, but definitely not for watching movies. I hooked up my external speakers since there's an audio line out port (which is appreciated, not all curved displays have one.)
Ports & Buttons
The mix of ports on this monitor is pleasing. No matter what I wanted to connect to this monitor, it worked. From left to right, there's the power connector, HDMI 2.0 port, another HDMI 2.0 port, then USB-C upstream (with up to 65 watts of power delivery.) There's also an audio line out power, a Super Speed USB-A 3.2 Gen 1 Type B upstream port, and a Super Speed USB 3.2 Gen 1 downstream port. Then, under the chin, you get a USB-A port with up to 10 watts of power charging.
The real highlight of this monitor, though, is USB-C. That means you have a single cable for everything, which is great for productivity. One cable for data and charging meant that using my Surface Pro 8 with the monitor was a charm. No need to use my Surface Connect charger, as the monitor provided enough power for charging. I was even able to plug in my Logitech Bolt adapter into the monitor and use my keyboard and mouse, without taking up a port on my Surface. It's truly a space saver and time saver, as I spent less time worrying about dongles and more time on my actual PC. A second or third USB-A port or another USB-C port on the chin would have been appreciated, though. But I see why it could have been omitted to help keep the price down.
As far as buttons go, you won't find joystick controls here. Instead, there are four buttons that are used for navigation of the menus, switching inputs and color profiles, or changing settings. This means you'll have to be super careful and be attentive to what button you're pressing as you go between menus to switch inputs. I wish Dell would make joystick controls standard on all of its displays as joystick controls are so much simpler. The menus, though, are in-depth as always, with lots of image controls
Display Performance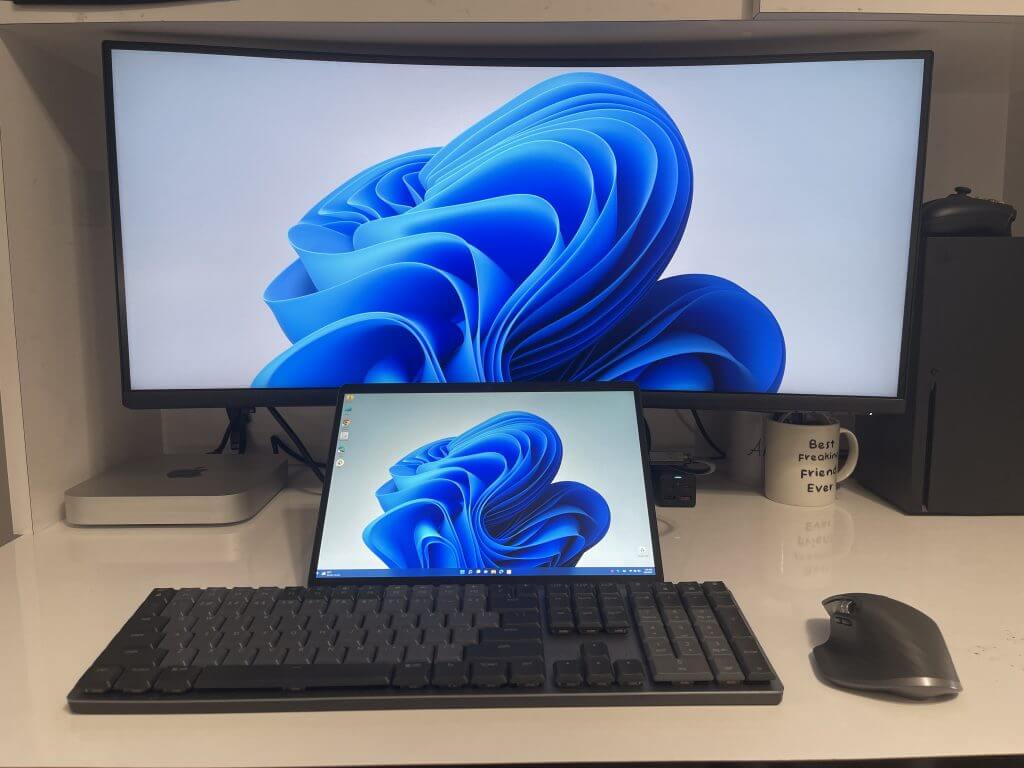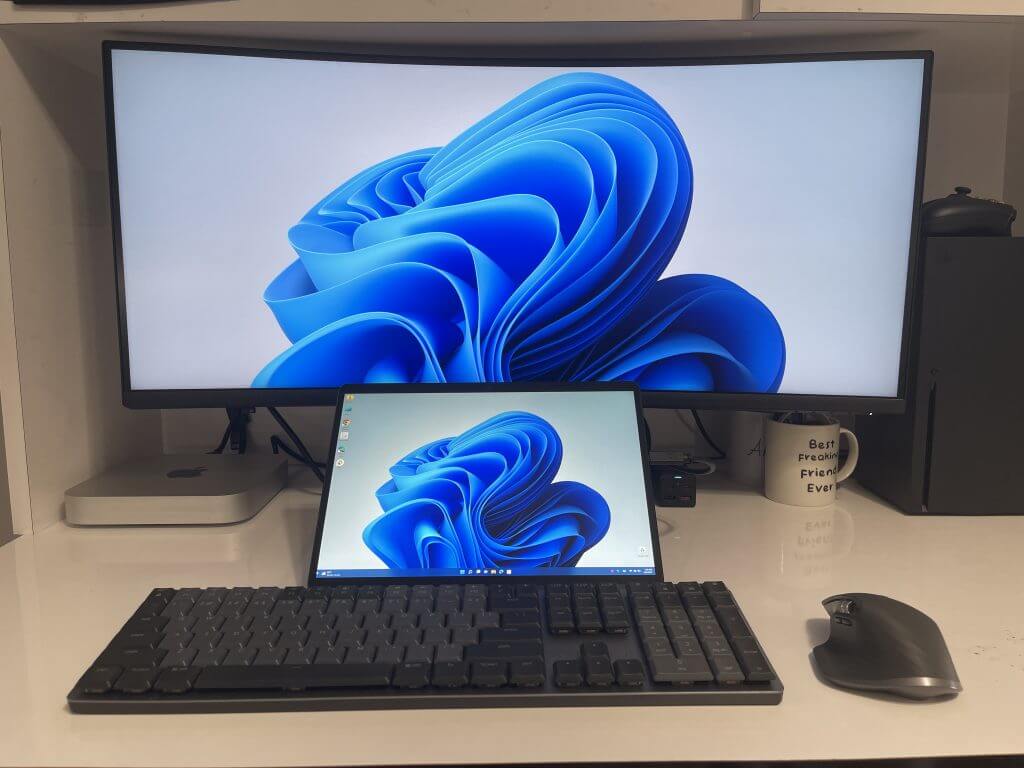 As usual, to test the performance of this monitor I put it through my usual workflow. That includes gaming on it using my Xbox Series X, and usual productivity on my Surface and Mac Mini.
For console gaming, I would not depend too much on this display. HDMI 2.1 is not supported here, and neither is 4K. Next-gen gaming consoles won't make the most out of it, not to forget how the image will be stretched, too.
I did, however, do some light PC gaming on the display with Fortnite. I'd say that performance is decent, there wasn't much lag. I still think that 100Hz and the 4ms response time aren't ideal for a monitor of this size for games. If you're looking for something for gaming, the recently reviewed Dell 32 4K UHD Gaming Monitor is better.
This is a monitor for casual gaming, at best. But at least the image quality is there. The colorful outfits of Fortnite characters looked very vibrant and lively. Even the scenery when I peeked through a scope in one of my guns looked great, too. This monitor does a good job with color replication and shading.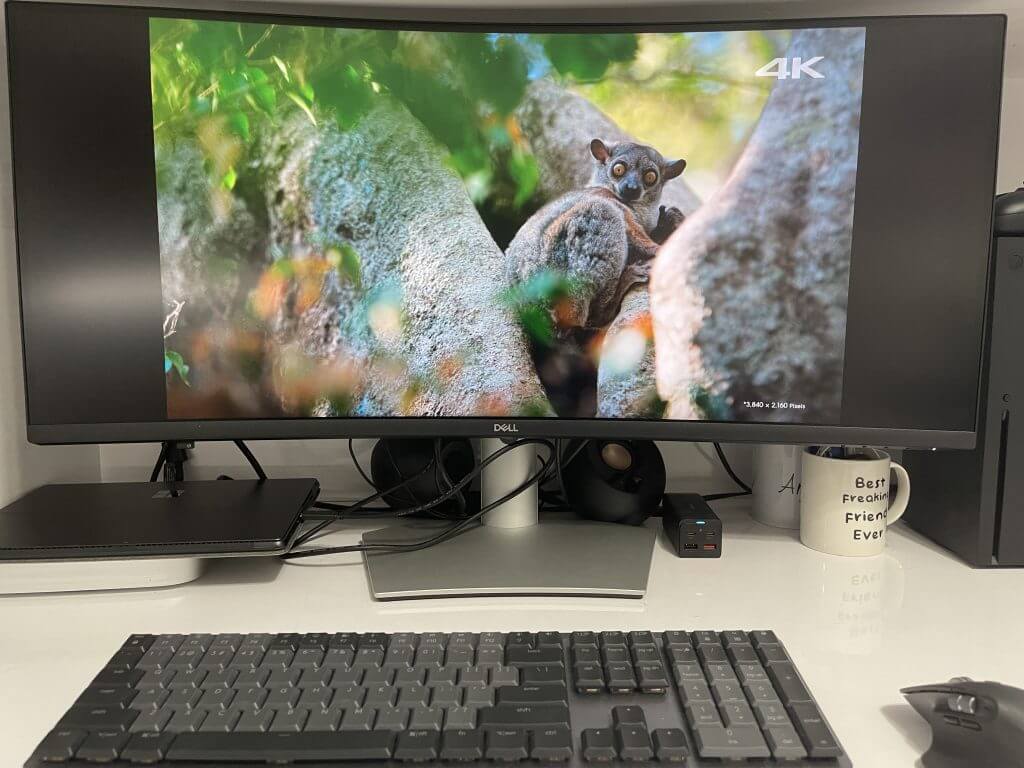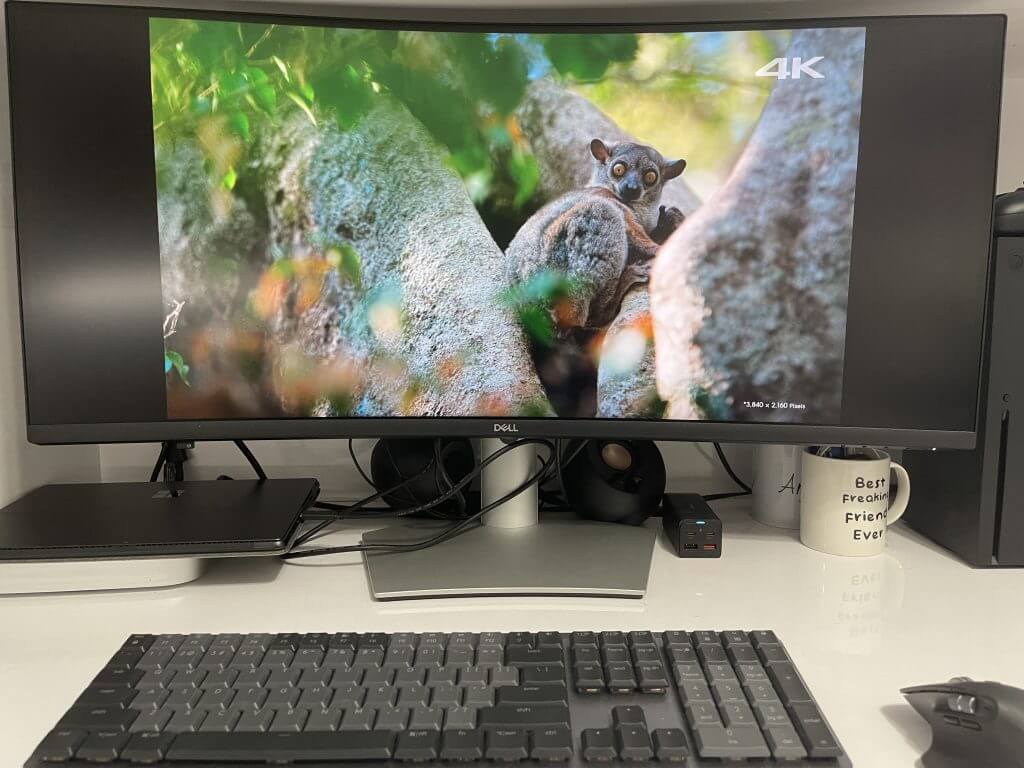 As for productivity, this is where the monitor is best. I already mentioned the benefits of USB-C, but thanks to this resolution and size, I was able to fit four full-sized Edge windows side by side by side on this display. There even was room left for my Teams chat and WhatsApp. Combined with the really good contrast ratio, web pages looked very crisp and lively on this display. Unfortunately, though, videos on this monitor will play in lettered box mode, so movie watching can't be that immersive. The colors, though, are still accurate and sharp, which is surprising considering this is a VA panel that usually has slow black to gray pixel transition speeds on lower refresh rates. I guess that's where the 100Hz kicks in to make Windows 11 and other content come to life.
PIP Mode & more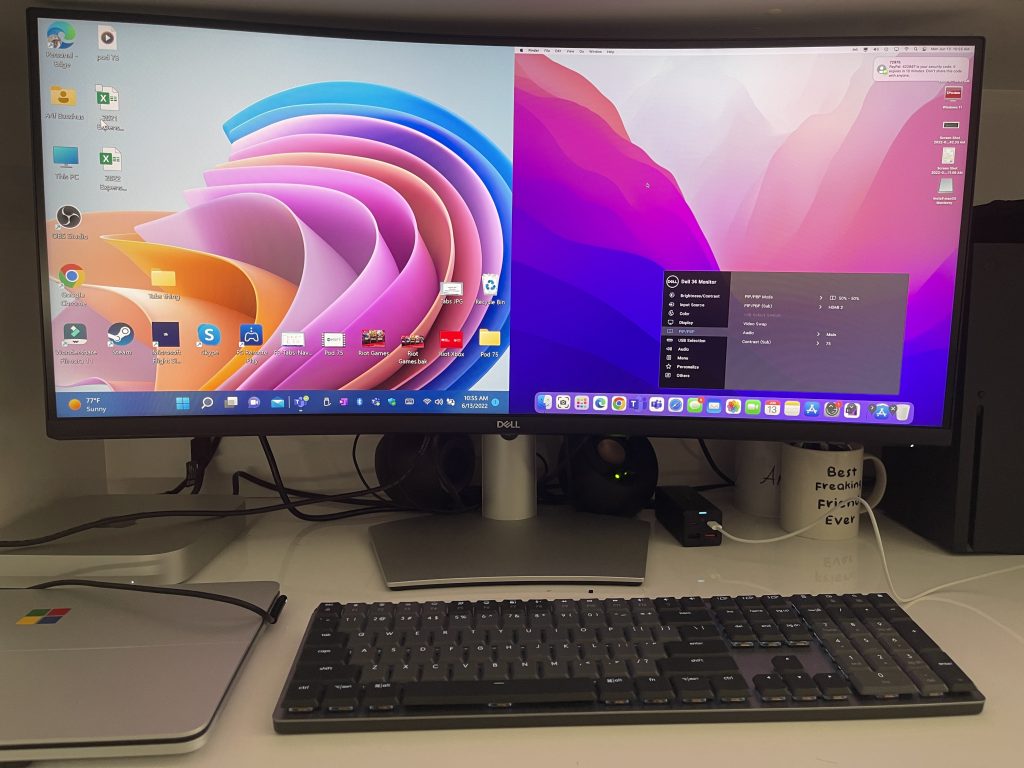 As someone who owns both a Mac Mini and multiple Windows PCs, there's sometimes I wish I could have them both on the same screen at the same time. This is one thing that the Dell 34 Curved USB-C Monitor (S3423DWC) helped me do. The monitor has a picture-in-picture or picture-by-picture functionality, and a KVM switch.
You typically don't find that in other competing curved monitors, so to see it here is a huge plus. With one monitor, you can control multiple inputs at the same time. Just go to the menu to activate it, and then select which inputs you want to see on the screen. I used USB-C with my Surface and HDMI with my Mac Mini. It was really cool seeing the two operating systems side by side.
Note that this monitor also supports Dell's Easy Arrange technology. This can give you ways to tile your open windows, similar to PowerToys. It is basically all about snapping windows into templates of your choice, though Windows 11 now does a good job with this thanks to Snap Layouts.
Immersive & Productive
There are plenty of alternative curved monitors that you can buy right now, but the Dell 34 Curved USB-C Monitor (S3423DWC) is one of the best. With USB-C connectivity, a USB-A port on the chin, KVM and PIP modes, as well as in-built speakers, this is a monitor that you must buy if you want to be productive at work or school.