These days, there's a chance that you're not buying a monitor for just work or gaming. You're probably going to hook it up to a PC for your day-to-day productivity, as well as other devices, maybe a gaming console like an Xbox, or even a streaming stick for multimedia.
Dell has all kinds of monitors that you can choose for each of those tasks, but I was recently sent over the Dell 32 4K UHD Gaming Monitor for review. In two and a half weeks of use, I feel as though even though this is a gaming monitor at heart, it is still perfect for productivity, too. Features like the 4K resolution, 144Hz refresh rate, and 120Hz refresh for supported consoles, support for HDR, all make this one of the best Dell gaming monitors I've reviewed.
Specs & Pricing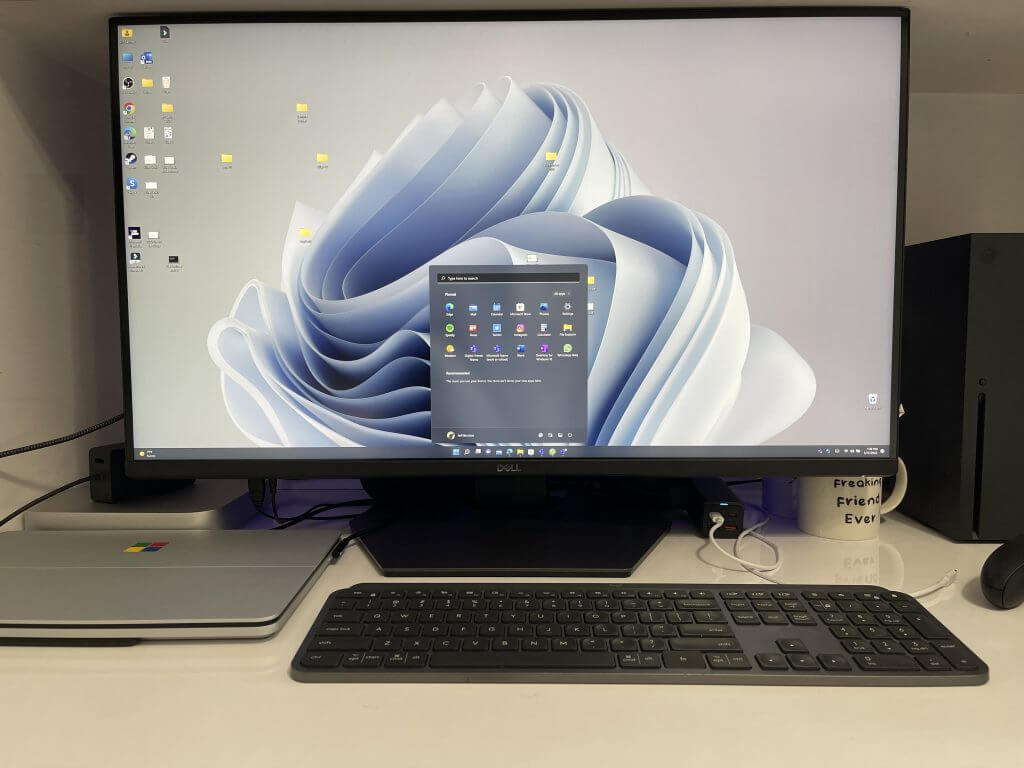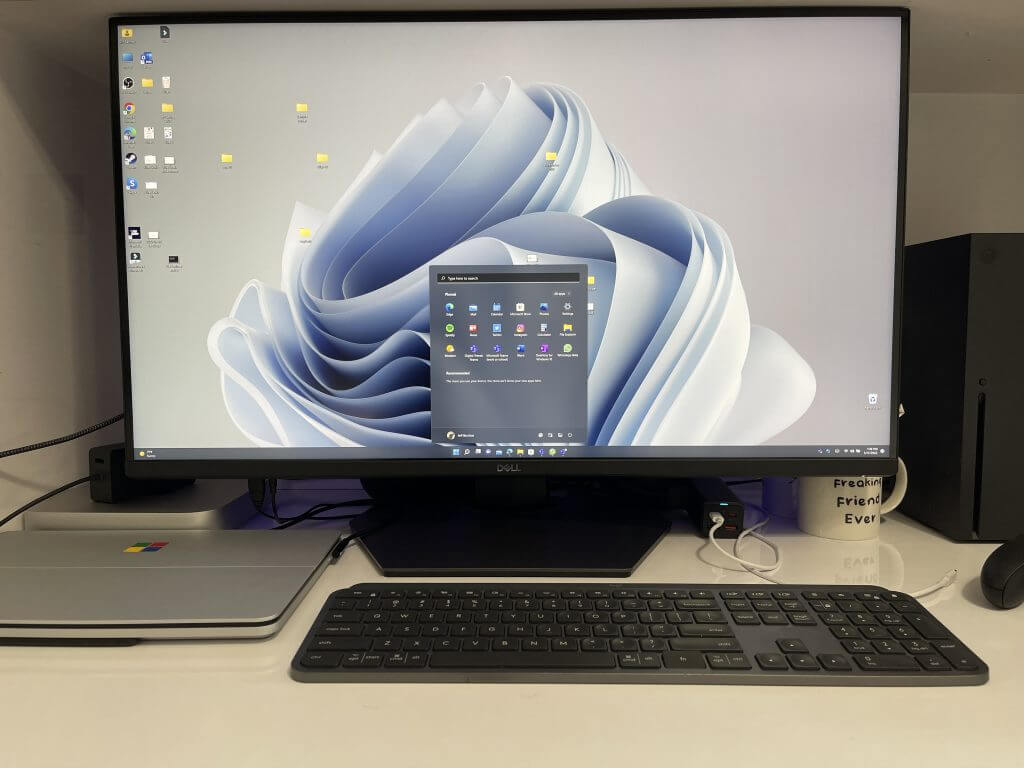 The Dell 32 4K UHD Gaming Monitor retails for $1,100, but you can find it for closer to $825 when on sale at Dell.com. For that price, you're getting a lot of bang for your buck. You're getting a display with a massive 32-inch 3840 x 2160 resolution LCD LED TFT panel with an anti-glare coating. That resolution adds up to 138 pixels per inch. This is actually the only 4K branded monitor in Dell's Gaming lineup and the first 4K Dell Gaming monitor that supports 144Hz refresh rate and HDMI 2.1
Note that the monitor also supports up to 144Hz refresh rates, across both HDMI 2.1 as well as the DisplayPort 1.4 ports (you must use a compatible cable.) There's even a picture in picture mode, which I'll get into later. Of course, you do get AMD Freesync, too, since this is a gaming display.
And what about those numbers behind the display? According to our colorimeter, the monitor supports a peak brightness of 600 cd/m2, with the optional range being around 400. It also hits 95% of the DCI-P3 color gamut and, 99% of the sRGB range. Contrast is rated at 1000:1. There's also a vertical viewing angle of 178 degrees. Response time is rated at 1ms in the Extreme Mode.
If you're curious about dimensions, it measures 28.6 inches x 2.7 inches x 16.8 inches. There's also the support for swiveling and tilting the monitor. You can tilt from -5 degrees to 21 degrees, and swivel from -30 degrees to 30 degrees. Height can go up to 3.9 inches. With the stand the width of the monitor is 28.6 inches, the depth is 9.7 inches, and the height is 18.07 inches to 22.01 inches. Weight comes in at 20.3 pounds.
Setup is simple and easy, as always. Just screw the stand into the base with the pre-inserted screw tab (no tools required) and then snap the display into the back of the stand.
Design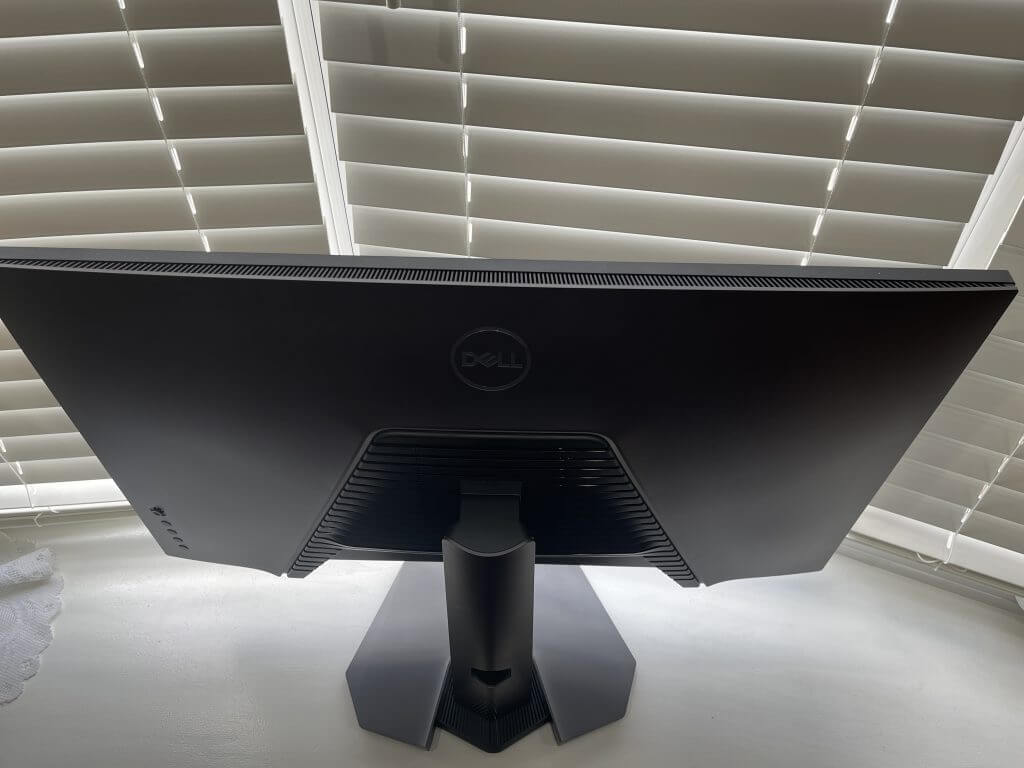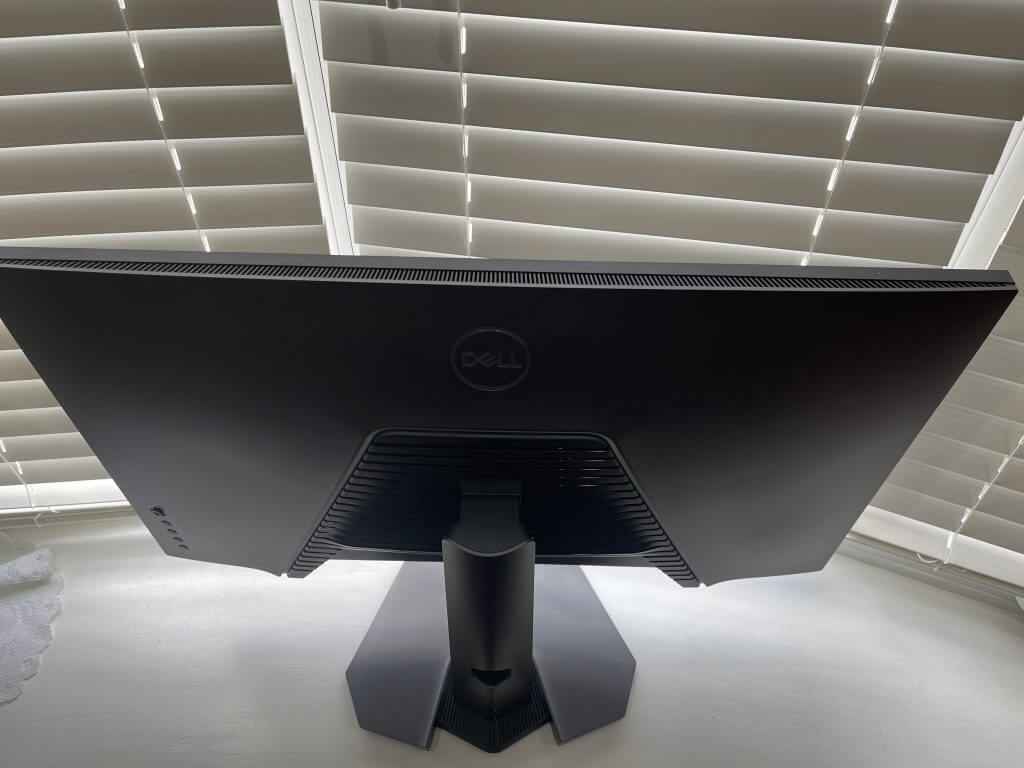 I've reviewed Dell's dedicated non-Alienware-branded gaming monitors in the past. The design across the mainstream Dell Gaming lineup is pretty much standard. Basically, a monitor that has gaming aesthetics, but isn't over the top, and can fit in with any setup. The Dell 32 4K UHD Gaming Monitor is no different.
Like the others, this one sports a black-colored plastic finish on the front and back end, as well as the stand. It has nice curves and clean angular cuts on the base. There are also the vents in the back, which Dell says can improve the thermal regulation. Not to forget, the single color backlight, which glows in blue and added a nice touch to my white desk when gaming at night. Oh, and there are also the three-sided narrow bezels, which let you fit more on your screen.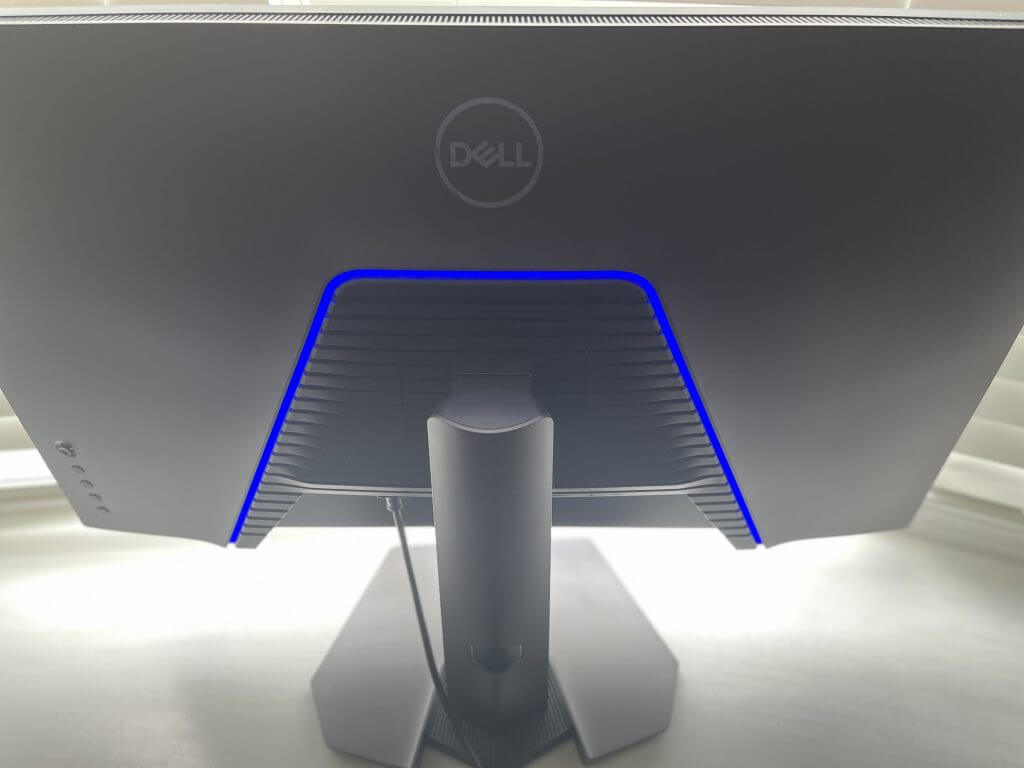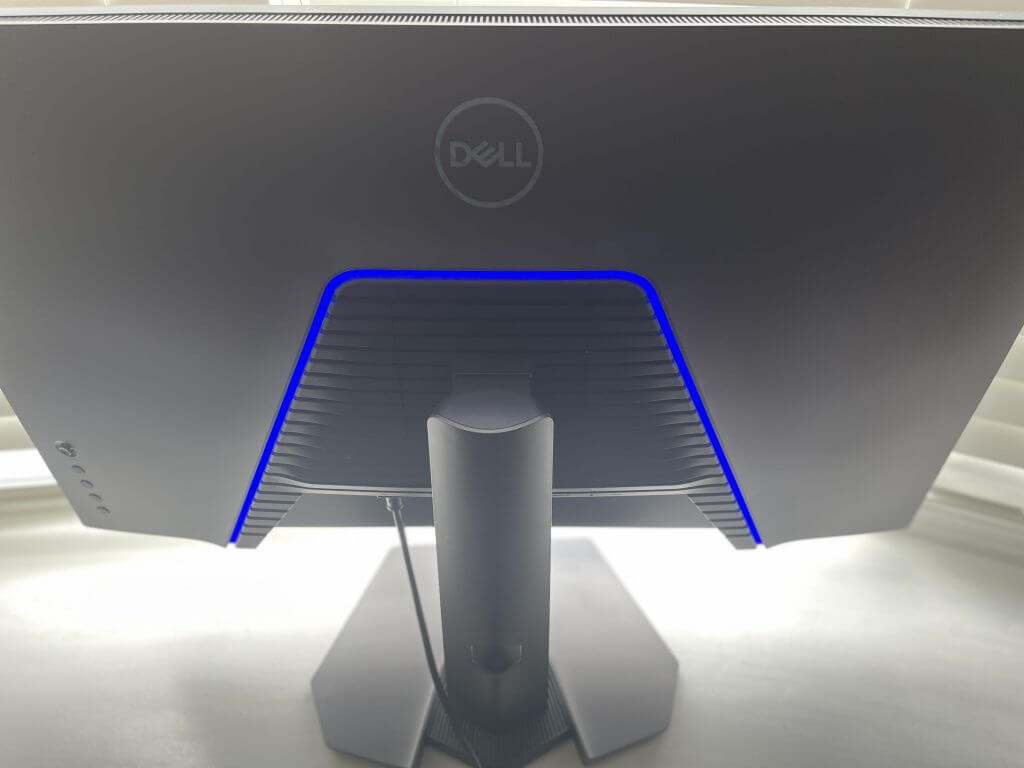 Like I've said in previous reviews this design feels right at home on my desk. It is definitely clean-looking. I had the monitor right next to my Xbox Series X, and it just blends right in with it, matching the matte-black look of the console. It even contrasts nicely with the silver finish from when my Surface Laptop Studio and Mac Mini sit on my desk.
Ports & Buttons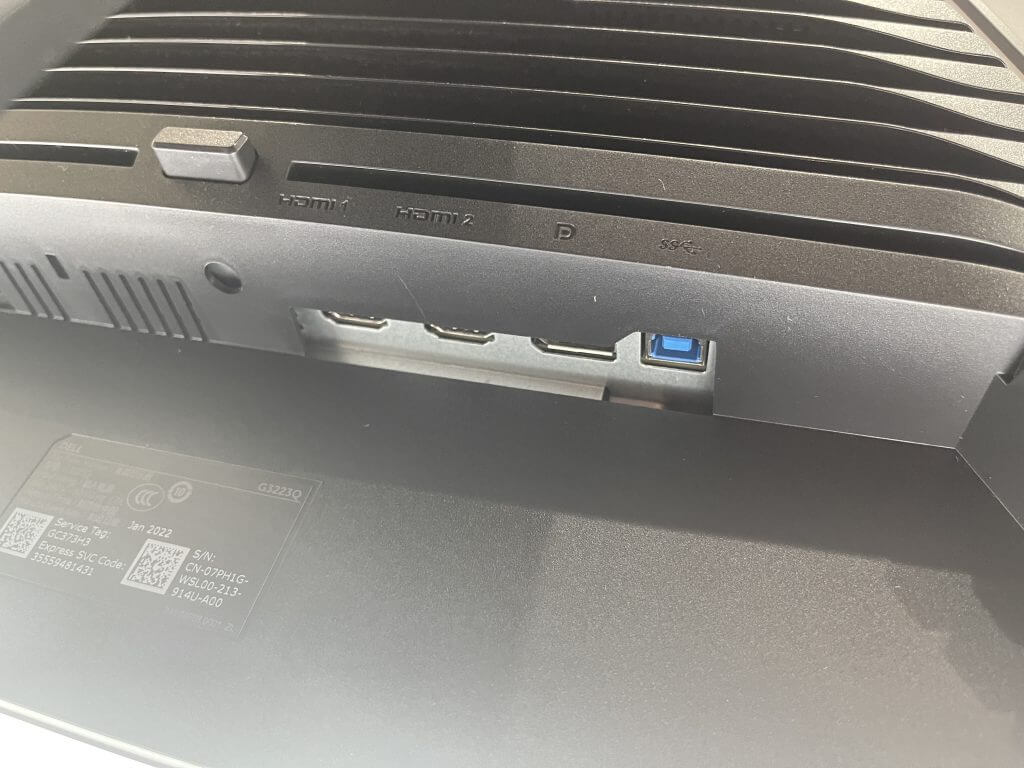 As we touched on at the top of the review, included on this monitor are a variety of ports. The main port for connectivity includes 2 x HDMI (ver 2.1) and 1 x DisplayPort (ver 1.4.) There are also 2 x SuperSpeed USB 5 Gbps (USB 3.2 Gen1) downstream ports on the front bottom, one with charging capability at 2 amps max.
Other than that, you'll find 1 X SuperSpeed USB 5 Gbps (USB 3.2 Gen1) upstream port on the rear, and 1 x headphone-out port on the bottom. I really do like the inclusion of the headphone jack. This means that you can plug your favorite speaker into the front of the monitor and make your gaming experience even more immersive. It's a huge plus, for me in avoiding using headsets or headphones, considering that there are no in-built speakers on this monitor.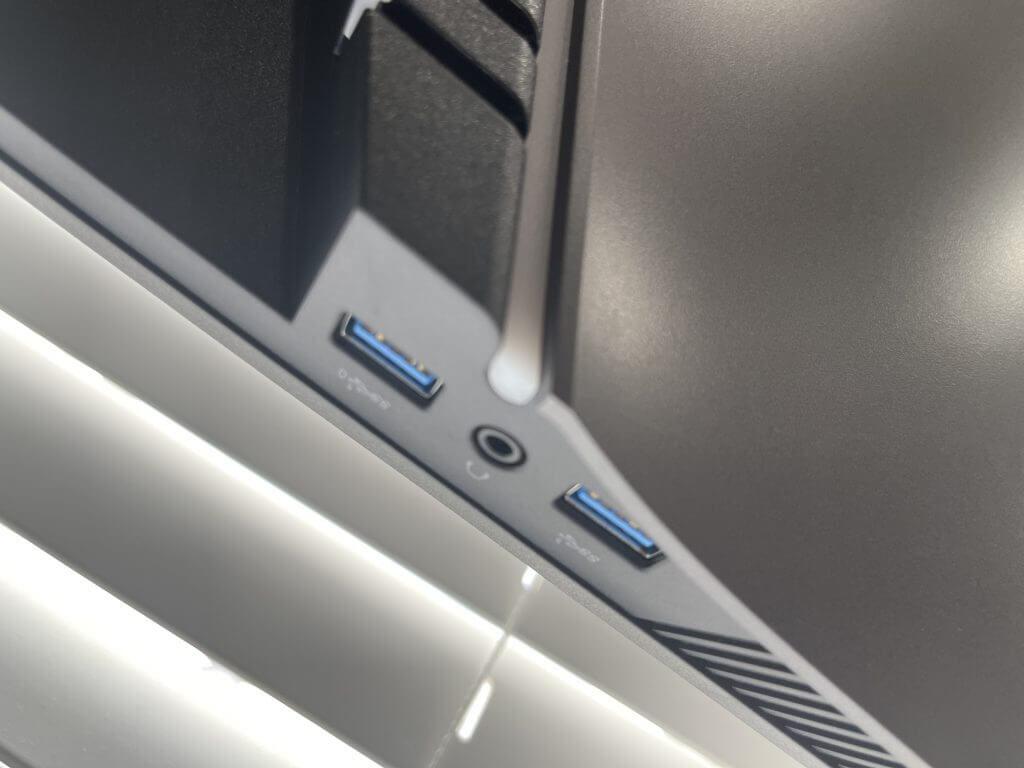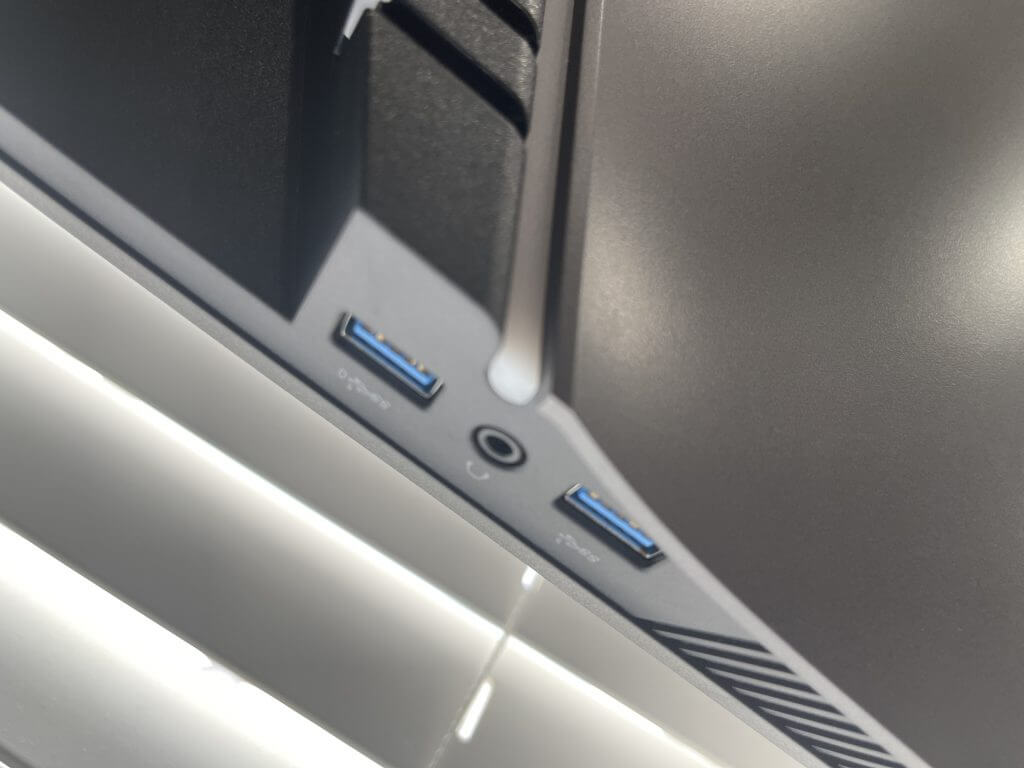 For a gaming monitor, this is a great mix of ports. I had my Xbox Series X hooked up on one of the HDMI ports, to get the 120Hz maximum refresh rate supported by the console. Dell says this monitor has a "Console Mode" that can detect the attached console and push out the right refresh rate.
The Display Port, though, (and HDMI, too) can also support up to 144Hz, so if you hook it up on a PC using a cable that supports it, you'll get an even higher refresh rate, making your content seem fluent and fresh. This is what I did with my Surface Laptop Studio. As I get into later, I enjoyed it for my video editing and productivity.
As far as buttons go, this monitor has the signature joystick controls that are becoming more common on Dell's products. That's in addition to the three physical buttons below the stick. A single click on the Joystick brings up the main menu, letting you navigate to the different modes for the Game mode, adjust brightness and contrast, switch input, change display settings, and tweak the PIP mode, audio, and menu. It's quite simple and easy to use, and I am glad Dell is making this the standard on more displays.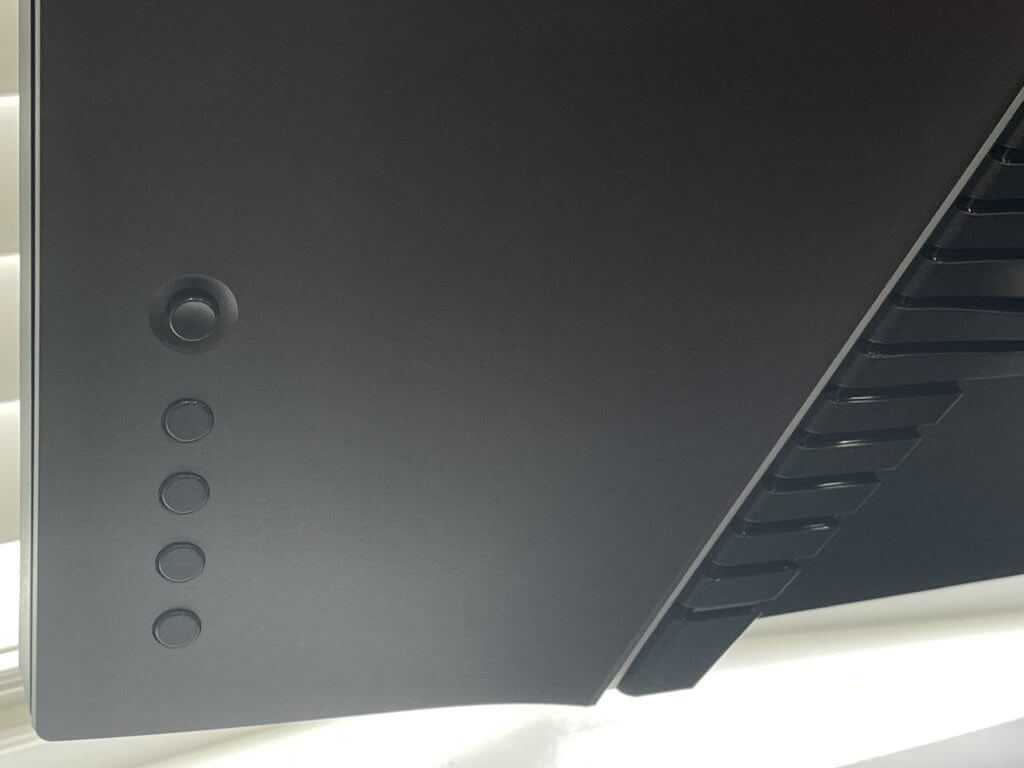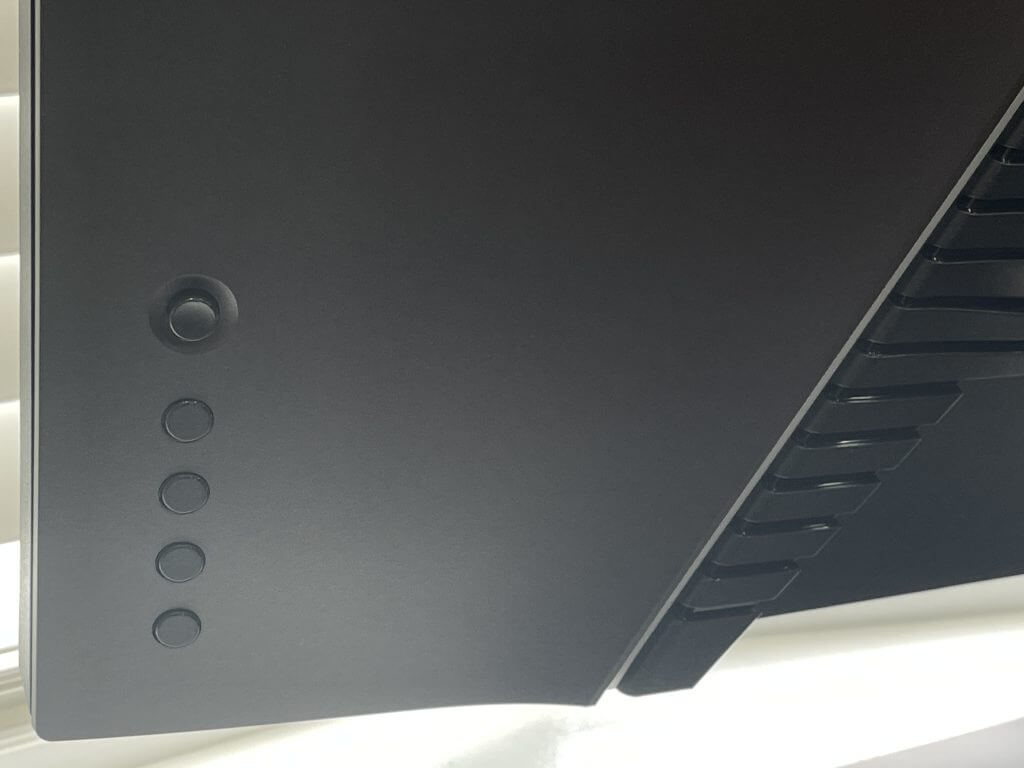 Note that these menus also have a place for you to swap between color spaces and game settings. This builds on the uniformity compensation feature and helps to dynamically balance the screen to offer uniform color and brightness so you can be confident in the quality of your work.
Gaming performance on console and PC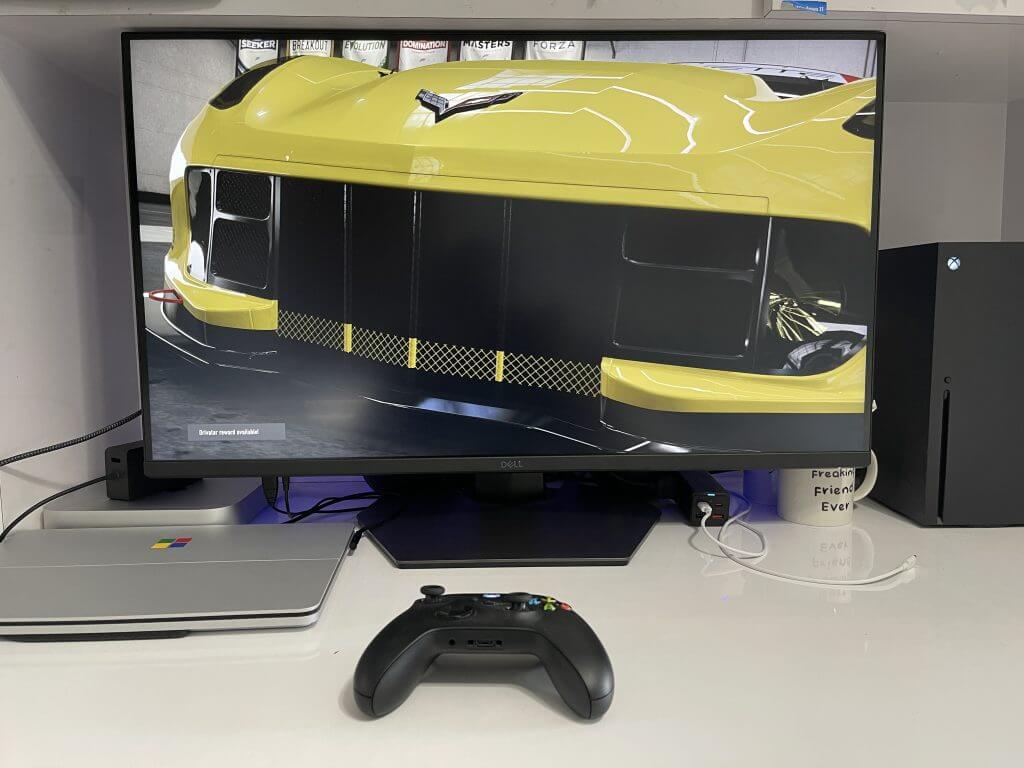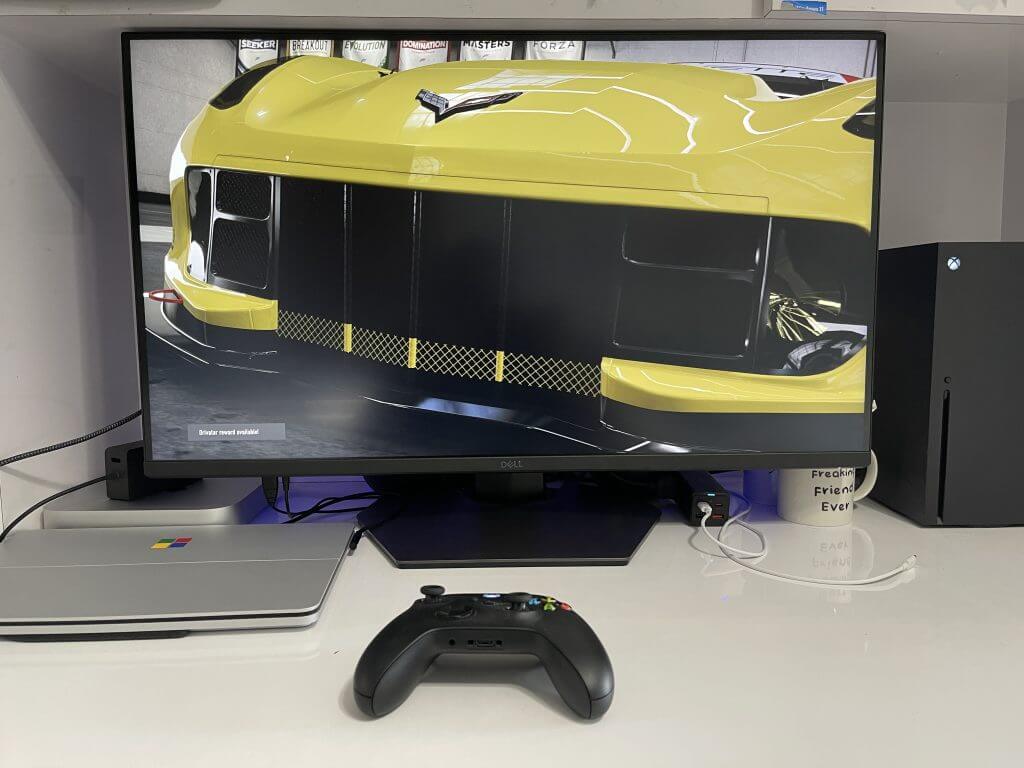 I tested the Dell 32 4K UHD Gaming Monitor in three different ways. For PC gaming, I played Microsoft Flight Simulator 2020, as this is one of the most stressful games on hardware. For console gaming, I played Forza Motorsport 7 on my Xbox Series X, which is optimized for the next-gen console. Outside of that, I also used the monitor day to day for productivity, as well as for video editing.
In PC gaming, the monitor performed well and beyond expectations. Flight Simulator is a very intense game, with scenery always changing. I noticed no lag or tear, even in the Top Gun: Maverick missions, where you need to fly low over ever-changing landscapes. If there's one way to describe the experience I had there, I'd say as life-like, but without the G-forces and motion sickness from sitting in an actual cockpit.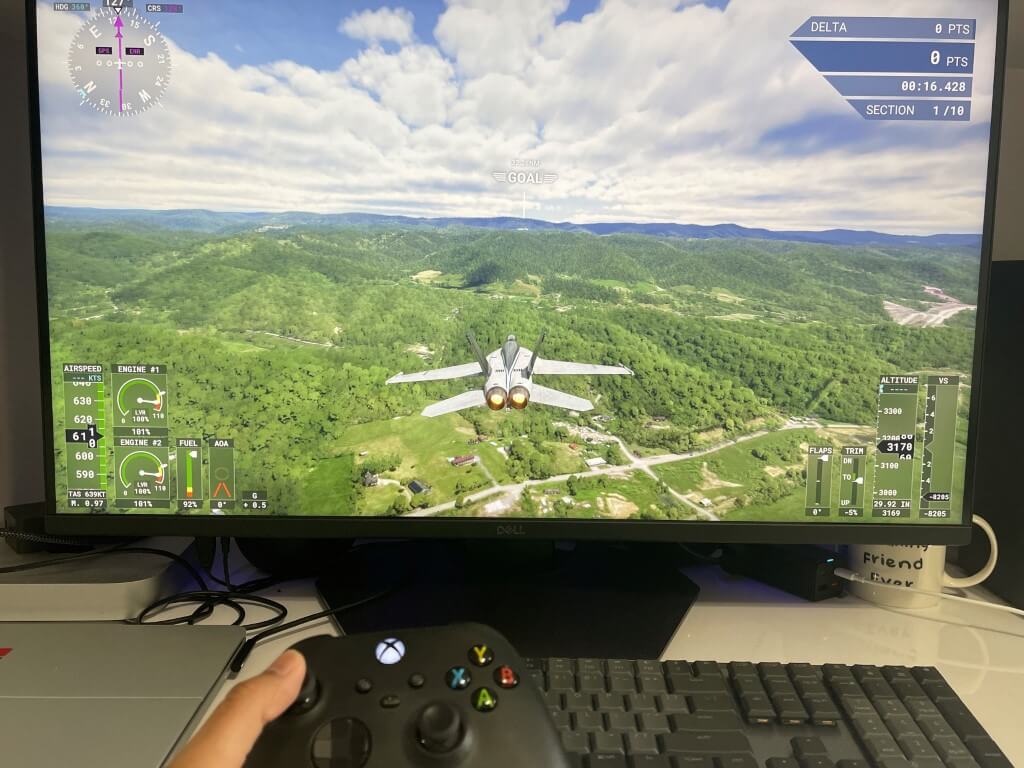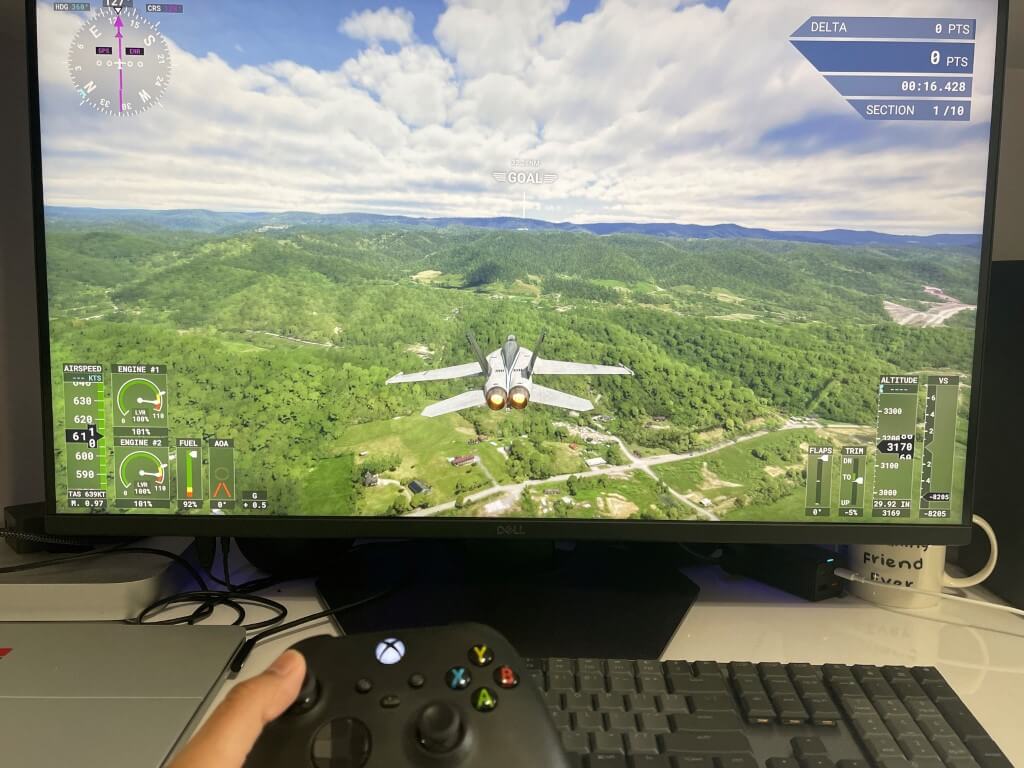 Over on Forza on my Xbox Console, I felt like I was suddenly a top-tier racer. In taking a Corvette around the Daytona International Speedway, the HDR support, and 120Hz refresh made the scenery feel life-like, down to the reflections of the sun on the car. I've never quite felt this immersed when racing before.  It even improved my racing skills, as small details that matter in the car like the rear-view mirror and side mirrors were lit up properly, without too many shadows. I definitely see where HDR comes into play here, with increased brightness and detail in otherwise dark scenes.
As far as it comes to productivity, I could not be happier. 4K resolution meant I could fit up to four Microsoft Edge windows side by side. I found myself using my Surface Laptop Studio more in the closed mode because of this. I depended more on the monitor, as I could fit so much more on my screen. The 144Hz refresh rate also meant that Windows felt as lively as ever, including the motions of the Start Menu. And for video editing? It's a dream, with clips playing super smooth, and my video timeline moving without any stutter. HDR adds to that mix, with text looking super sharp and clear.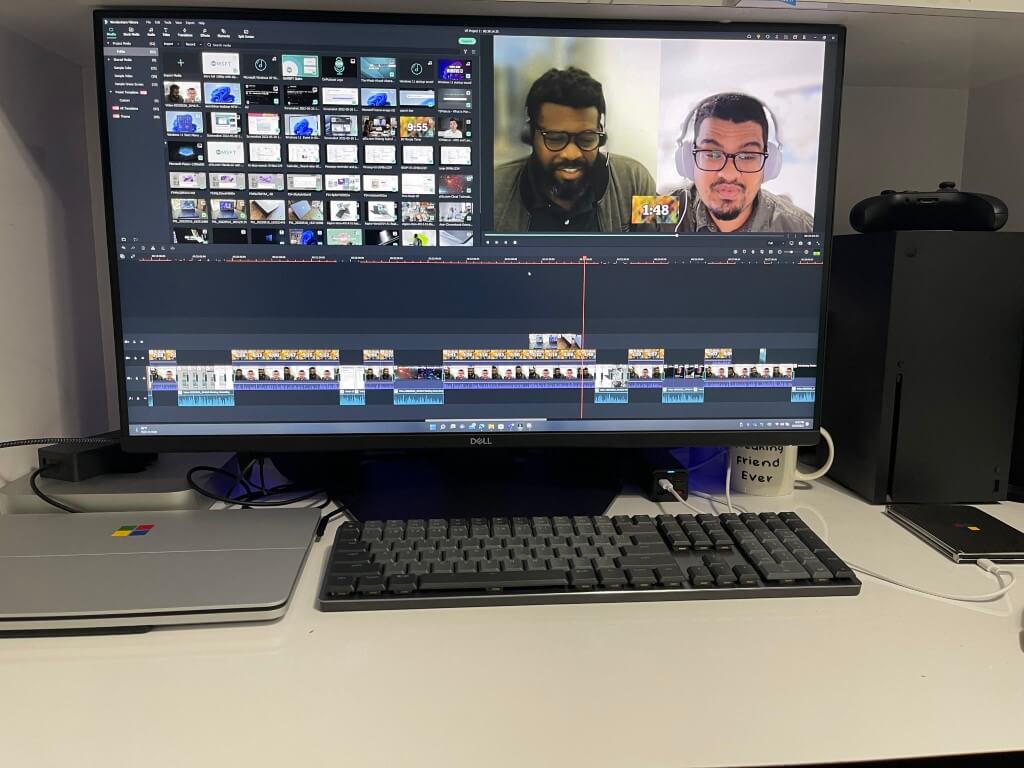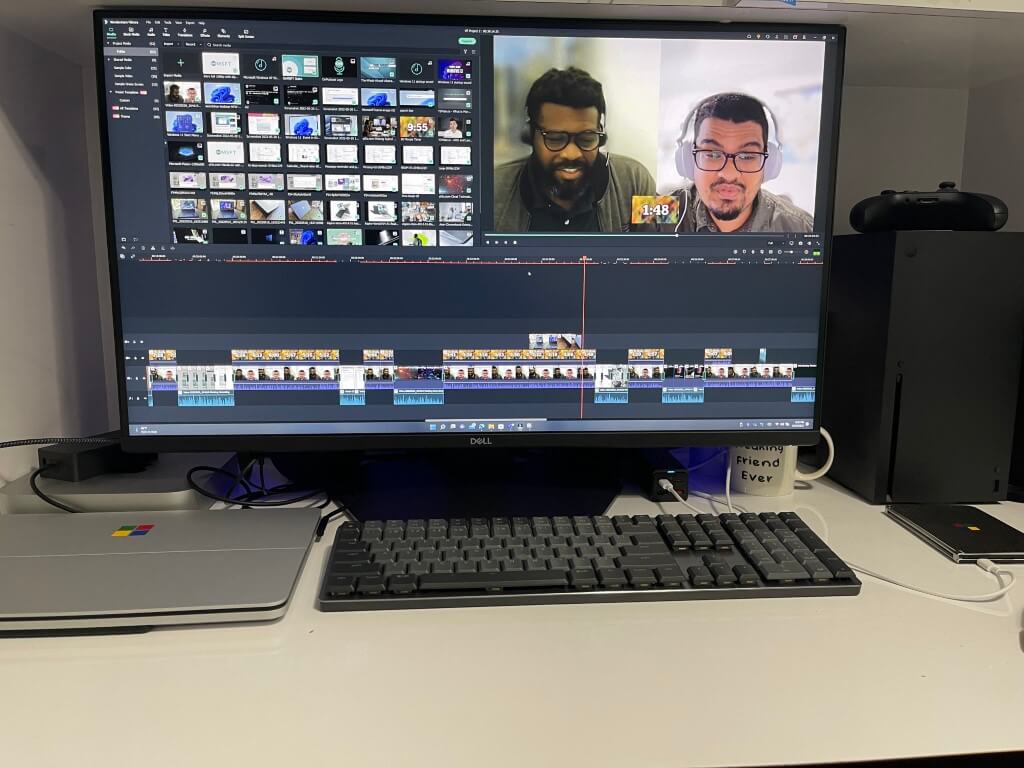 All in all, this is my dream monitor as it checks all the boxes that I needed. That's 120Hz refresh for console gaming, 4K resolution for video editing and gaming and productivity, and 144Hz for PC gaming. Not to forget, the headphone jack for connecting speakers.
PIP & extra feature
I touched on all the "main" features of this monitor, but there are some extras here, too. Of those extra features is the cool picture in picture or picture by picture mode. This lets you have two inputs on your screen at the same time. You can resize the inputs through the menu and make one bigger or smaller to a variety of percentage sizes, and also swap the audio.
I found this useful when gaming, as I had my PC input on one side of the screen, and Xbox on the other. Following guides for the weekly Microsoft Rewards quest was easy because of this, as I could see both the video, as well as my game at the same time. Dell provided me with other scenarios where this could come into play. Examples include keeping up with a stream chat, catching up on podcasts, and more. All that said, this monitor can definitely help you get more done.
Buy it now for the best
There's no shortage of 32-inch 4K gaming monitors in the market. You can find plenty of these at your local BestBuy and the Gigabyte M32U is a good alternative for the same price. However, the Dell 32 4K UHD Gaming Monitor G3223Q is special. You can use it for both your productivity as well as gaming thanks to the 120Hz and 144Hz support, and when you want to combine the two, there's an amazing PIP mode that you can use. This is a monitor that I'd love to keep and buy for my own use, I don't say that very often.