These days keeping your devices powered up is important, especially when you're spending more time in meetings and more time working. Usually, you might charge up with a regular outlet, but the benefit of USB-C means you also can use power banks to juice up your devices when you're not near an outlet.
The Surface Pro 8 is one such device that has a USB-C port, and with it comes the ability to use PD power banks. Baseus was kind enough to send me their latest product, the Baseus power bank ($60, Amazon) for review, and I think it's a good way to charge up your Surface devices on the go.
Design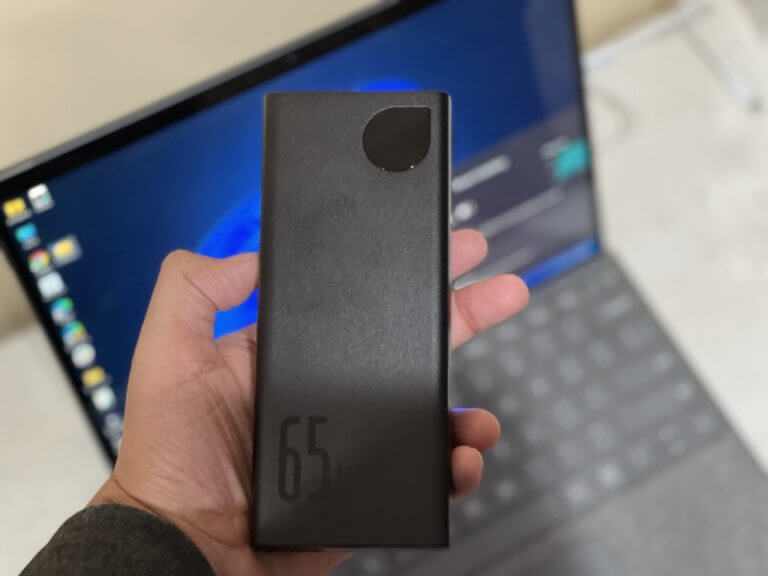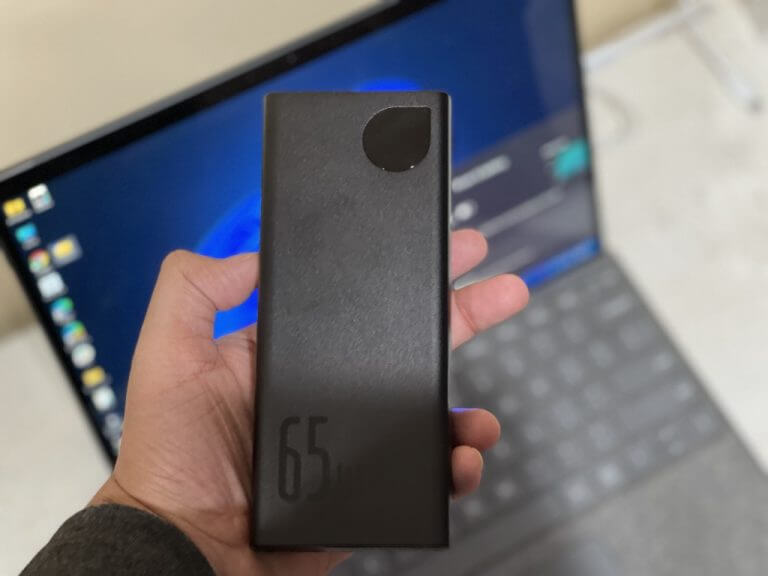 The Baseus USB-C power bank is a product that will match the premium finish of your devices. The Surface Pro 8 sports an aluminum finish, and the Baseus power bank fits that with an all aluminum-alloy design. For the high price of $60, it feels very nice in the hands. Baseus even says that the design can help dissipate heat during the charging process. It's something I noticed when using the power bank to charge my Surface when under heavy loads. It didn't get too hot.
Another signature feature of this power bank is the numerical LED charge indicator. With this, you just tap the side button to see how much power is left in the bank itself. It shows the battery level at all times when charging, as well as the output in volts and amps. Super useful for keeping an eye on when you might need to recharge the power bank itself.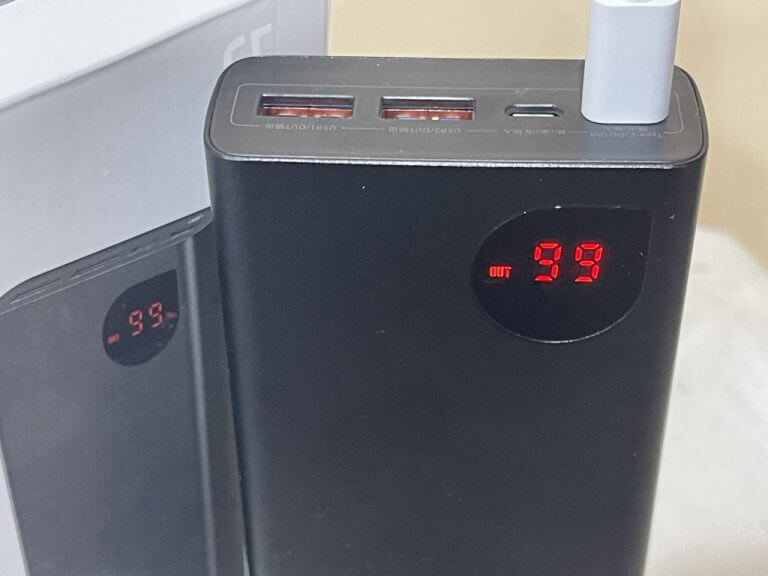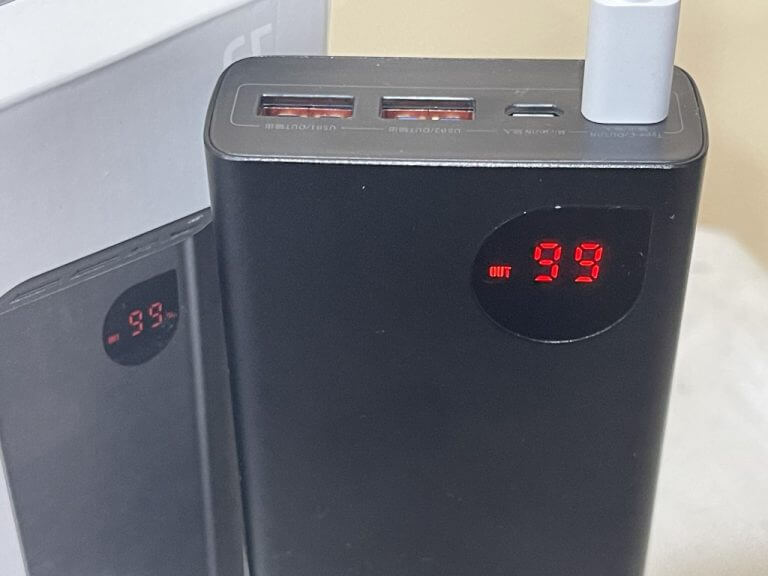 As far as ports go, there is one 65W PD USB-C port and two 30W quick charge USB-A ports. You also have the option to charge the power bank with a micro USB input, which I think is a waste. I think a second USB-C port would have been better. It is 2022, and USB-C should be standard on all power banks for input charging, especially since it's become more of the universal standard.
Micro USB also means the bank itself is slow to recharge. It takes about 2 hours to fully recharge to 100% and a physical charging brick is not included. Using USB-C, though, lowers recharge time to around 1 hours.
Baseus also sent me their separate USB desktop charging station, and it's what I used to charge up this power bank with the included micro USB cable. The charging station sits on my desk as a convenient way to plug in my dedicated Surface Laptop charger, as well as 100-watt USB-C cables for my MacBook, Nintendo Switch, and other devices.
How long it lasts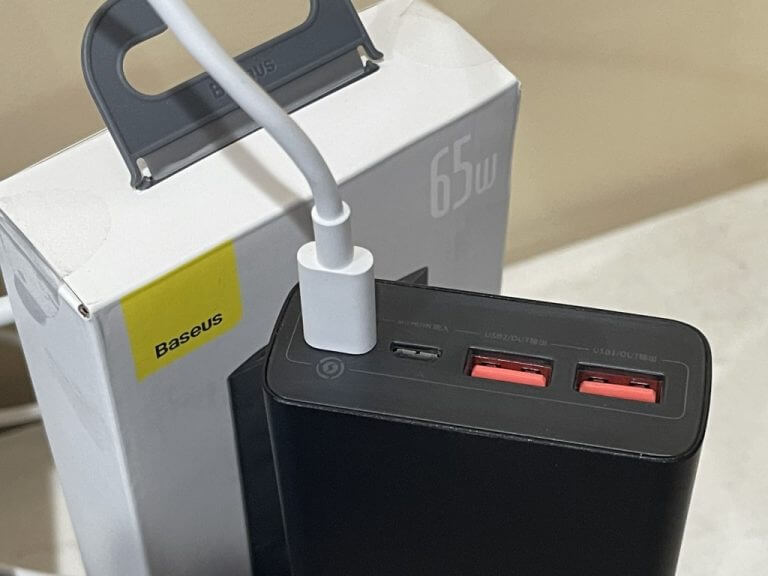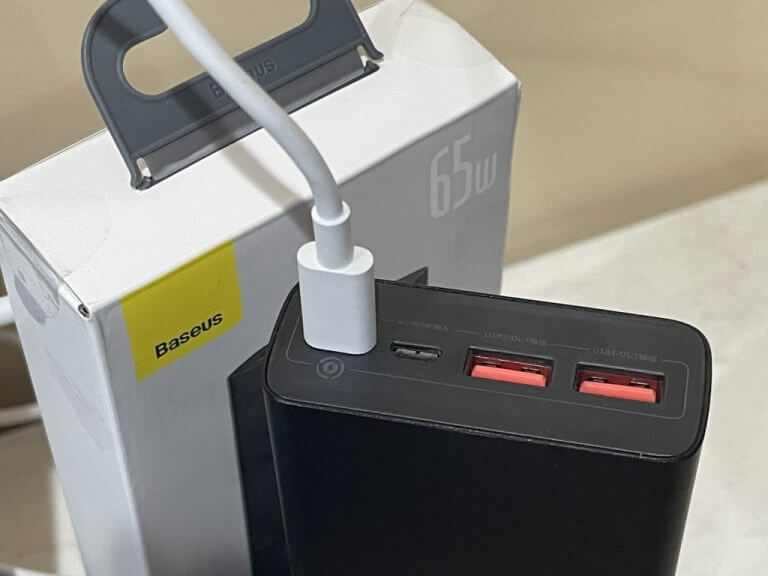 This Basus power bank is rated at 20,000 mAh with a 65W output. Interestingly, though, the bottom of the bank mentions a rated maximum capacity of 12,000 mAh, and also a capacity of 5,000 mAh. I am not sure what's going on there. It could be a translation issue, or it could be a series of four 5,000 mAh batteries together inside for 20,000 mAh, according to most Amazon reviews. Either way, 20,000 mAh means you can travel with this in an airplane, as it meets TSA specs.
At any rate, the listed 20,000 mAh is more than enough to charge up my Surface Pro 8, but I feel as though the power bank might hold less than 20,000 mAh total. When using the USB-C port, It took my Surface Pro 8 from about 25% to 100% one time, while powered off, leaving about 10% left in the power bank itself.
When the Surface Pro 8 is powered on, meanwhile the Baseus bank kept charging up the Surface Pro 8 under heavy web browsing. The fully charged power bank got my Pro 8 from about 25% to 80% before it died out. That's more than enough for when you might be in a pinch, but considering Surface Pros have close to a 6,657 mAh battery, I felt as though the Baseus should be able to do more.
As for my other devices, the Baseus power bank took my iPhone 12 Pro Max from 20% to 100% and used up about 45% of its capacity. For an iPad Mini, it took 55% of the charge to go from 20% to 80%.  Your mileage might vary a bit, especially if you charge more than one device at the same time.
A good buy, but there are many others
The Baseus USB-C Power Bank is a good buy if you're looking for a solid affordable USB-C power bank for your Surface. But there are many other alternatives in the market that you can buy if you have more money to spare. The fancy design of the Baseus makes it worth $60, as well as its digital display, but these are standard features you'll find in other products, too. Anker has a similar one, but it's priced higher at $100. For what you're paying, the Baseus is great.