We're looking at some serious quality of life changes with the new Insider build, 16215. Microsoft added in a ton of new features and tweaks for both the Windows 10 Shell and the settings menu, offering Windows 10 users some meaningful changes as they interact with their desktop.
Here's the log of changes, for both Shell and Settings.
Shell Improvements:

Enhancing your Share experience: We want sharing to be easy and natural. With the last build we added people-first sharing, and with this build we're bringing another new Share feature to your desktop:

Copy Link: Don't see the app you're looking for in the Share UI? If you're sharing a link – like a website in Microsoft Edge, or an app from Store – we've added a new option in the Share UI to copy that link to your clipboard, so you easily can paste it into your app of choice.

New local media folder detection for UWPs: Photos, Groove Music and Movies & TV all have one thing in common: exploring your local content based on the folders you provide. We've heard your feedback that sometimes local media is missing as a result of folders not being included, so with this build we're adding new logic to address this. After a storage scan, we will now detect relevant media folders you might want to include in your collection when looking at the files via UWP apps, and suggest them to you when you go to add new folders. Want to try it out now? Add a new folder with 30+ pictures, songs, or videos to your desktop. Go to Storage Settings and press the refresh button to trigger a scan. The next time you go to add a folder to your favorite UWP (such as Groove Music), you'll see this new experience:

Note: If no new media is detected, you will see the file picker dialog.

My People Improvements:

We fixed an issue where the icons of contacts pinned to the taskbar would appear cut off when using small taskbar icons.
We've updated our logic so that if you have the My People flyout open, you can now drop a file onto any of the contacts pinned in the overflow area to initiate a share with them.
We're updated the sound made when you receive an emoji from one of the contacts pinned to the People bar in the taskbar.
We improved My People reliability and fixed an issue where hit testing would become offset after adding or removing items from the systray.

Night light improvements including:

We fixed an issue where mirroring a display and then disconnecting from it would break night light on that screen.
We fixed an issue where when night light had been manually enabled, and the device entered then exited S3 sleep, night could then become disabled.
As a result of your feedback, we've updated our logic to now use a quick transition into night flight if applicable after rebooting or manually enabling night light.

Folder Suggestions

Settings Improvements:

New Video Playback Settings: Head to Settings > Personalization > Video Playback and you'll now find some additional controls for media enthusiasts. If you have an HDR monitor, we'd love to hear your feedback on how video streaming feels when these new options are enabled. We've also added some battery settings for you to decide whether you'd prefer to optimize video streaming for battery usage or video quality.

Note: You'll noticed a "Unsupported video type or invalid file path" error at the top of the page. This is a known issue we're looking into, it shouldn't otherwise impact the usage of these settings.

A new HDR and Advanced Color Settings Page: If you have at least one connected display that supports HDR, you'll now see some additional information! Go to Settings > System > Display > "HDR and advanced color settings" to find more details about the HDR settings of the currently selected display.

Per-App Defaults Settings Page: In the past, when using Settings you had to start with your file type or protocol if you wanted to make a change to the default app. That's changing with this build, and you can now start with your app, and then see the available options for what it can handle. To see this new option, go to Settings > Apps > Default apps > "Set defaults by App". Choose an app and click 'Manage' to see all the file types and protocol associations for which the app is the default. This page takes the place of the one that had been available in Control Panel, as part of our ongoing effort to converge the settings experience.

Updated Network connection properties page: We've heard your feedback that setting a network profile to public or private isn't discoverable, so we've updated the Network connection properties page to make it easier and prominent. Instead of the previous toggle under "Make this PC discoverable", you'll now find two radio buttons to select whether the profile should be public or private.

A new context menu for Wi-Fi networks in the View Available Networks flyout: To get you where you need to go faster, we've added a new context menu full of quick actions when you right-click one of the listed Wi-Fi networks. Options include Connect, Disconnect, View Properties, or ForgetNetwork.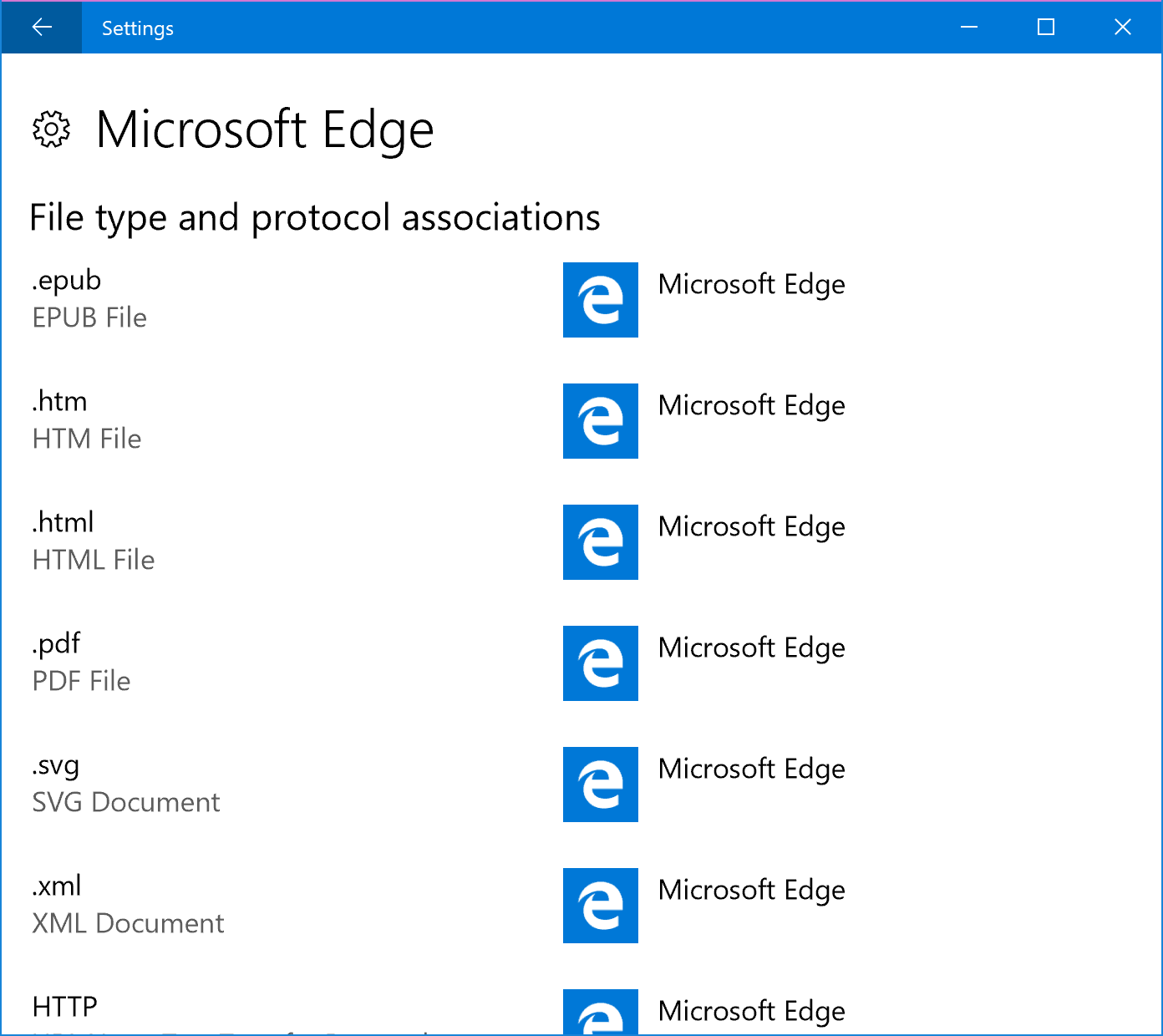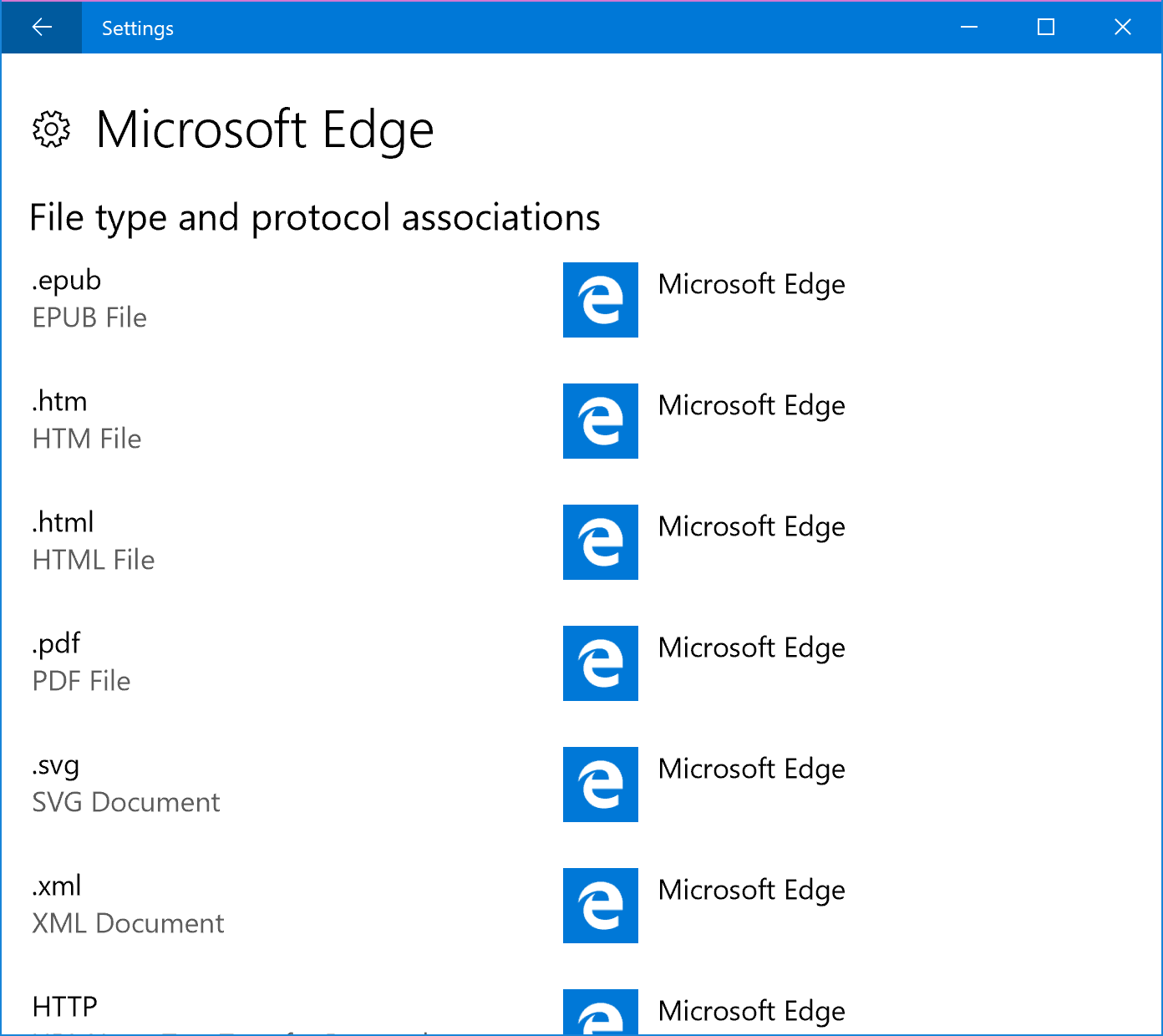 Windows Update improvements:

View your active Windows Update policies: If there are any applied group policies for Windows Update, a page will now appear in Windows Update Settings so you can look through them.
Understanding your updates: We now list out the individual update status and progress in Settings > Update & Security > Windows Update. So if there are multiple updates pending (for example, a new build, a driver update, and a definition update for Windows Defender), you can see and track each different status, which wasn't as obvious with the single progress bar used in prior builds.

Other improvements in Settings include:

You can now add other AAD work/school users from Settings.
We've heard your feedback, and have adjusted the order of the Settings categories so that the new Cortana category is now more central, and the Windows Update category is now once again the final one in the list.
When moving or uninstalling an app from the Apps & Features Settings page, you'll now see a progress bar.
We fixed an issue where pinned secondary tiles would appear as groups in that app's Notification & Actions Settings.
We fixed an issue resulting in garbled characters when viewing the new tips in Settings on non-English languages
On top of some big changes to sharing -particularly the new option to copy text onto your clipboard in the share menu – we've also got some meaningful changes to contacts, and the settings menu. Beyond the new features, those tweaks to some of the settings issues are going to make a big difference. Enjoy!