Microsoft has been long rumored to be working on a successor to Outlook, and/or a "One Outlook" app, merging Mail, Outlook.com, and Outlook for Windows / Mac into a new, sleeker mail client that shares code across all the variations of Outlook.
Microsoft has just officially released in Beta the first steps in that process (an early version of the New Outlook was discovered on the Microsoft Store), offering the "New Outlook for Windows" for Office Insiders in the beta channel, as long as you're using a commercial or enterprise Microsoft 365 account to access Outlook, and that your organization has enabled beta channel access for you.
Once you're eligible, you'll see a "Try the New Outlook" toggle in the upper right hand corner of Outlook. Turn the toggle on to receive New Outlook, and you'll be able to switch back at any time.
This New Outlook, in addition to bringing "consistency across our Windows and web codebases" and a new look, offers some Outlook.com like features, and bakes in new Microsoft properties like Loop, To Do, and elements from Teams like @ mentions. Here's a quick recap:
Microsoft Loop Components
Microsoft Loop offers users a way to create snippets of data that can be updated or edited, embedded in programs like Microsoft Teams or the New Outlook, and kept up to date without having to send new emails or new Teams chats. Users will be able to edit or update Loop components from within (for now) Outlook emails or Teams chats, or (eventually) from a dedicated Loop website that will contain all the Loops you're able to access.
@ mentions for people, files and documents
In Outlook you can already @ mention people, quickly adding them to emails without having to look up email addresses, etc., but now with the new Outlook you'll be able to do the same for files and documents (as long as they are stored in the cloud, ie: your OneDrive for Business account). In the New Outlook, just @<name of your file>, and the New Outlook will show you options, allowing you to quickly access files without leaving Outlook.
Message reminders for important emails
Of course it wouldn't be a Microsoft product without some AI sprinkled in, and the New Outlook will automatically remind you about "important" emails you haven't responded to, pinning them to the top of your inbox until you respond or dismiss the reminder
To Do integration
The New Outlook allows you to drag and drop email messages into an integrated To Do list, allowing you to create list items for messages to be able to come back to them when you're ready.
A Calendar "Board"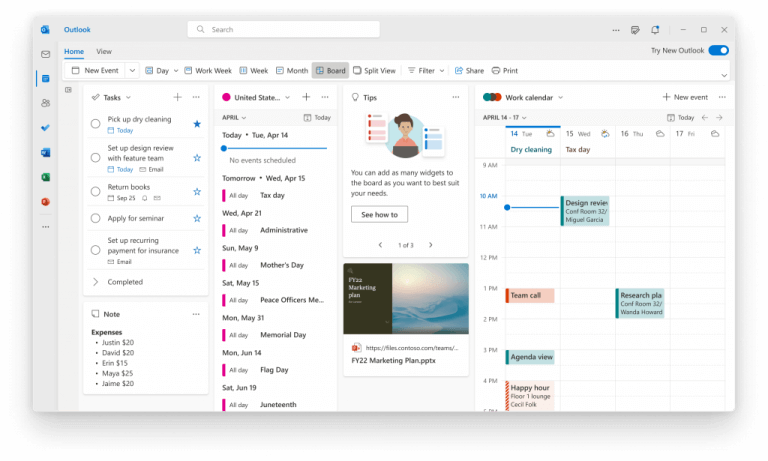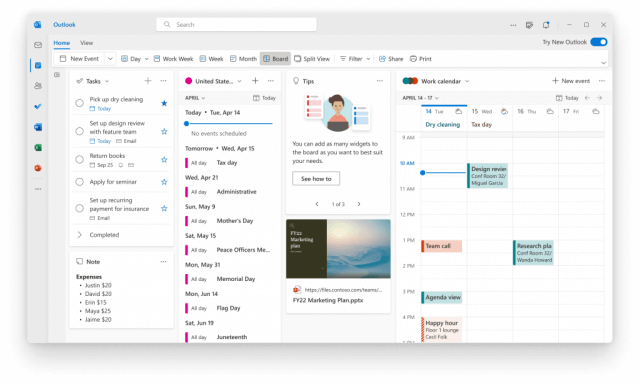 The New Outlook introduces the concept of a Calendar "Board," a single view of your Calendar entries, To Do items, widgets you add, and more.
Meeting coordination
The New Outlook makes meetings management, whether in physical or virtual space, more seamless, allowing you to indicate whether you'll attend meetings in person or virtually.
Pinned Items
Need to re-access emails and tired of searching or scrolling? The New Outlook allows you to Pin emails to the top of your inbox.
Sweep comes to Outlook
Sweep, a way to manage emails by automatically moving them into folders, keeping only the most recent email or emails while deleting or archiving the rest, and more, has been a feature of Outlook.com for a number of years, but with the New Outlook, it's coming to Outlook proper. A simplifed but still powerful implementation of Outlook Rules, Sweep makes managing emails a lot easier.
If you're a Microsoft 365 customer, you can try out the New Outlook if your organization allows and you're in the beta channel on at least version 2205 of Outlook. Let us know what you think, what you're missing from traditional Outlook, and whether you think this New Outlook is right for you in the comments below.