After announcing several upcoming Windows features on Day 2 of Build 2018, Microsoft followed up today to release Windows 10 build 17666. This release is massive, and packs plenty of new features and improvements, from enhancements to Sets, a new clipboard experience, a dark mode in File Explorer, and more. Here's what you need to know before installing on your Fasts Ring or Skip Ahead PC.
Sets improvements

We love Fluent Design as much as you do – in today's build you'll find that Sets now have an acrylic title bar. We're also adjusting the window border so that it's now grey.
Do you use Alt + Tab to quickly switch back and forth between apps? All of your recent Microsoft Edge tabs will now be included, not just the active one. Prefer it the old way? Use the "Pressing Alt + Tab shows the recently used…" setting in Multitasking Settings.
The Sets section of Multitasking Settings now lets you set your windowing preference. If you choose "Window", new windows won't open into a new tab unless you explicitly click the + or drag with your mouse. Choosing "Tab" opens any new windows invoked from your running apps into tabs. As a reminder, if you would like to exclude any particular app from Sets, you can do this from this same settings page.
When a webpage in Sets starts playing audio, you'll now see a volume icon on the tab. Simply click it and the audio will mute, just like in Microsoft Edge.
Tabs will now restore with better performance – they'll open in the background and use no resources until you go to the tab. This means you can restore a lot of tabs at once with no issues.
New clipboard experience

But what do you do if you need to copy the same few things again and again? How do you copy content across your devices? Today we're addressing that and taking the clipboard to the next level – simply press WIN+V and you'll be presented with our brand-new clipboard experience!
Not only can you can paste from the clipboard history, but you can also pin the items you find yourself using all the time. This history is roamed using the same technology which powers Timeline and Sets, which means you can access your clipboard across any PC with this build of Windows or higher.
Our new settings page for enabling this experience is under Settings > System > Clipboard – please try this out and share feedback! This link will open the Feedback Hub to where you can tell us about your experience and what you'd like to see next.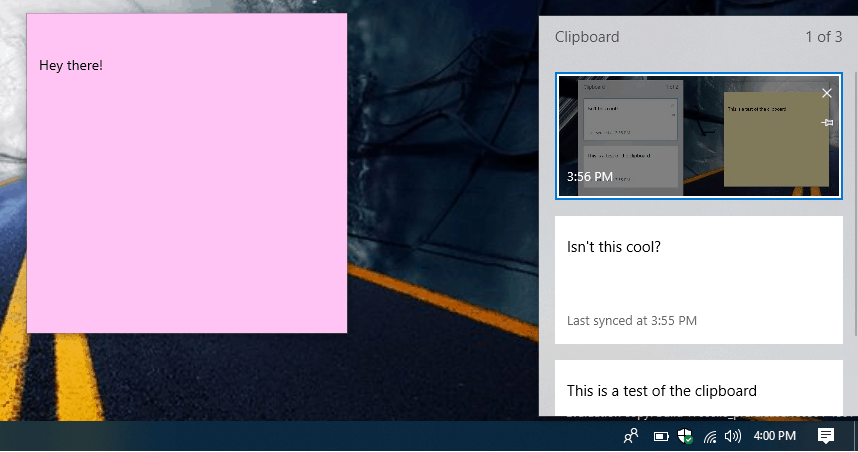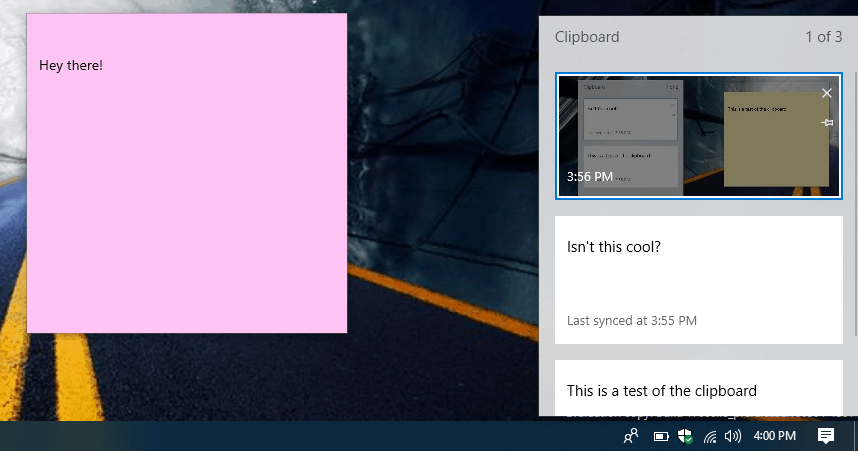 Dark Theme in File Explorer

This setting is available under Settings > Personalization > Colors, and if you switch it any apps and system UI that support it will follow suit. Since releasing this feature, our top feedback request from you has been to update File Explorer to support dark theme, and with today's build it's happening! Along the way, we also added dark theme support to the File Explorer context menu, as well as the Common File Dialog (aka the Open and Save dialogs). Thanks again for everyone's feedback!
Notepad Search with Bing

To use simply highlight any words or phrase in Notepad and you can search Bing using the following methods: Right click on the selected text and choose "Search with Bing" via the right-click (context) menu. Edit menu ->"Search with Bing…" CTRL + B.
Search Previews

Now we have expanded previews to support apps, documents, and more. Search previews are here to help you:
Get back to what you were doing, such as a recent Word doc or Remote Desktop sessionJump-start your task, be it a new Outlook meeting, a quick comment in OneNote, or changing a setting
Disambiguate between files by seeing more info including file location, last modified, or author
Access quick answers from the web like "are bananas good for you?" "height of mt everest"


Other features included in this build is the ability to name start name your tile folders in start, and some new Bing-powered questions which appear in settings when looking through to complete common Windoows settings tasks. Oh, and there's also the extended line endings support which was announced yesterday at Build 2018.
Fire up those machines now, and head to Windows Update now to get downloading! Once you've updated, do feel free to let us know how this new build experience is working for you by dropping us a comment below.