While not technically branded Surface devices, this is the second year in a row Microsoft has introduced its Microsoft Accessories line alongside its flagship computers.
Last year we got Microsoft wired and Bluetooth headphones and mics, a USB-C powered Teams enabled speaker, and a pretty decent 1080p portable webcam.
Microsoft Adaptive Accessories
In 2022 Microsoft will expand the portfolio of accessories that can accompany its Surface devices to include dedicated Adaptive Accessories such as the Microsoft Adaptive Mouse, Hub, D-Pad button, Joystick, and Buttons and custom 3D printed Pen 2 and Microsoft Business Pen grips designed in partnership with Shapeways.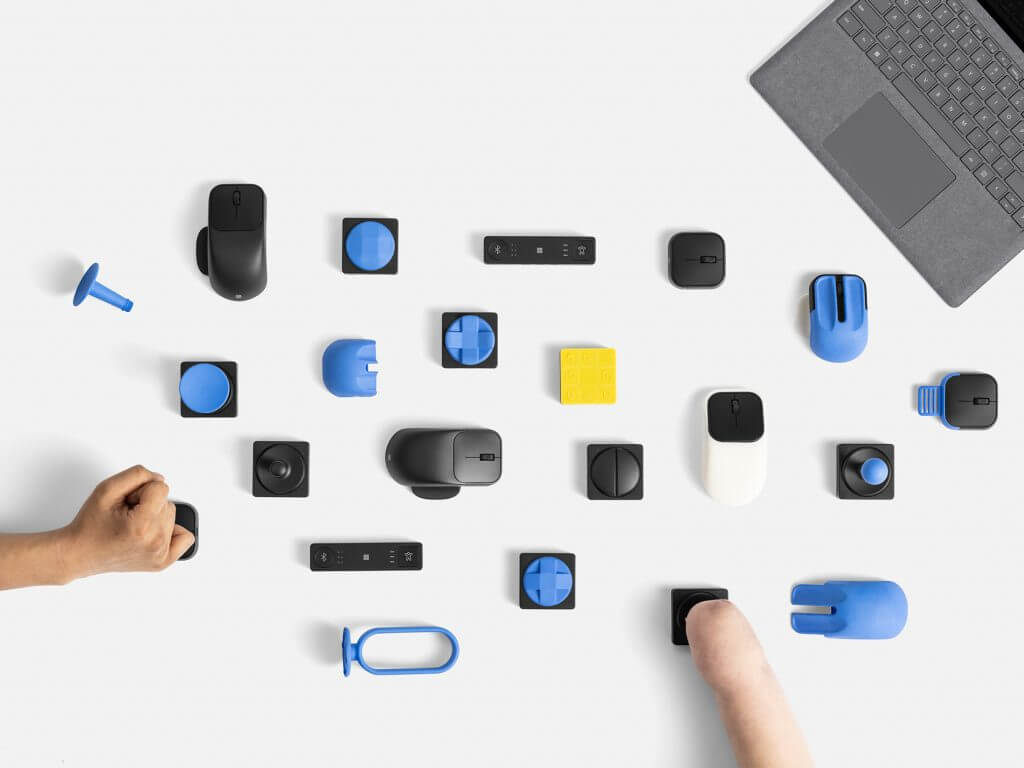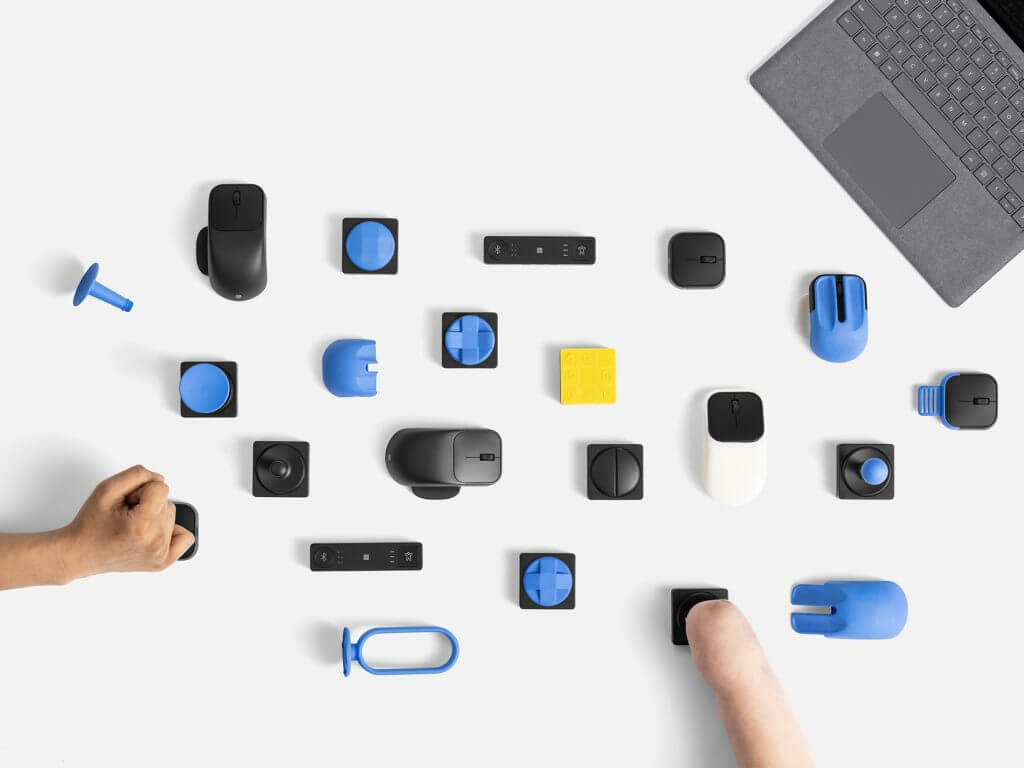 Users can now customize an adaptable Microsoft Adaptive Mouse Tail and Thumb Support that comes in three adjustable components that include the Mouse core, the tail extension and the thumb support. The Adaptive Mouse can be connected wirelessly or through USB-C connection and is designed for ambidextrous use.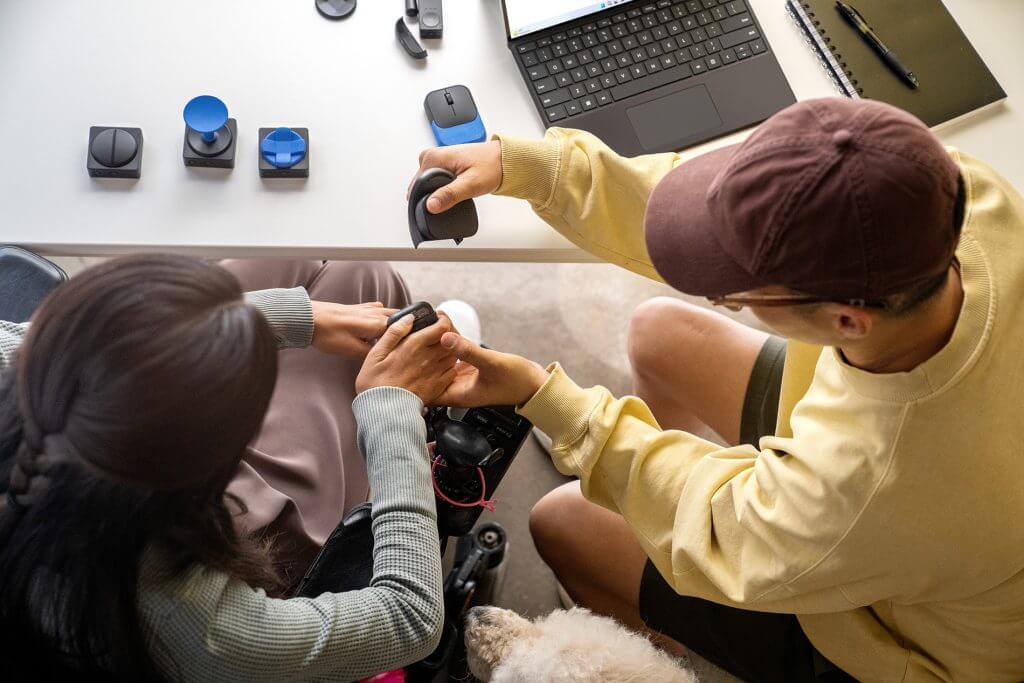 Using the Microsoft Adaptive wireless hub, users can create custom inputs without a keyboard with the ability for the hub to connect to up to three devices that include Adaptive buttons, D-Pads or Joysticks wirelessly or through USB-C. If you happen to already have a custom setup for your accessibility needs, the Adaptive Hub can still connect to your current assistive technologies through five 3.5mm ports as well.
Some of the specifics for use of the new Adaptive Accessories include many of them requiring Windows 10 or 11 for support and USB-C charging, for anyone who finds physical battery replacement more comforting.
The Microsoft Adaptive Hub starts at $59.99 and $39.99 for individual Adaptive Button, Joystick and D-Pad. When it comes to the Mouse Core, customers will have to shell out $44.99 and $14.99 for the trail and thumb support bundles.
Microsoft Audio Dock
Moving onto the Microsoft Audio Dock, the company is now introducing a seemingly larger and more robust audio experience than the one it did with last year's Teams enabled speaker.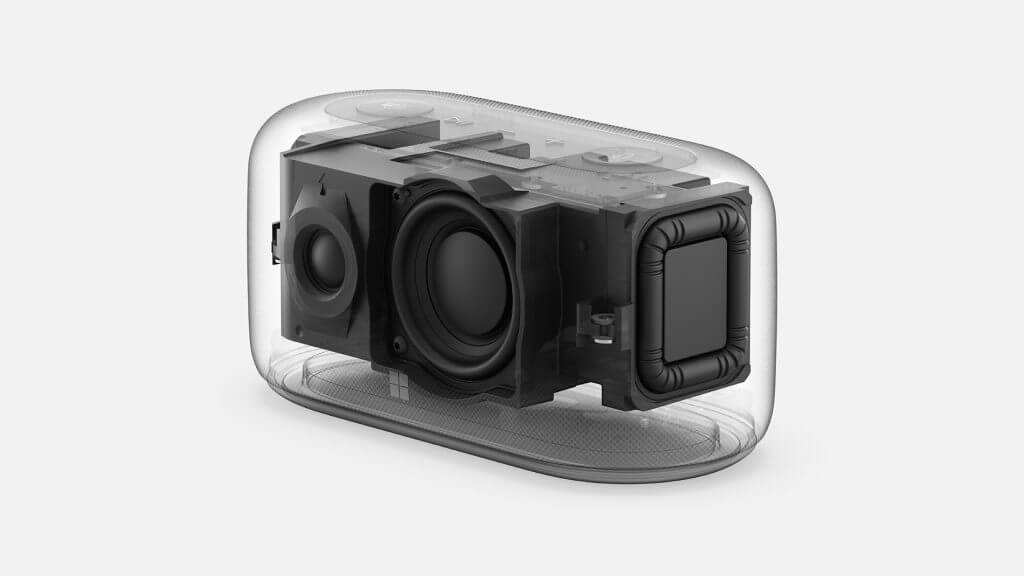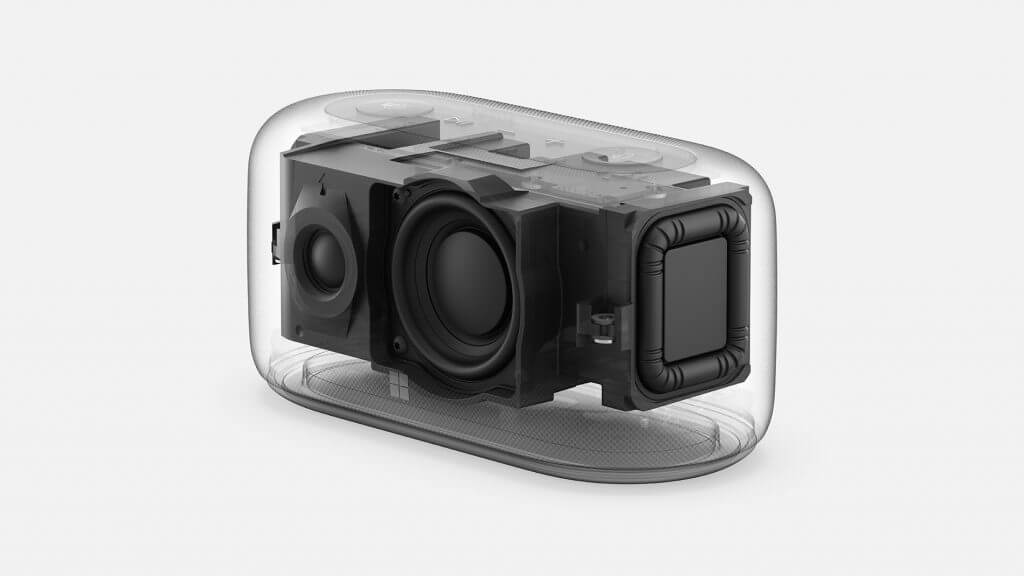 This time around, the Microsoft Audio Dock houses four different ports that include a full HDMI, 2 USB-C and 1 USB-A ports and a power pass-through to help power your connected computer throughout the day for $249.99.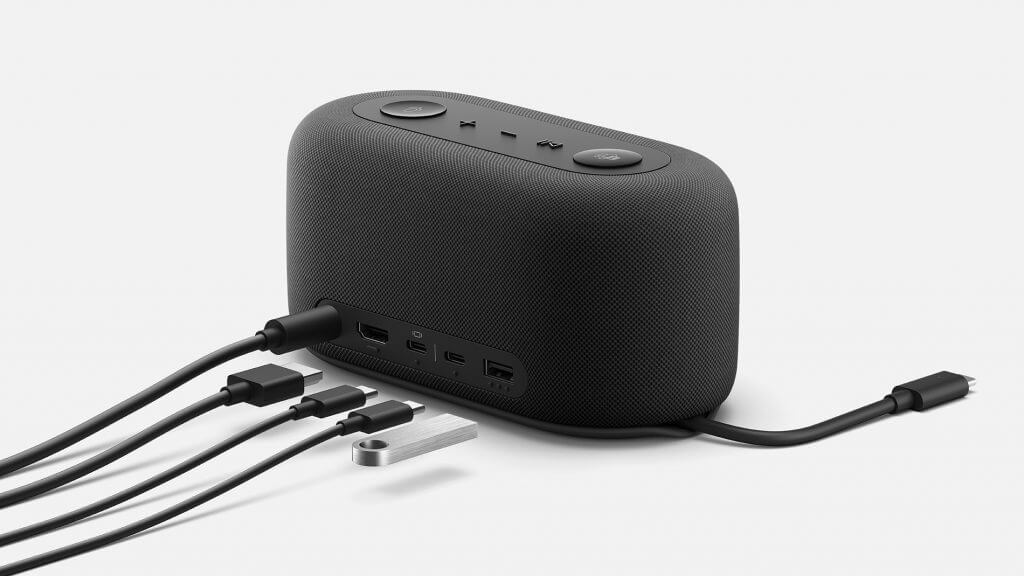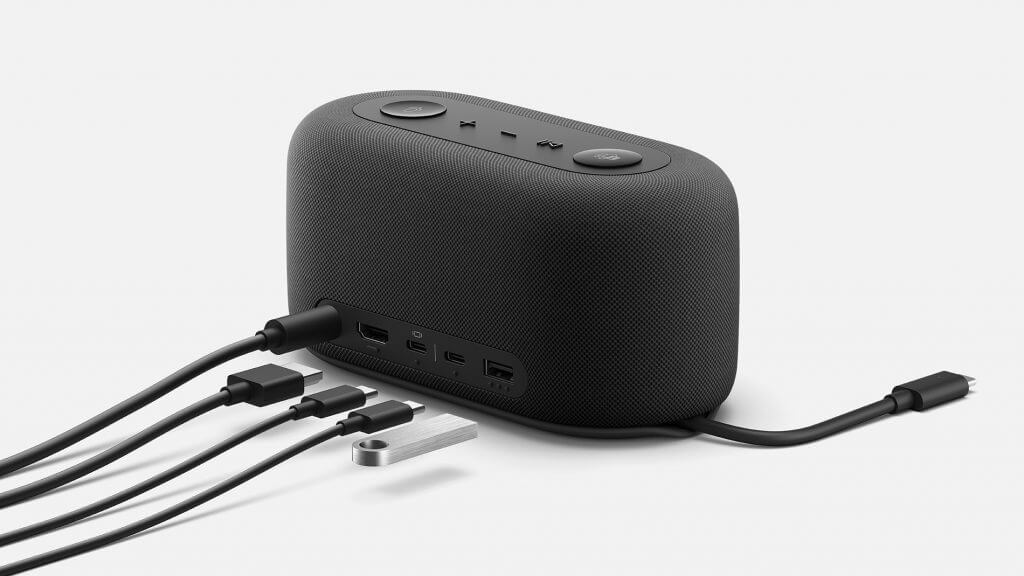 Similar to the Microsoft Modern Speaker from last year, this Audio Dock will have a conference focus approach to communications and features that include integrated mute controls with status lights, multi-dimensional sound through OmniSonic speaker placements and a 15-watt woofer paired with 5-watt tweeters, as well as being Microsoft Teams Certified of course.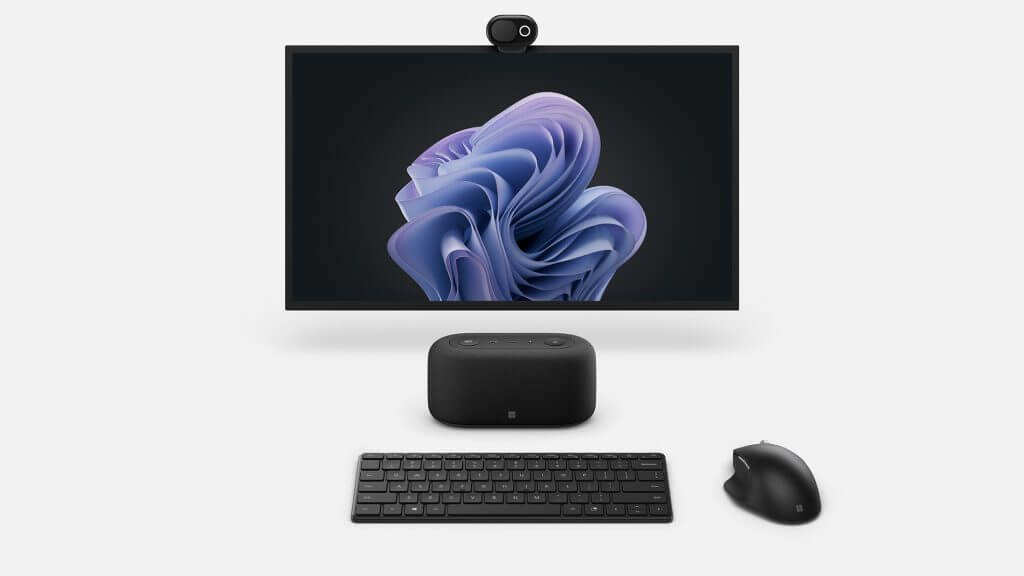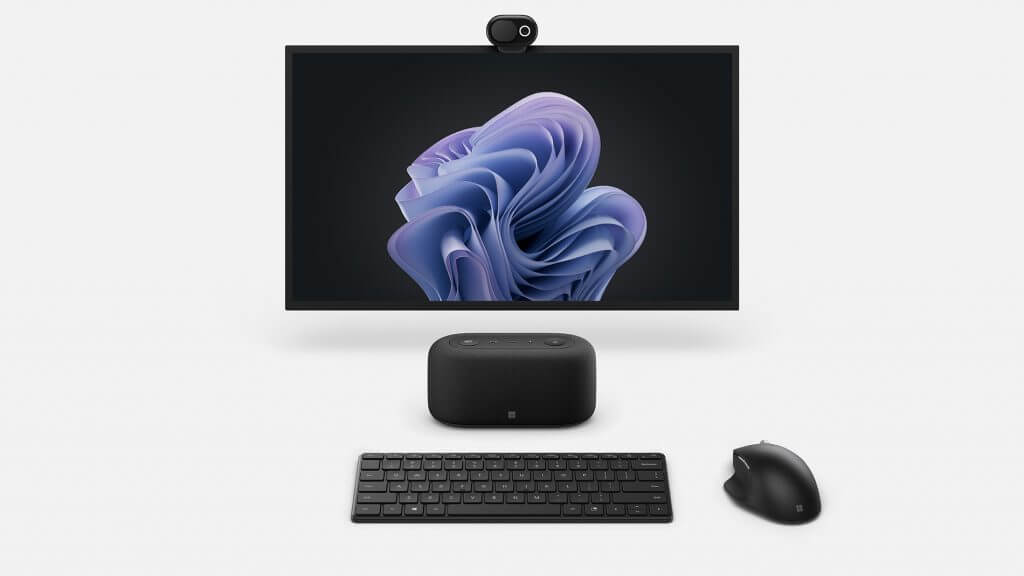 Also, like last year's more compact Microsoft audio device, there are physical buttons to help quickly access volume controls as well as jump in and out of Teams conference meetings.
Unfortunately, there is no wireless connectivity to the Audio Dock and users will still need to connect through USB-C to their PC, but as a substantially larger, desktop-oriented device, its connectivity options make a bit more sense this year.
Microsoft Presenter+
Microsoft is also putting its own spin on the old school laser pointer with the Microsoft Presenter+.
The four-button thumb controlled tool can help guide co-workers, partners and executives through presentations, slide shows and reports both in-person and online through integrated app controls, programmable buttons and reassuring vibrating feedback to help inform the user when they are on and off mute or raise or lower their hands during meetings.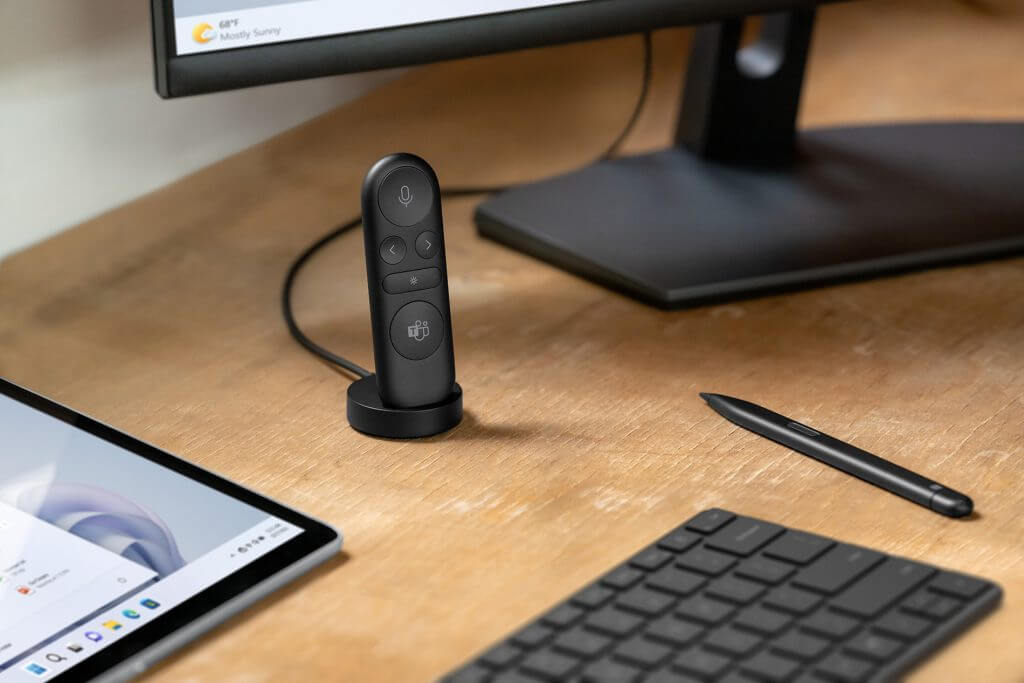 The Microsoft Presenter+ is 93.86 x 29.5 x 9.4 mm (3.7 x 1.16 x .35 in) and weighs 25.6g .90oz with batteries included, it also comes in a single matte black color, makes use of Bluetooth Low Energy 5.1 to help its 6-day battery life projections and comes with its own USB-A powered charging dock for $79.99.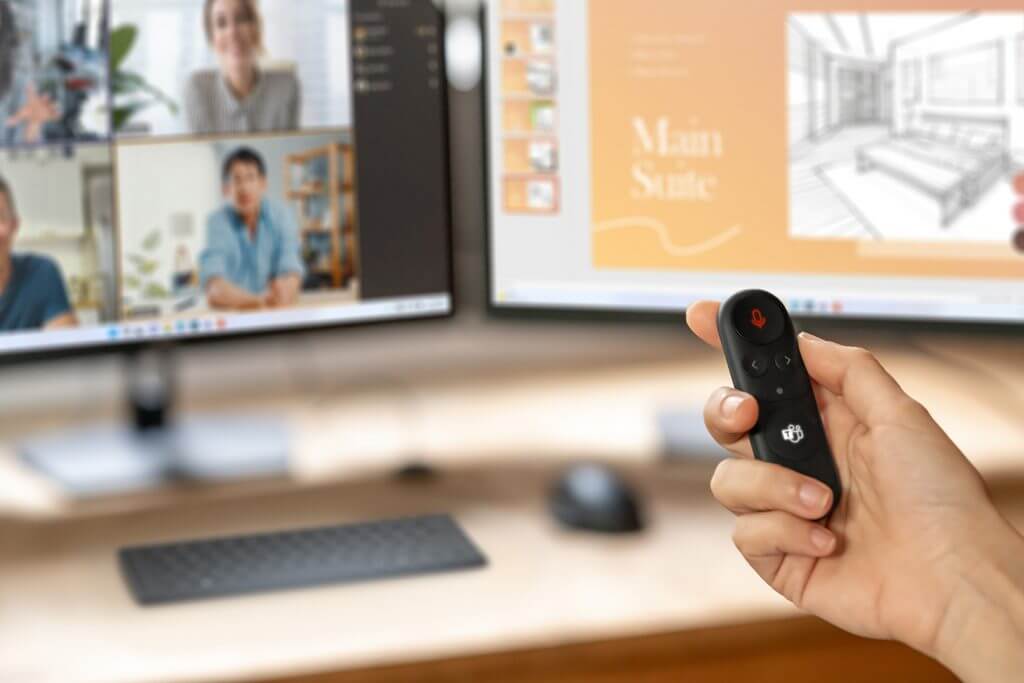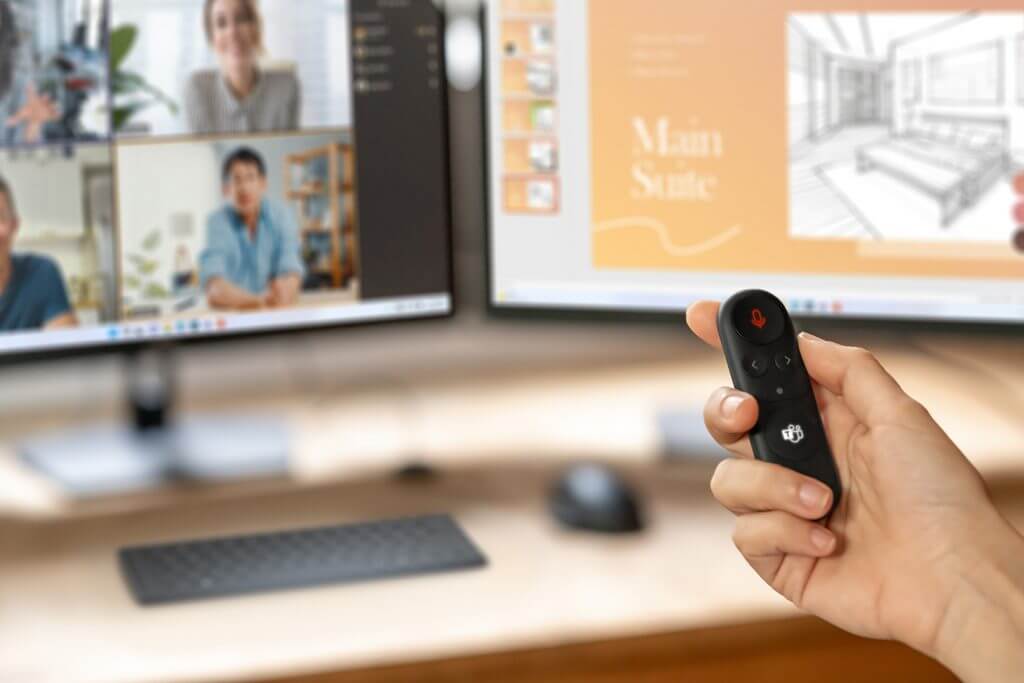 When using the Presenter+ in person, the slim and lightweight pointer can reach up to 32 feet/10-meter worth of wireless range and will work with PowerPoint, Prezi and Keynote apps out of the box.