Lenovo ThinkPad X12 Detachable starting at $1,409.40
Lenovo clearly has its sights set on Microsoft and its Surface Pro line with its own thin and light ThinkPad X12 Detachable.
While Microsoft released a follow-up to its Surface Pro 7 in the form of a spec bump and a new title in the Surface Pro 7 Plus, there is still an unsatiated audience craving some easily visible and accessibility improvements to the company's flagship computer.
Microsoft may or may not deliver a device in 2021 that addresses the wants and needs of longtime fans and consumers of the Surface Pro line. Fortunately, it seems other PC makers are finally ready to re-compete for the detachable market with devices that arguably rival the industry frontrunner.
Enter the Lenovo ThinkPad X12 Detachable.
ThinkPad X12 Detachable Specs

Processor

11th Generation Intel® Core™ i3-1110G4 Processor (2.50 GHz, up to 3.90 GHz with Turbo Boost, 2 Cores, 4 Threads, 6 MB Cache)
Color
Black
11th Generation Intel® Core™ i5-1130G7 Processor (1.80 GHz, up to 4.00 GHz with Turbo Boost, 4 Cores, 8 Threads, 8 MB Cache)

Certifications

11th Generation Intel® Core™ i5-1140G7 Processor with vPro™ (1.80 GHz, up to 4.20 GHz with Turbo Boost, 4 Cores, 8 Threads, 8 MB Cache)
Energy Star® 8.0
11th Generation Intel® Core™ i7-1160G7 Processor (2.10 GHz, up to 4.40 GHz with Turbo Boost, 4 Cores, 8 Threads, 12 MB Cache)
EPEAT® Gold
11th Generation Intel® Core™ i7-1180G7 Processor with vPro™ (2.20 GHz, up to 4.60 GHz with Turbo Boost, 4 Cores, 8 Threads, 12 MB Cache)

Connectivity

Operating system

Optional: WWAN LTE 4G CAT9*
Windows 10 Pro
WLAN: Intel® Wi-Fi 6 AX201 802.11AX (2 x 2)

Display

Bluetooth® 5.1
12.3″ FHD+ (1920 x 1280) IPS, anti-reflective, anti-smudge, touchscreen, 400 nits, Corning Gorilla® Glass
Optional WWAN availability varies by region and must be configured at time of purchase; it requires a network service provider.

Memory

Keyboard

Up to 16 GB LPDDR4x 4267MHz
Backlit with white LED lighting

Battery

Keyboard is optional.
Up to 10.36 hours 42Wh (MM18)

What's in the box

Rapid Charge included
ThinkPad X12 Detachable
*All battery life claims are approximate and based on results using the MobileMark® 2018 battery-life benchmark test. Actual battery life will vary and depends on many factors such as product configuration and usage, software use, wireless functionality, power management settings, and screen brightness. The maximum capacity of the battery will decrease with time and use.
65W AC Adapter (Supports Rapid Charge)

Storage

4 Cell 42Whr Internal Battery
Up to 1 TB PCIe SSD
Keyboard (Select Models)

Graphics

Pen (Select Models)
Integrated Intel® Iris® Xe Graphics
Quick Start Guide
Integrated Intel® UHD Graphics

Audio

Security

Dolby® Premium
Discrete Trusted Platform Module (dTPM) 2.0
Dual-array mics
Windows Hello & IR camera for facial recognition login

Camera

Fingerprint reader on optional keyboard
5MP front-facing hybrid infrared (IR) with webcam privacy shutter
Webcam privacy cover
8MP rear-facing
Kensington lock slot

Dimensions (H x W x D)

Audio

Tablet only: 283.3mm x 203.5mm x 8.8mm / 11.15″ x 8.01″ x 0.34″
Dolby® Premium
Folio keyboard: 283.3mm x 217.8mm x 5.7mm / 11.15″ x 8.57″ x 0.22″
Dual-array mics
With keyboard: 283.3 mm x 203.5mm x 14.5mm / 11.15″ x 8.01″ x 0.57″

Weight

Tablet only: 760 g (1.67 lbs)
Folio keyboard: 340 g (0.75 lbs)
With keyboard: Starting at 1.1kg / 2.4lbs
Yes, Lenovo began re-entering the detachable market in 2020 with its Yoga Duet 7i for international markets last Spring after exiting it in 2017 with its Miix 720, but now it's expanding both its geographic footprint and audience reach with its new X12 PC.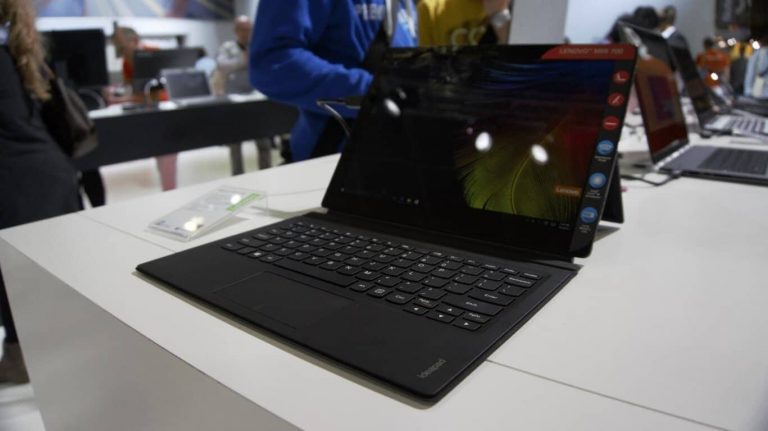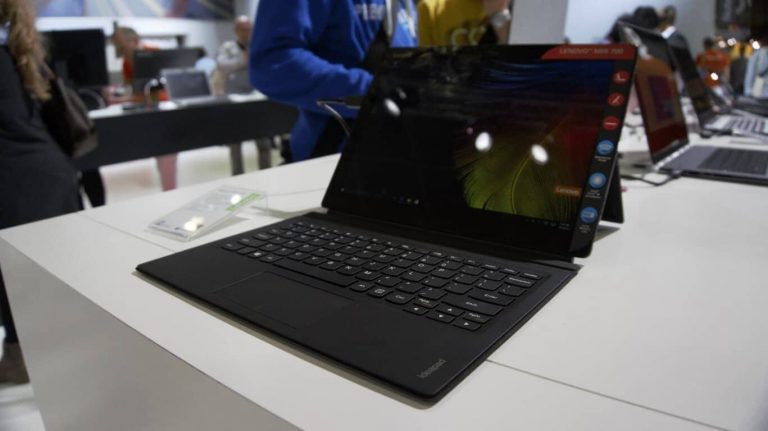 Hardware
The X12 Detachable follows similar design tenants of Lenovo's ThinkPad line that include the company's premiere 12-point military grade spec requirement, to the lightweight magnesium chassis. I'm not sure what sort of oleophobic coating Lenovo has tossed on the outside portion of the tablet PC, but unlike other matte black ThinkPad's, the X12 Detachable seems pretty resistant to collecting oily fingerprint smudges across its body. The reduced oil accumulation appears to contribute to the retained grippiness of the PC when it's used in tablet mode.
Another reason a buyer might want to make use of the tablet mode of the X12 more often than other detachables is the balanced weight profile of the device. At 1.67lbs or 760g, Lenovo's computer feels every bit as comfortable held in the hand from its initial detached state as it does an hour in. I know it feels hyperbolic to gush about the reduction of 0.03lbs or 15g from its closest competitor in the Surface Pro 7, but it surprisingly makes a difference in the hand.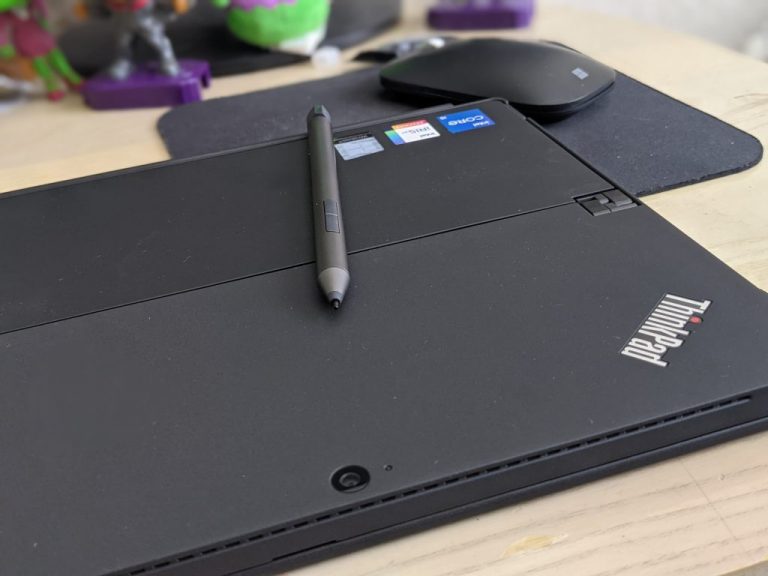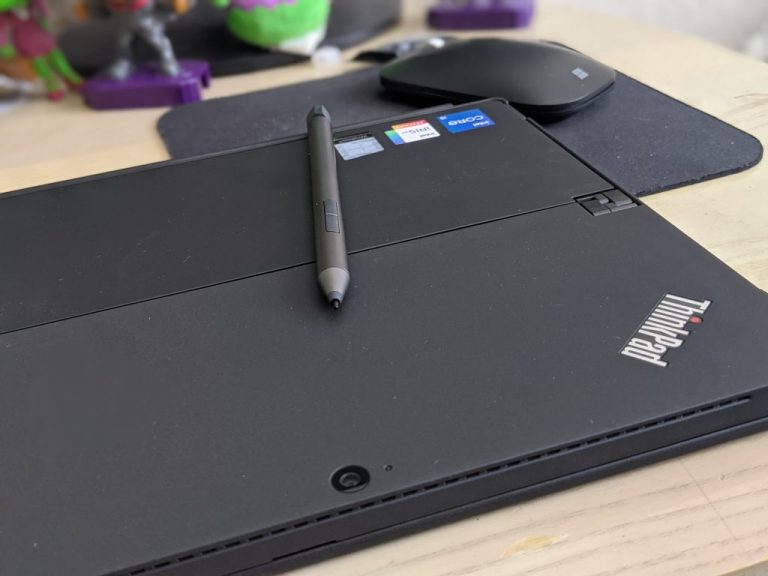 Aside from the feel in hand, the X12 does make a host of other design changes that set it distinctly apart from its Surface Pro 7/Plus cousin. Among the hardware changes are thinner bezels. While the bezels aren't as razor thin as the Surface Pro X, they are still significantly reduced compared to other Surface Pro's. The reduced bezels also enabled the overall footprint of the X12 Detachable to remain concise at 283.3mm x 203.5mm x 8.8mm or 11.15″ x 8.01″ x 0.34″. The slightly smaller 12.3″ FHD screen contributes to its comparatively smaller footprint than the Surface Pro 7 Plus at 13.5″, however, because of the reduced bezel profile the net screen real estate is roughly the same.
Another welcomed change is the application of an anti-reflective and anti-smudge screen which has been something of contention for a long time Surface Pro user. Anit-reflective and anti-smudge coating on the screen adds a certain level of polish that's lacking on the Surface Pro side as well acknowledges the device's long-term use as a viable tablet solution. With anti-reflective coating, the viewability in both indoor and outdoor usage is very nice as well as not having to be tethered to a wipe cloth because of my OCD about smudge-free screens.
While the X12 offers fewer pixels to peep than the Surface Pro 7 Plus at FDH (1920 x 1280) IPS resolution, its 400 nits of brightness, Corning Gorilla Glass, and coating technologies more than make up for it. The color gamut for the X12 closely matches that of the Surface Pro 7 Plus at 75% of DCI-P3 color gamut measurements where the Pro 7 Plus sits at 76%.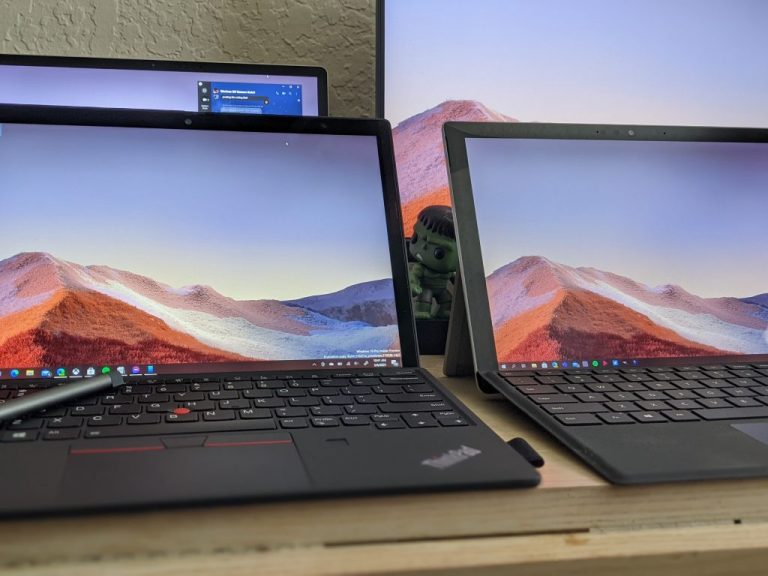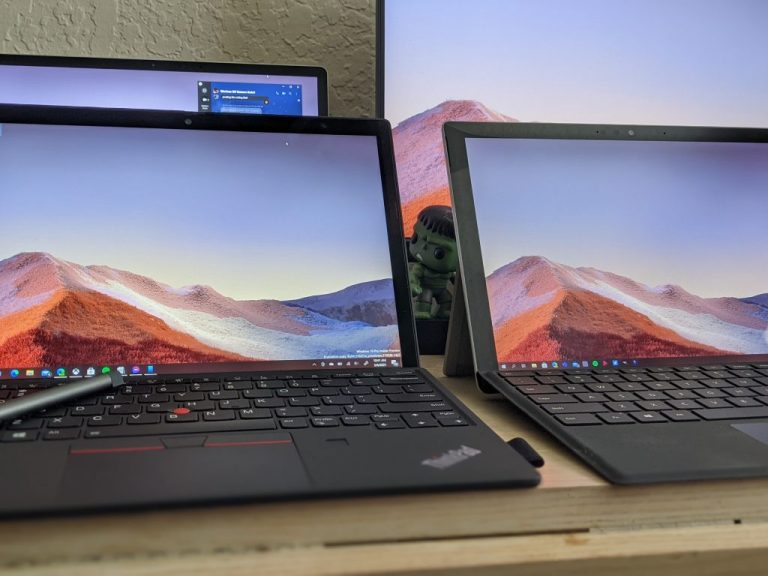 Further inspecting the hardware, the X12 comes with a similar if not identical hinge-enabled kickstand supporting up to 160-degrees of flexibility. Lenovo's hinge engineering is arguably better than Microsoft's own Surface hinge tech, so the fluid-rigidness of the X12's kickstand positioning is every bit as good if not better than the Pro 7's.
The X12 begins to differentiate itself further away from the Surface Pro 7 Plus with its port game. While the Surface Pro 7 Plus offers a single USB-C, USB-A, and earphone/mic jack, the X12 offers two USB-C ports with one supporting Thunderbolt 4, a Nano-SIM slot for 4G LTE support, and a Kensington lock slot in addition to the headphone/mic combo jack.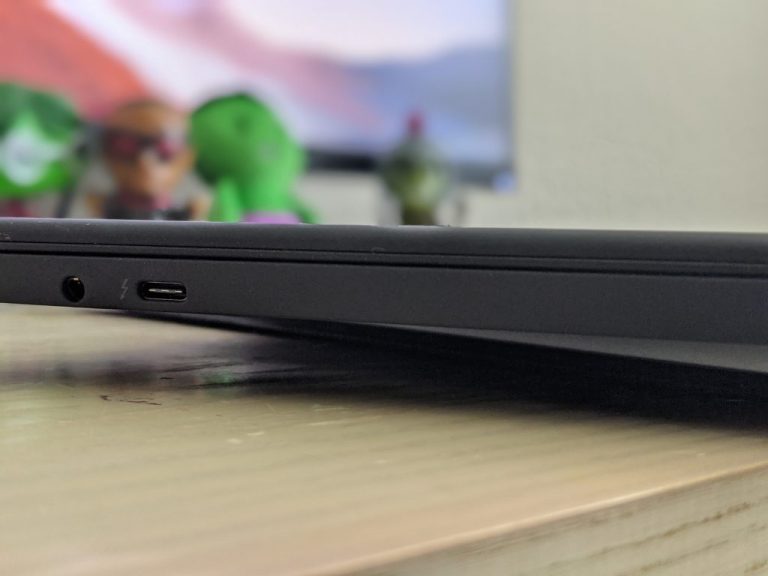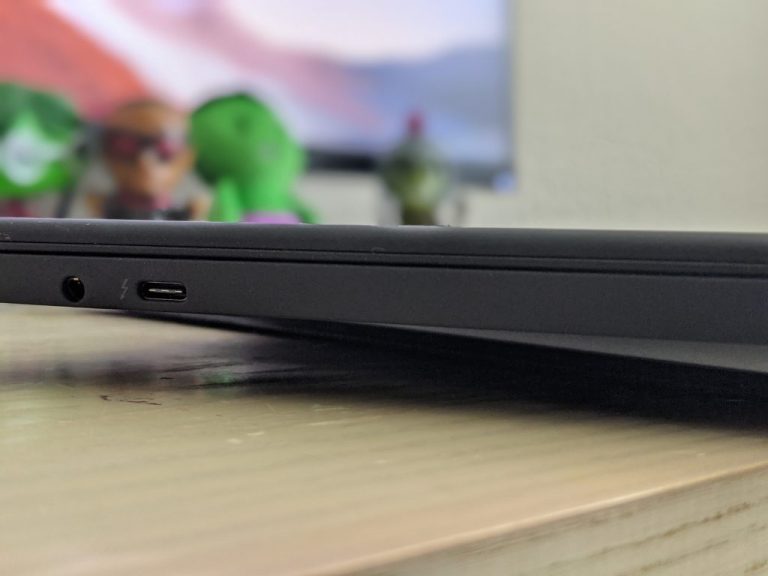 The keyboard, which is included in the box (point Lenovo), is just as good as any other Lenovo keyboard, albeit a bit cramped. As it succumbs to the limited footprint of the X12, the overall typing experience on the keyboard takes some time to get used to. The familiar U-shaped chicklet keys of the X12 keyboard are springy as expected and that's in large part because the keyboard is just thicker than Microsoft's Surface Type Cover. The X12's keyboard is by no means garishly thick but it's noticeably thicker when compared to Microsoft's Type Cover and it's not a bad thing. The added thickness adds a layer of protection to the overall X12 package when it's closed. Unlike the Surface Pro 7 Plus which feels like jewelry comparatively, a closed X12 feels rugged enough to be tossed around with nary a second thought.
If there were any negatives about the hardware, they would stem from Lenovo's inability to come up with an elegant pen solution. Ten years in and Lenovo is still trying to push pen loops as a viable answer to "where do I put this pen?" Despite engineering embedded pen housings in their Yoga solutions, the X12 still forces its included pen into its laughable pen-loop housing that's attached to the keyboard. It's a nitpick of epic proportions in the grander scheme of value and productivity but still feels inelegant compare to the magnetism engineering of the Surface Pro 7 or even the embedded housing of Lenovo's own Yoga line.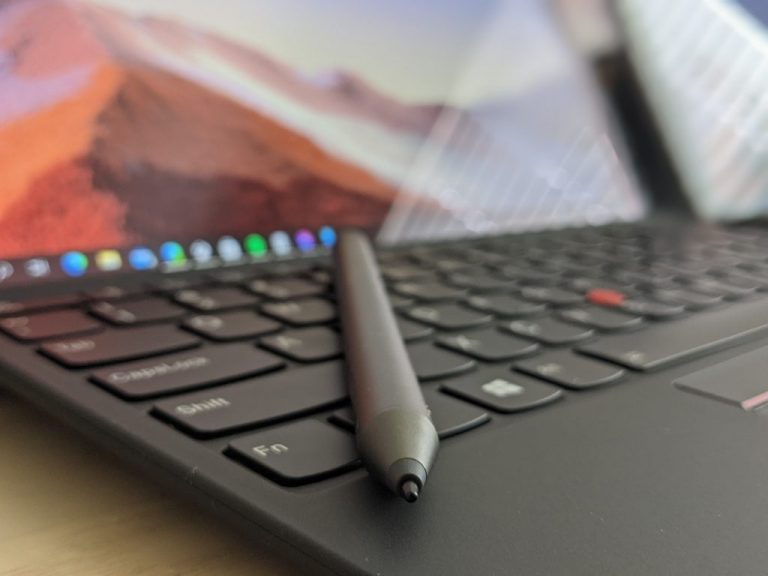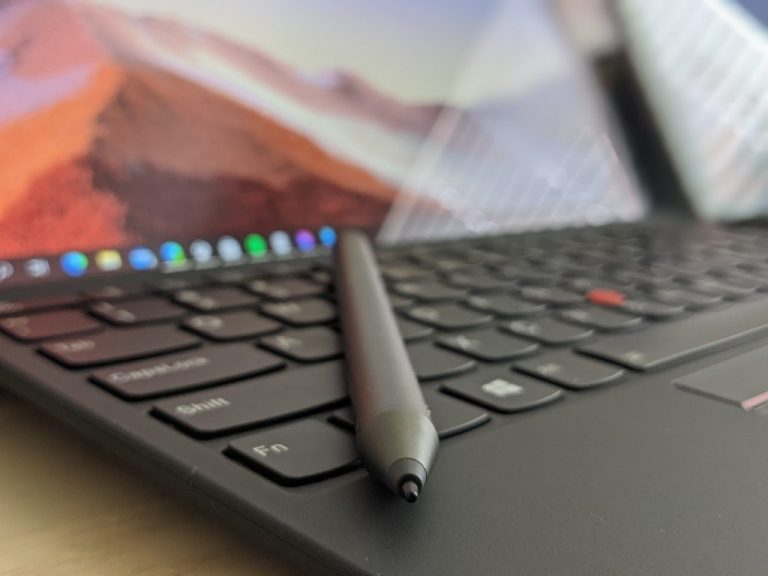 Experience
With hardware accounted for, the experience of the X12 is just as impressive as its housing. 2021 will be a showcase of the detachable with Intel or AMD's chipsets at the core of the competition among PC manufactures. Fortunately, for buyers, Intel's 11th generation Tiger Lake chips are proving to be powerhouses and AMD's Ryzen 5000s are no slouches either.
On this particular review model, Intel's 11th generation chip with support of its own integrated Iris Xe graphics handled everything I threw at it with relative ease. Intel's 2021 trick of low-power efficiency with the Tiger Lake chip line made using a Core i5-1130 G7 variant feel like using an older and speedier i7. I've begun to start adding Adobe's suite of applications to my daily workload as I add more image editing, video, and audio mixing to my weekly list of tasks, and I was able to easily accomplish all of these tasks without a hitch.
During my day job, as I've mentioned ad nauseum here, I work in Excel, PowerPoint, Google Docs, specialized .exe applications, GIMP, Outlook, Adobe Dreamweaver, and dozens of Chrome and Edge tabs, but recently I've taken on using Audacity and Adobe Audition to mix and edit a podcast, Adobe Photoshop to edit images, FL Studio to mix music and Filmora to edit videos. Using the X12 was just easy and pleasant an experience as using the Surface Pro 7 Plus. The added GPU gains I experienced with the Surface Pro 7 Plus were mainly because of Intel's Tiger Lake focus and that same focus and experience carried over to the X12.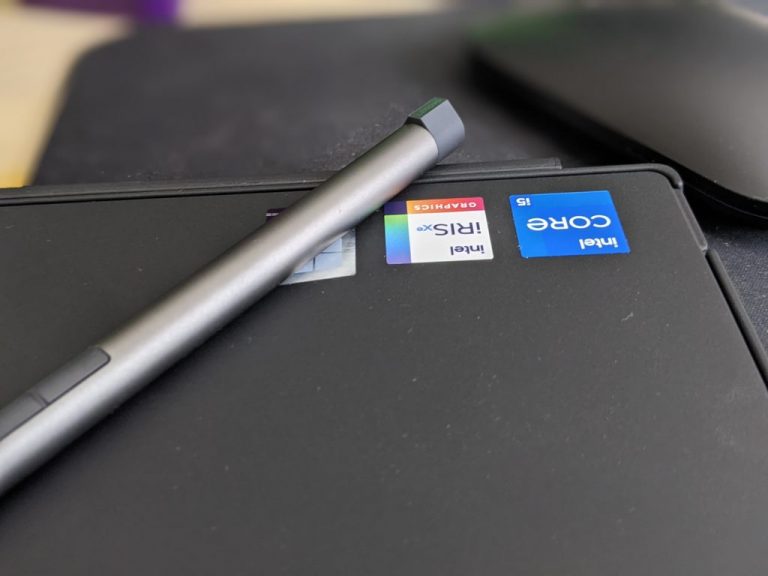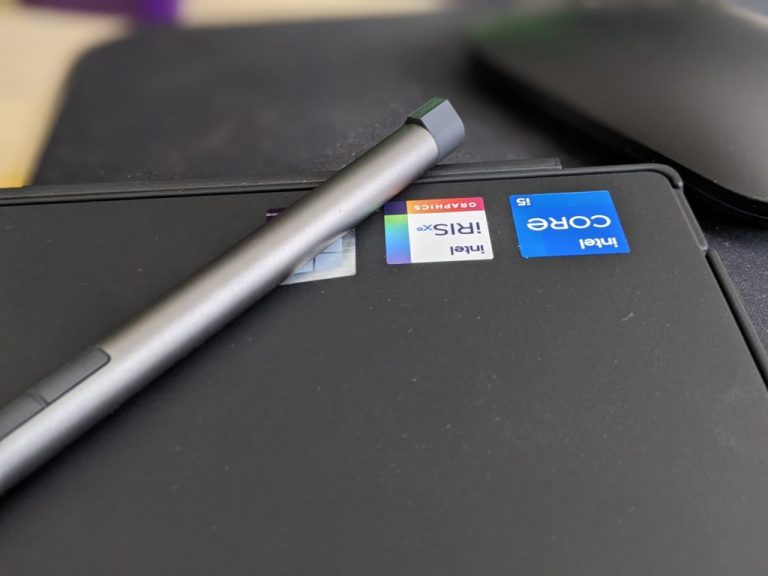 I was able to fly through windows, virtual desktops, and even VW's with only a handful of hiccups, most of which I attribute to putting the device into Insider testing. I didn't run side-by-side benchmarks for the two devices because, well, I was busy using them for work, but I did manage an export comparison. On the X12, converting a 40-minute video shot in 4K resolution to 1080p for portability took 22 minutes and was two minutes faster than the same conversion on the Pro 7 Plus. Since the Surface Pro 7 Plus and X12 use the same chips, I assume it comes down to the different SSD's the X12 and the Pro 7 Plus support. The reads and writes on the X12 "felt" faster on average when doing a few anecdotal downloads and uploads to OneDrive.
ThinkPad's are designed for work and at work-related tasks, the X12 inched out the Pro 7 Plus in several tasks but when it came to things outside of the scope of productivity such as gaming, there was definitely a cliff the device fell off of. Most games run on the X12 were glitchy and dropped frames at identical default settings between the Pro 7 Plus. Dropping games to medium, low, or bare minimum produced slightly better and playable experiences, but the X12 is not meant for native gaming right now. Thankfully, solutions such as Google Stadia and xCloud will help democratize the gaming experience on these ultra-portable detachables soon.
Thanks to the pandemic, I'm going to have to start measuring the video conferencing setup on computers more earnestly and the experience on the X12 is, simply fine. The webcam, mic, and speaker configuration are slightly better than what we experienced in 2019, but it's still recommended that buyers also invest in a separated webcam, mount, and mic for those more professional feeling video conferencing experiences. For a quick pop-up Zoom meeting to plan a more elaborate meeting (we've all had them), the X12's 5mp is fine but suffers from the same up the nose positioning and tinny sound recording as most other computers on the market now.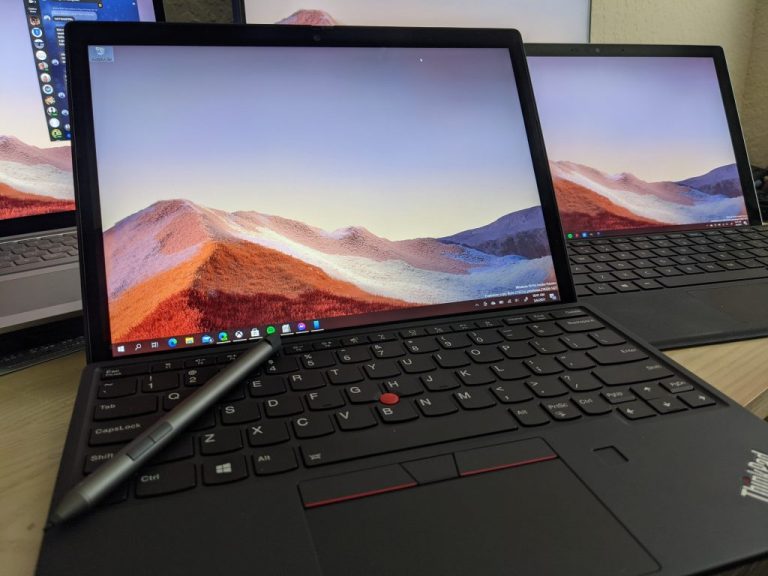 Lastly, the whole X12 experience is wrapped up in a device that pushes north of 10 hours for battery life. When running Chrome and even pushing the fans at full blast during encoding, converting, or exporting, I was able to squeeze a solid 6 hours out of the device from start to finish, which isn't bad for a 12.3-inch portable workstation. Recharging the device was also impressive, where Lenovo's Rapid Charge technology could get me back up and running at 50% in roughly 20 mins.
Summary
The X12 is every bit as good as the flagship Surface Pro 7 Plus and even manages to outclass it on a handful of occasions. Lenovo took its sweet time to re-enter the detachable market, but it reemerges with a solid hit on its hands for anyone who was looking for a Surface Pro replacement or couldn't talk their organization into switching contracts. As I mentioned, the in-hand tablet feel of the X12 was preferable to me, offering a bit more ruggedness and grippiness, so for warehouse or in-the-field workers, the military-grade engineering of the X12 may be the right balance between portability and real-world usage. Couple the fact that both the pen and keyboard come bundled in the box, the X12 is a clear winner for anyone who isn't buying their device based on brand loyalty.