Starting at $1,349.99
Lenovo rolled out its ThinkReality A3 augmented reality headsets in mid 2021 and while it's still a decidedly tethered experience, it may be one of the best implementations of AR to-date.
Microsoft, Google, Magic Leap and now Facebook, may have some lofty ambitions about the future of wireless augmented reality experiences, Lenovo's more grounded enterprise approach combines practicality with comfort in way businesses may find themselves more likely to adopt.
Here at OnMSFT we were given a pair of ThinkReality A3 Smart Glasses to test with both PC and mobile use, pairing them with Lenovo's P15 workstation laptop and the Moto G100 and the experience felt more polished and comfortable than compared to something like Microsoft's HoloLens 2.
ThinkReality A3 Smart Glasses
Processor
Resolution
Resolution
1080p per eye
Brightness
200 nits
Weight
130g / 0.3 lbs
Camera
8MP RGB
Audio
3 noise-suppressing microphones
Connectivity
USB-C Gen 1

DisplayPort 1.4

Compatible Smartphone
moto g100
What's in the box
Software Features
Voice recognition

Object recognition

Image recognition

Head / gaze tracking

Barcode reader

High-bandwidth digital content protection (HDCP) for digital rights management (DRM)

Lenovo recommended ThinkPad systems for the Lenovo VDM
ThinkPad P17 Gen 1 (20SQ, 20SN)

ThinkPad P17 Gen 2 (20YU, 20YV)

ThinkPad P53 (20QN, 20QQ)

ThinkPad P15 Gen 1 (20ST, 20SU)

ThinkPad P1 Gen 2 (20QT, 20QU)

ThinkPad P1 Gen 3 (20TH, 20TJ)

ThinkPad P1 Gen4

ThinkPad X1 Extreme Gen 4 (20Y5, 20Y6)

ThinkPad T15g Gen 1 (20UR, 20US)

ThinkPad T15g Gen 2 (20YS, 20YT)

Notes: The ThinkReality A3 glasses are not supported, or compatible with Lenovo and ThinkPad Docks.

System Requirements
Minimum system requirements:Minimum system requirements:

*CPU: Intel Core i5 or better
Memory: 8GB, dual channel
GPU:

NVIDIA Quadro T1000 or better

NVIDIA GeForce RTX 3000 or better

USB-C Ports: USB 3.1 Type-C Gen 1 with DisplayPort 1.2

Drivers: For ThinkPad systems, update to the latest ThinkPad drivers which includes the latest NVIDIA drivers. For more information, click: Popular Topics: Drivers
Look and Feel
While infinitely sleeker than a HoloLens headset and rounding the corner on Google's initial Goggles design, the A3's still look like a pair of bulky sunglasses. Fortunately, the A3's only look bulky, while the actual sits at around 130 grams. The A3's benefit from the traditional hefty of AR headsets because they're not attempting to be anything but wired work tools. Keeping a cord connection is vital for both functionality and performance for the A3s. A side benefit of the wired connection is also placing much of the computing guts into a separate device free up the A3s to simply house two 1080 displays, dual wide-angle cameras, XR1 Qualcomm processor three noise-suppressing mics, stereo speakers and dedicated GPUs.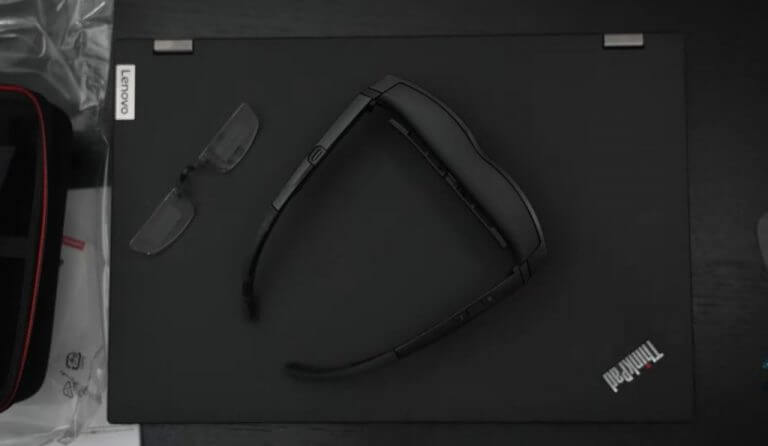 As with most traditional ThinkPad branded devices, the A3s come in matte black with red accents on various areas of the glasses and their carrying case.
The frames on the A3s are rigid enough to stay in place despite a user moving rapidly or chewing.
The dual screen color shift on the A3s lenses themselves takes some getting used to because up top are shaded lenses while the bottom is bit clearer to help foster the AR aspects of the UI.
For a time, I was hesitant to the idea of a wired headset experience, thinking the cords would get in the way of head movement, but the cord placement on the A3's is just fine. A connection port sits at the top back of the left earpiece and drapes down behind the shoulder. Now if full body movement is necessary when sitting at something like the Lenovo P15, then users will run into some issues and that may be were connecting to the Moto G100 comes into play.
Performance
The feel of the A3's is only a portion of their entire story. The more compelling offering from the A3's is the actual user experience where Lenovo has taken notes from its A6-series lineup and incorporated intuitive features into the A3 platform.
On a laptop or desktop as powerful as the P15, the A3's fly When using the A3s connected to the P15 I experienced negligible latency, very few frame rate drops or hiccups when navigating the custom Lenovo software. The colors, virtual objects and icons were as vivid as any 720p or 1080p monitor around. Unfortunately, it's been a headache trying to get a screen record on Windows 11, up from the A3s as enterprise apps have to be approved for use on the A3s and right now, not many viable screen recorders are available.
On the mobile side, the story is a bit different. Perhaps, it's the modems in the Moto G100 or my home network, drop outs from the OS were evident when using the Moto G100. Lenovo pre-installs its suit of companion apps on the Moto G100 out of the box which include the official A3 Companion app, the A3 Model Viewer and last but not least is the AR Cast app.
The UI on the A3s is similar to the XMB layout of the PlayStation with a row of single icons and a submenu that drops from the horizontal axis or opens up in a half circle is a neat and intuitive presentation, especially if the users decide to go handsfree and uses headtracking instead.
Conclusion
The obvious comparisons to Microsoft's HoloLens are there and warranted but there is a distinction between what Microsoft seems to be aiming for and what Lenovo accomplished with the A3s. The A3s built upon the work with Windows Mixed Reality and extended functionality to mobile settings. While the HoloLens does offer greater mobility in its cordless approach, the access to mobile specific apps from your phone is something HoloLens hasn't tackled yet.
The simple ability to connect to a phone (a singular one chosen by Lenovo) does offer a level of familiarity and flexibility not often found in AR or VR experiences.
Would I recommend these to most people? No.
The A3s are a tech enthusiasts dream but realistically, their wired connection to operate a quasi-desktop setup through virtual imagery still is not very practical. The same goes for using the ultra-specific Moto G100 with the A3s to walk around looking at Twitter and YouTube while getting the morning coffee still requires the use of one hand and a phone, not too dissimilar from our current use case scenarios.
I like where the A3s are headed and I think its development has surpassed that of Microsoft's HoloLens but there still some practical kinks enterprise augmented reality need to hash out before they can eventually hand the tech off to the rest of us.