| The Good | The Not So Good |
| --- | --- |
| Only 3.9 Pounds | Heavy Throttling Under Load |
| Large 16 Inch Screen | Fingerprint Magnet |
| Very Quiet | Large Charger For 135 Watts |
The Lenovo T16 series was created to address a core need of the business audience.  The first generation of the T16 Lenovo accomplished those basic needs with a thin, light boardroom-ready laptop with a 16:10 screen, an array of Thunderbolt 4 ports, and a built-in smart card reader, all packed into a thin and light design.
Specifications and Design
Being local to one of Lenovo's main offices I was introduced to the ThinkPad lineup in the late 1990s when given a tour of the local assembly line.  I was impressed with the build quality then and even more so more than twenty years later. The build quality caught my attention when I pulled the T16 from its packaging.  Lenovo uses an aluminum top and a Polyphenylene sulfide bottom.  These materials help create a design that's just 0.81 inches thick and weighs just 3.9 pounds.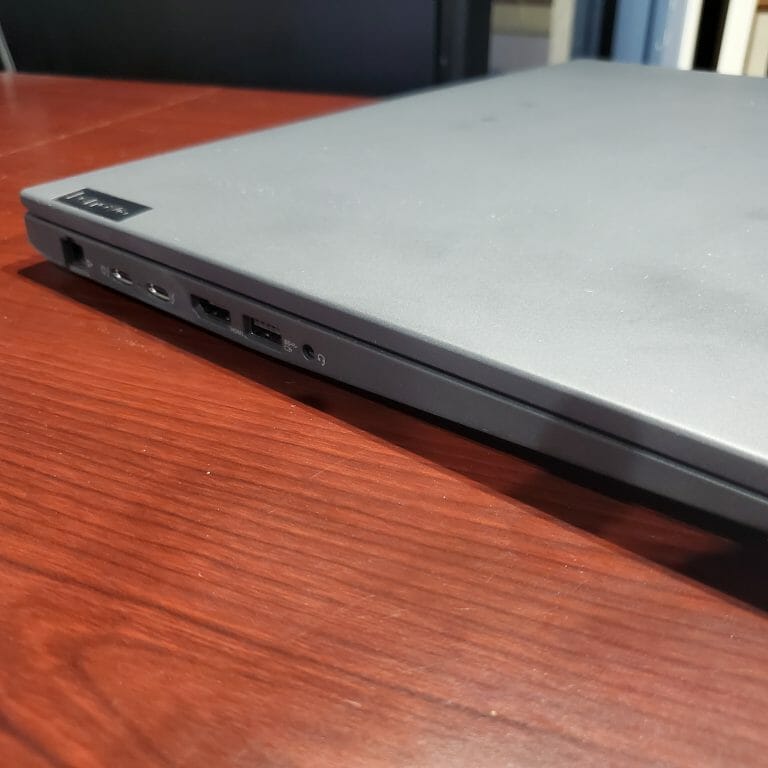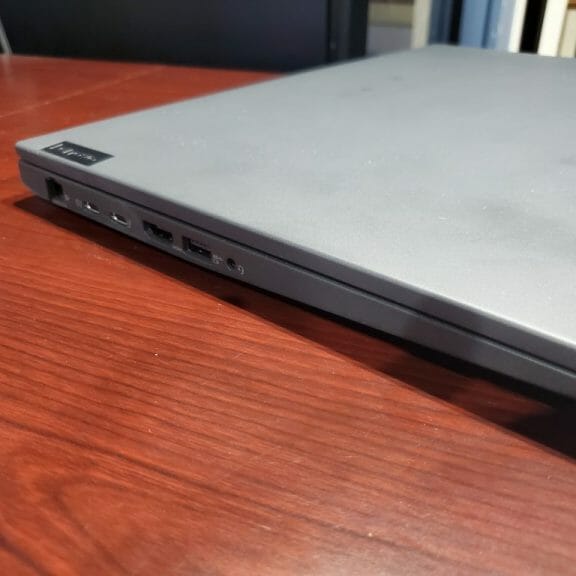 Lenovo took the build quality one step further and tested the laptop against 12 military-grade certification methods and over 20 procedures.  When reviewing the T16 I made it my daily driver, in a typical workday it traveled, it was taken in and out of different bags, used on various surfaces and after two months of heavy use no scratches or scuffs were made.  If your travel bag has room for the 16-inch screen the T16 should be a joy to take along for any workday.  Being this thin and light doesn't come without some drawbacks which we will discuss later in the review.  You can see the specifications table below for all the available configuration options.
Product
ThinkPad T16 Gen 1
OS
Up to Windows 11 Pro 64 or Linux
Processor
Up to Core i7-1280P 14(6 P-Core + 8 E-Core), P-core 1.8GHz/ E-Core 1.3GHz
Graphics
Up to NVIDIA GeForce MX550 2GB GDDR6
Memory
Up to 48GB (16GB soldered + 32GB SO-DIMM) DDR4-3200
Display

16" WUXGA 16:10 (1920×1200), Anti-glare, 45% NTSC, 300 nits
16" WUXGA 16:10 (1920×1200), Anti-glare, 45% NTSC, 300 nits, Touch
16" WUXGA 16:10 (1920×1200), Anti-glare, 100% sRGB, 400 nits, Low power, Eyesafe Certified
16" WUXGA 16:10 (1920×1200), Anti-glare, 100% sRGB, 500 nits, ThinkPad Privacy Guard, Touch
16" WQXGA 16:10 (2560×1600), Anti-glare, 100%sRGB, 400 nits, Eyesafe Certified

Storage
One drive, up to 2TB M.2 2280 SSD
WLAN
Intel Wi-Fi 6E AX211 + Bluetooth™ 5.1
Ports

(1) USB 3.2 Gen 1
(1) USB 3.2 Gen 1 (Always On)
(2) Thunderbolt 4/ USB4 40Gbps (support data transfer, Power Delivery 3.0, and DisplayPort 1.4)
(1) HDMI, up to 4K/60Hz
(1) Ethernet (RJ-45)
(1) Headphone/microphone combo jack (3.5mm)
Optional Ports:
(1) Smart Card Reader
(1) Nano-SIM card slot (WWAN support models)

Camera
Up to FHD 1080p + IR Camera with ThinkPad Webcam Privacy Shutter
Keyboard
6-row, spill-resistant, numeric keypad, backlit, optional LED backlight
Navigation
TrackPoint® pointing device and mylar surface multi-touch touchpad (67.6mm x 115mm/ 2.67 x 4.53 inches)
Audio
2 x 2W Stereo speakers, Dolby® Audio
Security
Discrete TPM 2.0, TCG certified, Optional Touch style fingerprint reader in power button (match-on-chip), BIOS Security- Power-on password, supervisor password, system management password, NVMe password, USB FIDO device integration, Firmware Resiliency 3.0
Battery
Up to 86Wh, Supports Rapid Charge (up to 80% in 1 hr) with 135W AC adapter
Mechanical
Starting at 361.9 x 255.5 x 20.5mm (14.25 x 10.06 x 0.81 inches)

Starting at 1.769kg (3.9 lbs)

Color/Materials
Storm Grey: Aluminum top, PPS bottom / Thunder Black: PC + 20%CF + 50% GF top, PPS bottom
Experience and Performance
When thinking about the user experience with the T16 we must consider the ideal customer.  The ideal buyer would be a small business or corporation that would likely be buying multiple units.  The look and feel in this scenario has less of an impact than being able to get the job done comfortably for the user. In our testing, this is where the T16 shined its brightest.  Opening the lid, immediately seeing the smile-shaped keys, with the red TrackPoint input system in the middle offers something familiar if you're a long-time Lenovo user, if not the purpose of the TrackPoint can be a bit confusing, it's not for everyone.  The ample-sized, easy-click diving board-style trackpad will likely be what most users choose for input.  One thing about the keyboard deck that was a bit disappointing is the fingerprint magnet.  So, if appearance during business interactions matters to you.  Make sure you pack your cleaning cloth.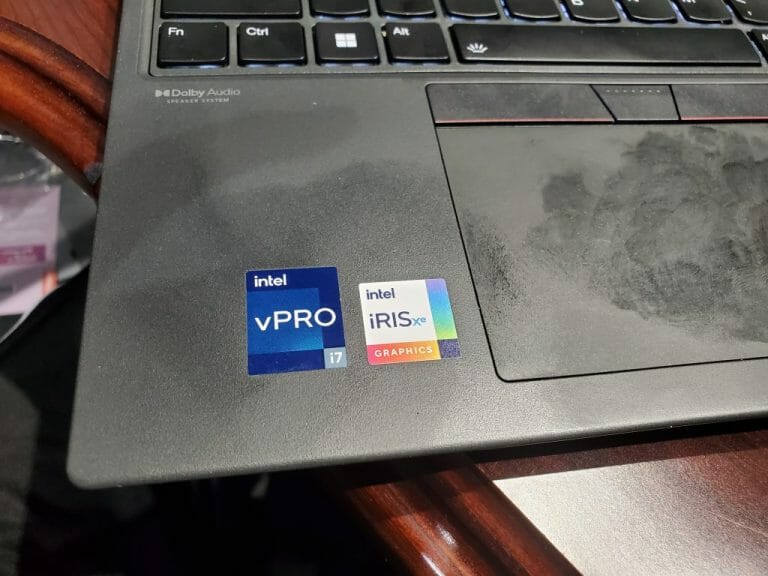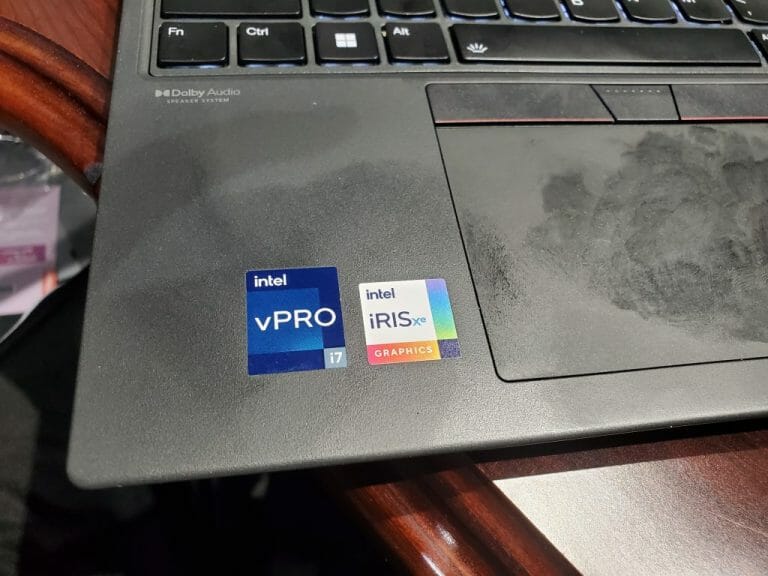 Once you've opened the lid and it's time to tap the power button and get to work, you're going to notice something right away, near silence. Lenovo really managed to tune the fan curves down on the T-16, but that doesn't come without some drawbacks we'll get to in a minute.  Our model came equipped with the Intel Core-I7 1240P CPU.  The 12th generation Intel chip is what I like to call a "short sprinter" chip, it's good for quick office tasks, compiling some code perhaps, but quickly hits its thermal limits with longer tasks under load such as simple 1080P video edits, while the fans did ramp up a bit if you are attempting some multitasking during the render process, you'd certainly see some slowdowns.
While slowdowns are typical when doing any rendering on a machine that doesn't have a dedicated GPU, I bring this up for a specific reason.  While with most machines' light multitasking, and rendering is certainly possible, you would observe screen flicker or a moment of the screen turning off and back on.  This would happen using the laptop screen or an external screen.  The T16 would return to normal operations when the intensive task was over. I attributed this to hitting the thermal limits of the machine.  While this doesn't ruin the experience of using the T16, it is something prospective buyers should keep in mind.
Wrapping it Up
This is the first generation of the T16 lineup, and as expected nothing is perfect the first time.  However, Lenovo did get a lot right in this first generation. The T16 is a lightweight business machine with a 16:10 screen and ample connectivity with multiple Thunderbolt 4 ports. The 135-watt USB-C charger is a little large for a backpack but you can get 80 percent charge in just one hour, so it's a good tradeoff when zipping between meetings or traveling.  With the proper expectations going in the first-generation T16 is a solid start opening for this lineup.  The entry-level spec of the T-16 starts just below $1200.