Over the past 48 hours, companies such as HP, Asus, Acer, LG, Samsung, and Dell have unloaded their laundry list of wares on to the Consumer Electronics Showcase floor that includes everything from portable Surface Pro-like gaming rigs to 75-inch bezel-less wall-mounted displays.
Not to be outdone by the competition, Lenovo is now set to unveil its slew of products to help improve the average and niche workspaces.
ThinkPad X1 Carbon
Starting at: $1709.00 Available: June 2019
Once again, Lenovo is rolling out its ThinkPad X1 Carbon device but with specs for the 2019 customer. This year, customers are being treated to a ThinkPad X1 Carbon (7th Gen) starting at around $1709.00 in the US. For the relatively hefty price tag, buyers have gifted a laptop with a new woven carbon fiber finish option in addition to the slate black, thinner (14.95mm) hardware footprint with Intel's latest 8th Gen processors and new RGB & IR camera with the increasingly popular ThinkShutter switch.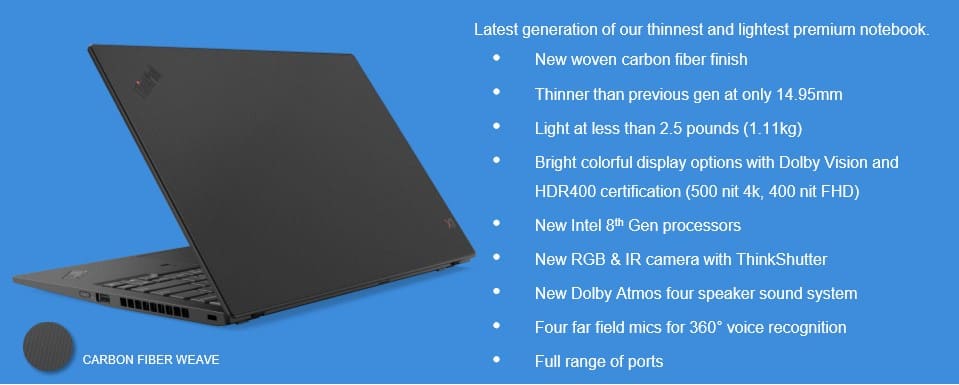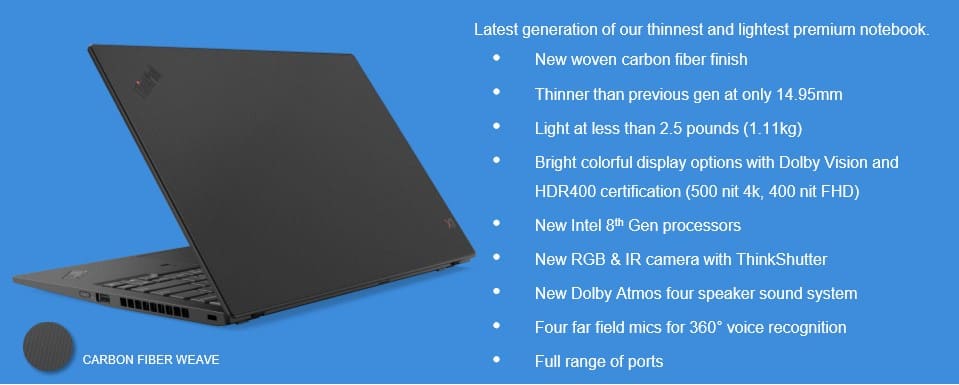 ThinkPad X1 Yoga
Price: $1929.00 Available: June 2019
A new 4th generation ThinkPad Yoga is also making a debut and bringing a device with a 17% smaller footprint than last year, new CNC aluminum chassis covered in Iron Grey, 11% slimmer bezels around the screen and up to 500 nits of brightness across a 4K panel.
The X1 Yoga also comes with industry standard 8th Gen Intel processor, Dolby Atmos support, RBG color calibration and backlit keyboard.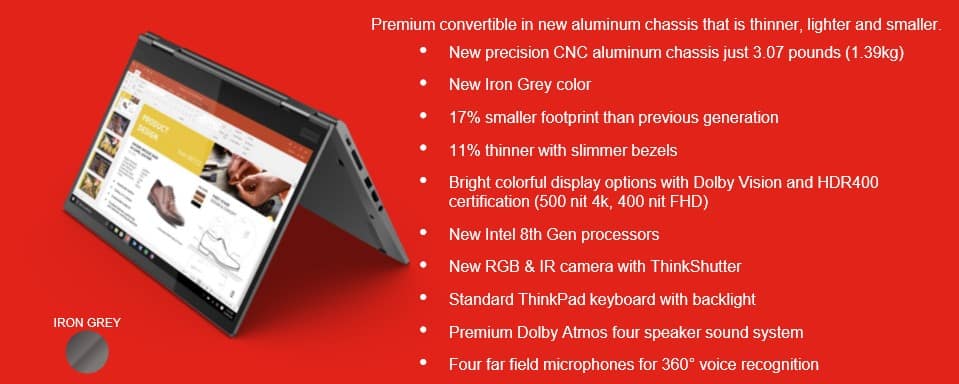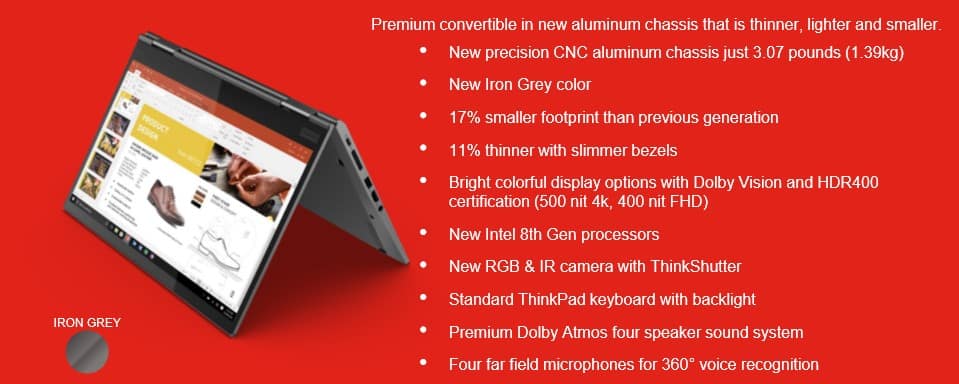 Lenovo ThinkPad X1 Yoga (6th Gen)
Starting at $1929.00 Available: June 2018
Technically introduced last June, Lenovo is reannouncing its ThinkPad X1 Yoga 6th, Gen, on the 2019 CES floor. Not much has changed from its initial unveiling that included a 14″ FHD IPS Touch panel, up to 16GB LP DDR3 RAM, up 2 TB PCIe SSD, Dolby Atmos Sound System, and Fingerprint and IR Camera biometric authentication options.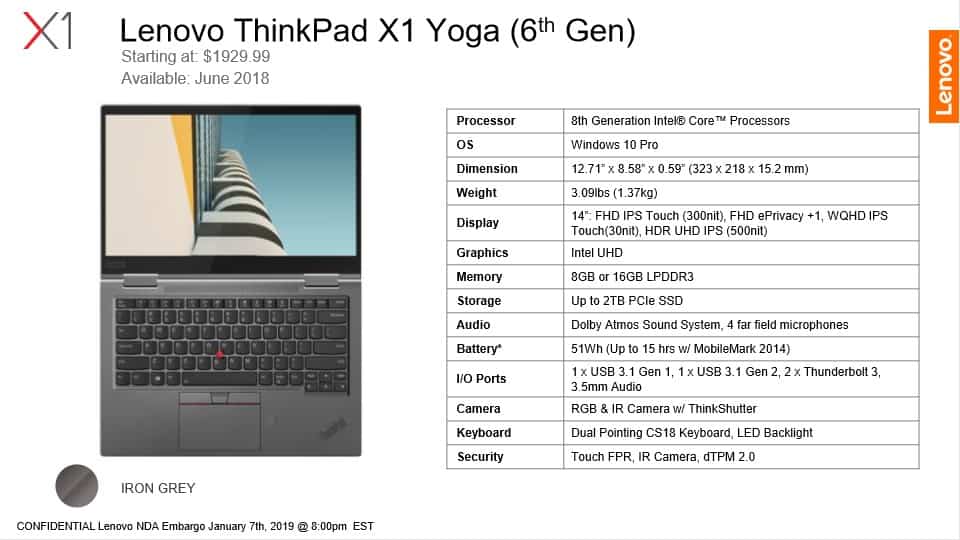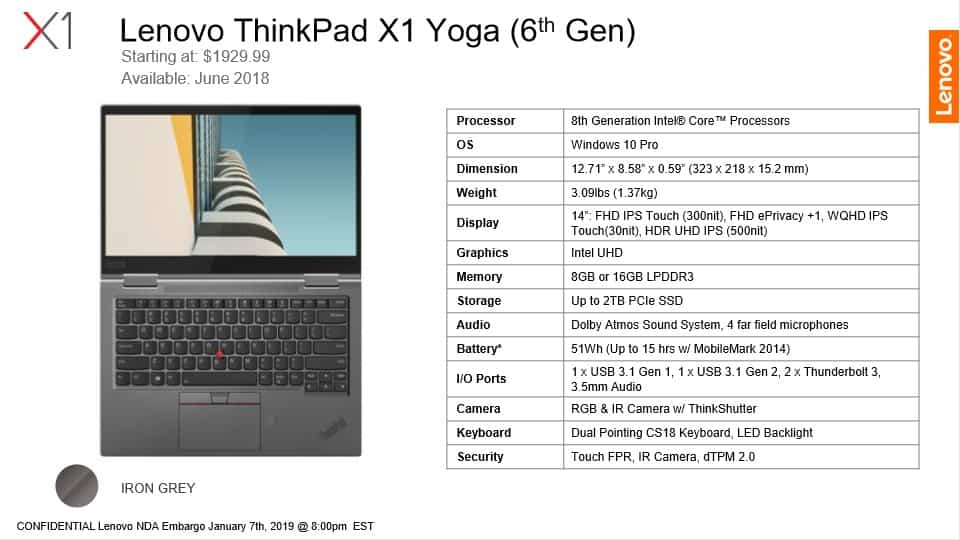 ThinkVision P44W
Price $1299.00 Available: April
Connecting to Lenovo's new breed of laptops and tower PCs is the dual screen ThinkVision P44W that offers an immersive 32:10 aspect ratio with HDR400 certification, smooth 144Hz refresh rate and 4ms response time as well as support for the latest AMD FreeSync technology.
Other P44W features include USB Type-C connectivity, dual video input management, detachable Harmon Kardon certified speakers and a hidden USB Hub called 'Push n Push.' The P44W will also offer up to 99% sRGB, BT.709, and DCI-P3 color accuracies.


Lenovo VoIP 360 Camera Speaker
Price: $249.99 Available: March 2019
Shift just a bit away from more traditional desktop offerings, Lenovo is rolling out a new portable 360-degree camera and speaker device for cleaner on-the-go video conferencing.
The new VoIP 360 Camera Speaker looks like a desktop speaker but packs noise cancellation (AEC) and noise suppression (ENS) technologies as well Plug and Play connectivity with support for USB-C. In addition to the obvious Skype support, Lenovo's little conference speaker and camera also support Jabber, Webex, Google Hangouts and QQ out of the box. Standing only 3.5 inches tall, the new speaker packs a lot of convenience into this speaker-looking accessories.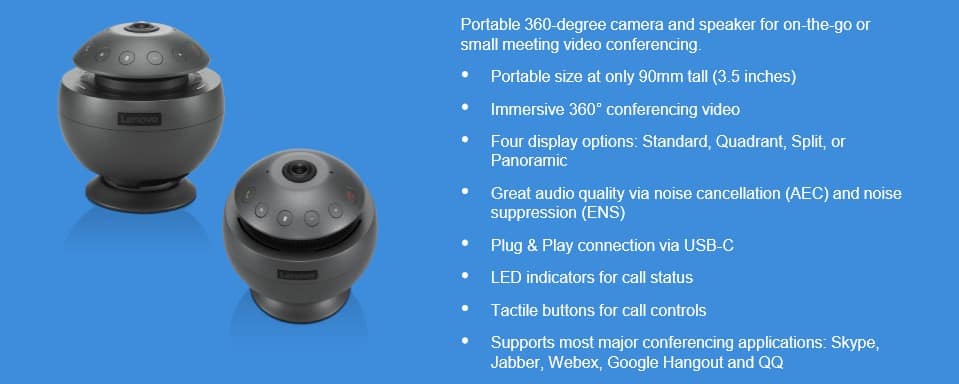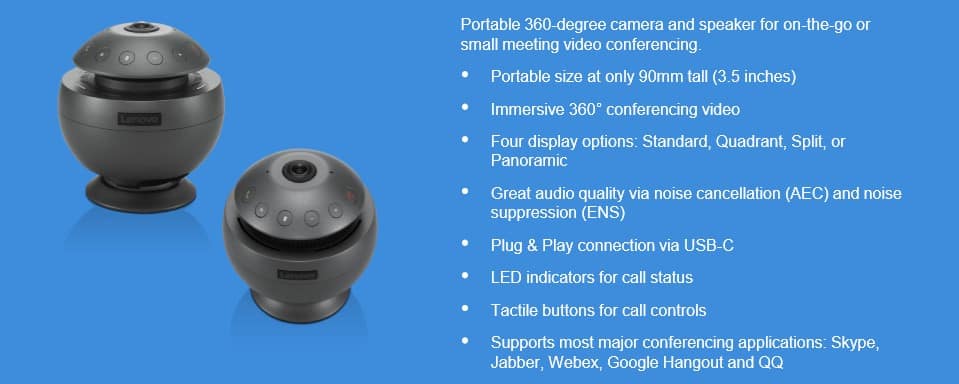 Lenovo 700 Ultra-portable Bluetooth Speaker
Price: $249.99 Available: April 2019
Lenovo is offering an actual Bluetooth speaker to accompany the faux-speaker looking VoIP camera. The Lenovo 700 comes with a rechargeable battery that Lenovo claims up 8hrs of continuous playback.
Perhaps, more important than the length of the playback is support for the new Bluetooth 5.0 technology as well as USB-C. The Lenovo 700 also houses quick charge technology and can fully charge the speaker in as little as 2 hours and comes with IPX2 splash-proof water resistance.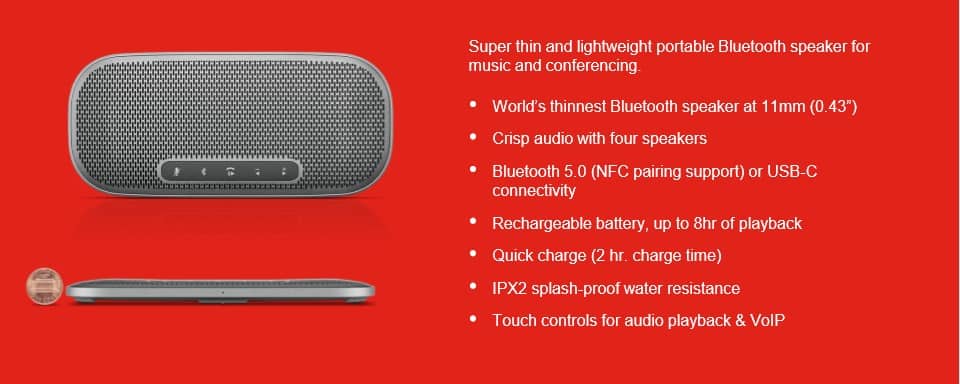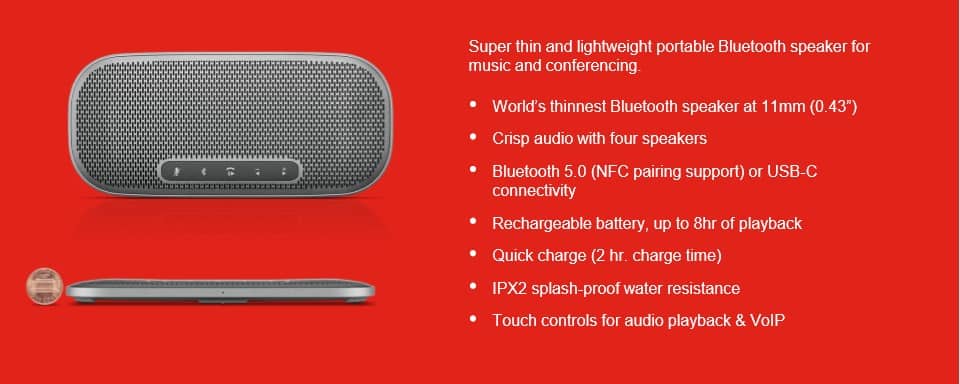 Lenovo Powered USB-C Travel Hub
Price: $79.99 Available: January 2019
As the tech industry continues to move towards a USB Type C powered future, Lenovo is aiming to help its customers with the transition by providing a new USB-C travel hub (dongle).
The new dongle comes with six port connections that include: HDMI, VGA, RJ45 Network, Two USB-A, and an additional USB-C connector. At only 1/4 of a pound and 'hideaway' wrap cable, the Travel Hub becomes the perfect travel accessory for anyone who needs the functionality of their docking station but doesn't have the room in their bag.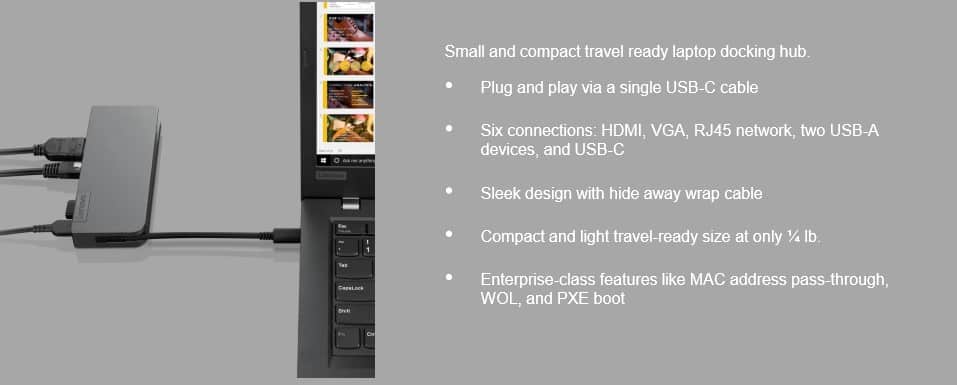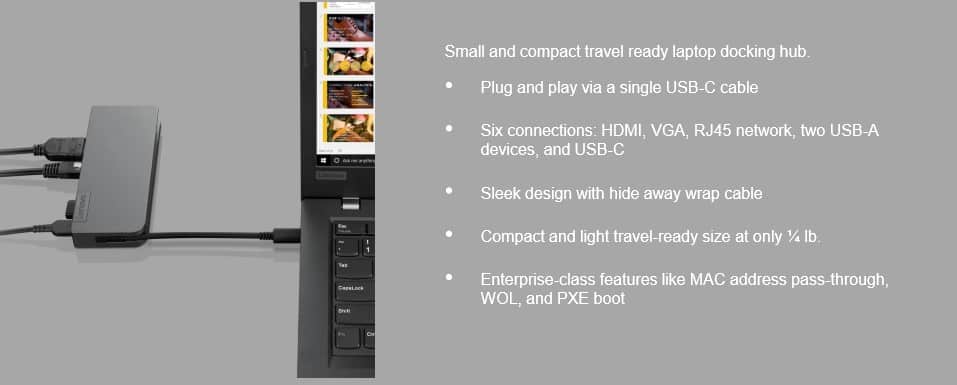 Lenovo is set to unveil even more on the CES show floor but for businesses, these new laptops and accessories are big news and should be gracing desktops, travel bags and conference rooms in the near future.