You are a small business owner or an employee of an organisation just getting started with Power Automate Desktop on Windows 10? Microsoft announced on Tuesday at it's Ignite 2021 summit that it is making it's Power Automate Desktop free for all Windows 10 users.
This article focuses on getting started with Microsoft Power Automate Desktop for your Windows 10 machine, that enables you to be a console and flow designer for those first time users. The console enables you to create and handle flows, while you are in the development environment of the platform as a flow designer. Let's learn how user friendly, low code application empowers coders and non-coders alike to optimize their workflows by automating repetitive and time consuming manual tasks in Power Automate Desktop.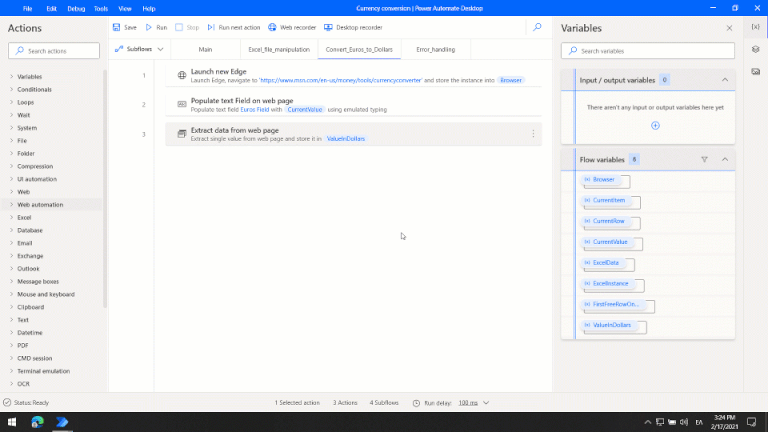 Automate everyday tasks and free up time for more important efficient work
Power Automate Desktop using low code RPA (Robotic Process Automation) with no coding required that gives users their time back for more important efficient work by automating "busy work "of repetitive manual, time consuming tasks that typically consumes the finite hours in each workday.
RPA makes it possible to automate workflows across modern and legacy applications on your desktop by recording the actions such as the mouse and keyboard clicks on the desktop environment. It works like Macros work on Microsoft Office, recording the repetitive actions on desktop across multiple apps such as SharePoint, Excel, Outlook, and many third party apps as well as websites that enables users to replay the automation whenever is needed.
In a common scenario we see the need to scale and automate large scale creations of weekly, monthly, quarterly, and annual reporting in business operations. With Power Automate Desktop, you can automate the consolidation of data across multiple sources such as database, webpages, Excel files, PDFs, and more to auto generate a report based on requirements.
Start automating everyday tasks with no coding required
It's easy to get started and around with Power Automate Desktop and build first desktop flow the series of steps that automate a specific action or task using either prebuilt drag and drop actions or recording desktop flows to run later. An intuitive drag and drop visual designer provides more than 400 actions that runs on your desktop environment, a recorder that capture the clicks and mouse actions, as well as robust authoring experience to edit and modify recordings.
Extend automation further with Power Automate
In addition to capabilities with what users get with the free Power Automate Desktop for Windows 10, Microsoft enables to extend it one step further with even more capabilities in the Power Automate per user with the Attended RPA plan. With this, enables automation across an organisation, which suits medium to large businesses that share and collaborate across flows. That even has access to even more than 400 built in connectors through cloud flows, that can identify bottlenecks in the business processes with process advisor which is in preview. That extract data from documents in AI Builder, and manage and control flows with a centralized governance concept.
In order to take advantage, with the RPA adoption, Microsoft has introduced a limited time offer. Starting on April the 1st 2021 and available till September 30th 2021, Power Automate per user plan with attended RPA will be available for $15 per user per month. Limited time offer would be only available to eligible customers in commercial large businesses, US government and governments across the globe through volume licensing (VL), cloud solution provider (CSP) and web direct channels etc.
Large and established companies like Coca-Cola Bottling Company United (Coca-Cola United) are taking advantage of additional RPA capabilities in Power Automate today to reduce the errors and streamline their order management.
Summary
The Power Automate Desktop platform consists of the two core components, the console and the flow designer. These core functions provide all the essential tools to manage and develop flows. It enables users to pass data to and from the Power Automate platform, creating unlimited automation potentialities by using the input and output variables feature.
Download Power Automate Desktop for Windows here and Learn more about using Power Automate Desktop for Windows 10 here and let us know how you use Power Automate Desktop tool for your organisation or business as first time users with desktop flow and automating tasks.