Microsoft has published its monthly roundup of all the new features and changes to Microsoft 365, including the official rebranding of Office 365 for consumers that happened on April 21. Many of this month's updates focus on helping companies and users stay connected, productive, and secure as many users transition to working remotely full-time.
Microsoft Edge improvements
Microsoft Edge received multiple updates this month including InPrivate Search with InPrivate browsing, which will not record Bing searches when a user is browsing in an InPrivate window. When using InPrivate mode, Bing also won't allow you to sign into your Microsoft account so that your searches won't be saved to Bing or the Microsoft browsing history.
Microsoft also announced several upcoming Edge features like smart copy that lets users select content and it into a document or e-mail with the same formatting, and new vertical tabs to make it easier for users to organize their existing open tabs. Microsoft Edge will also add some notable security improvements with a new Password Monitor, which will let users know when their passwords may have been compromised and appears to be similar to Firefox's Monitor service.
Excel adds natural language queries, Outlook gets calendar improvements
For Excel users, the new natural language queries are now generally available on the ribbon inside the Ideas pane. Once added, the new natural language query option lets any user search for data using natural language by simply opening the "ideas" pane in Excel and entering a question in the query box.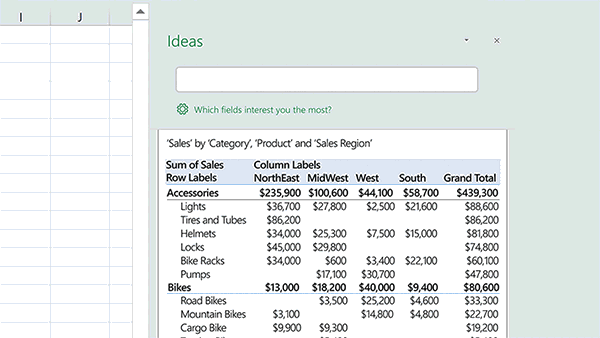 New natural language queries in Excel
Outlook will also receive a new feature in the calendar settings that lets the user end meetings early to help avoid creating upcoming scheduling conflicts. The goal of the new calendar feature is to try to give users 5, 10, or even 15 minutes back from every meeting.
Yammer for Teams and mobile app update
In terms of what's new this month, Microsoft has placed a lot of emphasis on the new Yammer Communities app now available for Microsoft Teams. In addition to their new integration with Teams, Microsoft also released a redesigned Yammer mobile app that brings a new experience for live events, comments, and improved upload times.
Visio adds new features
For Visio users, the web app received multiple improvements and capabilities. Users can now replace a specific shape in a diagram with a different one while allowing the user to retain the connectors, formatting, and everything else the original shape had. There is also a new feature to add images to diagrams across documents, as well as a pinch-to-zoom gesture to make it easier to focus on a specific part of a diagram.
Microsoft 365 Premium
Microsoft 365 Business Premium now includes a full Azure AD Premium P1 license that gives businesses greater flexibility when it comes to letting employees access work apps securely. "With this addition, customers will now get features like Cloud App Discovery, application proxy, dynamic groups, and more, which help employees maintain secure access to work apps from home," the company explained.
As more companies embrace employees working remotely, Microsoft added a new feature to the Microsoft 365 usage reports that will let let businesses see more into employee activity including calendar and app activity. There's also a new card in the usage report homepage that specifically looks at how remote work tools are being used during this time, such as whether e-mail or Teams usage has increased or decreased.
With Microsoft announcing this week that Microsoft Teams now has 75 million daily active users, Microsoft is committed to improving the applications and services for remote workers, and this month's updates add new user experiences, integrations, and security improvements to make working remotely just a little easier.