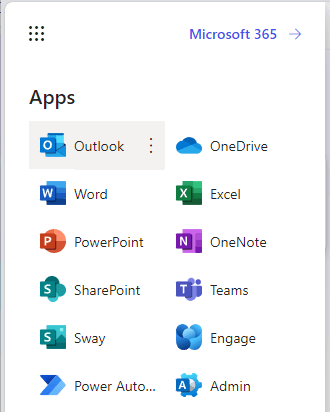 If you're a user of either the paid-for Microsoft 365 services or the free stuff you get with a Microsoft Account (like OneDrive or Outlook.com), you may have seen the App launcher grid icon in the top left of the web UI, which gives you a list of applications to use. Which apps appear in the "Waffle" menu list will depend on the level of your subscription; a solo home user might see stuff about Family Safety or Clipchamp, while a business account user would see things like SharePoint or Viva Engage.
Book 'em
One business oriented tool that has been around for a while is Bookings; it's a way of organizing meetings with groups of people at mutually convenient times, even when some of them are external (so you won't ordinarily be able to see their free/busy status). It's had a few revisions since launching around 7 years ago, and mobile apps have come and gone. Bookings uses a shared mailbox and calendar for creating and managing meetings, or maybe for booking out shared resources (like tables in a restaurant or an appointment with a hair salon).

Given Microsoft's prowess at naming things, it's worth noting that Bookings with me, a newer service launched last year to commercial Microsoft 365 users is, in fact, related but different.
Bookings with Me
Accessed via a URL somewhat inconsistently spelled /bookwithme, this new service is a way of giving access to your own personal calendar so other people – outside your organization, ideally – can reserve time with you, as defined by rules you set up to govern the kinds of meetings you want to have, and your chosen availability. You could decide to only accept meetings in the afternoons, and if a potential attendee looks at your personal booking page, they'll only be offered meeting times that are during the window you define and only if your calendar is actually free at that time.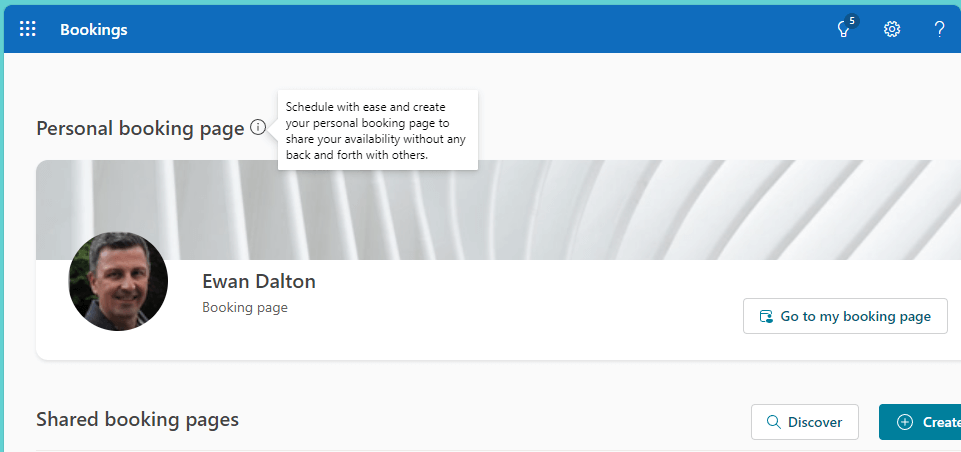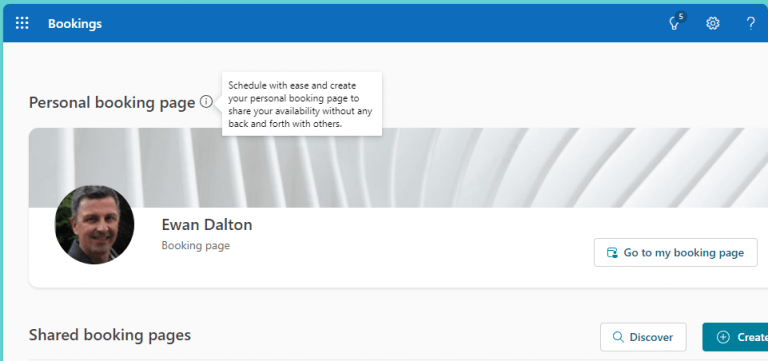 The key difference between Bookings and Bookings with me is that the former is designed to orchestrate bookings between a group of people, whereas Bookings with me is sharing just a single calendar with anyone who has the booking URL.
This kind of service was essentially defined by Calendly. Their service is cross-platform, so can manage calendars in a variety of mail services, and can also support several online meeting platforms to host virtual appointments. Calendly is free to use if you only want to offer a single type of meeting, and has a Premium subscription model if you'd like to give other options – maybe a 15 minute chat that is available to anyone who knows your Calendly URL, but via a special URL you could let specific people book a private 1hr in-person meeting. Google obviously liked what Calendly was doing, as they built a version that's was initially paid-for but is now free for Google Calendar users who only offer a single appointment type. Similarly to Calendly, you need money and Google Workspace subscriptions to unlock more advanced features.
Microsoft has had a few tries in the past to solve various booking/scheduling problems, including FindTime – a neat voting based solution to the problem of organizing lots of people to get a common time to meet. Cortana – may she rest in peace – also had a go, and of course there are tools built-into Outlook but are only really useable if you can see other attendees' availability, so don't work for external participants.
Clearly, planners in Redmond liked the idea of a Calendly-style offering so went ahead and built one into Microsoft 365, with various admin controls to enable which users get to have it or not. If it's available to you, get started quickly and you can define public offerings that will be visible to anyone with your Booking page URL, as well as add private online and/or in-person meetings that you need to share a specific URL to allow people to book.
Sharing and Customizing
There's a new type of resource available in Calendar in Outlook, to help set the time window when you're available, and the Bookings page options are also easily accessible from the Calendar view in both Outlook and Outlook Web App.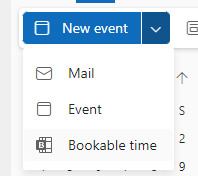 The URL to set up your own bookings is https://outlook.office.com/bookwithme/me but the shareable link to your overall booking page is long and clumsy as it has a GUID and your email ID within. You'd be better off using a URL shortener like Bit.ly or TinyURL to create something meaningful that you'd actually share with people, though Sharing via the Bookings with me service does offer to append the URL to your email signature.
You can customize the banner image on your booking page, but only by selecting one of a handful of themes. Especially if offering a booking page out to external parties, it would be good to be able to add specific branding to it, as you can do with Calendly, or even to add other text besides "Booking Page".  Maybe that's an improvement for later…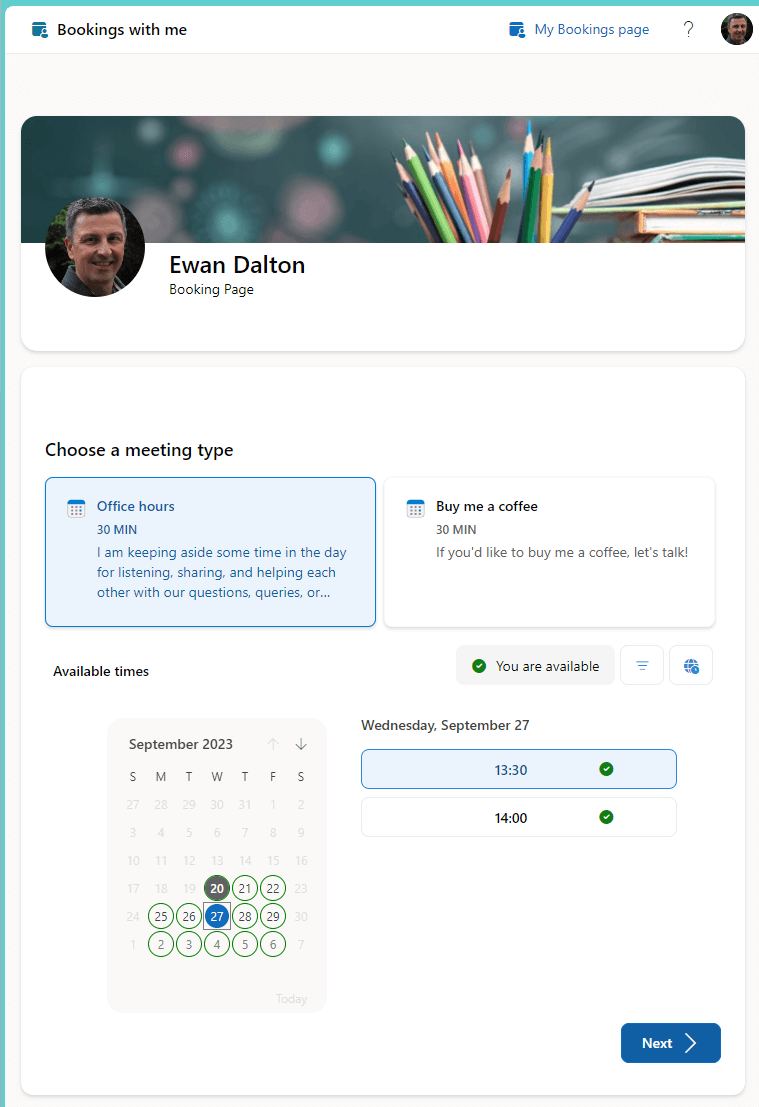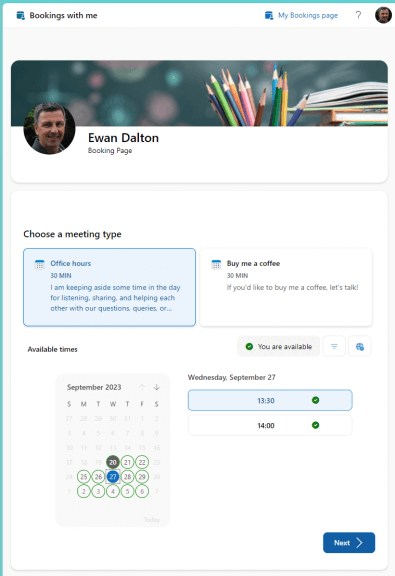 Microsoft hasn't – yet? – decided to make Bookings with me available for anyone other than a paid-for, business level M365 subscription – in other words, if you're a free Microsoft Account user or have a family M365 plan, they you're out of luck.
Back to Calendly, then…