Are you wondering how to use Microsoft Teams on a Chromebook? Well, the task is actually quite simple. There are two ways you can do so, either with the web version or with the Android app. In this guide, we'll explain how you can get started.
Web App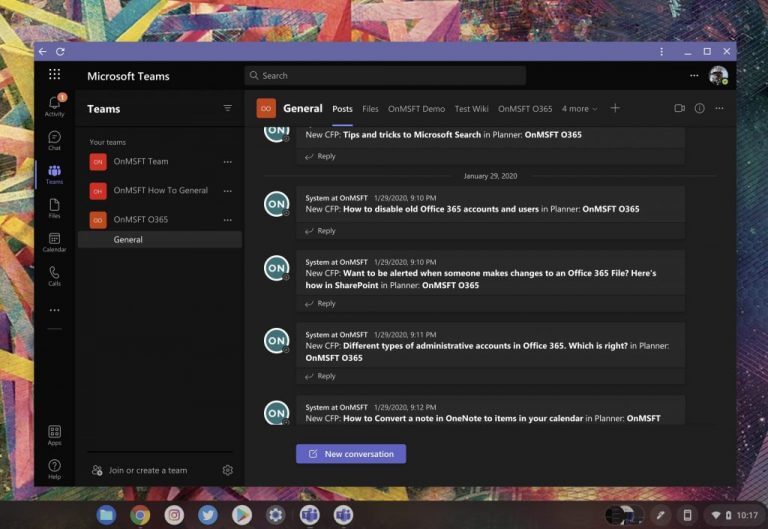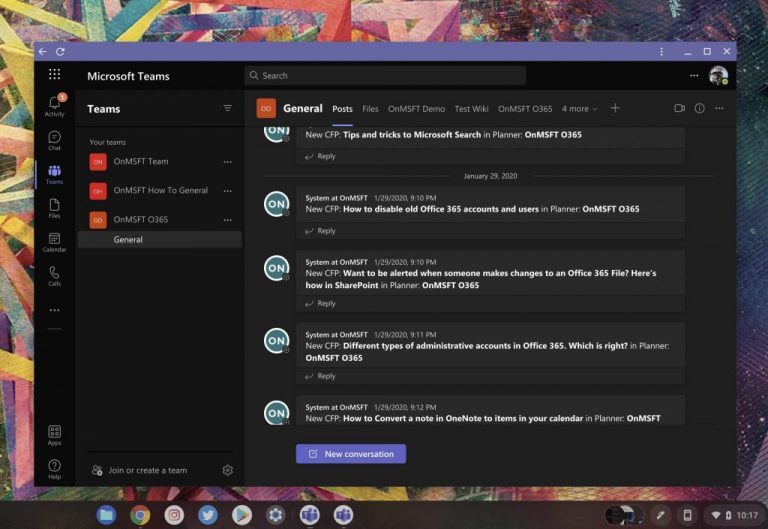 To get the best experience with Microsoft Teams on a Chromebook, we suggest using the web app. The web app functions a lot like the desktop version of Microsoft Teams on a Windows PC, Mac, or Linux system. The user interface is not much different, and you won't have to worry about dealing with a mobile version (as we get into in the next section.) Here's how you can properly set up the web version of Teams on Chrome OS.
First, visit teams.microsoft.com in your Chrome web browser and sign in with the account you want to use
Be sure to accept the prompt on the lower-right side of your screen asking about notifications. Click the Turn on button
While still in Teams in your web browser, visit Chrome's settings menu by clicking the three dots at the top-right of your screen
Choose More Tools
Choose Create Shortcut
In the prompt that pops up, name your Shortcut. Make sure the Open as Window button is checked, then, click the Create button
The Teams web app will display as a shortcut in your Chrome OS launcher. When you search for Teams it should now show up
After following these steps above, you can pin Teams to the Chrome OS shelf. To do this, find the app in your Chrome OS launcher, or search for it. Then, right-click and choose Pin to Shelf. You'll now have quick access to Teams.
Android App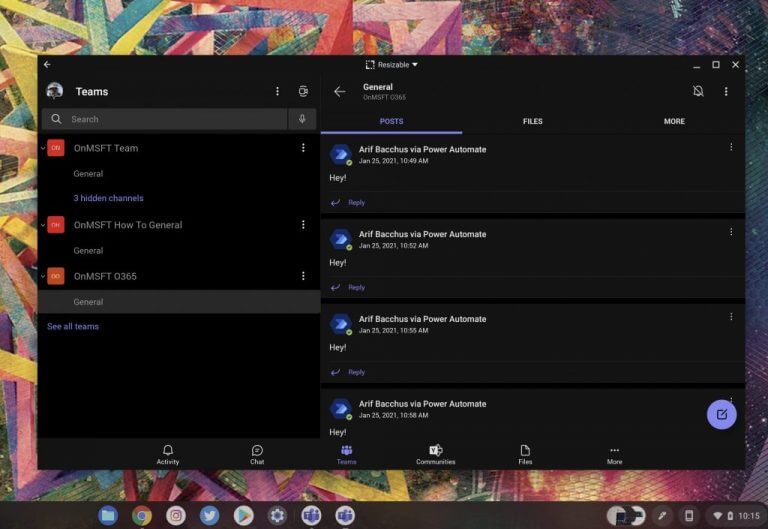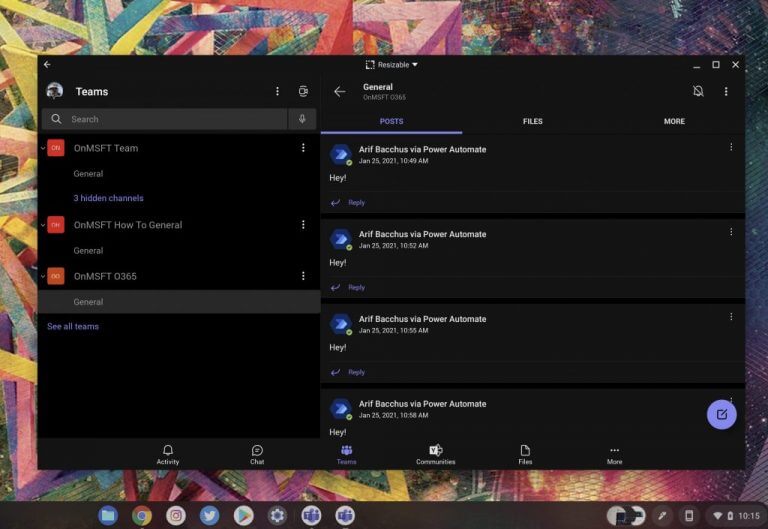 If you have a newer Chromebook that supports the Google Play Store, then you can also try using the Android version of Microsoft Teams. Keep in mind, this is a mobile-optimized app, so the user interface might take a while to get used to, especially if you're more familiar with the desktop version of Teams. Chrome OS, though, will let you resize the app as you see fit, so you can make it bigger, or smaller. If you accept this fate, then here's how to set up the Android version of Teams on a Chromebook.
Visit the Google Play Store on your Chromebook. Usually, it'll be pinned on the Shelf, or you can search for it
In the Google Play search box, search for Microsoft Teams
Click the Install button and wait for it to install
Once installed, sign in with your account
Again, this version of Teams is optimized for phones and tablets, and not Chromebook systems. However, if you want, you can change the size of the Teams window by dragging it along the side, just as you would a regular app. This makes it look bigger, or smaller, and gives you more room to see your messages. You also can snap the app to one side of the screen and keep it in a more compact view, while you're working, if you please. And, if your device has both a front and rear webcam, you can swap between the two during your call.
Don't use the Linux version
If you're a more advanced Chromebook user, you might have remembered that Teams recently launched on Linux. Unfortunately, though, unlike Microsoft Edge, the Linux version of the app doesn't seem to work on Chromebooks at the moment. We suggest sticking to the Android or Web version of Teams, but do keep in mind if you have both installed, you might end up getting double notifications from both apps. So, choose one or the other.