Microsoft 365 Copilot is a sophisticated processing and orchestration engine that empowers users with AI-powered productivity capabilities. This seamless integration incorporates various components to deliver a comprehensive and efficient user experience. Let's dive deeper into how Microsoft 365 Copilot works and the key components driving its powerful functionality. Here are the three key components to Microsoft 365 Copilot:
Large Language Models (LLMs)
Your Content in Microsoft Graph
Microsoft 365 Apps
Here, we'll explore how these three components work together to provide a powerful and secure user experience. Officially, Microsoft 365 Copilot is designed for the Early Access Program, an invite-only paid preview program for commercial customers, but will be generally available to all Microsoft 365 subscribers soon. Keep in mind that these details are subject to change and likely will as Microsoft learns how to implement how Microsoft 365 Copilot works.
How Microsoft 365 Copilot works
Microsoft 365 Copilot offers intelligent features, functionality, and prompt capabilities to users within Microsoft 365 apps and other surfaces. Underlying this functionality, we find foundation models and proprietary Microsoft technologies that facilitate secure access, usage, and management of your business data.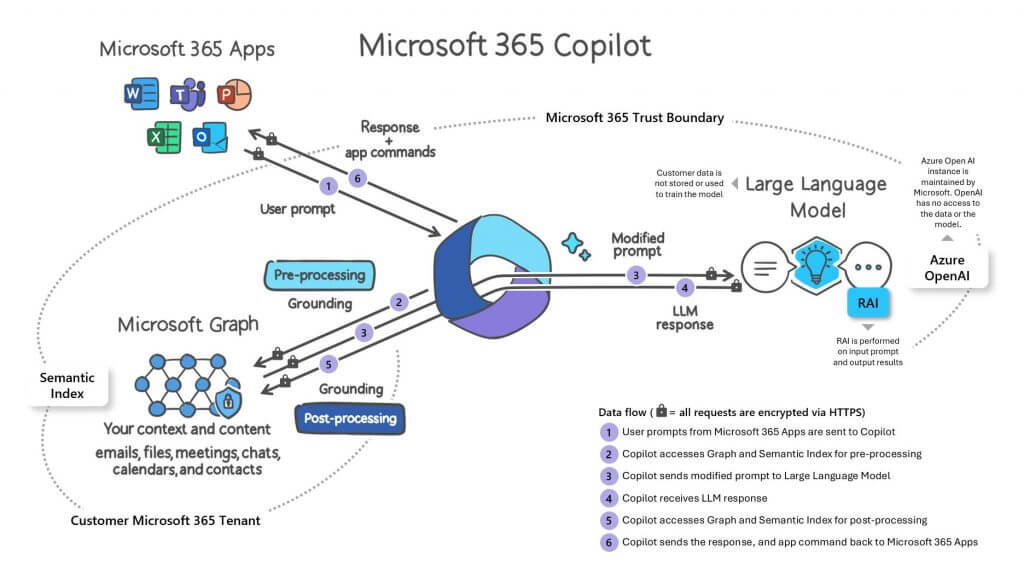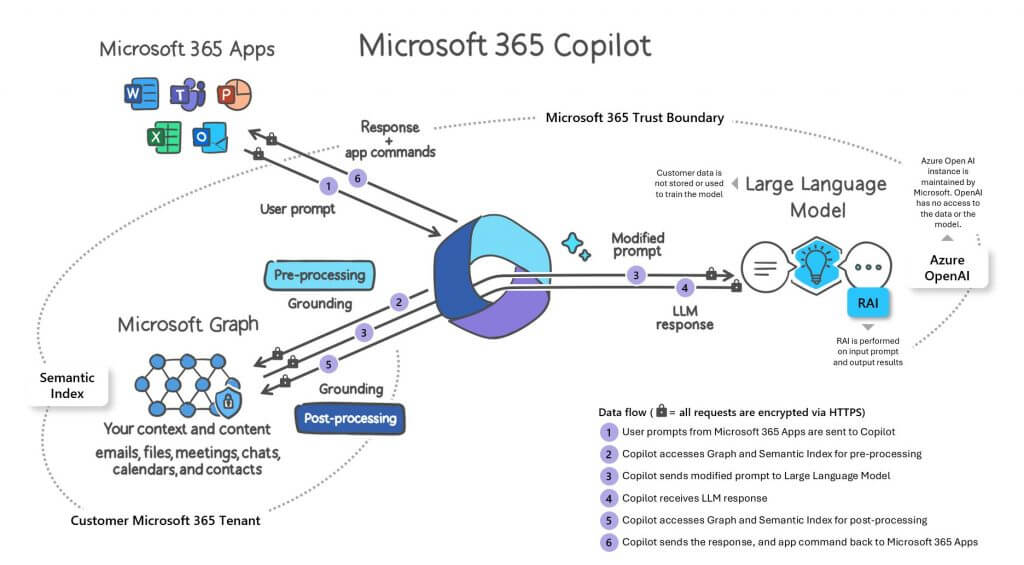 The Microsoft 365 apps, such as Word, Excel, PowerPoint, Outlook, Teams, and Loop, collaborate seamlessly with Copilot to assist users in their specific tasks. For instance, in Word, Copilot aids users in creating, comprehending, and editing documents, while in other apps, it supports users within their unique contexts. Watch the video below for an overview of how Microsoft 365 Copilot works.
Chat functionality enables users to leverage cross-app intelligence, allowing for efficient work with multiple apps. These cross-app prompts access core training data from LLM, as well as the user's business data and apps, to provide valuable information and insights. Copilot's reach extends to various experiences, including Teams (chat), Bing, Microsoft Edge, and the Microsoft 365 app.
Leveraging Business Proprietary Data with Copilot
Copilot connects LLMs to customer business data, ensuring privacy and security at all stages. It accesses content and context through Microsoft Graph, generating responses anchored in the customer's business content. This includes documents, emails, calendar events, chats, meetings, contacts, and other business data. By combining this content with the user's working context, such as ongoing meetings or recent chat conversations, Copilot delivers accurate, relevant, and contextual responses.
Important: Customer data, including prompts, responses, and data accessed through Microsoft Graph, is not used to train the foundation LLMs that Copilot employs. Additionally, Copilot only uses organizational data accessible to individual users based on their permissions. Check out the major services and features in Microsoft Graph.
Protecting Sensitive Information: Copilot's Security Approach
Microsoft 365 Copilot is committed to maintaining strict data security and privacy. The permissions model within your Microsoft 365 tenant ensures that data remains secure and does not inadvertently leak between users, groups, and tenants. The Semantic Index honors user identity-based access boundaries, guaranteeing that the grounding process only accesses content authorized for the current user.
Additionally, Microsoft implements multiple layers of protection to safeguard customer content, including rigorous physical security, background screening, and encryption strategies. Azure Active Directory authorization and role-based access control ensure logical isolation of customer content within each tenant.
Copilot's commitment to data residency and sovereignty
Microsoft 365 Copilot ensures that LLM calls are routed to the closest data centers in the region to minimize latency. For European Union (EU) users, traffic stays within the EU Data Boundary to comply with regulations. Microsoft remains committed to fulfilling regulatory requirements as they evolve, with Copilot adhering to existing privacy and compliance obligations.
Additional Insights into Microsoft 365 Copilot
Microsoft 365 Copilot uses Azure OpenAI services for processing and GPT models, including GPT 4, to provide large language model capabilities. The privacy controls for connected experiences available with Microsoft 365 Apps do not apply to Microsoft 365 Copilot.
To access and use Copilot in Microsoft 365, certain prerequisites need to be met, including a Microsoft E3/E5 subscription plan and Azure Active Directory-based accounts. Preparing your organization with the right information for access controls and policies in place will optimize your experience with Copilot in Microsoft 365.
Microsoft 365 Copilot: Advancing AI-Powered Productivity
Microsoft 365 Copilot represents a groundbreaking advancement in AI-powered productivity, elevating businesses with robust data protection and security, all while upholding transparency and responsibility. Leveraging its powerful capabilities and strict adherence to compliance standards, Microsoft 365 Copilot is poised to revolutionize how organizations harness AI technologies, leading to unparalleled success and efficiency in their operations. Experience a new era of productivity with Microsoft 365 Copilot and witness firsthand how Microsoft 365 works seamlessly to transform your business landscape.