Although not all laptops support it, using the precision touchpad can make navigation in your computer more straightforward and quicker. This article looks at how you can customize your precision touchpads on Windows. So, let's get started.
Make sure customize precision is supported on your PC
Most modern computers run Windows support customized precision touchpad by default. Microsoft introduced the upgraded utility of Precision Touch pad back in 2013 with Intel, and since then it has become a standard utility for almost all laptops.
When you're looking to tweak your settings for precision touchpads, you first want to make sure your customized precision settings are enabled in the first place. So, here's how you can do that:
Head to the Start menu search bar, type in 'settings,' and select the best match. Alternatively, press the Windows key + I shortcut.
Select Devices.
Click on Touchpad.

Under Touchpad, you should see the following "Your PC has a precision touchpad" setting on your PC.
How to customize precision touchpads on Windows
Now, moving on to the customization part, you'll see many options to make your settings more useful. Here's how you can get started with them:
Launch the Windows settings.
Click on Device > Touchpad.
Under the Taps section, click on the Touchpad sensitivity drop-down menu to alter the sensitivity level of your touchpad. You'll have the following options to pick from:

Most sensitive
High sensitive
Medium sensitivity
Low sensitivity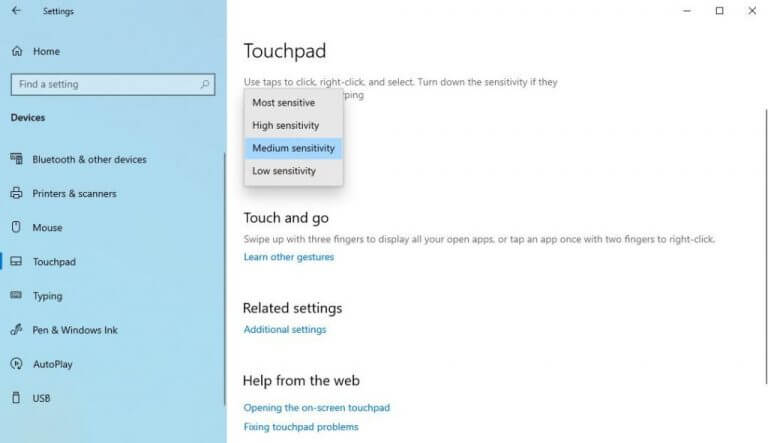 Apart from tweaking the touchpad sensitivity, you can also change specific tap gestures, such as:
Tap with a single finger to single-click.
Tap with two fingers to right-click.
Tap twice and drag to multi-select.
Press the lower right corner of the touchpad to right-click.
Moreover, you can tweak your settings by using the gesture of scroll content, scrolling direction, etc. Here's how:
Open the Settings.
Select Devices > Touchpad.
From the "Scroll and zoom" section, select the checkbox to use drag two finders to scroll gestures.
Click on the Scrolling direction drop-down menu to pick either of the two options:
Down motion scrolls up.
Down motion scrolls down.
Tweaking three or four-finger gestures with Precision Touchpad
If you're using multiple apps or virtual desktops simultaneously, then using the three-finger gestures settings can be helpful when trying to control the audio and volume settings. Here's how you can get started:
Head to the Start menu search bar, type in 'settings,' and select the best match.
Click on Devices > Touchpad.
From there, click on the "three-finger" section, and you'll have the following options available:

Switch apps and show desktop
Change audio and volume
Change audio and volume
Custom

Now click on the drop-down menu below Taps to customize the three-finger tapping action. You'll get the following options:

Nothing
Share with Cortana
Action Center
Play/pause
Middle mouse button
Customizing precision touchpads on Windows computers
Microsoft has made great strides in improving the Windows experience over the years. Adding a plethora of customization capabilities available with the touchpad has been one of many aspects of Microsoft's improvement for Windows. For instance, you even go ahead and alter the entire UI of your Windows by changing everything from the system icons, boot logo, system language, and so on.