So you want to back up all your emails Outlook emails? We'd understand. In the age of rising security threats and accidental data losses, taking precautions beforehand can never harm anyone.
In fact, as per the research by Verizon in 2020, 17% of all data breaches and losses were caused by human errors. It, therefore, makes perfect sense to keep all your files backed up regularly.
How to backup all your emails on Outlook
By backing up your data, you protect it against accidental data loss, corruption, random deletion, and all other forms of loss. You can do something similar for Outlook emails by performing regular backups.
Let's learn how:
Launch the Outlook app and select File > Open & Export > Import/Export.
Click on Export to a file and select Next.
Then select Outlook Data File (.pst) and click on Next.
Pick a folder in which you'd like to keep your backup and select Next.
Select the location of your file or folder and click on Finish.
A new backup of all your Outlook emails will be created in a few seconds. After the backup is complete, you can also set up a password for the .pst email files; this will protect your data against unauthorized access.
Back up your emails on Outlook Web
The method above is only one of the many ways to back up your files on Outlook; it only backs up Outlook desktop emails. To back up your emails on Outlook Web, however, you'll have to rely on an email client.
There are a host of email clients available online. For this example, we'll use Thunderbird—the open-source, cross-platform email client available for free.
Download and launch the Thunderbird email client, and log in with your Outlook account. Enter the email address and password; select the IMAP configuration, and click Done. Thunderbird will then verify your login information and set up your configuration—ideally, this shouldn't take more than a few seconds. Finally, click on Finish.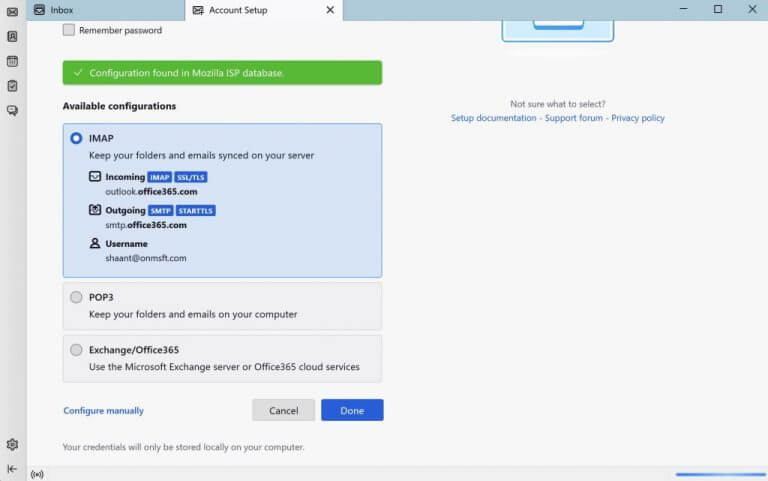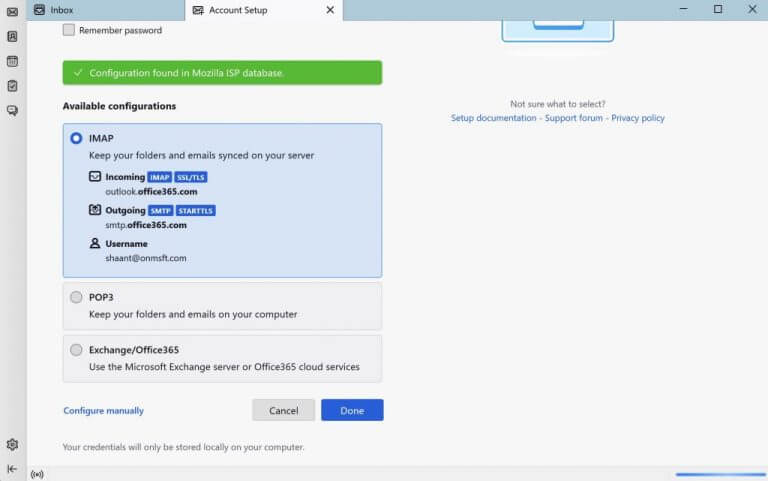 Your Outlook account will be successfully mapped on the Thunderbird app as soon as you do this. You can then download all the emails from here on. If you want to save all emails in your inbox, head to the Inbox tab.
Then select all the emails by clicking on Ctrl + A, and click on Save As…
Now choose the location you'd like to save your emails at, and click on Select Folder. All the emails from your inbox will then get saved in EML format in the selected location.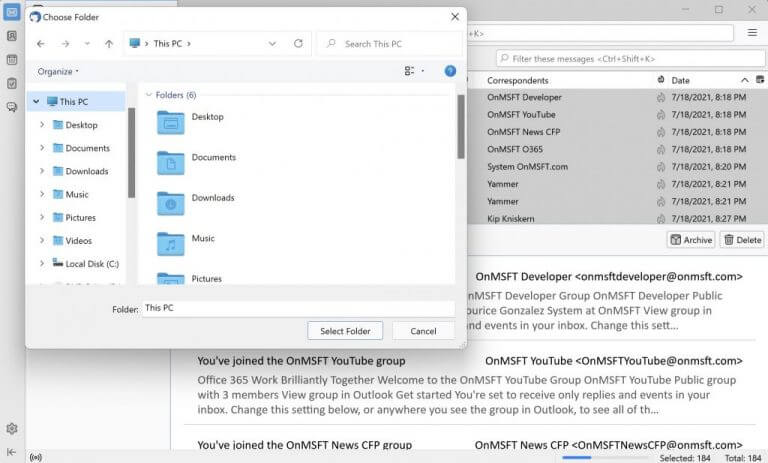 Backing up your emails on Outlook
As our lives and work become more and more entwined with tech, it's an undisputed fact that users will have to keep up with different privacy and troubleshooting practices; regularly backing up your data—be it from the hard drive, cloud, or your emails—is one such healthy practice.
In the case of Outlook, creating an email backup doesn't have to be a headache. And we hope this was exactly your experience when you saved your emails from the methods laid out above.