The single 11-megapixel camera on the Surface Duo doesn't exactly produce some of the best quality images in all situations, but if you're sporting a Duo and hope to get better image quality, there's a quick fix for it. All it takes is to use the in-built Google Photos app, then edit your photos with the "Auto" function. This will change your boring looking photos to the shaper, colorful, and crisper images they deserve to look like. Here's a few sample images, and a look at how to fix your images on your own.
Sample 1: Garage
This low-light image was taken inside my garage, with the sun facing away from me, so that the garage is dimly lit. You can see that because of this situation, the overall color in the photo isn't great. The wood in the roof appears a bit washed out, as do the colors in the power cord and the shop vacuum. Changing that in Google Photos with the "Auto" edit option, though, switches things up a bit. The wood ends up looking a bit more natural, as do the boxes and tools sitting on the shelf.
Sample 2: Flowers
Now, for another image taken in bright sunlight. Here, you can see that the pink flowers aren't exactly vibrant. The greens in the leaves also look a bit washed out, as does the dirt. Switching over to Google Photos and editing it with "Auto" meanwhile, makes the photo seem a bit more natural. You can see the bricks in the background change to their true to real-life color as will the and the brown in the dirt.
Sample 3: Indoors, inside a house
Finally, there's another indoor situation. Here you can see some construction going on inside my home. In the Duo's original photo, everything looks washed out and dark. When going to Google Photos, though. the wood floor suddenly becomes more vibrant, and the yellow in the walls pop out a bit more. The difference is bright as day with this one (pun intended.)
How to fix your images in Google Photos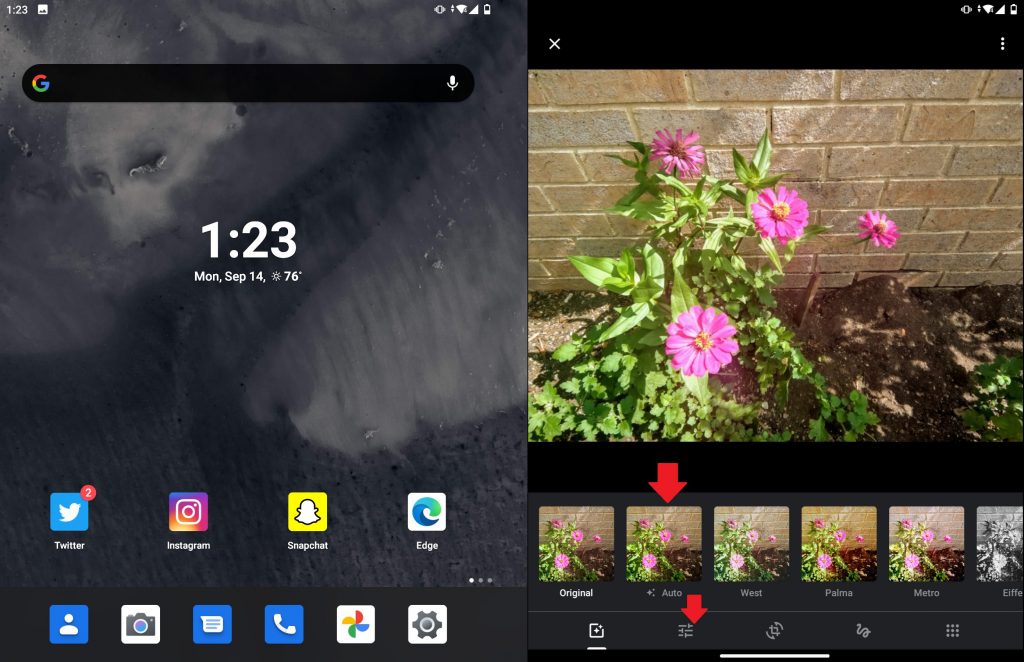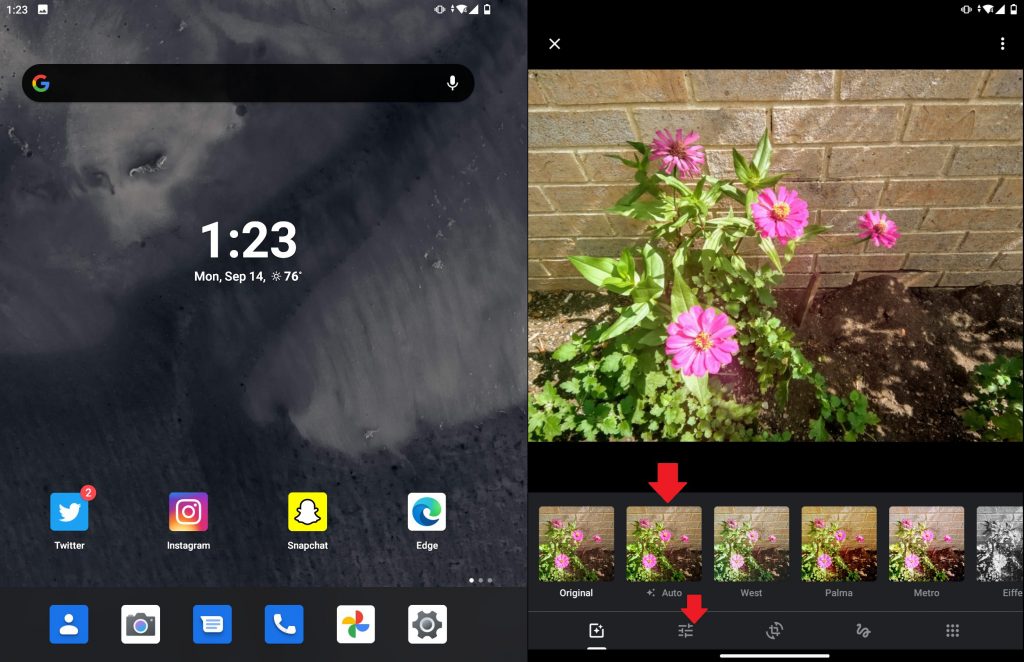 Now that you can see the difference, you can try it for yourself. Since Google Photos is the default app for viewing images on the Surface Duo, you can correct the image in just a few steps. First, click the icon which looks like three switches. It's the one that's the second from the left in the bottom of the screen. Once you click that, you can choose "Auto." You'll then be able to see the difference.
You also can tweak the image manually, too. Just click the three switches again, and drag the light, color, and pop sliders around. When finished, click "Save a Copy" on top.
Could the camera be improved with software updates?
Since Google Photos is able to enhance the Duo's photos with its software. we're wondering if Microsoft's stock Android camera app on the Duo could see an update in the future to improve overall image quality. Of course, we also hope that Google will port its GCam app to the Duo too (which is unlikely since it's only designed for Pixel photos) to help make a difference. Until then, this is one way to improve image quality on the Duo. Or, you can also try checking out a third-party camera app (many of which aren't yet optimized for the Duo and will just crash.)