There's no doubt that Microsoft Teams is the big thing for Microsoft. With nearly 250 million monthly active users, Teams is in use almost everywhere these days. That's why Microsoft is making some big changes.
Back in June, Microsoft announced that they would be moving Teams away from a traditional Electron-based desktop app, to a new WebView2 app. The change in engine promised big performance improvements and other long-requested features.
Since then, Microsoft has moved on to bring some of that over into the next-generation Windows 11 operating system via a new "Chat" app in the Taskbar. I've spent the last few weeks playing around with the initial version of the implementation. Though I think it offers an exciting first look at what's to come with Teams, there's still a lot that is still being worked on before it becomes a full replacement for Skype.
Not fully featured just yet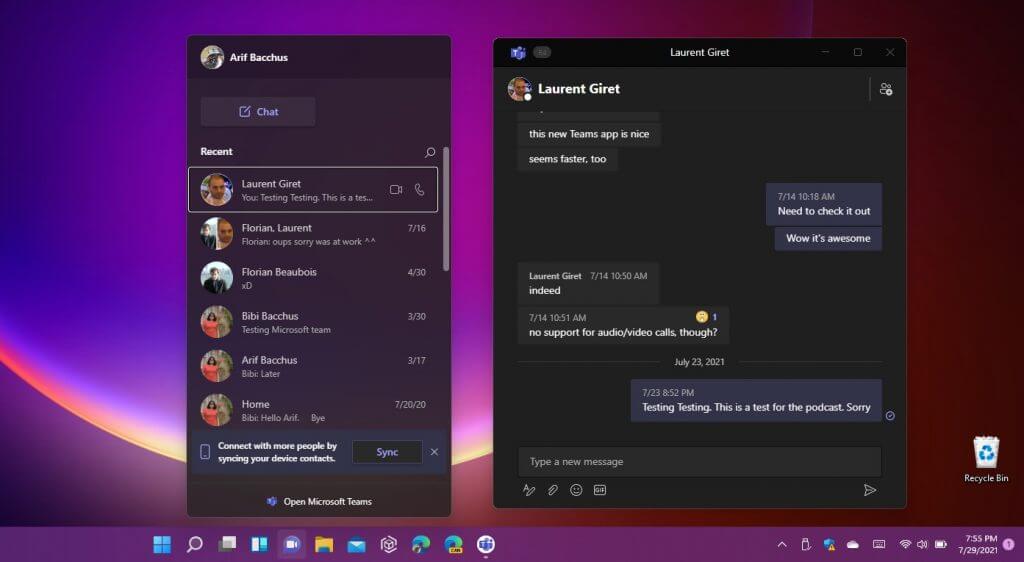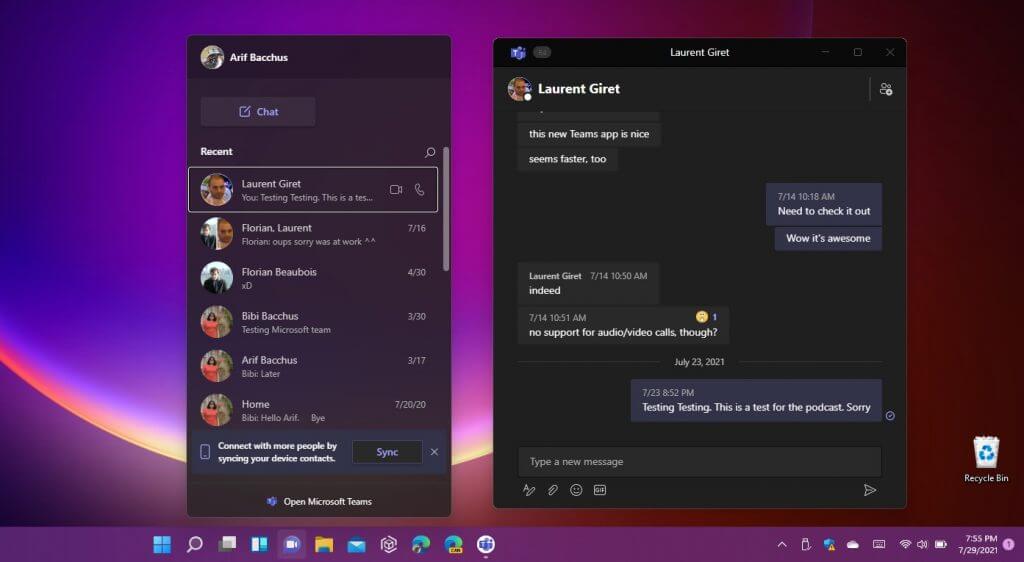 I'll begin my piece with a look at the bad stuff. This initial version of the Chat app in Windows 11 isn't quite yet finished and is limited in scope. There's still a lot of missing things, but Microsoft promises that additional features will be flighting to Windows Insiders soon. Currently, those promised features are the ones that are missing.
I am not able to make group audio or video calls, join Teams meetings, set my presence or status settings, or even share screens. This made using the Chat app a bit challenging and I did go back to the traditional Electron version of Teams as a result. Basically, in its current form, this current "Chat" app is just for basic text and SMS chats with personal accounts. You also can't currently add work accounts, either.
Again, Microsoft promised that additional features are coming soon, but there's reason to worry. Microsoft has been known to be slow to develop Teams features. Pre-pandemic, new features for Teams came at a slow pace. This makes me feel a bit uneasy as to when the Teams chat app will become more fully-featured.
Yet there is hope. Since then, Microsoft has added tons of features to the traditional electron app. There's Together Mode, native OS notifications, locking and unlocking meetings, and more. I guess the best is yet to come but for now, I'm still waiting.
I love the design and performance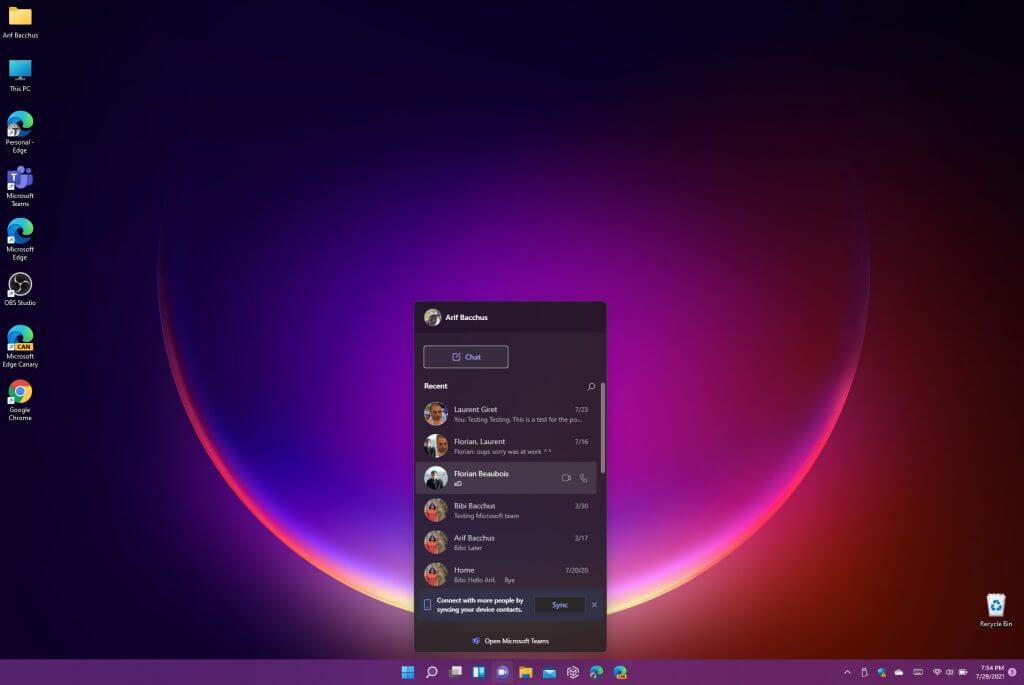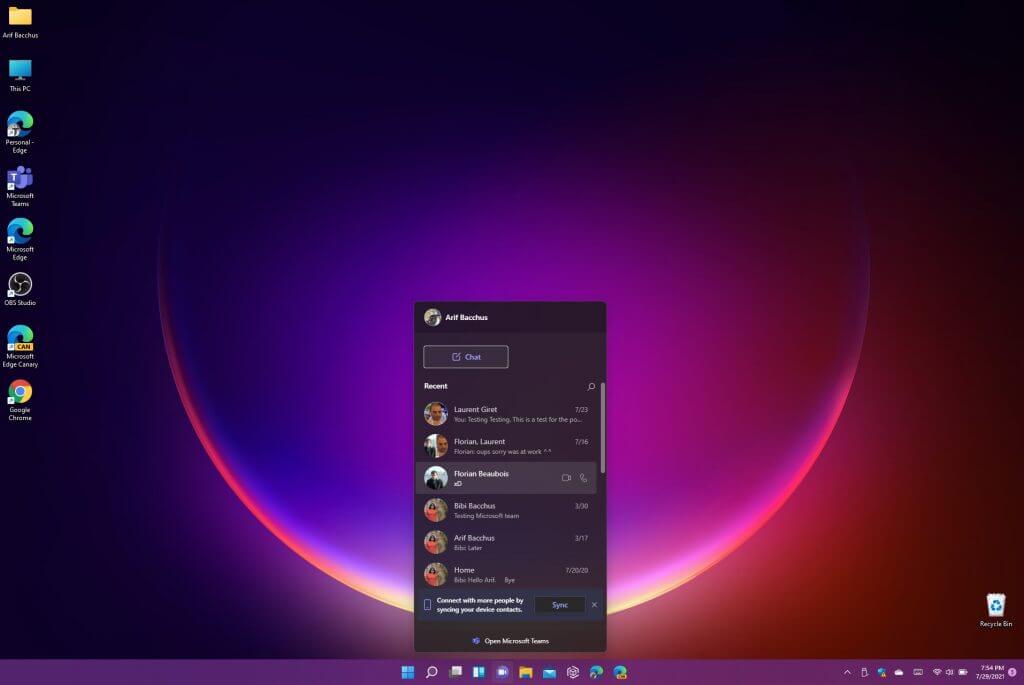 For all the missing features in the Teams Chat app, I really do love the design. Apple's iMessage and FaceTime open up as separate apps in MacOS, but Microsoft managed to make the Chat app integration very subtle. I love the flyout menu in the Taskbar, and how clean and concise it looks. You'll see a button to start a new chat, a list of your chats, the ability to sync your contacts. You even can jump into the main app with a single button. It's a quick and easy way to stay in the action.
Overall, the performance of this new Teams Chat app is pretty impressive. The old Electron app was a little bit too slow for my liking and took a while to load between system reboots. It also bugged out at times, not properly loading chats. This new app has a refreshing layout, allowing you to resize the window the way you want it. There are even integrations with Windows 11's notifications, letting you reply inline to text chats. Overall, my impressions are pretty much the same as my colleague Laurent Giret, who dived a bit deeper into an initial version of this app.
Lessons to be learned from Skype
For all the great things that are happening with Teams, Microsoft needs to get this new chat app in Windows 11 right this time. In the past, Microsoft made many mistakes with Skype. There was a traditional Skype desktop app, a Skype web app, and a Skype UWP app. Not to forget the "meet now" integration in the Windows 10 Taskbar. That's too many ways to access one app. Microsoft tried long and hard to force Skype onto Windows users and consumers. If they want Teams to be successful, then this fresh approach for one Teams chat app for everything is one big step forward.