I went to gamescom in Cologne, Germany, earlier this week to check out the latest games shipping later this Fall, and my first stop was the Xbox booth which was bigger than what I expected. There I got the chance to check out the Xbox Elite Controller Series 2, Project xCloud, as well as new Xbox Game Studios titles currently in the pipeline.
There wer definitely a lot of people at the Xbox booth when I visited it on Tuesday, and I didn't have the time to try some upcoming games such as Wasteland 3, Bleeding Edge, or the new Battletoads. I chose to focus on Microsoft game franchises I'm quite familiar with: Gears of War, Halo, Age of Empires, and Minecraft. With Gears 5 releasing in early September, this is the first game I went hands on with, testing the new Horde mode on a high-end gaming PC.
Gears 5 Horde mode
Three years ago, Gears of War 4 marked a reboot of the Gears of War franchise, as this was also the first game in the series to be developed in-house by a brand new studio called The Coalition. The game was also one of the first Xbox Play Anywhere titles for Microsoft, shipping on both Xbox One and Windows 10 with support for cloud saves and cross-platform multiplayer.
Gears of War 4 was a very solid third-person shooter, but the absence of a Steam release probably prevented it to reach a much bigger audience. Fortunately, that won't be the case with Gears 5 as the game will be available on Steam on day one, with cross-play support with the Xbox One and Windows 10 Microsoft Store versions.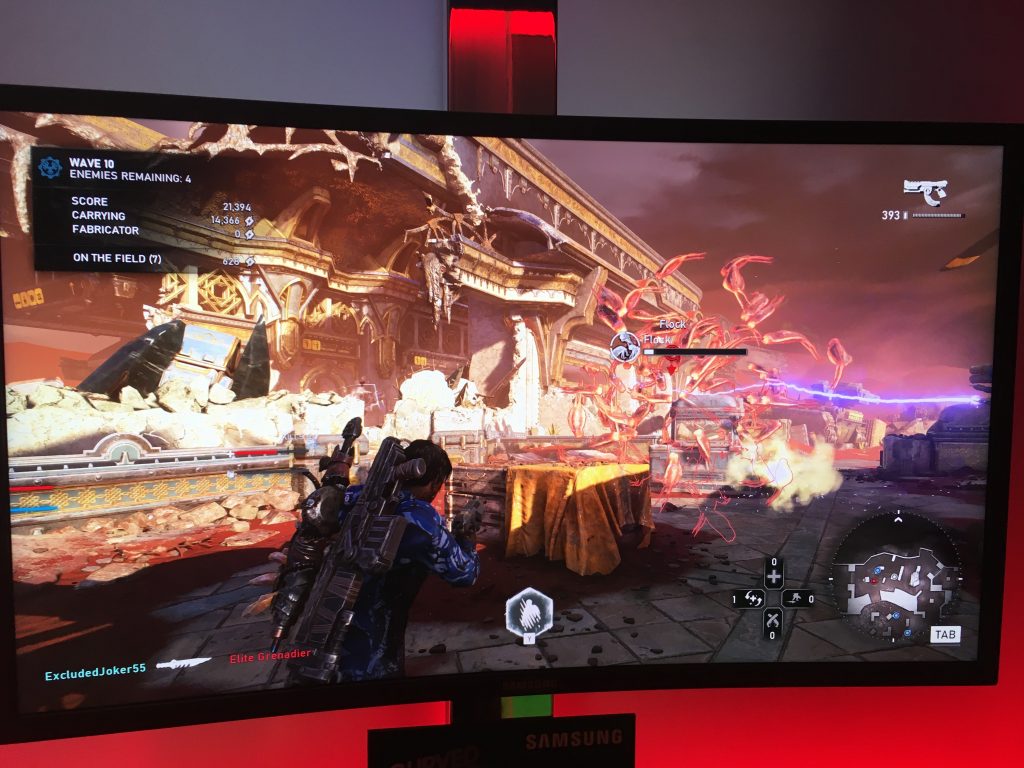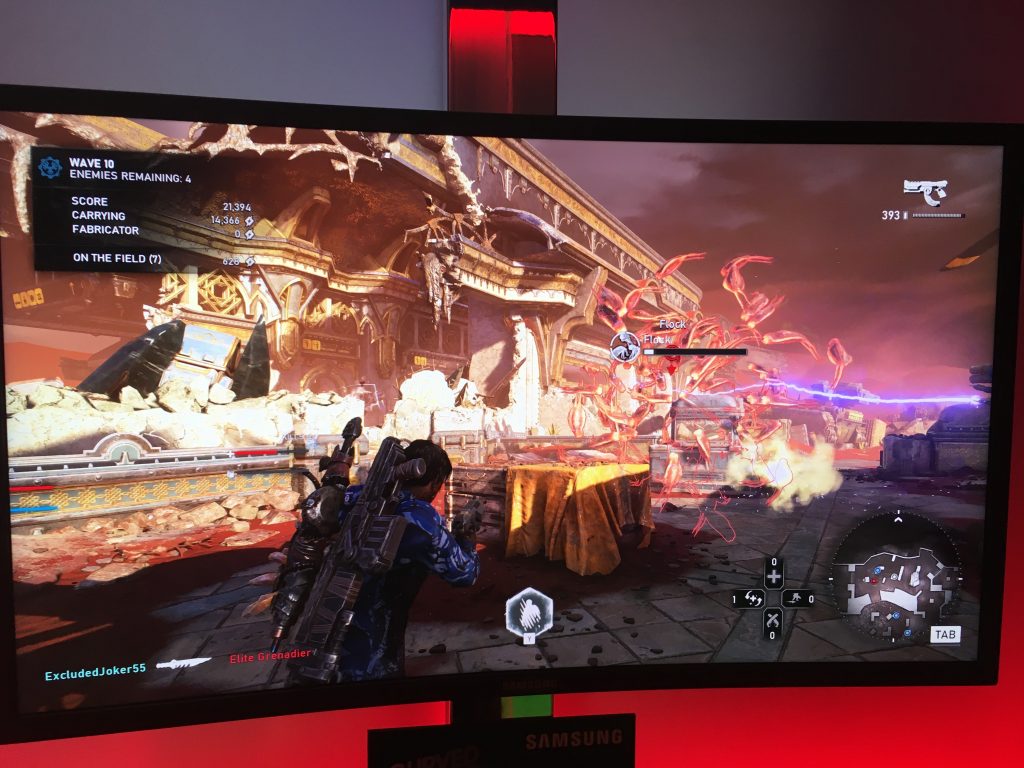 So far, Microsoft hasn't shared a lot of details about Gears 5, which is a bit surprising  as it will go head-to-head with Borderlands 3 in September, a true heavy-hitter that has been hyped to death since its March 2019 announcement. Microsoft revealed Gears 5's new Escape mode back at E3 2019, then there was multiplayer tech test in July, and the new Horde mode was available for testing for the first time at gamescom. We still don't know much about the Campaign, except that it will support 3 players co-op and be the franchise's biggest campaign to date.
If you already played Gears of War 4's Horde mode, the Gears 5 version will feel instantly familiar. You're still fighting wave of enemies with 4 teammates, earning money killing monsters you can spend on new weapons and fortifications. I went through the first 10 waves with four other players, and we had no trouble dispatching robots, Swarm creatures, and a new type of robot/swarm hybrid enemies.
The biggest change in Gears 5 Horde mode is that each character now has a passive and Ultimate ability. Kait Diaz, the lead character, has a unique Camouflage ability that makes her invisible for a brief amount of time. I also played with Emile from the newly announced Halo: Reach Character Pack, and the powerful Spartan's Ultimate Ability is a dome shaped Shield that will temporarily protect you and your teammates from all bullets.
Gears 5 ran flawlessly on the gaming PCs available on the Xbox booth, and it looks like The Coalition has really mastered the Unreal Engine 4 that was already used for Gears of War 4. Just like its predecessor, Gears 5 also supports spatial sound technologies including Dolby Atmos and Microsoft's own Windows Sonic platform, and this really helps to make the experience more immersive.
I'm not a big Horde mode fan myself, but the core Gears 5 gameplay felt really solid. I really liked the campaign in Gears of War 4, and I can't wait to see if the Gears 5 campaign will live up to Gears fans' high expectations.
Unfortunately, I'm afraid Microsoft chose the worst release date possible for Gears 5, as the game will ship three days before Borderlands 3, a game that was also present in full force at gamescom. I hope Gears 5's Steam and Xbox Game Pass release will shake things up, but there's still a high risk of the game being overshadowed by Gearbox's much anticipated loot shooter in September.
Halo: Reach on PC
Microsoft announced earlier this year that Halo: The Master Chief Collection would finally be released on Windows, and the first game that will ship on PC is a remastered version of Halo: Reach. The "Tip of the Spear" level was the subject of the first PC Insider flight a couple of weeks ago, and this same level was playable at E3 2019 and gamescom.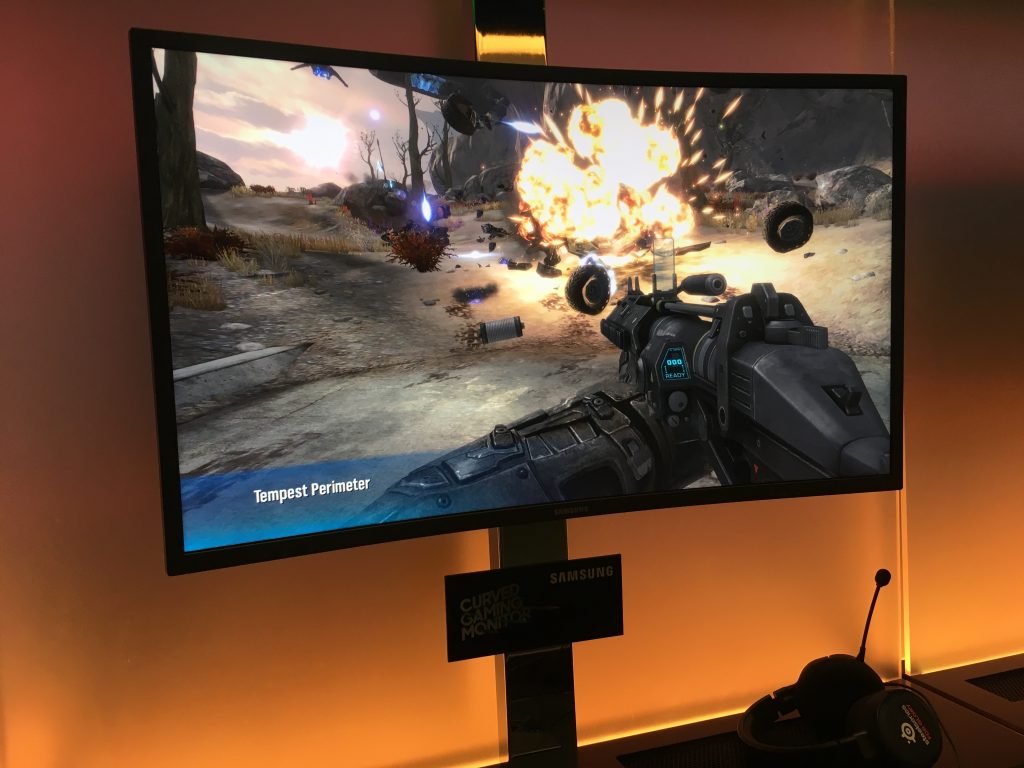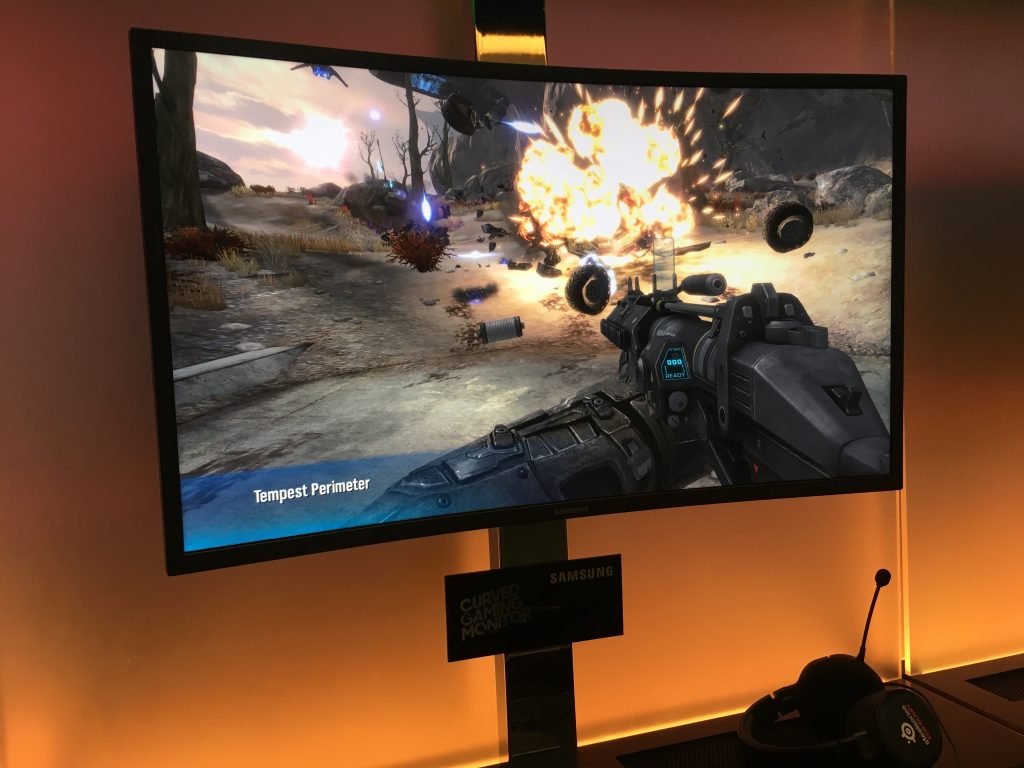 As someone who finds Halo's Master Chief character quite uncharismatic and dull, Halo: Reach, a prequel to Halo: Combat Evolved with no Master Chief is one of my favorite Halo games ever. Halo: Reach was also Bungie's last Halo game that shipped on the Xbox 360 back in 2010, and it's great that it will finally get the remaster treatment and join the Halo: MCC anthology on both PC and Xbox One.
The Halo: Reach remaster still has no release date on PC and console, but the PC build that I got to play at gamescom was solid. Playing Halo with a mouse and keyboard feels great and intuitive, and you'll really need the increased precision to fight off challenging Covenant enemies. Halo: Reach is a bit more difficult than other Halo games as your character isn't as resilient as Master Chief, especially since you need to use health packs to heal yourself when your shield goes down.
I'm really excited about this Halo: Reach remaster, though it seems that porting all Halo games to Windows is a much more ambitious project than expected. Microsoft has yet to announce a release date for Halo: Reach on PC and Xbox One, and I doubt we'll see it this year. Worse, the console version has apparently being delayed as the developers are currently dealing with memory issues on Xbox One.
Still, I'm very enthusiastic about Halo: MCC finally coming to PC, as these classic shooters really deserve to be available on Windows. Halo remains one of Microsoft's biggest game franchises to date, and the company is probably right to take its time to make it right. It took years for 343 Industries to fix the various issues that plagued the Xbox One version of Halo: MCC since launch, and Microsoft better not to the same mistake with the PC version.
Announced at E3, delivered at gamescom. Fans are getting their first look at Halo: The Master Chief Collection on PC. pic.twitter.com/0hibBa1JAh

— PC Game Pass (@XboxGamePassPC) August 22, 2019
Age of Empires II Definitive Edition
I didn't expect Age of Empires II Definitive Edition to be playable at gamescom, so this was a really nice surprise. Microsoft announced on Monday that the remaster will ship on Windows 10, Xbox Game Pass on Steam on November 14, and the company will also add Age of Empires: Definitive Edition to Xbox Game Pass on the same day.
As you may know, Age of Empires: DE didn't really meet fans' expectations when it was released on the Microsoft Store back in February 2018. The game was quite buggy at launch, and even after the release of several patches there are still some issues with pathfinding or the AI acting weirdly.
I hope Age of Empires II: DE won't suffer from the same launch issues, but the PC build I played at gamescom looked really good. Age of Empires II was one of my favorite RTS games back in the day (my favorite remains Age of Mythology), introducing a lot more different civilizations to play, interesting campaigns, and various gameplay improvements. I felt right at home playing the short tutorial, and I was also quite impressed by all the details on this 4K screen.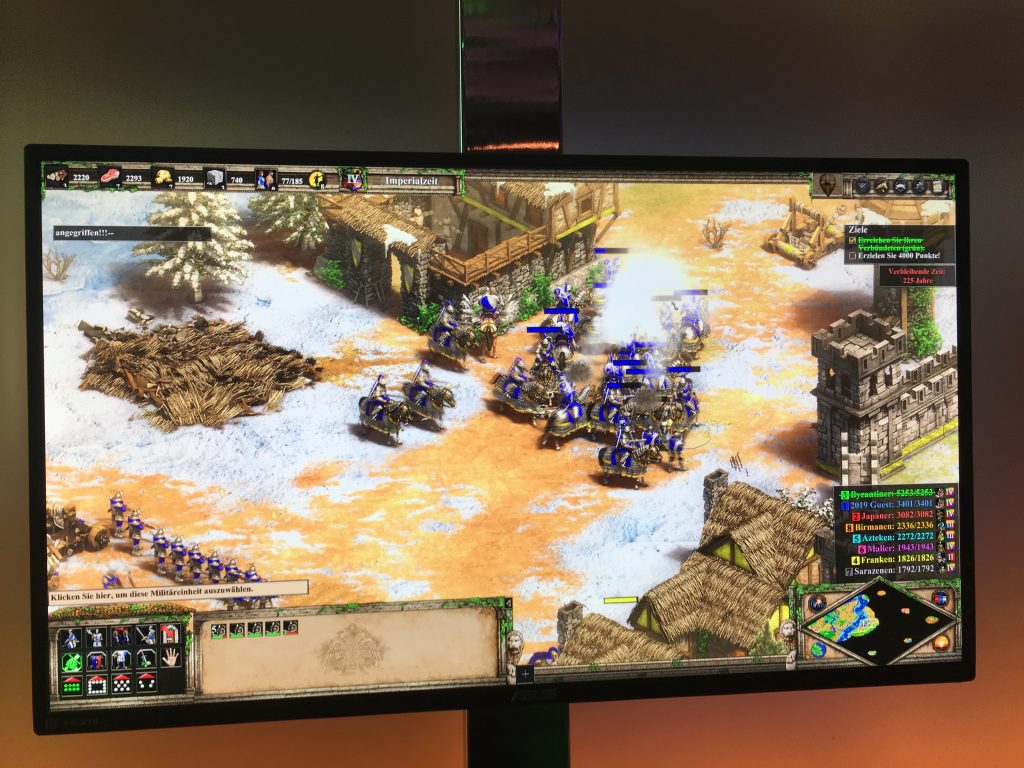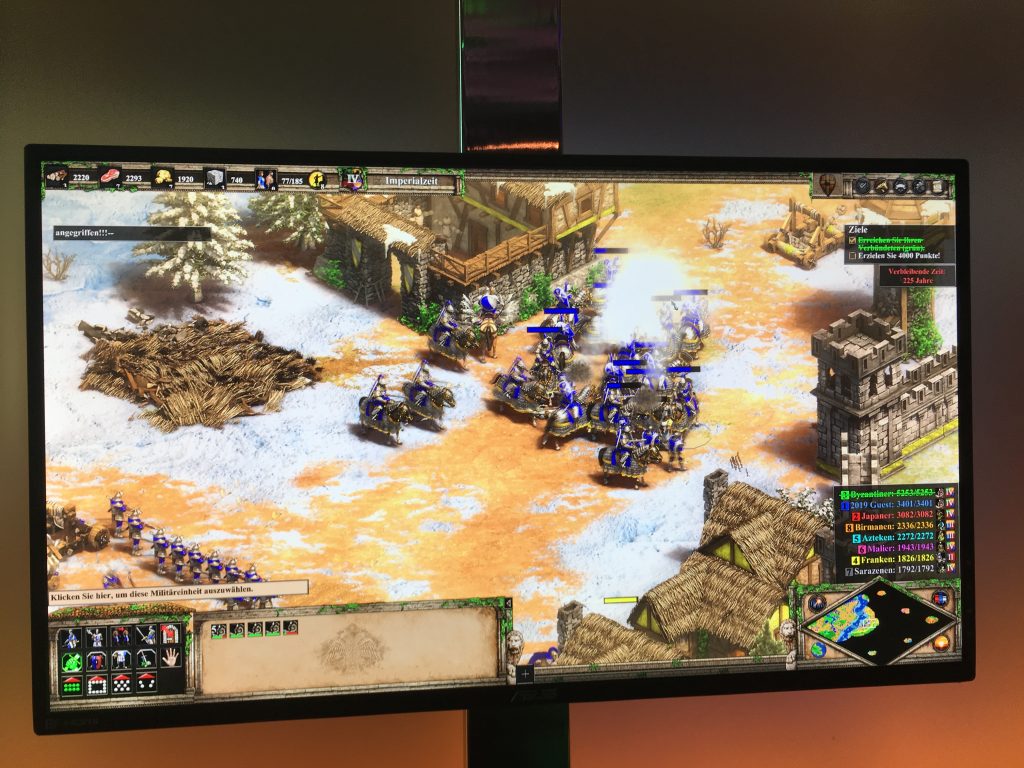 I love the work Forgotten Empires has done on the graphics in general, and the remastered audio is also a very welcome addition. The Definitive Edition will include 4 new civilizations, a whole new campaign named The Last Khans, and it will also support crossplay between Windows 10 and the Steam version. Fingers crossed for it to be as good as what Age of Empires fans really deserve.
Minecraft Dungeons
The last Microsoft game I tried at the Xbox booth was Minecraft Dungeons, which seems to be Mojang's take on Diablo III. I'm a big fan of the latter, though I have to admit I'm not really into Minecraft. But as it turns out, a Minecraft-themed dungeon crawler hack-and-slash game is probably what Microsoft needs to bring gamers like me into the Minecraft universe.
I just played the demo for five minutes, and it was a co-op session with someone from the Xbox booth who guided me through a procedurally-generated dungeon filled with monsters. Just like in Diablo, you can use short-range and long-range attacks, you can also roll to avoid traps and enemy attacks, and you'll earn some loot by killing monsters and opening treasure chests.
There doesn't seem to be any crafting, mining mechanisms, or class system in Minecraft Dungeons: this is just you and your friends fighting monsters and getting increasingly powerful loot in an artistically pixelated world. I feel like the game has a lot of potential, especially since it will be released on Windows 10, Xbox One, PlayStation 4, and Nintendo Switch. Minecraft Dungeons will also support 4-player local and online coop, and crossplay support in the cards between Windows 10 and Xbox One.
Minecraft Dungeons is expected to be released on Spring 2020, and it will be available on Xbox Game Pass on launch day. Overall, 2020 should be a great year for Minecraft with the upcoming release of Minecraft Earth on iOS and Android, Minecraft Dungeons on PC and consoles, as well as Ray Tracing support on Windows 10 and a new rendering engine for all Bedrock versions of Minecraft.
Microsoft has often received criticism about the quality of its first-party games during this console generation, but I feel like this is finally about to change. The fact that new first-party games are now shipping on Xbox Game Pass on day one really helps to put Xbox Game Studios in the spotlight, as does Microsoft finally embracing Steam. Microsoft still has several exciting new games in the pipeline including a new Flight Simulator, Halo Infinite, Age of Empires IV, as well as a rumored new Fable game developed by Forza Horizon developer Playground Games. I feel like Microsoft is finally back as an AAA game developer, and Gears 5 will be the first big test for me. Stay tuned for our full review of the game in early September.
Feature image credit: Xbox UK.