Video conferencing is something we're all still doing in 2022, even with the pandemic restrictions easing up. You might buy an external webcam to help boost your calls or even an external monitor, so you can multitask, but what if we told you there's a solution you can use on your desk that does both?
As we once discussed with Dell's own Mike Turner, Dell has video conferencing monitors for just that. I've previously reviewed both the Dell 27 Video Conferencing Monitor S2722DZ, as well as the Dell 27 Video Conferencing Monitor – C2722DE. Both of these helped me boost my experience with Teams calls, but Dell is now back with yet another stunner of a conferencing monitor that made headlines back at CES 2022.
This time around it's the Dell Ultrasharp 32 4K Video Conferencing Monitor, which was sent to me for review. After using one in my setup for two weeks, I think it's now officially the best monitor you can use for your Teams, Zoom, or Skype Calls. It even can help you work better. Here's a little more on why.
Specs & Price
The Dell Ultrasharp 32 4K Video Conferencing Monitor retails for $1,600 at Dell.com or around $1,280 when on sale. For that price, there are a lot of specs for your buck. Generally speaking, the screen size is 31.5 inches. The resolution comes in at 4K 3840 x 2160 at 60 hertz, and this is a 3-sided narrow bezel panel, like most of Dell's monitors.
For the first time on one of Dell's conferencing displays, the technology being used onboard is IPS black. It comes with a response time of 8ms under normal operation and 5ms gray-to-gray. The contrast ratio is rated at 2000:1, according to our colorimeter. Brightness is rated at 400 nits. Oh, and this is a 16:9 aspect ratio screen. You'll also get 100% of the Rec 709 spectrum, 100% of the sRGB spectrum, and 98% DCI-P3 spectrum. Viewing angles are rated at 178 degrees.
Ports include the following. HDMI (HDCP 2.2) DisplayPort 1.4 (HDCP 2.2) USB-C 3.2 Gen 2 upstream, USB-C 3.2 Gen 2 upstream/DisplayPort 1.4 Alt Mode (power up to 90W),USB 3.2 Gen 2 downstream (power up to 15W), 4 x USB 3.2 Gen 2, USB 3.2 Gen 2 downstream with Battery Charging 1.2, and DisplayPort out for daisy-chain. You'll also get a headphone jack.
Dimensions come in at 28.1 in x 9.1 in x 19.6 in with the stand in the lowest position as we reviewed. Weight is around 26.23 lbs. Typical power consumption is 240 watts.
Design & Teams functionality
If you've ever seen a Dell monitor before, then the design of this monitor should feel familiar. The rear is colored in Dell's signature silver colorway, as is the stand. As I've said many times before, it's a welcome design that isn't overly distracting and is quite welcoming for your desk when compared to black-colored displays.
Other than that, this monitor has a lot of great ways to be positioned on your setup. My desk has low clearance, and I was able to bring it down to eye level. It's one of the things I always appreciate about Dell's displays. You can tilt and pivot this one between -5/+21 degrees. The swivel angle is rated at 60 degrees. And, the height is rated at up to 5.9 inches. You even get compatibility with a VESA mounting interface.
Outside of the normals, there are two signature things about this design. Unlike most monitors, this one has a speaker var up top, instead of the bottom. I'll have more on that later, but the two speakers in the bar are rated at 14 watts. The speakers work across all inputs, too, which is huge for me, as I used this monitor with my Xbox.
As for the second thing? It's the Microsoft Teams buttons and controls. These touch controls are on the lower left of the display. You can click the Teams icon here with your finger to launch Microsoft Teams, You also can answer calls, too, and control the volume of your speaker. The final two buttons let you disable the monitor's microphones and activate the electronic shutter on the webcam.
I really liked these quick controls, as it meant I spent less time touching buttons and reaching for sliders and triggers on my PC. Instead, I ended up using these buttons on the fly, right within hand reach. It's also nice to see them lit up during a call, in red or white, knowing when your mic and webcam are off.
Ports & buttons
We touched on the ports at the top of our piece, but we'll mention them again here in a more specific order. The spoiler, though, is that I'm very pleased with the number of ports and the types of ports. No matter which type of device you own, I think you'll be able to connect it to this display.
From left to right on the display are the following ports. On the main ports, there's a Kensington lock and a power connector. That's then followed by the HDMI port, a DisplayPort In (for daisy chaining), and a USB-C upstream port. Other main ports include the DisplayPort out, and USB-C upstream. The hub of ports includes three USB-A ports, a USB-A Superspeed port, and an ethernet jack.
Under the lip of the display, you'll find a Superspeed USB-A 10GBps port, another USB-C downstream port, and a headphone jack. These extra ports on the lip are appreciated, great for plugging in dongles for keyboards and mice. Your monitor becomes the hub, in this case.
I connected my Mac Mini up via Display Port, my Surface Laptop Studio via USB-C, as well as my Xbox Series X via HDMI. That's three devices getting one use out of a video conferencing monitor, which is honestly not what I expected!
As for buttons, you're getting joystick controls. This is my favorite part of Dell monitors as it makes menu navigation and switching inputs easy. It really needs to be a standard across all of Dell's products.
Webcam, Speaker, Microphone performance
The signature part of this monitor is the webcam, speaker, and microphone. In these three cases, we have some really good news. All three perform excellent, making this monitor better than any typical external mic, webcam, or speaker you can buy for productivity. Check it out in the video above, where I used the monitor for my podcast.
I'll start first with the webcam. In concept, this monitor takes the Dell Ultrasharp 4K webcam and fits it into the top bezel of the display. All the same great features from that webcam, including Windows Hello, are now built into this display. You can see my full review of that webcam for more, but it boils down to a few things.
You get AI auto framing, a 4K sensor, true color, HDR, and video noise reduction. The webcam on the monitor though has an automatic shutter, that comes on when not in use, helping protect your privacy. The other difference is that you can position the tilt adjustable camera to the angle you want and customize how much you want to show your surroundings.
In software, you also can change the resolution, and adjust the field of view to 65°, 78°, or 90°. If you use USB-C to connect your monitor to your PC, the webcam works without extra cables. If you don't you'll need to use one USB-C to USB-A cable, provided in the box. Note you can't use the webcam on MacOS, as the Dell Peripheral Manager app is Windows-only.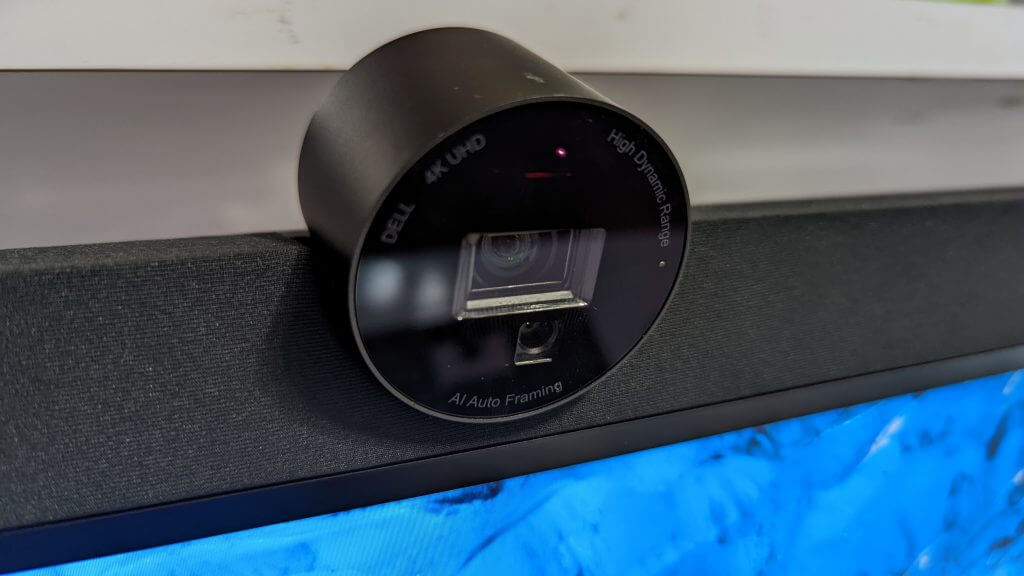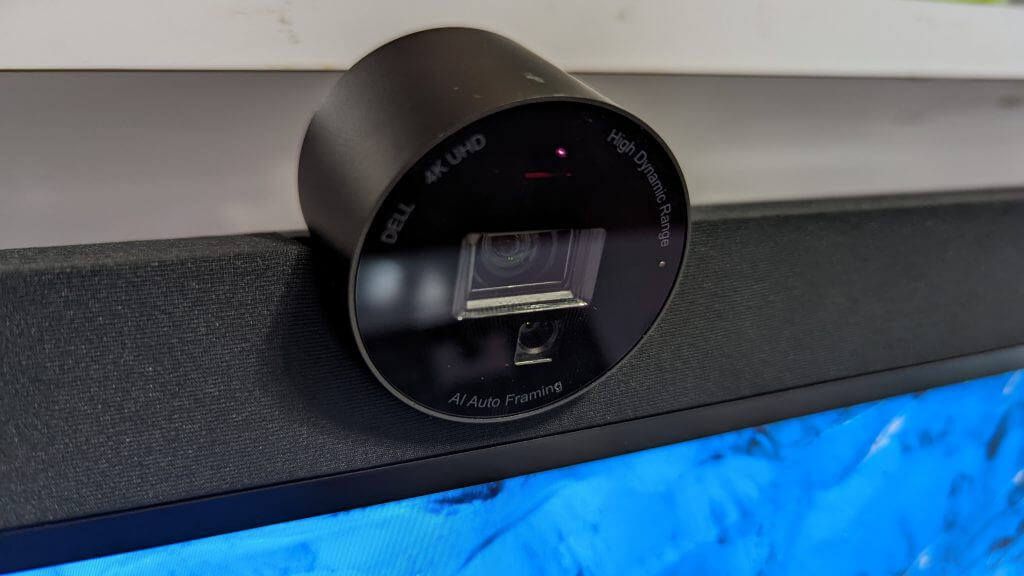 During my time with this monitor, my colleagues said I looked really good on calls, not grainy or blurry at all even in direct sunlight or under the LED lights from the fan in my room. During the heatwave when I was sitting in my warm room. one of my colleagues even noticed my beads of sweat. That's how good this webcam is! It really depicts you in the most human way possible, even down to the exposure.
The audio and microphones are great, too. With the speakers being top-facing, the audio sounds much more natural, almost as if the people on the other end of the call are in the room with you. I do want to mention that most monitors have 10-watt speakers, so this is a great change to see the upgrade to 14 watts.
The microphones, meanwhile, picked up my voice quite well, though some of my colleagues felt like they heard echoes when I was speaking. Most people, though, had no issues hearing me.
Display quality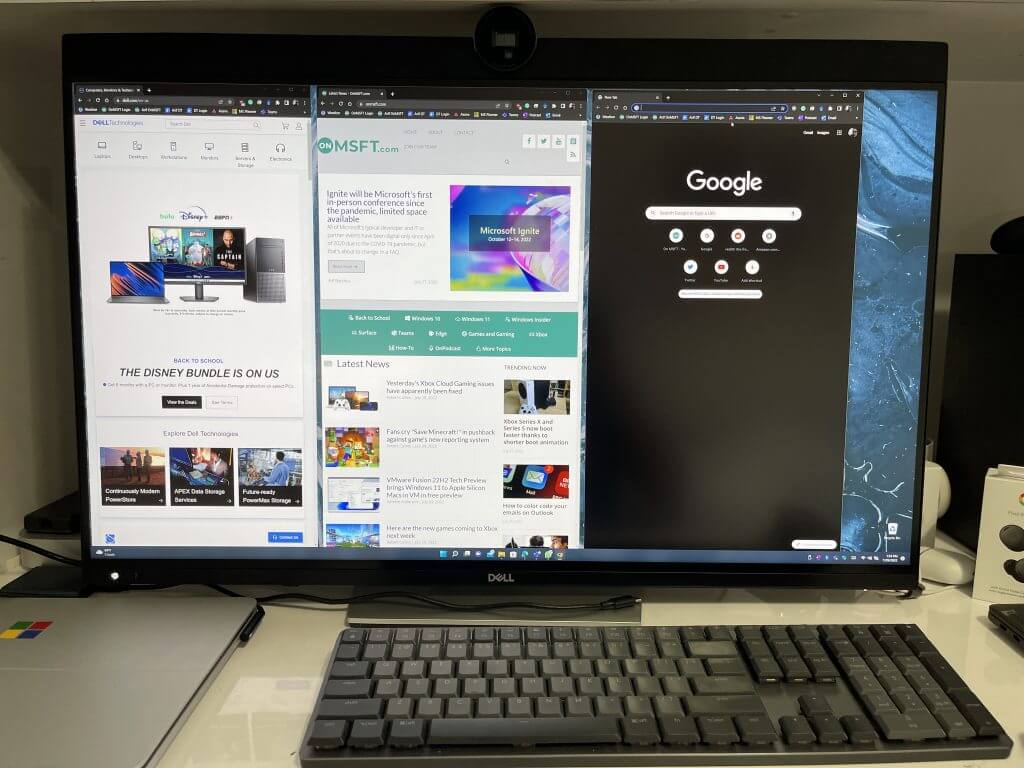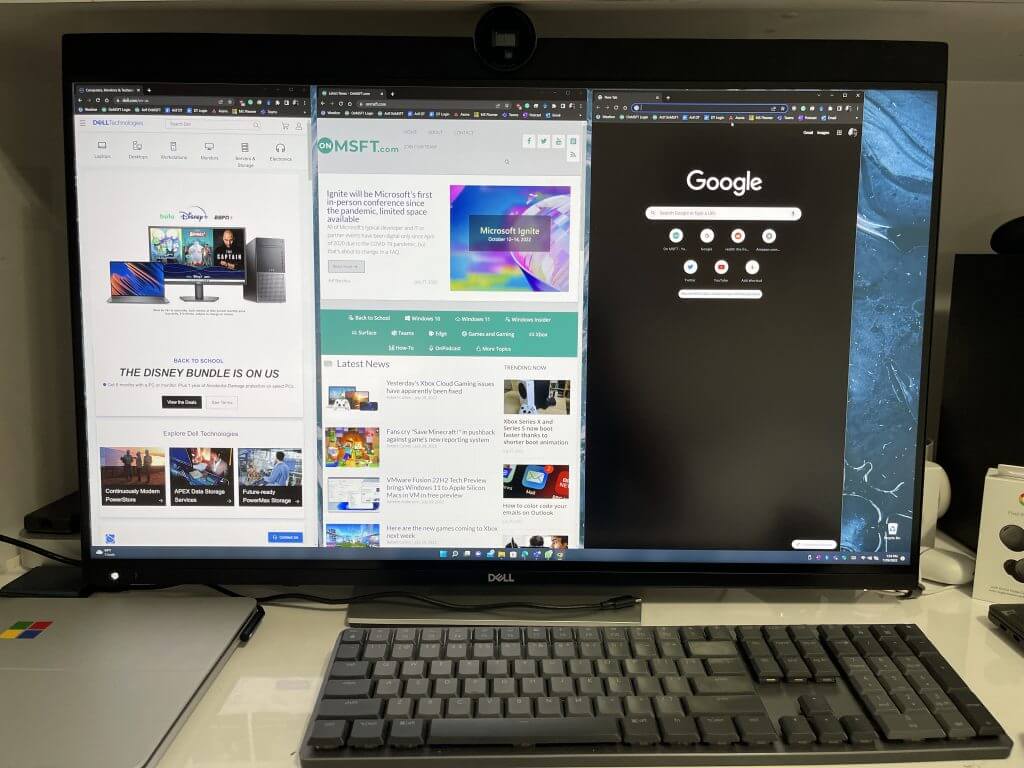 Now, for the most important part, display quality. It should be noted that this is the first time that Dell is using IPS black technology on board one of their conferencing displays. It is also in use on other products, including the Ultrasharp 4K monitors.
IPS black technology is supposed to bring a better contrast ratio and higher color accuracy than regular IPS, and I will say that this is true, as according to my colorimeter, I got nearly double the contrast than the typical 1,000:1 on other monitors I've previously reviewed. This puts new meaning to the term "UltraSharp."
I shared my numbers at the top of this review, but generally speaking, this is one of the most vibrant and accurate-looking displays I've used, outside of OLED displays. Webpages look very bright, and in windows that use grayer or creamy or bluer colors for backgrounds (say WhatsApp and ArsTechica), the content looked a lot more alive than what I'm used to on my regular IPS display. Pair that up with the peak 400 nit brightness, and things look really alive on this display. It is part of the reason why this display is HDR 400 certified.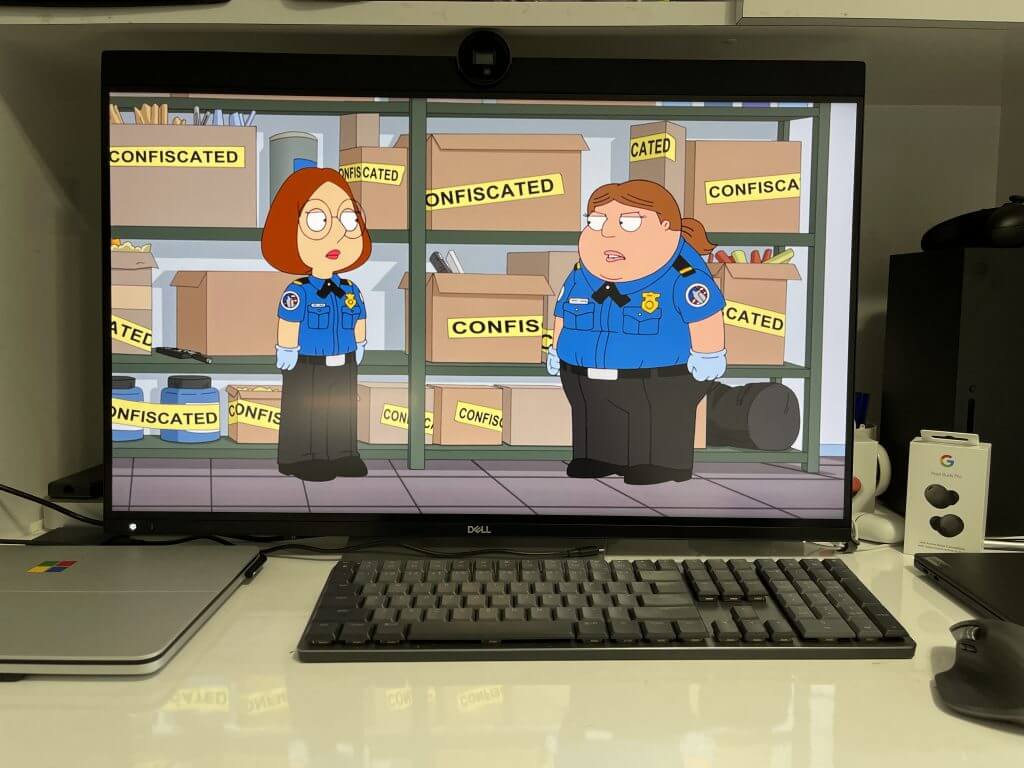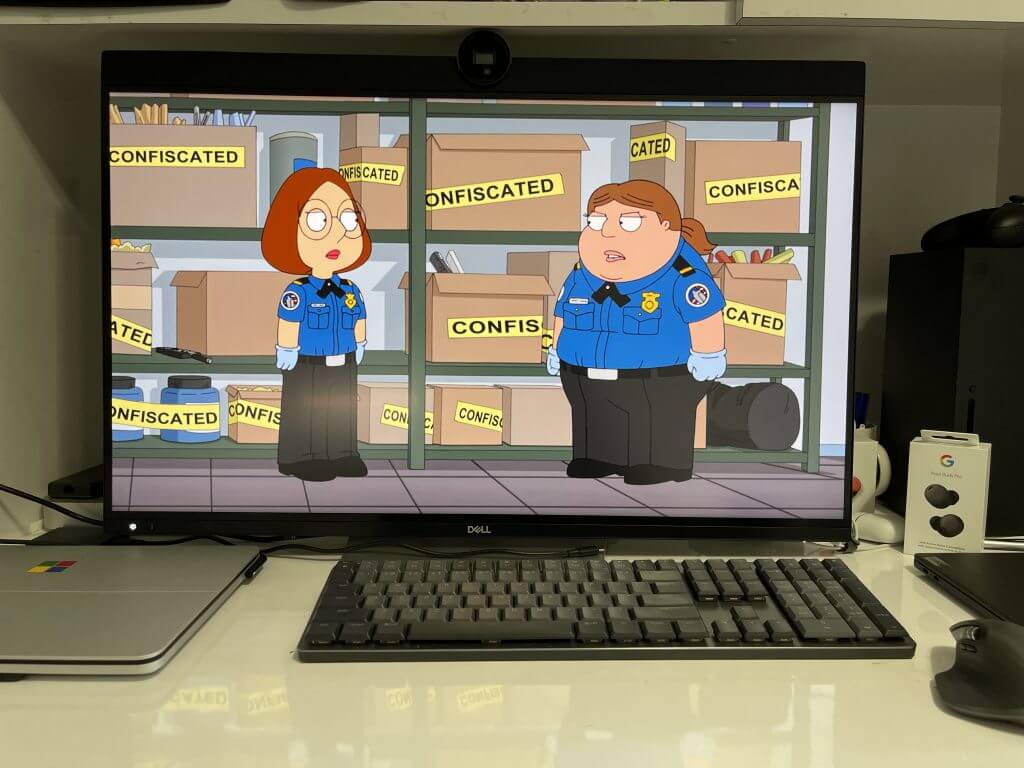 And watching TV shows like Family Guy brought all the animations to life. Peter's dog, Byran, looked brighter than usual, and so did the orange-red outfit in Stewie's clothes. Even in video conferencing, this display lights up people's faces more. Everyone on my calls looked a lot less dull when compared to what I usually get on my laptop display.
And for multimedia? Well, it's almost a TV-like performance, especially when gaming. Playing Microsoft Flight Simulator on my Xbox with this display felt life-like due to the accurate colors and contrast. Flying over Citi Field in New York, I made out the greens of the trees in Flushing Meadows Corona Park.
In terms of resolution, 4K is also a jump from the QHD on Dell's other conferencing monitors, meaning more fits on the screen. I stacked 3 Microsoft Edge Windows side by side, and still had room for other apps. For this price, 4K is appreciated.
Extra features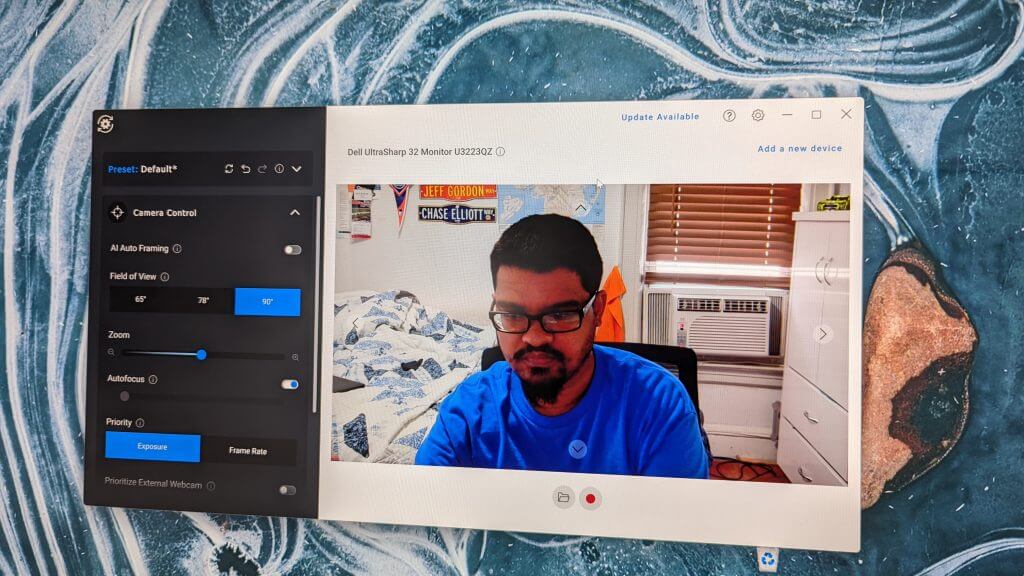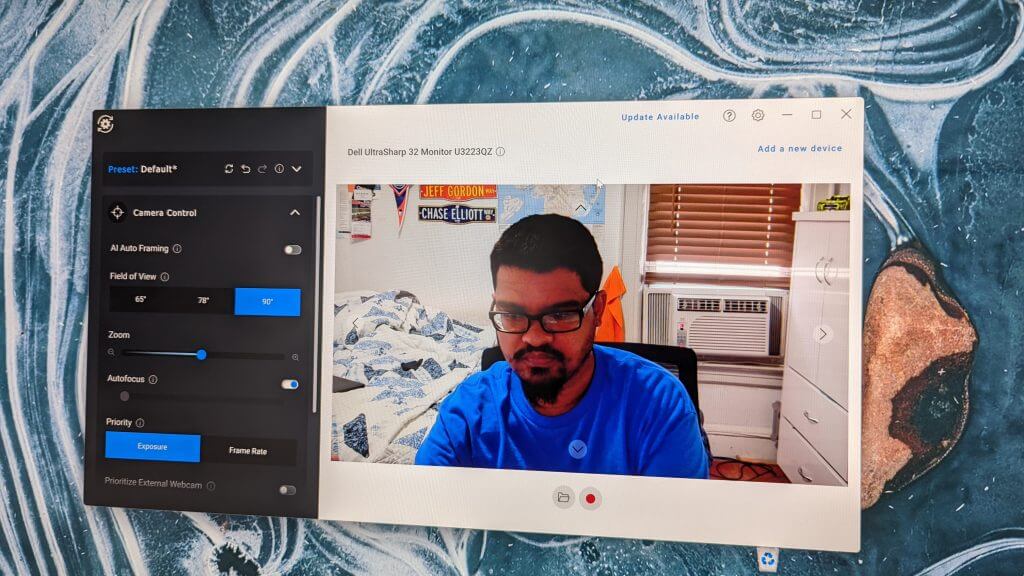 This Dell monitor sports some extra features. The first of those is support for Dell Easy Arrange and Dell Display Manager, which lets you tile your applications in multiple ways and allows IT admins to manage displays.
There's also support for daisy chaining monitors, or hooking up more than one PC and using it in PIP mode and PBP mode. You can connect up to two PCs, and intelligent Auto KVM detects a second PC and seamlessly switches controls over.
The final extra feature comes with Dell Peripheral Manager. This app is really sophisticated and lets you control the webcam in a lot of different ways. You can change resolution, toggle HDR, switch the field of view, autofocus zoom, image quality, use it as a recording studio, or weak other things like brightness, sharpness, contrast, and flickering. This is one of the most in-depth webcam solutions out there.
Buy it for the best video conferencing experience
The Dell Ultrasharp 32 4K Video Conferencing Monitor has everything you need to be a proper video conferencing solution. The display is bright and vibrant thanks to IPS Black technology. The display also has really amazing built-in webcam and speakers, daisy chain support, a USB hub, and even can work with game consoles.