This holiday season, there's not one new Surface device to choose from, but three. You can either buy a Surface Laptop 3, Surface Pro X, or a Surface Pro 7. While I already reviewed the Surface Pro X, the second hottest device in Microsoft's Surface lineup this year is the Surface Laptop 3.
The new Surface Laptop 3 is unlike any other Surface Laptop released before. Now coming in a 15-inch size, as well as in a "business" flavor with Intel 10th-gen processors inside, this device packs almost everything needed to be the ultimate productivity machine. Today we'll be giving you a quick look at the new device, and sharing some initial impressions ahead of a full review in the coming weeks.
Build & design
A highlight feature of the Surface Laptop 3 is its all-aluminum casing. This is new for the lineup this year, as previously, the Surface Laptop only came in with options where the keyboard deck would have an Alcantara fabric finish. While you could still buy a 13-inch version with the Alcantara, the 15-inch model (and some of the 13-inch models too) which I purchased for review is only available in this new aluminum finish.
Anyway, thanks to that aluminum casing, the Surface Laptop 3 feels almost similar to a MacBook. It is stunning to look at, and there's no bending in the chassis when typing, or when pressing on the areas above the vent under the display. Simply put, this thing is built like a brick.
It's also important to note that unlike a MacBook, there's no notch on the front section of the Surface Laptop 3. This not only makes the finish on the device look clean and complete but also helps make it easier to open with just one hand. Unlike the previous Surface Laptops, lifting the lid open doesn't cause the device to rattle or move. It's a small touch that I really love.
Specs & Processors
Another point of note here worth mentioning is that I'm reviewing the Surface Laptop 3 for Business. Unlike the consumer version, this model comes with options for Intel's 10th generation processors inside and not AMD's Ryzen processors. Many other reviewers have pointed out potential performance flaws with this consumer version of the Surface Laptop 3, and this is the main reason I opted for the Intel version. I didn't want to deal with things like the poor battery life or bad gaming performance.
Anyway, I have a unit with the quad-core 10th Gen Intel Core i5-1035G7 Processor, and 8GB of RAM with a 128GB SSD. While I haven't quite run any advanced testing software as of yet, the Surface Laptop 3 feels good enough for productivity. It's buttery smooth for transferring photos, web browsing, and even some light gaming. I was even able to download Steam to play and enjoy Counterstrike: Global Offensive on low settings. Battery life is decent for a device of this size, lasting me around 7 or 8 hours so far.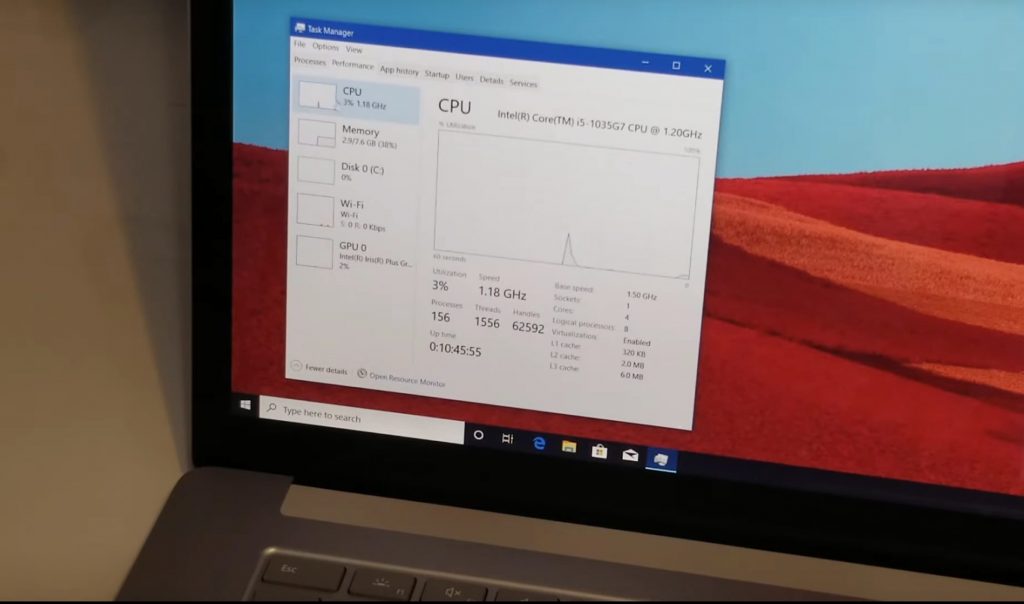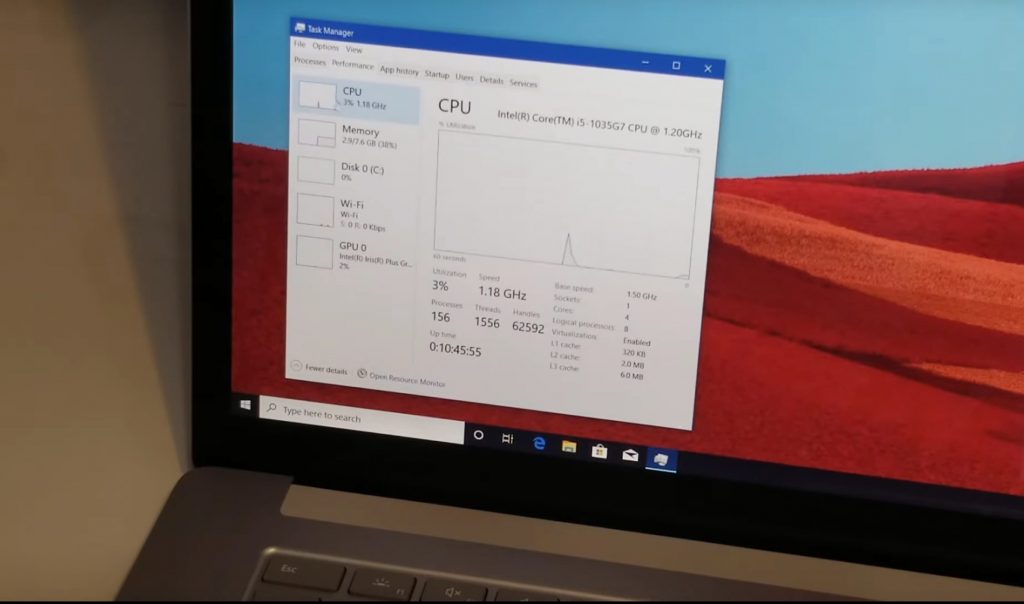 Ports & Connectivity
Ports and connectivity are one of the most important aspects of any device, and the Surface Laptop 3 doesn't fail in this department. It's got a USB-A port, USB-C port, as well as a headphone jack and Surface Connect port. A change from last year, the Surface Connect port actually now supports fast-charging. You'll now be able to get an 80% charge with just an hour.
The inclusion of USB-C is a first for the Surface Laptop family. However, it's nice to see USB-A as well, as you won't really need to use dongles with the Surface Laptop 3, unlike the all USB-C Surface Pro X. There's still no Thunderbolt 3 support, though.
Also, there's no MicroSD card slot on this device, but the SSD is upgradeable. You can do this by unscrewing some screws on the bottom of the device, and removing the keyboard deck. This isn't exactly something that is user-friendly. Microsoft recommends that you do it through authorized service centers only, so, be sure to settle on a storage amount that you know will last.
Display
Another big feature on the Surface Laptop 3 is the new 15-inch display. It comes in with Microsoft's signature 3:2 aspect ratio, and with a resolution of 2,256 x 1,504. The display also gets up to around 400 nits of brightness, and it's especially vibrant when used in dim rooms. Oh, and, like all Surface devices, it's touch screen too. This is pretty cool, as it's really nice to just reach up and touch the screen when navigating the web.
For productivity, the display on the Surface Laptop 3 is great for multi-tasking. I could stack windows side by side, and get a lot of work done when compared to my Surface Pro. The display is very tall, and it allows you to pull up a lot of things on your screen when working.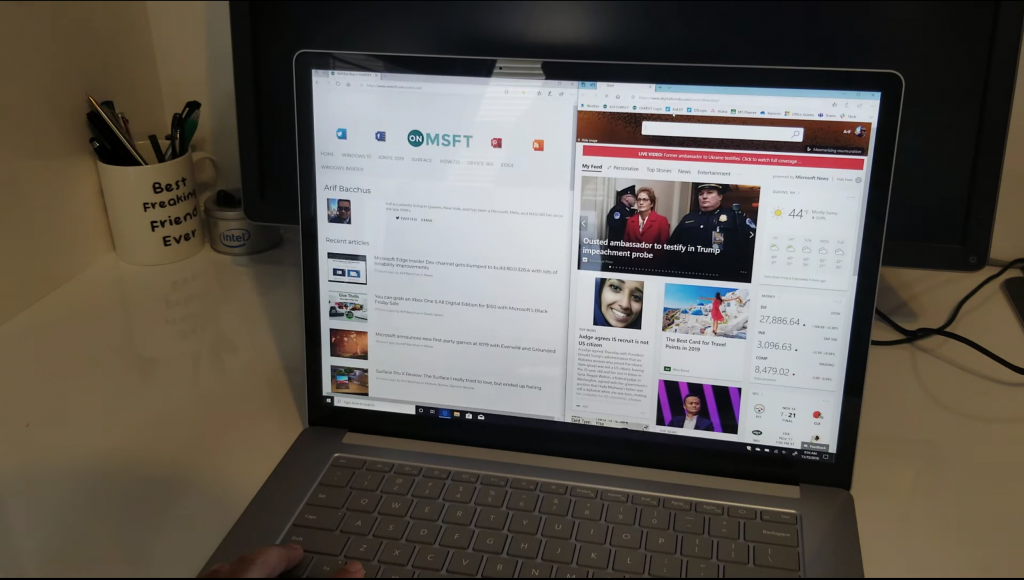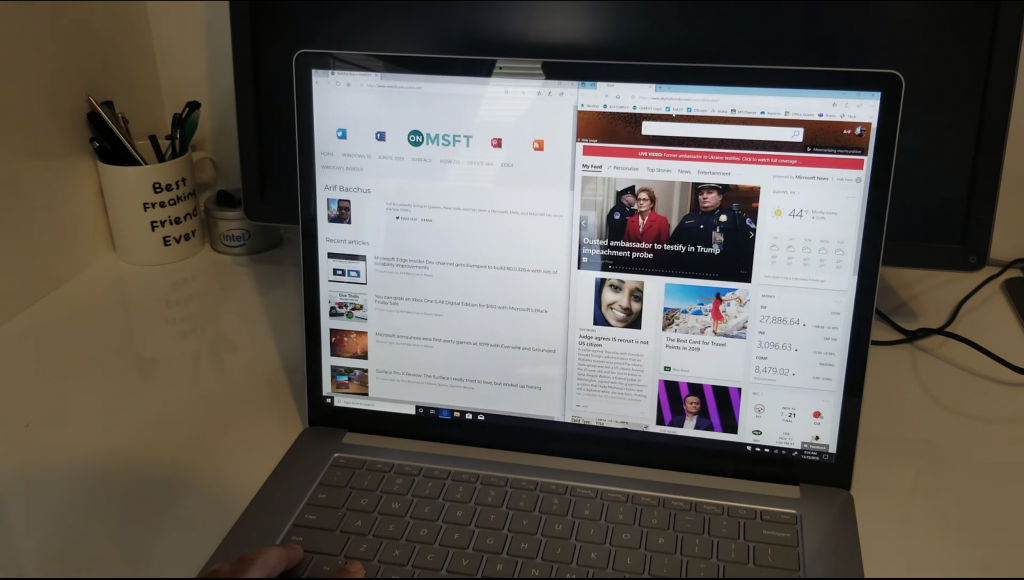 Keyboard & Trackpad
Finally, there's the need to address the keyboard and touchpad. This has always been an area where Microsoft excels at, and I'm glad. The keyboard on the Surface laptop is very comfortable, with lots of key spacing and nice feedback. I was easily able to jam my way through articles when working here at OnMSFT.
The glass trackpad too is great. It's very large and has a nice smooth finish. It's especially solid when clicked, unlike the hollow-felling trackpad on the Surface Pro X Type Cover. It's something I found myself using all-day-long, without the need for an external mouse.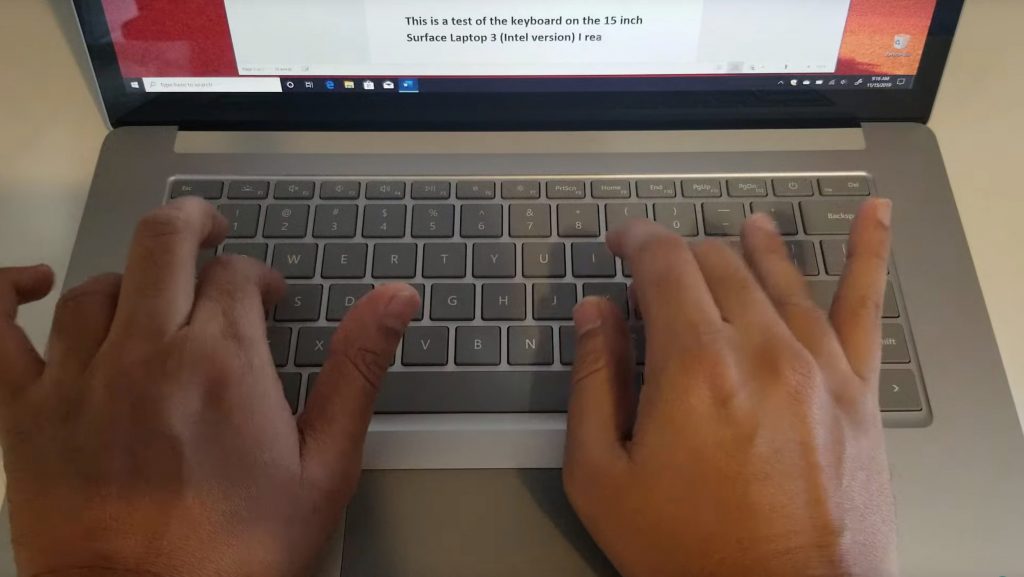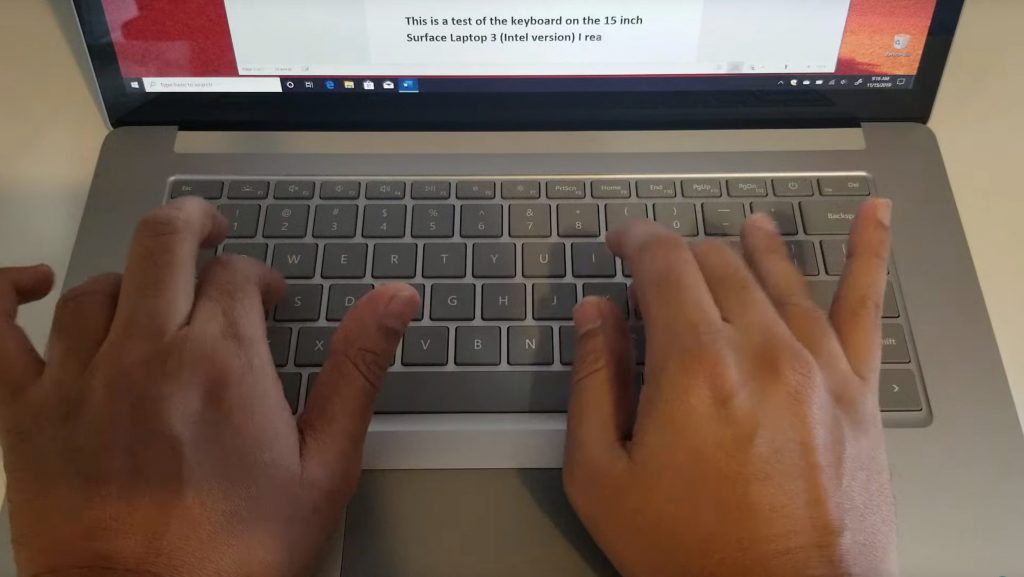 A Surface device that I'm definitely keeping
Unlike with the Surface Pro X, the Surface Laptop 3 is something I'm quite impressed with so far. I love the overall design quality, as well as its super-efficient display. The Intel processors inside the device are also great for me so far, and I'm looking forward to testing it more. This is a Surface that I think I'll keep, and I look forward to finishing my full review in the coming weeks.