Microsoft officially released Windows 11 earlier this month, and the new OS has just started rolling out to a larger pool of eligible PCs. Due to stricter minimum hardware requirements, Windows 11 will likely leave many old PCs on the sidelines, and it's a pretty similar story for Mac users.
If you were planning to use Apple's Boot Camp tool to install Windows 11 on a separate partition on your Mac, you're out of luck: Windows 11 isn't supported on Intel-based Macs, as these machines don't have the TPM 2.0 security chip and Secure Boot feature that the OS requires. As for Apple's new M1-based Macs, Boot Camp is not supported at all on these machines, so you can't install Windows 11 on ARM or even Windows 10 on ARM on a separate partition.
This is where virtualization software like Parallels Desktop for Mac comes to the rescue. Parallels Desktop 17, the latest version of the app released earlier this summer was a cornerstone release, bringing support for Windows 11 on both Intel and M1-based Macs.
Over the past couple of weeks, I've been using Parallels Desktop 17 for Mac to run Windows 11 on ARM on an M1-based Mac Mini, and the experience has been pretty seamless so far. With Apple still in the process of transitioning its whole Mac line to Apple Silicon throughout 2022, Parallels had no choice but to optimize its software for Apple Silicon Macs and ARM versions of Windows. So far, the company did a very good job, but some important questions still remain.
What it's like to run Windows 11 on an M1 Mac
Windows 11 on ARM pretty much flies on the M1 Mac Mini I have which has 16GB of unified memory. Windows 11 requires a two-core CPU and a minimum of 4GB of RAM, and Parallels Desktop can automatically choose the amount of RAM and CPU cores your Windows 11 VM needs. It's still possible to manually choose your CPU and memory settings, but Parallels Desktop also offers different profiles (Productivity, Software testing, Gaming, etc.) with optimized settings.
Once you've downloaded a Windows 11 on ARM ISO from Microsoft's website, installing Windows 11 on an M1 Mac is pretty straightforward. A recent Parallels Desktop update also enabled the new virtual TPM 2.0 chip by default to ensure that the minimum requirements for Windows 11 are met. You can activate Windows 11 on ARM with a regular Windows 11 key when the installation is done, though that's not necessary.
Running Windows 11 on ARM on an M1 Mac via Parallels Desktop feels like a no-compromises experience, and Windows 11 really improved compatibility and performance with Windows apps that have yet to be recompiled for the ARM64 architecture. Playing games isn't a great scenario, though, as Parallels Desktop 17 doesn't support DirectX12. However, most DirectX11 games that don't require a specific GPU should work just fine, as explained in the video below.
Macs have never been great for gaming, and the situation has gotten worse after Apple dropped support for all 32-bit apps and games with macOS Big Sur. Parallels Desktop improves the situation significantly for Mac gamers, and it's quite fascinating to see Win32 games being emulated on Windows 11 on ARM, all running in a virtual machine on a Mac. You would imagine that there would be a significant performance cost, but a competitive multiplayer game like Overwatch runs just fine on an M1 Mac.
For me, Parallels Desktop's killer feature remains Coherence Mode, which lets you completely hide the Windows VM and run Mac and Windows apps side by side on your main Mac desktop. This is especially important when the Windows version of an app has more features than its Mac counterpart. When in Coherence mode, you can even access the Windows 11 Start Menu from the macOS dock to quickly launch Windows apps right from your Mac.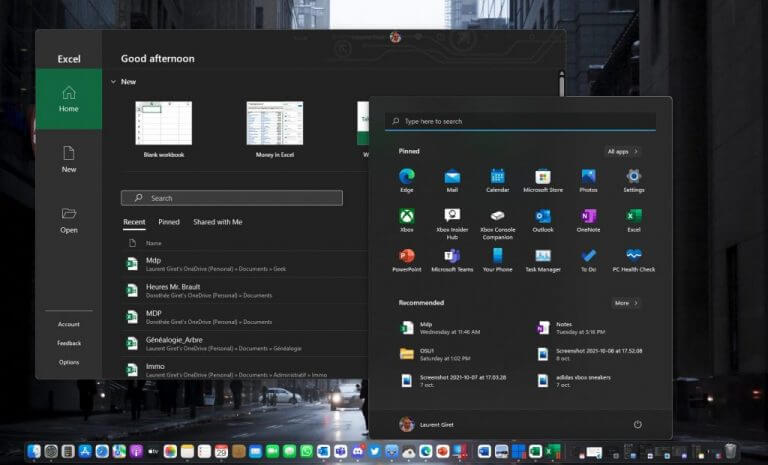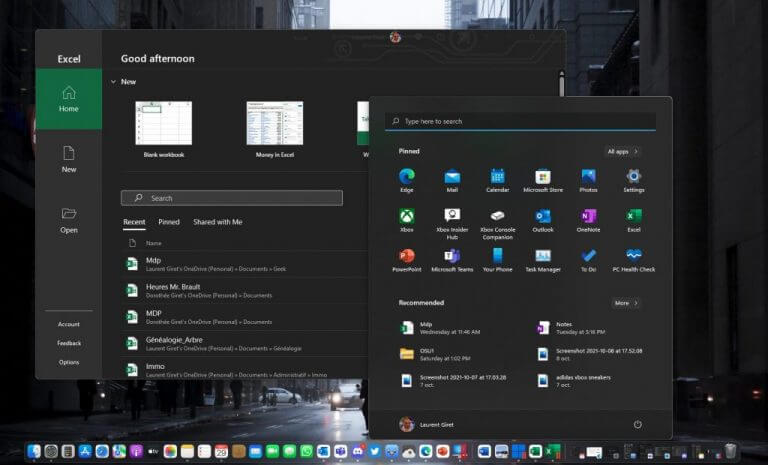 Microsoft doesn't officially support Windows 11 on M1 Macs
Thanks to Parallels Desktop 17, Windows 11 on ARM runs great on M1 Macs, there's no question about it, though it's important to keep in mind that this isn't an officially supported scenario. Microsoft still isn't selling Windows 10 or Windows 11 on ARM to consumers, so Parallels Desktop for Mac users are pretty much forced to run unlicensed Insider Preview versions of these operating systems.
In some ways, using Windows 11 on M1 Macs with Parallels Desktop is almost like running Windows 11 on an unsupported PC: It works fine for now and the virtual TPM 2.0 chip support in Parallels Desktop 17 makes Windows 11 believe that you're running the OS on a supported PC, though there's no guarantee that this will always be the case.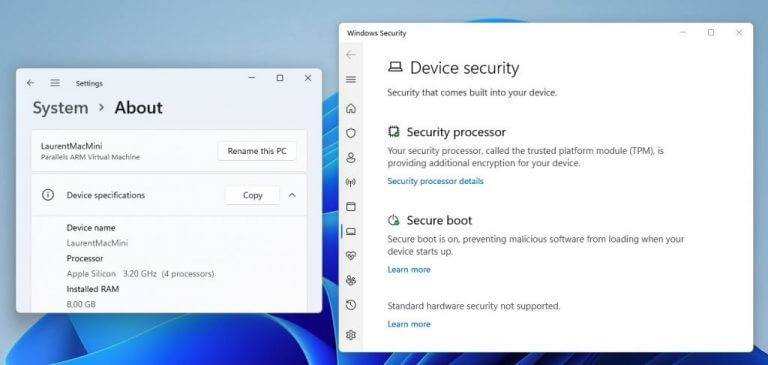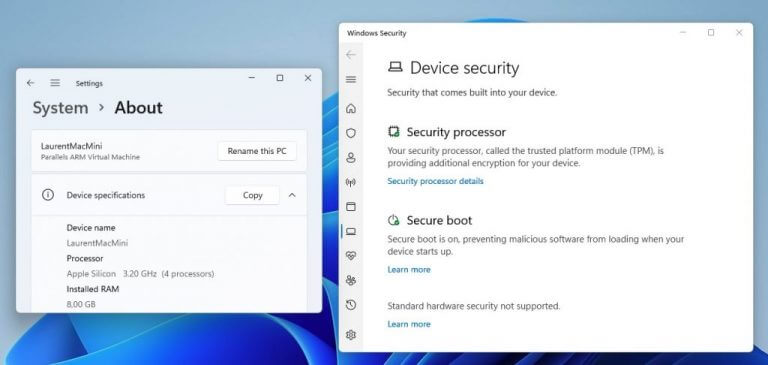 The lack of official support for Microsoft could pose a risk for Parallels, though the company doesn't seem too worried about it. With Intel-based Macs soon going away, Parallels has no choice but to remain committed to serving its Mac customers the best it can during the Mac's transition to Apple Silicon.
I asked the company to comment on the lack of official support for Windows 11 on M1 Macs, and I received the following statement:
Our Parallels team is focused on serving our customers with powerful tools that enable them to run any software on any device. More than 200,000 different Windows applications can be run using Parallels' virtualization technology and we know just how mission critical our software is to so many people. Since 2006, millions of customers have relied on Parallels Desktop to run Windows on their Mac devices and our team is deeply committed to providing the best possible Windows experience on their favorite Mac hardware, whether it's Intel or M1 based. And currently, our Parallels Desktop 17 (and update 17.0.1, which further enhances the user experience) can run Windows 11 on ARM Insider Preview on Apple M1 Mac computers with excellent performance.

While we can't comment specifically on another company's statement, it's not unusual for software manufacturers to have policies regarding the hardware requirements and environments they officially support. And throughout the tech industry, there are many examples of software use cases and configurations that may not be officially supported, but remain very popular in both corporate and individual end user environments.
Could Windows 365 make virtualization software irrelevant?
If Parallels Desktop for Mac probably remains the best way to run Windows apps on a Mac, I'm starting to wonder if Windows 365, Microsoft's new Cloud PC offering could soon beat running Windows in a virtual machine. With Windows 365, enterprise customers can pay a subscription to stream a Windows 10 or Windows 11 PC on any device, with the convenience of having personalized apps, content, and settings right from the go.
Microsoft launched Windows 365 earlier this year, and the company offers different tiers for SMBs and bigger enterprise customers. However, the ease of use of Windows 365 definitely comes at a cost, and a Cloud PC is also useless in rare cases when you don't have an Internet connection. Parallels has its own remote working solution with Parallels Remote Application Server, which provides access to virtual apps and desktops anywhere, but Microsoft obviously has the scale to make a service Cloud PCs really ubiquitous with Windows 365.
I don't believe that Parallels Desktop for Mac is going to lose Mac customers in the short term, and the app still supports macOS and Linux virtualization in addition to Windows. However, the deprecation of Boot Camp on Apple Silicon Macs and the lack of official support from Microsoft for running Windows 11 in Parallels Desktop for Mac aren't really good signals. I'm sure that Parallels remains deeply invested in Parallels Desktop for Mac and I'll continue to rely on it every day, though I can increasingly see the appeal of accessing a Windows 11 PC from a web browser, with zero maintenance necessary.