Minecraft is the most popular game of all time, with developer Mojang recently announcing 200 million copies sold. The sandbox game is Microsoft's most valuable gaming IP, so expectations are quite high for Minecraft Dungeons, a new dungeon crawler that will be released on Xbox One, PlayStation 4, Nintendo Switch, and Windows 10 tomorrow, May 26.
During my hands-on with the closed Windows 10 beta, I wondered if Dungeons could well be "Minecraft for the rest of us." Even though the original game has 126 million monthly active players, it has a steep learning curve and the pixelated graphic style is definitely not for everyone. Well, the blocky art style is definitely easier on the eyes in Dungeons, which makes excellent use of Epic's Unreal Engine 4, and the game is much more accessible than regular Minecraft.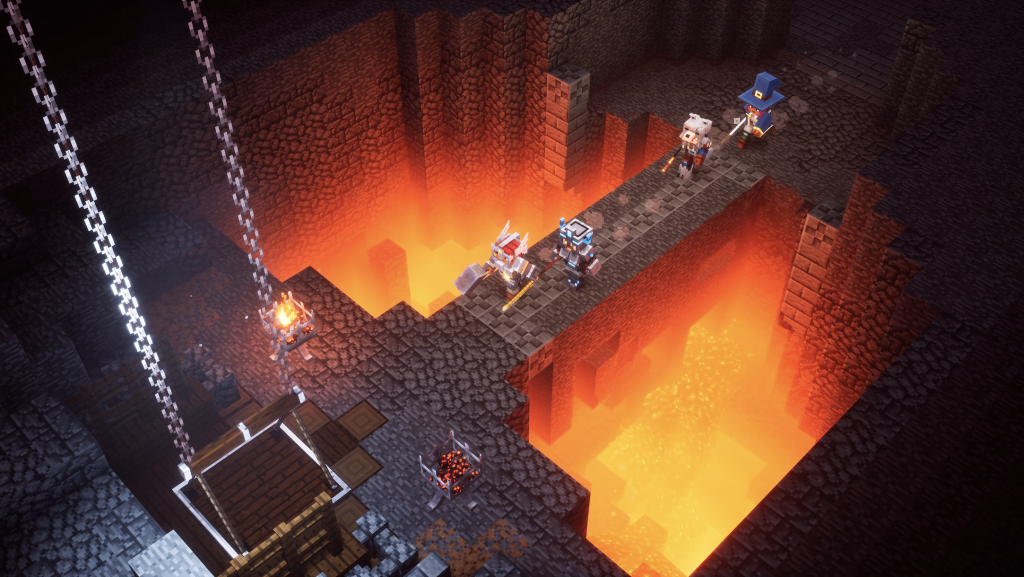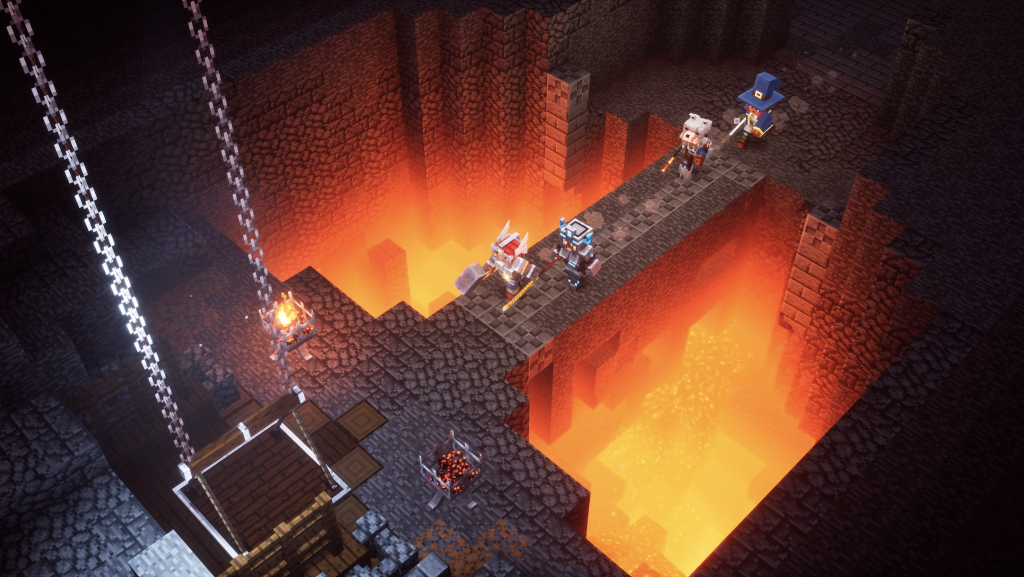 If Minecraft never clicked with you before, Minecraft Dungeons may well be the game that could change that. It probably helps that Dungeons can be played with up to four players in co-op, though crossplay is unfortunately not supported at launch.
The review code Xbox sent me included both the PC and Xbox One versions of the game, and I played Minecraft Dungeons mostly on PC because that version was able to import my character from the closed PC beta. However, the game runs flawlessly on both my Xbox One X and my PC, and the latter version supports both mouse and keyboard and Xbox controller input.
An accessible gameplay
Unlike other dungeon crawlers like Diablo 3, Minecraft Dungeons has no class system. This means that you won't have to choose between melee-focused characters and others better at ranged attacks. All the character customization is done through loot, the enchantment points you can use to give your weapons special perks, and artifacts that give you special abilities with a cooldown time.
During my playthrough, I found that all melee weapons are not equal: you'll start the game with a sword, but you'll find plenty of other options including the familiar pickaxe, sickles, hammers, but my personal favorite is the two-handed glaive which has a very long range, making it easier to hit multiple enemies with one swing and keeping them at a distance.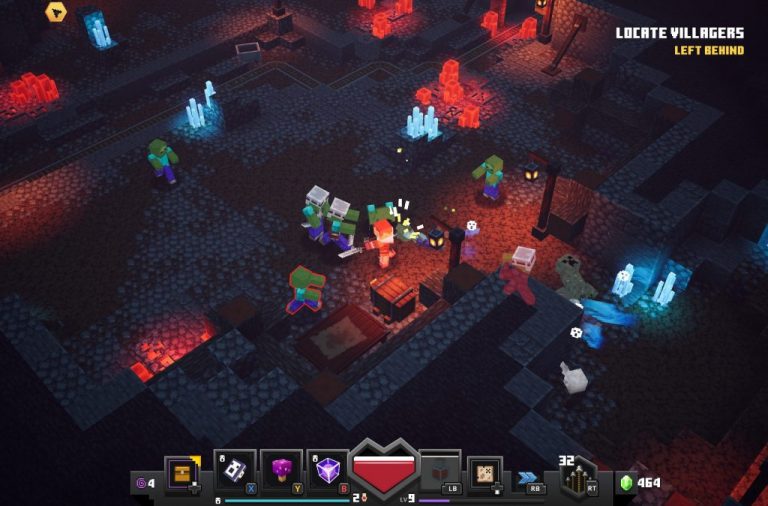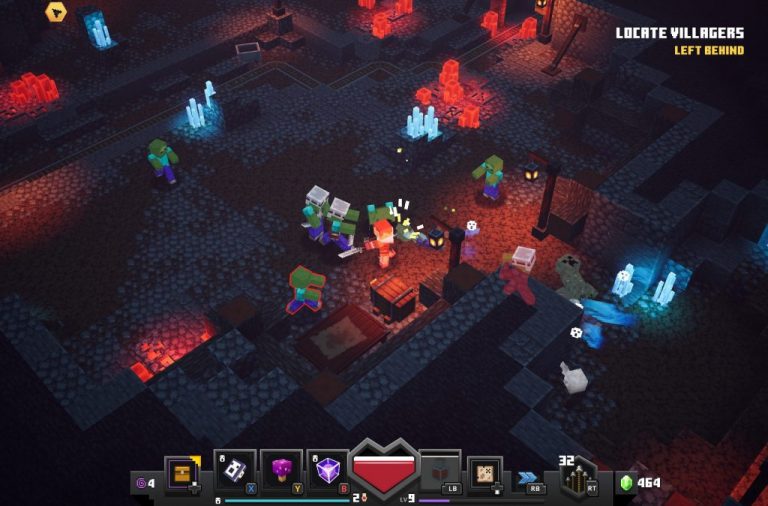 In addition to your melee weapon, you can also shoot arrows at enemies with a bow, though arrows are pretty limited. Your armor and weapons can be customized with enchantment points, which you gain every time your character gains a new level. As an example, my level 47 character has 47 enchantment points to spend on perks that are unique to your equipment.
When you salvage your equipment, you'll get back the enchantment points you spent on them to use on new gear. This flexible system encourages players to change their equipment all the time, and enchantments are guaranteed to make your gear pretty unique.
The artifact system will also allow you to equip three objects that will give you special abilities: My favorite ones were the Totem of Shielding which creates a protective shield that can block all projectiles for a couple of seconds. The Totem of Regeneration is also a quick way to heal yourself on the battlefield by creating a circular aura that will heal you and your allies.
Some other artifacts also let you collect souls every time you kill enemies, and you can use this resource to use magic spells. However, I didn't find this "Mana" equivalent very effective so far, though maybe I still need to find artifacts that make better use of this resource.
Overall, the gameplay in Minecraft Dungeons is very accessible, and there's actually no crafting at all (more on that later). The game is rated for ages 7 and up, and I found the enchantment system easy to understand and well-thought-out. It's definitely not as complex as a real class system, but the possibilities still seem endless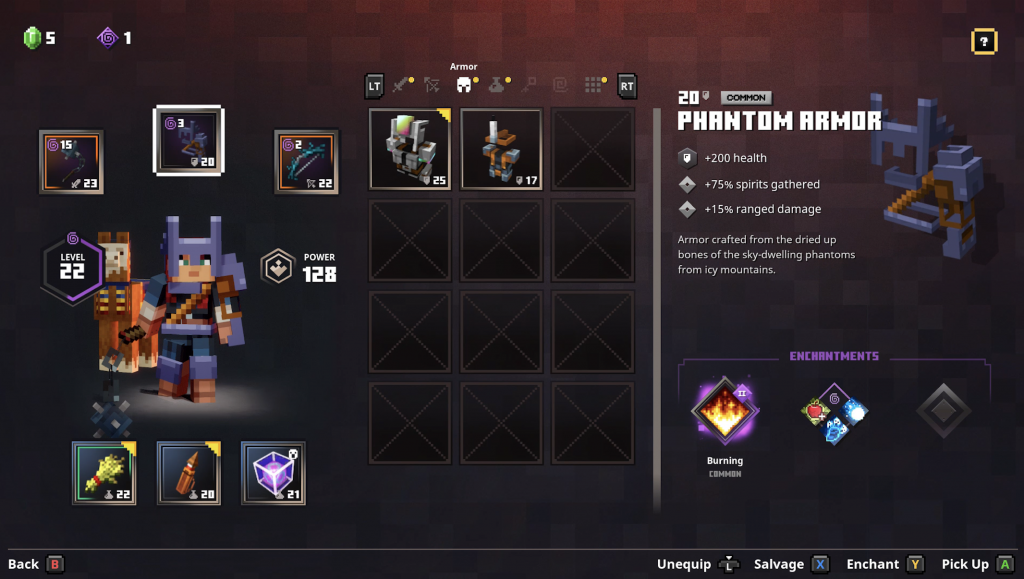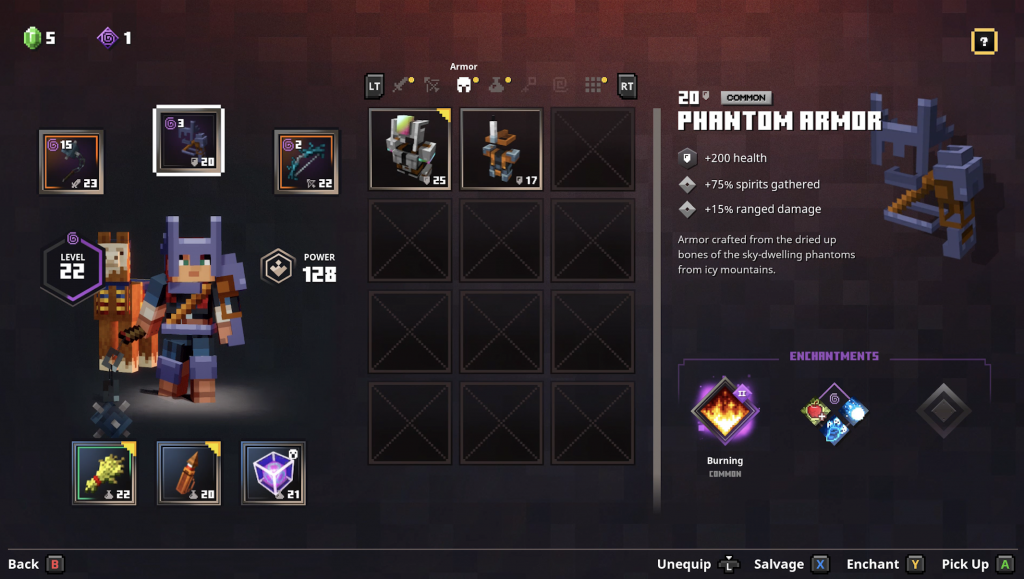 A short adventure with good replay value
Minecraft Dungeons is a pretty short game, and I finished the 9 main missions in less than six hours, though there are some hidden levels to unlock if you take your time When you finish the game, you'll unlock a new difficulty level with stronger enemies and new gear and artifacts to find.
All levels in Minecraft Dungeons are procedurally generated, which adds some replay value to the game. It's also worth noting that every level has specific gear drops and artifacts to find, so you may need to play them multiple times to find the weapons and artifacts you're looking for.
The story in Minecraft Dungeons is pretty barebones, and your main goal is to put an end to the Arch-Illager's reign of terror. You'll encounter the little tyrant multiple times during the game, and you'll have to eliminate all of his evil minions to progress further. The pretty bland story is a bit of missed opportunity, especially since there are no real NPCs in the game.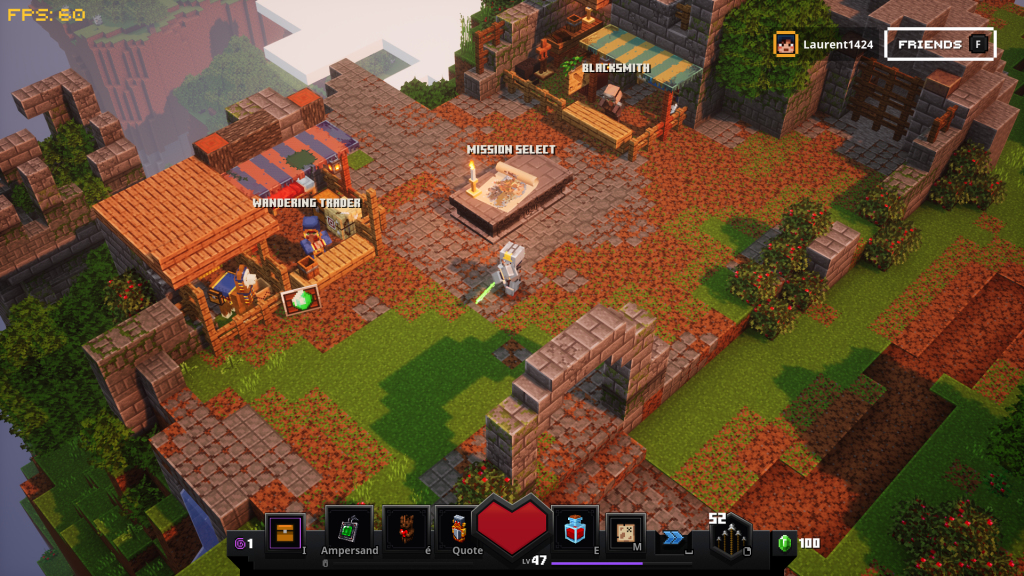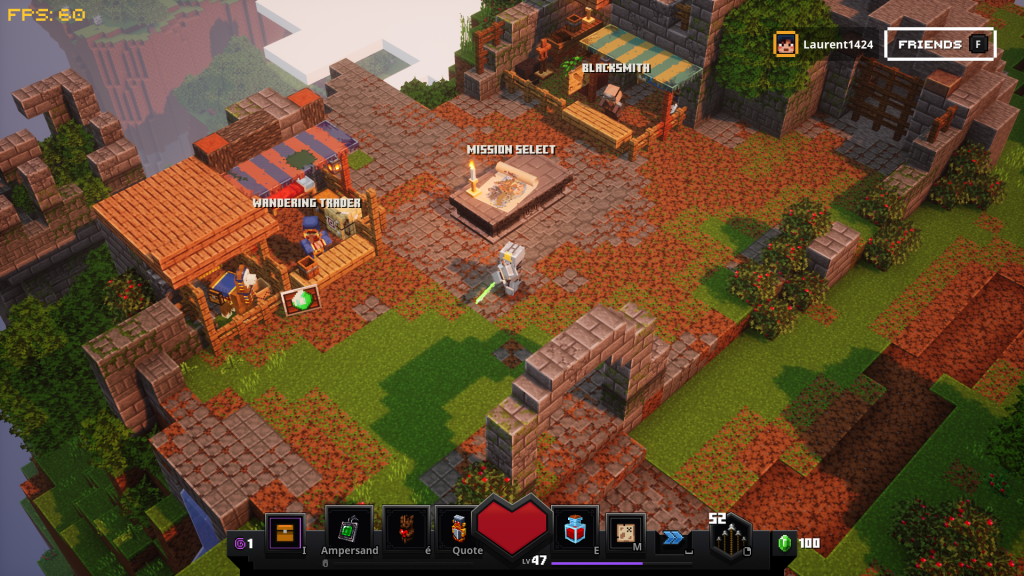 Between missions, you'll end up at your camp where you can find the blacksmith and wandering trader to exchange your gems for randomized gear or artifacts. However, these two NPCs have zero dialogue options, and you won't find anything else to do in the camp. To my knowledge, there are also no sidequests, except for the hidden level I mentioned above.
As of this writing, I finished the game a second time and unlocked the "Apocalypse" difficulty level. I'm still having fun playing it and I'm able to find much better gear than before, but I hope the game will get more content soon. Developers Mojang and Double Eleven are already working on DLCs that will be included in the game's Hero Edition, and you can already see these additional adventures on the Mission Select screen.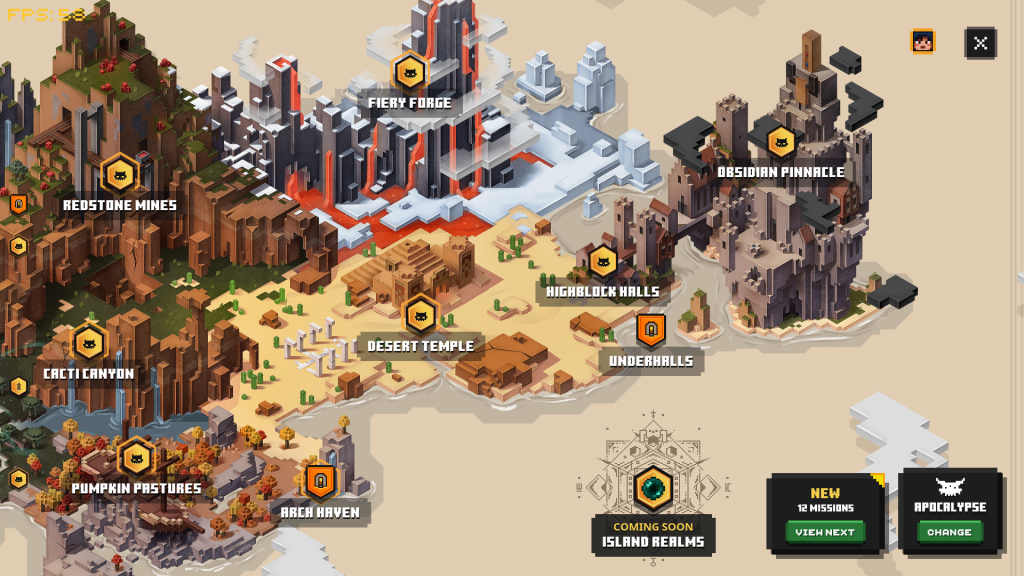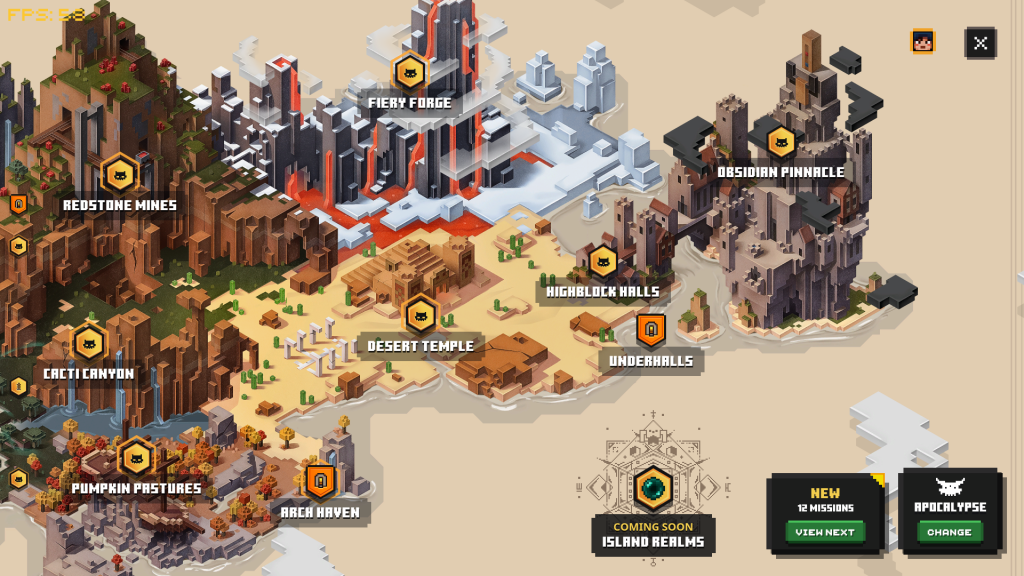 A little more polishing needed
Minecraft Dungeons is a fine game considering it's priced at a very affordable $19.99, but there are certain things that left me scratching my head. First of all, the Windows 10 and Xbox One versions don't share saves via Xbox Live, which is a very surprising omission considering that Xbox Live achievements are shared between both platforms. Cross-play multiplayer is also missing at launch, though Mojang said it's coming in a future update.
I spent a couple of hours playing Minecraft Dungeons in online coop with a friend, and I was quite surprised to see that you can't exchange gear with teammates. Loot is actually pretty rare in the game, and you'll be very happy if you find 10 different objects on a level. As I wrote before, each level has a pre-defined selection of loot drops, so players looking for certain objects will have to complete the same level multiple times. Moreover, you can only exchange your money for randomized gear, and the two merchants in your base camp won't allow you to buy what you want.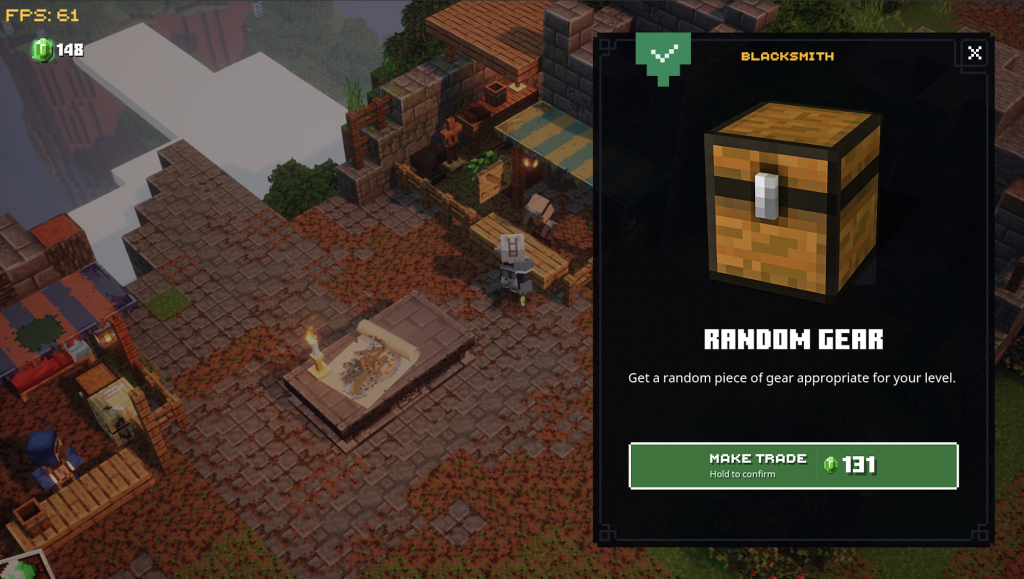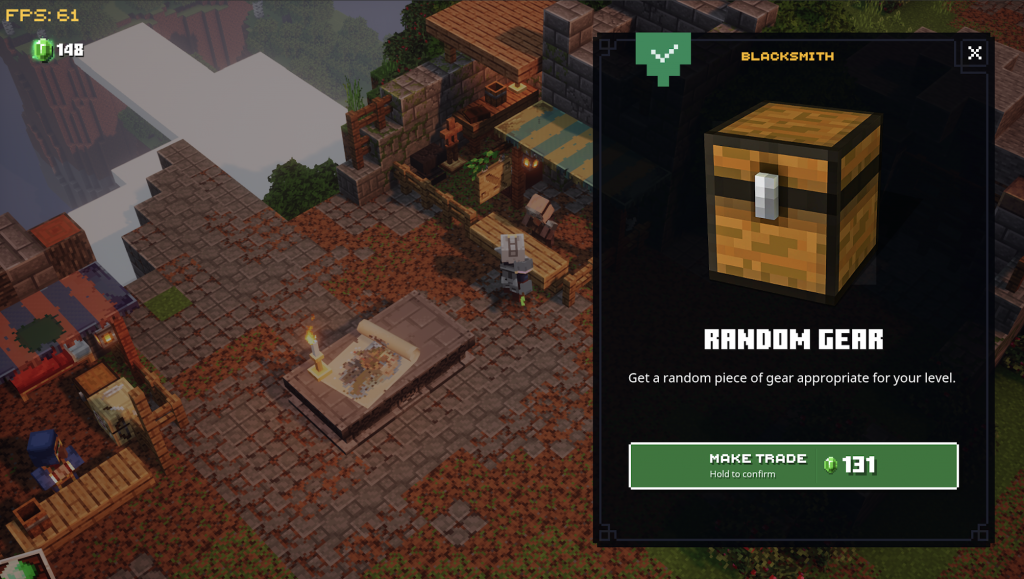 The latter point was probably the most frustrating thing for me in Minecraft Dungeons. If you're a fan of certain weapons, bows, armors, or artifacts, it's actually pretty hard to get more of them. Not only is the loot dropping insufficient in the game, but you can only spend your own money on randomized items, and you'll often get the same midrange stuff over and over.  As a result, I often had to wait literally hours before I could upgrade my equipment for something better, and I think the game could really benefit from having a trading system between players, as well as real merchants in the base camp. You can't even purchase arrows for your bow, and those are actually pretty rare to find on the battlefield.
My last point of criticism would be about the absence of crafting, which is pretty curious for a Minecraft game, as well as the absence of destructible elements. In the original Minecraft game, the exploding Creeper mobs create huge craters on the ground when they blow up, but the terrain is completely indestructible in Minecraft Dungeons. Even the rare TNT crates you can throw on enemies will leave absolutely no trace on the ground. That's probably not that big of a deal in a dungeon crawler, but crafting and destructible elements play a key role in the original Minecraft game, so it's pretty weird to see them completely missing in Minecraft Dungeons.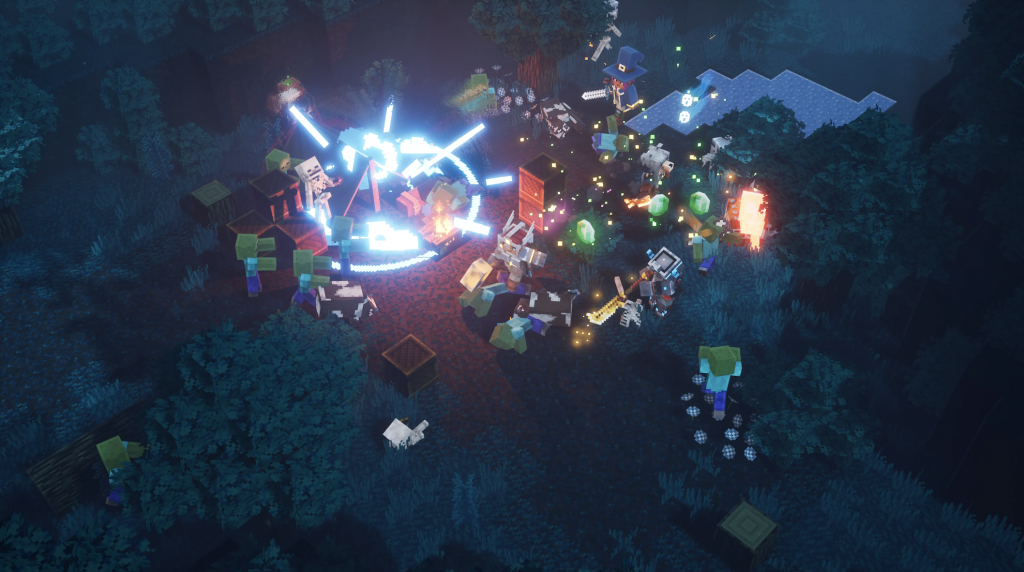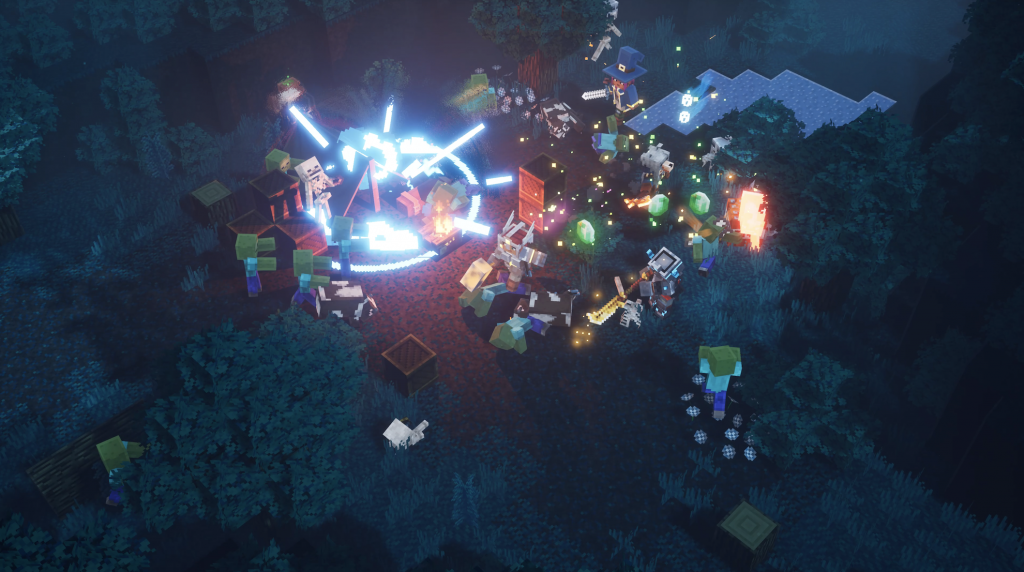 A perfectible but promising formula
Overall, Minecraft Dungeons is good value for a $20 game, and it will also be a good addition to Xbox Game Pass for PC and Console. It's also great that the game is launching tomorrow on PlayStation 4 and Nintendo Switch, though it's too bad that Microsoft couldn't get cross-play multiplayer ready at launch.
Minecraft Dungeons certainly doesn't reinvent the dungeon crawler style of games perfected by Blizzard's Diablo series, but it does make it more accessible with a simple but versatile progression system. The main issue for me is the lack of content with a campaign that can be finished in six hours, and the game being generally too ungenerous with loot. The really good stuff is a bit too hard to find, and the game would certainly be more fun if it gave you more things to experiment with.
I'm hoping to see some gameplay improvements in post-launch updates, including the ability to trade loot with other players. A PvP multiplayer mode would also be interesting, especially since there are so many ways to customize your character with enchantments and artifacts.
If you plan to get the game on Xbox One, be aware that Minecraft Dungeons doesn't support Xbox Play Anywhere or cross-saves with the PC version, which has to be purchased separately. Minecraft was already the rare exception in the growing pool of Xbox Game Studios titles that support Xbox Play Anywhere, so that's not really surprising. Anyway, $20 is pretty cheap, and it's even cheaper to try Minecraft Dungeons with Xbox Game Pass Ultimate, which is just $1 for new subscribers.