There appears to be a convergence of mobile technology that's been gradually happening right before our eyes. Large technology things becoming smaller, and smaller technology things becoming larger, all in an attempt to hit a moving target that is mobile personal computing.
Some of the highlights of this more modern convergence include the introduction, ridicule, and eventual market acceptance of Samsung's Galaxy Note series, where the South Korean multinational conglomerate made headwinds in advancing the screen size and productivity output of the smartphone industry. Another is Apple's iPad which, for all intents and purposes, blew up the highly regarded iPhone experience to 9 and 10-inches, so people could explore their previously pocketable smartphone experiences in a more casual environment.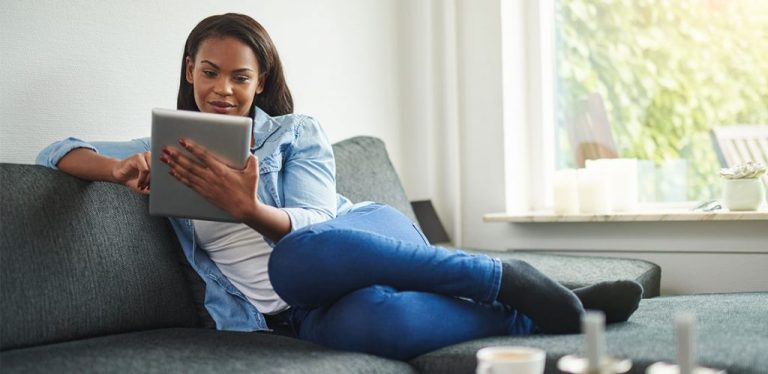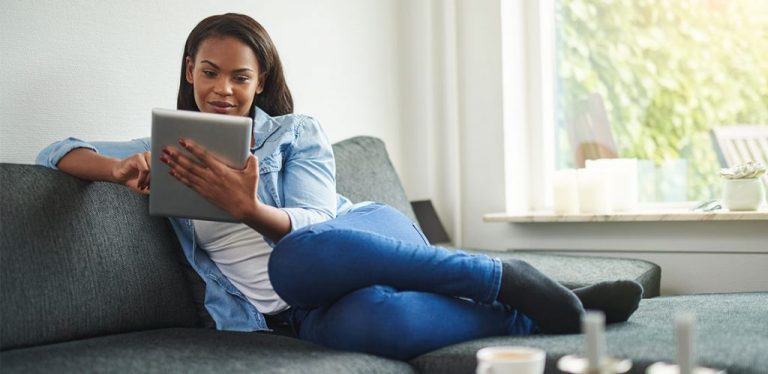 Next was Microsoft's Surface Pro experiment that shrunk a potential dual 27-inch monitor workstation or 13-14-inch laptop experience down to a more backpack-friendly 10 and 12-inch affair. Google had its moment with its Nexus 7 tablet that allowed Android users to have a taste of the iPad life and free their android app experience from its previous 6-inch constraints. In the last decade, almost every hardware manufacturer with a software leg has thrown a different sized screen at consumers hoping that it can capture that elusive mobile computing sweet spot.
Enter the Microsoft Surface Go 2.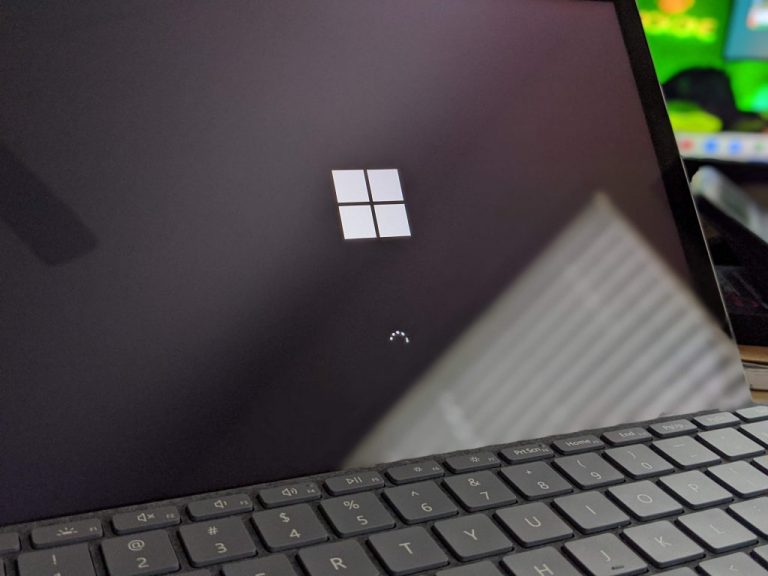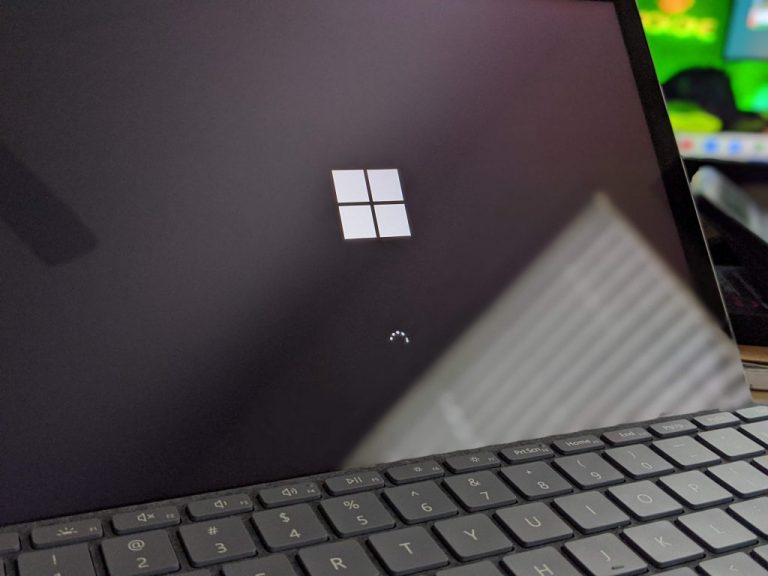 Microsoft's second attempt at further shrinking the traditional Windows experience down to a more pocketable and mobile device has produced the Surface Go 2.
Copy of Surface Go 2 Tech Specs
Scenarios
Improved speed for everyday tasks, streaming movies, music and shows, shopping, browsing, emails, and homework
Network
Nano SIM Tray 4G LTE Advanced3 (Bands 1, 2, 3, 4, 5, 7, 8, 12, 13, 14, 19, 20, 25, 26, 28, 29, 30, 38, 39, 40, 41, 66) GPS/GLONASS: Standalone and assisted GNSS, accuracy up to 3 meters
Dimensions
9.65" x 6.9" x 0.33" (245 mm x 175 mm x 8.3 mm)
Storage4

eMMC drive: 64GB, or
Solid-state drive (SSD): 128GB
Display

Screen: 10.5" PixelSense™ Display
Resolution: 1920 x 1280 (220 PPI) resolution
Aspect ratio: 3:2
Contrast ratio: 1500:1
Touch: 10 point multi-touch
Corning® Gorilla® Glass 3
Battery life
WiFi: Up to 10 hours of typical device usage
LTE Advanced:³ Up to 10 hours of typical device usage
Memory
4GB or 8GB RAM
Graphics
Intel® UHD Graphics 615
Processor
Intel® Pentium® Gold Processor 4425Y
8th Gen Intel® Core™ m3 Processor
Connections
1 x USB-C®
3.5 mm headphone jack
1 x Surface Connect port
Surface Type Cover Port⁶
MicroSDXC Card Reader
Compatible with Surface Dial*
Security
Firmware TPM
Enterprise-grade protection with Windows Hello face sign-in
Cameras, video and audio
Windows Hello face authentication camera (front-facing)
5.0MP front-facing camera with 1080p Skype HD video
8.0MP rear-facing autofocus camera with 1080p HD video
Dual Studio Mics
2W stereo speakers with Dolby® Audio™
Software
Ambient light sensor
Accelerometer
Gyroscope
Magnetometer
Exterior
Casing: Magnesium
Color: Platinum
Physical buttons: Volume, Power
What's in the box
Surface Go 2
Power Supply
Quick Start Guide
Safety and warranty documents
Warranty
1-year limited hardware warranty
Weight

Wi-Fi: Starting at 1.2 lbs (544 g), not including Type Cover*
LTE Advanced³: Starting at 1.22 lbs (553 g), not including Type Cover*
Best-in-class support from Microsoft Store
30-day return policy
90 days of free technical phone support
12 months in-store support and technical assistance
1 free training session to transfer data and optimize performance.
The Surface Go 2 is the refinement of a concept Microsoft seemingly shied away from when dumping its supposed 7″ Surface Mini project. Shrinking the bezels and adding a more capable processor goes a long way in addressing some of the issues from the release of the first Microsoft Go, just a year prior.
It should be noted, the model I'm using isn't the budget-friendly deal Microsoft will publicly market, but it is a good marker for the experience customers could receive if they spring for the arguably more capable device.
Overview
With everything included, the actual price tag for the experience Microsoft is marketing will run $750 including additional Type Cover. Admittedly, the $750 price tag is steeper than your low-budget laptops, but the actual software and mobility experience from the Surface Go 2 will be hard to match.
With that said, the Intel Core M3 powered Surface Go 2 with 128GB SSD and 8GB's of RAM allowed me to leave my laptop in different rooms for hours without worrying about switching devices when I needed to be on a conference call, draft up long-winded emails, plug-in to power a dual monitor experience or mark up some marketing ads for work.
Microsoft claims the new m3 processor is up to 64% faster than the previous Pentium Gold processor Intel grabbed from its budget bin for the original Surface Go and in real-world use, there is a noticeable performance boost.
Hardware-wise, the Surface Go 2 retains an almost identical exterior make up as the original Surface Go with its FHD 5MP camera, dual far-field studio microphone array, signature 165-degree kickstand, Surface Type Cover pogo pins, USB-C port, and proprietary charging port.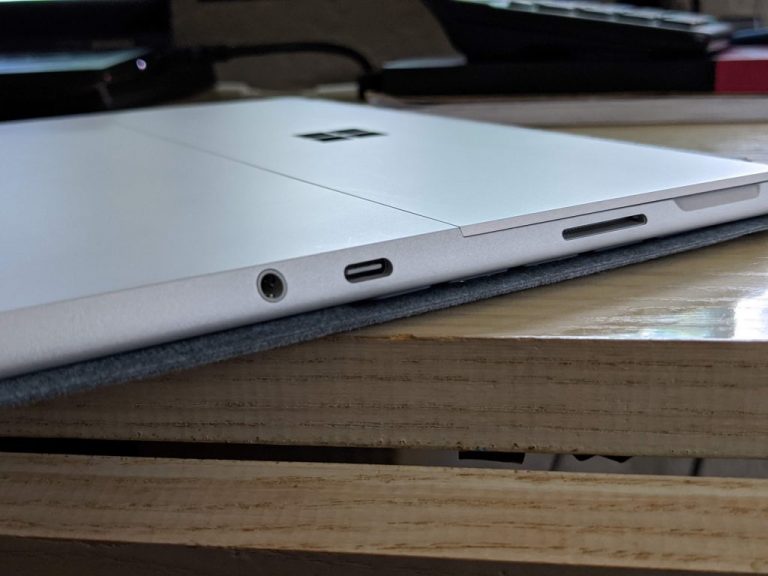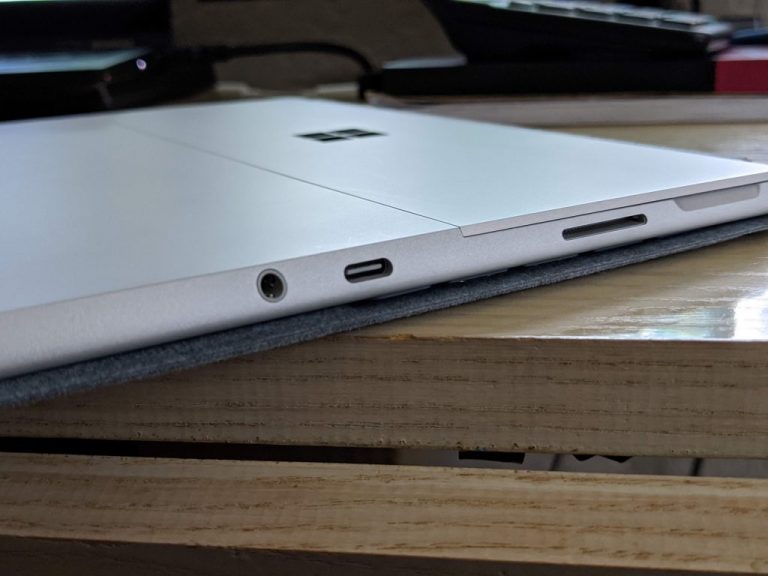 In a crude weight test looking beyond the back of the box claims, the Surface Go 2 feels identical to last year's model, no lighter or heavier than before, however, with the increased screen real estate, there is a bit of cognitive dissonance that happens when handling in tablet mode. The device figuratively "feels" lighter because you are handling more screen, but its actuality, just about the same.
Speaking of the screen, customers now get a 10.5-inch PixelSense experience that pushes out a 1920 x 1280 (220 PPI) resolution at the sweet 3:2 aspect ratio with the same 10 point multi-touch support and Corning Gorilla Glass 3 as last year's model.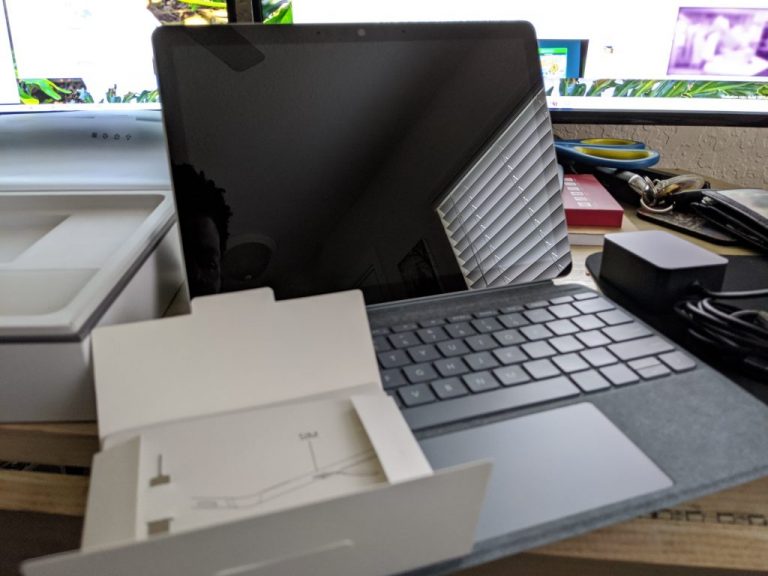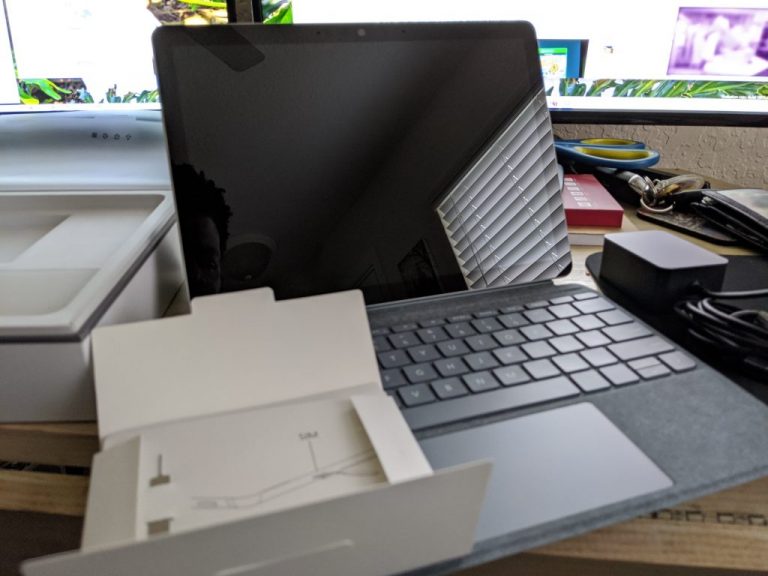 The Convergent Device
I spoke earlier of device makers looking for the mobile sweet spot for portability vs. productivity and I feel the Surface Go 2 might be just that and I say this in the shadow of the Surface Duo release.
The 10.5-inch screen is small enough to toss anywhere while also being big enough to address the dreaded lapability concerns review journalists seem keen or rehashing over and over. Furthermore, since it's a Windows 10 powered device, you get a full desktop experience (albeit Windows 10S out of the box).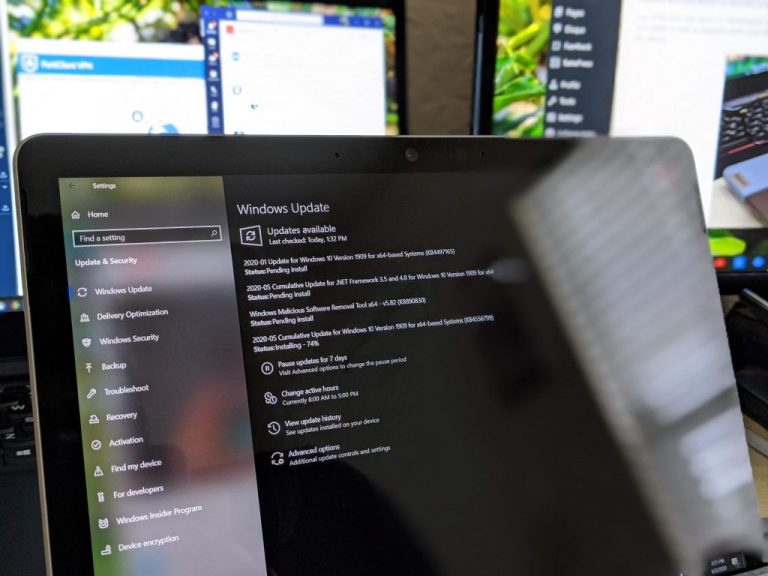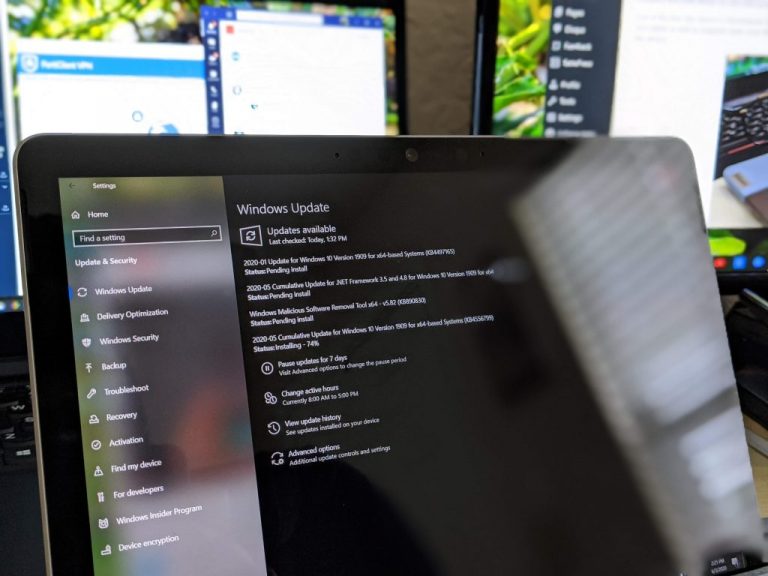 In May, I took the Surface Go 2 and my Lenovo ThinkPad X1 Carbon on a road trip from Florida to New Hampshire to escape the growing Floridian COVID-19 increase in cases. I used my device in an almost 70/30 split with the Surface Go 2 being the go-to device I would tote up and down stairs, plugin for conference meetings, and power my makeshift dual monitor setup at my in-laws. Using the Surface Go 2 in Windows 10S mode was a pleasure. Obviously, anyone operating in Windows 10S mode should be made aware of the Microsoft Store and the ability to pin Edge web apps to the Start Menu and Taskbar. Perhaps, a tutorial at the start of the Surface Go 2 experience detailing the web app and Microsoft Store experience my go a long way to expanding its viability as ChromeOS alternative.
Venturing out of Windows 10 S into regular Windows 10 was a little bit choppier of an experience but only as choppy as a normal Windows 10 OS experience can be. I also dabbled in Insider builds which affects my review of the Surface Go 2 as a "regular" device, but all-in-all, the Surface Go 2 handled 90 percent of what I threw at it. As for the other 10 percent, well, that was an admitted slow and laggy affair with some apps taking up to 45 seconds to open. That's right, 45 seconds.
However, Microsoft's account sync paired with the new chromium-based Edge browse's sync makes shifting your desktop to the device fairly hands-off. As files are transferring, customers may want to keep an eye on storage, because it is limited, but tossing in a microSD helps alleviate any of that related anxiety.
The extra screen real estate offered by the Surface Go 2 over a typical sized smartphone aided in me using it for more than work. Instead of doom scrolling Twitter on my phone, I would open an instance of Twitter and HBO Max to distract myself with the new Harley Quinn show when COVID-19 news became too overwhelming. I would also pair up my favorite CBZ reader (Cover) with Netflix as I referenced the source material for Netflix's The Old Guard.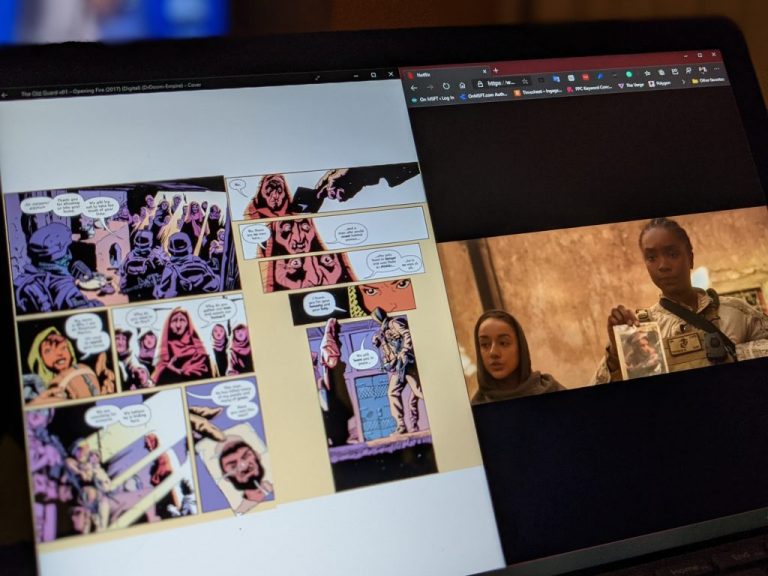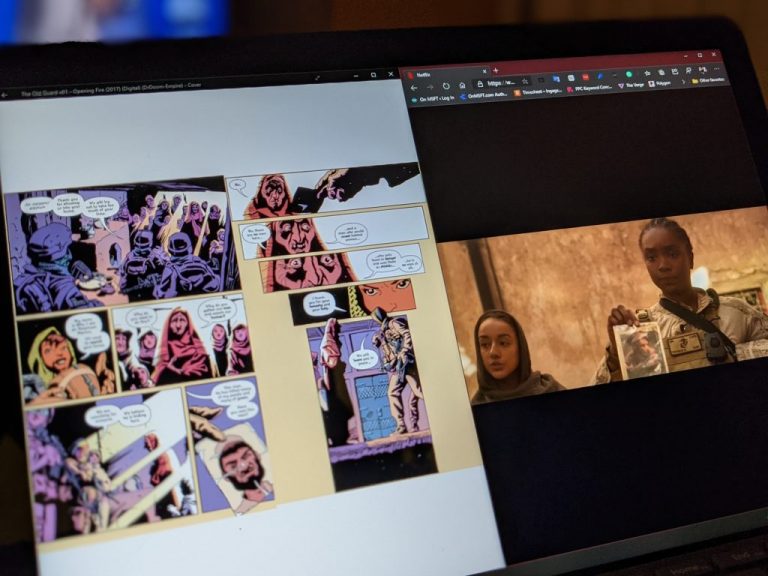 On breaks, I would use the built-in LTE to take the Surface Go 2 on hikes with me where I could get a little bit of work or leisure accomplished without being tied to my in-law's lake house, because after two straight weeks indoors, for this lazy reporter, going on a hike felt like its own mini-vacation. In addition, using the LTE option buttresses the idea that while folding phones help the transition from a 6-inch slap to a tablet, a tablet with telephony ability may be the invertible destination. Pairing my Pixel 4XL with the Your Phone app to make and receive calls from the Surface Go 2 while out on a hike or even a boat ride was transformative.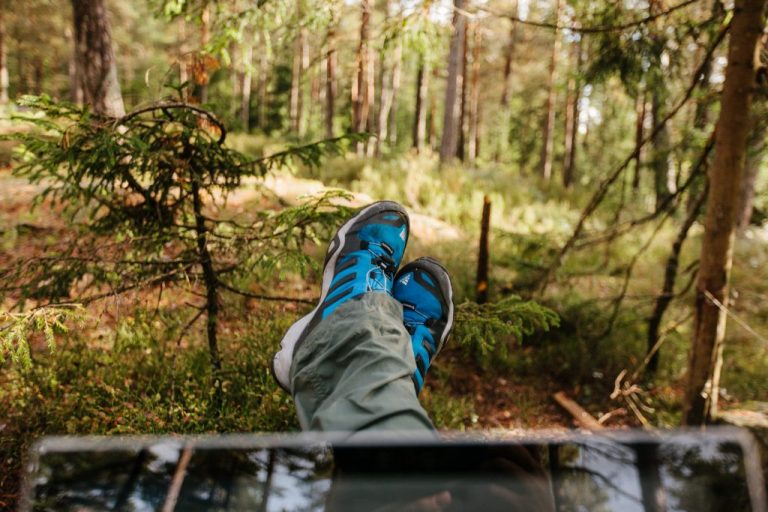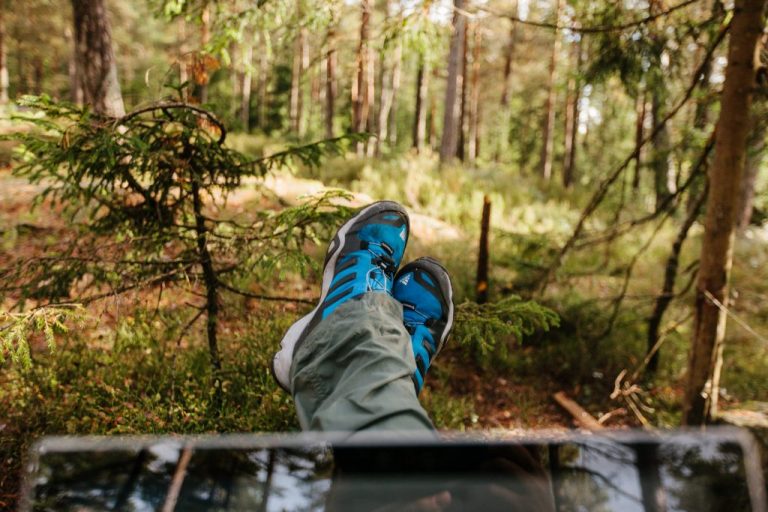 In Conclusion
While Microsoft continues to iterate on its Surface Laptop with varying screen sizes, the Surface Book, Surface Pro, Surface Pro X and now Surface Duo, looking to nail the coveted convergent mobile productivity device, I think they may have stumbled across it already with the Surface Go 2. Perhaps, tossing in an upgrade M3 or AMD's latest in next year's model might make it the powerhouse replacement that could be the best of both portability and mobility for the average consumer.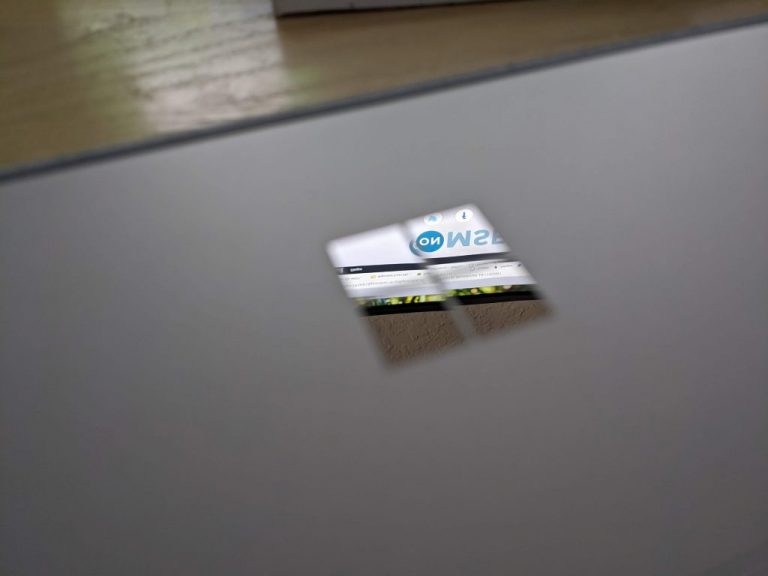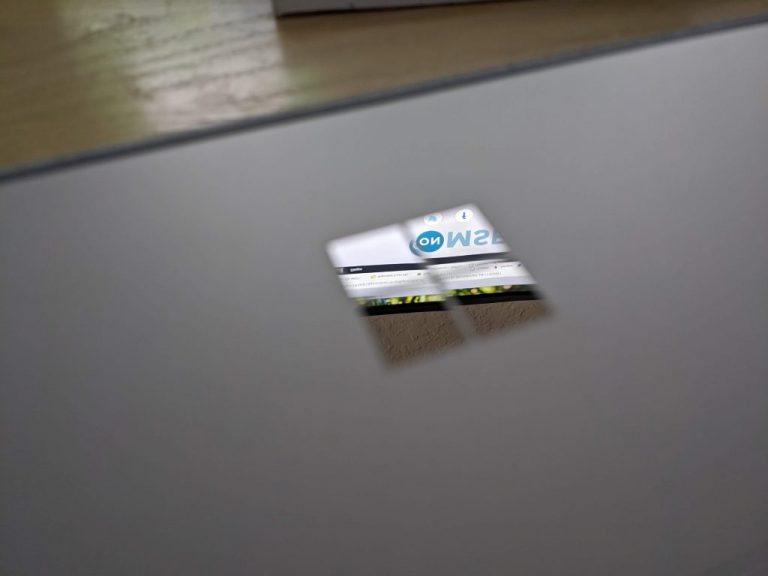 The Surface Go 2 is a very capable laptop and workstation replacement, tablet alternative (if you know which Store and web apps to use), and phone substitute in a pinch.
The convergence of a single, do-it-all mobility workstation is still around the corner, but the Surface Go 2 puts it that much closer into reach.