After a year of anticipation, the Surface Duo is finally here, and today, we'll be unboxing it. Available from Microsoft starting at $1,400, we purchased our own Surface Duo for a full review. Our unit comes configured with 128 GB of storage, and 6GB of RAM, as well as the Qualcomm Snapdragon 855 processor inside. Of course, the RAM and processor are standard, but adding extra storage will cost you an extra $100 and bring the price up to $1,500.
We opted to go the cheaper route and stick with the base configuration.  Anyway, we've spent the last couple of hours with the Surface Duo, here's our unboxing and quick impressions:
What's in the Box: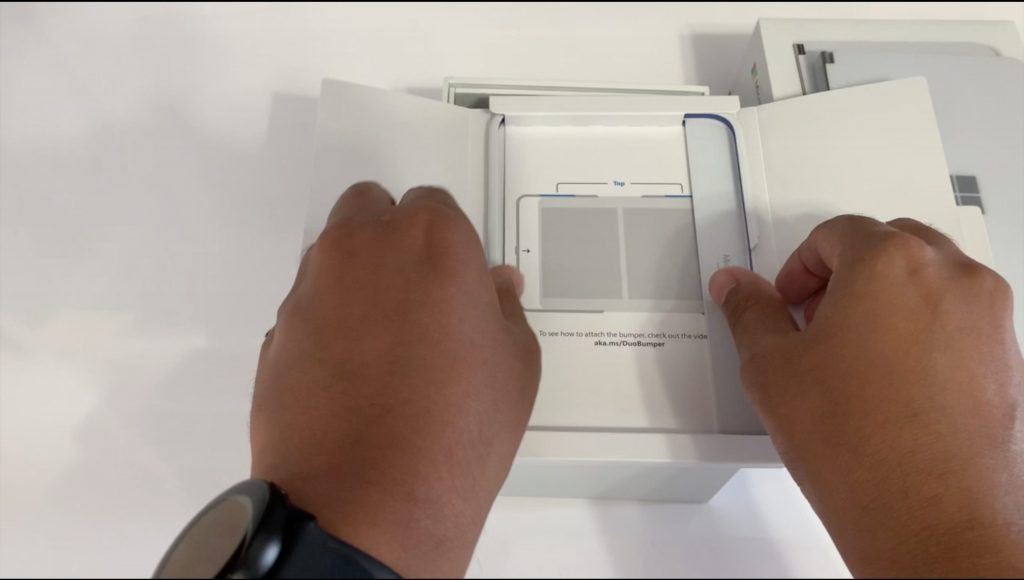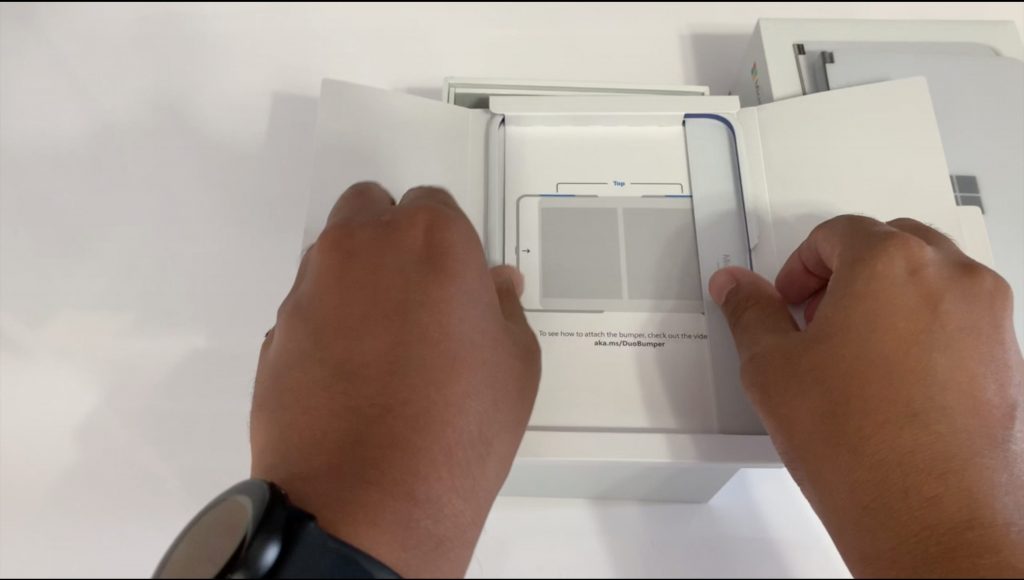 Inside the Surface Duo are some routine things. As soon as you open the box, you'll find the Duo housed on top, and then another box with the Duo's Bumper Case. As we're planning to take photos of the Duo in its nude and glory, we won't be installing the case just yet. However, it is pretty straight forward to install and there's a pamphlet explaining how to do so. It's as simple as peeling the blue stickers off and then applying the bumper to the Duo.
Other than the bumper case, the box also includes a USB-C to USB-C charging cable. There's also an 18-watt quick charger, included as well. In our brief tests, we were able to get about 20 percent of juice added to the Duo's battery in just a few minutes.
Touching the Duo: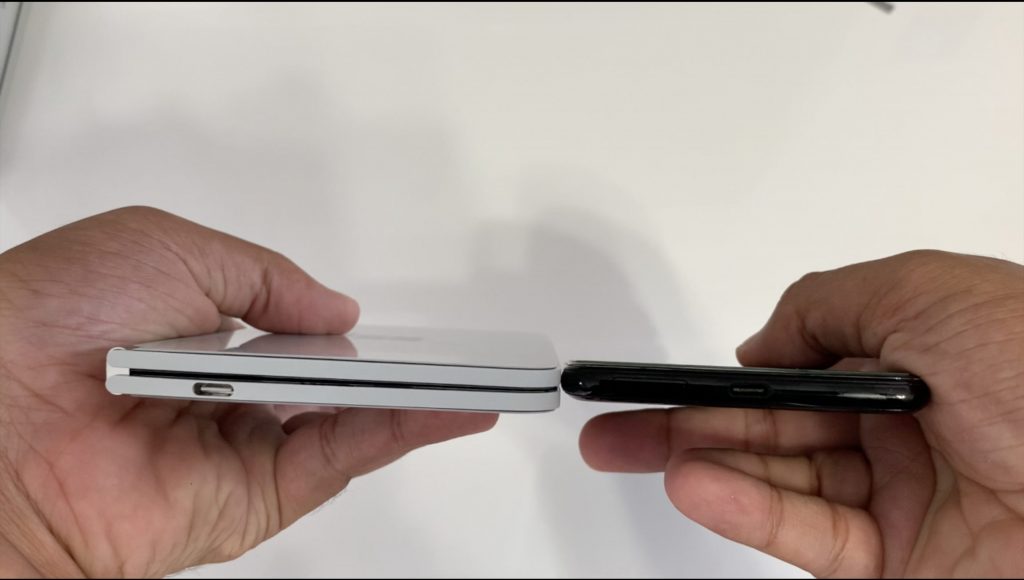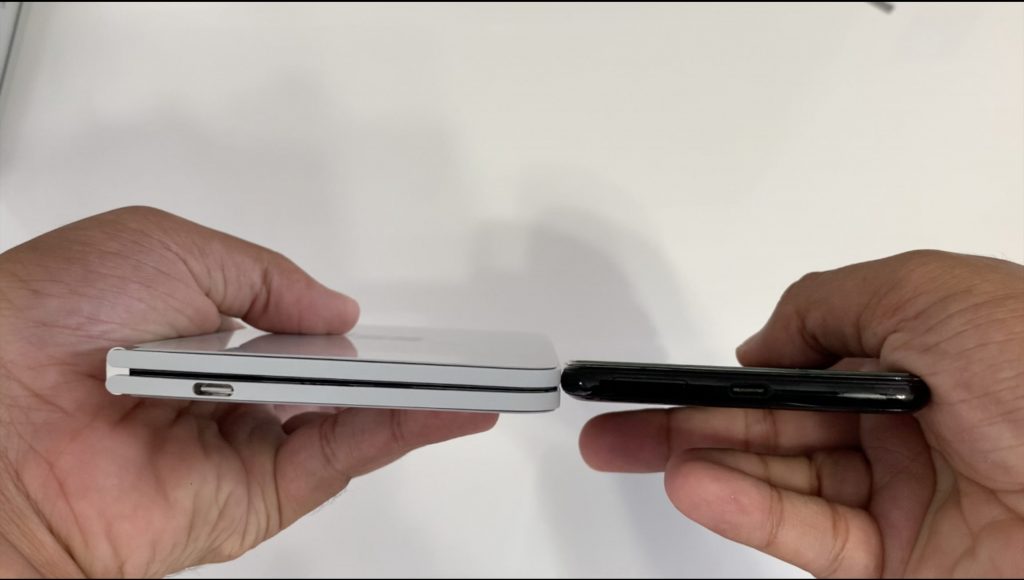 As we took the Duo out of the box, we felt similar impressions as to our initial hands-on at Best Buy. The Duo is a super-thin phone. It's just as thin as a USB-C port. We also compared the Duo to our Pixel 3XL and found that it's just as thick as the Pixel when its two screens are folded shut. However, the Duo is much shorter and wider when compared to a Pixel. Not surprising, as Microsoft wanted to keep the 3:2 aspect ratio and make it feel really natural.
Setting up the Duo: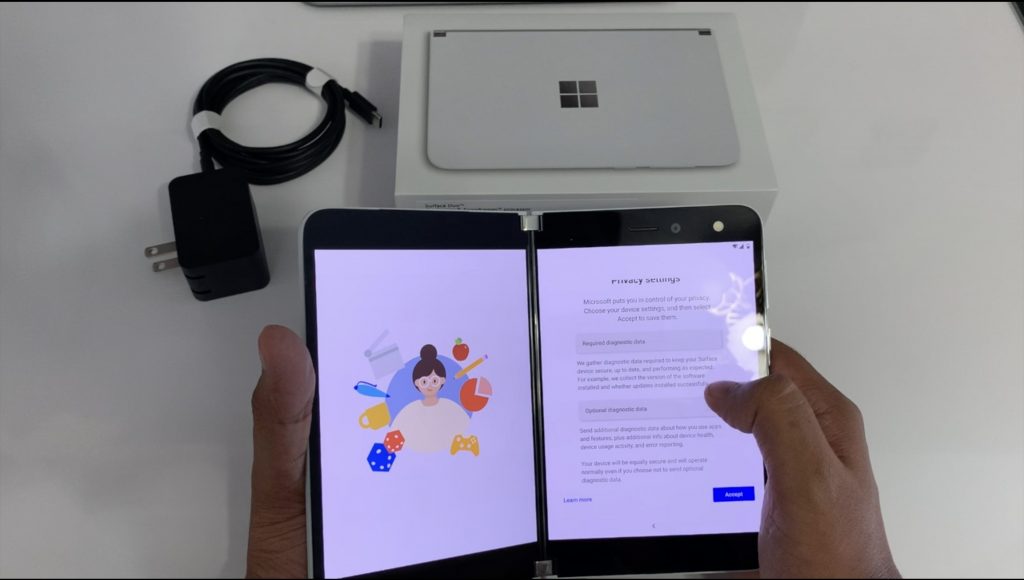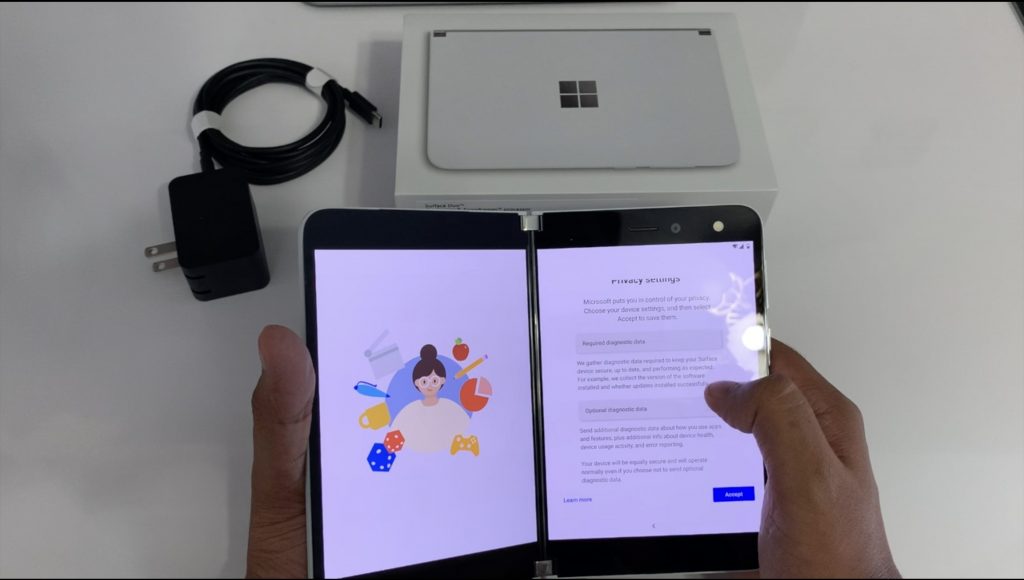 Comparisons done, we also guide you through setting up the Duo. It takes just a few steps. An initial update is available, and it weighs in at around 270 MB. Installing takes about 15 minutes, and when the install is finished, you get to finish the setup. You'll sign in with Google, choose your privacy settings, and then sign in with Microsoft, too. There's also a step to configure diagnostics data, as well. When you get to the end, a welcome screen will explain some of the Duo's gestures and other offerings, if you're not familiar with it.
Using the Duo: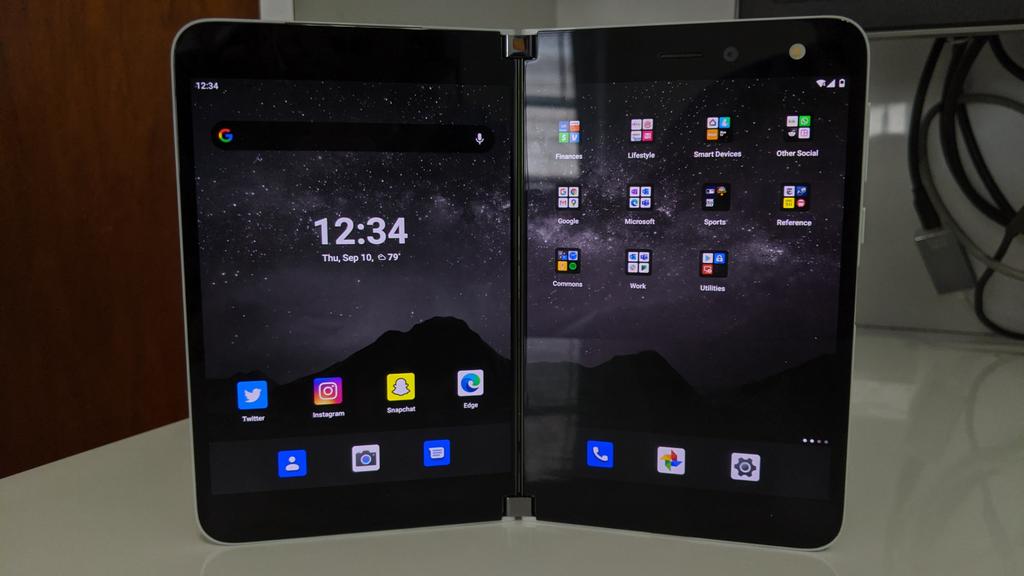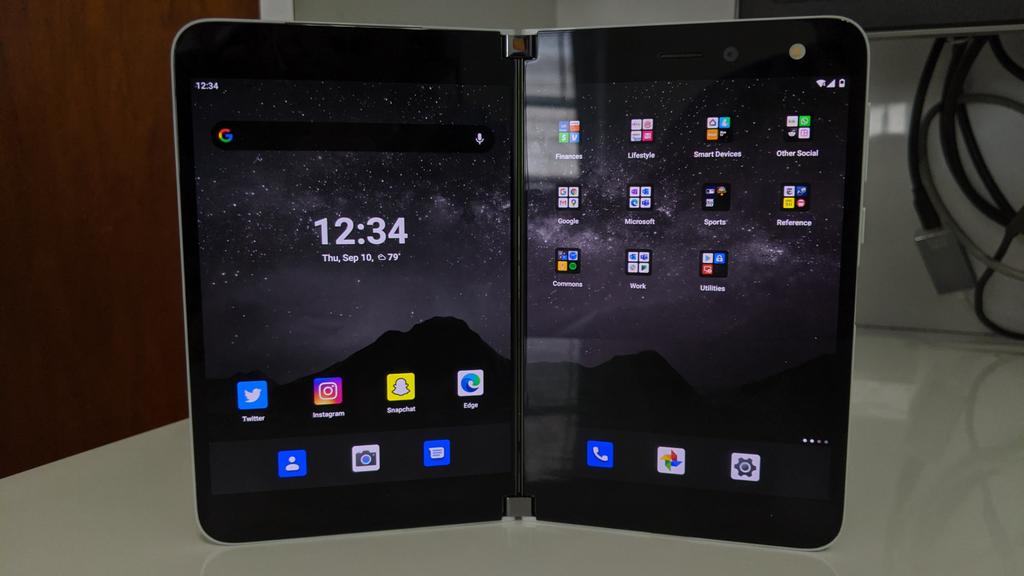 After the setup, we spent the remainder of the afternoon using the Duo in place of our iPhone XS. We set it up with our apps which include Instagram, Twitter, WhatsApp, Snapchat, and more. Most apps aren't ready for dual-screen support just yet, including Snapchat and Instagram, and they are separated in the middle when you use it in the expanded mode across the two screens. Microsoft apps like OneNote, Outlook, and Edge, though, can take advantage of the dual-screens, which isn't all too surprising as it is a Microsoft phone. his is all something we can get used to.
We also tried out the camera, which as many have said, appears to be decent. Photos definitely don't have as much brightness or vibrancy as they do on other phones, but at first glance, they will pass and get the job done.
Some photos taken on the Duo in outside light. HDR on. pic.twitter.com/vPAC4kcDOb

— Arif Bacchus (@abacjourn) September 10, 2020
We also didn't experience any crashes or bugs that early reviewers have mentioned. Apps work fine in the single-screen mode, and it's really fun to pair apps like Instagram and Snapchat, and experience two social media at once. However, one interesting point we want to note is that the Duo "squishes down" apps to fit the screen when multitasking. When in split-screen or open on one screen, Apps like Instagram or WhatsApp will feel a little more narrow and wider than you'd expect, coming from a Pixel or an iPhone. However, the one advantage is that this aspect ratio allows for more things to fit wide across the screen (when display settings are configured for a smaller display text.) We were able to see an entire almost row of stories along the top of the screen on Instagram, which was never before possible for us.
Have any questions? Let us know
Again, we're still playing with the Duo and will be exploring more situations soon before our full review in a few weeks. Your feedback helps us, too, so be sure to submit your questions to us below. We'll discuss them during our upcoming Podcast!