Microsoft's annual IT and developer conference officially ended today on March 4, and it was a busy couple of days. Microsoft used the all-digital event as the stage to announce several updates for Teams, Outlook, and other Microsoft 365 apps and services. They even announced Mesh, a brand new social mixed reality platform. We've been keeping up with the news all week long, and here's a look at what you might have missed.
We'll begin our recap by starting with Microsoft Teams. Since Teams has been on the boom due to the pandemic, Microsoft is bolstering up the collaboration service with lots of new features. The first of those are improvements for Live Events in Teams, where Teams can now be used to create interactive webinars for up to 1,000 attendees. Teams Live Events will also support webinars with up to 20,000 attendees later this month. You can have a look below for the other new features coming to Teams, as announced at Ignite 2021.
PowerPoint Live is now generally available in Teams. The feature combines slides, notes, and meeting chat in a single view to help make presentations easier for speakers and presenters.
Dynamic View for Teams meetings is coming next month. The feature makes meetings more engaing and adjusts elements of meetings, such as the ability to display different modes such as charts, chats, etc next to video feeds.
Teams is getting improved security thanks to invite-only meeting controls. Also coming is end to end encrupion in one to one calls.
It is becoming possible to share channels outside of an organization, through a feature known as Microsoft Teams connect.
Microsoft Lists is getting custom list templates in Teams, as well as rich-test editor, the ability to add comments or @mentions and create rules, and other new features.
The final of the new Teams feature is the ability to export webinar contacts, useful for Dynamics 365 marketing. Also coming to Teams are some of the new Microsoft Viva modules, such as Viva Connections, which should be rolling out more broadly now.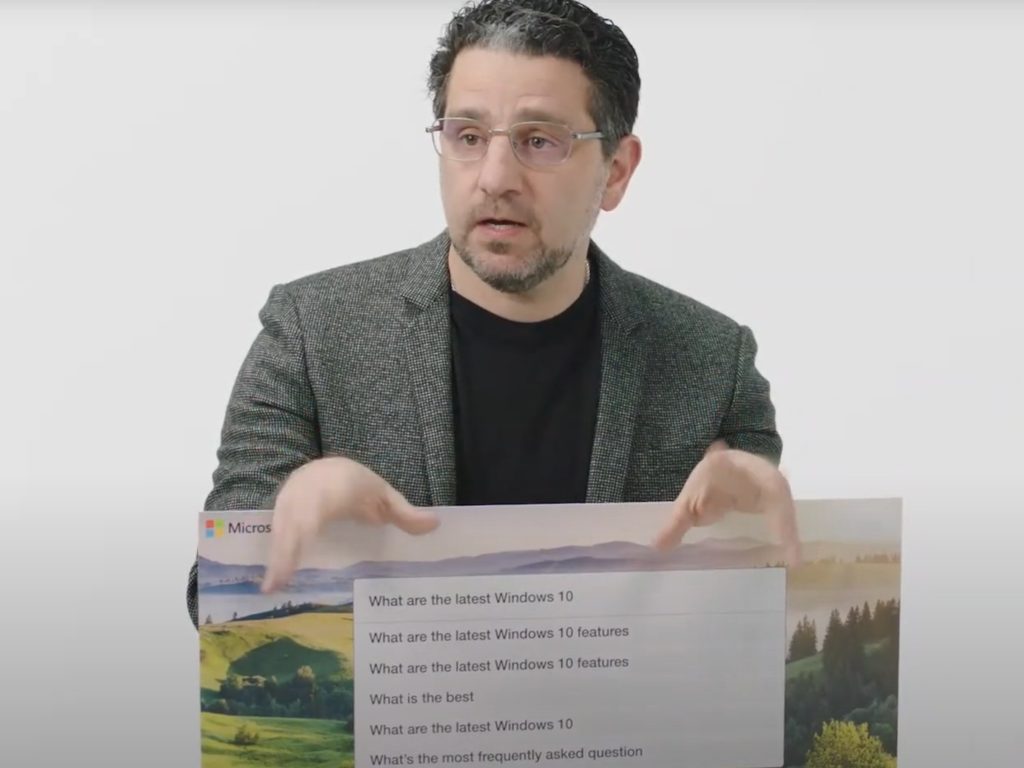 Windows 10 usually gets a backseat at Microsoft Ignite, but this year, there was a bit of news about the operating system which we want to recap. First off, there's the big news about Power Automate becoming free for Windows 10 users. This tool comes with 370 prebuilt actions that help you build flows across different applications. As our own Benjamin Akhigbe explained, it "enables you to build your own scripts to automate time-consuming repetitive tasks."
In addition to the Power Automate news, Microsoft also announced that Windows 10 in cloud configuration has been integrated into Microsoft Endpoint Manager, which will make it even easier to provide a secure device configuration tailored for worker needs. The news comes after Windows 10 in cloud configuration overview and setup guide was made available for download on Feb 2. That allows administrators to apply a uniform, secure and easy-to-manage cloud-based configuration of Windows
10 Pro or Enterprise devices.
We'll end the Windows 10 section with a look a what's ahead for the operating system. Indeed, Surface and Windows Chief Panos Panay appeared to "tease" the upcoming versions of Windows. In a fireside chat session at Ignite, he hinted that he has not "talked about the next generation of Windows" and that he is "so pumped" for it. He even mentioned that "it's going to be a massive year for Windows."
To be fair, though, his session was mainly about current Windows features, but the exec did appear to slip his tongue about the future a bit, though not confirming any rumors we've heard so far about Sun Valley or Windows 10X.
Next up are the changes for Outlook as announced at Ignite 2021. The first is the introduction of Outlook Board view in Outlook Calendar. This is designed to help make your calendar easier to manage. The feature is now available for everyone, and has a free-form view, combining calendars, files, reminders, and to-do lists in one place. Microsoft also rolled out what it is calling "suggested times" in Outlook for iOS and Android, too. The feature is all about AI and finding times for meetings. Finally, Outlook on Mac is getting support for more email account types and shared calendars.
For most people, Microsoft Mesh was the biggest news out of Microsoft Ignite 2021. This was one of the more unique parts of Ignite, as this portion of the keynote could have been viewed in AltSpace VR in Mixed and Virtual Reality. Indeed, featuring Alex Kipman, Microsoft used Ignite 2021 as the stage to unveil Mesh. It is Microsoft's new Mixed Reality Platform designed to allow people in different physical locations to join collaborative and shared holographic experiences across many kinds of devices.
Mesh is designed for companies and businesses to let their teams joined shared virtual spaces for collaborative meetings, where everyone will appear as virtual avatars. The target audience is enterprise and commercial users, too. Mesh is coming as a HoloLens app, but it can also be accessed through a new version of AltSpace VR, which is Microsoft's VR platform. Alex Kipman detailed that solutions built through Mesh by developers could come to Windows Mixed Reality, PCs, Macs, Smart Phones, and Oculus, too.
Azure Power Platform, and more
Of course, Ignite is all about the Cloud and Azure, so there were several other news stories around these Microsoft products, too. With Power Platform, Microsoft announced Power Fx, which is their new first low-code programming language. They also announced new AI capabilities for Power Virtual Agents, updates for Power BI Premium, Power Automate Desktop. With Azure, Microsoft announced a new hardware and software platform called Azure Percept, which should make it easier for Microsoft's customers to develop AI solutions.
Of course, we covered Ignite 2021 in-depth, so check out our hub for all the other stories you might have missed! And be sure to watch the OnPodcast this Sunday, as we'll be recapping Ignite once more!