If you've been considering a web browser extension that can help improve your writing, there's now a new player you can choose from. Although Grammarly has long been the most popular solution, Microsoft recently introduced its own take known as Microsoft Editor.
This new A.I. powered tool looks to superpower the grammar and spelling corrections you've long seen in Word and the other Office apps. Just like Grammarly, Microsoft Editor is free to use, and there is a premium option available, too. But, how do the two stack up against each other? In this guide, we'll explain the differences between the two.
Price
To begin, we'll mention prices. If you're looking to get the most out of Microsoft Editor or Grammarly, you'll need to pay up. With Grammarly, a free plan gets you access to correcting critical grammar and spelling checks. Similarly, with Microsoft Editor, those who aren't subscribed to Microsoft 365 will only get access to corrections for spelling and grammar issues.
Paid Grammarly plans step up the features and give you access to more suggestions for reliability, vocabulary, writing style, and even a plagiarism detector. With Microsoft Editor and Microsoft 365, meanwhile, you'll get access to advanced grammar and style corrections, including for clarity, formality, and punctuation conventions.
Coming down to price: Microsoft 365 Personal plans are $6.99 per month. Microsoft 365 Family Plans are $9.99 per month. Or, if you're looking at yearly plans, $99.99 for Microsoft 365 Family and $69.99 a year for Microsoft 365 Personal. Keep in mind, these plans do come with other features too, such as access to the Office 365 apps, and more.
With Grammarly, you've got three different options, which help fit your needs. You can pay $29.95 for a monthly plan, $19.98 for a quarterly plan (billed as one payment of $59.95), or an annual plan which comes up to $11.66 a month, billed as a one-time payment of $139.95.
If you're just looking at the money, Microsoft Editor will be cheaper. It also might have more value for you, considering that you'll be getting access to Microsoft's other services, too. However, if you genuinely want a service that can genuinely help improve your writing, Grammarly might be the better option, as we describe next.
The Microsoft Editor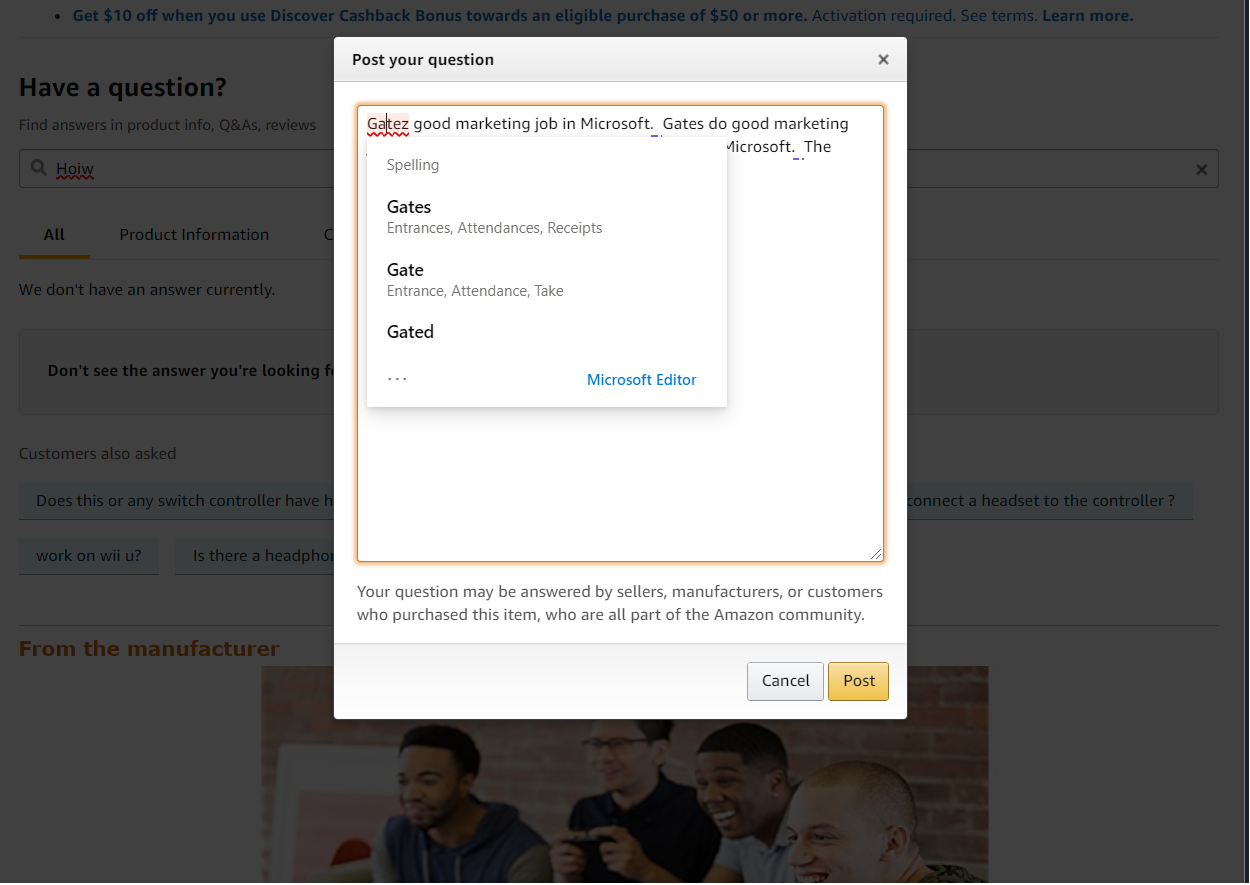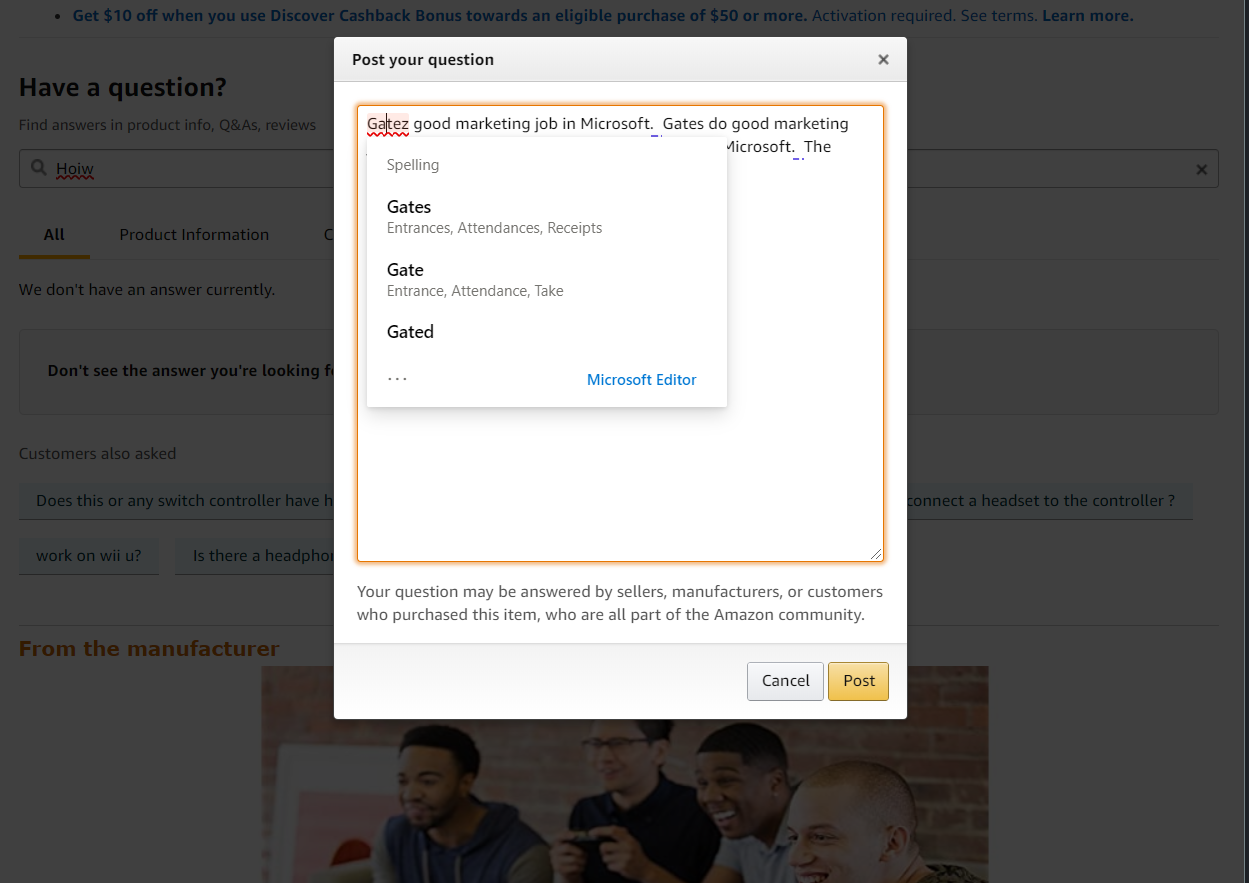 When it comes to features, Grammarly and Microsoft Editor are close together, at least if you look at it on paper. Grammarly works as an extension on Chrome, Microsoft Edge, and Firefox, as well as an add-in on Microsoft Word and Outlook. Microsoft Editor, meanwhile, is built-in to Word, and is already available as an extension on Edge, but will be coming soon to Chrome. You'll also see that it's available on Word Online, just how Grammarly was recently updated to work with Word Online. Both work on both Windows and MacOS.
We tried using the Microsoft Editor extension on Edge in Windows 10 for writing this article and were disappointed. Despite us having an Office 365 subscription, it installed but didn't work on spell checks on the websites we needed it most (WordPress, Google Docs, etc.) We tried it on Amazon.com for leaving a comment, however, and it worked just fine. Similar to Grammarly, misspellings showed up underlined in red, and right-clicking over it and then clicking the line would bring up a box with suggestions. Grammar and other issues, meanwhile, showed up in blue, and clicking the underlined text would do the same. We needed to right-click each time, though, as hovering to correct does not work as it does with Grammarly extension on Windows 10.
It's hard for us to judge Microsoft Editor, as we couldn't test it on WordPress for our writing, but many users have given it mixed reviews. When it comes to the extension, some have complained that it offers a dot for punctuation errors, which confuses users with a regular period. Others have also said that there isn't an "Ignore this warning" setting like in Grammarly. To support our experience, there's even a review that indicated that when compared to Grammarly, Microsoft Editor doesn't work on all websites. The Microsoft Editor extension is still very much a work in progress.
We recently reviewed the Microsoft Editor experience in Microsoft Word and found it much more useful. There we got complete suggestions for clarity, sentence structure, and more. If anything, Microsoft Editor is best in Microsoft Word, then it is on the web with an extension, at least at the time of this writing.
Grammarly does it best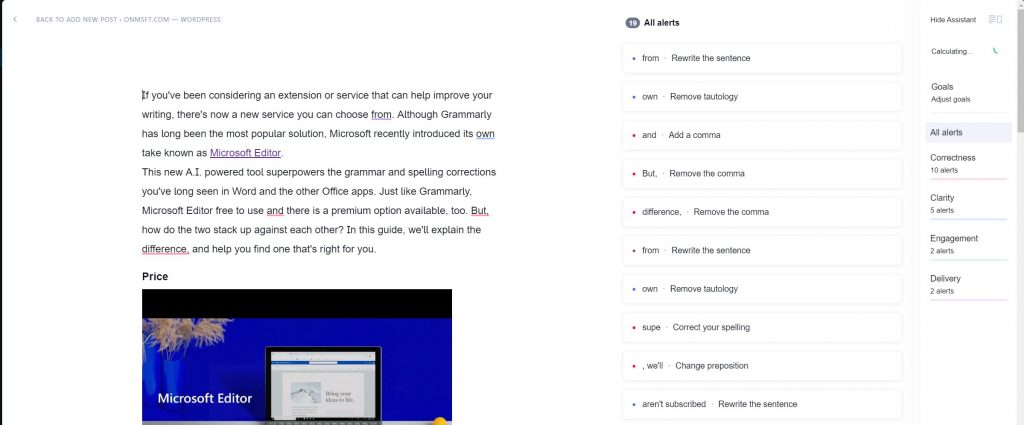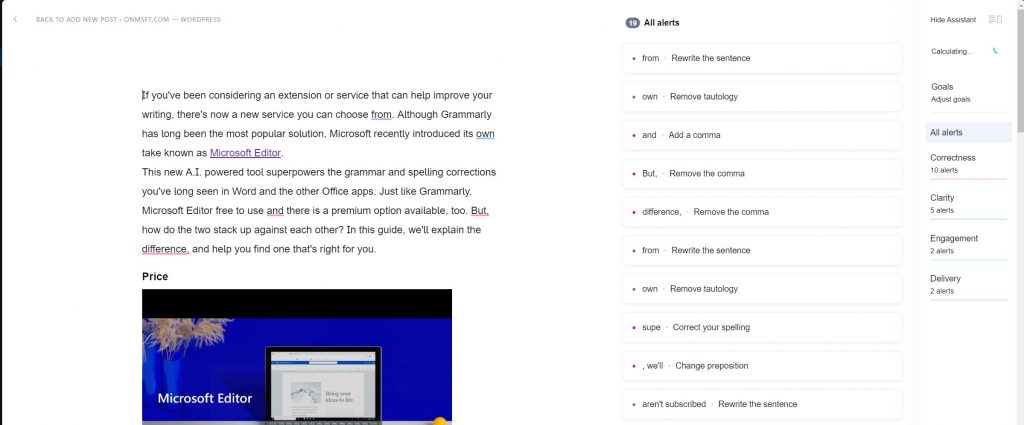 At the current state, compared to Microsoft Editor, Grammarly does things much better as an extension and as an overall service. We've used the free version daily for quite a while, and have come to love it. Unlike Microsoft Editor, the Grammarly extension gives you a dedicated area, right near the box you're typing your text it. It gives you a visual look with a number for all your spelling corrections, which is something Microsoft Editor extension can't do.
You also can customize the service to your liking. It has options for entering your own vocabulary into a custom dictionary. A bit similar to what we experienced with Microsoft Editor on Word, Grammarly also has an "Assistant" which can help you with conciseness, clarity, engagement, and delivery. It's clearly much more useful than Microsoft Editor.  Grammarly can auto-correct words that you've frequently misspelled and there's even a plagiarism detector and passive and active voice detector, which we don't see in the current version of Microsoft Editor.
Microsoft Editor is more of a bonus than it is a Grammarly competitor
If you look at it, Microsoft Editor shouldn't be seen too much as a "Grammarly-like" competitor. It's really meant to add "bonus" value to Microsoft 365 subscriptions and help you get more bang for your buck. After all, we've long enjoyed spelling and grammar corrections in Word and the rest of the Office 365 suite. The features don't compare, at least as of yet, and Grammarly is the way to go if you want to become a better writer.
We reached out to Grammarly for comment on this story, and a representative emailed us a copy of the company's FAQ page.