Remember the Apple ads? "What's a computer?" is something that Apple has wanted you to think about for quite some time now. Yet, Microsoft has fired back with some Surface Pro 7 ads that mock the iPad Pro.
No matter how you look at it, the Surface Pro 7 and the iPad Pro are two different machines. Recently, though, the iPad has tried to cross those lines and become more of an actual laptop replacement — especially with the addition of the "all-powerful" Apple M1 chip inside.
Being the curious person I am, I went out and traded up my iPad Air 3 for an iPad Pro 12.9 inch model. I specifically tried to use it as my main computing device as part of an experience. And, while the hardware is beautiful, there are some shortfalls that limit the experience for me. Here's the Surface fan's review of Apple's latest flagship iPad.
Specs, Ports & Price
The model I purchased for review is the base 12.9-inch model. It comes configured with 128 GB of storage, 8 GB of RAM, and the Apple M1 processor inside. The display is Apple's new Liquid Retina XDR display (featuring mini LED tech) display, sized at 12.9 inches.
As for ports, there's a lone Thunderbolt 3 USB-C port on the bottom supporting data of up to 40GBps, and connections to 4K and 5K displays or newer Thunderbolt 3 accessories. That's an improvement over the last iPad Pro which didn't have Thunderbolt support. There's no headphone jack on this year's iPad Pro, nor is there a fingerprint reader like the iPad Air 4. You'll have to settle for FaceID via the new 12MP, f/1.8 front-facing camera.
Pricing on my configuration is at $1,099, not including the Logitech Keyboard ($229) and Apple Pencil ($125) I purchased as extras. You can step up configurations a bit to $1,200 for 256GB of storage. You can also buy 512GB for $1,400 or 1TB for $1,800. There's even a model with 2TB of storage. While it's overkill, you can get 16GB of RAM on the models with 1TB or 2TB storage.
Design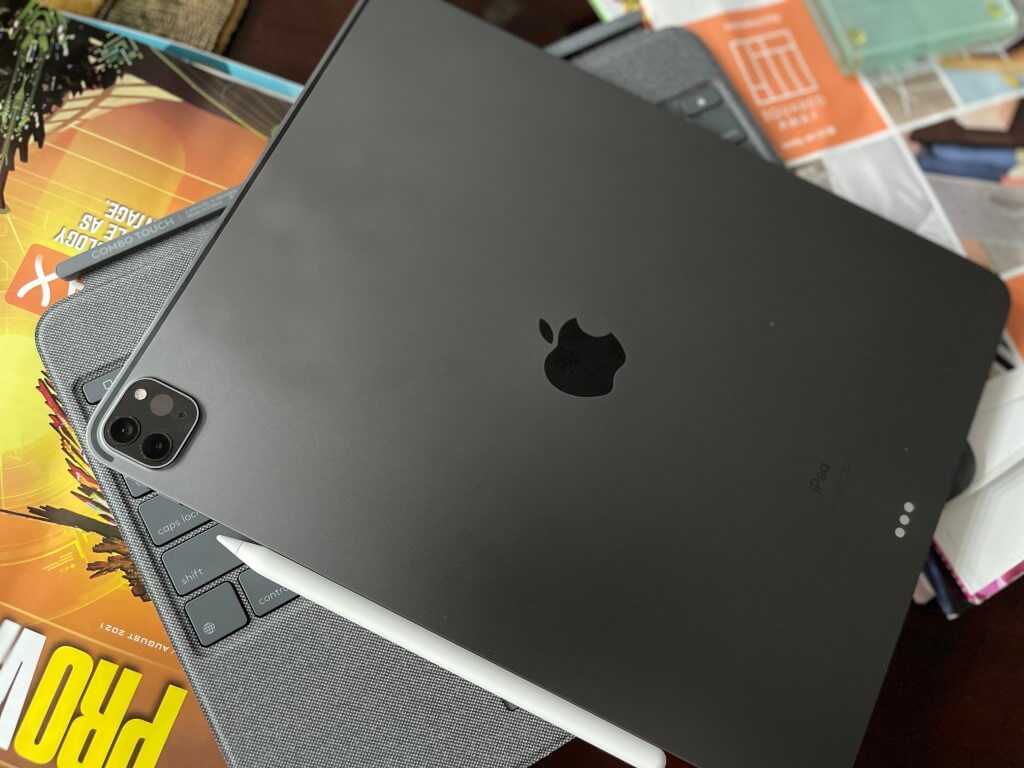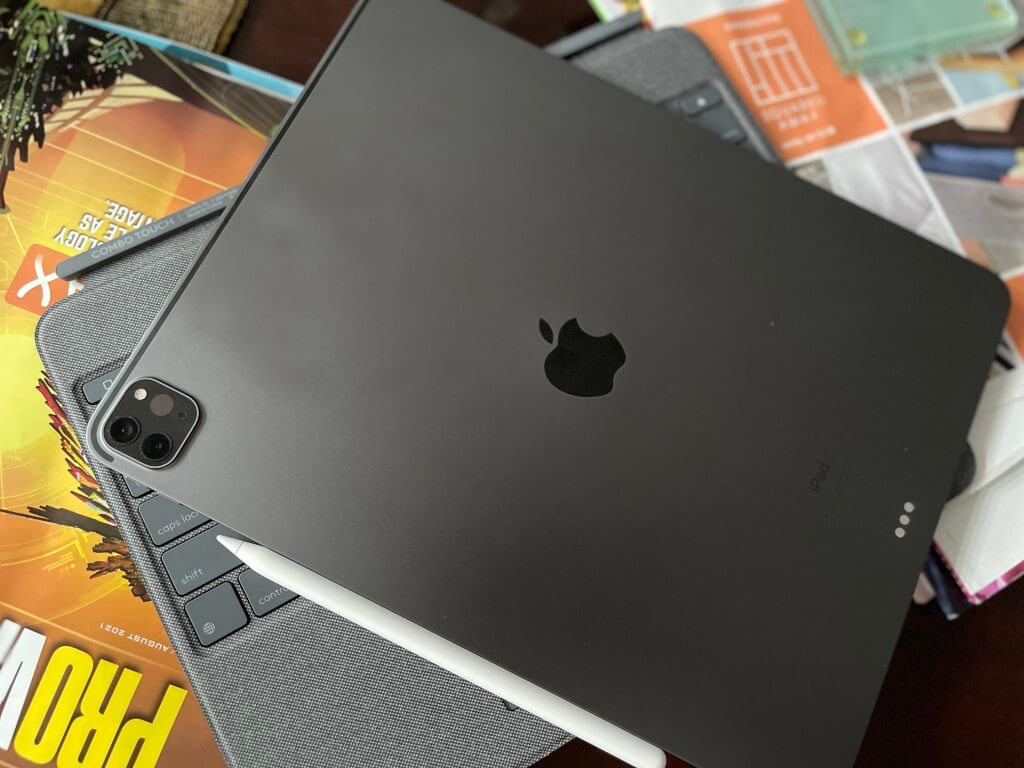 There's a saying that goes, "if it ain't broke, don't fix it." This is something that Microsoft has lived by for a while, and Apple, too. The design of the Surface Pro lineup hasn't changed since it was introduced, with the exception being the Surface Pro X. I can also say the same for the iPad Pro, which hasn't changed much since the third generation back in 2018 that dropped out the fingerprint reader in favor of slim bezels.
But going back to the design, The iPad Pro sports an aluminum design that the new iPhone 12 Pro Max mimics. The shiny corners are squared off and flat. There's even a nifty spot on the top for the Apple Pencil, just like the spot on the side of a Surface for the Surface Pen.
Overall, it is a simple design that makes the iPad feel very premium (and heavy) like holding a slab of slimmed-down marble in the hands. Just be aware you don't find flashy colors here, as the iPad only comes in Space Gray and Silver. That silver finish is broken up at the top and bottom of the rear of the iPad with gray antenna bands.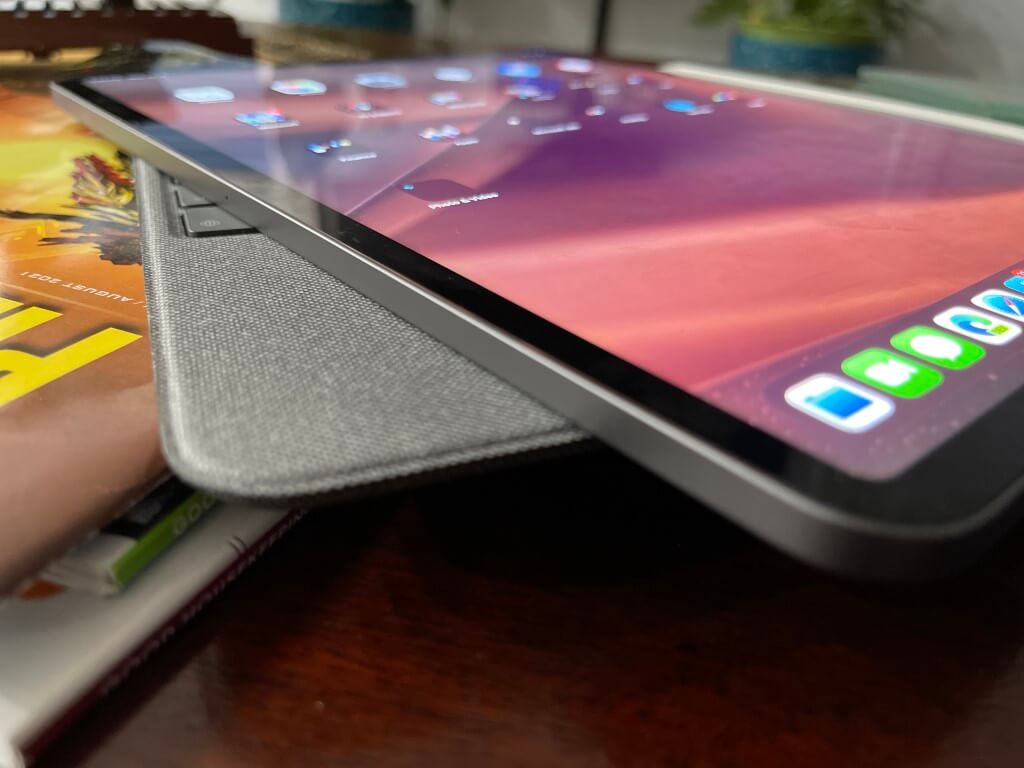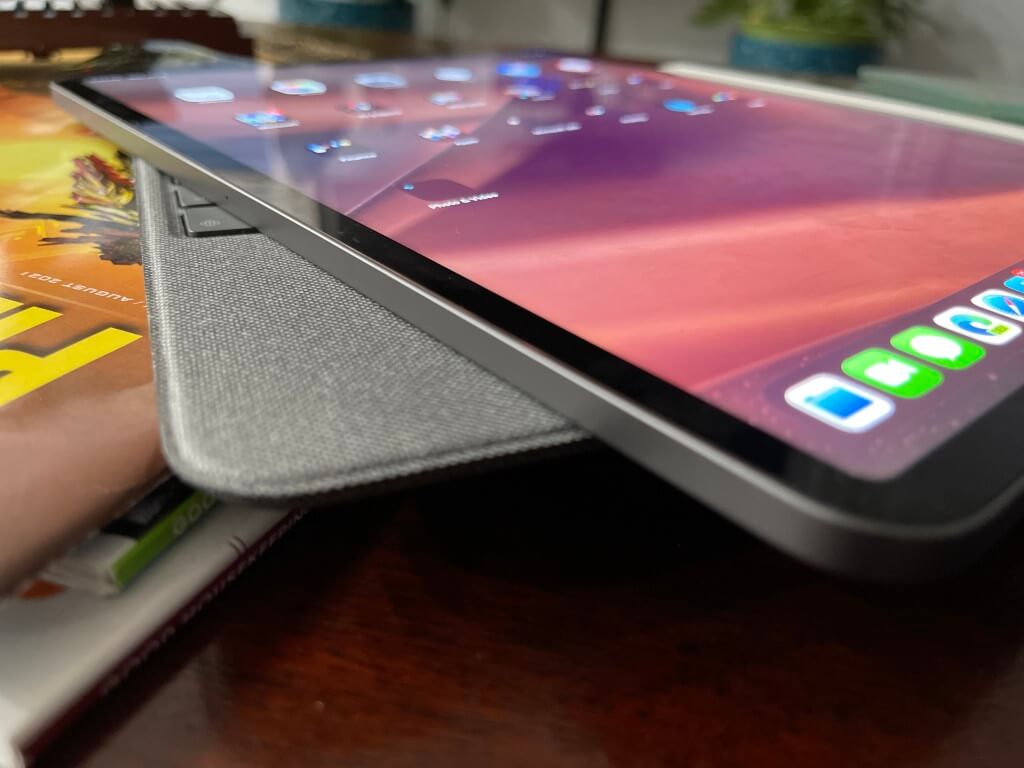 Physically, the iPad Pro 12.9 inch measures 11 x 8.5 x 0.25 inches. It weighs 1.5 pounds and even closer to 2.5 pounds with my Logitech Keyboard. That's still close to the Surface Pro 7 which measures in at 11.5 x 7.9 x 0.3 inches and 1.8 pounds with the keyboard. The weight and big screen might make the iPad Pro hard to hold in the hands for some people, but for me, it wasn't a problem. If you think it's too big, try the smaller 11-inch Pro instead.
One more obvious thing, too. There is no in-built kickstand. I opted to buy a Logitech case which adds one in. As an alternative, Apple's Magic Keyboard is one, which will "float" the iPad up over the keyboard for you. It's ridiculously priced at $350, though. But if you really want to use your iPad as a laptop replacement, it's a must.
Performance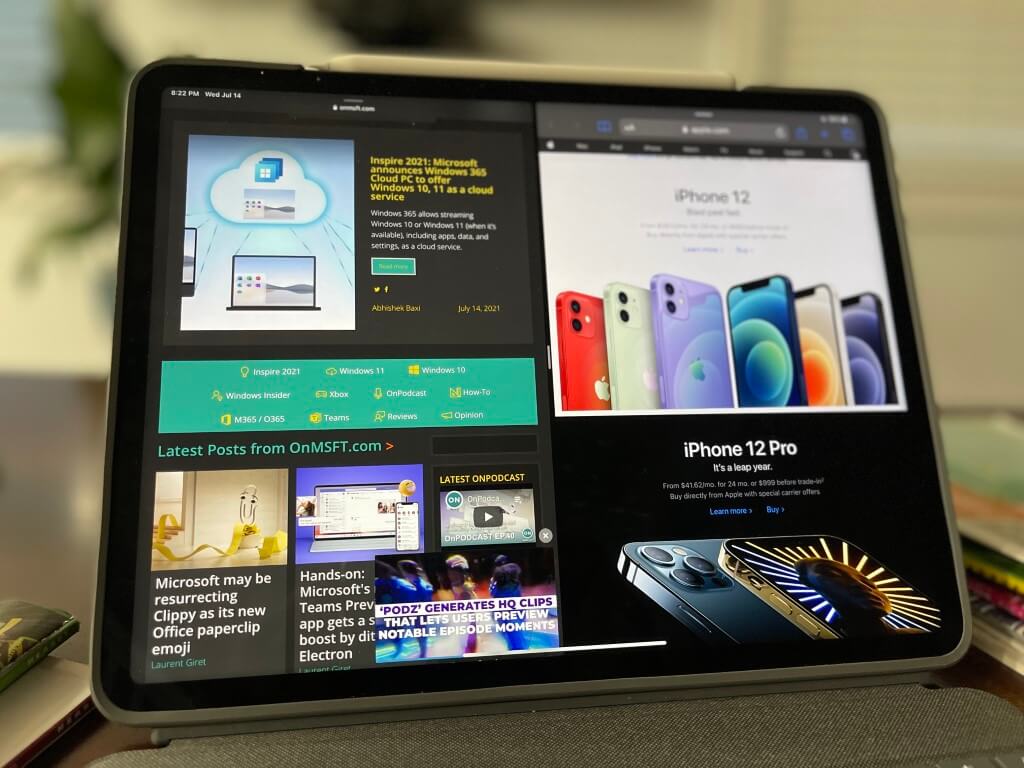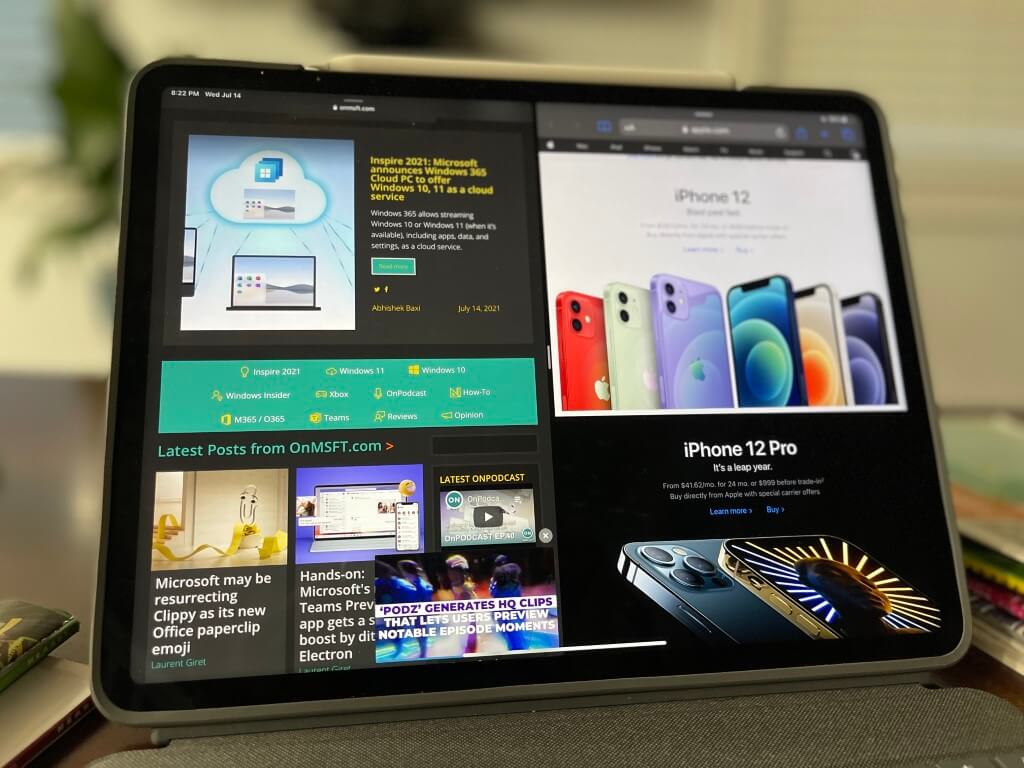 The performance here is important, as the iPad Pro sports the M1 processor found in the base MacBook Pro and MacBook Air. That leaves it with a ton of promise and power, but it does feel a bit short due to the limits of iPad OS. But don't let me spoil the fun. Let's jump into the good stuff first.
Looking at everyday performance, this iPad Pro is a champion for my workflows. Much like a Surface and all the other laptops I've reviewed, it tackles my workflow without issues. Using Safari sessions open side by side split-screen mode, I'm able to have 6+ tabs open at once.
Tabs don't reload, and my content always stays put. Even copying files for my Podcast off a USB-C SSD was a quick task. It's quite a change for me coming from an iPad Air, which always reloads tabs in the background and required the need for Lightning to USB-C dongles.
I also was able to open multiple apps at once in the background. YouTube, Twitter, Instagram, Safari, Teams basically everything I could open, did open, and the iPad Pro handled it with charm without any delays. It's definitely laptop-level performance when it comes to social media, web browsing, and what I like to call "casual computing."
Day 1: Safari really respects the rules of the web for desktop like Edge and Chrome does on Windows. Websites scale to the web version. Didn't have issues. I just set to 75% scaling and it's like I'm using a Windows PC. Poor photo. But an example here. pic.twitter.com/7slGUcTttj

— Arif Bacchus (@abacjourn) June 10, 2021
If you look at the Geekbench scores, you can see why. IPad Pro picks up a 7,298. Geekbench is skewed a bit for mobile devices, but that outdoes the Surface Pro 7's 5,000 score. I also attempted to encode a video in iMovie to test the M1 chip, and the process was quite frustrating due to the mobile version of the app and the new iPad-style layout. (I'm too used to iMovie on MacOS)
When I got it to work, the iPad Pro pushed out a 1-hour long 1080p podcast via iMovie in under 5 minutes. It beat out the 12 minutes on my dedicated video editing machine, with RTX graphics. Even gaming worked well, with Call of Duty: Mobile loading up within a few seconds, animations staying smooth, and no dropped frames.
The only real performance flaws of the iPad has to do with apps and iPadOS itself. I spoke about this when I reviewed my iPad Air 3, but it's pretty much the same experience as before. While Surface and Windows are home to productivity-first desktop apps, the iPad Pro is based on mobile-first apps. Apps are catered to mobile, and not for desktop with some missing features, as I found out when editing in iMovie or even using Microsoft Word.
Basically, as a Surface user, in using the iPad Pro as a "main computer," I needed to get used to the reality of missing features in my apps. It takes some getting used to and is totally doable for some people who just depend on the web. But, in most cases, it is not easy and I had to go back to my PC for certain tasks.
Day 2: needed to download B-roll and other stuff for the video version of the podcast. But couldn't figure out to use the iPad version of iMovie. I had to go back to my PC. Ended up doing it as a remote PC on my iPad. I guess I'm cheating?! pic.twitter.com/t5NcBVyyfQ

— Arif Bacchus (@abacjourn) June 11, 2021
That's not to forget the fact that despite bringing the M1 chip to the iPad lineup, there are no Mac apps on the Apple App Store. You're still dealing with iPad apps, most of which don't leverage the 8GB of RAM and the power of the M1 chip. If Apple were to bring Mac apps to the iPad, then the full power of the M1 chip would be unlocked. It's a really overpowered iPad as is.
Oh, and the iPad Pro doesn't have the ability to extend to another monitor (it only lets you mirror.) It also doesn't have a true file system or an in-depth file explorer app like a Surface or Windows PC does. That really kills any big chances at using an iPad in place of a PC, as you'll need to depend on gestures and multitasking on the display. Apple improved the files app a bit in iPad OS 15 with progress bars for copying/pasting, but it's a small step. The Surface doesn't have any of these problems.
With Microsoft just announcing Windows 365, it will be interesting to see how the iPad Pro handles it. A cloud powered-version of Windows could take the iPad to a new level. We'll have to wait and see how things work compared to just remoting into an existing PC via the network.
Display & Bloom issue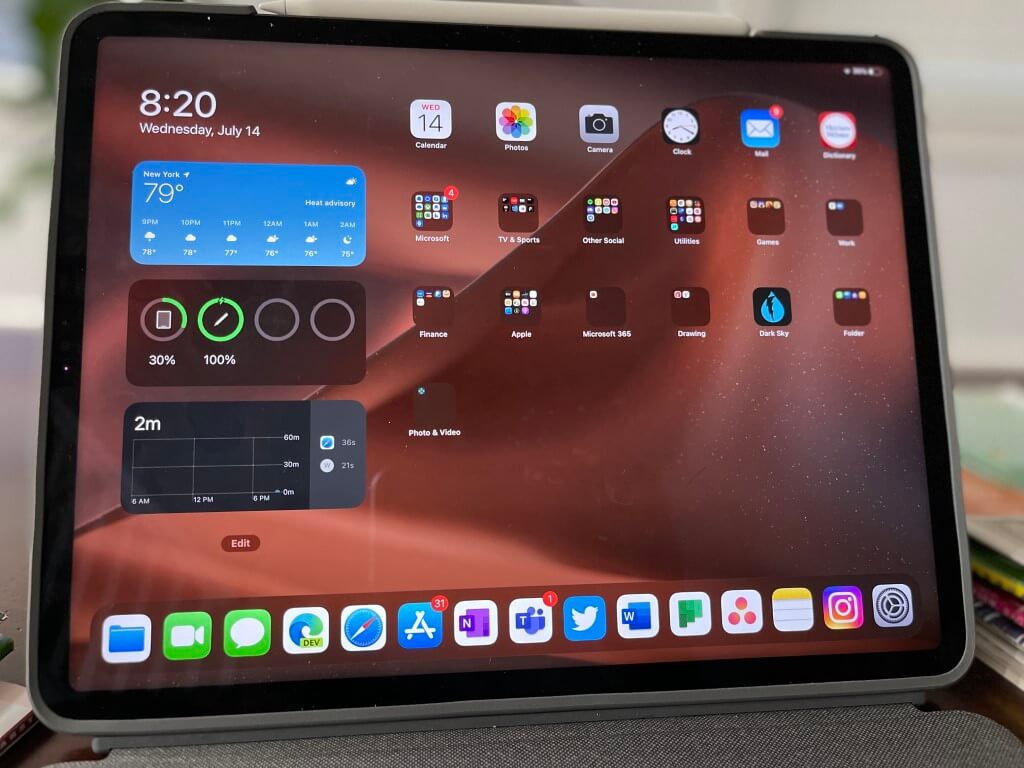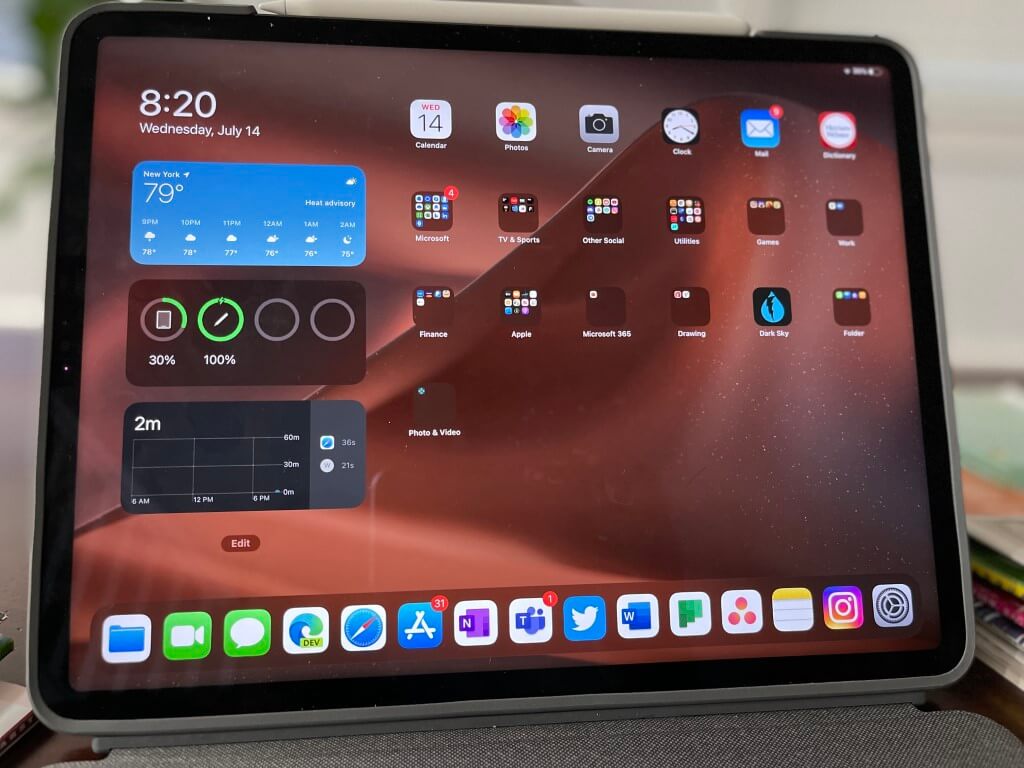 Coming from using a Surface Pro 5, and Surface Go 2, the display on the iPad Pro is quite refreshing. It's a lot like the Surface Pro X, with slim bezels all around. The difference, though, is the refresh rate, and display technology.
The iPad Pro sports a "ProMotion," Liquid Retina XDR 120 Hz display. This means content on the screen refreshes quickly and is much smoother when scrolling. The use of mini-LED technology in the panel also means that the iPad can dim pixel zones independently. It makes HDR content look amazing, but otherwise speaking, the difference between a regular LED screen is barely noticeable when not watching HDR movies, TV shows, or other stuff.
With HDR content, compared to an AMOLED screen on my HP Envy, the iPad does look a bit similar. In nature videos, flowers looked vibrant and realistic, and the light orange of sunsets just looked so lifelike. The screen can get pretty bright when playing back HDR content, and around 500 nits when not viewing HDR. That's around the same peak brightness as the Surface Pro X.
But mini-LED has its faults. One of those is "Bloom," where you see bleeding in the pixels. This wasn't too noticeable for me, except when looking through the settings in a dark room at night with the iPad in dark mode, or even in YouTube's media player. Everyone has experienced this one way or another, and Apple has acknowledged it already. It's hard to produce the effect for a photo, but it's something to get used to.
Battery Life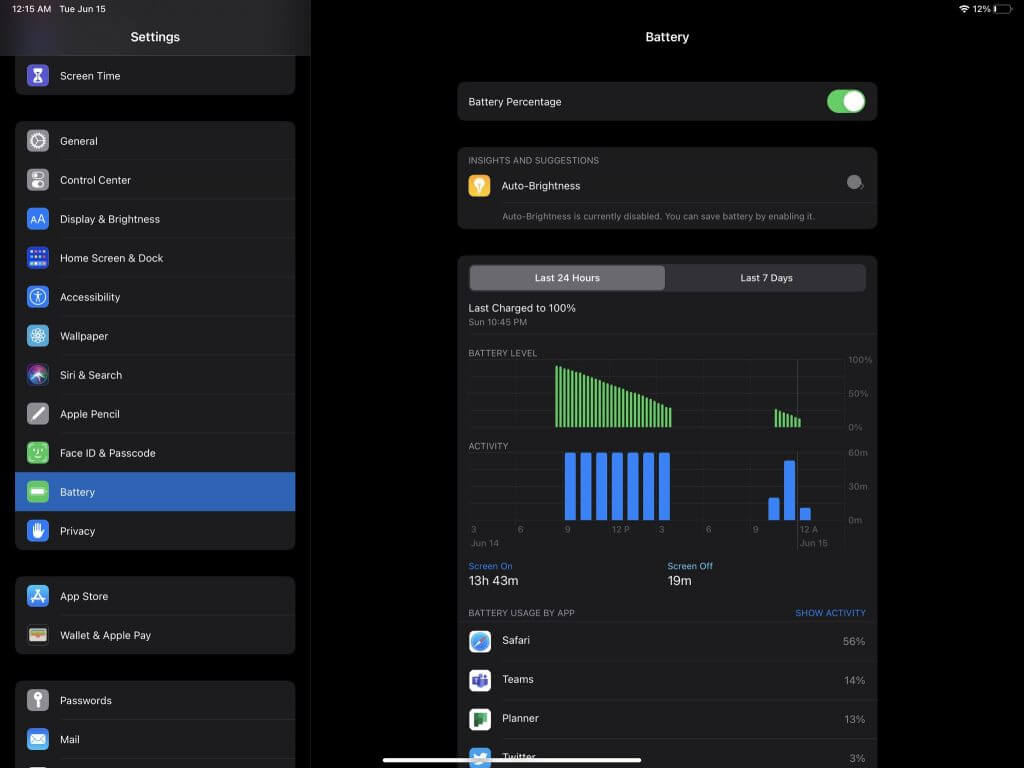 Finally, we hit the battery life aspect of the iPad. Battery life really depends on how you use your device, but for me, I got to around 13 hours during my mixed usage. It's really amazing to see that level, as this rivals even the best Windows laptops, even laptops with Qualcomm processors. Where iPad falls short in battery has to do with recharging, though. Unlike the modern Surface devices which support quick charge via Surface Connect, iPad doesn't charge quickly with the included charger. A 15-minute charge only boosted the battery by about 9% in our tests.
Apple Pencil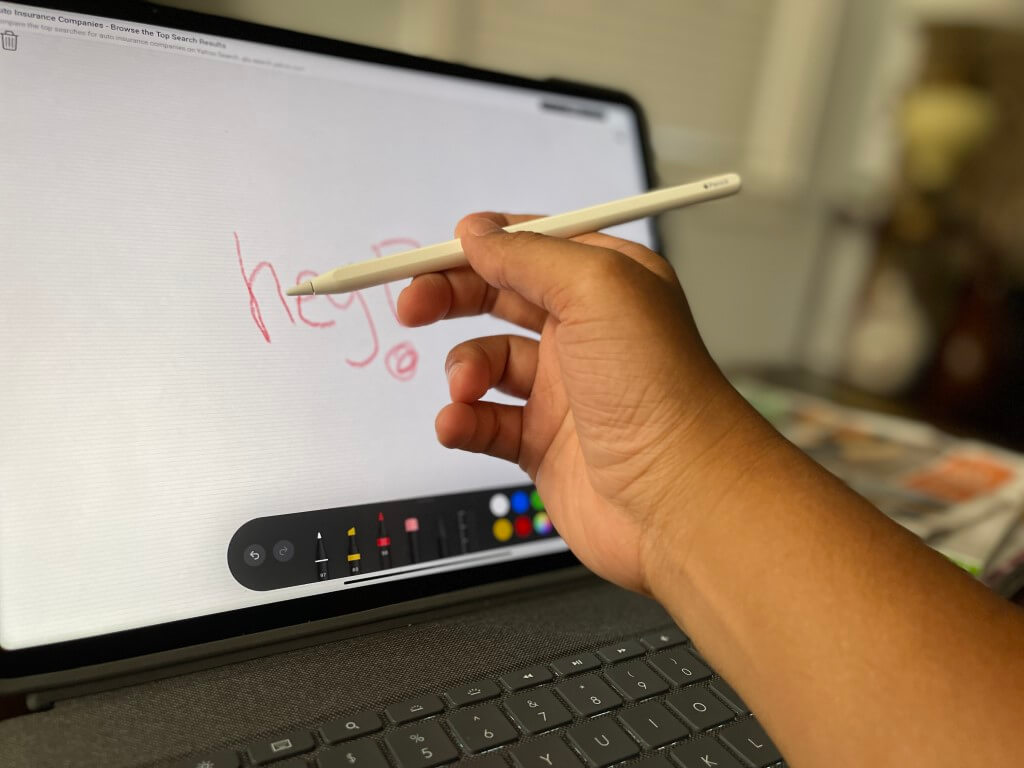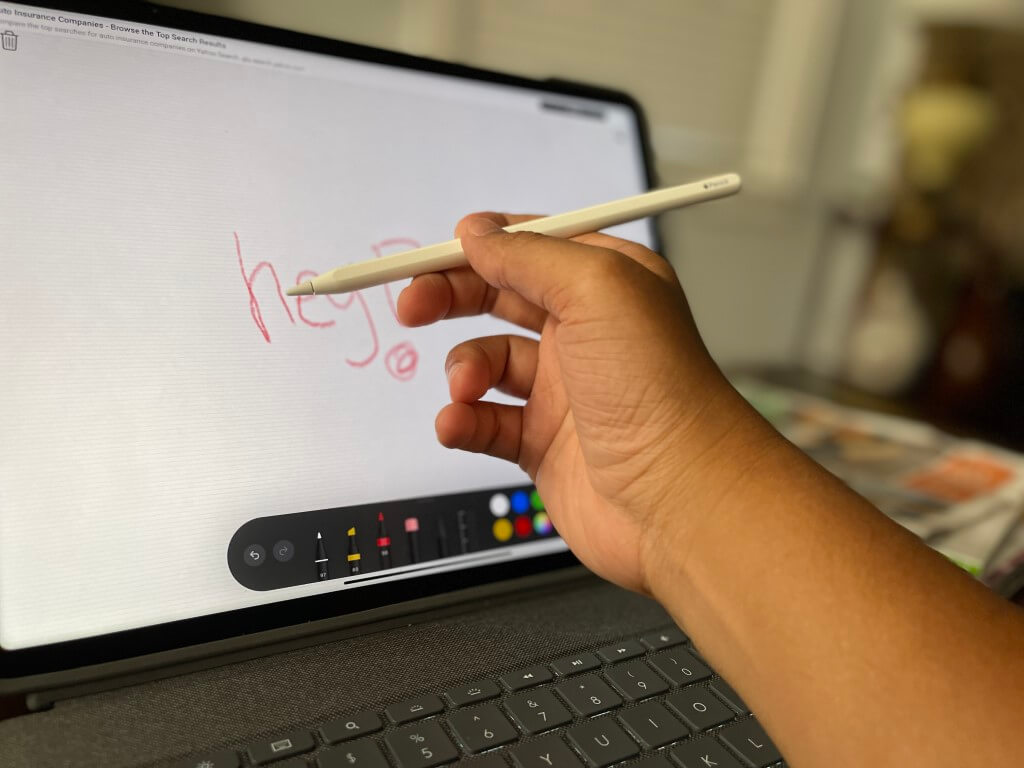 Now, for the pencil. Apple Pencil Gen 2 has a built-in battery that charges when it's snapped to the top of the iPad. It's a lot like the Surface Slim pin, which charges in the Surface Pro X's keyboard. The Apple Pencil, though, depends on Bluetooth, so you need to keep Bluetooth on the iPad to use it (unlike Surface Pen.)
Overall, Apple Pencil feels like a real pencil, in the same way that the regular Surface Pen does. I just wish it had an eraser. I needed to tap the pencil to switch to an eraser each time, unlike Surface Pen where the top is the eraser. Drawing, though, is plenty smooth, especially thanks to the ProMotion Display.
Cameras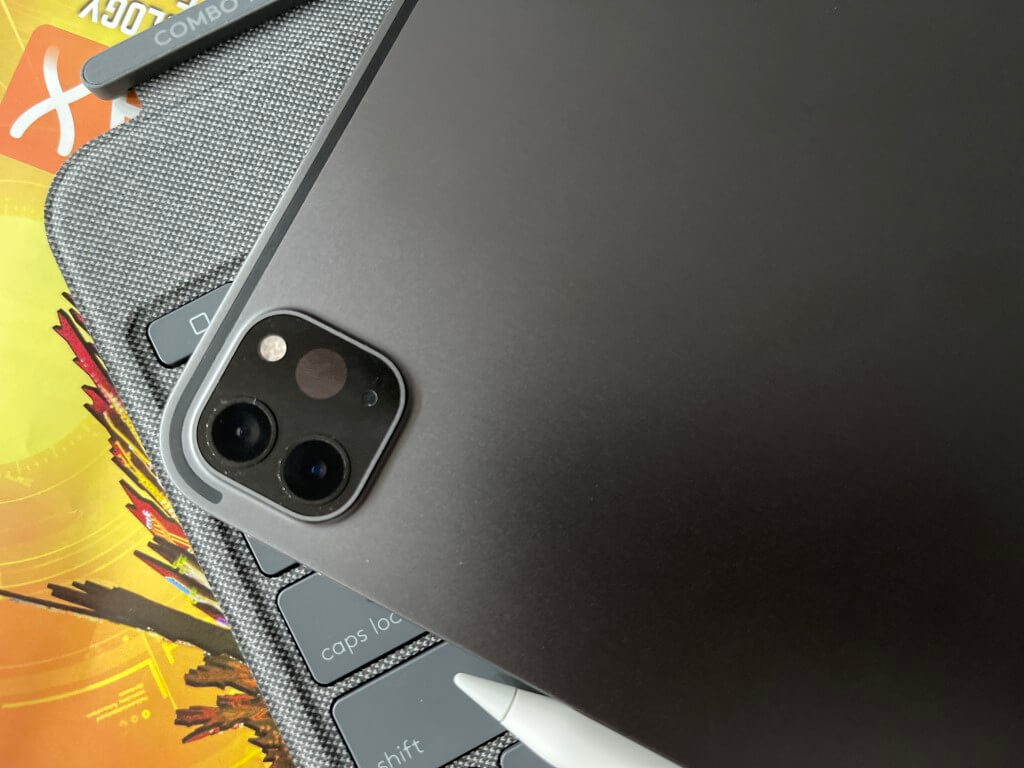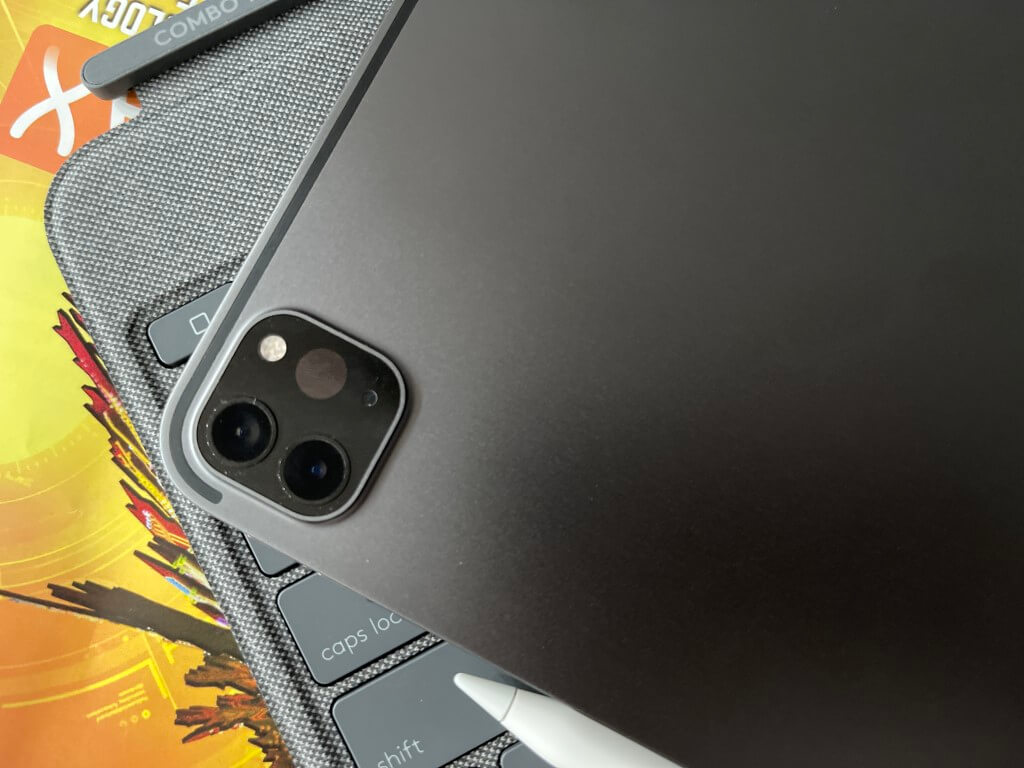 When it comes to the cameras, I wish most Windows PCs were as good as the iPad Pro. The iPad Pro sports a "center stage" selfie camera on the front. This makes it seem as though the camera is on a gimbal, as it's able to follow you around. But it's actually a software trick that uses the 12MP f/1.8 lens to zoom in and out. During Facetime calls if I moved left or right, the camera was able to track me and keep me in the field of view. It's quite magical. The only downfall to this is that the camera is on the side, and not on a top bezel like on a Surface, so you need to adjust where you're sitting during calls.
As for the rear camera, you'll find a 12-megapixel, f/1.8 wide-angle main lens. There's also a secondary 10MP, f/2.4 ultra-wide-angle camera, and LIDAR sensor. This is an iPad and not a DSLR, so don't expect professional photos. For that, buy an iPhone!
Not to replace your computer
I got an iPad Pro to see if it can replace my Surface and my computer. Unfortunately, that wasn't the case. While it's an excellent device, iPad OS holds back the full potential of the iPad Pro, and even the potential of the M1 chip inside. You can buy one if you want to change the way you work and switch over to using mobile-first apps but be prepared for missing features. Trust me when I say it, as much as Apple wants the iPad to be a Surface replacement, it can not. The iPad will always be a tablet and not your main computer.