With Windows 10 Mobile being dead, you've likely already purchased (or plan to purchase) an Android device soon. Although Microsoft will likely never manufacture their own Android device, the Redmond giant still has many apps on Google's mobile platform. So without further ado, here are my tips on how you can turn your new Android device into a Microsoft Phone.
Download Microsoft Apps from Google Play Store:
One of the first steps into transforming your Android device into a Microsoft Phone is to download Microsoft Apps from the Google Play Store. This is essentially a Microsoft App Hub, allowing you to see some of the basic Microsoft apps available for download on the Google Play Store.
It makes your life easier, sparing you the pain of having to navigate manually through the store and click on multiple listings to find Microsoft's apps. You can even filter through the hub for various categories, be it Communication, Education, Finance, and more. Personally, I found this as a great way to download the office apps, including Outlook and Word, and OneNote.
Download Microsoft Launcher:
Another great way to turn your Android device into a Microsoft Phone is to download Microsoft Launcher. Microsoft Launcher superpowers your Android device by letting you continue the things from your phone on your Windows 10 PC, and vice versa. It also replaces your stock launcher, be it Samsung TouchWiz or Google Home, and it is much more customizable.
My favorite features are the integrated Cortana Support and the universal search bar which lets me search through the files, docs, and messages on my device. I also love the fact you can see a personalized feed for quick access to your most used documents, and your most used apps. The launcher is very heavily integrated with Microsoft services, so it is great for those who own a Windows 10 PC or are just coming from Windows Phone.
Download Microsoft Edge:
Asides from the phone and messages app, the web browser is another key area where you'll be spending lots of time on your Android device. That said, downloading Edge is another great way to transform your Android phone into a Microsoft Phone.
As we pointed out before with the iOS version, Edge is a solid browser, and it lets you continue web pages from your Phone to your PC. It also syncs your bookmarks and passwords right with Edge on your Windows 10 PC, helping make your browsing life much easier. The browser has been downloaded over a million times, so it is definitely not something to miss.
Please be aware that unlike with Windows 10 Mobile Edge on Android runs on the same Chromium browser engine as Chrome. So it is basically like using a custom Microsoft version of the Chrome browser— which is already popular as is. Download for yourself below.
Use OneDrive on Android:
Everyone is always on the go or working on multiple PCs. That said, you can keep all your photos right at your side on your Android device and also sync to your Windows 10 PC by using the OneDrive app. This is a great way to get that Microsoft Phone experience and skip out on Google Photos.
Whenever Wi-Fi is available OneDrive can automatically back up your camera roll, meaning you can see the photos you took from your phone right on your Windows 10 PC (and vice versa!) This is pretty useful, especially with the OneDrive Files on Demand feature, and the 1TB of OneDrive that comes with an Office 365 Subscription.
Those who aren't too keen on this can also try out the Photos Companion app, which allows you to wirelessly from your phone to your PC without the need for OneDrive. I wrote about that here.
Change your app defaults, hide Google apps and other unwanted apps:
Being that Android phones contain Google Software, it is technically impossible to fully turn the device into a full-on Microsoft Phone. You'll need to keep Google Play services running, and a few other background apps just to keep the phone going for daily tasks. However, you can still disable or hide certain apps and Google services which you don't find useful.
For one, you can change your app defaults if you feel fit. In my case, I changed the default browser from Chrome to Edge. You also can open the app draw on Microsoft Launcher, press the "…" on the top, and then press on "Hide apps" to and hide certain Google apps and the other non-Microsoft which you may not be using. I hid a few of the Google apps, including Gmail, and YouTube, giving the phone a cleaner home screen look.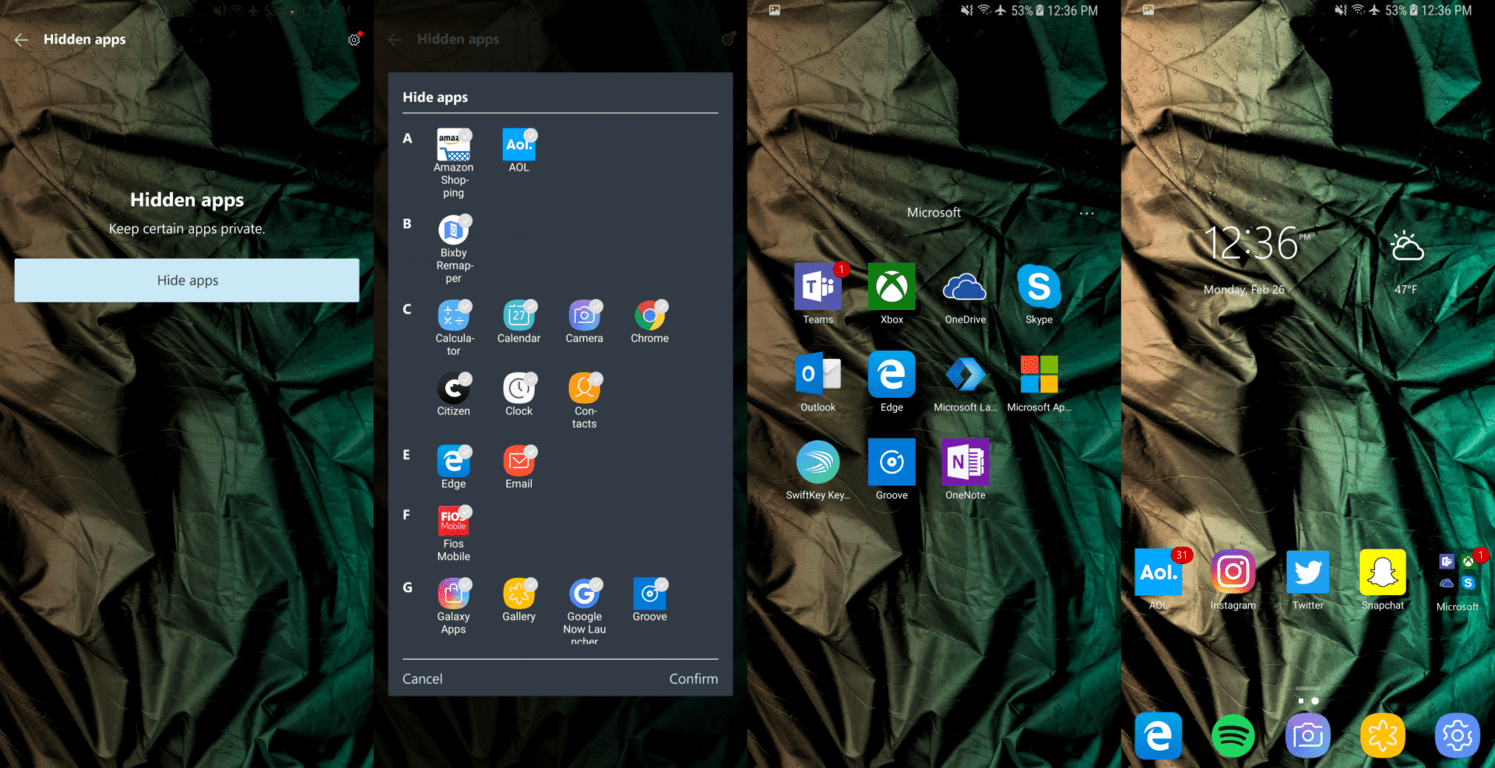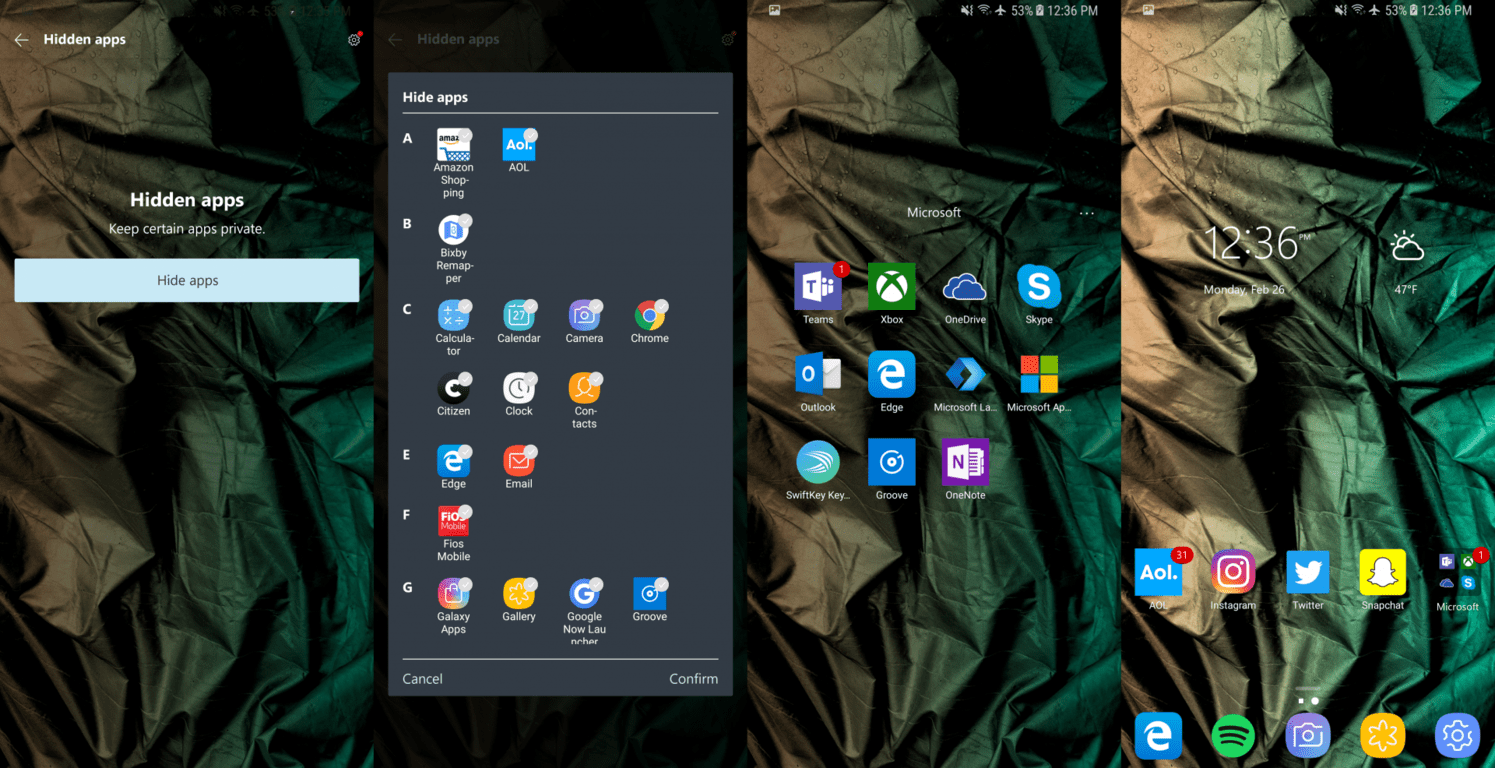 At the end of the day, the only real way to turn your Android phone into a Microsoft phone is to download Microsoft apps. You can try out other launcher apps which will bring back features the feel and look of Windows Phone, but these are not free and the experience may be laggy. So, I recommend sticking to Microsoft Launcher, and Microsoft apps on the Google Play Store— at least until Surface Phone finally surfaces.