It's now been two weeks since Microsoft released its new Xbox Series X and Xbox Series S consoles, which have been selling out very quickly across their 40 launch markets. If you already got your hands on the new consoles, we hope you're having a good experience with them so far, though there are a couple of things you need to know to really take advantage of the new hardware.
Both the Xbox Series X|S and the Sony PlayStation come with a new HDMI 2.1 port, a new gaming-focused technology that will standardize next-gen features such as 120 Hz gaming, Auto low-latency mode (ALLM), and Variable Refresh Rate (VRR). HDMI 2.1 is still pretty rare on TVs and gaming monitors right now, though ALLM and VRR are two technologies that your current TV or monitor may already support and we'll explain why they are important to get the best gaming experience.
There are also some important things to know about storage management on Xbox Series X|S consoles, as well as Xbox One features that are no longer supported. What will follow is going to be a bit technical, but please bear with us if you really want to take advantage of everything your Series X|S console has to offer.
Why you may want to upgrade your TV or gaming monitor
Microsoft's new Xbox Series X and Series S consoles both support 120 Hz gameplay, meaning that games can now run at up to 120 frames per second (FPS) on compatible TVs and monitors. This is twice as fast as the 60FPS target that some Xbox One games had, and until now 120 FPS gameplay is something only PC gamers have been able to enjoy.
To play games at 120 FPS on your Xbox Series X|S console, be aware that this something that developers will need to implement. Some games like Dirt 5 offer an optional 120 FPS mode with lower graphic settings, while others like Gears 5 only support 120 FPS in the game's multiplayer mode. However, all games in the Halo: The Master Chief Collection have been updated to support 120 FPS in Campaign and Multiplayer on both Xbox Series X and Xbox Series S.
If playing games at 120 FPS can make a big difference, you also need a screen with a 120 Hz refresh rate, and this is where things can get complicated. On the PC gaming space, there are already plenty of monitors with a 120 Hz refresh rate or higher, but 120Hz is often only supported via DisplayPort, and not HDMI. The existing HDMI 2.0 standard does supports 120 Hz gameplay, but some monitors still ship with older HDMI ports limited to 60 Hz.
That's why the new HDMI 2.1 standard is going to be a big deal on TVs and gaming monitors, bringing supports for 4K gameplay at 120FPS as well as 8K at 60FPS. Asus was the first company to announces a series of HDMI 2.1 4K gaming monitors for this holiday season, though if you're more interested in a 4K TV, the LG CX OLED is probably the HDMI 2.1 TV that most shopping guides are currently recommending to gamers.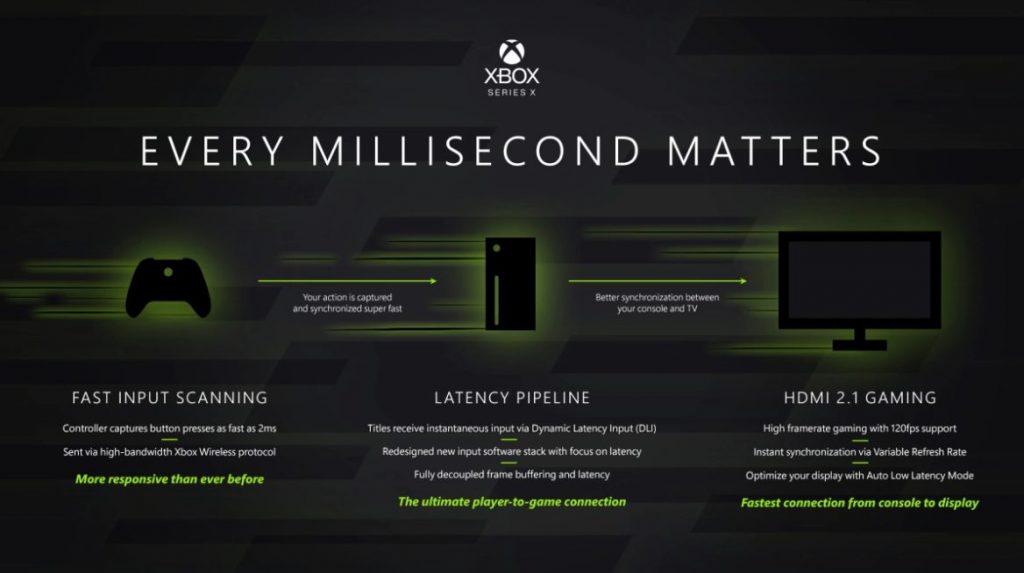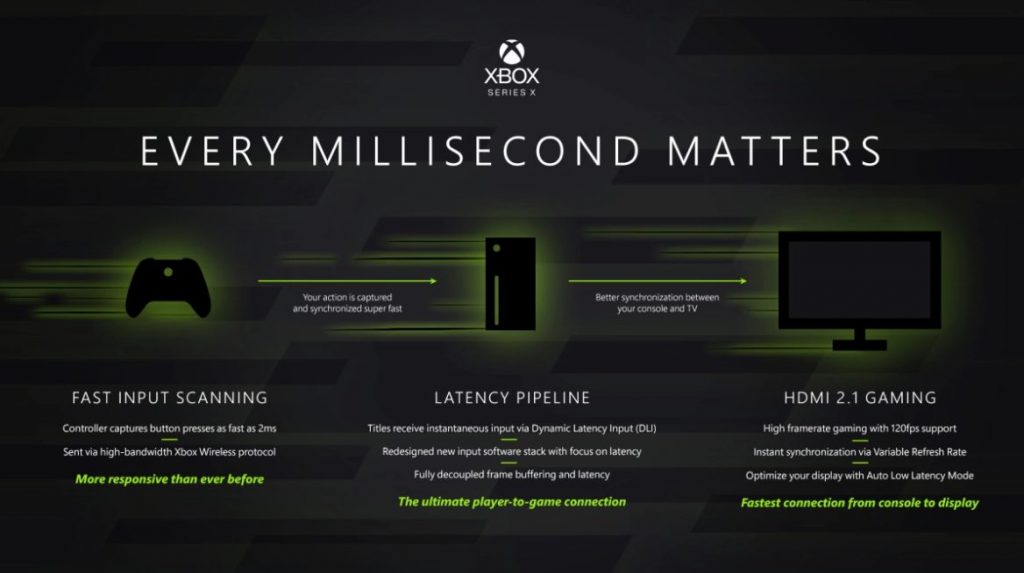 In addition to 4K at 120 Hz support, HDMI 2.1 also brings support for Variable Refresh Rate (VRR), the TV equivalent to AMD's Freesync technology for gaming monitors. VRR can eliminate screen tearing by adapting the screen's refresh rate to the game's frame rate so they're constantly synchronized. I've personally had screen tearing issues on games like Assassin's Creed Valhalla and Dirt 5 on my HDMI 2.0 4K TV, and VRR should address that.
It's worth noting that Variable Refresh Rate is already supported on Microsoft's Xbox One S and Xbox One X consoles, along with auto low-latency mode (ALLM). The latter will also be available on HDMI 2.1 TVs, even though some HDMI 2.0 models already support it. ALLM will reduce latency by automatically enabling your TV's "game mode" when you boot up your Xbox console, so make sure to enable it if your TV supports it.
If I personally prefer playing games on a gaming monitor, most console gamers prefer the convenience of a TV, especially those with an expensive audio system connected to it. Most 4K TVs these days also support HDR and Dolby Vision, two features that can make a big difference compared to gaming monitors. Both the Xbox Series X and S also introduced a new Auto HDR feature that to apply an HDR treatment to SDR games, and the two consoles will also support Dolby Vision for games next year.
Get ready for the next evolution in gaming.

Introducing @Xbox Series X|S. The first consoles ever with gaming in Dolby Vision® and Dolby Atmos®.

Available soon. pic.twitter.com/ws4CGxXThf

— Dolby (@Dolby) September 29, 2020
Before you go buying a new TV or gaming monitor, make sure to check out the features that your existing screen supports. On your console, you can do so by opening the Xbox Guide, and then selecting Power & system > Settings > General > TV & display options > 4K TV details. If your screen does supports 4K, 120 Hz, ALLM , VRR, HDR, Dolby Vision, you can enable these features by going to Advanced > Video modes.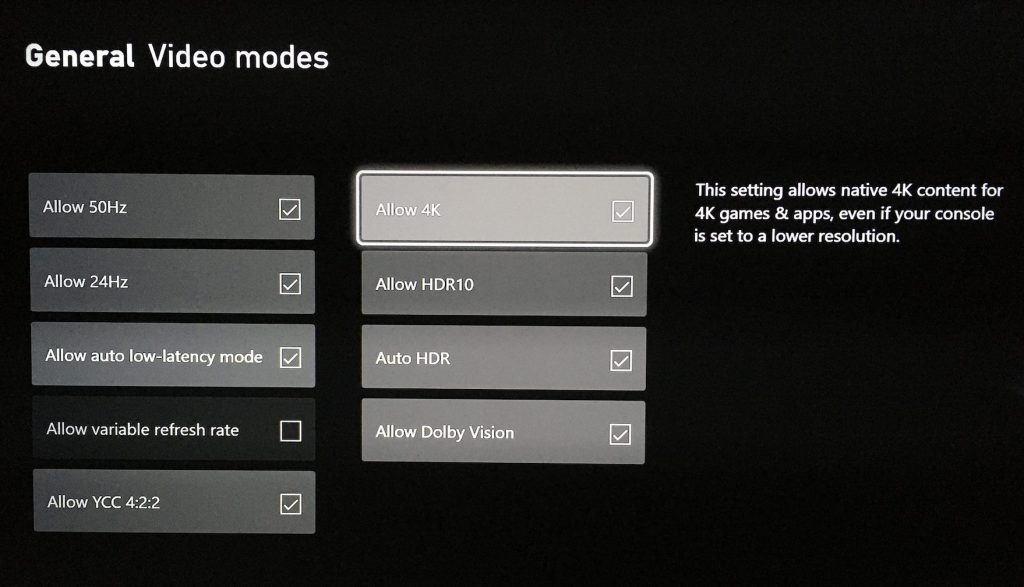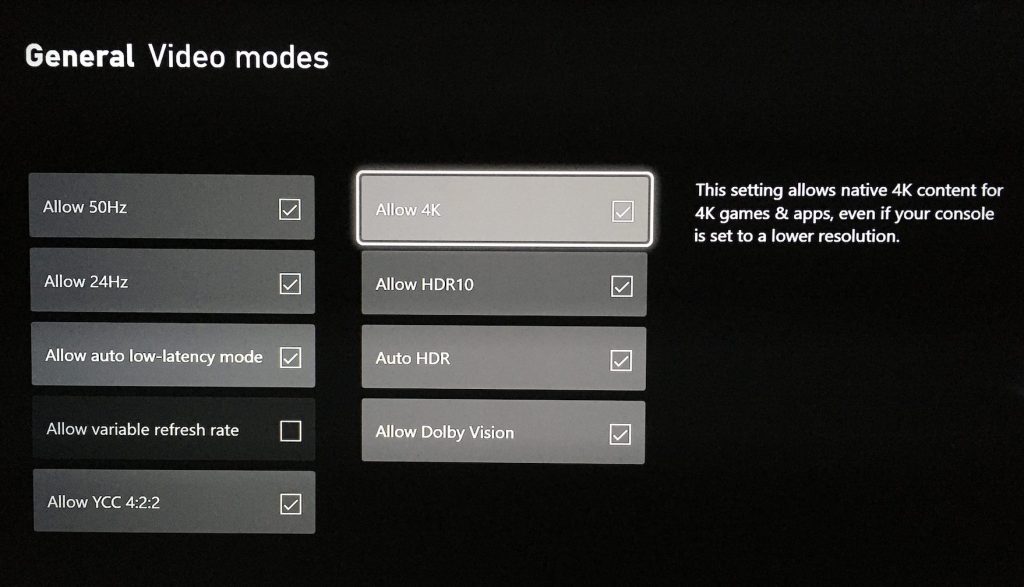 Using the Xbox Series X|S for media purposes
Microsoft misread the market by trying to make the Xbox One an all-in-one entertainment system seven years ago, and fortunately, the company's messaging for the new Xbox Series X|S consoles has been mostly focused on games this time aorund. Both consoles have dropped support for the Xbox One Kinect accessory, and the HDMI-in and optical audio ports are also gone.
The OneGuide app that also debuted with the Xbox One console is also missing on Xbox Series X|S consoles, though gamers still have access to a good selection of media apps and a growing catalog of content in HDR and Dolby Vision. While Microsoft's Movies & TV store is still there, Xbox owners can now purchase movies from Amazon or iTunes with the Amazon Prime Video and new Apple TV app.
If you do plan to use your Xbox Series X|S as your main media player, you need to be aware of ongoing issues with the YouTube and Netflix apps. As of today, the YouTube app on Xbox One and Xbox Series X|S doesn't support HDR playback, even though the Xbox One S brought support for HDR four years ago. A YouTube spokesperson told Polygon that Google is working on HDR support in the YouTube app, but there's no ETA yet.
As for Netflix, Forbes recently pointed out that the Netflix app for Xbox One and Series X|S consoles play all content in HDR, which can give some poor results for SDR content. If you have an HDR TV or monitor, the Netflix app will turn HDR on all the time and change a wide range of settings to display the best HDR picture. "If your TV makes all these changes with content that's actually mastered in SDR, though, the resulting picture just doesn't look right anymore," emphasized Forbes' John Archer, who reached Netflix for comment but couldn't get an explanation for this weird behavior.
How to make the best use of external storage
If you've been using external storage to install Xbox One games, the good news is that you can unplug your drive from your old console, plug it to your new Xbox Series X|S console and start playing your old games right away. As the Xbox Series X comes with just 802GB of internal storage (only 364 for the Series S), it's probably best to keep this space for next-gen games that leverage the new Xbox Velocity Architecture and store backwards compatible games on USB-based external storage.
It's worth noting that the new Quick Resume feature, which can suspend multiple games in the background instead of closing them also works for games stored on external storage. The feature also works after a reboot, allowing you to pick up where you left off in less than 10 seconds. Quick Resume currently doesn't work for all Xbox One and Xbox Series X|S games, and Microsoft recently deactivated it for recent games like Assassin's Creed Valhalla and Dirt 5 to fix some issues. Quick Resume remains a true-game changing feature and I hope Microsoft will polish it in the coming months, but as of today, it can be pretty unpredictable: It's probably best to keep saving your progress manually just in case your recent games have been dropped from the Quick Resume pool without any warning.
SSDs have become really cheap in recent years, and I'm currently using two external drives with my Xbox Series X|S consoles to store Xbox One and Xbox 360 games. While you can store next-gen games on external storage, these titles won't launch until you move them to the internal storage or a Seagate 1TB expansion card that delivers the same speed as the console's internal NVMe SSD. I recently got my hands on this first proprietary expansion card from Seagate and it works as expected, though it's not a must-have accessory yet considering its $219.99 price.
If you have multiple Xbox consoles at home, you can actually hot swap external storage between them and your games will launch just fine, no reboot required. You can also use external storage to copy games to a different drive, which is a great time-saving feature. To manage storage devices, you can go to My Games & Apps > Manage > Storage devices, where you'll see different options for choosing your default install location, moving or copying games, and more.
If the new Share button on the Xbox Series X|S controller makes it easier than ever to capture screenshot and gameplay videos, I recommend using external storage as capture location instead of the console's internal SSD: Doing that will allow you to capture up to 60 minutes clips, which you'll be able to easily transfer to a PC. The downside is that you can't upload clips and screenshots captured on external storage on Xbox Live, though the auto-uploads to Xbox Live that happen in the background have always been quite slow on Xbox consoles. Both the Xbox Series X and PS5 can capture 4K 60 fps gameplay footage in HDR if you have the right TV or monitor, though you may want to turn HDR recording off to prevent your videos from looking weird on non-HDR screens.
Last but not least, following the sunsetting of Mixer back in July, Twitch is now the only place where you can stream games on Xbox consoles. You'll need to download the Twitch app from the Microsoft Store and log in with your Twitch account, then go to the Broadcast tab. It would be much more convenient if streaming services like Twitch and YouTube were built into the Xbox OS like they are on PS4 and PS5 consoles, but it is what it is.
As the Xbox Series X and Series S run the same OS as Xbox One consoles, the next-gen pretty much feels like a PC-like upgrade, and there's nothing wrong with that. Microsoft keeps iterating on the Xbox OS and recently made the Home screen load more than 50% faster when you boot your Xbox, and almost 30% faster to load when you're returning from a game. There's still a lot of room for improvements, but we hope that all the tips mentioned in this post will help you enjoy your Xbox Series X|S console even more during this holiday season.