Presentations are something that happens every day across business, but they can be quite boring. Depending on your presentation, your audience might lose their focus quickly, or have a hard time following along with you. Well, since everyone spends time on their mobile phones already, Microsoft has a solution to help you out.
Known as PowerPoint Live, during presentations, your audience members can scan a QR code to see your presentation on their devices and read live subtitles as you speak. They also can use features like pinch to zoom to see the slides more closely, send live reactions, or go back to previous slides. Here's a hands-on look at the experience, and how it can make presentations less boring.
Using PowerPoint Live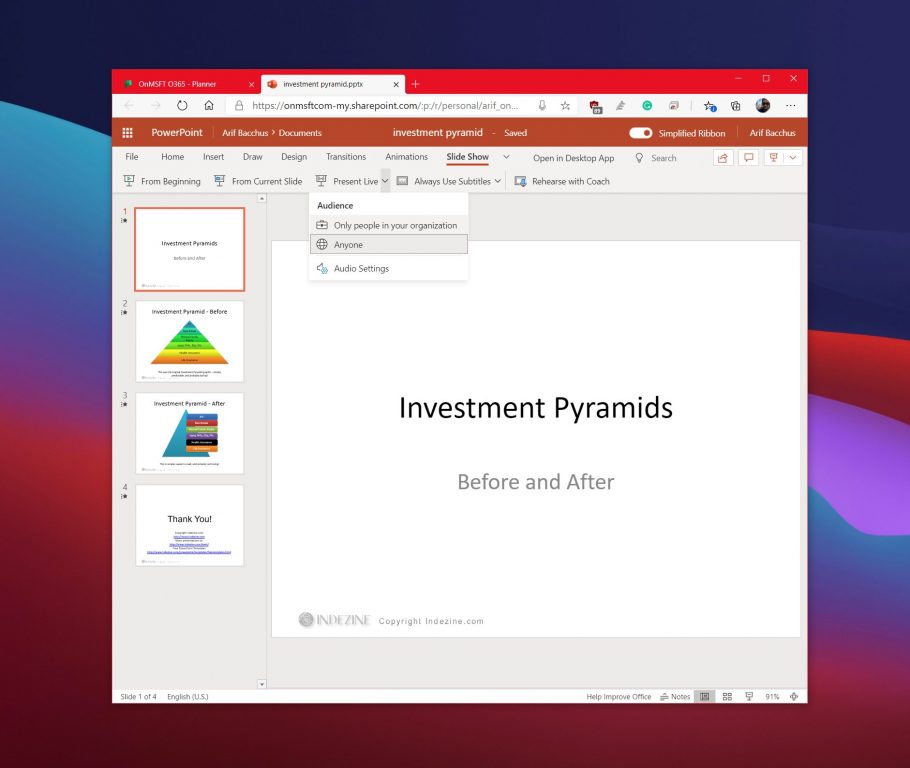 To get started with PowerPoint Live, you'll have to make sure you've uploaded your presentation to OneDrive. Keep in mind that PowerPoint Live is only available on the web, so you'll have to make sure that you open the presentation from OneDrive, and then PowerPoint on the web. Once open, you can go to the Slide Show tab.
From there, click the drop arrow next to Present Live to select who should be able to connect to this presentation. You can choose "only people in your organization" or "anyone." If you choose "only people in your organization," this will be the option for limiting access to people who only share the same organizational email as you. With "anyone," people outside the organization can view it.
It doesn't get any easier than that. Once you select an option, your screen will show a QR code for your audience to scan with their phone. They'll also be a link next to the code, too, so folks who can't scan can manually go to the presentation online. Keep in mind, though, that they won't need to have a Microsoft 365 subscription to view it. You, however, will need one to share a PowerPoint Live.
The PowerPoint Live experience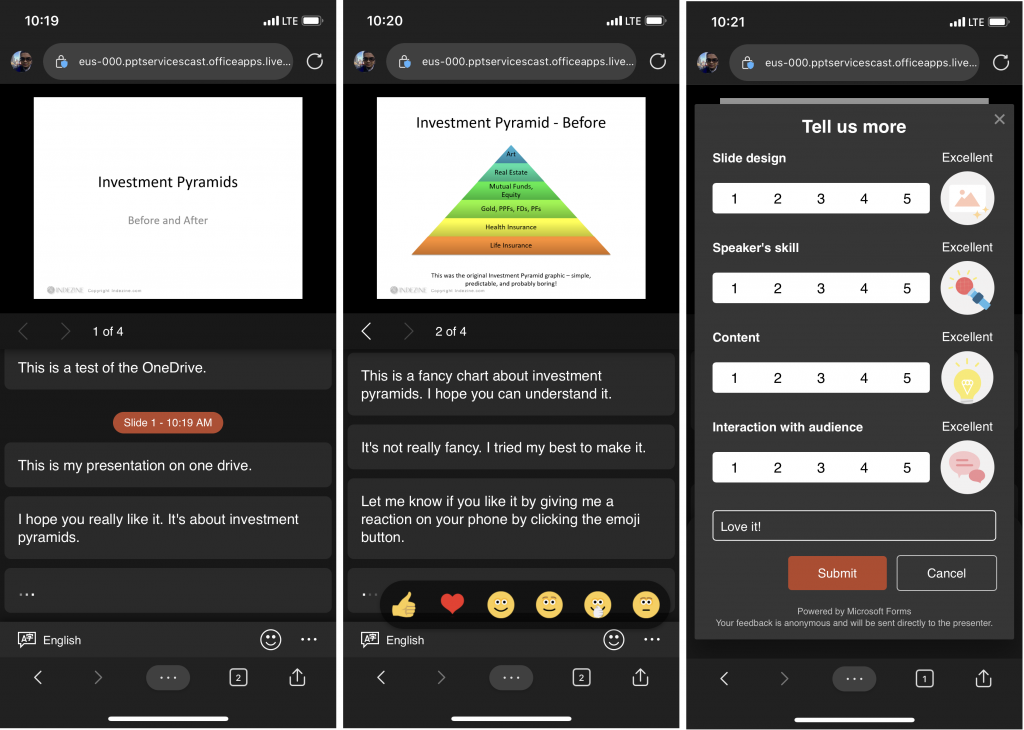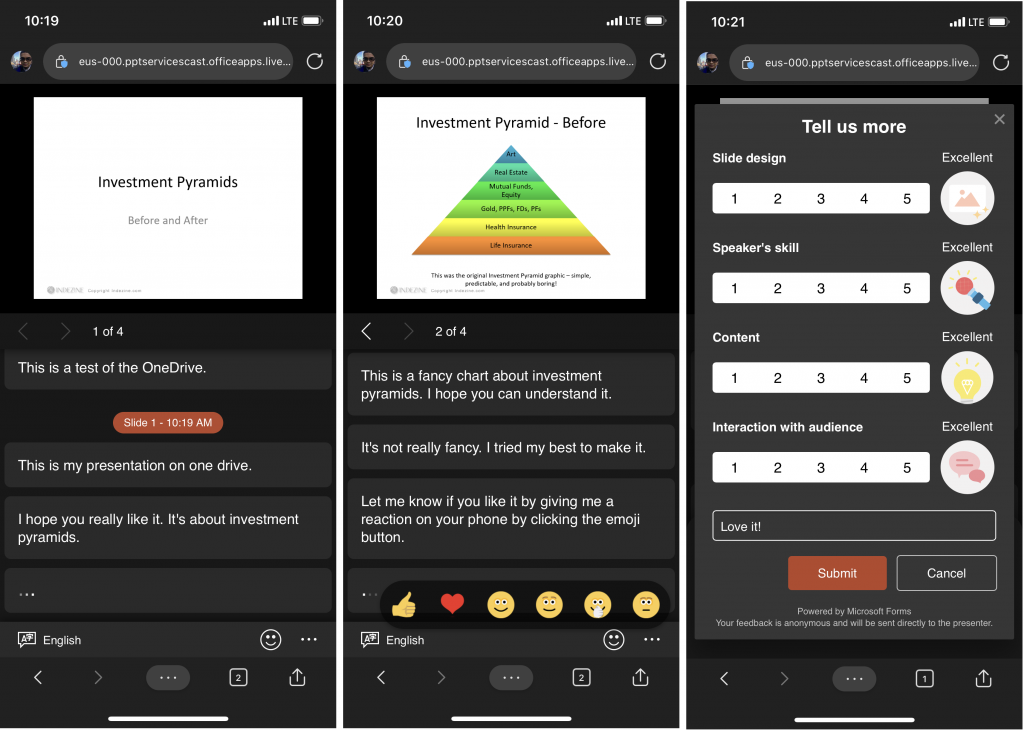 Once your audience scans the QR code or goes to the website, they'll be able to do a couple of cool things. As you speak during your presentation, they'll see your words appear on their phone as captions. This is great for when your audience can't hear you clearly. Your audience can also choose their own language, other than English, to see the captions in. They're over 60 languages that can be chosen from.
Other than captions. The audience member can also go back to an earlier slide in your presentation, without interrupting you. They can go as far back as they want, and continue to see the captions for your current place in your presentation. Again, this is useful for speeding up presentations and not wasting time going back and forth between slides during your busy day.
Finally, audience members also have the ability to give you live feedback. They can choose from a variety of feedback such as "love," "puzzled" or "surprised." Their selection will show up at the bottom of your screen as you present. It's a nice way to keep people engaged.
Presentation evaluations with PowerPoint Live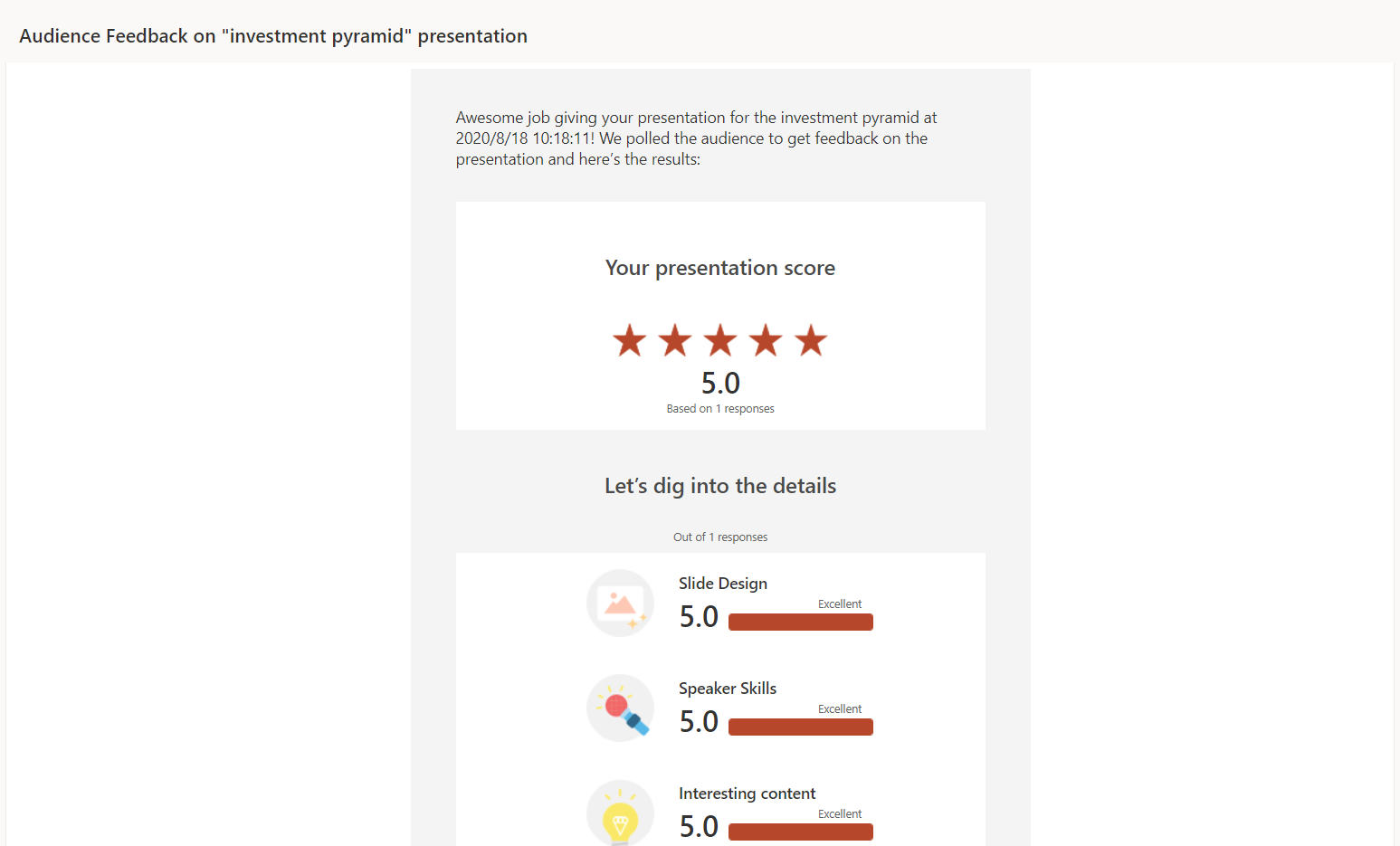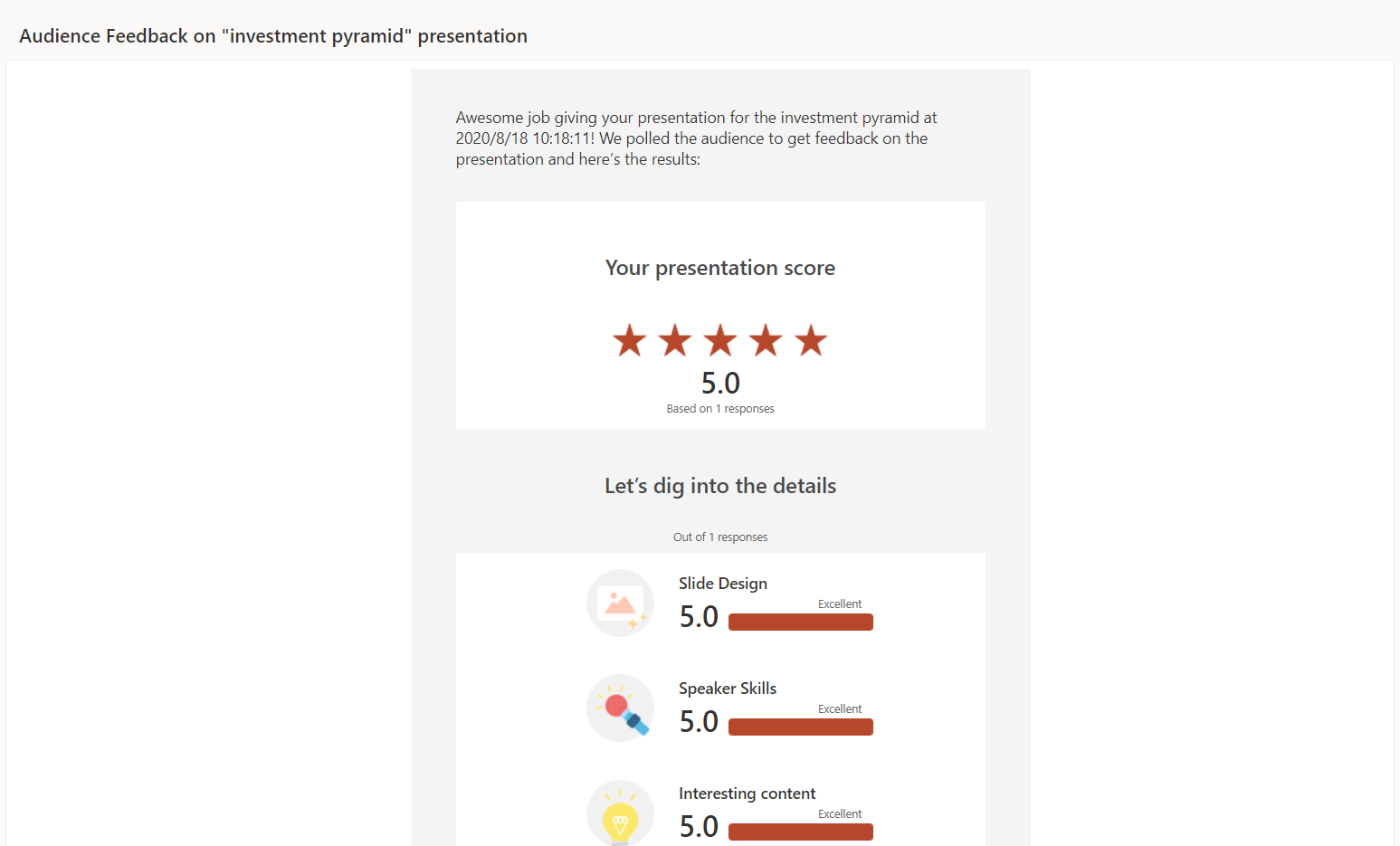 One of the final options for your audience during your presentation will be a presentation evaluation. They each will receive a short survey (as we showed above) to rate your design, skill, content, and interaction. There's also a point for feedback, too. A couple of minutes after you end your presentation, you'll get this feedback emailed to you.
In that email, you'll see how many people responded, and what they thought about your presentation. You'll also see stats about audience reactions, and a list of comments. For longer presentations, you'll be able to click the link at the bottom of the email and open Microsoft Forms to see detailed insights, and even download the data to Excel.
Just one tool in the PowerPoint bucket
PowerPoint Live is just one tool in the PowerPoint bucket. If you're looking for other ways to improve presentations, Microsoft still has you covered. You can also try rehearsing your slide shows with Presentation Coach. Also available on the web, this evaluates your pacing, pitch, your use of filler words, informal speech, euphemisms, and culturally sensitive terms. It detects when you're being overly wordy or are simply reading the text on a slide.
Do you have tips for delivering PowerPoint presentations? Let us know in the comments below.