The XPS 13 has always been one of the best Windows 10 laptops you can buy for your money. With its signature Infinity Edge display and a woven glass and carbon fiber interior, it has been hard for other laptop makers to beat. But how can Dell make it even better? By introducing an OLED model, that is.
With a new OLED model, the perfect laptop is now even more perfect. Dell was kind enough to send us the new OLED model of the XPS 13 9310 for review, and it is quite the laptop to drool over. Here's a look at why this new XPS model with a bright and lively display has us so excited.
Specs, pricing, and ports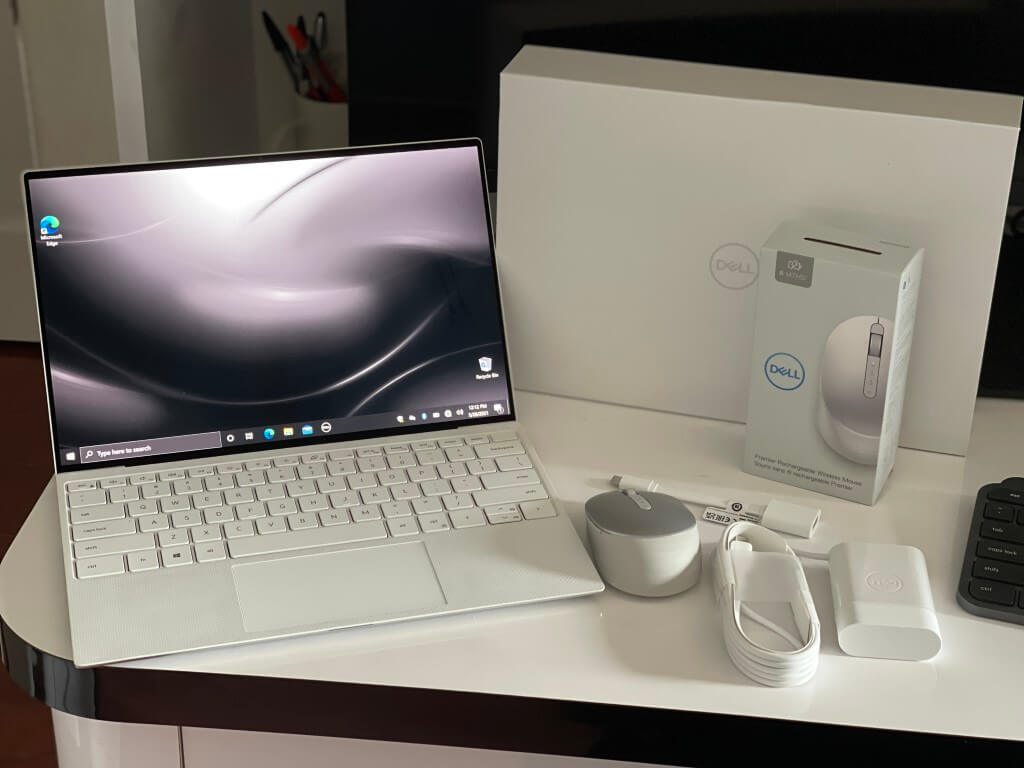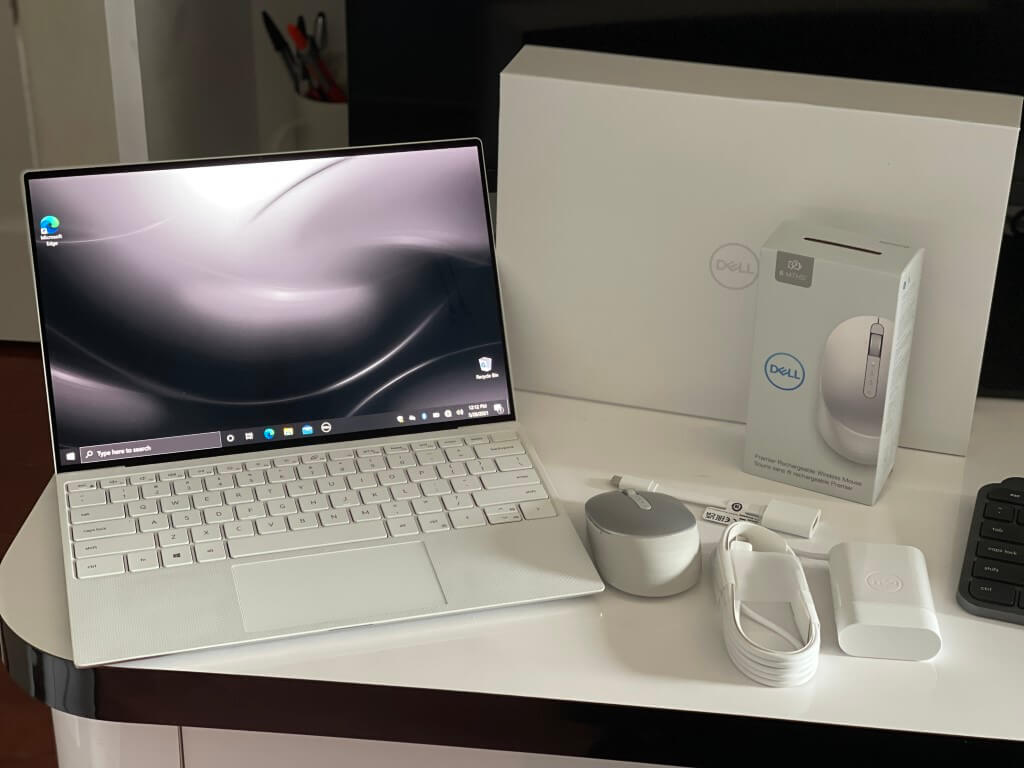 Our review unit is one of the higher-end models. It comes configured with the 11th generation Intel Core i7-1185G7 processor, 16GB of RAM, and a 512GB solid-state drive. The 3.5K (3456 x 2160 resolution) display is also touch-enabled, though it doesn't work with a pen. If you want that pen functionality, you'll have to go for the XPS 13 2-in-1, which we previously reviewed.
Anyway, this specific configuration is available for $1,950 over at Dell.com. If you're hoping to buy the OLED model you'll have to pay $400 extra (included in that listed price above.) The OLED also only comes in the 3.5K resolution option, so you're getting extra pixels for the $400, helping make multitasking on the screen a bit easier.
The ports on the OLED model as the same as all other versions of the XPS 13 9310. The only big difference is the display. This means that you'll still find two Thunderbolt 4 ports, a microSD card slot, and a headphone jack. Those Thunderbolt 4 ports will be handy if you're planning to use an external GPU, for a boost beyond the integrated Iris Xe graphics on the XPS.
For such a thin and light laptop, this has actually become the new standard. Other publications point out the lack of USB-A or HDMI as a bummer for the XPS 13 lineup, but with a laptop so thin, it's hard to include full-size ports as it is. Dell gets that and includes a USB-C to USB-A dongle in the box for you.
As is routine in most laptop reviews in 2021, we'll also touch on the webcam, microphone, and audio setup here, too. This laptop comes with a widescreen HD 720p 2.25mm webcam. It also sports a dual-microphone array powered by Waves, as well as stereo speakers professionally tuned with Waves MaxxAudio Pro.
The experience of all that is the same as the XPS 13 2-in-1, down to the Windows Hello support in both the webcam (for face logins,) as well as the fingerprint reader in the power button. 1080p webcams are rare in laptops, and with the webcam living in the tiny bezel up the top of the laptop, it probably would have been tricky for Dell to upgrade the sensor as it is.
We wished the quality was better, but it still is good. We had no complaints about the webcam or audio quality in our workflow of Teams calls, and video chats with family on Skype. If anything, the OLED screen only makes everything feel more realistic, but more on that later.
Design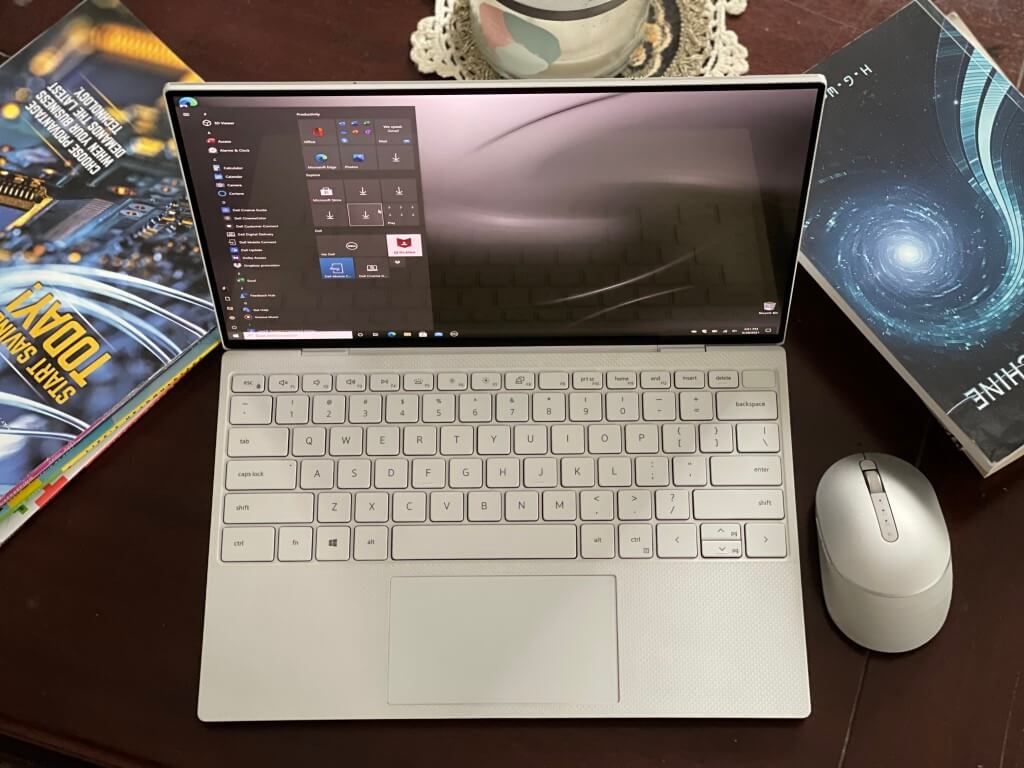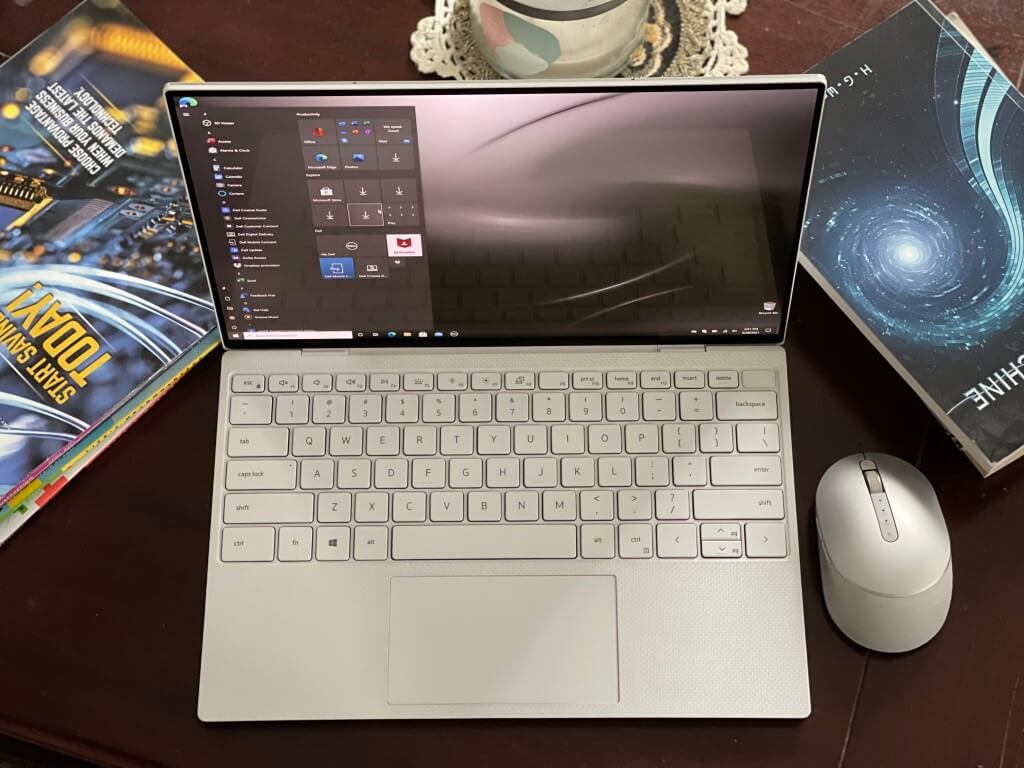 The minute you take the XPS 13 out of its box, you'll be wowed by its design. There's nothing new here over the other models, but first-time XPS 13 buyers who opt for the OLED option should be prepared to be amazed.
While other laptops sport magnesium, aluminum, or even titanium, Dell goes for a hybrid of materials that make the XPS 13 stand out at a coffee shop or anywhere you go. It also makes the laptop worth the pretty penny you're paying for it.
The XPS 13 is cut from a block of aluminum in two pieces, so it's more durable than a laptop that's pieced together with one. On the outside of our review unit, you'll find a frost-colored aluminum lid. Then, on the inside, the stunning "Arctic White" finish with a luxurious-feeling glass-coated carbon fiber material on the palm rests.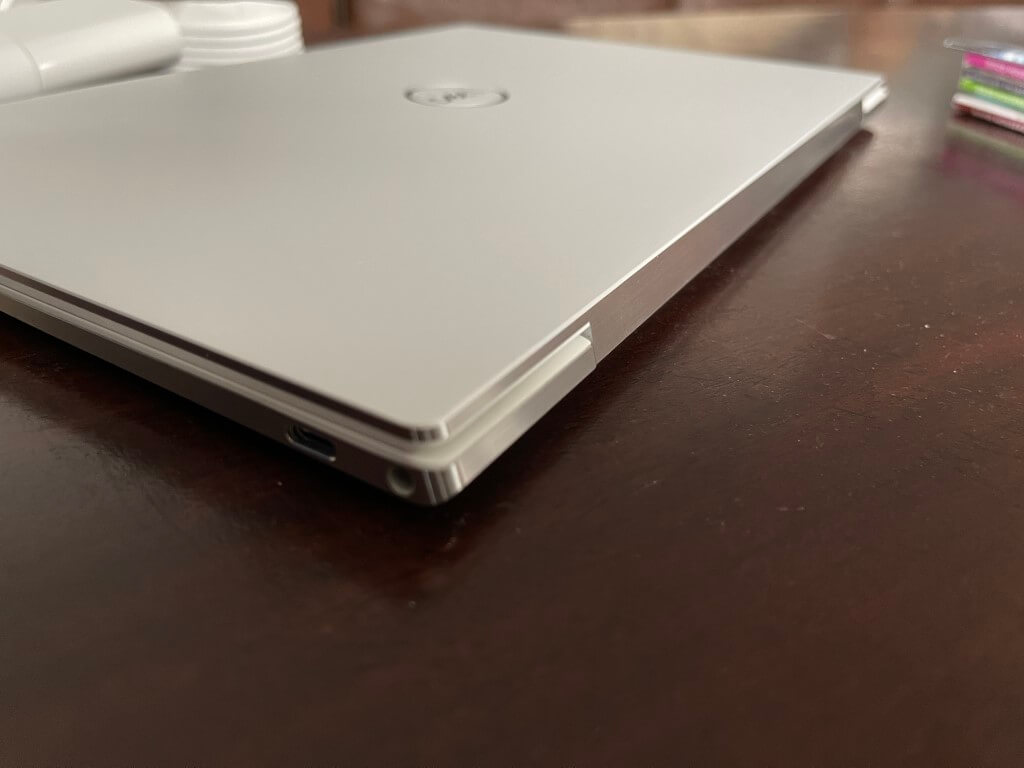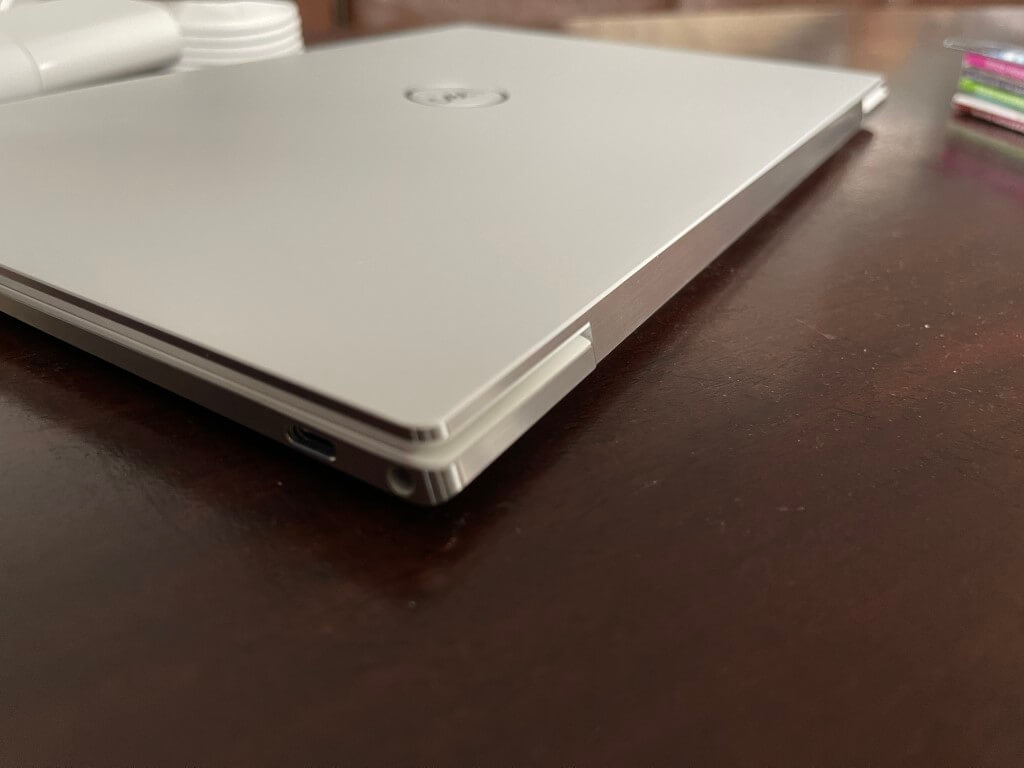 This XPS definitely looks different from the silver-on-silver, and the black-on-black laptops that we're used to here at OnMSFT. The diamond-cut sidewalls only top it off, shining bright as we slid our fingers through it after our initial unboxing. Plus, since these are premium materials, there is no flexing, bending, or creaking to deal with. This is a premium laptop that is the real deal.
Much like we found with the XPS 13 2-in-1, Dell's design choices keep this XPS model quite thin and light. It weighs in at 2.8 pounds and is 0.58 inches thick. That's pretty much standard across what most laptop makers offer these days.
You'll probably barely feel any difference over a MacBook Pro, an HP Spectre, or a Surface Laptop 13-inch. It's light enough to carry around with one hand, and the lid is even easy to open with one hand.
Touchpad and keyboard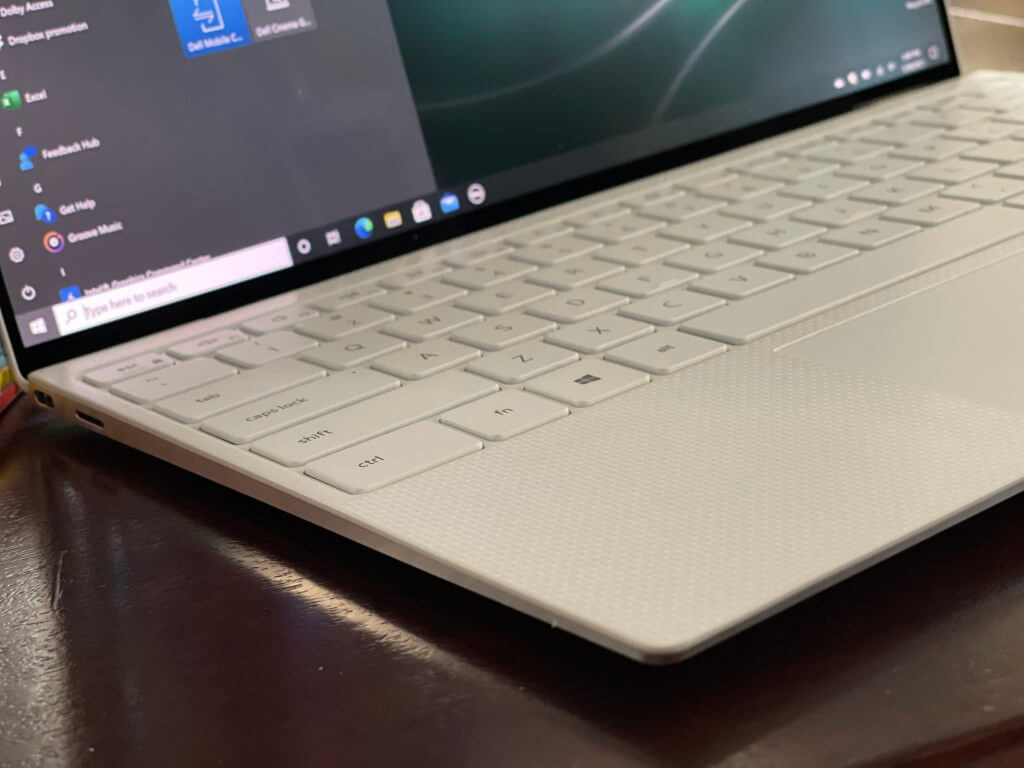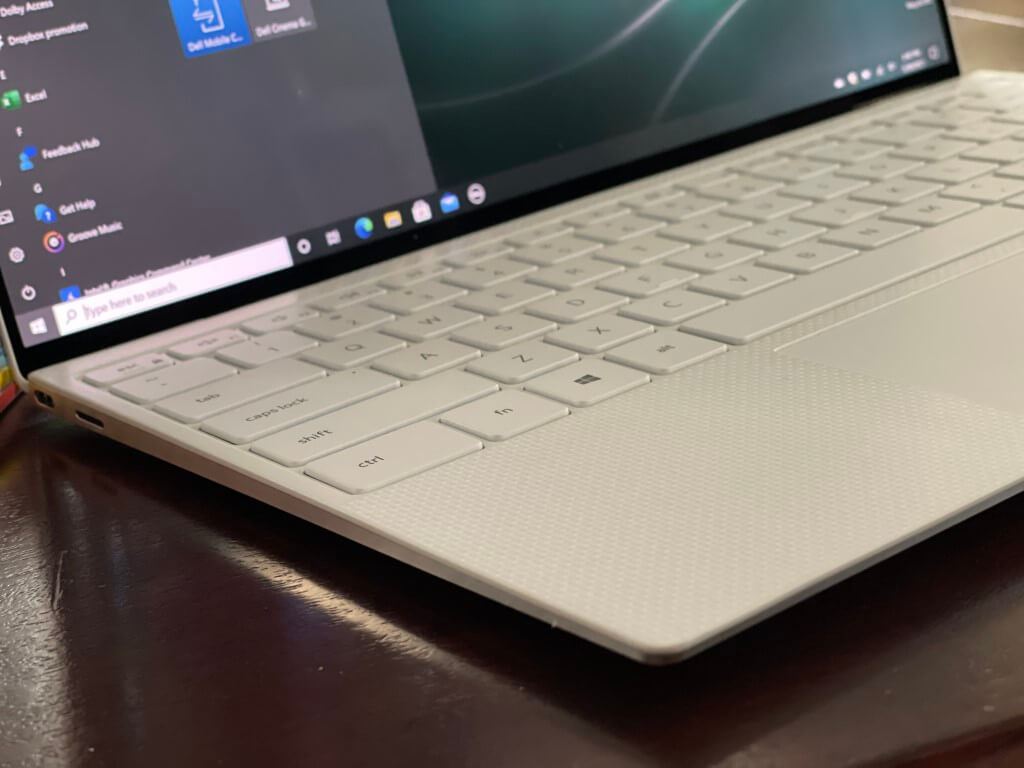 We had some complaints about the keyboard when we reviewed the XPS 13 2-in-1, but thankfully, the standard XPS 13 is much better on this front. It features a regular traditional keyboard and not the Macbook-like Maglev keyboard found on the 2-in-1 version.
The keyboard is soft, and our fingers easily skated between keys without harsh clicking feedback as we sped our way through Bing's typing test. We got to around 80 words per minute. Basically, this is super comfortable to type on. Dell says you'll get 1.0mm of travel, which is pretty good for a laptop this small.
We just have one complaint, and it is about the backlighting. Since the keycaps are white, and the keyboard letters black, the letters might be a bit hard to see when the backlighting is turned on. It will wash out the black with the white LED lighting in some conditions.
The Trackpad, though, is great. We can't complain about that. It is large, smooth, and supports Microsoft's precision drivers for gestures and more. It is also slightly offset from the center, leaving our palms more place to rest when typing.
Display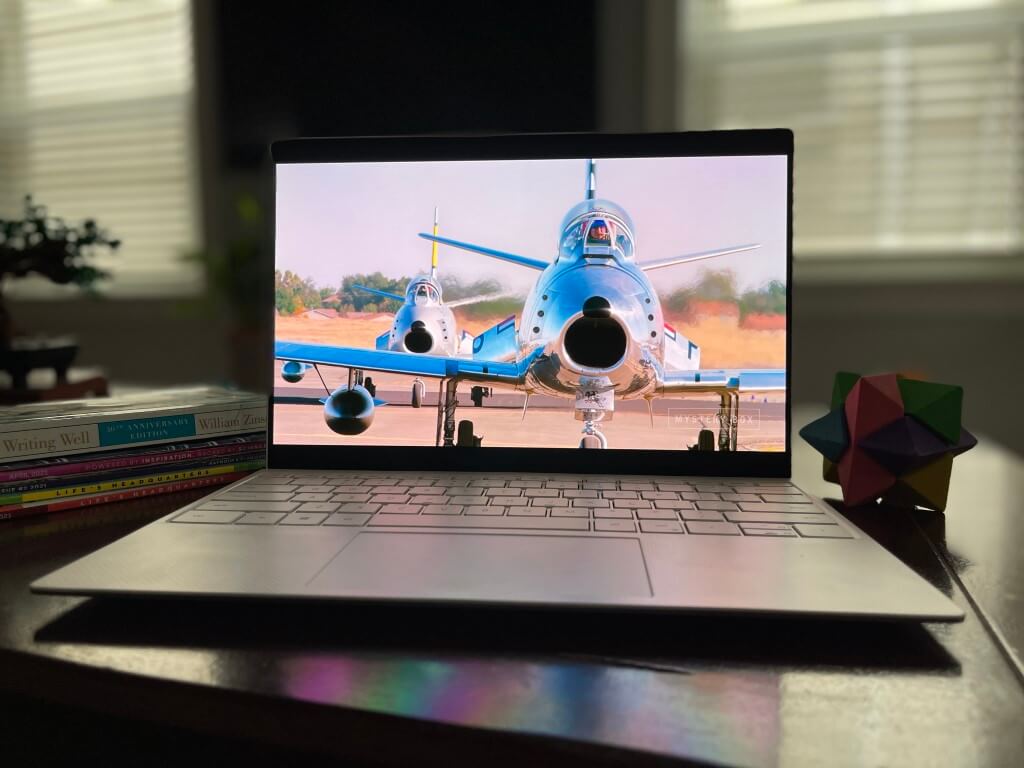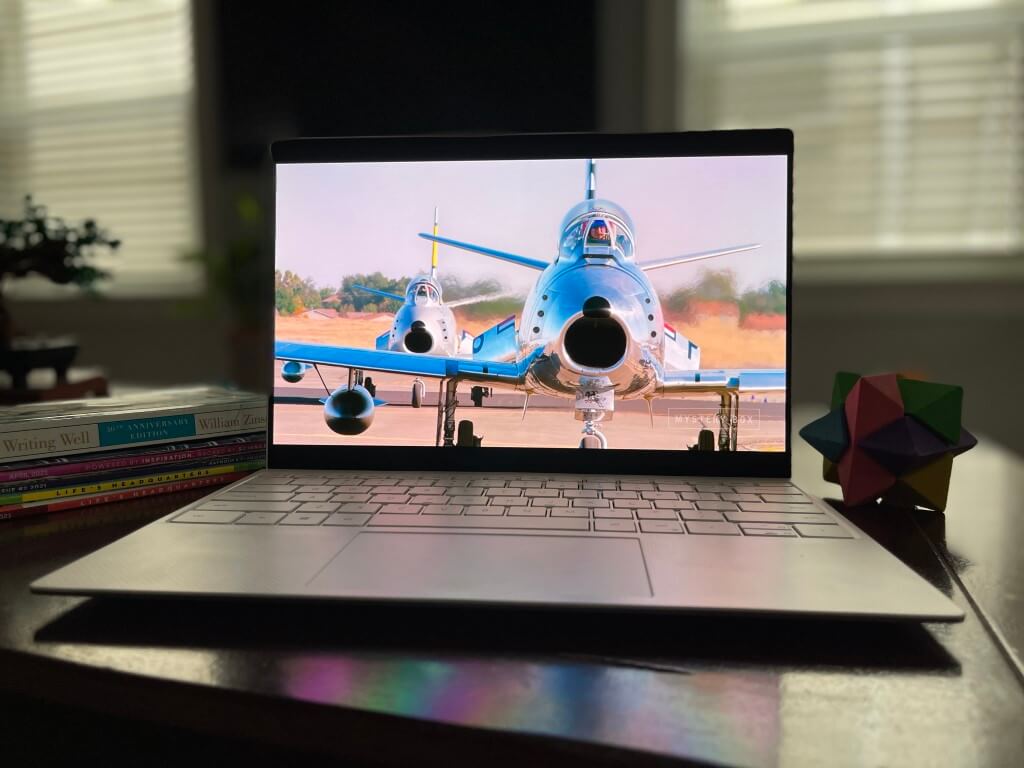 As we hinted at the top of our review, the OLED screen is what makes this XPS laptop different. Sure, you can find other laptops with OLED displays (we reviewed an HP Envy with one last year,) but most aren't as immersive as Dell's.
Other laptops are flanked by an ugly bottom bezel, or thick side and top bezels. The displays also are in the boxy 16:9 aspect ratio, which isn't good for multitasking. The rare exception is the HP Spectre x360, which has a 3:2 aspect ratio OLED option. But again, that's a convertible and not a traditional clamshell laptop like the XPS.
On the XPS, things are different. Dell managed to squeeze a 13.4-inch  "Infinity Edge" display in an 11-inch size, for a 91.5% screen-to-body ratio. It's also formatted in the 16:10 aspect ratio, which is taller and allows more room to stack windows side by side.
As we've explained before, that makes multitasking, watching movies, and consuming media quite immersive. The OLED panel only improves on that and makes for a really breathtaking experience that you need to see to believe.
Compared to the standard LCD panel you'll get on the regular XPS models, there are a lot of benefits. The panel has a 100,000:1 contrast ratio and covers 100% of the DCI-P3 color gamut. It even is VESA Display HDR 400 certified, and brightness can get to around 380 nits in our testing.
These numbers are all common for OLED panels found in other laptops. For you, it will mean that colors are more vivid and lively especially when it comes to black colors.
But enough of the numbers. To test this OLED panel, we went to YouTube and searched up for nature videos. The results had us surprised when we put the XPS 13 2-in-1 right alongside the OLED XPS 13.
In scenes with a forest and water, the greens and blues looked more life-like and colorful on the OLED XPS. In a scene with a sunset in a forest, the oranges popped right out against the black of the leaves on a forest floor. We asked our readers if they could tell the difference between the OLED XPS and the regular XPS 2-in-1 based on just a single photo, and indeed they were. OLED is really noticeable when the two are side by side.
What better way for me to catch up on all those episode I missed of NBC'S Debris than to watch on the OLED XPS 13? Pictures don't do this justice. Once you use an OLED screen it's hard to go back. You can see the smallest of details. Everthing just looks SO REAL. pic.twitter.com/fp81DBDpNN

— Arif Bacchus (@abacjourn) May 31, 2021
We also enabled HDR (off by default in Windows 10 to save battery) and watched episodes of NBC's Science Fiction Drama Debris and the results were stunning. In such a dark-themed show, the faces of the characters were true to real life. We could make out the fine details in the makeup and fake scar on one character's face.
Outside of multimedia, the OLED panel makes typing in our CMS and browsing the web quite pleasing. Text looks more clear, and images on web pages are more vibrant. Going back to the LCD on the XPS 13 2-in-1 was hard, and we instantly noticed the lack of colors and contrast on the regular XPS.
Performance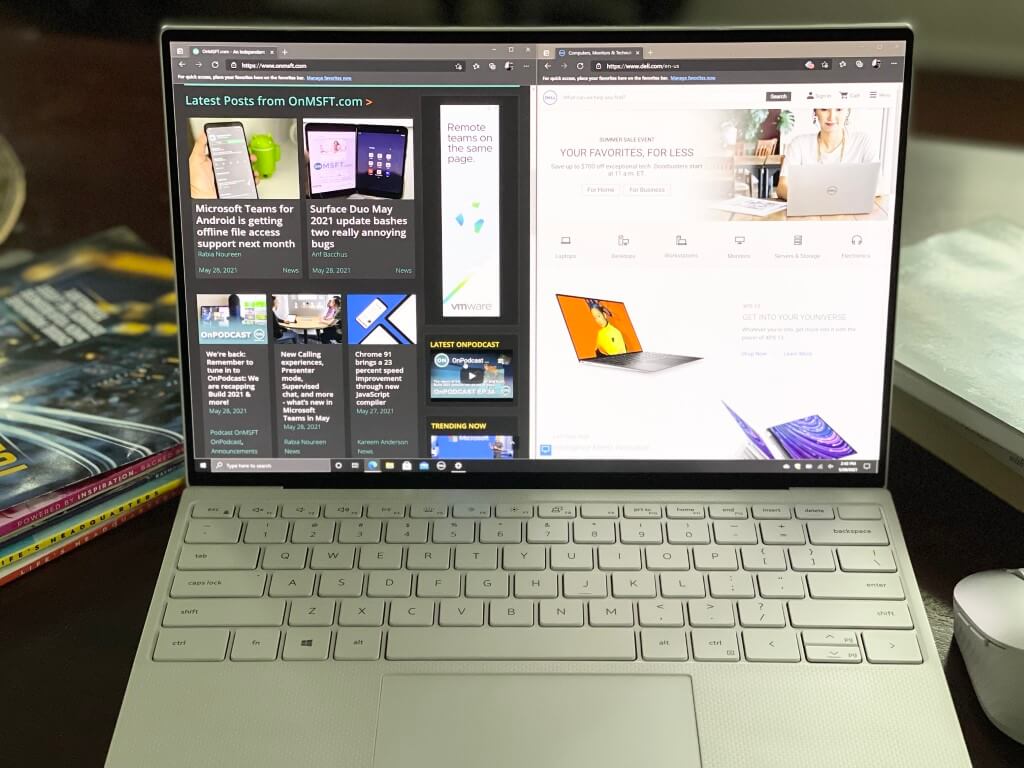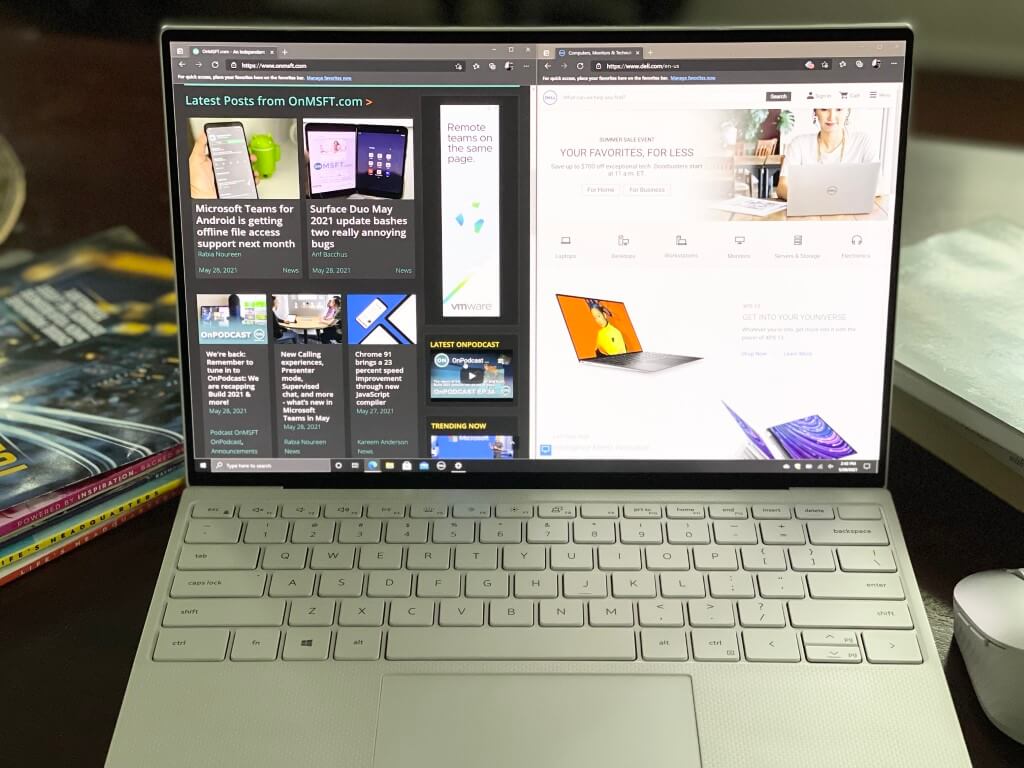 Configured with the 11th generation Intel Core i7-1185G7 processor, 16GB of RAM, and a 512GB solid-state drive, this XPS OLED model is no joke. We like to talk about this in real-world use. There is one word when it comes to performance on this laptop — amazing.
Intel's 11th generation Core i7 processor makes a lot of gains in terms of graphics and productivity. The XPS was able to handle our daily flow of 20+ media tabs in Edge just fine. It also outputted a 47-minute long (3 GB worth of data) and 1080p podcast video in Filmora in just 22 minutes. That's double the time on our dedicated gaming laptop and video editing machine, but considering there is no GPU inside the XPS, that's quite the feat.
There's also no fan noise here either, and the XPS stayed cool and quiet throughout day-to-day use, and only got hot when encoding videos. Dell is using dual fans to spread heat over a larger area and a single heat pipe with a single evaporator and dual condenser. Hidden exhaust vents in the hinge also help with airflow and a slight ramp aids in lifting more heat out. This all definitely does the job and keeps the laptop at a manageable temperature.
Intel Core i7 11th Gen and Iris Plus is no joke. This XPS 13 was able to punch out a 45 min 1080p podcast (3GB worth of data and video files and B-roll and audio) in about 22 mins. My dedicated video editing machine with a NVIDIA graphics does it in half that time. Not too bad. pic.twitter.com/uMV00U8Hk3

— Arif Bacchus (@abacjourn) May 29, 2021
As for gaming, in Fortnite, the XPS punched out around 25-32 frames per second, which is perfectly playable on medium settings. If you're looking for more dedicated benchmarking tests, we point you to notebookcheck.org, which runs the full suite of paid benchmarking software, out of our typical range. But trust us, this is a beast of a machine for something that doesn't have a dedicated GPU inside.
Battery Life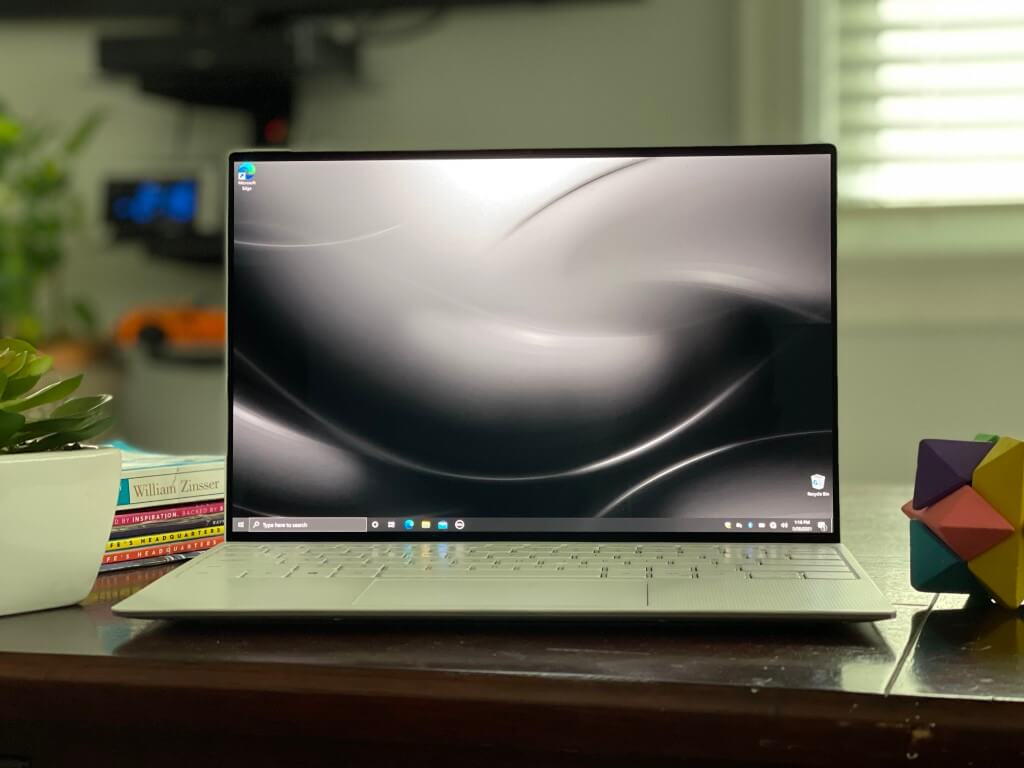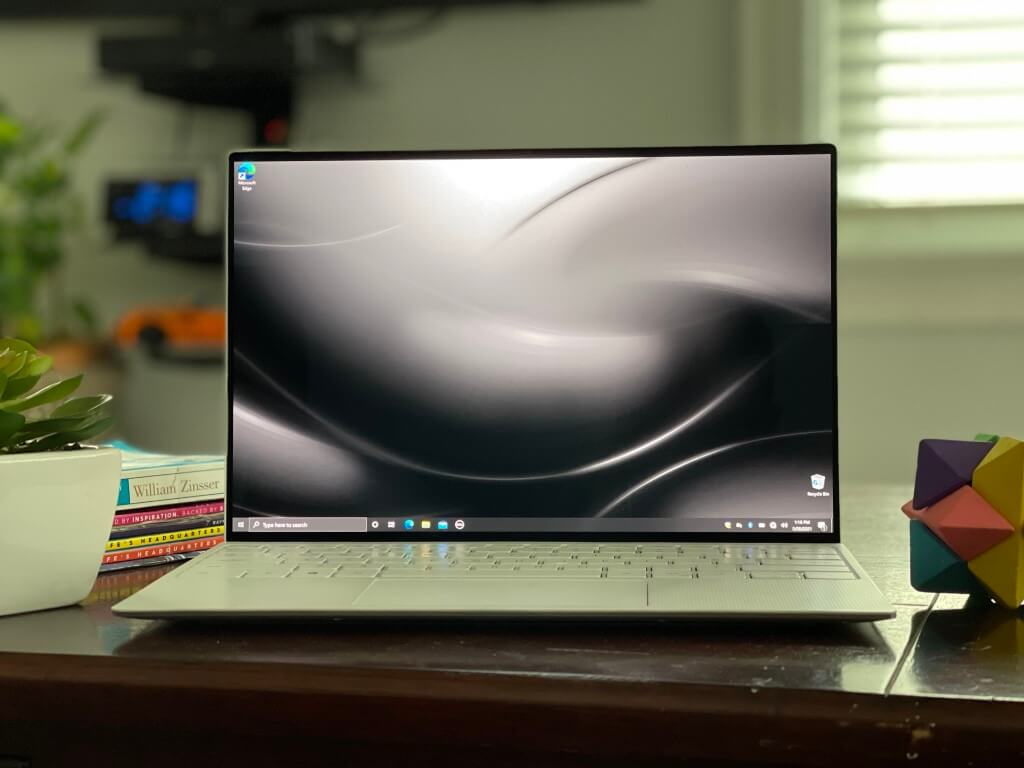 With an OLED panel and 3.5K resolution touch screen, you can expect the XPS 13 to take some big hits to battery life. This XPS has to spend a lot of power to fulfill the needs of all those pixels. Generally speaking, for productivity, which includes web browsing, working on Word, and other apps, we got to around 7.5 hours of battery life. It's a big difference from our XPS 13 2-in-1, which pushed past 10 hours in our previous review.
We got to these numbers with our settings put the way Dell-recommended us (dark mode turned on in Windows 10 along with a dark wallpaper, HDR disabled when not needed.) We also had the brightness turned down, to a still viewable percentage of around 20 during these tests.
These settings are also chosen because of how OLEDs handle blacks by shutting power off to pixels to save energy. Switching things to light mode only worsened battery life a bit, kicking things down a couple of minutes to nearly 6.5 hours in our tests.
For multimedia, meanwhile, the XPS 13 OLED managed to push us through a binge-watching session of NBC's Debris. We got through three and a half one-hour episodes of the show before the XPS 13 died on us.
In this case, we had HDR turned on, and the brightness was pushed up past 30% for the best viewing pleasure. Turning HDR off pushed us through another 4 episodes on a single charge.
All in all, there are some expected sacrifices with the OLED display. It's not a Dell problem either, as we had a similar hit in battery life when we reviewed the OLED HP Envy 15.
Buy if you're into color accuracy and details
If you're into either light photo or video editing, or just really love watching movies and streaming content on your laptop, then this XPS 13 with OLED is a must-buy for you. There will be some sacrifices when it comes to battery life, but it will be overall worth it for you.
This laptop punches out some incredible-looking images and videos that will feel quite immersive thanks to the near bezel-less design. The $400 upcost also means that you'll get more pixels, too, which not everyone might need, but this is one beautiful laptop to look at.