If you're looking for a new webcam, you'll find all kinds and at many different price ranges. There are 4K webcams, 1080p webcams, wide-angle webcams, Windows Hello webcams, more. Just look to Amazon for examples. But if you really want a webcam that lasts, then something over the $100 price range would be worth it in the long run. You'll get all the above, plus some more.
That's where Dell comes in with its new UltraSharp webcam. With features like AI auto framing, high dynamic range, a 4K UHD sensor, and even Windows Hello, it is not your ordinary webcam — packed full of technologies that raise the bar for your video conferencing needs.
Specs & Price
The Dell UltraSharp webcam retails for $200 at Dell.com. Dell provided me one for review  and have been using it for the last two weeks. The specs you need to know about this webcam are listed below.
Resolution/FPS: 4K UHD / 24, 30, Full HD / 24, 30, 60
HD / 24, 30, 60
Megapixel: 8.3MP
Field of view: 65, 78, 90 degree
HD Digital Zoom: Up to 5X
Autofocus: Yes
Auto White Balance: Yes
AI Auto-Framing: Yes
Microphone: None
Connectivity: USB-A
Inbox Detchable Cable: USB-C to USB-A 2m
Certifications: Teams, Zoom
Optimized Apps: Skype for Buisness, Go To Meeting, Google Meet, Google Hangouts, Blue Jeans, Slack, Lifesize
Webcam Dimensions: 1.65 in x 3.54 in
Webcam Mount Dimensions: 1.25 in x 2.56 in x 0.37 in
As we mentioned at the top of the review, this webcam is also certified for Windows Hello. There's a built-in privacy cover that's detachable and can be attached to the rear via a magnet. You won't find a microphone onboard, however. Most creators and those who buy this webcam will opt for a dedicated microphone or a headset. We have more on that later on in the review.
Design
If you've ever used an external webcam then you know the deal. Webcams are usually square or round objects. Dell's UltraSharp webcam, though is very different. This webcam sports a design that reminds me a lot of the monocular that is often used in bird watching. Basically, it is a long cylindrical object, that's made out of anodized aluminum.
Coming off my Microsoft Modern Webcam review, and using a Logitech C920 Pro webcam, the UltraSharp webcam feels very premium. That's important considering the $200 price. It definitely doesn't feel light in the hands. Instead, this webcam is a bit on the heavier side. But don't let that worry you. Dell has a secret up its sleeve to support all that webcam weight.
Why do I say that? The other cool thing about the UltraSharp webcam has to do with the way mounting works. While the webcam has your traditional mount that can grasp onto the top of your monitor or laptop, the way you snap that mount into the webcam itself is quite cool.
To attach the mount to the webcam, you push it into a magnetic hole at the bottom. Dell even includes a tripod adapter, too, which snaps right into the bottom with no additional tools needed. Even the USB-C cable tucks neatly into the back, with the mount having a cable management system.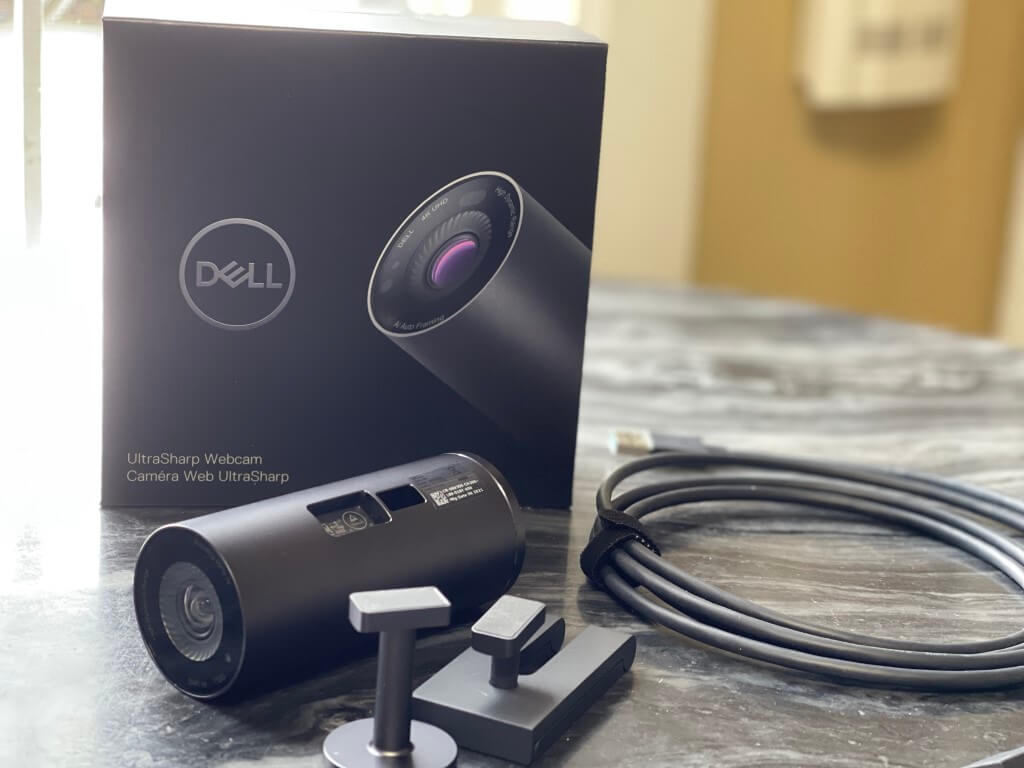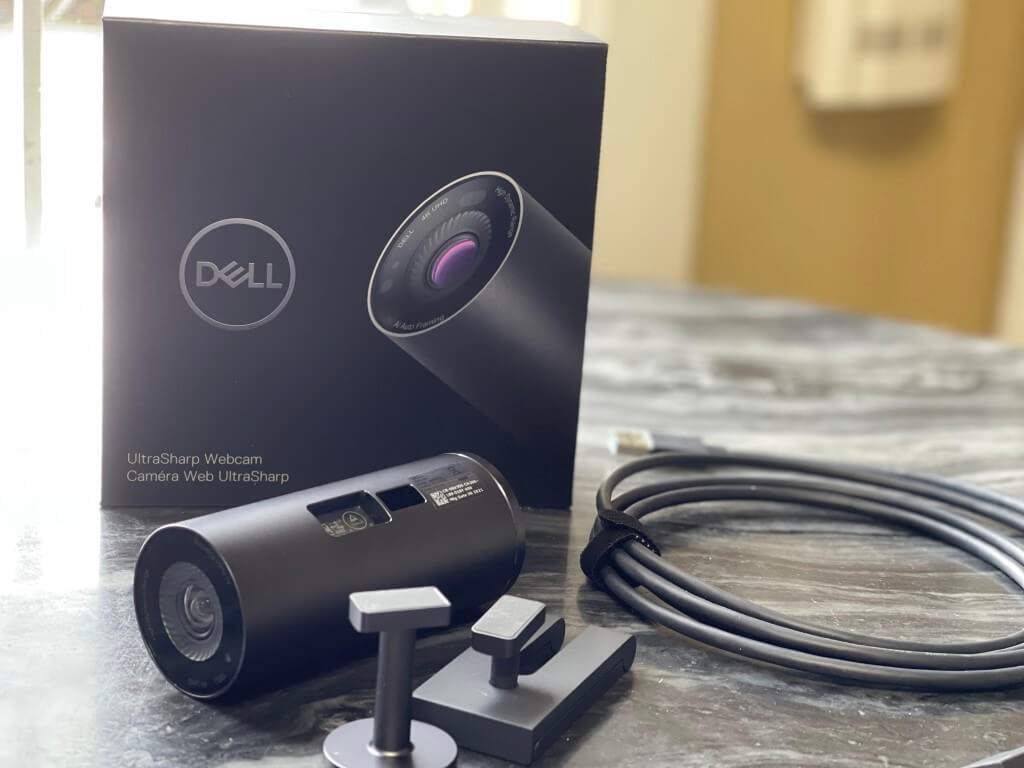 In all cases, you can use either of the two mounts to adjust the webcam as you see fit so that your eyes are at the best angle to maximize eye contact. It can swivel up and down, but it won't move left and right. I wish this was possible, but I can see the limits of the mounting system preventing this from happening.
For privacy, there's a magnetic cover. You can remove the cover from the front of the webcam (the lens) and then snap it to the rear. It's a nice little touch that's a big change from the shutters that you'll find on other webcams from Lenovo.
Webcam performance
There's a lot of cool technology inside of the Dell UltraSharp webcam. Dell is using a multi-element lens, which can help capture more light. There's also a large Sony Starvis 4K sensor onboard for brighter images and better low-light performance. A proximity sensor and IR sensor can also detect your presence, pair up with Windows Hello in Windows 10 for quick logins. Finally, a glass cover protects the entire setup.
All that said, I judged the Dell 4K webcam by using it on our weekly podcast. You can watch the episode above to see the performance. Coming from using my Logitech webcam, I was shocked by the quality difference. The 4K sensor onboard the webcam really makes things look better and makes me never want to use a sub $100 1080p webcam ever again.
With the overhead lights in the room and my ring light on, you can see the fine details on my face and the natural brown color of my skin. The wrinkles in my shirt also stand out a bit more, and so did the whiskers around my mustache. I think the Dell does a better job of focusing and exposing my face rather than the background as other webcams do.
I say that because a lot of these details were missed (or overblown) when using my Logitech webcam, or there are a lot of shadows. You even can see my eyes clearly as I roll them around when reading through notes (I have small eyes.) This is a detail that the 1080p Logitech never could pick up on, instead of leaving it in the shadows of my glasses.
Check out this gallery above to see the quality differences the webcam can make when jumping from 1080p on the Logitech to 4K on Dell. I these examples I am not using a ring light. These lighting conditions are how typically how most people will jump on a web call, and it's amazing to see the difference that the 4K webcam can make to make you look. Dell's webcam is really good on the details and exposure, especially when paired with external lighting.
AI and other features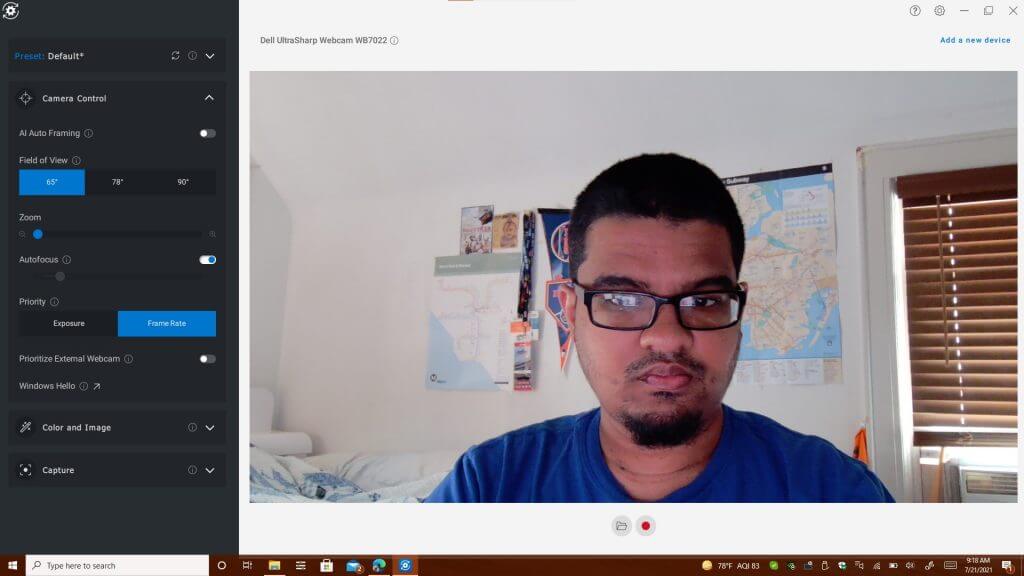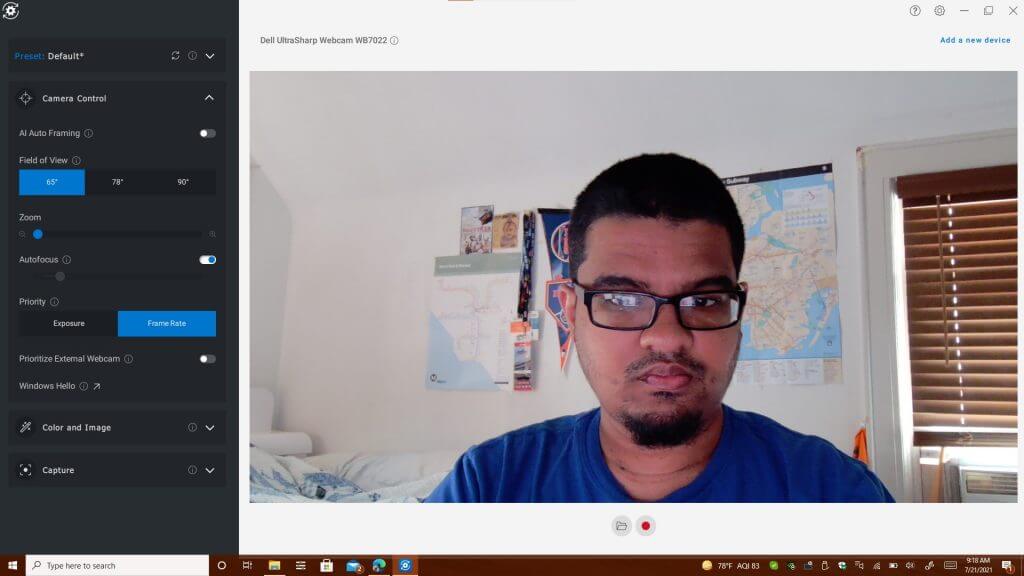 While I spent the majority of the review talking about image quality, there's still other stuff that needs to be mentioned. Of those are the software features powering the webcam. These include Digital overlap HDR, temporal Noise Reduction (3DNR,) and Spatial Noise Reduction. Dell is also using AI Auto-Framing, which can help keep you in focus. The other features can help keep accurate colors, eliminate video noise, and offer up cleaner images.
All of those features are controlled via the Dell Peripheral Manager software. It installs to your PC right as you plug in the webcam, without any extra downloads. I tweaked the settings a bit and had AI Auto frame turned on during a Teams call. This works a lot like Center Stage on Apple's iPads, where the webcam is able to keep track and lock onto/follow your face during your call. It's pretty cool when you see it in action. Of course, you can also manually control the view of the webcam, too. There are 65, 78, and 90-degree frames of view. And you can use the manual zoom trigger to zoom in and out or control your focus levels when autofocus is turned off.
Other camera control settings let you toggle the exposure of framerate priorities. Color and Image settings let you toggle to HDR, change the brightness and sharpness, contrast or saturation, and control the anti-flicker technology. Dell even has a "capture" section that you can use to capture video. It's all a pretty comprehensive piece of software that ensures you get the most out of your webcam. You can see all these in action above.
Raising the bar and making me a believer in 4K webcams
Dell's Ultrasharp Webcam isn't your ordinary webcam. It's a bit expensive at $200, but Dell's solution will make you a firm believer in quality webcams. From AI auto framing to noise reduction, there are a ton of different features onboard that help make sure your teleconference calls will look amazing.