Starting at $569.99
The Surface Laptop Go 2 is a more than solid follow up to the original Laptop Go and cements its purpose as less a Chromebook rival but all-around "basic" computer.
When Microsoft announced and subsequently released the Laptop Go in mid 2020, I admit I was a bit stumped by the decision. Half a year into a world where parents were learning to homeschool children on inexpensive computers and tablets and digital workers had settled into their work-from-home setups, comes the oddly marketed Surface Laptop Go which many argued was overpriced for its specs and underpowered for its price.
With a year under its belt, Microsoft's Surface team has addressed one of the biggest drawbacks of the first iteration of the Laptop Go by adding a new 11th Gen Intel Core i5 processor.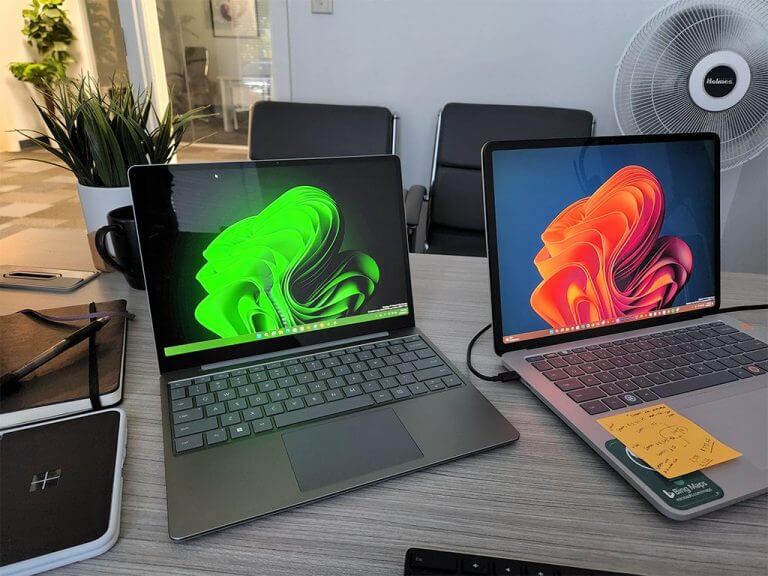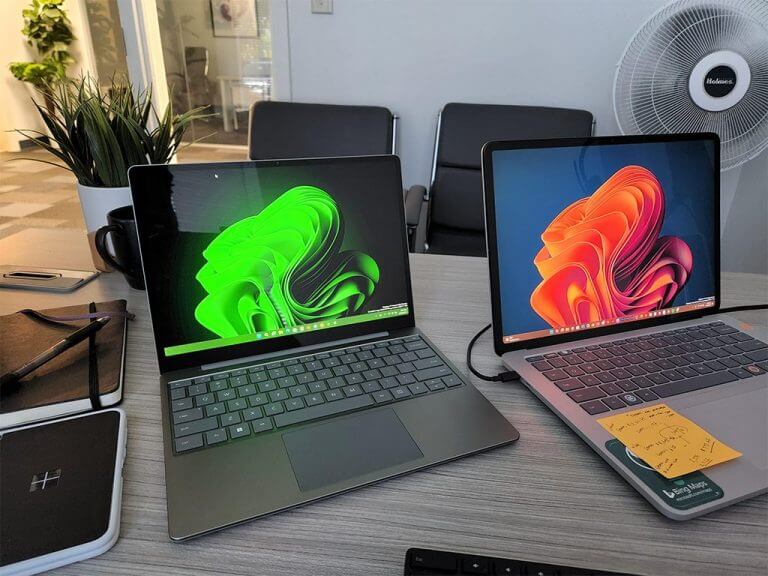 While the incremental number change is still a year behind the burgeoning release of 12th gen chips in 2022 and may dissuade critics of the original Laptop Go, the processing and graphical leap from Intel's 10th Gen chips to the 11th are noteworthy.
Intel's 11th Gen bumps the processing power of the Laptop Go 2 by almost 2x in the most synthetic benchmarking test and real-world performance displays a much snappier experience for users.
Specs
Surface Laptop Go
Surface Laptop Go 2
Processor
10th Gen Intel® Core™ i5 processor – 1035G1
Quad Core 11th Gen Intel® Core™ i5-1135G7 Processor
Operating System
Windows 10 Home in S mode²
Microsoft 365 Family 30-day trial
Windows 11 Home
Preloaded Microsoft 365 Apps5
Microsoft 365 Family 1- month trial6
Preloaded Xbox App
Xbox Game Pass Ultimate 1-month trial7
Display
Screen: 12.4" PixelSense™ Display
Resolution: 1536 x 1024 (148 PPI)
Aspect ratio: 3:2
Touch: 10 point multi-touch
Screen: 12.4" PixelSense™ Display
Resolution: 1536 x 1024 (148 PPI)
Aspect ratio: 3:2
Touch: 10 point multi-touch
Storage
eMMC drive: 64GB
SSD: 128GB, 256GB
Removable3 drive (SSD) options: 128GB, 256GB
Graphics
Intel® UHD Graphics
Intel® Iris® Xe Graphics
Camera
720p HD f2.0 camera (front-facing)
720p HD f2.0 camera (front-facing)
Memory
4GB or 8GB LPDDR4x RAM
4GB or 8GB LPDDR4x RAM
Dimensions
278.18 mm x 205.67 mm x 15.69 mm(10.95" x 8.10" x 0.62")
10.95" x 8.12" x 0.62" (278.2mm x 206.2mm x 15.7mm)
Audio
Dual far-field Studio Mics
Omnisonic Speakers with Dolby® Audio™
Dual far-field Studio Mics
Omnisonic® Speakers with Dolby® Audio™ Premium
Weight
2.44 lbs (1,110 g)
2.48 lbs
Color
Ice Blue
Sandstone
Platinum
Sage
Ice Blue
Sandstone
Platinum
Ports/Slots
1 x USB-C®
1 x USB-A
3.5 mm headphone jack
1 x Surface Connect port
2 x USB-C 3.2 Gen 1 (support data transfer, Power delivery 3.0 and DisplayPort 1.4)1 x Pogo pin connector
Battery
Up to 13 hours of typical device usage
Battery Capacity Nominal (WH): 41.0
Battery Capacity Min (WH): 40.0

What's in the box

Surface Laptop Go
39W Power Supply
Quick Start Guide
Safety and warranty documents

Surface Laptop Go 2
39W Power Supply
Quick Start Guide
Safety and warranty documents
When processing, the Laptop Go 2 is noticeably quieter than the Go with the fans spinning up less than the original, this is not to say they don't but when comparing the same task between the two devices, a user will have a much quieter time with the new chipset.
Speaking of processing, Microsoft continues to make use of its unique cooling solution that pumps air out through the gap between the keyboard deck and the screen with an updated fan module to keep your lap and hands cool when stressing the system.
However, the 11th Gen chip stuffed into the Laptop Go 2 is only part of the overall improved processing experience as Intel also added its Iris Xe integrated graphics with the its Tiger Lake releases. The addition of Iris Xe was the first significant boost in graphical performance Intel had improved up in year-over-year release and in the Lapotp Go 2, it is notable.
Microsoft built in support for DirectX 12.1 support and Intel does a decent job of translating that with its Iris Xe discrete graphics onboard.
Pitched as a mid-range basic computer, I doubt few will mistake the Laptop Go 2 for a gaming PC, but thanks to xCloud and Game Pass, AAA gaming is possible and for local play, casual turn based or basic adventure RPGs work well on this sort of device.
Iris Xe graphics also help boost the Laptop Go's ability to up to four displays at 7680×4320 at 60Hz versus last year's model which topped out at three monitors at 5120×3200 at 60Hz.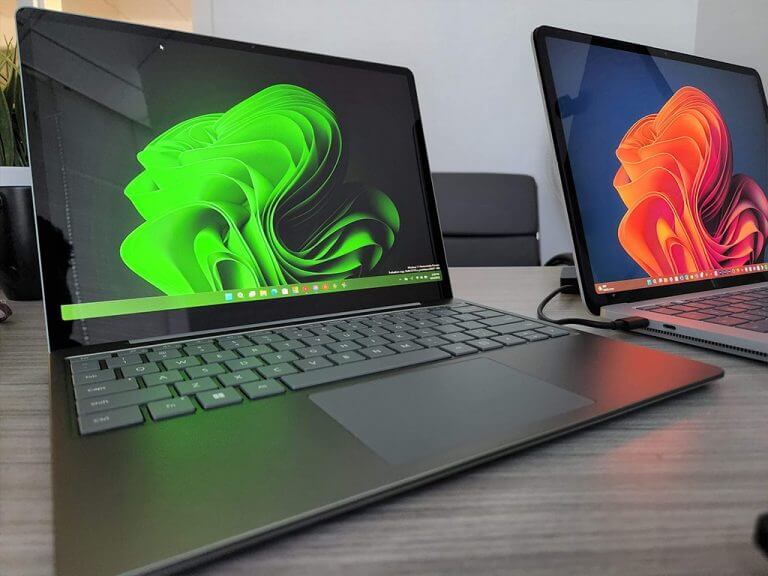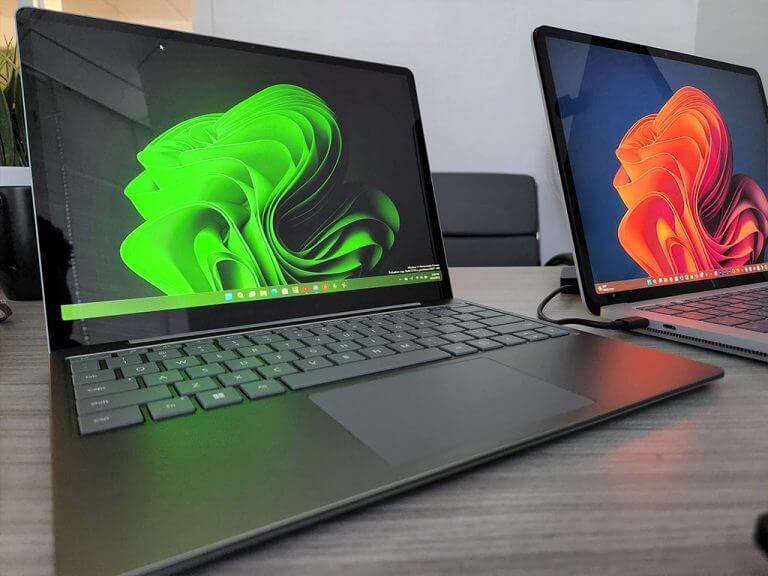 The other improvement helping meld the overall upgraded processing experience of the Laptop Go 2 is the bump in storage technology this time around.
Gone are the days of the baffling 64GB eMMC storage solutions, now replaced by 128 and 256GB PCIe 3.) solid state drives (SSD) which now help drive faster read and write speeds that make the overall use of Windows feel snappier than it did on the original Laptop Go.
Most users might still find the Surface Laptop Go 2 limiting in the way of ports, as the overall feature set is still hampered by a single non-Thunderbolt USB-C port, a single USB-A, audio jack and the proprietary quick charge Surface connector.
Understandably, it can be frustrating to rely on dongles and try to figure out the power through and output depending on what needs to be connected, the Laptop Go 2 does not alleviate those concerns this time around. I have found myself relying more on the Surface USB-C Travel Hub as my permeate dongle solution that houses an HDMI, VGA (for really old monitors) USB-C, and GigE ports.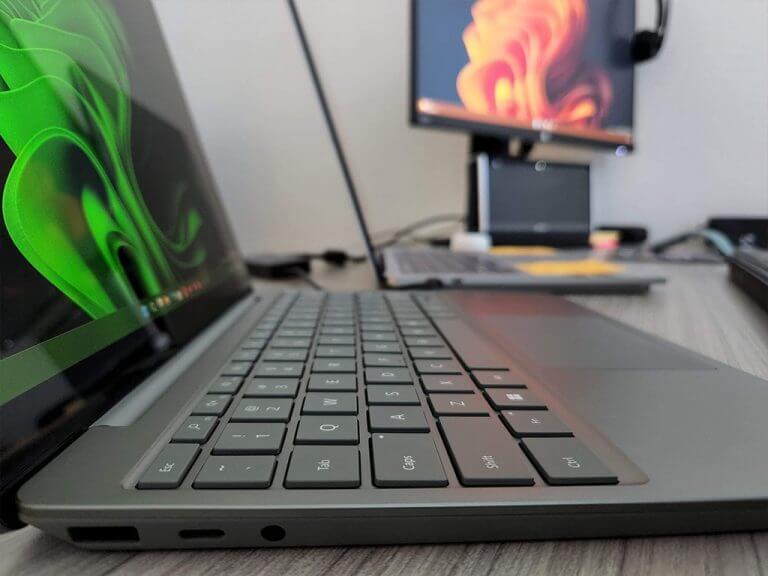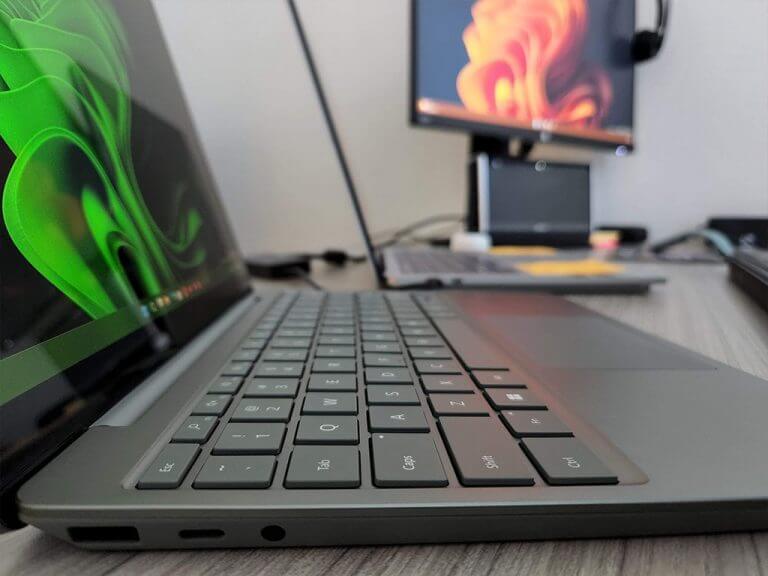 While maintaining the overall design of the Surface Laptop Go, the Surface team snuck in some meaningful upgrades to the Laptop Go 2 that include a full version of Windows versus the S-Mode version that shipped with the 2020 version.
The screen of the Laptop Go 2 maintains its 12.5-inch size and 1536 x 1024 resolution and 10-point multi-touch functionality as well as iconic Surface pen support. The LCD panel sports 2019-ish thin bezels that keep it more modern looking than a Dell Latitude but not as revolutionary as the borderless Dell Insiprions or XPS's.
As for anyone looking to do some image processing or editing, Microsoft has tuned the display to 98% sRGB, 74% of AdobeRGB, and 78%DCI-P3 while also pushing the lower limits high-end brightness standards at 330 nits.
The Surface Laptop Go 2 doesn't punch the 400 to 500 plus nits of brightness standards of the higher end laptops but owners can still view 2K and 4K YouTube and Netflix content as well as making use of other Windows specific tweaks to get the most out of the screen in the HDR and Vivid options in the Settings menu.
Perhaps the most standout feature of the Laptop Go 2 is that it maintains the solo-status of being the only 3:2 display laptop on the market. Yes, more OEMs are adopting the 16:10 aspect ratio but not many have jumped aboard the ultra-productive data processing 3:2 screens of the Surface Laptops.
The aluminum and polycarbonate mix for the chassis of the Surface Laptop Go 2 also comes in a few ounces lighter than its predecessor at 1.1kg or 2.45 pounds versus the 1.1kg or 2.48 pounds of the original.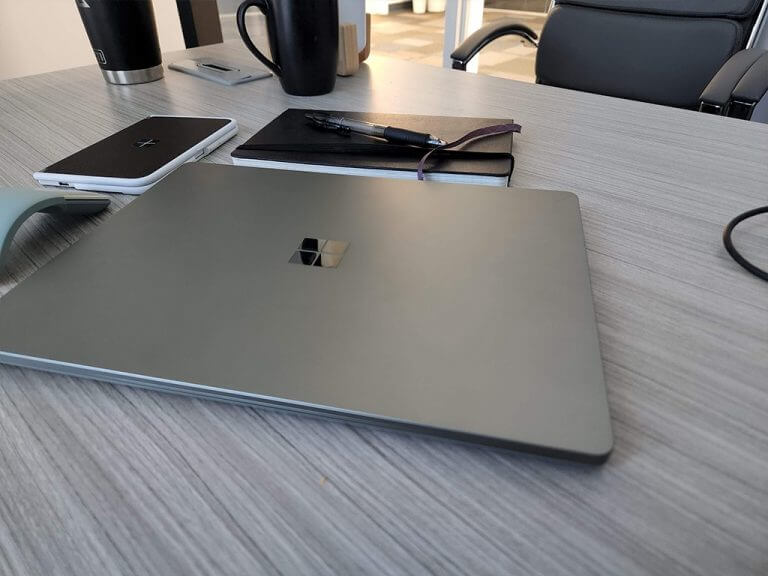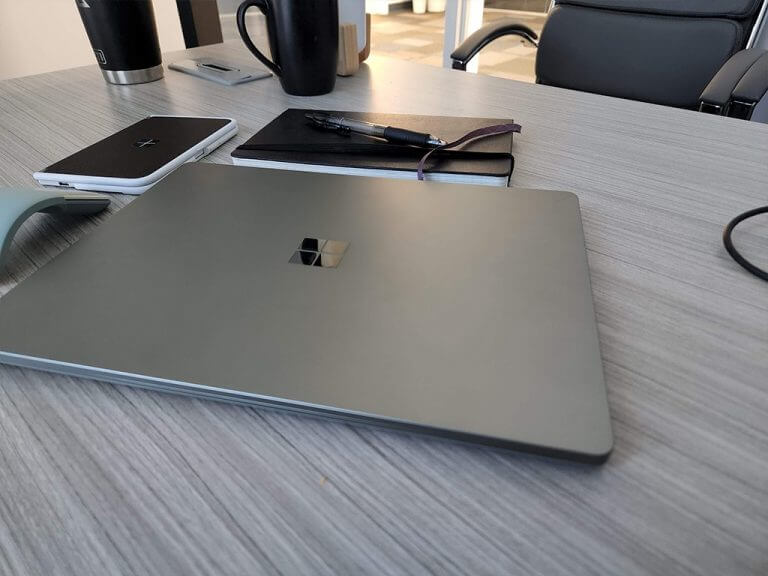 Anyone upgrading this year might also notice a bump in clarity with the upgraded webcam as well as the marginally improved mics embedded into webcam housing. Despite the Laptop Go 2 housing a 720P Full HD webcam for budget-friendly pricing, the f/2.0 lens does a decent job of recording less noise in less-than-ideal lighting conditions.
Microsoft also builds in some software smarts to help edge the marginal camera improvement even further by adding auto-Exposure, auto White Balance, noise reduction, auto brightness, and tweaks to contrast and colors.
The Surface team also stored Bluetooth 5.1 onboard to help keep up with modern connectivity standards as well as take a little strain off the battery as it seeks constant connection to older and newer devices. Unfortunately, the Wi-Fi isn't quite as modern as Bluetooth as the Laptop Go 2 comes with Wi-Fi 6 AX versus the latest 6E but I doubt many will notice.
Moving onto the keyboard deck, the Surface team made few changes to an already stellar typing experience. The key travel remains the same at 1.3mm and slightly less mushy feeling than the original Laptop Go.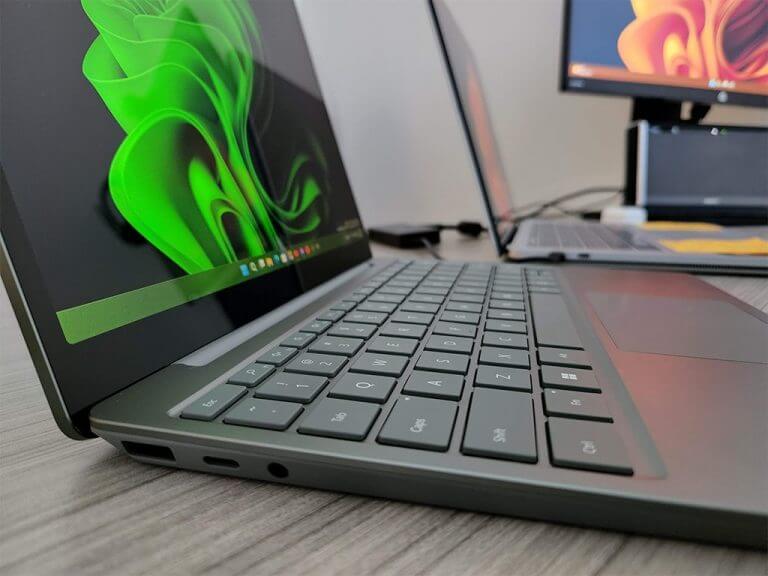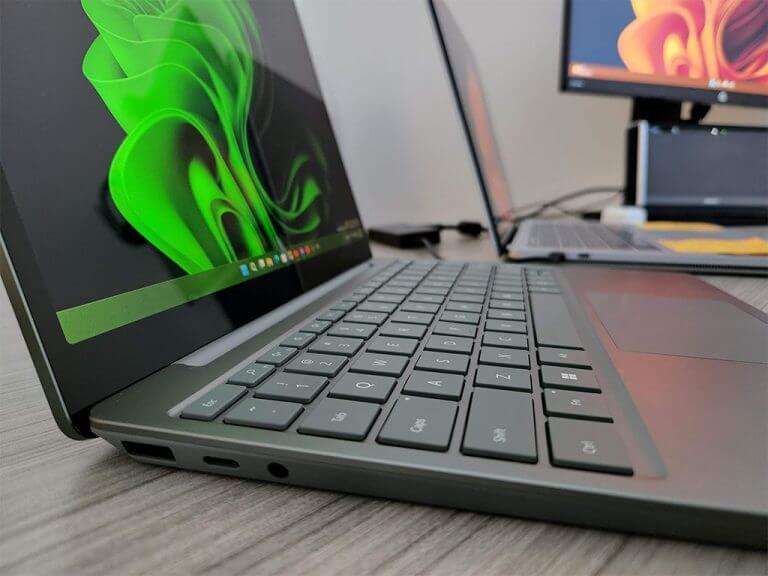 In 2022, Microsoft still cheapens out at keeping backlit keys reserved for its more expensive laptop offerings, yet maintains the singular lit power button. As with the power button on the original Surface Laptop Go, mid-tier and higher models of the Laptop Go 2 house a fingerprint reader in the same spot.
The Surface team did manage, however, to enlarge the glass trackpad which supports Precision Touch drivers and all of the built-in modern Windows gestures, and seamless design that hides the speakers under the keyboard deck is another constant with the Go 2.
The speakers hidden under the speaker deck are just as loud, if not a bit louder than the original Laptop Go. Microsoft doesn't support Dolby Atmos on the budget Laptop Go 2 but the built-in Windows sound settings should help a tad in producing an adequate loud speaker experience.
The last thing of note is the battery life on the Surface Laptop Go 2, which outperforms the original Go by 45 mins to an hour on average, which equals about 9 to 10 hours of battery depending on the use case.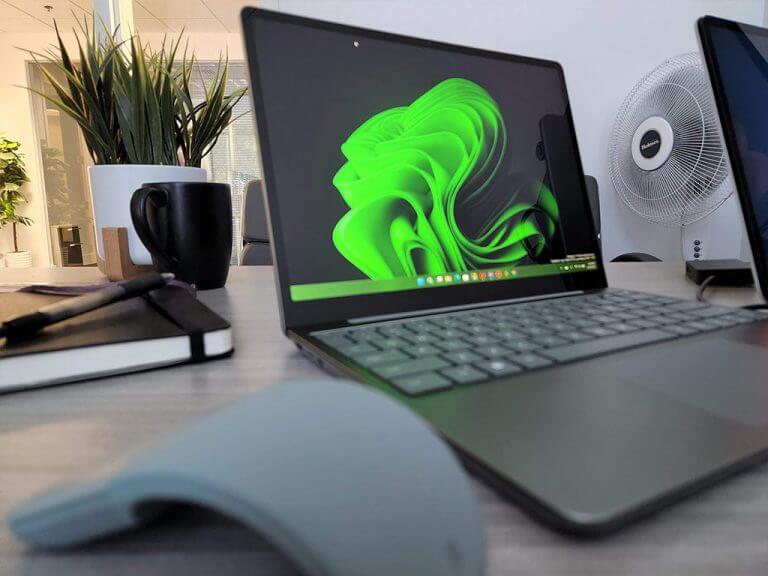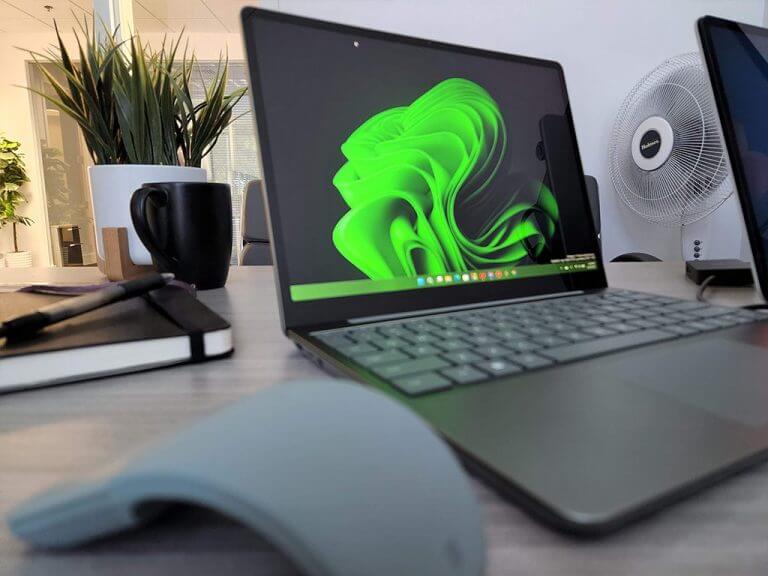 During my time with the Surface Laptop Go 2 I managed to get about four hours of heavy use out of the device when pushing the machine with an instance of Chrome and Edge with 15 tabs opened a piece as well as a Photoshop project with 50 layers, running YouTube videos in the background and working in a Supermetrics macro-laden Excel document the entire time.
I hit the 5-hour battery limit of the Surface Laptop Go 2 when using Adobe Premiere Pro on a 1080p project with several edits and multiple video layers while also streaming music from YouTube Music in the browser.
On other days, I managed to squeeze out that golden 10-hour battery life when triaging email, basic web browsing, moderate YouTube video watching, streaming podcasts either with the native Windows client Grover Pro or the browser-based Google Podcasts and editing Ads with the Google Ads desktop client.
Summary
The real-world use of the Laptop Go 2 is a solid all-arounder for anyone who values quality build materials and construction as well as tired of their experiences with more mainstream OEMs such as HP, Dell or Asus.
To be more specific, Microsoft can and should target these devices as replacements for in-office fleet devices. As mentioned, anyone who was assigned a mid-range 2017 ThinkPad or Lattitude will get kick out of replacing those devices with a Surface Laptop Go 2.
The Laptop Go 2 is often lighter, quieter, comes in Sage green, and better designed than many in its narrowly defined price category.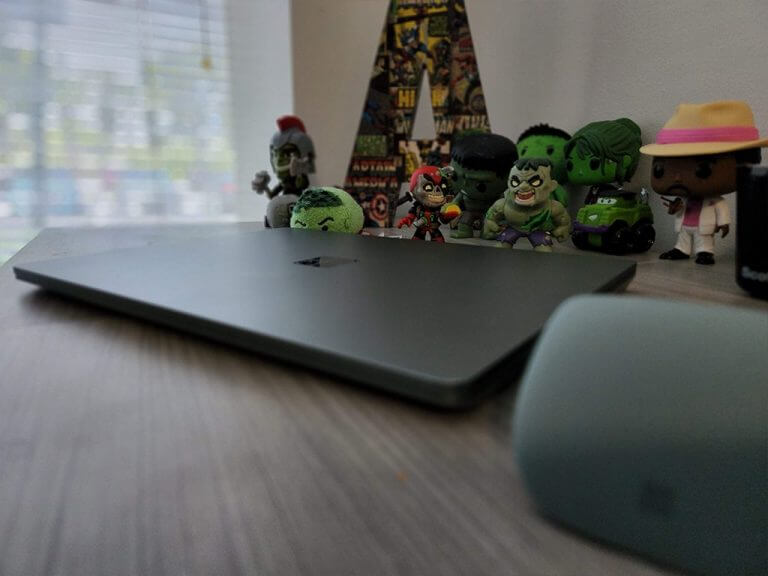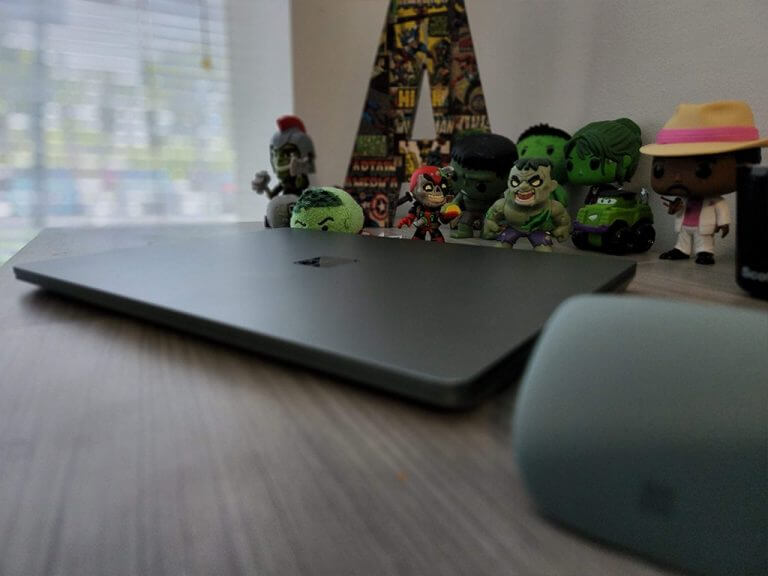 Another thing going for the Surface Laptop Go 2 is the built-in secured-core kernel as well as the Signature Microsoft out-of-the-box experience that offers zero bloatware.
The other side of that coin is a consumer pitch for the Surface Laptop Go 2 that offers a great starter or transitional laptop for people with moderate content creative goals but maintain data processing jobs or tasks daily.